This post may contain affiliate links.
I'm famous for saying that AirBnb is useless for families and we never use it. If you're not on Facebook you may not know that, so I'm putting it out there via the blog today because I've (possibly) changed my mind.
After 3+ years of full-time travel I'm sitting in a glorious light-filled apartment in Richmond London, footsteps from my beloved Thames, paying a very modest price and, yes, it was through AirBnB.
I was an AirBnB landlady back in Australia so had great hopes for using this unconventional booking engine as we traveled around the world. That was until experience taught us that Airbnb for families always worked out more expensive than typical backpacker guest houses and hotels.
So after a while, Airbnb and my family parted company. Not just more expensive, somewhat more difficult to organise with AirBnB bookings not being instant as they are on regular booking platforms.
Using Airbnb for Families, Around the World
Airbnb is Rarely Cheaper For Families But it's Not All About Cost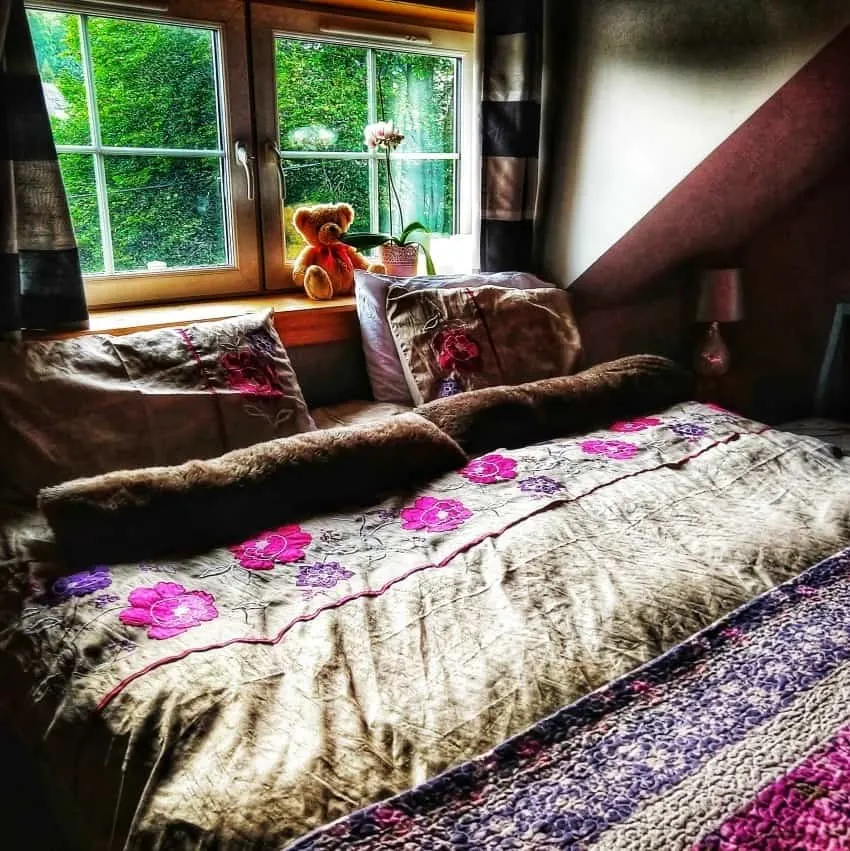 We kept a very close eye on costs during our first 2 years of budget travel and Airbnb was rarely, possibly never, the cheapest option for us, anywhere in the world.
Of course price and budget may not be YOUR primary concern, you may be looking for an apartment rental or room in somebody's home and your motivation may not be price.
For a family, ours is a family of 4, staying in a room or rooms in somebody's private residence is unusal. We've now done this twice, both times in Scotland. We found accommodation prices in Scotland so high that we were forced to take Airbnb rooms in people's homes. One experience was good, the other was a complete rip-off but we were stuck, there was nothing else available.
I think most families would prefer to have their own space and a full appartment or house to use as their own and yes, you can find these on Airbnb.
London and AirBnb
We spend a lot of time in London so we know the prices here inside out. I should say that we have a fixed "base" here in South London thanks to very good friends, but we also enjoy moving around the city sometimes, exploring different areas, always asking ourselves "Could we live here?" and always answering "Yes."
These days you're looking at, realistically, upwards of £80- £125 per night for a family room in a B&B, budget hotel, guest house or apartment hotel. We stay in London with kids, we're generally looking for family rooms and appartments.. (There is a full, but evolving, post on family accommodation prices in London here ). We've found deals around £50, but that was back in the days of one child stays free in existing bedding, my two are too big for that now.
In previous years I've always checked AirBnB to be put off by a rising tide of hotels and grotty buy-to-lets stuffed with extra cheap beds. We always check Twickenham, where the boys were born, but no luck so far. I've looked, really looked, and not found anything. The other problem with AirBnb is the tendency for people to add extra charges for extra people, a per night fee of a few pounds which very quickly destroys your once-good price.
Of course AirBnb also adds their fee on top of the original price, which again, skews your comparisons. So for a couple of years AirBnb was a total fail for us.
Not any more!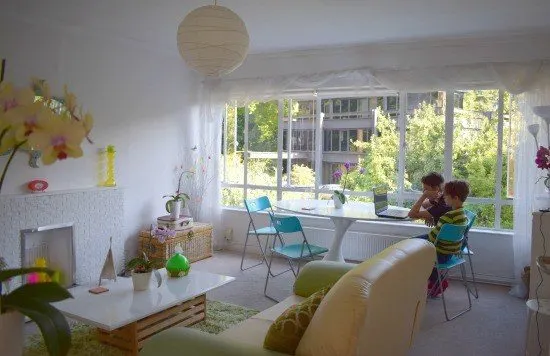 I don't think it's fair to plaster other people's homes all over the internet, so 1 photo will have to tell the story.
We are in love with this apartment. I really couldn't be any happier.
The price is comparable to that we were paying when we rented a 1 bedroom flat here for 8 months, 2 years ago. It includes WiFi and bills, so overall it's a sweet deal.
When I was searching for this place I found another, same price, nearby, a family going travelling for a month wanting to rent out their home ( +cat). Another great deal.
Another Airbnb semi-win for us in London was a whole house rental in Kingston. This one was more expensive 90 UK Pounds per night.
The house was fine, if small, but it was as if the owners had just moved out the day before and left it exactly as it was.
Their computer was on the desk, food in the fridge and cupboard, even medicines and toiletries were left in place. It made the experience rather cramped and cluttered and I would have preferred a more business-like rental.
AirBnb Family Apartment in Guatemala
There has only been one. This glorious little apartment in Antigua Guatemala was ours for a month.
We checked all the sites, and this place gave us the best price. Antigua isn't Asia-cheap and there are a lot of well-off tourists there so accommodation prices are skewed in favour of them, AirBnb gave us another winner.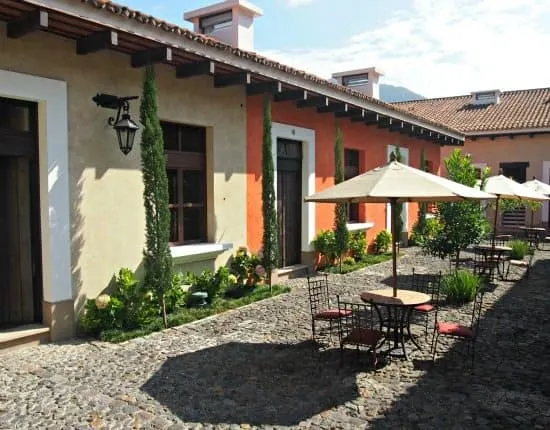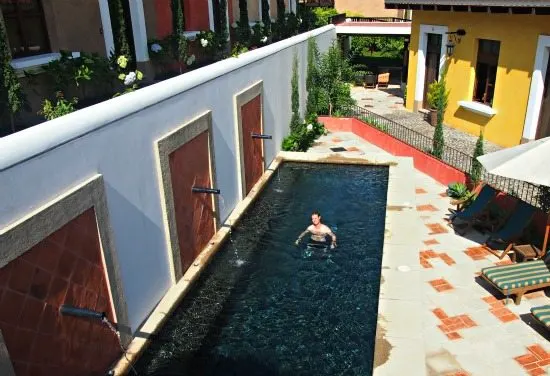 You can read more about our month of AirBnB slow travel in Antigua here, in Being Normal
Airbnb in Egypt
We found that Airbnb, surprisingly, was a winner in Egypt. Egypt seems to have a lot of holiday homes scattered along the Nile and the owners only visit for part of the year. We had a really nice apartment in Luxor owned by a foreign lady. Hotels were often pretty grim in Egypt, so this Airbnb was a great find.
Airbnb Wins in Slovenia
Again, we had great experiences with Airbnb in Slovenia. Plenty of space, private apartments and welcoming hosts nearby. One was in a winery, one on a farm. See our post on Slovenia for more information.
When AirBnb Works for Families
These are my personal findings based on over 3 years of research as a customer and a year of being an AirBnb host, I haven't done an in-depth study and noted down figures, but I think my findings are valid.
We rarely rent apartments, preferring guest houses, hotels, and a typical backpacker scene. That seems to be changing. Spending a month here, a month there can be less stressful and easier to organise. Like homeschooling while traveling (worldschooling), travel changes and evolves with needs and wants.
AirBnb works in some countries, not in others.
AirBnB works best for longer stays, look for 1 month discounts.
AirBnB for families is great if you can find people letting their actual homes, not businesses hijacking the platform, however, check that the family will be removing their possessions and giving you some space.
AirBnB performs better in expensive destinations.
Zoom in tight on the map in your search results, extra options appear.
Don't expect perfection, it's not a hotel, it's a home.
My Experience as an AirBnB Host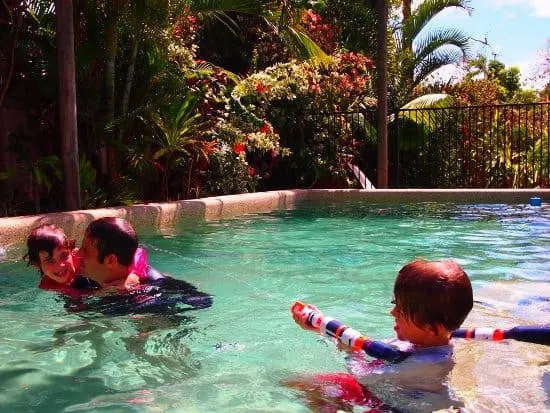 It was the best hosting for AirBnb! We rented out the master bedroom and en-suite in our home while we were actually there. I massively under-cut local hotels and hostels and started getting bookings within 24 hours of placing my listing.
We lived in a holiday town in Australia, so we had a big advantage but it could work in most cities. We hosted all kinds of couples, young and old, one single gent in town for the Iron Man event and one pair who've become blogger friends, Andrew and Amy of Our Big Fat Travel Adventure. It was great to meet them all.
As a mum of small kids I was always glad of some adult company and the extra cash went straight into our travel fund when we were saving for year 1 on the road.
The beauty of AirBnb lies in its original concept, in private owners renting their homes and holiday homes, not in what it has become, a shady booking engine.
So, as always, things change. I've been scanning global AirBnb lets, considering options and comparing prices. Like our usual favourite booking engine, Agoda, the moveable map is priceless. Maybe we will become one of those slow travelling, apartment renting families. It's not something that's ever really appealed before, but the truth is, we've been just about everywhere we want to go now and it's getting harder to find places that we want to backpack around. But it's still interesting, still fun, we will carry on living differently.
What about you, do you have successes with AirBnB for your family? If so, where?
If you'd like to hire a car during your stay, use this car rental comparison tool to find the best deal!

We also suggest you take a look at this company to get a quote for all kinds of the more tricky adventure or extended travel insurance.

Try Stayz / VRBO for an alternative way to find rentals on homes/apartments/condos in any country!