This post may contain affiliate links.
You want to know how to travel the world, right? We've done it, so can you. It could be a 2-week vacation to an exotic, far-away place that just puts you a little outside your comfort zone, or you could be wanting to travel for a year, maybe more, as a family, as a single or as a couple, even as a digital nomad. Whatever it is you'd like to do, however you'd like to live your dreams, our new section, how to travel the world, will answer your questions and show you how to plan and execute your own travel adventure.
So, if you want to travel the world solo, with a baby, with a child, as a family, on a low budget or in luxury and style, the basics are the same, we can help you. You can travel the world by taking the steps below.
You can click links on this page will take you to more in-depth posts on this website. There are more posts to come but the big take away here must be:
How to Travel the World
To travel the world take the following steps:
Make the decision to travel the world and stick with it.
Decide where in the world you most want to go and plan a rough itinerary
Identify your travel style and type.
Estimate costs of travel and living in different countries.
Start saving, or raising money, consider making an extra income stream, maybe online.
Set a date for departure, figure out home much money you will need by then, check this is feasible.
Explore how you will travel in each destination.
About 3 months from departure, book your flights. One way, or a round-the-world-package.
Read the rest of this post for more tips and find our destination guides by country.
If you want to travel the world always see possibilities and opportunities, not problems and obstacles
So far this website has mostly been about us, how we did it and how we continue to do it, with a few travel tips, destination, accommodation and attraction reviews thrown in.
Now I'm going to tell you how to do it, how to travel the world for a year, a month or a week. What steps do you have to take? What do you need to consider? What mustn't you forget? Let's start right now. Your Dream?
World Travel, Your Dream
What does travel around the world look like for you? What is your dream? Where do you want to go? Look deep into your soul and figure out what you really want to see, experience and try. Don't go because all your friends have been or it's the latest cool destination, where do you really want to go?
Buy a notebook, make it a beautiful one, hardcover is best and on page one write "Where to Go?'
Jot down all of your dreams, countries, particular natural wonders, famous historic sites, anywhere and everywhere you've always wanted to go and do it right now.
Keep that notebook handy and add a destination whenever you remember that something special you really wanted to see, be it a festival in India or a pyramid in Guatemala, write it down. Maybe hop over to our travel destinations page for a little travel inspiration.
This works for long or short-term travel, even if you're just going to one country, there will be places within that country that you absolutely HAVE to see.
You can use our website for researching your travel destinations, or you can use a guide-book. Some of the best are below, we use Lonely Planet and always have, but it's your choice.
A good guide-book not only gives you maps, directions, hotel and restaurant suggestions and descriptions of destinations, it also should tell you about the culture, history, language and traditions of your destination. For us they are indispensable in learning about the world.
What World Travel Type to Pick?
Are you comfortable with budget backpacking? Should you spend a little more and join the flashpackers? Do you like slow travel or fast travel? Will you be working while you travel, in which case you'll be more nomadic, maybe a digital nomad, maybe not.
Maybe you want to travel the world in style and luxury?
Some destinations work really well for small group tours, we've employed this style in Tibet and Bhutan. Sometimes there's no choice other than to take a group tour.
There are other options, but try to figure out how to travel the world – your way. What style of travel can you afford and what style of travel makes you most happy.
How Long Can You Travel the World For?
Most of us, if we really want it badly enough, can escape normality for a year. Some of you may not want to, that's fine, but still, you need to figure out how long you can be away for.
We've been away over 6 years now and nothing bad has happened, the opposite in fact, it's been an incredible ride. How long do you want to be away? What would be your ideal length of time to travel? Will you be able to escape your job, family and housing commitments? If not, it's time for a rethink on home and employment.
If you are in debt you may need to take drastic measures, saving, selling and re-inventing to shake off your financial shackles.
What will you do with your "stuff"? Some people sell the lot. Some people sell the majority and stash what's left in storage, with friends and family, we had some of ours in the loft of our house. We were away 6 years and 99% of the stuff survived just fine.
How to Pay For Travel Around The World?
You are probably going to have to save. Not many of us have thousands in spare cash in the bank right now and fewer still have online or remote work that allows us to work as we travel.
Quite honestly, working while you are travelling will spoil your experience unless you have all the time in the world and become a true nomad.
Sure, we make a living from the websites now, but our travel is ultra long-term and part work, part pleasure. Luckily my work, helping you see more of the world, is a pleasure.
Travel the World – Cost
To give you a rough idea, we spent $30,000 in our first year on the road, roughly $100/day for a family of 4. Some will do it slightly cheaper, some will spend way more. However much it costs, make sure it's worth it to you.
We are all different, I'm not going to tell you how much you should spend.
The above figure is for long-term travel or backpacking, if you need more luxury as you explore, you're going to be needing a lot more cash. Don't be put off by the term "budget travel" we never use dorms in hostels and never rough it. Budget hotels and guest houses, hostels too, are remarkably up-market for the price these days.
The figure above does not include departure flights, travel insurance or vaccinations as these are paid for before we leave home. At that price some days you will spend very little, don't expect to be paying big admission fees every day, expect to sit and wonder, explore on foot and chill out as you see the world.
Saving to Travel The World
It took us a year to save that amount. You can read tips on saving here and thoughts on travel budgets here.
I can't give you a budget and tell you that you'll need that amount. I can give you an idea on costs in each country, but I don't know what or how you spend.
I can give you bare minimum costs, but you may want to spend way higher. Every country is different. I can't even give you an idea for Asia, the Americas, Europe and Australia, costs totally depend on where you go and how much time you spend in each place.
We tend to spend longer in the cheaper places, less time in the more expensive, that's how we kept our South East Asia budget to around $50/day first time around.
That figure is still achievable, but these days we spend more, $100/day is easy and comfortable to us in that part of the world. We don't consider ourselves " roughing it" in any way and always eat and drink well.
Set a Departure Date for Travel
Figure out how long your saving period will be and set a rough departure date. Tell the world!
No going back now. We planned on leaving 1 year after we made our decision, and did.
Planning a Route or Itinerary For World Travel
Don't go into this with an exact set day of departure in your head, give yourself some room for manoeuvre. You've told all your friends and family your rough date – now let's firm that up by finding the cheapest day to leave.
Flight prices fluctuate wildly day by day and you should try to get a bargain. We use Skyscanner to look at daily prices across a whole month.
Don't just look at direct flights, maybe taking 2 flights with a free stop-over somewhere would be cheaper and better. We plan with pen and paper and online resources, our recent Sri Lanka and Nepal trip took shape in this way.
You have your notebook with your list of must-see places, it's simply a matter of stringing them together in the most practical way, by plane, cruise ship, bus or train. You can do all of your research online.
There's just too much to describe here for now, I'll just say that there is always a way and it's really not too hard. See our post above about pen and paper logistics.
How to Book Tours, Activities and Tickets in Advance?
We use a company called Get Your Guide. Read more about them and why we use them here. They have a lowest price guarantee. For buses and trains in Asia and increasingly in other parts of the world, we find a company called 12Go Asia very useful.
Essentials to Consider Before Travelling the World
You will need to take care of the following, some, not all, before you leave home. You will need:
A passport with an absolute minimum of 6 months remaining, longer is better.
Travel insurance, for medical treatment, emergency evacuation, your belongings and cancellations.
Luggage, choose backpack, travel pack or suitcase and invest in the best you can afford.
Maybe consider travelling carry-on only.
Visas, some countries give these on arrival, others, you'll need to sort out before departure.
Some way of accessing your cash in your destination. This post is on money handling in Thailand.
A few small items of travel equipment and medical kit, not as many as some would tell you.
You may, only may, need an international driver's license.
You may need travel vaccinations and malaria prophylaxis. Malaria is less common than it was and travel-related sickness seems to get rarer in our experience.
Logistics, Booking Flights, Transport, Tours and Accommodation for Travel Around the World
There are different ways of approaching this, polar opposites. A middle ground plan is often best.
Round the World Flights or Wing It
You have various options for travelling around the world in terms of booking flights, you can:
Book all flights in advance, maybe a meticulously planned round-the-world air ticket.
Wing it. Book a departure flight and make your trip up as you go along, going where you feel.
Many travellers worry about onward flights and have heard that entrance can be denied if you don't have these. We have never found this to be an issue we did put a post together for onward flight requirements for Thailand, if you read that you should get the general idea of how this works.
Should You Use Hotels or Other Accommodation – Hostels, Apartments, Resorts
It is easy to book all of your accommodation in advance for a shorter, planned trip.
For a longer, freestyle trip, you don't need to pre-book it all. But for peace of mind maybe book a few nights on arrival. Peak time travel may necessitate booking in popular destinations.
Pick your preferred online booking agent, get to know it well and stick with it.
We find Agoda to be best in general, particularly for Asia as they are specialists. Checking every booking engine individually wastes valuable time and leads to stress and frustration.
If you absolutely have to get the best price and perfect place, sure check them all, but a 5-minute job quickly turns into a half a day job – we find it's best to get this part over with quickly.
You could try Hotels Combined, they compare multiple online booking engines to give you the best price.
Also maybe sign up for Airbnb , they're sometimes a good option for privately owned apartments, longer rentals, or homestays. Beware cleaning fees on this platform.
How to Travel The World For Free
Your travel is never going to be truly free, some exchange of time of work will be involved but there are multiple options that could save you cash on your whole trip, or just part of it.
We have a full post on How to Travel For Free here. Ideas include volunteering, sites to find work in exchange for bed and board, vehicle returns, crewing on yachts, house sitting, couch surfing and more.
Booking Tours and Transportation at Destination
Booking in advance is entirely possible these days with online resource 12GoAsia ( click here to view). You can pre-book buses, trains , even flights in most of South East Asia, Sri Lanka and India. They are constantly adding new routes.
Figure it all out as you go along, pre-book nothing.
Pros and Cons of Booking a Round The World Ticket v Winging It
Your travel style is unique to you. You have to look inside yourself and figure out what style of travel makes you happiest and makes you feel most comfortable or confident. We wing it, 90% of the time, but if you need to book everything before you leave home then that's absolutely fine too. I just want to make sure everyone knows that it's not necessary to pre-book hotels, flights, trains, buses etc before you leave home.
Pre-booking can, in some ways, make your trip more enjoyable. We find that we spend a lot of time on the road planning and researching our next move, it eats into our free time and can get quite stressful.
However, I think we save a lot of money by taking the best deals as we find them and we don't lose any spontaneity. If we hate a place we leave, if we love it, we stay longer.
We have a post on finding the best flight deals with Skyscanner, our preferred search tool and one on the ins and outs of booking accommodation for travellers.
Is Travel Around the World Bad for the Planet, Wildlife and People
Just be kind. Do your best. Travelling the world with a backpack, we think, is kinder to the planet than living a "normal" life, owning a car, heating or cooling a house and buying lots of unnecessary "stuff". Just try to make it as kind as you possibly can. How?
Buy less stuff
Limit flights
Avoid polluters
Put your tourist dollar in the hands of the most deserving
Say no to plastics
Don't litter or destroy
Stay away from circus-style animal attractions
Support conservation
Spread the word
Turn off the aircon
Use public transport
Walk or cycle
Eat less meat
Use your vote to make sure global governments support the planet, not bank balances
We can all just do our best. I'm sure you can think of a million more ways to help our beautiful planet.
Practicalities of Travelling The World
Some of the questions I'm often asked by readers are on the following subjects:
How to Get Laundry Done When Travelling The World
Laundry is super easy to organise in most countries of the world, the only exceptions we've found are India and Sri Lanka.
In most countries in Asia you'll find per kilo prices for laundry. Either hand it over to your hotel to wash or find a back street laundry service, the latter is usually cheaper. Pick it up later, clean, even ironed.
In Europe, Australia and the USA launderettes are unfortunately the norm. Hostels usually have their own laundry room.
Alternatively book an apartment style hotel with a washing machine, these are well worth paying for sometimes. I tend to wash small items by hand in the sink. shampoo is great for this. They dry in the room overnight is you have a fan or aircon and this cuts down the pressing need for laundry runs.
Cruise ships and luxury hotels have expensive per item laundry services, avoid if at all possible.
India and Sri Lanka like to copy this very British model, making laundry in those countries sometimes disproportionately expensive. In India don't be surprised if your laundry is beaten on a rock, buttons don't last long.
Do People Get Sick When they Travel the World?
You may get sick in any country in the world, but you are somewhat more likely to get sick when you travel because you may encounter pathogens for which you have no immunity.
We don't get sick much as we travel but when we have, we've found a doctor or dentist easily. It's really not hard. Even surgery is possible, my husband sampled Thai surgeon's work and found it excellent after an emergency operation came at us from nowhere.
Without insurance of course, we would have been sunk.
Is a Language Barrier a Problem When Travelling?
Language barriers are rarely a problem when travelling in most countries of the world.
In China, nobody spoke English in 2001 so we bought a Mandarin phrase book and pointed at phrases when we got stuck. Even back then many places had menus in English and Chinese. I remember pointing at the Chinese word for "chicken" in one restaurant without translations, we ended up with a whole steamed chicken for dinner.
In Central and South America Spanish is the common language and there isn't much English. Spanish is easy to pick up, we managed.
In Southeast Asia, India, Nepal and Sri Lanka, English is very widely spoken as it is in Europe.
Remote areas where the population is older, are the places where English is scarce. We live in a village where nobody speaks English except our expat friends. We get by.
Honestly, if you see it as a problem it will be a problem, tell yourself it will be fine and you'll breeze through. We all have phones with Google Translate these days, it's a last resort, but it works.
Ways of Making Travelling the World Cheaper or Even Free
There's couch surfing and there's working as you travel, both give you a free pass to the see the world your way without hard currency.
House sitting is another popular option. We have a full post on travelling, essentially, for free.
We rarely do any of the above, but we can give you tips on budget travel, in the early days we were masters, now our websites and travel blogging make our global journey more affordable.
What to Pack for World Travel?
What to pack for world travel is personal choice, never slavishly follow somebody else's packing list.
Whether you're comfortable in jeans, skirts or shorts, take them. Dress to suit you.
Do consider cultural norms in your destination country. Nobody likes the tourist with too much flesh on display.
What you pack also depends on what you'll be doing and what climates you'll be visiting. I'm going to write more detailed posts on what to pack but for now my message is, don't go out and buy special "travel" clothes, take what you've got, discard things as they wear out and replace and upgrade as you go.
For you, for Pinterest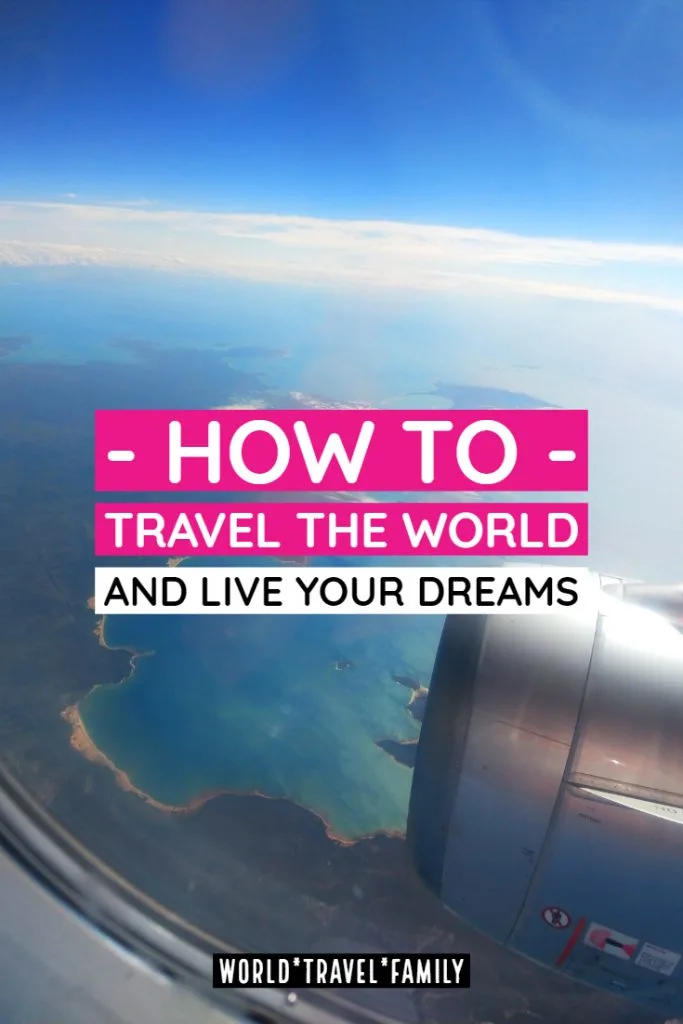 More on How To Travel The World
This post is just a rough outline, a starting point for you as you begin to plan your adventure. I'm going to be adding to it and filling in the blanks over coming weeks. Now over to you. Tell me please, what do you need to know? Just put it in the comments and I'll add it to the post.
If you'd like to hire a car during your stay, use this car rental comparison tool to find the best deal!

We also suggest you take a look at this company to get a quote for all kinds of the more tricky adventure or extended travel insurance.

Try Stayz / VRBO for an alternative way to find rentals on homes/apartments/condos in any country!