This post may contain affiliate links.
I'm sure you all know what backpacks and suitcases are, but many won't know about travel packs. They used to be my preferred world travel luggage, I carried the same travel pack around the world for many years before switching to a regular backpack and now, sometimes, just a carry-on bag. The choice of backpack vs suitcase should be easy if you read our post, but what about travel packs? We'll talk about that here. How to choose? Which style of luggage is best for you and your travel style? To a great extent, the choice of backpack vs suitcase is one of personal preference but it's also a decision that should be taken based on the style of travel you prefer, the destinations you will be visiting, and what you will be doing there. We include tips on how to travel with a backpack.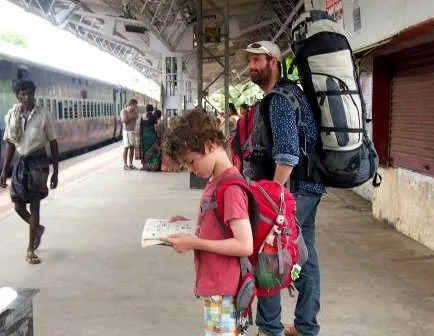 Backpacks vs Suitcase vs Travel Pack
If you're taking a short business trip and will be travelling by taxi to your hotel, the choice is easy, suitcase. For backpacking or most world travel where you'll be using your legs regularly, switching locations, using public transport, and exploring on foot, go with a backpack. But maybe a travel pack would suit you better? What if you're going trekking and what about flying? Do backpacks work well as luggage?
My choice for most travel situations is often a good quality travel pack, a backpack that zips open around its circumference combining the advantages of suitcases and backpacks. This will be my main luggage and I also carry a smaller day pack or other carry-on bag.
My husband always prefers a classical top-loading backpack, plus small backpack as carry-on. My kids have one of each style of travel bag. Let's look at the advantages and disadvantages of both and maybe consider the practicality of choosing a suitcase instead.
Backpacks
Advantages of Backpacks
You can carry them easily and comfortably, keeping your hands free at all times, on any surface and up steps.
All those side pockets and compartments make organisation easy.
Secret hiding places and pockets are often built-in, they help you distribute valuables and elude thieves.
You'll stay fitter carrying a pack and may build some muscles.
The weight isn't on your hands, arms and shoulders, it's distributed down through your core and legs. You can carry more, further.
If you will be trekking and carrying your own gear, you absolutely need a good quality, well-fitting, trekking pack.
Disadvantages of Backpacks
Straps and harness parts could get caught in airport machinery. Bag them for flights to avoid this. Some backpacks with less traditional designs feature a zip away harness compartment. These are a good feature when using a backpack as world travel luggage.
Backpacks may not be fully waterproof. Avoid this with a waterproof rain cover. Some come with a rain cover built into the pack, others can be bought separately.
Backpacks usually aren't lockable, although some are these days.
If you have physical problems, carrying a backpack maybe isn't for you. I have friends with knee, hip, or back pain who just can't carry a pack any distance.
Contents will always end up being compressed or tightly bound to some extent so packed items must be suitable.
Thieves have been known to slash backpacks and steal contents, on trains, buses, even while you're walking. It's rare but it happened to us once. Anti-theft backpacks have steel mesh or similar to prevent this.
Men's and Women's Backpacks
Remember that men and women have different body shapes and proportions, so you'll probably be better choosing a gender-specific backpack or travel pack. That said, I carry a man's Osprey Farpoint often. It's small and I don't trek with it, so exact fit doesn't matter so much in that instance.
Choose a Backpack If:
You need to be able to move around, on foot with your bag.
You will be backpacking, ie. moving from location to location during your trip.
You are strong and fit enough to take the weight. To give you an idea, my pack weighs 15-19KG depending on the trip, I can carry that weight very easily. I'm small, past my prime and female.
You like lots of external pockets to organise your stuff
You want your hands to be free.
Backpacks With Attached Day Packs
I don't like the many backpacks on the market that come with an attached or detachable day pack. In my opinion they are in no way practical. I have never been in a situation where I've needed to attach my day pack to my backpack and the day packs are too small to be useful. You may be able to find a model that suits your needs but I have bought one and I would never buy one again.
Travel Packs
It can be hard to track down travel packs so I've done some of the hard work for you. Also take a look at these, in various sizes. They have great descriptions and images on these pages including the harness and internal pockets, scroll down to the bottom.
Osprey also make smaller travel packs but I really don't see the point, just one good day pack would do instead and you'd be looking at cabin baggage size, carry-on only travel.
Advantages of Travel Packs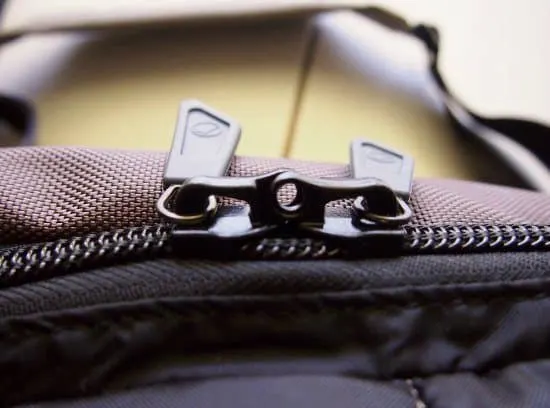 You can carry a travel pack comfortably for shorter distances like a regular backpack.
The zip around the outside makes packing and unpacking easier, they zip completely open like a suitcase.
Finding things without pulling everything out of your bag is much easier.
Travel pack style backpacks tend to have zips which can be padlocked shut. For me this is a big advantage of travel packs but many full-time travellers don't worry about padlocks as they don't stop some thieves. I always padlock mine to deter opportunists.
Travel packs often have harnesses that can be zipped away to avoid the need to bag packs at airports or risk fouling on airport conveyor belts.
Alternate carrying points are usually built-in, a carrying handle and detachable shoulder strap.
Travel Packs often come with internal pockets and compression straps to organise and stabilise your gear. You may find dirty laundry or shoe compartments.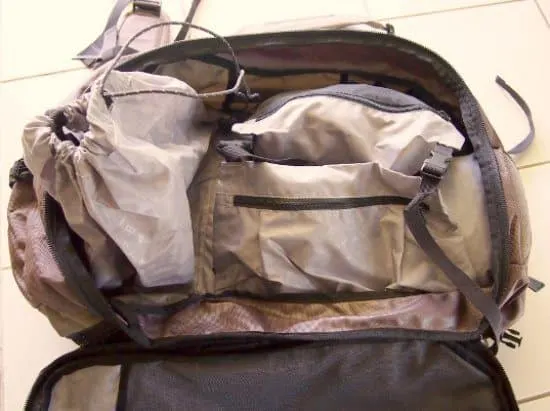 This is a Lowe Alpine Women's Backpack. It's the best seller on Amazon in the size range I would recommend for travel. Lowe Alpine is our brand of choice, their quality is superb and none of our Lowe Alpine gear has ever failed us.
My travel pack is 60L. I find that a good size and a good weight for me as a fairly small woman. I'm 5 foot 4 inches tall and 50 years old. It's easy to carry even for fairly long distances
Disadvantages of Travel Packs
Travel packs will not be as perfectly designed for carrying ease as a regular backpack. This makes them suitable for travel, not trekking carrying your own gear. A porter could, however, carry a travel pack.
Extra compartments, pockets, and harness covers add weight and bulk.
The zip could break.
Travel packs tend to have fewer external pockets than backpacks, so accessing something from your pack may involve full opening, which isn't ideal at the airport.
Choose a Travel Pack If:
Perfect harness fit and weight distribution aren't so essential to you.
You need to be mobile and are strong enough to take the weight, as for a backpack.
You like to be able to padlock your bag and access your clothes without rummaging to the bottom of a pack.
You like internal pockets to organise your stuff.
You aren't going to be trekking or hiking with your world travel luggage.
Suitcases
It has a stylish, durable polycarbonate shell, a fabric lined interior with dividers and pockets and closes with a lockable zip. The lock is actually built in. If I wasn't such a big fan of carrying, rather than dragging, luggage, heck I'd buy it! It's gorgeous.
Advantages of Suitcases
With a suitcase on wheels, you won't have to carry it.
Easy, at a glance, access to all your belongings, no rummaging in the bottom of a pack.
Special or bulky clothes may have a better chance of arriving at your destination less wrinkled and if appearance really counts for you, you can easily pop in a travel iron.
If you splash out on a good quality hard suitcase, your belongings won't get squashed and are very well protected.
Suitcases can make you appear more professional, lady like or business class. Catch that free upgrade!
Heels are far easier to carry in a hard suitcase.
Disadvantages of Suitcases
If you encounter rough, uneven surfaces or steps, wheeled suitcases become useless.
At least one hand will be busy with your suitcase and your body will probably be leaning awkwardly stressing your back and shoulders.
Choose a Suitcase If:
You won't be walking anywhere with your luggage.
You tend to spend your entire trip in one hotel or have a taxi or motor vehicle to take you from place to place.
You have fancy clothes and shoes that need some protection.
My Travel Pack and Why I like It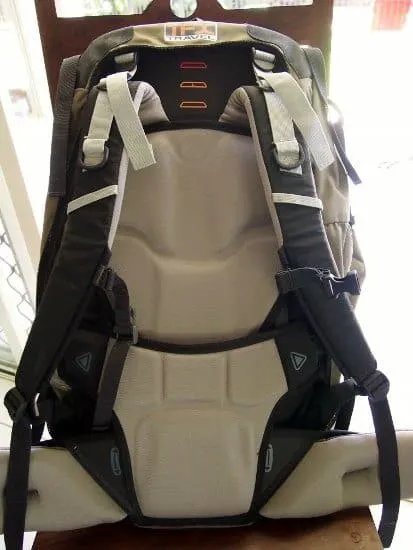 My backpack of 3 years now, actually a travel pack, had to come from the USA. We lived in the top right-hand corner of Australia, the pointy bit, so shops were few on the ground and most purchases had to be made online. That's not an ideal situation with backpacks. Really you should try them on with some weight in them to see if they are comfortable and check they are exactly what you want.
As I picked a great, good quality brand in Lowe Alpine, I was confident the harness would be good, it is, no problems with fit or comfort.
Buying a Backpack Online
I can give you a few suggestions if, like me, you need to buy your new backpack online.
If you are a lady, go for a lady's pack. A small man's pack may be fine for you, but without trying it on, you can't be sure.
Go for a fully adjustable harness. Mine is, I'm really happy with the fit.
Know what is important to you in a pack. Have a look at whatever you can find in the shops, see what design features appeal to you and which don't. If you can find a shop that will measure you for fit, even better, use those measurements in your online shopping. However, don't always trust sales people, they have a job to do and have given me crazy advice. I've been to Everest Base Camp carrying a backpack and visited over 50 countries, they usually haven't.
Go for a good quality brand, if the brand has a good reputation, it will be a much safer bet.
Shop around, compare prices and postage from outlets all over the world. Search for discount codes for the shopping outlet you choose, they can save you a good chunk of money.
Read as many reviews as you can find.
Decide how much gear you need to take, how much weight that will translate into and how many litres of volume you will need. You may want to consider taking less gear and getting a smaller pack that can be taken as airline carry-on luggage to avoid extra baggage fees. (Note: my 60L Lowe Alpine Travel Pack weighs about 15Kg fully packed, for me, a small lady, that's easy to carry.) Personally, I hate travelling carry on only, we only do it for short trips, read our post on flying carry on only here.
Do You Need a Backpack or a Travel Pack?
Technically, my new pack is a travel pack, that means it zips open around the middle and the harness zips away. That's just me, it's what I like. I'm not talking about packs for trekking, I wouldn't use a big travel pack for that, my travel pack is "luggage". It is how I carry everything around the world from bus to airport to guest house to train. For trekking in Everest recently I used a small, cheap, lightweight backpack that we often use as hand luggage. It did the job just fine. It's a Mountain Warehouse Extreme pack and does for older kids and adults.
I went for a Lowe Alpine Travel Trekker Pro ND 60 +16
The 60 +16 means that it is a 60L pack with a detachable 16L day pack.
The Travel Trekker Pro has an outer clam shell design pocket that takes the 16L daypack, securely strapping it in. I can use that to carry one of the boys' backpacks if they aren't feeling strong, so I'm petty pleased with that design feature, too.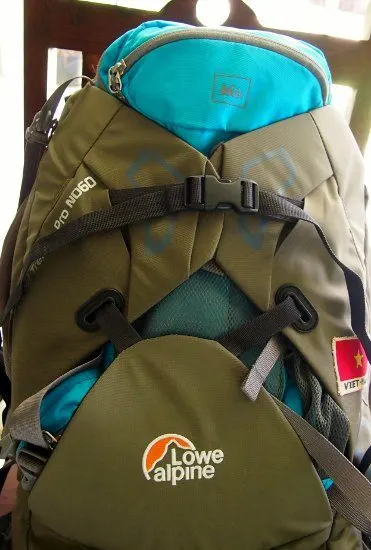 UPDATE: 3+ years into our trip I still love my Lowe Alpine Travel Trekker, I can't recommend it highly enough. Those internal zipped pockets are fabulous, look out for designs with this feature. I use the day pack every day, I also carry a laptop bag for airport, train and bus days. Everything is working out just great but I really wish I had a good day pack big enough for my laptop, the shoulder laptop bag is hard to carry.
Want more ideas on what travel gear you'll need?
Go here, Travel Gear Essentials Tried and Tested Over 3 Years of travel.
If you'd like to hire a car during your stay, use this car rental comparison tool to find the best deal!

We also suggest you take a look at this company to get a quote for all kinds of the more tricky adventure or extended travel insurance.

Try Stayz / VRBO for an alternative way to find rentals on homes/apartments/condos in any country!