This post may contain affiliate links.
With more and more travel essential gadgets requiring charging, it's little wonder that people are turning to portable battery packs to help fill the power gap when travelling. Be aware that not all battery packs are created equal in build, quality or price. Below I've listed 5 of the most common and widely regarded best chargers on the market at multiple price points. We carry several portable battery packs when we travel, including traditional and solar powered types. We use them for charging phones, Kindles, Nintendo DS, even laptops on the road. If your travel plans involve long journeys or locations and countries where power availability will be an issue, you should most certainly be investing in portable battery packs.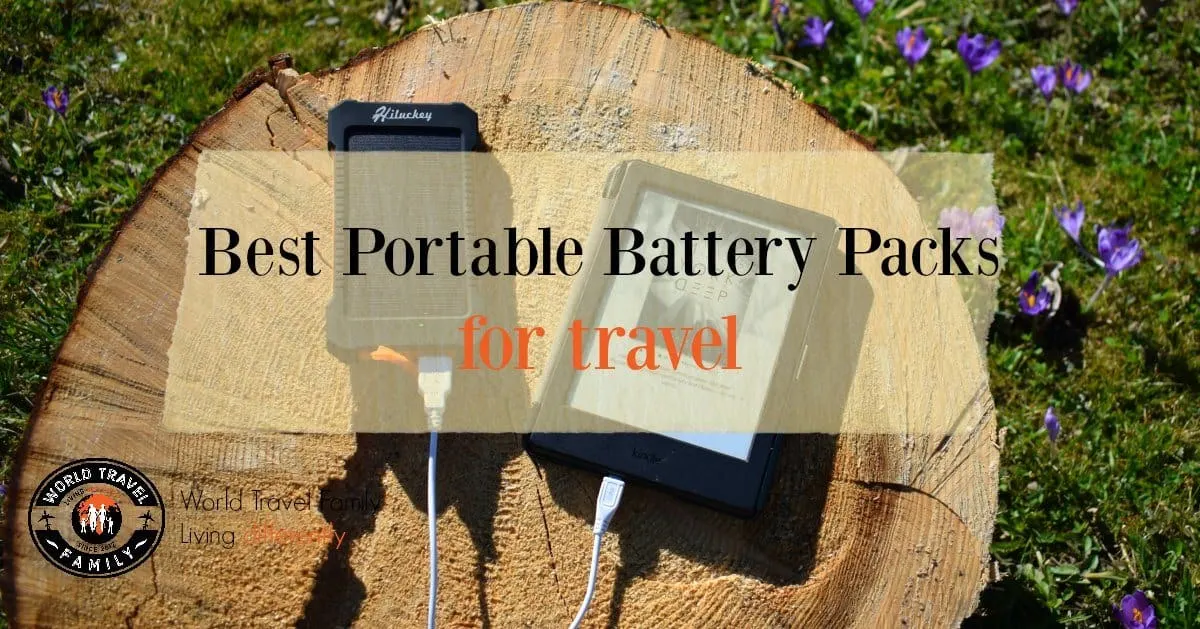 UPDATE: Due to global events it has come to my attention that Amazon are out of stock of many items, including some of our top recommended power banks and power packs listed below. I'm looking for other online suppliers of power banks, but for now, you may have to buy a "good" power pack rather than the "best". Today, checking yet again, our two top selections, the Anker and the Hiluckey solar were back in stock. I can see that the chargers in the list below are available today, should our top picks vanish again. Please check specifications and what's included with each item at the point of purchase as everything is in flux right now.
What's new in portable chargers for travel? Wireless magnetic charging mats like the one below are becoming popular with newer devices, take a look here. But these aren't good for use on buses etc, where there usually isn't a point to plug them in.
To carry charge back-up in your bag for emergencies you need a more traditional travel power bank like the one below. Take a look at this power bank or pack here.
Some of the product-related links on this page will be affiliate links and if you use them we make a small commission. However, this doesn't affect our decision to recommend them. Our recommendations are based on our honest first-hand research, experience, use, and findings.
Anker Power Core 26800. Dual input port, double speed recharging, 3 USB ports. (use this link to buy in the US, UK, or Europe, see Australia below) This is a good one, top-end capabilities, and it holds a lot of power or charge (26,800 Milliamphere Hours, the biggest on this page), but very limited stock. We do recommend Anker as a trusted brand in power banks, we use them ourselves when we travel. For Australia, buy this power bank here. The quick charge capabilities are extremely usful. This is one of the heavier power banks (around 500g), so if weight is an issue, carry it onto the plane in a pocket. The lightweight models do not charge as well or as often in use, we prefer a more powerful power pack. This power bank should charge a phone, quickly, 5-6 times, and recharge itself from the mains faster than others too.
INIU Portable charger with LED display. Half the price of the Anker above and still holds a good amount of charge, if you're looking for a cheaper, smaller power bank. 20,000MAH (Milliamphere Hours), fast charging. This power bank is available in Australia here. This is a much lighter power bank than our first option, at 365g according to the manufacturers. This one has a 74Watt capacity so should be fine to take on most airlines and is lightweight.
POWERADD Energy Cell 10,000. (not currently available) Very slim, very compact, low price. This low (10,000) MHA should change your smartphone once so is a very basic option, probably not the best choice for travel.
Solar Power Bank,Yelomin 20000mAh Portable Outdoor Mobile Charger. We love solar chargers, but they tend to be heavy and the solar panels don't last forever. Only buy these solar power banks if you need this function for an off-grid destination. They put the power in your hands when you're out and about. We go off-grid often, be it in the Himalayas or camping in the tropical heat. We always pack a solar charger and this is a budget-friendly model. The solar chargers tend to be heavier, we find. UPDATE: Our favourite, Hiluckey model, below seems to be back in-stock.
Our 2 Top Favourite Power Packs
Obviously, not all needs are the same. We pack solar chargers often for remote travel and outdoor adventures but for regular travel, go with slim, light, compact and high-powered. Our two best chargers for your style of travel are below. You can click on the images to buy online.
We take a look at 5 popular, high-quality portable power packs in this post, but to save you time, see our Favourite Hiluckey Portable, Solar, Water Resistant, Battery Pack . Here to check price.
Alternatively, if you're not looking for solar, the Anker Power Core 10000 is our top pick for compact, light, super portable high powered charging on the go. Take a look at this top pick and bestseller by clicking here.
We would suggest carrying these portable charging devices at all times in countries liable to regular power outages (eg. India, Nepal), for all Africa overlanding, and for any travel where you will spend days on buses and trains. You'll even find them useful on some airlines still, by no means all planes have charging facilities.
5 of the Best Rechargeable, Portable Battery Packs for Travel
Anker PowerCore 10000

Anker PowerCore 10000, One of the Smallest and Lightest 10000mAh External Batteries, Ultra-Compact, High-speed Charging Technology Power Bank for iPhone, Samsung Galaxy and More
This little power pack is great for day trips where you just need a top up. Small enough to fit in your pocket but powerful enough to charge a couple of phones or the same a few times if you're really power-hungry, this one doesn't hurt your wallet.
Compact. One of the smallest and lightest 10000mAh portable charger (2.36 x 3.62 x 0.87 in, 6.4oz). Provides almost three-and-a-half iPhone 6s charges or three Galaxy S6 charges.

Fast. Anker's PowerIQ and VoltageBoost give you the fastest possible charge. Qualcomm Quick Charge not supported.

Safe. Anker's MultiProtect safety system ensures complete protection for you and your devices.

What You Get. Anker PowerCore 10000 portable charger, Micro USB cable, travel pouch, welcome guide and 18-month warranty. Lightning cable for iPhone / iPad sold separately

Low Price.
Anker Power Core 5000, Ultra-Compact 5000mAh
Anker PowerCore 5000, Ultra-Compact 5000mAh External Battery with Fast-Charging Technology, Power Bank for iPhone, iPad, Samsung Galaxy and more
The smallest and cheapest charger, less charge than the model above but a lower price. Really only suitable for a day trip. This charger will get you out of a low battery warning but isn't going to get you much further.
Capacity. Contains 5000 mAh of power. Enough to provide two charges to an iPhone 6s or at least one to a Galaxy S7.

Ultra-Compact: Remarkably small, tubular design slides easily next to your phone in any pocket or bag. Just 10cm tall and 3cm wide.

Fast. Equipped with exclusive PowerIQ technology, it provides the fastest charge to any phone or tablet (up to 2A).

What You Get. PowerCore 5000, travel pouch, Micro-USB cable, welcome guide and an 18-month warranty.
Anker PowerCore 26800 Portable Charger
Anker PowerCore 26800 Portable Charger, 26800mAh External Battery with Dual Input Port and Double-Speed Recharging, 3 USB Ports for iPhone, iPad, Samsung Galaxy, Android and other Smart Devices
For the serious power user. With a massive 26800mAh capacity this will last for those weekends away. If you're traveling off the grid for a short time this is the one to have. Big enough to do tablets as well as phones this will cover all bases. It can even charge more than one device at a time. It also recharges itself twice as quickly as other devices meaning you should never be stuck without power. More expensive as far as battery packs go but this ticks all the boxes if you really need a large amount of portable power. If you don't want the solar, I'd choose this one for travel.
Huge Capacity. 26800mAh of power charges most phones over 7 times, tablets at least 2 times and any other USB device multiple times.

High-Speed Charging: 3 USB outlet ports with Anker's PowerIQ and VoltageBoost technology for high-speed charging for three devices simultaneously (max output 6A, single-port max output 3A).

Faster Recharge. Dual Micro USB (20W) input for recharge speeds up to twice as fast as standard portable chargers—a full recharge takes just over 6 hours.

What You Get: PowerCore 26800, 2X Micro USB Cable, Travel Pouch, Welcome Guide and an 18-month warranty.
Anker Power Core+ 26800, Premium Portable Charger

Anker PowerCore+ 26800, Premium Portable Charger, High Capacity 26800mAh External Battery with Qualcomm Quick Charge 3.0 (in- and output), Includes PowerPort+ 1 Wall Charger
This is the deluxe of power chargers. Can charge 3 devices simultaneously up to 6A and will recharge twice as quickly as other chargers. Comes with a handy wall socket. When fully charged you could get a weeks worth of charges out of it. Perfect for an off the grid holiday or trekking. Think Himalayas here people. The price matches the performance. Not the cheapest but by far the best in terms of what it can achieve. Suits families with more than one device to charge.
Qualcomm Quick Charge 3.0: Using Qualcomm's advanced Quick Charge 3.0 technology, PowerCore+ allows compatible devices to charge 85% faster. Recharges itself twice as fast with the included wall charger.

Fast-Charging. Exclusive to Anker, PowerIQ and VoltageBoost technologies combine to provide universal full-speed charging for non-Quick Charge devices, up to 3 amps per port.

Extra Capacity: PowerCore+ 26800 is one of the world's highest capacity portable charger with Quick Charge 3.0 technology. It charges the iPhone 6s 9 times, the Galaxy S6 over seven times or the 2015 MacBook more than three times.

What You Get: Anker PowerCore+ 26800, PowerPort+ 1 with Quick Charge 3.0, Micro USB cable, travel pouch, welcome guide and 18-month worry-free warranty.
Solar Charging Hiluckey 25000mAh Solar Power Bank
See here to order online – Solar Charger 25000mAh, Waterproof, Hiluckey Outdoor Portable Power Bank with 4 Solar Panels, External Battery Pack with Dual 2.1A Output, Fast Charge, USB Compatible with Smartphones, Tablets, USB charged devices
This is the solar powered charger I have and use. I like that it can be either solar or power charged. Being rugged, water resistant, dust resistant, and shock proof means I'm not worried about it getting damaged as we travel the world. The solar charge part is great for topping up any charge, anywhere. 4 separate panels allow for fast charging where ever you are. Just leaving it on a table in sunlight means it is topping up. With the added bonus of a built-in torch for night time in new hotels, it is ideal on many levels. The price is also great. This is the one we use for trekking in Nepal when power is hard to come by. It has a lower charge capacity, the same as the model at the top of the page, but the ability to top up in daylight makes that fact unimportant.
A built in 25000mAh lithium battery equipped with a compact solar panel, could recharge the battery itself under sunlight for emergency purpose while outdoor. Can also charge with it's built in USB Port(input 5V1A) from mains supply.

2 USB Outlets. Dual USB 2.1A

Rugged, rain resistant, dust-proof, shockproof & compact with good looks for any adventure traveller.

Flashlight, hook and compass.

Integrated LED indicators to show power status and charging progress.

Portable and Lightweight. Easy to hold or put anywhere your want.

Equipped with over-charge protection system.

Can recharge by solar or outlet.

Compatible with Smart phones and other 5V USB devices, Can charge iPhone 8 to 10 times.

We've tested it, it does not require bright sunlight and will charge just fine indoors.
4 solar panels for effective fast charging.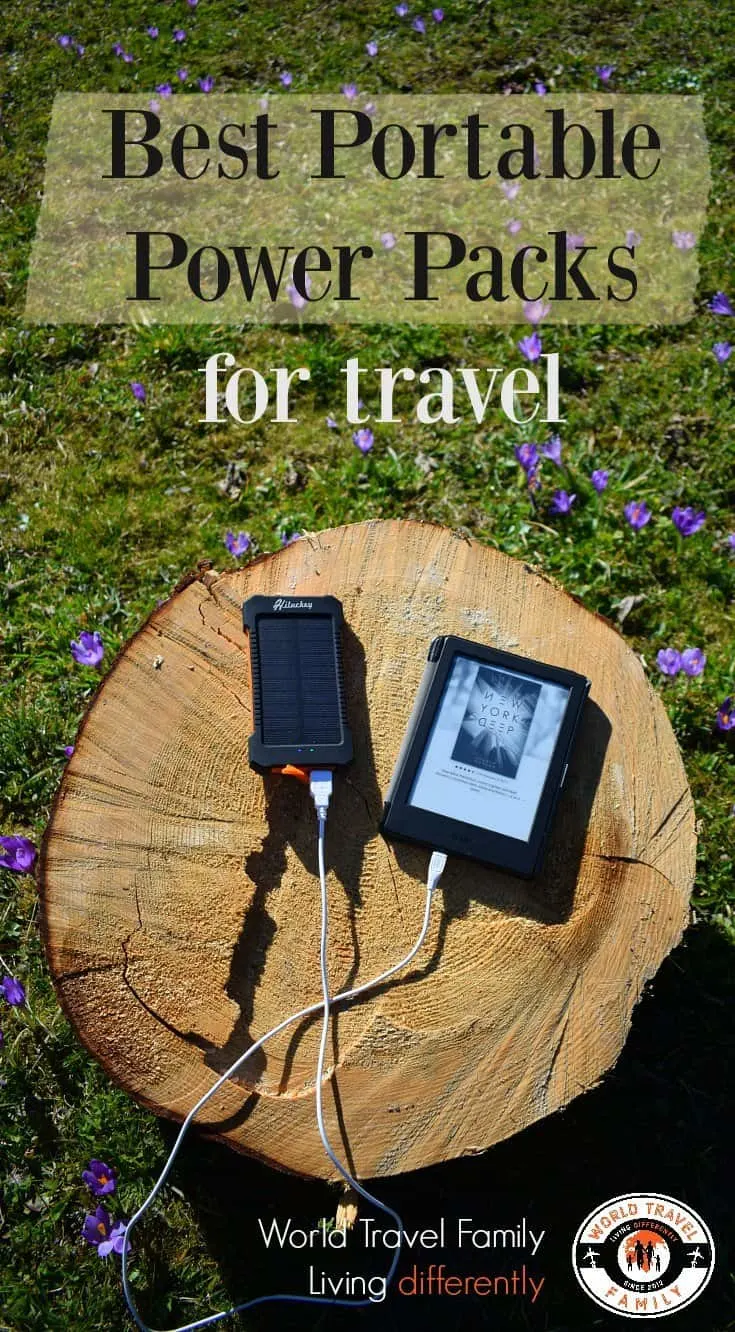 Are You Allowed To Take Power Banks on a Plane?
Most power banks can be taken on a plane, provided the internal battery comes in below 100 Watt Hours. (Wh). If you can't find the Watt Hour specifications for your battery pack, use the formula mAh x Internal Battery Voltage /1000 = Watt Hours (Wh).
You should have these chargers in your hand luggage, not your checked luggage, and always check if your airline has any special regulations around power banks and chargers.
Quantas requires that a charger's lithium ion batteries not excede 160 Wh, for instance, and they must be declared at check-in. These regulations do change, so always check. AirAsia's regulations are here.
We have taken hundreds of flights in Asia, Australia, Europe and the US, and never had any issues with taking power banks onto a plane in our carry on bags. We've also got extremely good use out of them, both on the plane, and at the airport.
Do You Need To Pack a Power Bank For a Flight?
Yes, you should always have back-up power for your phone or laptop when you travel. Some airlines have USB charging ports for each seat, but many do not and often they will be broken.
Likewise, at some airports you can struggle to find a place to charge your device. With boarding passes and reservations being online, and QR codes being used at immigration and customs in an increasing number of countries, you can't risk being without power to your phone or iPad. Your laptop, if you are carrying one, must be charged too.
We've travelled for over 4 years with power packs and we use them all the time. We would suggest carrying at least 2 for a family or one very high capacity power bank with multiple ports. Our solar charged model, bought last year, is our favourite so far and we highly recommend carrying a couple of these for emergencies, maybe in conjunction with a maximum capacity model for laptop users. Back to our main travel gear page.
If you'd like to hire a car during your stay, use this car rental comparison tool to find the best deal!

We also suggest you take a look at this company to get a quote for all kinds of the more tricky adventure or extended travel insurance.

Try Stayz / VRBO for an alternative way to find rentals on homes/apartments/condos in any country!