This post may contain affiliate links.
What to blog about? What content should you create that will bring you lots of traffic? There are a few different options but I'll tell you that the bread and butter of my website is giving people facts. They want hard information, first hand experiences and maybe a little reassurance that the thing they're doing or place they are going is a good idea. They want to know how to travel, where to travel and how much their travel will cost. Obviously, I'm coming at this from a travel blogger angle.
I already told you not to write a diary, but you can add a touch of story telling if it will make your post more interesting. The important thing, the most important thing with any blog post, is choosing the right keywords. Keywords are phrases, not single words usually. I told you not to write " Kuala Lumpur Capers" but what should you write instead?
Choosing What to Blog About (as a Travel Blogger)
If you found this post by accident on our website it's part of a series that we mail out to travel blogging only subscribers. Head back to our main travel blogging page and sign up, we'll zap this series into your mailbox.
What are Keywords and Which Keywords to Choose?
Keywords can be similar to the examples below.
"Things to Do in Kuala Lumpur"
" Kuala Lumpur With Kids"
" Best Hotels in Kuala Lumpur"
"Where to Stay in Kuala Lumpur"
"Things to do With Toddlers in Kuala Lumpur"
" How to Get From Kuala Lumpur to Penang"
" Where to Eat in Kuala Lumpur"
" Best Street Food in Kuala Lumpur"
and so on.
None of the above involve you writing a description of the lovely day you had in good old KL.
I know because I did it. I still have disastrous posts on my site that will never get any Google traffic at all because I didn't know what I was doing. Look at this one, it sucks I just keep it for sentimental reasons. I really shouldn't, posts with poor SEO can drag your site as a whole down.
You can also do smaller subjects, maybe create a whole post on going up the Petronas Towers or a whole post on Batu Caves with solid information on the caves, how to get there, opening times etc. If you're going to write a post on Batu Caves you need to make it the most complete post on Batu Caves ever created if it's going to rank in Google.
You could write a post on how to get to Batu Caves from a particular place in KL. Posts that are precise and narrow like that are easy to write and could bring good traffic if somebody hasn't beaten you to it and done a better job. You could write a post on where to find Marmite in KL or where are the best shops for a particular thing, anything, so long as you do a good, factual, thorough job.
Unfortunately, all of the above ideas have already been done to death. Every blogger who's been to KL will have created the same or very similar content and every blogger has been to KL because of AirAsia, so KL is a tough nut to crack. You need to start thinking about Keyword Competition and Keyword Research.
Generally the bigger the holiday destination, the more popular, the harder it will be to rank for that keyword.
We can use tools such as Longtail Pro, Keysearch and Keywords Everywhere ( which is free, click through and grab it) to determine how hard a keyword is to rank for, they give you a score, a number that indicates keyword competetiveness.
This competitiveness is based on how many other people have written the same post, how strong and relevant are their sites, what " authority" they have and whether or not they precisely addressed that keyword. We talk about keywords being an " exact match". If there is already a post that is an exact post, if it's on an active authoritative site and if that post is good ie. readers love it. You'll struggle to beat it. The keyword competitiveness will be high.
You also need to figure out how many people per month search for terms such as " Things to Do in Kuala Lumpur". These tools give you that information.
A young, new site has very little authority. The sites at the top of Google have heaps of authority. Authority comes with age, quality and backlinks.
What are Backlinks?
Backlinks are links to your site from other sites. A link can either be "follow" or "no follow". A follow link is what you want because it passes more " Google juice" A "no follow" link passes very little. The backlinks you need are from high authority, relevant sites. Think Lonely Planet, Nat Geo or the bigger bloggers. These backlinks are gold. Backlinks help you grow " authority". We'll talk more about authority and " Google juice" later.
Baskets of Content, Internal Linking and Site Structure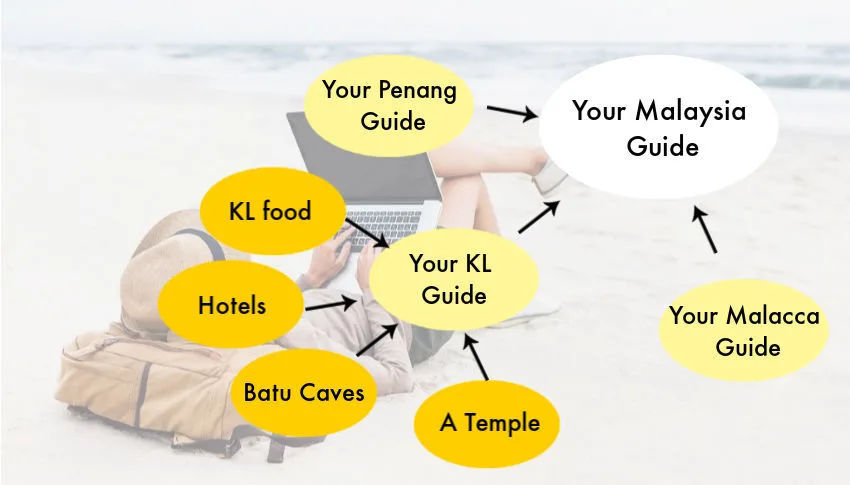 So, if you're going to create a whole bunch of content about different places, attractions, food, hotels, getting from a- b in and around Kuala Lumpur, you'll want to interlink all that content using internal links. On top of that you'll probably want one post to act as a "cornerstone" piece. This will be the post that you link to every time you need to link to Kuala Lumpur.
In the diagram above Your Malaysia Guide is a massive cornerstone, Your KL Guide is a smaller cornerstone. So each post relating to KL will link to the KL cornerstone AND the Malaysia cornerstone. They will also interlink. These internal links add to your site's internal SEO and help Google understand what's most important on your site.
So do you see that you should never create just one post on a destination? Creating 20 would be much better. It builds your authority on that destination. In an ideal world you'd cover everything possible on that destination in some way or other, as I'm trying to do here with this Nepal post. I'm not there yet, but I'm working on it.
If the above doesn't look like what you wanted to do with your blog then I'm sorry, it's just the way it is. If you want to write stories you can, but be smart and pick good keywords. You will need to cover everything about your keyword, within your story or in factual inclusions, to keep you visitor from Google happy. If your visitor from Google isn't happy, Google knows and your post will sink not rise in the rankings.
User Intent
User intent is an important thing to understand. I've seen new bloggers try to " trick" people into clicking on their results by using low competition keywords that actually don't relate to the post at all. It won't work.
You have to answer every question the person asking " Things to Do in Kuala Lumpur" might have in their head. If you don't, they will click back to the results page and Google will know that your result was the wrong one to show that user. Always consider user intent. What is it they really want to know when they type in their query.
Planning Your Travel to Grow Your Blog
Because we're serious about travel blogging we do, most certainly, plan our travels to suit our travel blog. As mentioned above I want to have the most complete Nepal guide on the internet. For that we'll need a few more trips to Nepal. We plan destinations, what photographs we need, what attractions to visit and what food to eat.
Food is loads of fun. Chef and I spent about a week in Hoi An pedalling between restaurants and street food stalls to taste and photograph every Vietnamese dish we could find. It's work, but it's fun. If you want to publish a food guide you need to do that.
Also think about which countries you could rank for. Thailand is tricky, maybe there is somewhere more obscure you could cover?
So yes, that's a thing, planning your travels around your blog. It doesn't take any of the fun out of travel, in some ways it makes it more fun but if you're just setting off on a family gap year, this could be tricky.
Getting Traffic From Social Media
In your first year or two of blogging social media and subscribers will most likely bring you way more traffic than Google. Long term, this will probably flip right around. I get 9-10, 000 clicks per day from Google right now, Facebook brings maybe 100, Pinterest 300, Twitter 10, Instagram 20. So can you see where I'm coming from with the SEO thing?
Getting traffic from social really has a whole different set of parameters. Social media followers don't care about how to get from Cardiff to Penarth. They don't want your Best Travel Towel, they like something a bit more juicy, click baity and personal. So, maybe, like me, you'll end up creating 2 types of post. But just be sure to have an SEO edge on every post you create, don't publish junk that will always stay low in the rankings because Google won't love your site as a whole if you do that.
Some people get good traffic from social but you need to make social your focus to do that and learn a few tricks on where and how to share as well as be on there interracting constantly. All social platforms need you to be on them as much as possible. I prefer SEO, so that's what I do. We'll talk more about social media later.
I hope I haven't put you off. What I describe above is not the only way to do it, but it seems to me that it is the best way. It's certainly what works best for me. Having huge numbers of followers and subscribers hanging on your every word is another way, but I'm just not that good a writer. Maybe you are. Your subscribers probably won't want to read the sort of SEO posts described above, that's another issue. These posts are written for Google and are a long term investment. To keep subscribers happy you need to get more chatty and personal sometimes. Maybe we'll talk about that next time, how to get subscribers and keep them happy. Right now I would strongly suggest you go read our beginners guide to SEO. It's in plain English, nothing too fancy. What else do you need to know? Put it in the comments.
If you'd like to hire a car during your stay, use this car rental comparison tool to find the best deal!

We also suggest you take a look at this company to get a quote for all kinds of the more tricky adventure or extended travel insurance.

Try Stayz / VRBO for an alternative way to find rentals on homes/apartments/condos in any country!