Last Updated 19/10/2022.
Places to visit in Nepal. Obviously, most visitors to Nepal will spend time in Kathmandu, and then many take off on long treks. But what are the other places to visit in Nepal, what is there to see and do in Nepal outside of Kathmandu? We go into top tourist destinations and places to see in Nepal in this post.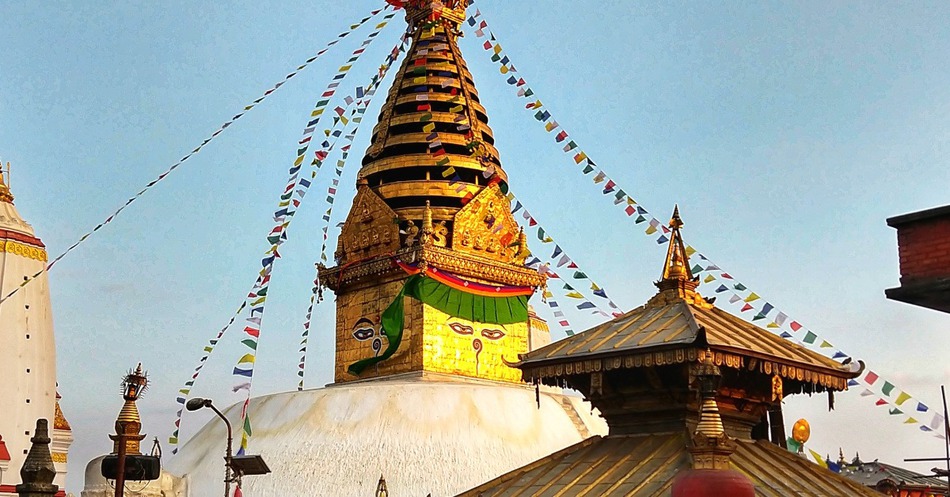 Are you planning your trip to Nepal? Nepal is open for international tourism in 2022, meaning the peak autumn trekking season should be able to go ahead. Where should you go? What are the top, do-not-miss places, towns, cities, villages, national parks, and things to do in Nepal? If you're a culture lover, a wildlife enthusiast, or a high-altitude trekker, we have a round-up of the essential attractions and tourist places to visit in Nepal
Kathmandu itself has some of the most fascinating places to visit in the entire world. If time is short and you're heading off for a trek, be sure to check out our post on places to visit in and around Kathmandu, below.
If you have more time and you're heading to the Annapurnas or Poon Hill, you can squeeze in a few days relaxing in beautiful Pokhara on Fewa Lake.
More time again? Get out to Chitwan for a wildlife safari, you can spot Bengal tigers and Indian 1 horned rhino if you're very lucky.
Not far from there is Lumbini, the birthplace of Lord Buddha. This is advanced level travel.
Around the Kathmandu valley, there is beautiful Bhaktapur, home to the 3rd Durbar Square of the valley, and Nagarkot, a famous hill-top view-point. UNESCO lists all of the Kathmandu Valley.
Then of course, there is the magnificent Everest Region with its many treks and fascinating mountain communities.
Not sure where to go in Nepal? Read the post below.
Best Places to Visit in Nepal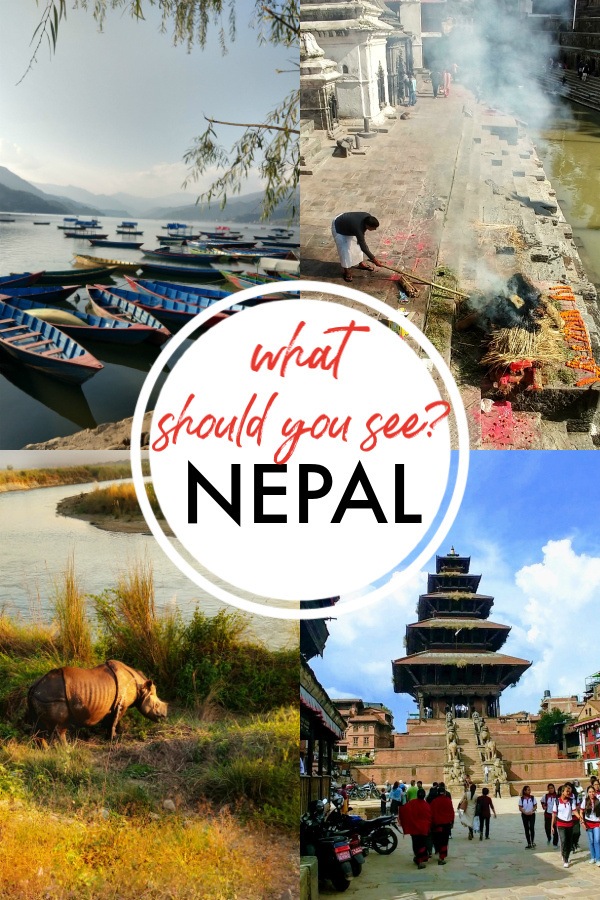 Destinations in Nepal-Video
Whatever you choose to do, I'm sure you'll love Nepal. We made a very short video below to let you see what's ahead of you in Nepal. Watch below!
Best Places For Trekking in Nepal
There are many treks in Nepal, some take a day, some 2 days, some a month. There are also some short day hikes to enjoy in accessible places such as Nagarkot. See our post on trekking in Nepal for more details.
These treks in the high, remote parts of Nepal will take you to some truly iconic destinations. Mount Everest itself, the Khumbu icefall and glacier, Namche Bazaar, Tengboche Monastery and Lukla airport will feature on your Everest trek. You will also be exploring the Sagarmatha National Park.
Head to the Annapurnas and you'll get the chance to see the Thorong La pass, Jomsom and Kagbeni. You can take a look into Mustang, but special permits are needed for a Mustang trek. It will be our next trek when borders open.
Lumbini
Modern-day Lumbini in Nepal was where Lord Buddha, Prince Siddhartha Gautama, was born. This young prince was a historical figure and his birthplace is marked today by various temples, stupas, and a gold statue of the miraculous child. The Maya Devi Temple, sacred Bodhi tree, and pool are said to be the exact spot of his birth.
Look out for the Thai, Tibetan, Sri Lankan, and Myanmar temples, monasteries and pagodas along with the World Peace Pagoda.
Nagarkot
Nagarkot is well known as a Himalayan viewpoint, not too far from the city of Kathmandu. You're unlikely to see "the snows" from Kathmandu itself, the air pollution isn't conducive to clear views. At the right time of year you should be able to get more than a glimpse of Himalayan ranges from Nagarkot.
People come here just for sunset views and leave straight away, or, if time allows, spend a few days here and take some gentle hikes in the surrounding hills.
Bhaktapur
Bhaktapur is a beautiful ancient city with its own Durbar Square, court and Kumari, within striking distance of Kathmandu. If you possibly can, spend a few days here. We fell in love with Bhaktapur after the day-tourists had gone home.
There is an admission fee for Bhaktapur and it's quite expensive, but accommodation here for us was excellent and cheap. I could easily spend weeks here.
Pokhara
Pokhara is Nepal's second big tourist-draw after Kathmandu. Most people visiting Nepal will spend some time here which is no easy feat. Pokhara is a full day's bus ride from Kathmandu on Himalayan roads.
The centre-point of Pokhara is Fewa Lake (Phewa Lake), popular for boating. Stunning mountain views tower above the Pokhara bowl, adventure activities such as paragliding and white-water rafting are popular here. This is where you'll need to be to start your Annapurna Range and Poon Hill Treks. Like Kathmandu, Pokhara bristles with backpacker supply shops, restaurants and trekking shops.
You can drive or walk up to the Pokhara peace stupa, Shanti Stupa, for a great view of the lake, town, and mountains. It's a nice walk down. The International Mountain Museum is also in Pokhara.
Chitwan
If you want to see royal Bengal tigers or Indian one-horned rhino, Chitwan is the most popular safari destination in Nepal. Chitwan National Park is a conservation success story. If you want to see tigers be sure to visit at the right time of year.
Kathmandu
Kathmandu can't be summed up in one paragraph. It's one of the most incredible and wonderful cities on the planet and you could be busy exploring and seeing Kathmandu's ancient sites and temples for weeks.
The places we list below are all in Kathmandu or very close, and all worth your time.
Thamel
Swayambhunath
Pashupatinath
Boudhanath
Narayanhiti Palace has been converted into a museum. The former home of Nepali royalty.
Budhanilkantha Temple. reclining God Vishnu statue.
Kathmandu Durbar Square
Kumari Ghar
Kasthamandap
The Garden of Dreams, a walled, landscaped gardens area near Thamel. Has an admission fee.
Hanuman Dhoka Durbar
Chandragiri
Chandragiri hills and cable car is another hill-top place to take in views of the Himalayas. If you don't want to take the gondola up, you can walk or drive to the top.
Janaki Temple
This architectural marvel is said to be on the spot where the goddess Sita was born and married Rama
Langtang National Park
Langtang is a famous trekkers' destination with beautiful trails through forested hills. It is home to the sacred Gosaikunda Lake and some incredible wildlife. It's only 32 Km from the north of Kathmandu city.
Our places to visit in Nepal post grows daily, I'm adding Pokhara, Swayambhunath and Pashupatinath in coming days. Do check back, or better still , bookmark our post to Pinterest. For more tips and guides to help you plan your trip to Nepal you'll need to head back to our main Nepal Travel post.
If you'd like to hire a car during your stay, use this car rental comparison tool to find the best deal!