This post may contain affiliate links.
What are the best places to visit in Nepal? Obviously, most visitors to Nepal will spend time in Kathmandu, and then many take off on long treks. But what are the other places to visit in Nepal, what is there to see and do in Nepal outside of Kathmandu? We go into top tourist destinations and places to visit in Nepal in this post. Nepal is a sensational destination and one we've spent months in, these are the places you should try to see if time allows.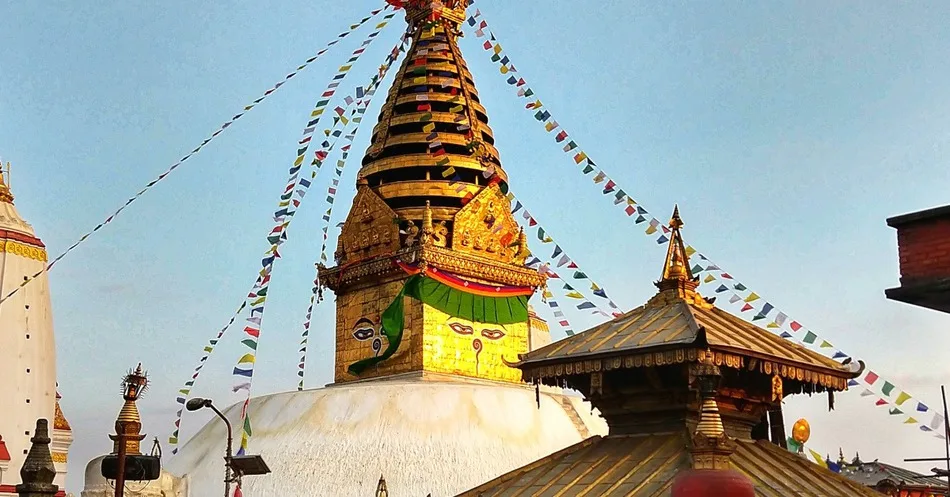 If you use our list index of places to see in Nepal (below) you can jump straight to that destination with photos and information on where to stay, weather, and things to do in that destination in Nepal.
Your Nepal itinerary will depend on how long you have in Nepal, if you only have time for your trek plus a few days in Kathmandu, that's fine, Kathmandu is incredible and you can easily spend several days exploring.
Kathmandu has some of the most fascinating places to visit in the entire world. If time is short and you're heading off for a trek, be sure to check out our post on places to visit in and around Kathmandu, as well as the information below.
If you have more time and you're heading to the Annapurnas or Poon Hill, you can squeeze in a few days relaxing in beautiful Pokhara on Fewa Lake. You will need to get to Pokhara by air or bus for those treks, the bus journey will take you a full day, about 6 or 7 hours. Pokhara is about 200 Km from Kathmandu.
More time again? Get out to Chitwan for a wildlife safari, you can spot Bengal tigers and Indian 1 horned rhino if you're very lucky. The journey to Chitwan from Kathmandu is about 6 hours by bus.
Not far from there is Lumbini, the birthplace of Lord Buddha. This is advanced level travel.
Around the Kathmandu valley, there is beautiful Bhaktapur, home to the 3rd Durbar Square of the valley, and Nagarkot, a famous hill-top view-point. UNESCO lists all of the Kathmandu Valley.
Then of course, there is the magnificent Everest Region with its many treks and fascinating mountain communities.
Not sure where to go in Nepal? Find out more about these destinations in Nepal, below.
Best Places to Visit in Nepal
Best Places To Visit in Nepal
hide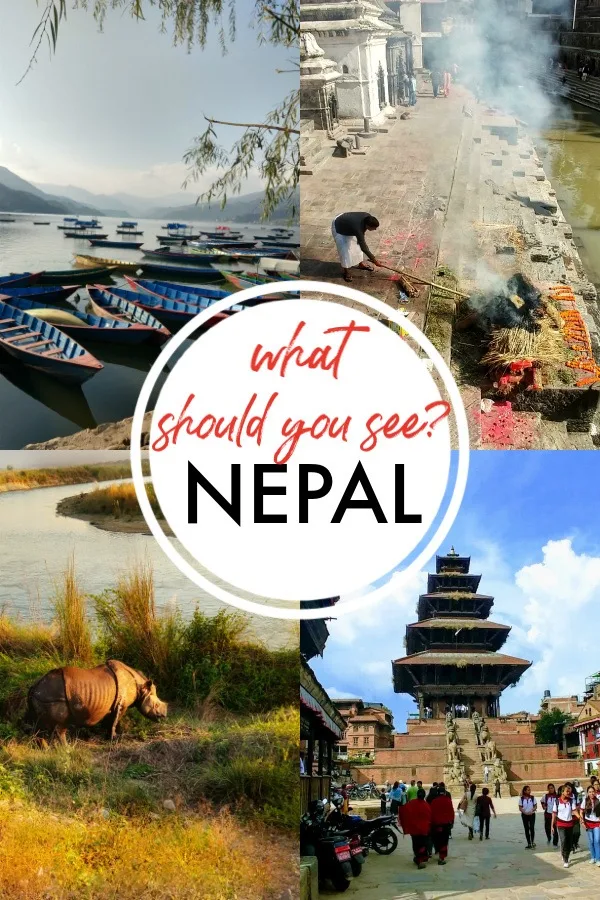 See Mount Everest in Nepal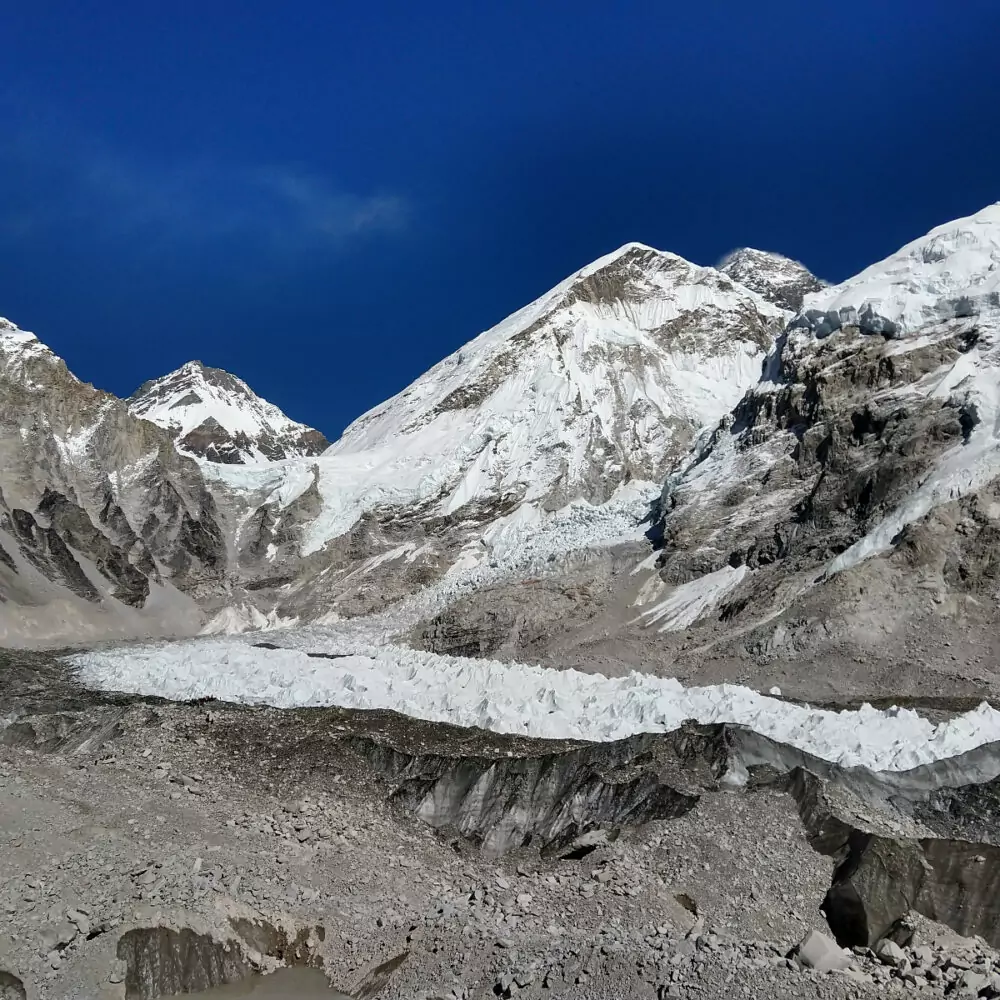 To see mount Everest you have a few options. The best way, of course, is to complete the Everest Base Camp Trek. You will need at least 2 weeks in Nepal to do this, we completed this trek in 3 weeks, taking our time and allowing more rest days. We didn't take a guide or porter but it's easy to arrange this. We have guides to gear for Nepal and an EBC packing list. You don't need to be particularly fit, but you do need to be ready for the challenges of altitude.
It's also possible to see Mount Everest by taking a chartered flight. Some of these flights are scenic flights only, you will have a view from the window. Other flights by helicopter actually allow you to land, either at the Everest View Hotel, the highest hotel in the world, or even at Everest Base Camp.
Likely the cheapest and most popular way to see Mount Everest in Nepal is to book a 1 hour scenic flight from Kathmandu. You can check out these flights here.
Another alternative is to take a helicopter flight that lands on the ground near Everest. While much more expensive the flight lands in several places during the flight. stopping first at Lukla airport to refuel before moving on to Kalapatthar, which is a hill that offers a good view of Everest Base Camp and Mount Everest itself, which is 200 meters below. You are then taken to Hotel Everest View with the option for breakfast looking over the mountains. Once you've eaten and taken pictures you're then flown back down to Kathmandu, making another stop to refuel at Lukla. Check out availability and prices on this scenic flight to Kalapatthar and back here.
Aside from these two options, you can see Mount Everest from various viewpoints in Nepal if the skies are clear and pollution levels are low. The best time for clear views is normally October to November, the peak trekking season.
If you visit Lukla by plane there is a good chance of you seeing Mount Everest from the left-hand windows. Flights depart Kathmandu for Lukla daily, weather allowing. The weather is a big factor, these flights are often delayed or canceled.
Lukla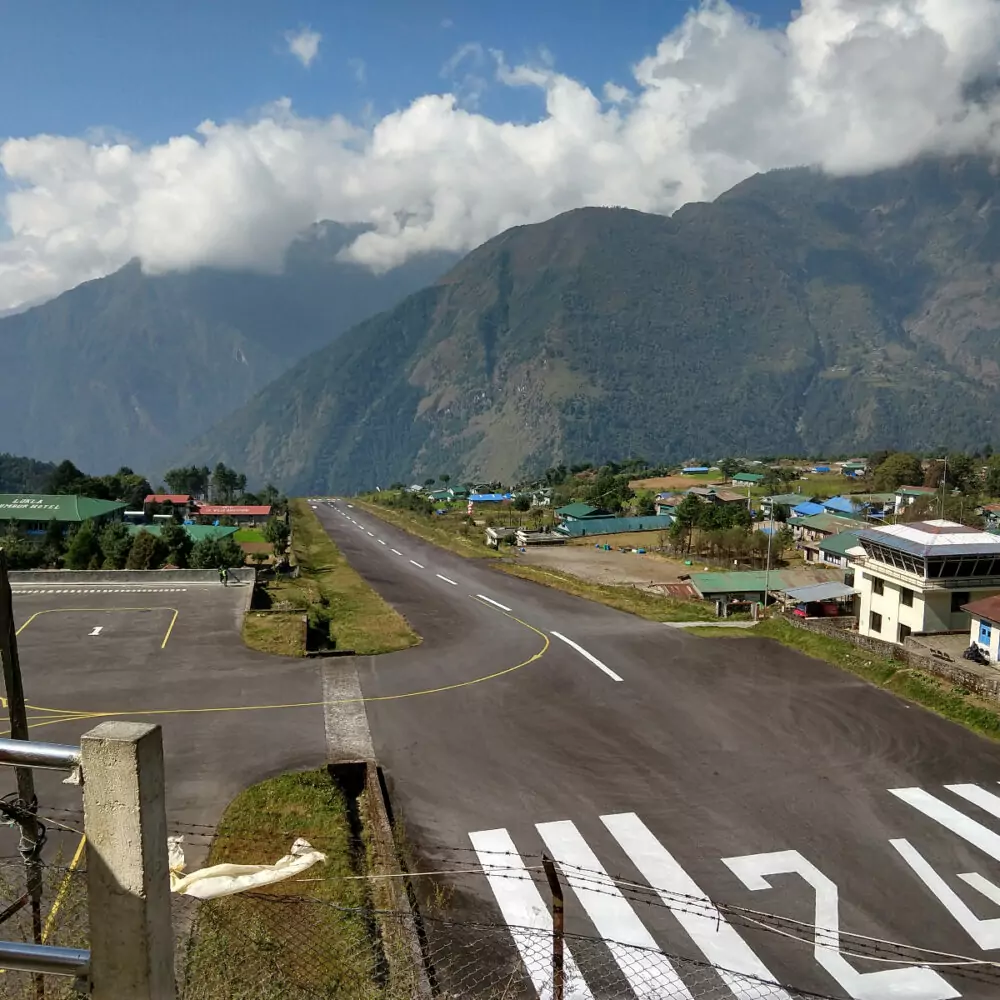 Lukla is a small town high in the Himalayas, home to Nepal's iconic Lukla Airport. The only way to visit Lukla in Nepal is to fly into Lukla by plane or helicopter, or to walk. We have walked to Lukla and flown in and out of Lukla several times.
There is no road to Lukla.
Lukla is the starting point of most Everest Base Camp treks and has plenty of small hotels, restaurants and shops. You can't see Mt Everest from Lukla, but if you walk for two days to Namche Bazaar, there is an Everest view point.
The Everest View Hotel is just above Namche Bazaar, allow another day or two to walk here as you will need to acclimatise.
Namche Bazaar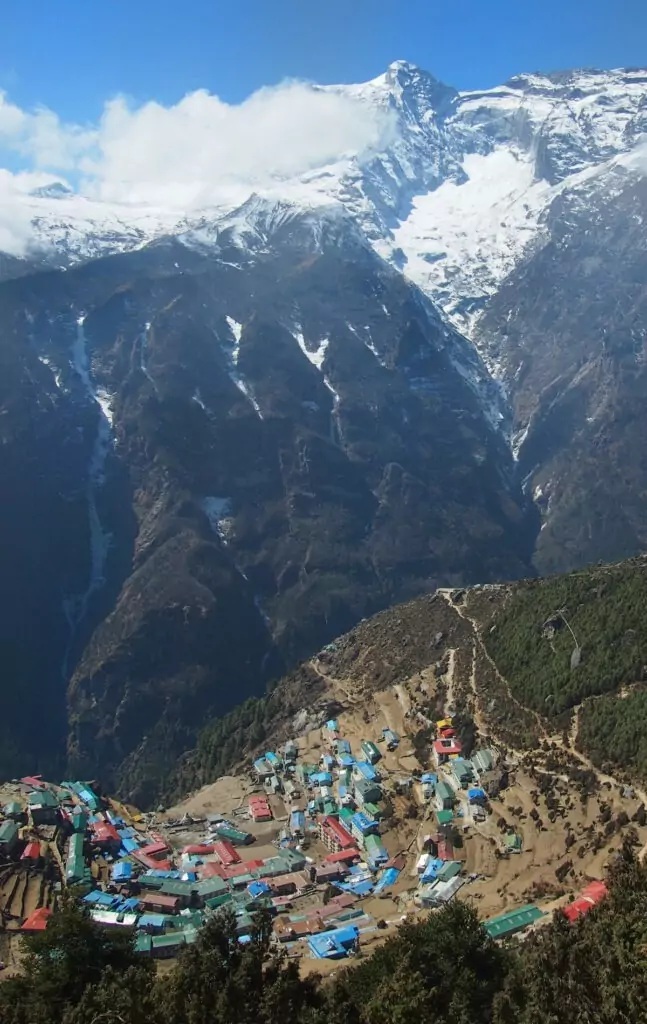 Namche Bazaar is beautiful. It sits in a natural bowl, nestled into the mountains, and has immense character. Namche is the second night's stay on the Everest Base Camp trek and is full of guest houses, hotels, shops, and restaurants. We think it's a much nicer place to visit or stay than Lukla and we often stay an extra day or two here.
The altitude of Namche Bazaar is 3,440m, 11,290 feet. Namche Bazaar is the unofficial capital of the Khumbu region of Nepal.
Above Namche, there is the Tenzing Norgay memorial and a cool little mountaineering museum. These are both located at the Everest viewpoint.
There is another rudimentary airport above Namche but it's rarely used. We have seen helicopter flights from Kathmandu to this airport at times when planes to Lukla have been cancelled because of low cloud.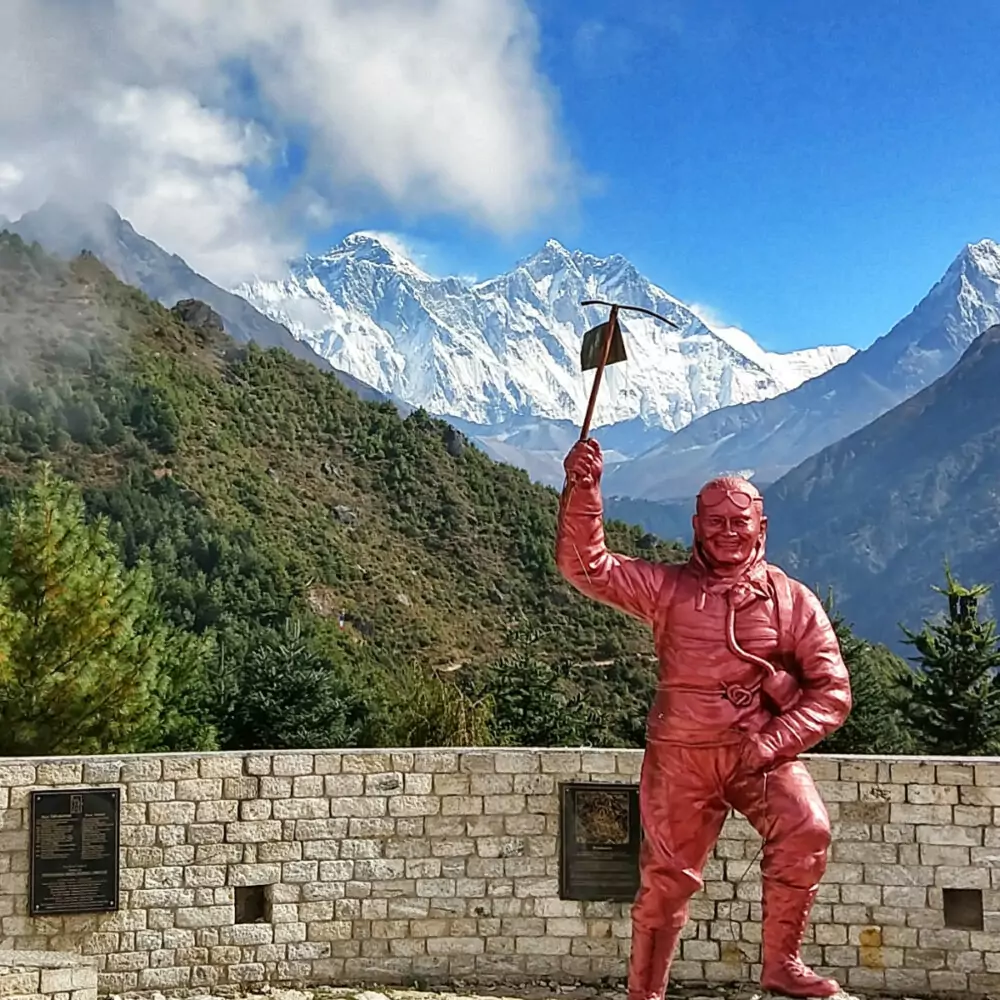 On the climb up to Namche there is also an Everest view point, just before you enter the National Park (and have to buy your permit). I'll warn you, the hill climb to Namche is one of the steepest on the whole Everest hike, and you have to cross the most scary suspension bridge, the Hillary bridge.
Also above Namche is The Everest View Hotel and the town of Khumjung. In Khumjung, you will find The Hillary School and the Khumjung Monastery, which contains a very special artefact, a yeti skull. Yes, we have seen it, we had to track down the monk with the key, but we got to see the yeti skull at Khumjung Monastery. There are photos in our post.
We have a full post and video about Namche Bazaar here with photos of all the places we mention, and of the highest Irish bar in the world, in Namche. They have a pool table. There are also some very good bakeries in Namche.
Best Time To Visit Namche Bazaar Nepal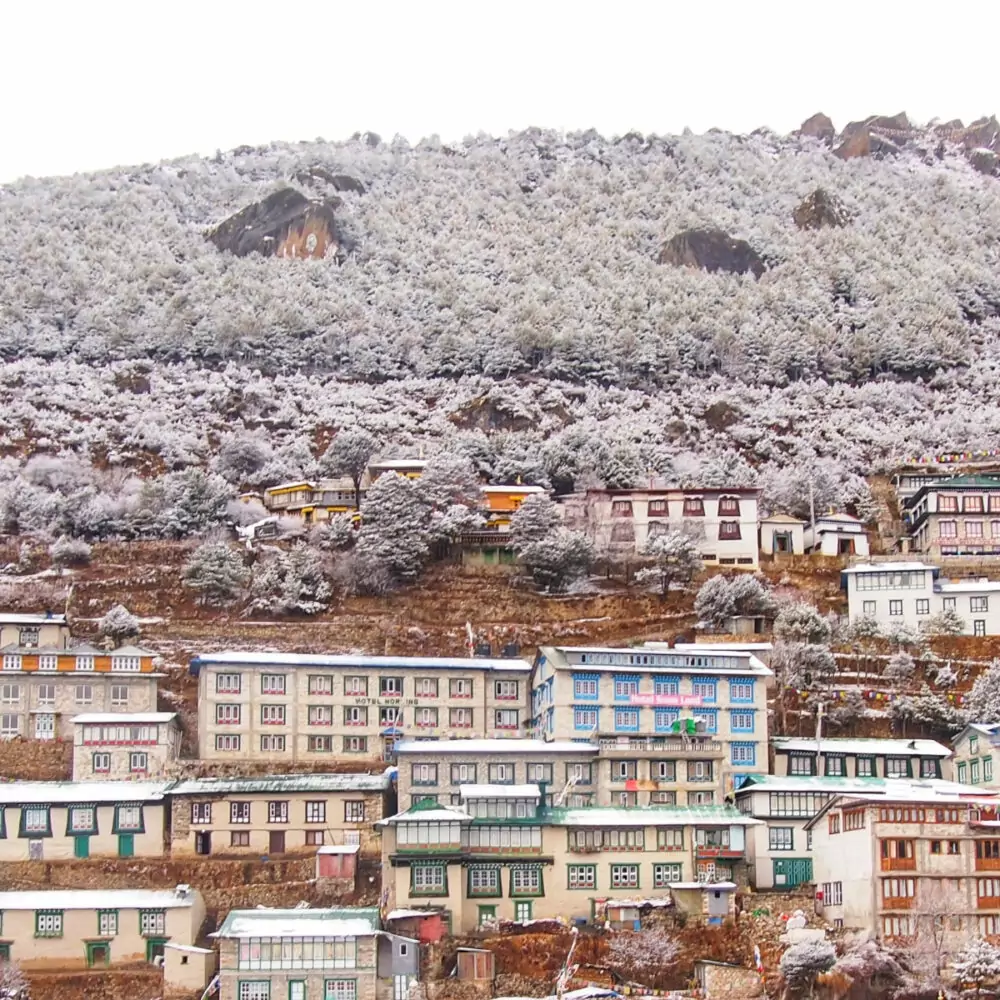 Namche Bazaar is in the northern hemisphere 27.8 degrees north of the equator. Its elevation makes it colder. The summer months, June to September can see daytime temperatures climbing to 10C, in winter (December, January February) temperatures can be -10C. You will probably see snow in Namche in winter. The best time to visit Namche is generally considered to be the autumn trekking season, October and November, when there isn't much chance of rain or snow. Spring can also be a good time. We have been in Namche in February and early March, it was -10C at night and we were perfectly comfortable. We did see light snow and were caught in a snowstorm climbing Namche Hill.
Where to Stay to Visit Namche Bazaar
It's quite normal to just turn up in Namche Bazaar and knock on doors until you find a guest house or hotel with vacancies. However, Namche does get very busy in peak season, to be certain of a place to stay, book. Also, you will be exhausted after climbing Namche Hill, you won't want to walk another step. Having a room ready for your arrival will be a bonus. I'd stay 2-3 nights in Namche to acclimatise and see everything nearby properly, whether you're continuing on to Everest or not.
There are very few places to stay that you can book online in Namche. For a comfortable, more luxurious stay in Namche Bazaar, with heating and hot showers, book this hotel, such luxuries are a rarity on these treks and the price reflects this. For a more "normal" trekking lodge, at about $10 per night (this is the typical price of guest houses or tea houses on the Everest trek) book this one.
What to Wear to Visit Namche Bazaar Nepal
You will need sensible walking shoes or boots, and comfortable hiking pants. I wear stretchy jeans, running tights, yoga pants, anything really. My husband has been up here in shorts and running shoes, he has warm leggings to wear under shorts if it gets cold. You will need a warm hat, fleece, a buff, sunglasses, sun protection, and it's very sensible to have a waterproof jacket at the very least. If it rains and you get wet you will get cold fast.
Special trekking socks aren't essential, I wear normal street socks at these lower altitudes. In snow or if it gets very cold hiking socks will be warmer and they offer some cushioning to help with sore feet.
When you're walking you're usually comfortable in fairly light clothing. I wouldn't say a down jacket is essential for Namche, but if you have one, take it. I didn't take a sleeping bag with me to Namche and I managed fine without, most people do take their own 4 season sleeping bag. You will need a water bottle.
Visit Lumbini in Nepal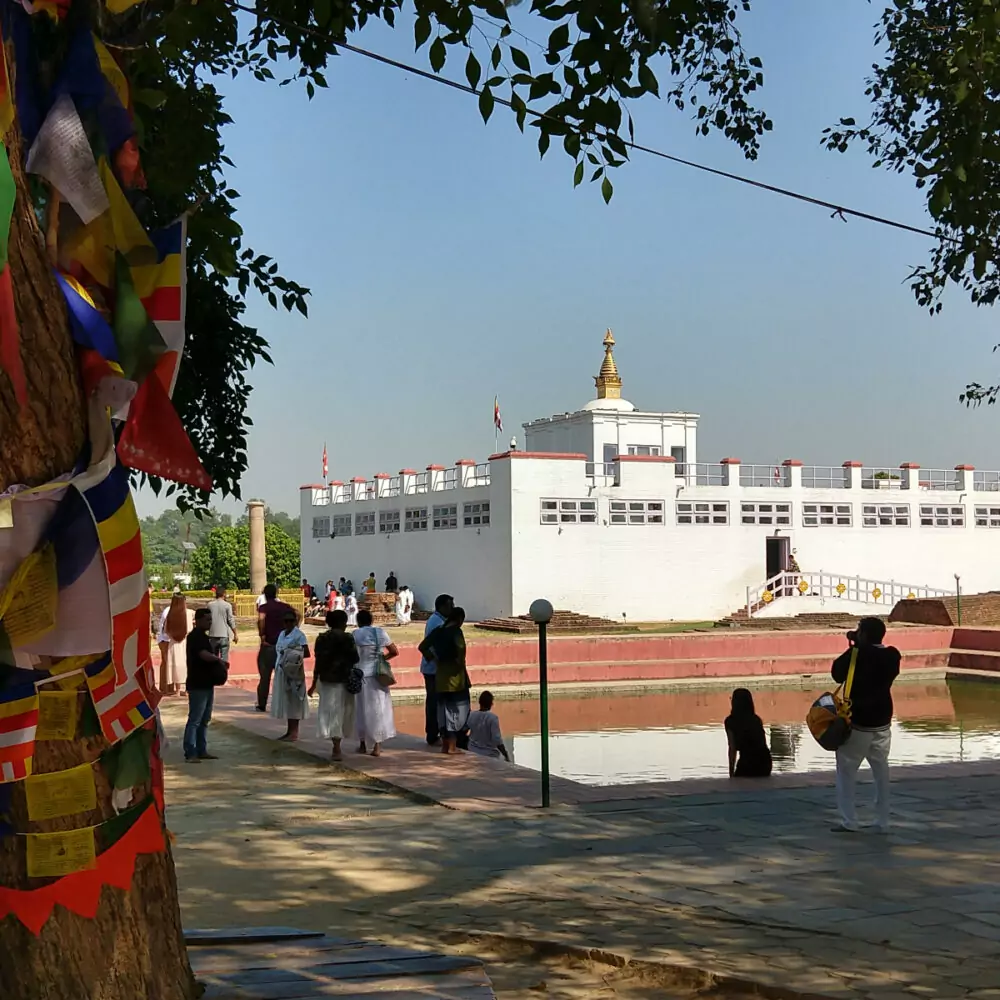 Modern-day Lumbini in Nepal was where Lord Buddha, Prince Siddhartha Gautama, was born. This young prince was a historical figure and his birthplace is marked today by various temples, stupas, and a gold statue of the miraculous child. The Maya Devi Temple, sacred Bodhi tree, and pool are said to be the exact spot of his birth.
Look out for the Thai, Tibetan, Sri Lankan, and Myanmar temples, monasteries and pagodas along with the World Peace Pagoda. You'll need to visit our full post about Lumbini and how to visit Lumbini for more information.
Visit Nagarkot Nepal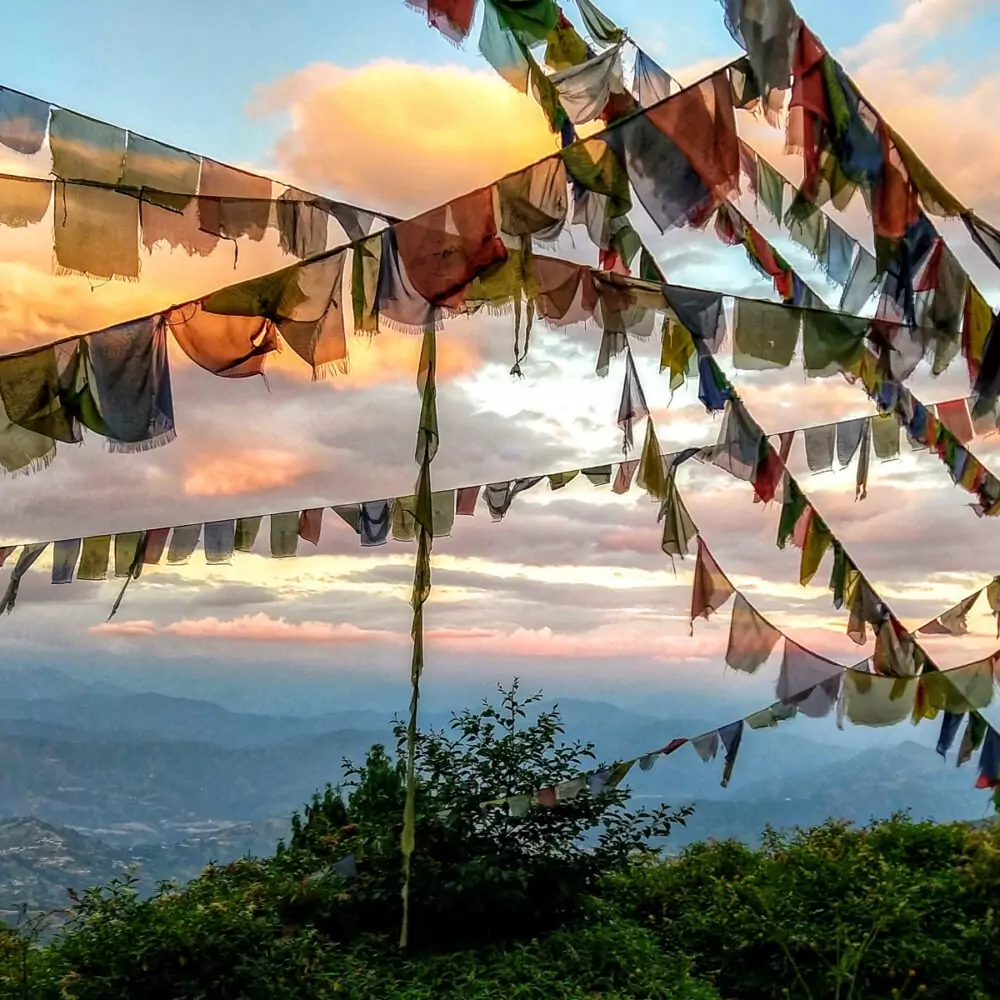 Nagarkot is well known as a Himalayan viewpoint, not too far from the city of Kathmandu. You're unlikely to see "the snows" from Kathmandu itself, the air pollution isn't conducive to clear views. At the right time of year you should be able to get more than a glimpse of Himalayan ranges from Nagarkot.
People come here just for sunset views and leave straight away, or, if time allows, spend a few days here and take some gentle hikes in the surrounding hills. There are nice areas of countryside and forest around Nagarkot to walk and the town itself is quite pleasant. We have a full post about Nagarkot and how to get there, things to do there.
Bhaktapur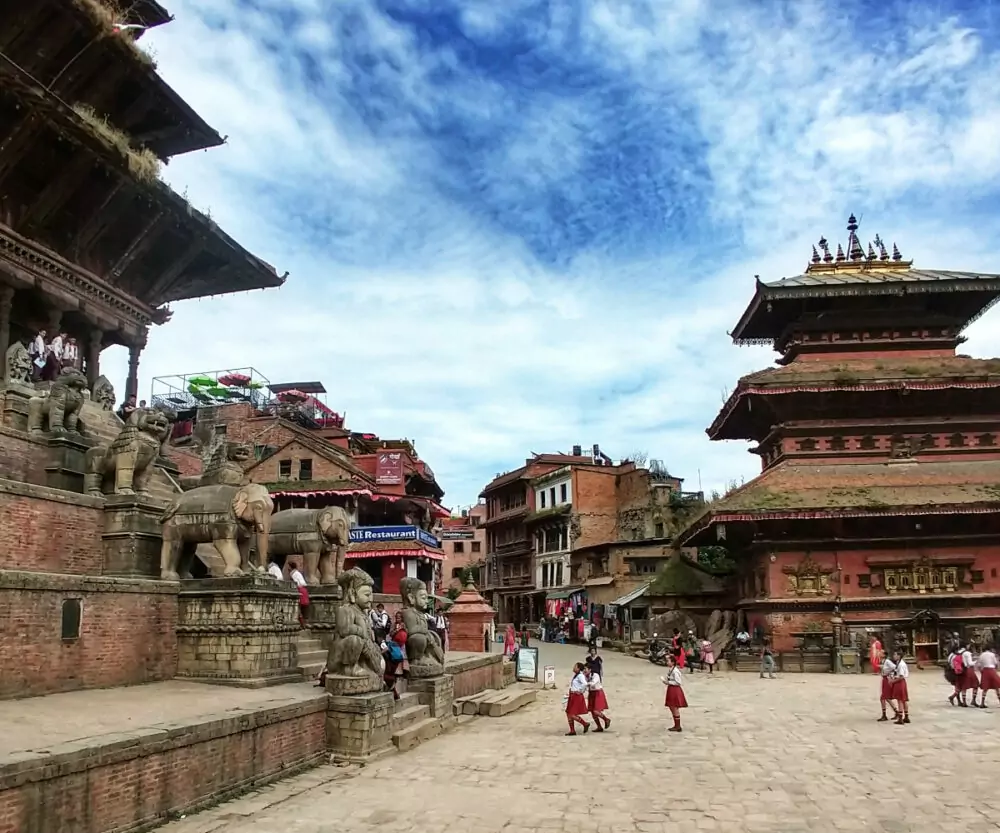 Bhaktapur is a beautiful ancient city with its own Durbar Square, the third in the Kathmandu valley. It has its own court and Kumari, and is within striking distance of Kathmandu. If you possibly can, spend a few days here. We fell in love with Bhaktapur after the day-tourists had gone home.
There is an admission fee for Bhaktapur and it's quite expensive, but accommodation here for us was excellent and cheap. I could easily spend weeks here.
Where to stay in Bhaktapur
Pokhara
Pokhara is Nepal's second big tourist-draw city after Kathmandu. Most people visiting Nepal will spend some time here which is no easy feat. Pokhara is a full day's bus ride from Kathmandu on Himalayan roads. Or you can fly, I wouldn't describe either option as very safe.
The centre point of Pokhara is Fewa Lake (Phewa Lake), popular for boating. Stunning mountain views tower above the Pokhara bowl, adventure activities such as paragliding and white-water rafting are popular here. This is where you'll need to be to start your Annapurna Range and Poon Hill Treks. Like Kathmandu, Pokhara bristles with backpacker supply shops, restaurants and trekking shops.
You can drive or walk up to the Pokhara peace stupa, Shanti Stupa, for a great view of the lake, town, and mountains. It's a nice walk down. The International Mountain Museum is also in Pokhara.
Chitwan Nepal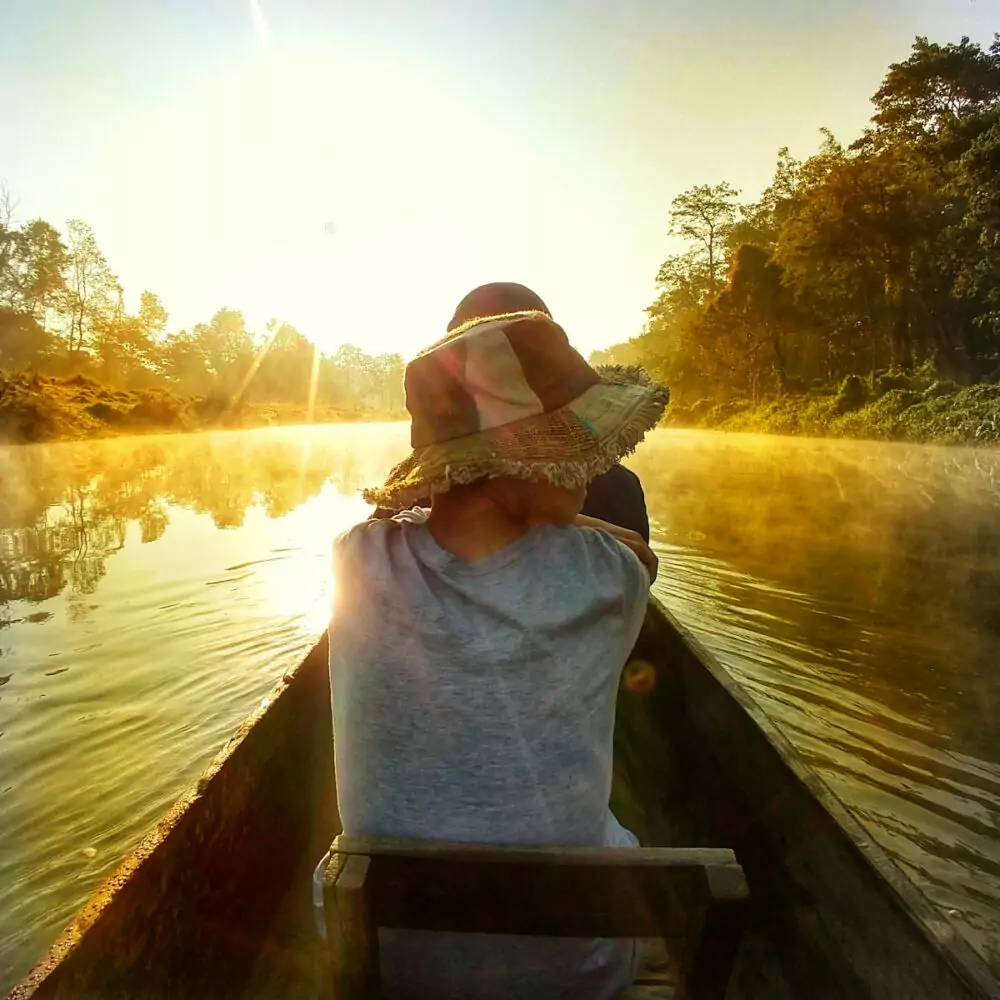 If you want to see royal Bengal tigers or Indian one-horned rhino, Chitwan is the most popular safari destination in Nepal. Chitwan National Park is a conservation success story. If you want to see tigers be sure to visit at the right time of year.
Best time to visit Chitwan National Park Nepal
If you want the best chance of seeing wild tigers at Chitwan National Park Nepal, you need to visit when the grass is short and the animals are going to the waterholes to drink. We visited in November and the grass was so tall we saw nothing other than the resident rhino and crocodiles that hang around the town of Sauraha.
Chitwan is on the lowlands, near the Indian border, in a flat area called The Terai. It gets very hot here, away from the Himalayas. To have your best chance of seeing wildlife, come in April and May before the monsoon. However, it will be very hot at this time of year, getting up to 100F, 28C. For cooler temperatures (around 25C) visit from October to March. The best trekking season does not coincide with the best time to see wildlife in Nepal, so maybe you need several trips!
Where to stay to visit Chitwan National Park Nepal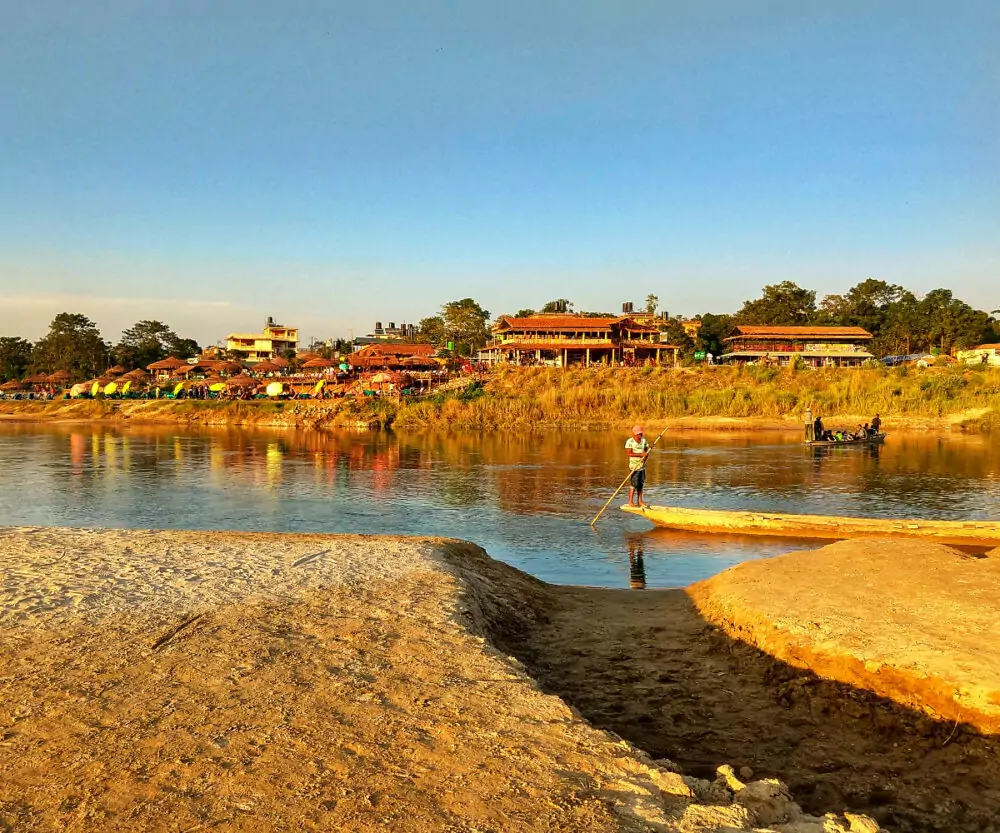 There are various places to stay to visit Chitwan National Park for a safari. We stayed in the little riverside town of Sauraha and loved it. The hotel we used was this one, where we had a rhino in our garden.
Kathmandu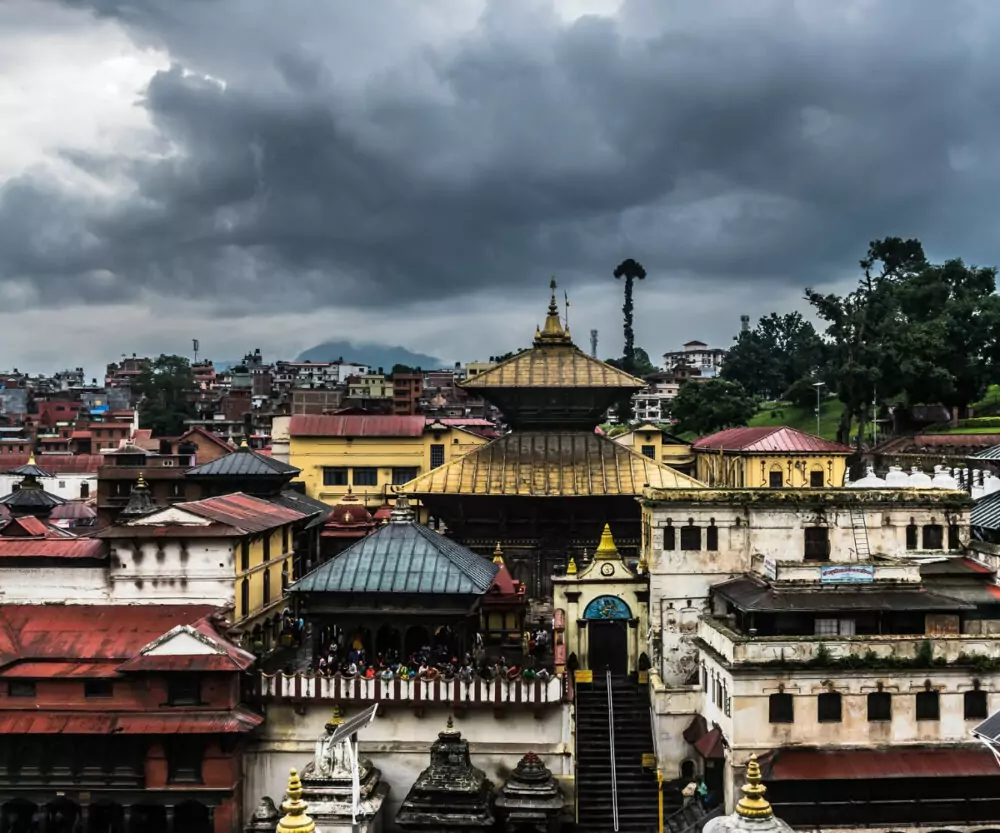 Kathmandu can't be summed up in one paragraph. It's one of the most incredible and wonderful cities on the planet and you could be busy exploring and seeing Kathmandu's ancient sites and temples for weeks.
Kathmandu is at an altitude of 1,400m, 4,593 feet. You are unlikely to feel any altitude effects in Kathmandu, but your acclimatisation will be beginning!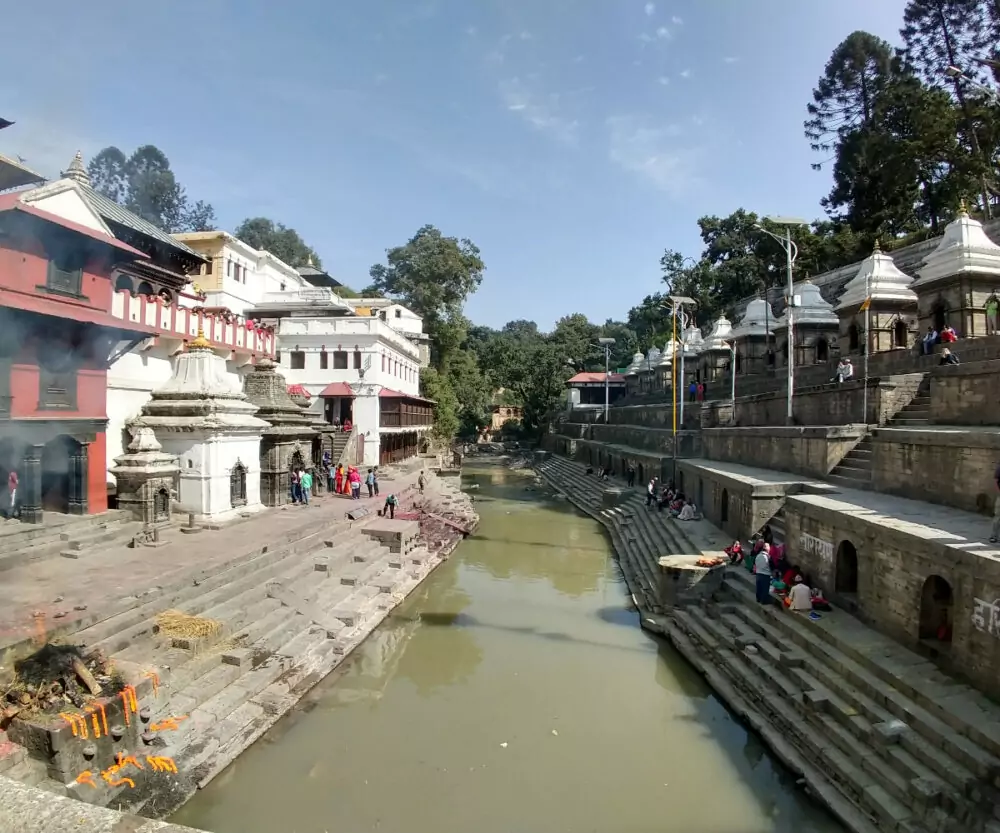 The places we list below are all in Kathmandu or very close, and all worth your time.
Thamel The busy backpacker area of Kathmandu city, packed with shops, guest houses and restaurants. This is where most international visitors to Nepal will stay, but there are a few luxury and better hotels outside Thamel. We list a few below.
Swayambhunath Swayanbhunath Kathmandu is "The Monkey Temple". Climb steep steps to visit the temple complex and the stunning Swayambhunath stupa. There are many more stupas with Buddha eyes in Kathmandu and elsewhere in Nepal. Read our full post about Swayambhunath here.
Pashupatinath temple is a huge Hindu temple dedicated to Lord Shiva. non-Hindus cannot go inside the temple itself but the complex around the temple is fascinating. This is where you will find the burning ghats, Kathmandhu's creation grounds on the banks of the Bagmati river, this area is open to the public.
Freak Street Freak street was the end of the hippie trail back in the day, when people would travel overland by bus to Nepal. It's to the south side of the Kathmandu Durbar Square in Basantapur district and is worth visiting for its history and for the phenomenal Newari Girl street art nearby.
Boudhanath, The Boudhanath stupa is a massive round construction in Boudha district. This stupa was badly damaged during the earthquake, we saw it under reconstruction. This area is fascinating with many small shops and a beautiful monastery nearby. You should certainly spend half a day or a few hours in this part of Kathmandu. Boudhanath is about 11km from central Kathmandu.
Narayanhiti Palace has been converted into a museum. The former home of Nepali royalty.
Budhanilkantha Temple. reclining God Vishnu statue.
Kathmandu Durbar Square in Basantapur Kathmandu and Patan Durbar Square in Lalitpur Nepal.
The Golden Temple Nepal, is just off the Patan Durbar Square in Lalitpur in the Kathmandu Valley.
Kumari Ghar
Kasthamandap
The Garden of Dreams, a walled, landscaped gardens area near Thamel. Has an admission fee.
Hanuman Dhoka Durbar
Best Time to Visit Kathmandu Nepal
The best time to visit Kathmandu is between September or October, to November, as during this time the country has clear blue skies, drier weather, comfortable temperatures between 28C highs and 8C Lows and several cultural events such as Diwali. Visiting during Diwali is truly amazing, and will begin next year on the 12 of November.
Where to Stay to Visit Kathmandu Nepal
There are endless accommodation options in Kathmandu, from luxury to the simple guest houses and tea houses that originally housed travellers to the city. These days there are more and more modern and boutique hotels appearing, particularly around Thamel, the backpacker district of Kathmandu.
If you're looking for high-end luxury accommodation then the Hotel Shanker is a great choice. Featuring accommodation for up to 4 people and family rooms, the Hotel Shanker works well for families. The building itself is also beautiful and well-located, being a refurbished palace and quite close to Thamel. The hotel also features several amenities such as a gym, breakfasts, swimming pool, spa, and airport transfer. Look into getting a reservation here.
Within walking distance of Thamel, Swayambhunath and Kathmandu Durbar Square, Pomelo House Hotel offers a much more budget experience, while still providing multiple room configurations that can accommodate families. The Hotel also provides airport transfer and bike or car rentals. you take a look at rooms and prices here.
Jomsom
Jomsom is another town visited by trekkers in the Annapurna region of western Nepal. It is one of the major towns on the Annapurna Circuit. Jomsom, or Dzongsam is in the Gharapjhong rural municipality of the Mustang district and lies at an elevation of 2,740 metres in Gandaki Province.
Jomsom now has an airport and you can fly here from Pokhara.
The landscape around Jomsom is incredible, the ravine carved by the Kali Gandaki River is the deepest in the world and this town can be the start point of a trek into Mustang, or to Muktinath (below). You can now get to Jomsom by road, until fairly recently this was impossible.
The road is rough and you'll need a 4 wheel drive jeep or smilar. Jomsom is about 157 Km from Pokhara and 360 km from Kathmandu. It's also possible to rent horses to cover some of these distances in the region.
From Jomson you can walk up to Muktinath in about 6 hours, or you can take a jeep if weather allows. There is a big altitude gain between Jomsom and Muktinath. There are teahouses or lodges to stay in both towns.
Along the river valley here look out for black fossilised stones or shaligram, containing ammonites, symbolic of the god Vishnu. You will see these for sale all over Nepal but they are said to only be found here, on the bed of the Khali Gandaki river.
I've walked the entire length of this river bed and not found one, but I have one at home, bought in Kathmandu.
Muktinath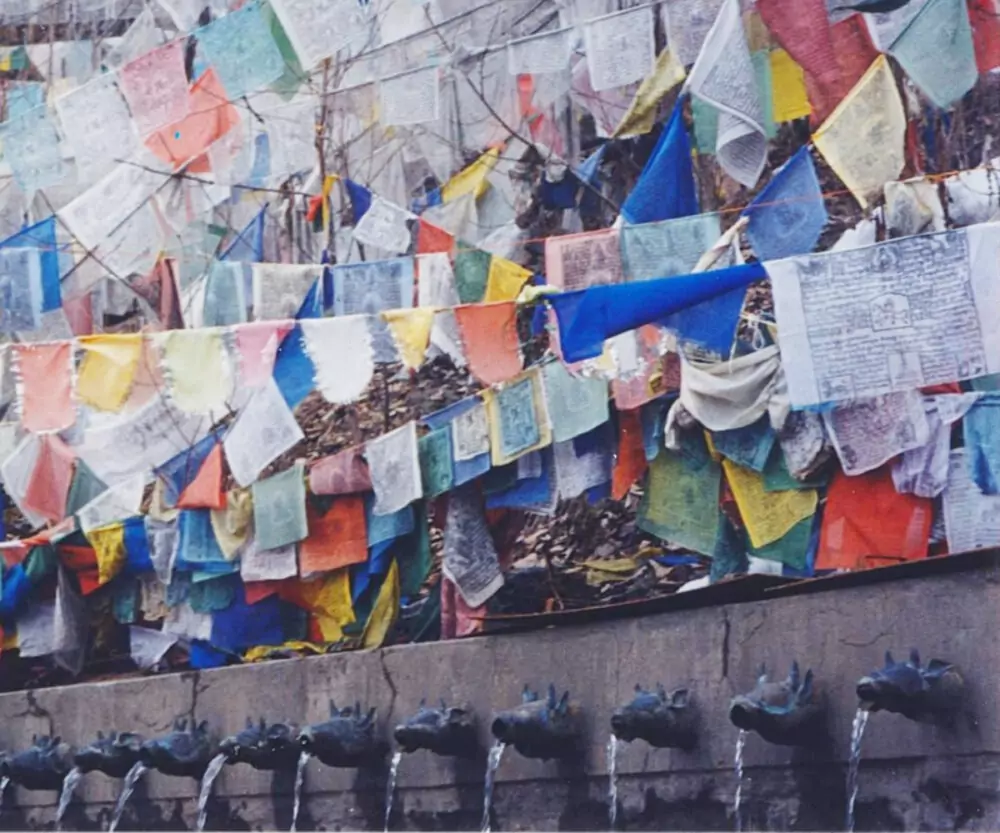 Muktinath has a phenomenal temple for you to visit. The temple at Muktinath is depicted to Lord Vishnu, and is sacred to both Hindus and Buddhists.
Here 108 bull heads pour sacred water in the outer temple. Brave pilgrims take an icy shower in each of these. But that's not all, at Muktinath you will also find an eternal sacred flame, natural gas gives the illusion of water burning. This makes this temple unique in that fire, water, earth, sky, and air are represented here.
This is one of the very best places to see on the Annapurna circuit, or today, you can get here by jeep or plane (to Jomsom) weather allowing.
Muktinath is at an altitude of 3,710 m, 12,172 feet.
Muktinath is your first stop after crossing the Thorong La from Manali on the Annapurna Circuit. There are places to stay in Muktinath.
The Thorong La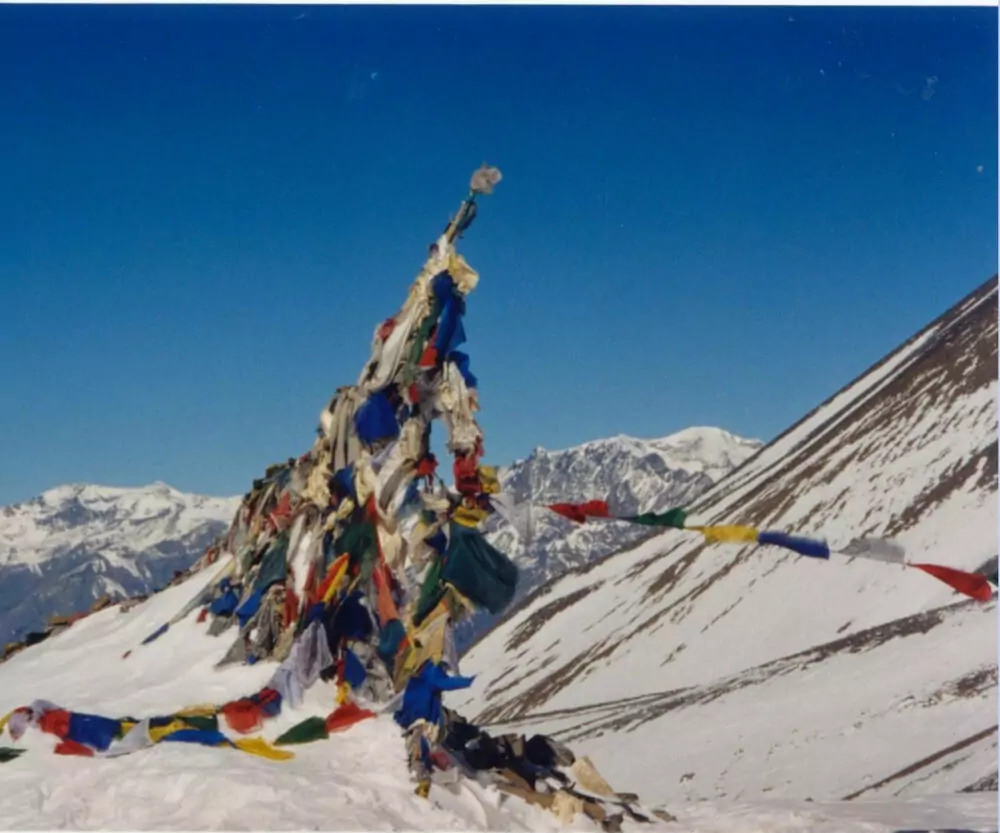 I have crossed the Thorong La in deep snow and blizzard in February. I wouldn't recommend visiting at this time of year, but it is possible to complete the Annapurna Circuit in winter. There was even a tiny tea house open at the top of this high pass.
The Thorong La in Nepal is at an altitude of 5.416m, 17,770 feet. It is 200 feet higher than Everest Base Camp (5364m), and it's a tough walk. To cross the Thorong La trekkers normally start around 4am in the dark.
Kagbeni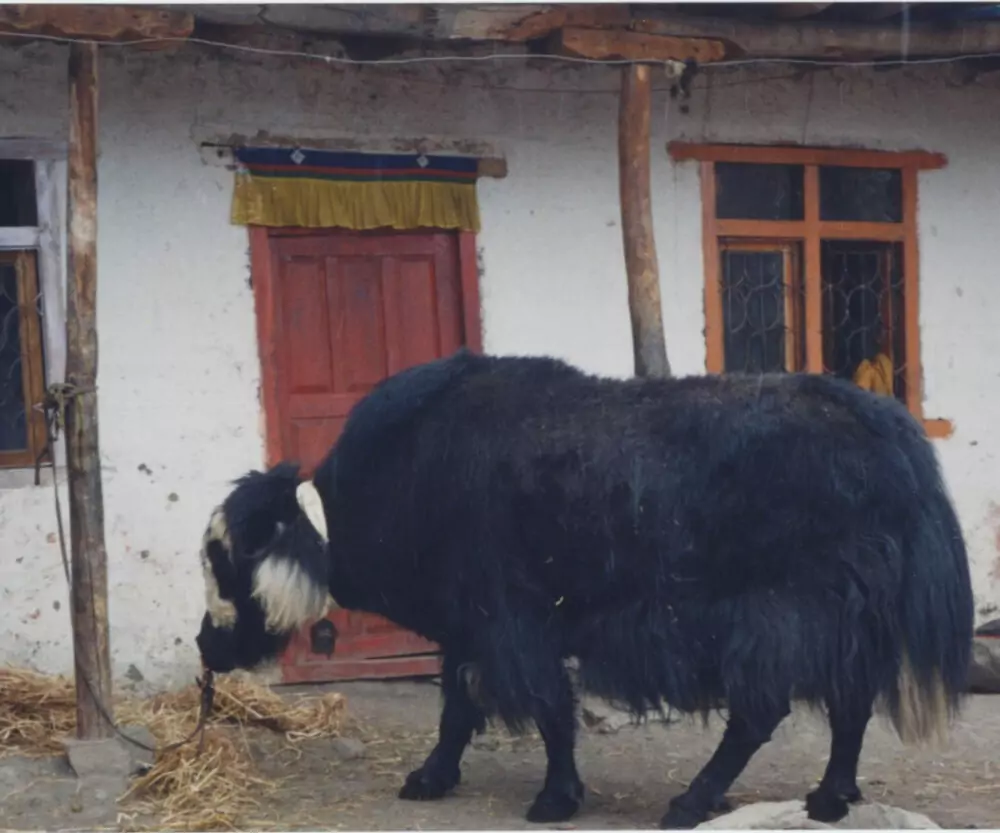 Kagbeni, a wonderful ancient small town in the valley of the Kali Gandaki River. This town is in Mustang and also on the Annapurna Circuit Trek between Jomsom and the Thorong La high pass.
There is a fantastic old monastery in Kagbeni and here we stayed in one of the strangest buildings we've ever seen on these teahouse treks. My photos were stolen a long time ago, I just have memories and one or two left that you see on this page.
Kabeni is at an altitude of 2,804m, 9,199 feet.
Kagbeni is also the name of a movie. This Nepali film is based loosely on W. W. Jacobs's 1902 horror short story The Monkey's Paw. The Monkey's Paw is also a movie in its own right. The Kagbeni movie was shot in 2006 in Kagbeni, Jomsom, Marpha, and Shyang in the Mustang district of Nepal.
The walk from Kagbeni to Muktinath is about 13 Km, they say you can complete this in 3 and a half hours, uphill. Downhill the walk is only about 2 hours. I've only done it downhill, in snow.
The views of the Khali Gadaki River valley from Kagbeni are pretty phenomenal.
Poon Hill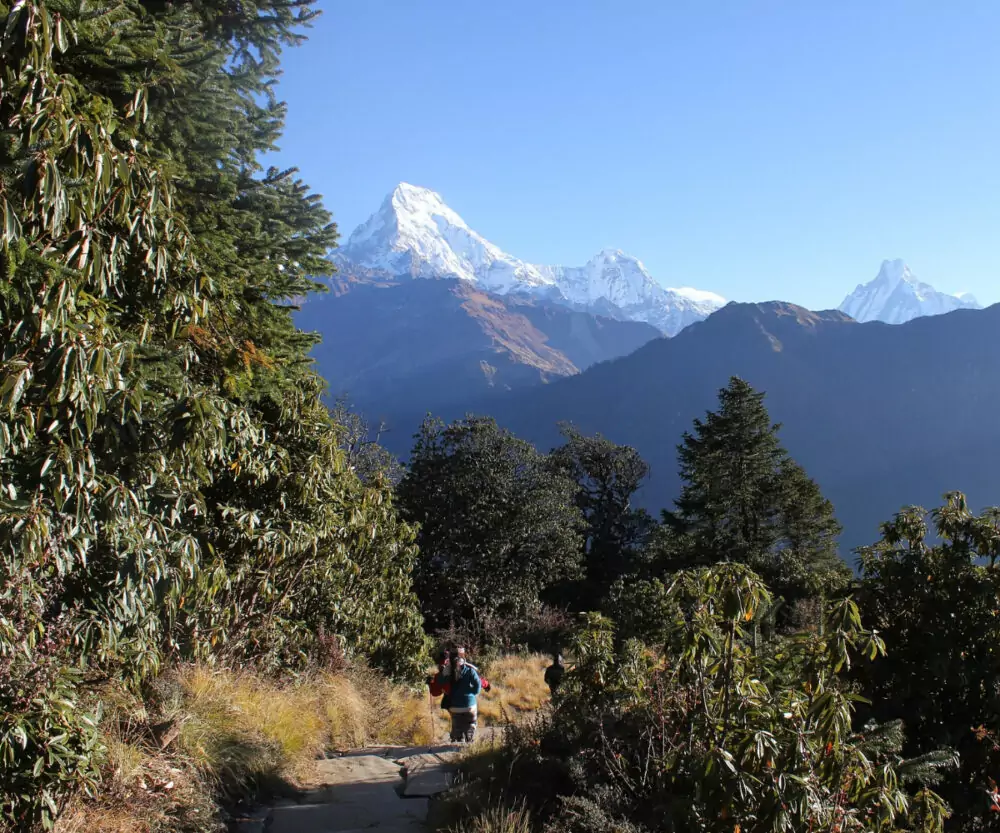 Chandragiri
Chandragiri hills and cable car is another hill-top place to take in views of the Himalayas. If you don't want to take the gondola up, you can walk or drive to the top.
The Chandragiri Hills complex is about 45 mins west of Kathmandu by road and offers views from the Annapurnas to Everest on a clear day.
Janaki Temple
This architectural marvel is said to be on the spot where the goddess Sita was born and married Rama. It is an incredible white building made of marble and stone in the Rajput style, located on the southern Terai of Nepal at Janakpur.
The temple complex of shrines and ponds is about 225 Km to the south east of the Kathmandu Valley. This temple is an important pilgrimage site for Hindus.
Langtang National Park
Langtang is a famous trekkers' destination with beautiful trails through forested hills. It is home to the sacred Gosaikunda Lake and some incredible wildlife. It's only 32 Km from the north of Kathmandu city.
Best Places For Trekking in Nepal
There are many treks in Nepal, some take a day, some 2 days, some a month. There are also some short day hikes to enjoy in more accessible places such as Nagarkot. See our post on trekking in Nepal for more details.
These treks in the high, remote parts of Nepal will take you to some truly iconic destinations. Mount Everest itself, the Khumbu icefall and glacier, Namche Bazaar, Tengboche Monastery and Lukla airport will feature on your Everest Base Camp trek. You will also be exploring the Sagarmatha National Park.
Head to the Annapurnas and you'll get the chance to see the Thorong La pass, Jomsom and Kagbeni. You can take a look into Mustang, but special permits are needed for a Mustang trek. It will be our next trek when borders open.
If you want to find out more about the Everest Base Camp trek and how difficult it is (we took the kids!) read about that here.
Best Places in Nepal-Video
Whatever you choose to do, I'm sure you'll love Nepal. We made a very short video below to let you see what's ahead of you in Nepal. Watch below!
Our places to visit in Nepal post grows daily, I'm adding Pokhara, Swayambhunath and Pashupatinath in coming days. Do check back, or better still , bookmark our post to Pinterest. For more tips and guides to help you plan your trip to Nepal you'll need to head back to our main Nepal Travel post.
If you'd like to hire a car during your stay, use this car rental comparison tool to find the best deal!

We also suggest you take a look at this company to get a quote for all kinds of the more tricky adventure or extended travel insurance.

Try Stayz / VRBO for an alternative way to find rentals on homes/apartments/condos in any country!