This post may contain affiliate links.
Kathmandu is a fantastic travel destination due to its history, culture and geography. Staying in Kathmandu gives you access to incredible historic temples and extraordinary views of the Himalayas. Kathmandu has its fair share of family-friendly hotels but finding rooms for a family of four or more can be tricky, most Kathmandu hotels have triple rooms only.
If you're visiting Nepal with kids we'd recommend you spend a little more money on a hotel to keep your kids safe and healthy.
Kathmandu is well known for its affordable pricing, and as such is a great place to go for an affordable but luxury hotel stay.
Unfortunately, we were unable to find any hotels featuring kids' clubs in Kathmandu, although many Kathmandu hotels have babysitting services advertised and kid-friendly features.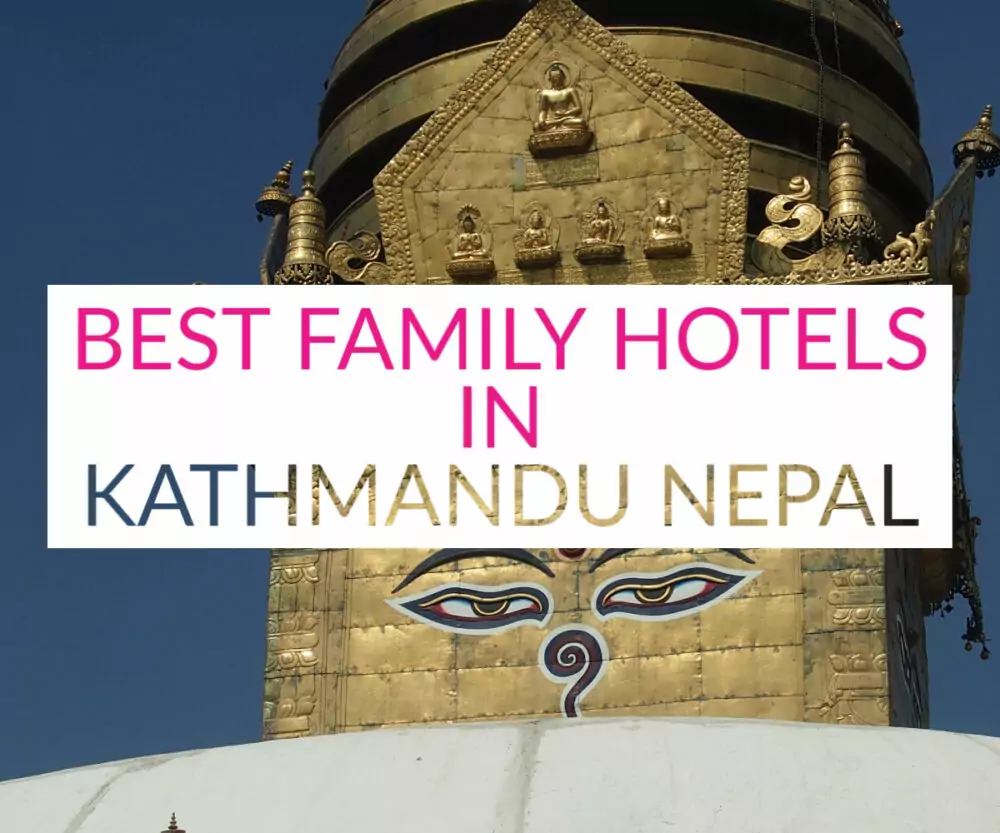 These are some of the best family and kid-friendly hotels and guest houses in Kathmandu at multiple price points. If this is your first time in Nepal, know that Kathmandu is one of the best places to visit in Nepal, and that from here you can take many trips to interesting places near Kathmandu, or even take a scenic flight to see Mt Everest (check that out here, opens in new tab.)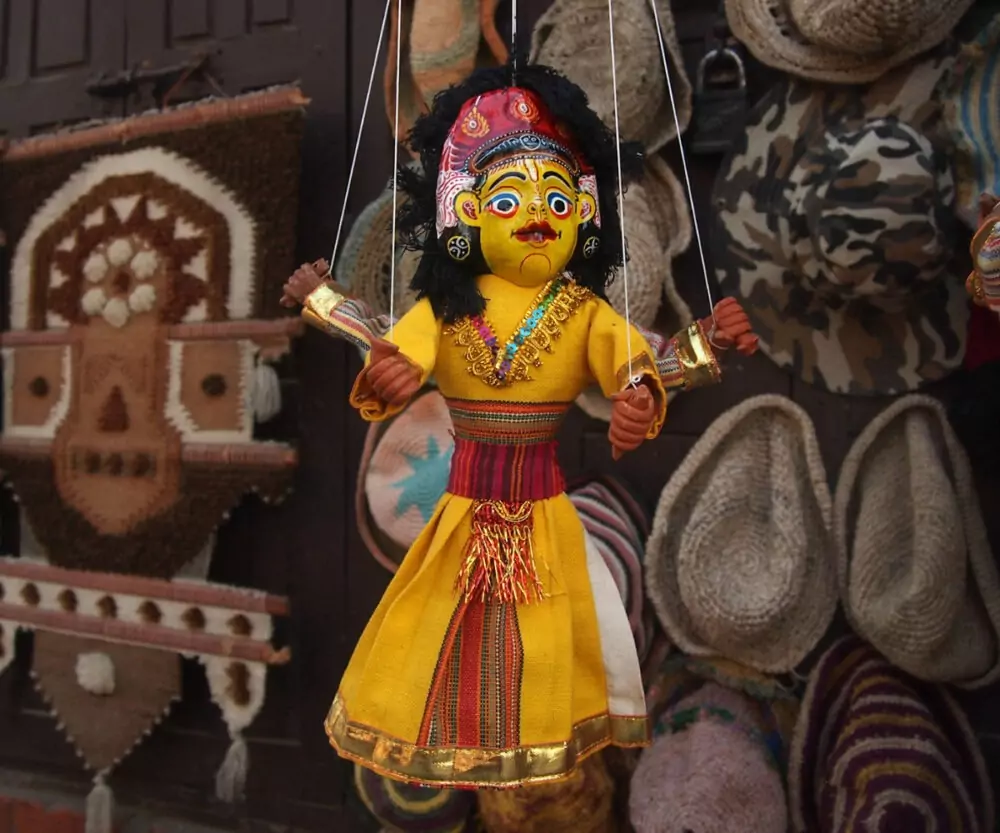 Allow several days to fully explore the sights of Kathmandu, but if you are very short of time simply book a 6 hour private guided tour of the most popular places to see in the city and in the Kathmandu Valley. You can take a look at that tour here.
Best Family Friendly Hotels in Kathmandu
Hotel Shanker
This is our top pick for a family of four in Kathmandu. Hotel Shanker is beautiful and well-placed luxury accommodation in the heart of Kathmandu City. It is a former Royal residence and palace and is located next to the Narayanhiti Palace Museum. The hotel has its own outdoor swimming pool for your family to enjoy This hotel advertises numerous guest facilities and room configurations friendly to families. The hotel's family suites have two double beds, making them a great, comfortable, and still highly affordable, family accommodation option in Kathmandu city. Check out this beautiful family hotel in Kathmandu here.
Hotel Moonlight, Thamel Kathmandu
The Hotel Moonlight is located in Thamel Kathmandu, which is the busy backpacker district of the city. Here you will find the majority of Kathmandu's shops, restaurants and hotels geared to international tourists. The Hotel Moonlight is much cheaper than the Hotel Shanker, above, but is a simpler-style family hotel.
The family rooms here have a double and a single bed, which is very common in Kathmandu, but they will take a family of four in these rooms. This is a ver nice hotel by Kathmandu standards, and at a moderate price point. Take a look at the Hotel Moonlight in Thamel here.
Royal Penguin Boutique Hotel and Spa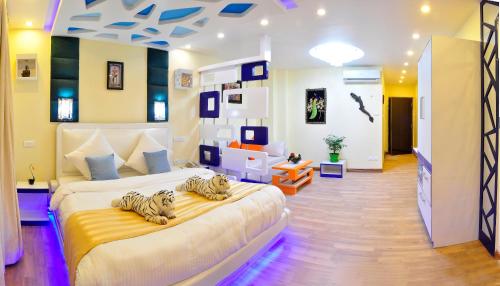 The Royal Penguin has Executive Twin rooms with two double beds, plus a sofa bed, so this Kathmandu hotel could suit a larger family. This rare Kathmandu find also has cute theming your family should love. This hotel is very moderately priced and is perfectly located in Thamel Khathmandu, the travellers heart of the city with plenty of restaurants, shops, and a supermarket nearby.
Check out the rooms and availability at Hotel Royal Penguin Thamel here.
Oasis Kathmandu Hotel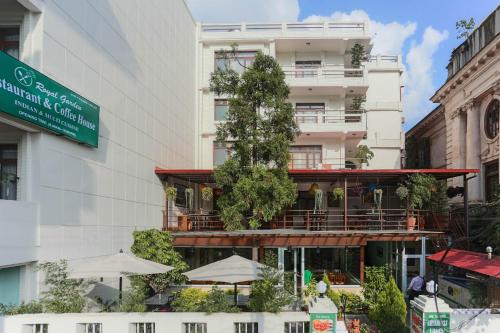 Oassis Kathmandu Thamel is another lucky family find with 2 double beds in their family rooms. I really can't over-stress that this is hard to find in this Nepali city! This hotel actually has many different room configurations, you should be able to find what your family needs here.
The Oasis Kathmandu is a moderately priced, nice family hotel in Thamel Kathmandu. It's right opposite Fire and Ice Pizza, possibly the best pizza in Kathmandu! Check out the Oasis Kathmandu here.
Kathmandu with Family
We have a lot of information on visiting Kathmandu and Nepal on this website including Nepali food information, trekking to Everest Base Camp, visiting Chitwan, Lumbini, and Pokhara. We've spent months in Nepal as a family and can honestly say it's one of our favourite countries in the world. Please come back for more Nepal facts and information to help plan your family trip. Just go to our Nepal travel section. Don't forget to book that Kathmandu tour with your family, and maybe even the scenic flight!
If you'd like to hire a car during your stay, use this car rental comparison tool to find the best deal!

We also suggest you take a look at this company to get a quote for all kinds of the more tricky adventure or extended travel insurance.

Try Stayz / VRBO for an alternative way to find rentals on homes/apartments/condos in any country!