This post may contain affiliate links.
Bhaktapur means place of devotees and is about 13 Km from Kathmandu itself, lying in the eastern part of the Kathmandu valley. Originally named Khwopa, Bhaktapur Nepal was always known as the best preserved of the region's 3 Royal cites and UNESCO sites until the 2015 earthquake. Tragically, there was much damage in Bhaktapur with many lives and cultural treasures lost. Bhaktapur Nepal is a lot quieter than Kathmandu and has the third, less visited, Durbar square of the Kathmandu Valley. All are UNESCO listed, all are magnificent. Why is Bhaktapur less touristed? Well, I guess because it's more difficult to get to, being a fair way out of Kathmandu, and most people will be Durbar-squared out after seeing the two in Kathmandu. That, and of course, 3-week treks actually leave you very little time to explore more of Nepal.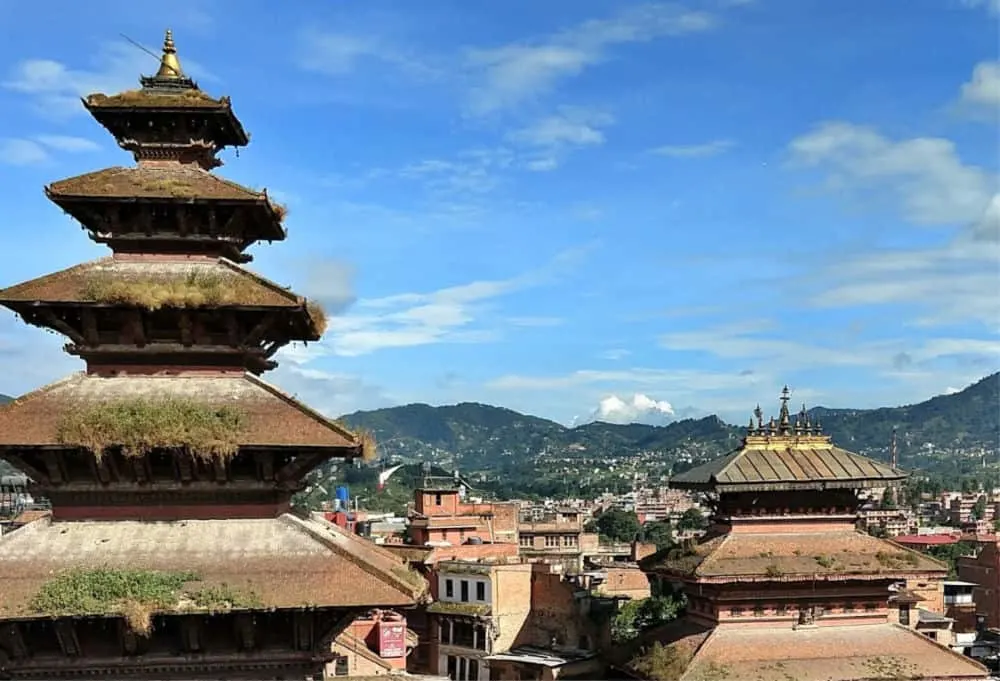 We chose to spend 3 days in Bhaktapur Suryabinayak (which became 4 ) as we'd heard good things, and with this being our third trip to Nepal, we thought it was about time we went, in part, to get it on the blog.
Bhaktapur Nepal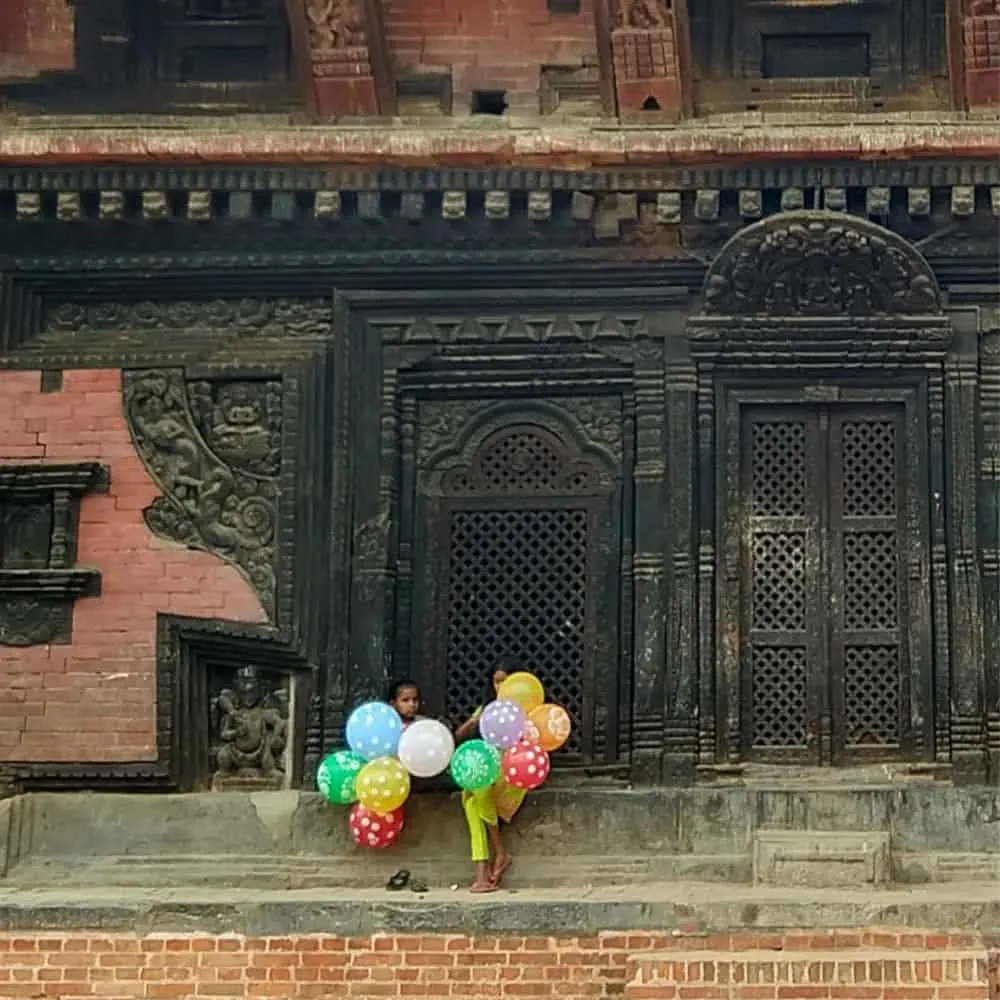 Bhaktapur was founded by King Ananda Malla in the 12th century and was the original capital of the Malla Kingdom, becoming an independent Kingdom in the 15th century. The last three rullers of the Malla Kingdom are responsible for the buildings, temples, palaces and Durbar square of Bhaktapur.
In the 18th century the region was unified and Patan, Kathmandu, Bhaktapur and the rest of the Kathmandu Valley came under the single rule of the Gorkha dynasty.
Bhaktapur is an architectural treasure, with towering pagoda style temples forming the characteristic Nepali stairway to heaven, many building remain as they were in medieval times. Bhaktapur is also famous for pottery and today you can still visit Pottery Square and see pots drying in the sun and being thrown and fired.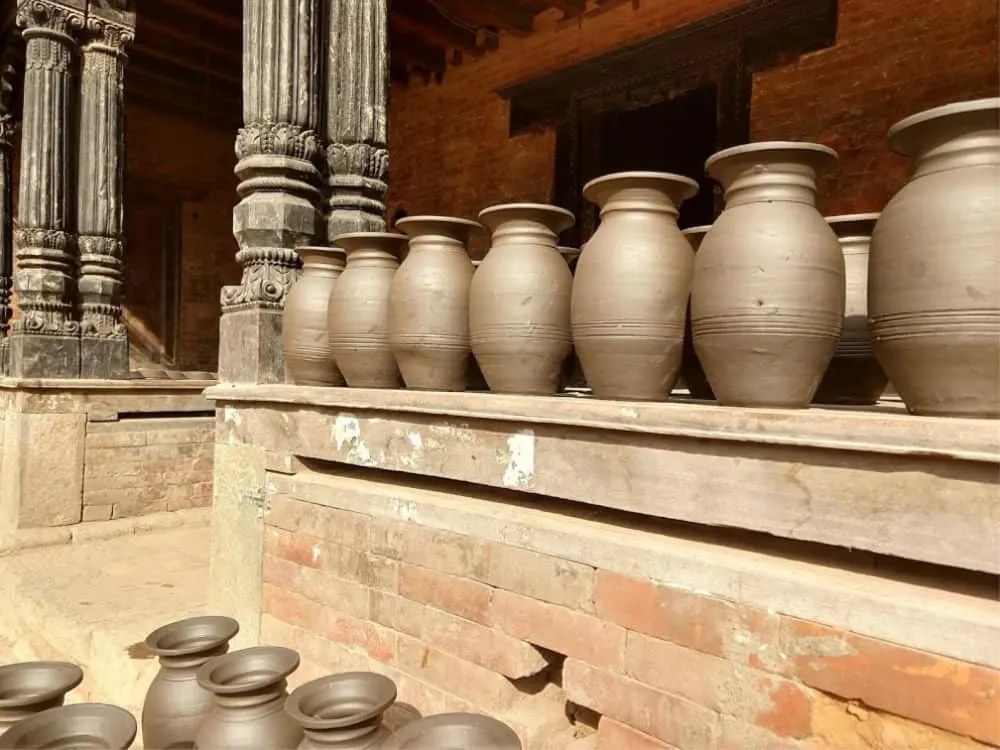 There are multiple huge courtyards and squares with most of the temples still in constant use today.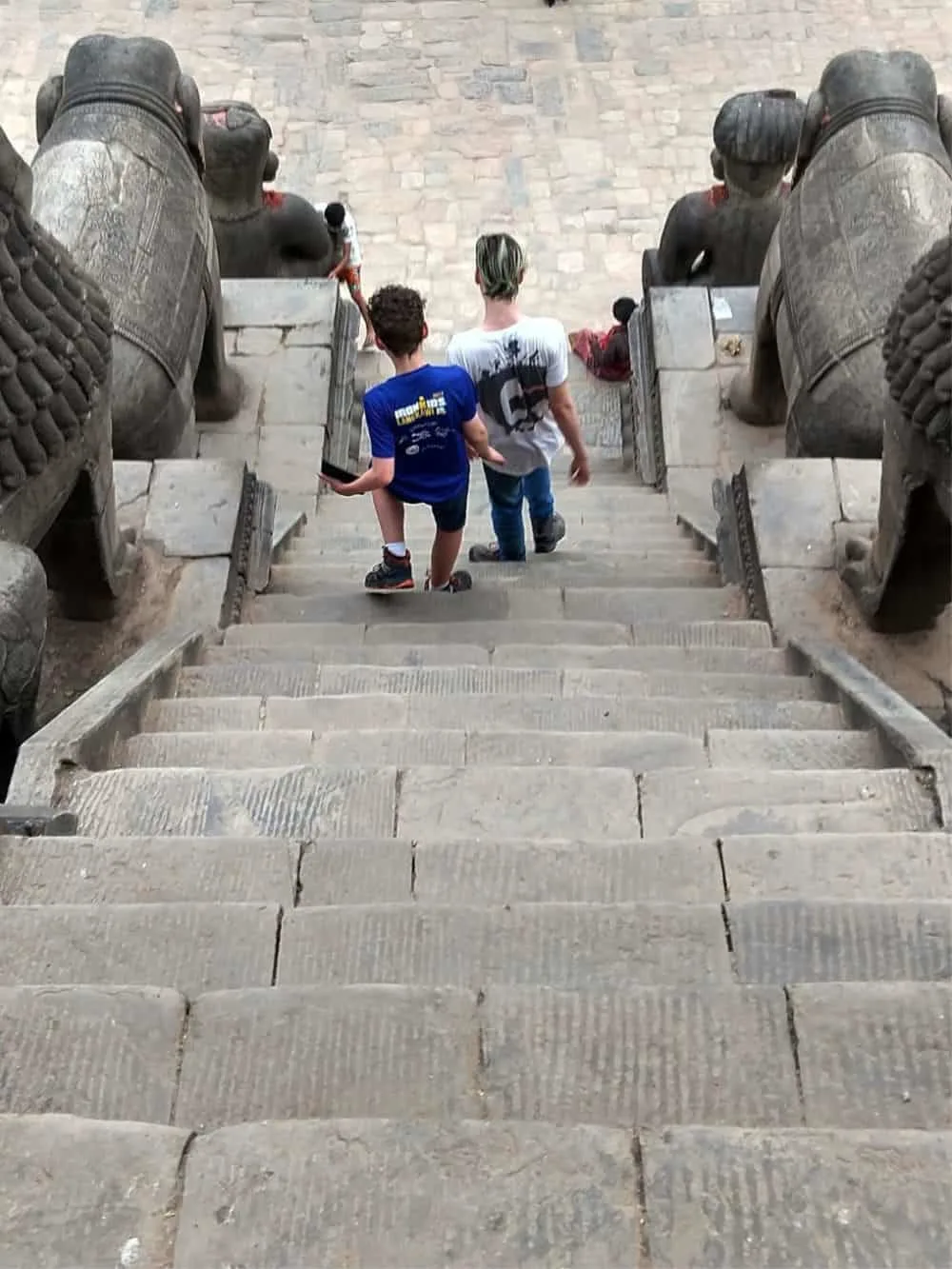 Bhaktapur was famous for Malla Yuddha duing the Malla period, a form of wrestling. You will see carved wrestlers guarding temple steps just as they did back then.
Bhaktapur Admission Prices and Costs of Staying and Getting There
Getting into Bhaktapur will hurt your bank balance. It's 1500 Rs each to get in (They will ask $15, but 15,000 Rs is a fair bit less). They say that kids over 10 have to pay full price but we got away with paying for just our 13 year old. I don't know if the over 10 rule is an actual policy or not, but in Kathmandu we've never had to pay for the kids to get into historic sites. Kathmandu admission prices are generally lower.
Our 15000 Rs tickets will see us through for the 3 days that we are here in the same way that most tickets in Kathmandu will cover your entire stay. We had to present our passports to enable this.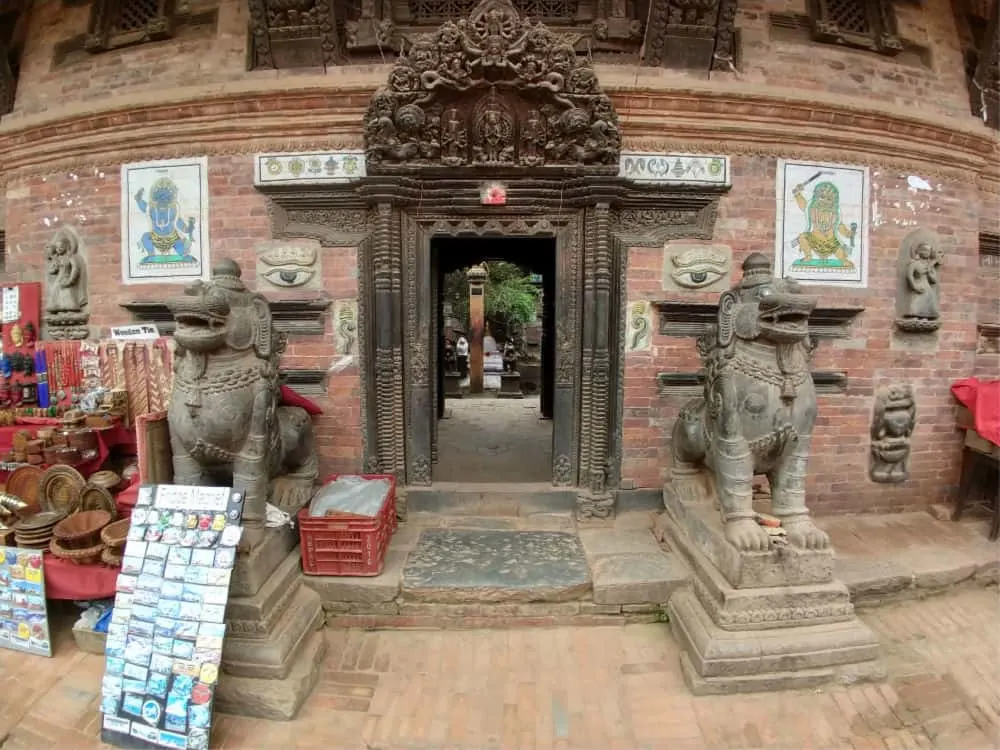 As soon as we arrived the most persistent tout we've ever come across latched onto us and was almost impossible to shake off. We've never had this happen in Kathmandu, people seem far more easy going there. I guess it's a symptom of low tourist numbers and desperation.
Most of the tourists here seem to arrive during the day with a tour group and those people don't put much money into local pockets.
The good news is, hotels in Bhaktapur seem great and cost less for a better standard of room than in Kathmandu. We are thrilled with our huge family room at the Kumari Guest House, right in Bhaktapur's ancient heart.
Getting to Bhaktapur cost us 1500 Rs in a decent-sized tourist vehicle organised by our friend Ram of Stupa Guest House Kathmandu. It felt much safer than the tiny local taxis and was less hassle than the bus, which would have cost us just 50 Rs each. The journey took over an hour, maybe almost 2. You can book a tour of Bhaktapur from Kathmandu if you don't have time to stay overnight. Book here.
We really appreciate you using our affiliate links for hotels and tours, thanks.
Earthquake Damage at Bhaktapur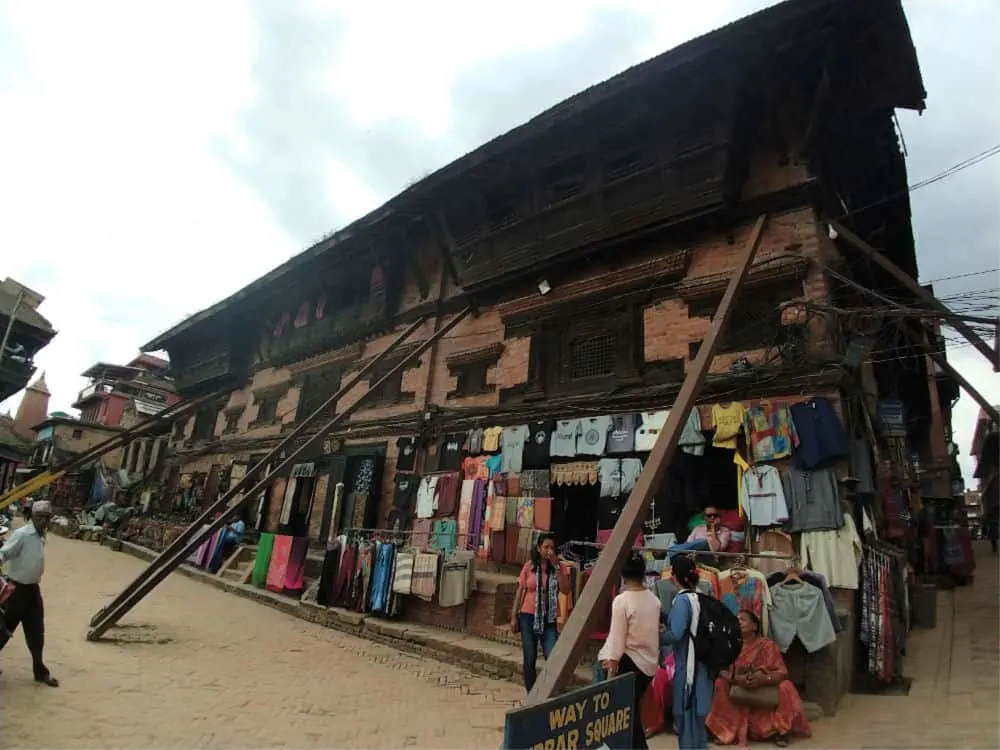 There is a lot of earthquake damage on Bhaktapur, more than we saw in Kathmandu even back in 2016, just 11 months after the earthquake. Repair work is ongoing but many buildings have been lost. For the first time in Nepal, I felt like we were visiting a disaster site and part of me felt wrong about that.
Don't let the damage put you off, there is still plenty of Bhaktapur intact.
Should You Come to Bhaktapur for The Day or Stay Overnight?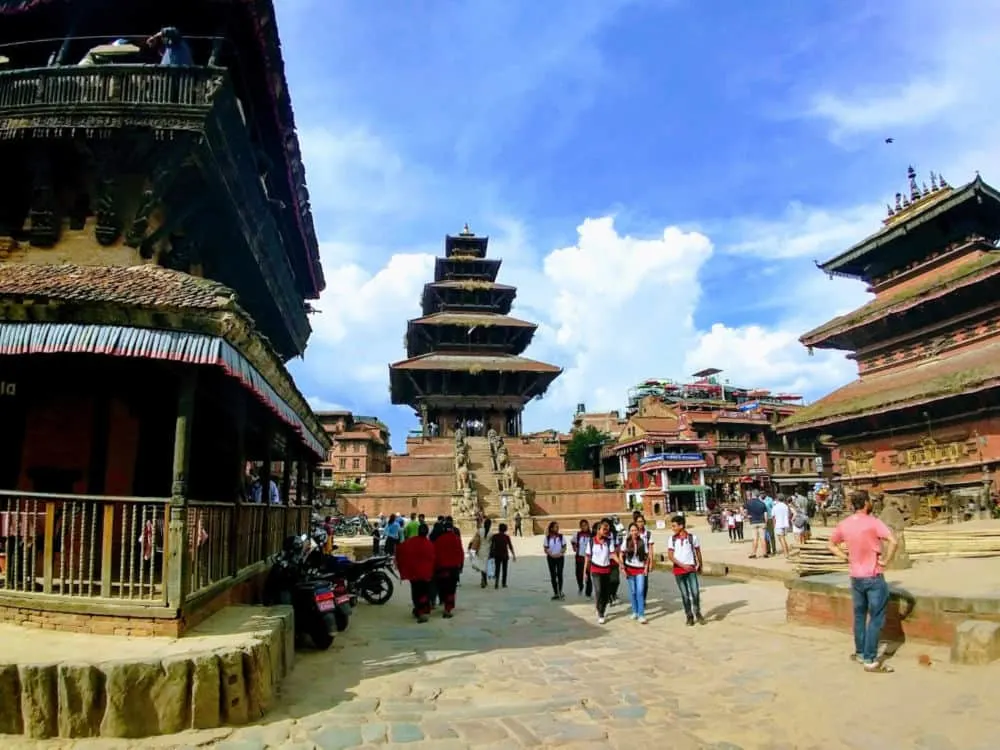 Absolutely stay overnight! Unless you book a tour or take a guide, you won't see everything in a day. Like us you'll get caught-up in wandering the streets and miss half the good stuff, the ancient city stretches on and on with square after square.
Also, this place comes alive in the evenings. Market stalls appear as the days cool into dusk and the tour groups disappear. Candles flicker around temples and every night there was drumming , singing and chanting sounding from the square. Don't expect night life, even the shops are all shut by 8pm, but the people are out on the streets doing what they do of an evening.
Also don't miss Kathmandu's other Durbar squares after dark, likewise, they come to life and it's wonderful to be there.
If you stay overnight in Bhaktapur you can also enjoy breakfast on a rooftop in sight of the snows of the Himalayas ( if you're lucky with the weather) as the Lukla- Kathmandu flights stream overhead. It's much nicer being in Bhaktapur when the tour groups aren't around and for that you need to stay a day or two. Check out the hotel we used, it was great.
Walking Around Bhaktapur, Our Video
Please switch off your adblockers or this video won't be available to you.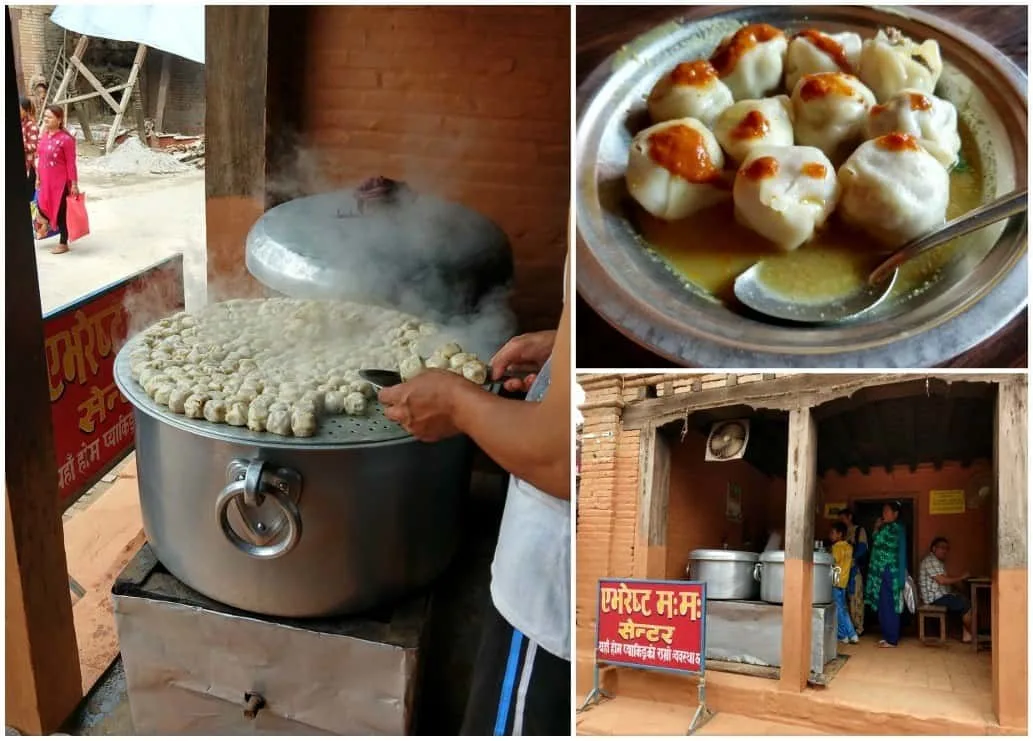 Most of the restaurants in Bhaktapur seem to be on the rooftops, so bring your climbing legs.
Most we've tried have been pretty touristy and average.
This little momo shop, below, was a stand out. A plate of momos in a tourist restaurant might cost you 300 Rs, plus 10% service charge, plus 13% tax. If you eat here, with the locals, you get excellent momos with curry sauce and fiery red chilly for just 60 Rs a serve. A very delicious bargain. There's no menu and the momos are buff, no veg option. My kids don't like momos. How is that possible ?
The kids are really enjoying veg thukpa, dal and rice, cheese, ideally paneer pakodas and, of course, the ju ju dhau. Nepali food is D's favourite world cuisine, he says.
Coffee in Bhaktapur
Try Beans coffee shop, it looks out onto the Bhaktapur Durbar square. An Americano cost us 100 Rs here. There are quite a few coffee shops around the tourist area of the old city.
Ju Ju Dhau is from Bhaktapur Nepal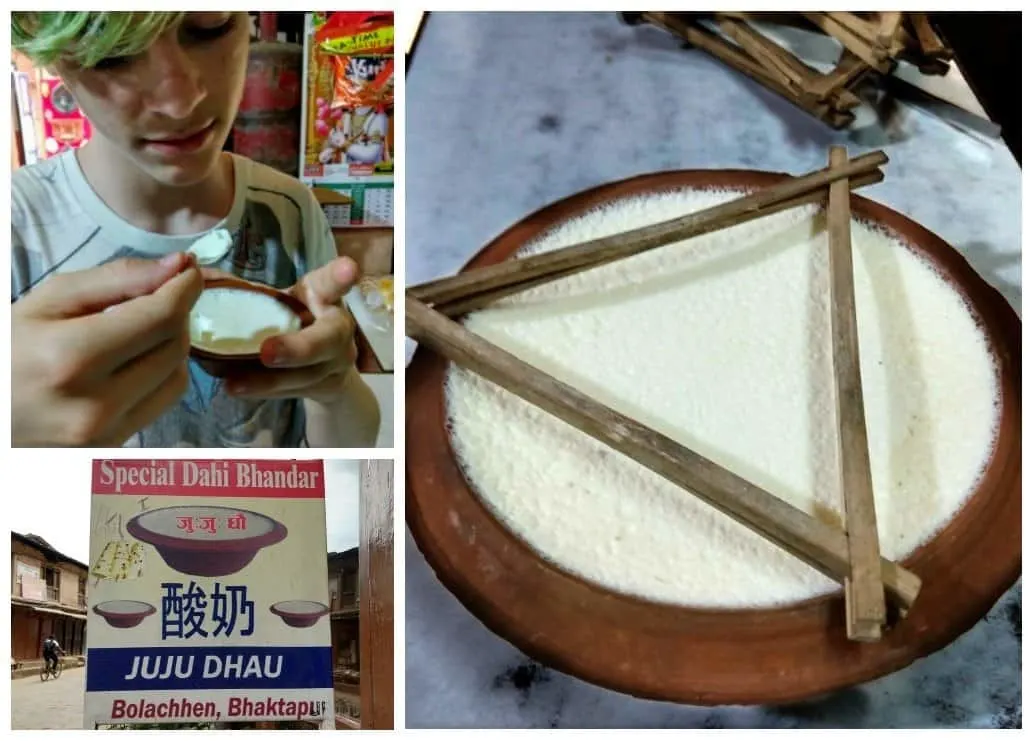 Ju Ju Dhau is the king of yoghurts and it comes from Bhaktapur Nepal. I haven't tasted it but Chef and the boys swear it's amazing. King curd is famous throughout Nepal and you'll find it easily in most Bhaktapur restaurants, better yet, buy it from a little shop in a person-sized terracotta pot.
For Pinterest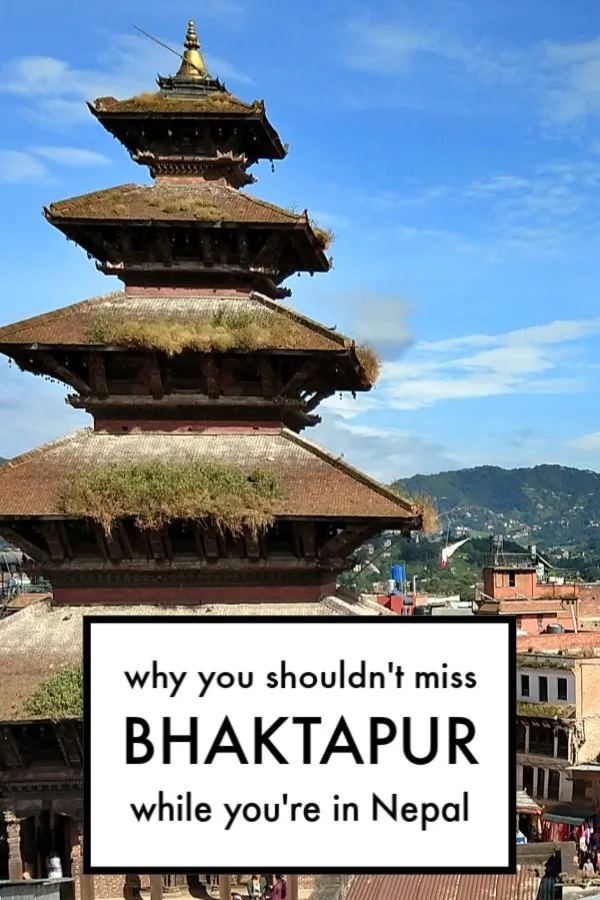 If you're heading to Nepal it would be a great shame to miss Bhaktapur. It's on the way to Nagarkot, so if you're heading that way for the famous hill top views of the Himalayas, it makes perfect sense to stop in Bhaktapur for a couple of days. I love Kathmandu, I really love it, but Bhaktapur has won me round. I think if we were spending extended time in Nepal (maybe as a digital nomad base, the wi-fi has been great here) I might choose Bhaktapur. After a few days, people know us and we're no longer just a face in the crowd. It's a place where I feel we belong and part of me wants to stay here and never leave. So if you can, do it. Visit Bhaktapur Nepal. You can head back to our main Nepal travel blog page here. We're in the Himalayas for months yet, sign up to follow!
If you'd like to hire a car during your stay, use this car rental comparison tool to find the best deal!

We also suggest you take a look at this company to get a quote for all kinds of the more tricky adventure or extended travel insurance.

Try Stayz / VRBO for an alternative way to find rentals on homes/apartments/condos in any country!