This post may contain affiliate links.
Pokhara Nepal is in central Nepal, west of Kathmandu, and stands on the edge of the enormous Phewa Lake. It's the largest city in Nepal in area and the second-largest in population. It's well known as a gateway to the Annapurna Circuit or the Poon Hill Trek, two hugely popular Himalayan treks, but is also a wonderful spot to relax for a few days or weeks.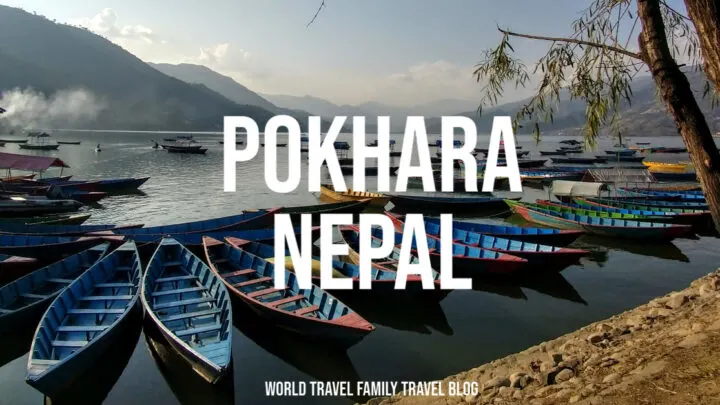 Pokhara Nepal
Pokhara is easy enough to get to from Kathmandu or Chitwan and in recent years has rightfully become a great base for longer-term travellers and digital nomads.
A post about Pokhara Nepal, what's it like, what is there to do in Pokhara, how to get there and what and where to eat. Plus anything else we can think of.
We love Pokhara, (and Nepal) hopefully that shows and our blog post comes from first-hand experience.
The main tourist area along the Phewa Lake and River is known as Lakeside. Here you will find abundant shops, cafes, bars and restaurants, tour agencies for excursions, bike rental and of course, hotels and guest houses.
Pokhara is very different to how we remember it from out first visit over 20 years ago.
On that occasion, we were in Pokhara before and after our first Annapurna Circuit trek.
We hired gear in Pokhara, set off from there by bus and returned tired and skinny to feast on buff momos post trek.
These days expect some quite fancy dining and coffee shops lining the lakeside.
Things to Do in Pokhara
Pokhara has plenty of things to do for adventure lovers along with a laid-back vibe that allows a long-term stay.
There are good facilities for tourists, delicious food and low prices.
We list the things to do and places to see in Pokhara, below, but first, a short video about Nepal.
You can book a half-day Pokhara highlights tour here.
Phewa Lake
A stunning and huge lake dominates the Pokhara area. Boats that take tourists to the other side of the lake and to the World Peace Pagoda (Shanti Stupa) patiently wait for their customers.
The lake is especially beautiful in the morning at sunrise.
You can take a boat ride to the other side of the lake to visit the World Peace Pagoda, or you can rent a boat by the hour or by the day to spend as much time as you want rowing this peaceful lake.
International Mountaineering Museum
This museum in Pokhara Nepal records and documents mountaineering efforts around the world, and more specifically in the Himalayas.
There are several galleries, where you can learn about things like the indigenous people of the mountain regions of Nepal, information on the highest mountains in the world, and exhibitions of equipment and clothes used by mountain climbers.
Outside the building is a 'living museum', which features models of the homes and culture of the indigenous people of Nepal.
There's also a Buddhist Lakhang room where you can experience the serenity of Buddhism and offer prayers.
Opening hours – 8.00 am – 6.00 pm every day of the year
Admission – around 500 Nepalese rupees for foreigners
World Peace Pagoda (Shanti Stupa)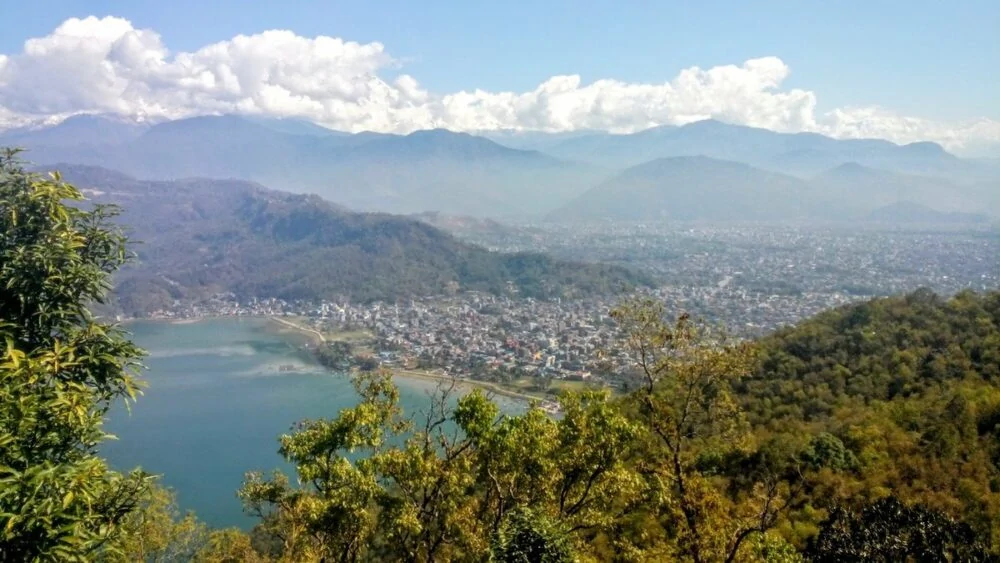 The World Peace Pagoda is located on the other side of the lake from the main tourist area.
So, taking a boat is a good way to get there, although there's about an hour's hike to get to the Stupa. Or you could take a taxi or rent a motorbike.
It has 2 tiers to circumambulate, and the second tier has 4 statues of Buddha – each one presented by a different country – Japan, Sri Lanka, Thailand, and Nepal.
The pagoda stands on top of Anadu Hill, and is a perfect place to get a beautiful view of the city and lake, especially at sunrise and sunset.
You can take a taxi up and walk back down. If you're a keen runner you can run up and back. My husband may still hold the King of the Mountain record for this Strava segment in Pokhara.
Barahi Lake Temple (Taal Barahi Temple)
On a small island in Phewa Lake there's the Barahi Lake Temple. It's a Hindu temple of the protector of gods, Goddess Durga. You'll have to take either a small boat, or one of the bigger barges, to get there.
It's a 2 storey temple made of wood, bricks, and stone, and there are some seats if you want to sit for a while. Great views of the city and Himalayas from here.
Opening hours – 10.30am – 4.30pm
Admission – it will cost you about 100 Nepalese rupee for the return trip on a barge. You may have to pay a small fee for the obligatory life-jacket.
Trekking From Pokhara
As you would expect, there's a huge choice of trekking tours that start in or near Pokhara. They start from short treks of several hours, up to 2 weeks, or even longer.
The treks will take you through the foothills of Annapurna mountain, to local ethnic communities, farms, forests, and most of them will offer you fantastic views of the area.
They can be booked online or from some of the trekking tour companies when you arrive in Pokhara.
Paragliding
Paragliding is one of the best ways to get the perfect view of Pokhara and the surrounding area.
Pokhara is considered one of the top 5 commercial tandem paragliding locations in the world. The peak season for paragliding here is from September – November, and February – March, although if it's not raining and the thermals are active you can do this sport here all year round.
Usually, you'll be briefed before flying, and then you just relax and let your pilot do all the work while you take in the wonders of the nature around you.
Wear warm clothes, it can get pretty cold flying around out there. Some companies will take photos of you in the air for a small fee.
You can also take your Go-Pro, although any other type of camera probably isn't a good idea, because if you drop it, it's gone forever.
Cost – prices will vary between companies and the amount of time you're in the air. Budget about 8,500 Nepalese rupee for a 25-minute flight.
Caves in Pokhara Nepal
There are a few caves around Pokhara which you can explore, with or without the help of a guide.
Bat Cave
Inside Bat Cave you'll find thousands of small horseshoe bats clinging to the walls and ceiling of the cave. The cave is very damp and slippery, so take care while in there.
If you're afraid of bats or are claustrophobic, this cave isn't recommended for you. There's a very, very, small opening to get out of the cave.
Torches are supplied and for about 300 Nepalese rupees a guide will show you to the small exit hole.
Mahendra Cave
Mahendra Cave is a large limestone cave, in which you'll see a statue of the Hindu god, Shiva.
The cave contains both stalactites and stalagmites, in some cases, due to their age, joining up to form interesting shapes which locals believe represent Hindu gods.
There is some lighting in the cave but you will be provided with torches and emergency lights as well. Guides are available for a small fee if you need help getting to the exit. Mahendra Cave is only about 10 minutes' walk from the Bat Cave.
Gupteshwor Mahadev Cave
Gupteshwor Mahadev Cave is said to be Nepal's most famous cave, and possibly the longest, at 2,950 metres. After buying your ticket, you enter via a large spiral staircase, with a lot of modern statues, many of them rather sensual, for example, semi-naked women, as well as Nepali deities.
As you go down into the cave you'll also see other small statues and shrines, and then you'll get to the main Shiva temple – there is a strict no photography rule here, and there are guards watching you. Past the temple, to the second part of the cave, the walls open and contain some nice colours. A bit further and there are some metal stairs going down, which will take you to a waterfall. Note that the inner part of the cave will probably be closed if you visit in the rainy season.
Opening hours – 7.00 am – 6.00 pm
Admission – for foreigners, about 100 Nepalese rupee.
Devi's Falls (Patale Chango)
Devi's Falls is a waterfall, located right next to the Gupteshwor Mahadev Cave. The waterfalls, then forms a tunnel which is about 150m long and about 30m underground. After the water exits the tunnel, it then runs through the cave.
There's a small pond there also where you can try your luck by throwing a coin which must land on the statue of God. It's a small waterfall and some might be disappointed.
Opening hours – 5.00am – 7.00pm
Admission – about 30 Nepalese rupee for foreigners.
Gurkha Museum
This is an interactive multimedia museum, in which you can find everything you want to know about Nepal's Gurkha soldiers. The Gurkhas joined the British Army in 1815, and the museum allows us to learn about the history of the Gurkhas up to the present day.
There are 3 floors of exhibits, including photographs, uniforms and military items, plus audio which plays background sound effects which give you the feeling of being there with the Gurkhas in the various wars they participated in.
There's a souvenir shop where you can buy such things as knives, books, t-shirts, and postcards among many other Gurkha related souvenirs.
Opening hours – 8.00am – 4.30pm
Admission – about 250 Nepalese rupee for foreigners.
White Water Rafting from Pokhara Nepal
From Pokhara, you can take half-day excursions for a white water rafting experience. Lunch and transportation is usually included in the price. Rafting is done on the Upper Seti River, about a 30 minute drive away from the tourist part of town. The trip down stream usually last about 90 minutes. There are plenty of class 3 and 4 rapids for the thrill-seekers, along with gorgeous views of the Annapurna.
There is the option of a morning or afternoon excursion. You'll get a safety briefing before starting, and some companies require you to be properly insured with an appropriate travel insurance company.
Book white water rafting from Pokhara here.
Ultra-light Flight
An ultra-light is a small 2-seater plane, one for the pilot and one for the passenger, which flies with the help of a small engine. In the right conditions it can fly with the engine turned off for more of a gliding experience.
There are plenty of companies to choose from, particularly Lakeside, and they're all much the same in terms of price and what they have to offer. There are packages from 15 minutes, up to a 90-minute flight. Depending on your package and how long you're in the air, you'll fly over Phewa Lake and the World Peace Pagoda, local villages, and get great views of the Annapurna mountain range.
Flights take place either in the morning from sunrise until about 9.00 am, and in the afternoon from about 2.00 pm until sunset. You might find a weight limit of about 110kg is applied, and children need consent of parents to fly.
For a 15 minute flight, prices start at around $85.00 USD.
Bungee Jumping in Pokhara
If you have no fear of heights, yes, bungee jumping is possible in Pokhara Nepal. If you do it, come back and tell us about it!
Book Pokhara bungee jumping here.
Tashi Palkhel – Tibetan Refugee Camp
This Tibetan Refugee Camp is one of several Tibetan settlement camps in Nepal. Tashi Palkhel is the largest settlement close to Pokhara, and is located about 5km northwest of the town. It was established in the early 1960s.
The Jangchub Choeling Gompa monastery is situated inside the settlement, and is home to about 200 monks. If you visit in the afternoon you'll experience the monk's chanting and horn blowing which occur as part of the prayer session.
Tibetan refugees are generally not legally allowed to work, therefore you may come across them in the streets of Pokhara selling handicrafts including jewellery, carvings and even carpets in order to have a small income.
There are some small restaurants in the settlement, which will serve you traditional dumplings (momos) or Tibetan noodle soup (thukpa).
There's a mini-market in Lakeside which is run by the people from Tashi Palkhel where you'll find craft shops and restaurants.
Bicycle and Motorbike Rental
You can hire a motorbike or a bicycle to get around the town faster, or to go a bit further afield. There's a big choice of companies to hire from so take your pick. If you hire a motorbike you'll need a driver's licence, and be sure to check the bike over before you take it (in case there's any existing damage that you don't to get blamed for). You should be given a helmet and of course you should wear it.
If you don't want to ride yourself, you can hire a bike with a guide and you'll be on the back as the passenger.
Motorbike hire starts from about $15 USD a day for a scooter, more for a motorbike.
Bicycle hire will set you back about 400 Nepalese rupee a day.
Sarangkot
Sarangkot is a hill on the outskirts of Pokhara and is well known for its hiking/running trail. It's a climb to 1,600 metres and the trail there is either 10 or 12 km each way, depending on the route you take. You'll get outstanding views of the Annapurna mountain range if the weather is clear.
By taking this trail in the morning at sunrise or in the evening sunset, you'll be rewarded with spectacular views of the mountains in soft pink and orange hues. It can be cold, so wear warm clothes.
Walking or hiking can take about 3- 5 hours to get there. The trail starts at the Baglung bus park, or alternatively there's a trail from Lake Phewa Tal.
You can take a taxi if walking is not your thing. It will take 30-40 minutes and you will have a walk to the top of about 15-20 minutes. The taxi can wait for you if you request it.
Pokhara Old Town
Move away from the touristy Lakeside and head over to the old town for a more authentic look at Pokhara. By foot is the best way to explore the old town, where you'll be treated to a look at what life there was like before the tourists came.
You can see there religious shops, of both Hindu and Buddhist faiths. There's a 200 year old shrine to the Newari god of trade and commerce. The shrine is called Bhimsen Temple and is decorated with erotic carvings. A bit further north is the Bindhya Basini Temple which was founded in the 17th century.
Near Bindhya Basini Temple is the Pokhara Bazaar, also called Purana Bazaar. It's about 4km north of Lakeside and not many tourists go here. It used to be the main trading centre of Pokhara, but now it's a lot of empty red buildings.
How To Get To Pokhara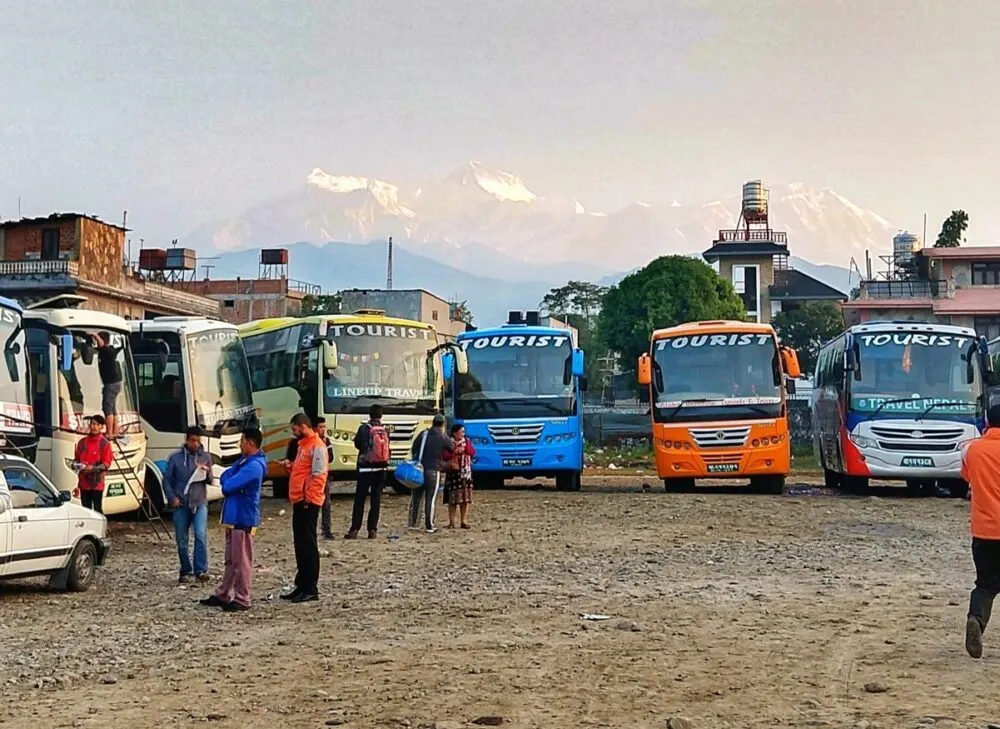 Pokhara is approximately 200 km from Kathmandu and can be reached by road or air. There is no train.
It is a winding narrow road that is possibly dangerous but scenic. We've done this trip maybe 10 times now and lived to tell the tale, but we've often seen accidents.
Buses, jeeps or minibusses take you to Pokhara from Kathmandu. We feel safer on the slower buses. If you're prone to getting car sick then this road will not help with that. I have to say that I rather enjoy this journey and that it's nowhere near as terrifying as the bus from Phaplu to Kathmandu.
You can also usually get to Pokhara by bus from Chitwan National Park and Lumbini. Flying is quicker, the planes will be small and air accidents are rather more common than I'm comfortable with. Flying is more expensive.
At one time the Annapurna circuit was a walking only trail with a small remote airport (think short runway) at Jomson. Nowadays you can hire a jeep to take you up as far as Muktinath which is past Jomson and the gateway to the Mustang region. This is a bumpy journey and normally by private or shared jeep.
Where To Stay in Pokhara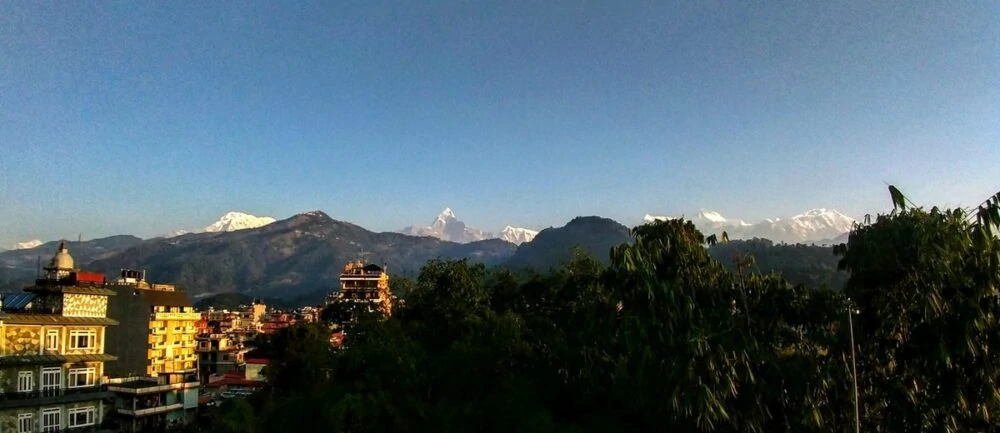 I would prefer to be somewhere Lakeside so that all of the tourist facilities are within easy walking distance. There are hotels at multiple price points here. You can also stay out of town to get a more rural experience. We give you a few picks below. Even the luxury resort hotels are extremely affordable.
Where to eat in Pokhara – Restaurant Recommendations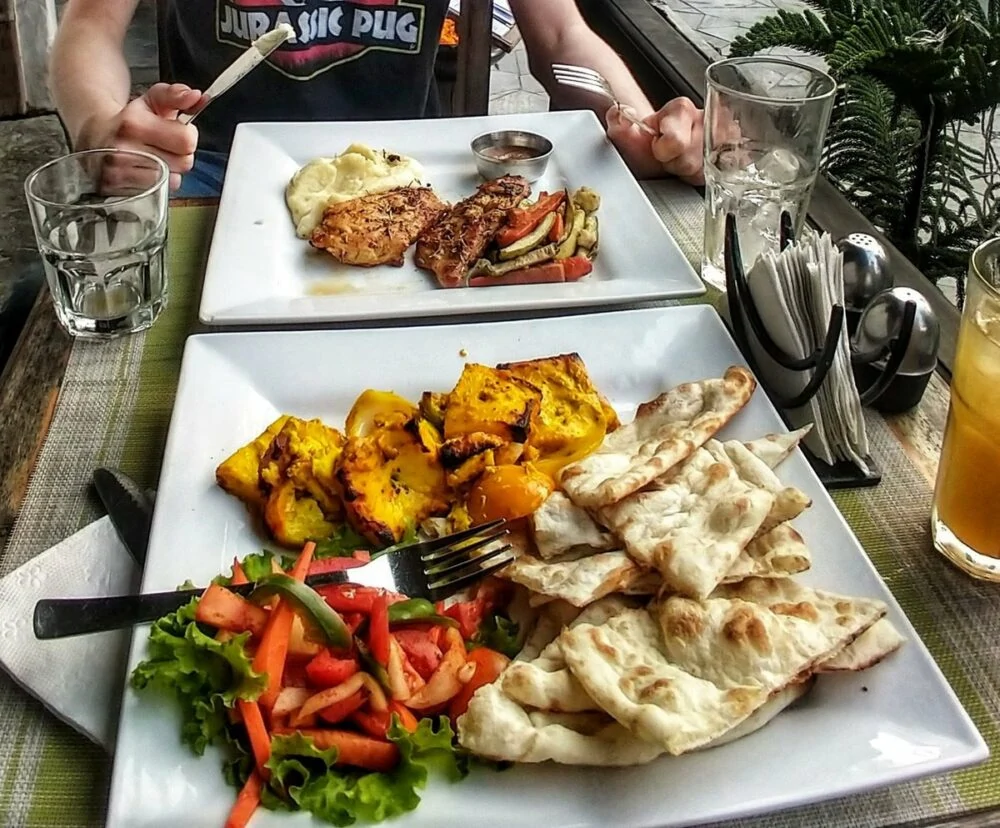 Moon Dance Restaurant and Bar is where the photo above was taken. It's a really nice place and this balcony was our favourite spot to sit and watch the world go by.
OR2K is another Pokara favourite. It's very similar to the OR2K in Kathmandu but with fantastic lake and mountain views.
There are coffee shops, bakeries, and simple dal baht. Expect a full post from us on food and dining in Pokhara soon. For now, you can check out our Nepali food guide.
You can bookmark our post to Pinterest using the buttons or hover and click.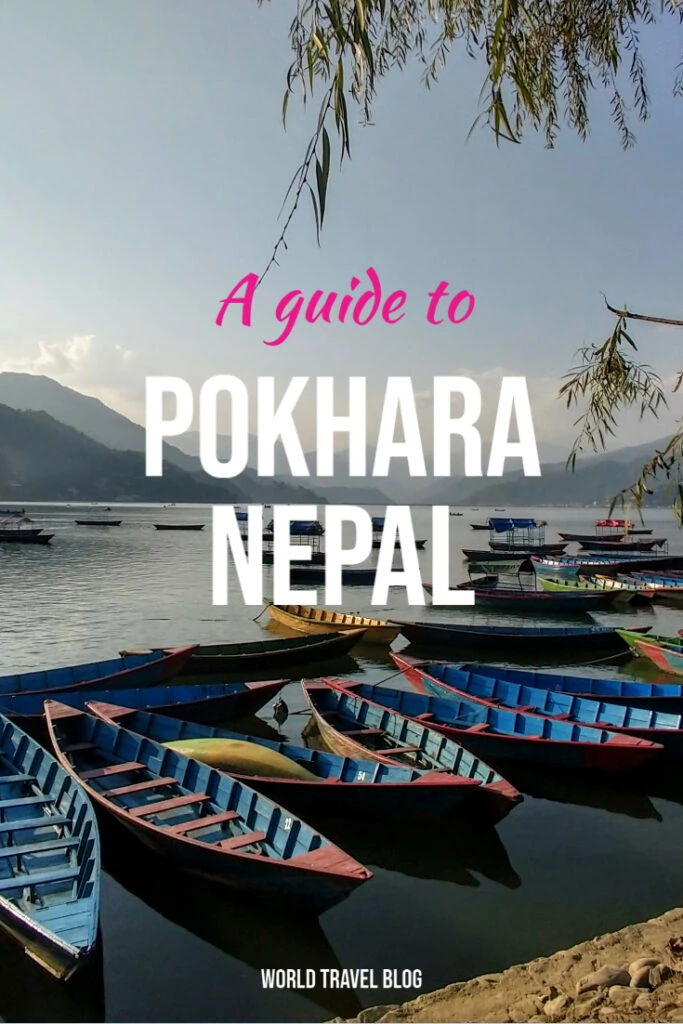 Pokhara Nepal – To Live
I could live in Pokhara, it's a town we enjoy immensely. If I were thinking of moving to Nepal living in Pokhara would probably be my choice, either as a digital nomad base or longer-term. We've visited before and after the earthquake and in winter and summer, it's always good. We hope you enjoy Pokhara. If you found our guide useful we cover dozens of places and treks in Nepal. Maybe head back to our main Nepal Travel Guide or check out Things To Do in Kathmandu. Be sure to read our post on gear for trekking in Nepal. We don't want you to waste your money on stuff you may not need.
If you'd like to hire a car during your stay, use this car rental comparison tool to find the best deal!

We also suggest you take a look at this company to get a quote for all kinds of the more tricky adventure or extended travel insurance.

Try Stayz / VRBO for an alternative way to find rentals on homes/apartments/condos in any country!