This post may contain affiliate links.
OK, so Port Douglas isn't cheap. It's a high-cost destination in the global travel scene but if you're trying to stretch your budget there are a few things to do in Port Douglas for free. We'll give you some ideas on free things to do below. If you're planning a holiday this year we also have a post on budget holiday tips for Queensland.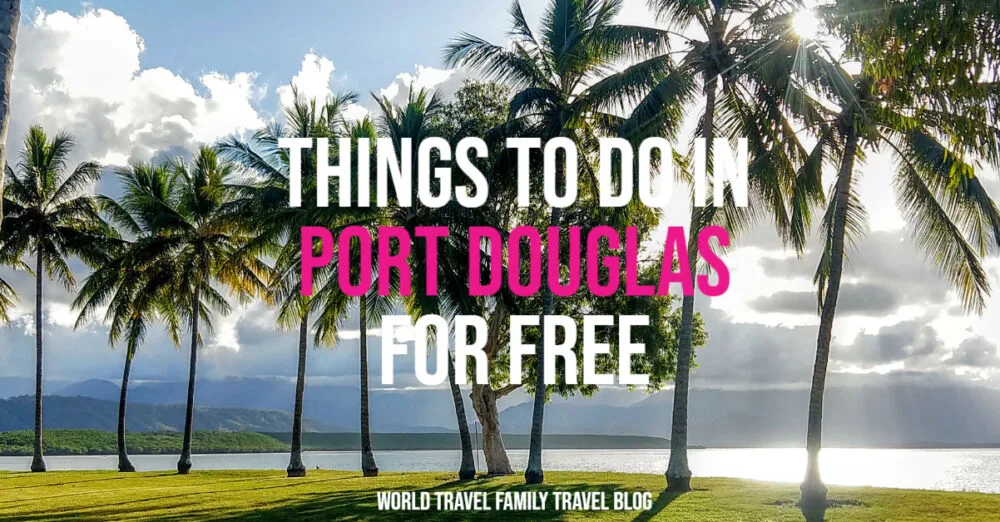 Port Douglas For Free
We're presuming for this post that you don't have a vehicle, car or bike.
One of our things to do in Port Douglas for free, The Bump Track, is a fair hike from Port Douglas (about 6 Km) but everything else here is within easy walking distance of Macrossan St (Central Port Douglas).
We actually get around Port by bike, we don't own a car, but if you have your own vehicle there are plenty more things to do for free nearby.
If you're looking for swimming holes or places to swim other than the beach, check out our post on places to swim near Port Douglas.
In Far North Queensland always be mindful of salt water crocodiles, stinger season, gympie gympie and cassowaries.
Be kind to our wildlife and keep your distance, they're part of the fun of living in the tropics.
Check out our posts on visiting Daintree Village or attractions between Cairns and Port Douglas, for instance.
The ferry over the Daintree River does have a fee but recently it's been free due to the global tourism crisis.
Please check before you head up to the beautiful beaches of Cape Tribulation and The Daintree Rainforest
If you can get to Cairns the Cairns Lagoon is free along with the water play area at Muddy's Playground.
We have a separate post on Things To Do in Cairns.
1. Volunteer
This is my favourite thing to do in Port Douglas for free because you can give back while you enjoy Port Douglas and the surrounding area. Volunteering lets you meet new friends, and maybe get a free lunch too!
We volunteer with Tangaroa Blue cleaning marine debris off beaches.
Regular clean-ups take place on Four Mile Beach but from time to time volunteers head off to clean beaches and islands as far away as the very tip of Cape York.
Tangaroa is Australia-wide. Look out for upcoming plastic collection and surveying events on the Reef Clean website.
2. Enjoy Sunset in Port Douglas at Rex Smeal Park, it's Free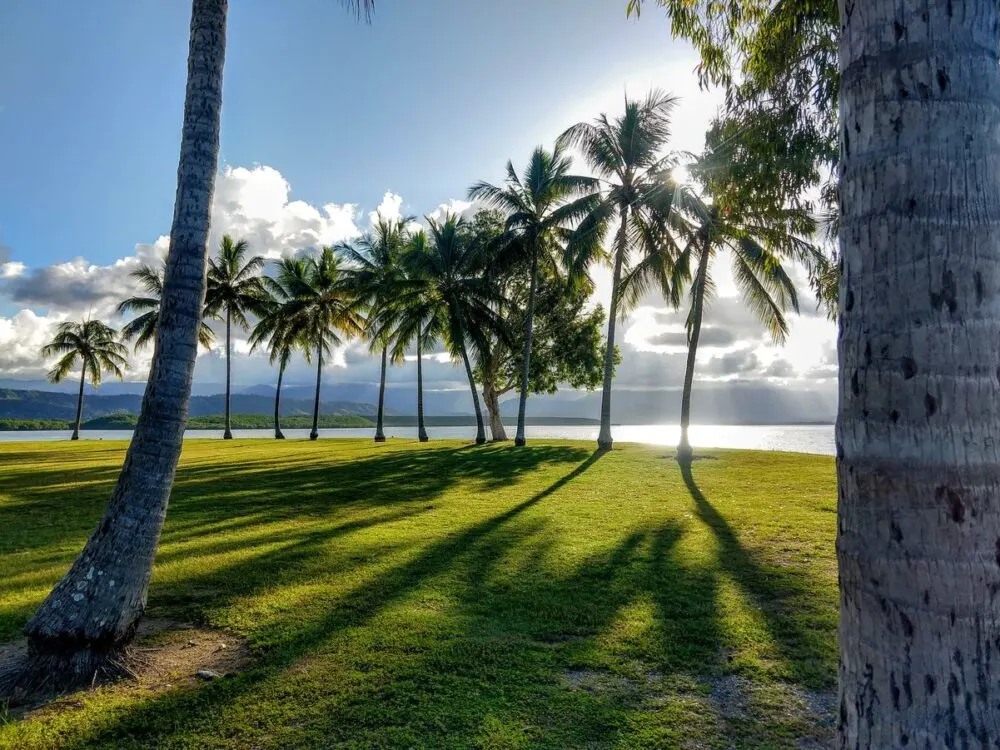 Anywhere along the inlet, you'll have a good view of the sun going down over the Great Dividing Range but Rex Smeal Park on the very tip of the Port Douglas peninsula is the classic spot.
There's a playground here and plenty of room for the kids to have a run around too.
Climbing trees is optional. Watch out for coconuts.
There are public rest rooms and barbecue facilities here too, mostly free.
3. Sunrise to Sunset on Four Mile Beach is Free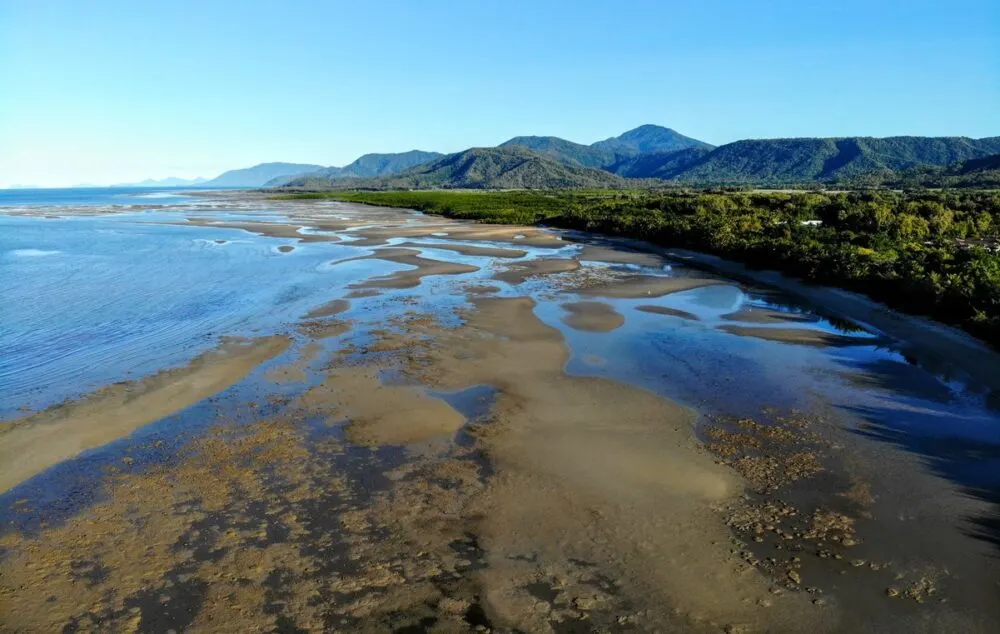 Four Mile Beach is huge, beautiful and there for you to enjoy.
It's a sandy beach with a rocky headland at the northern end. At very low tides, you may see some coral exposed towards the southern end.
Run, walk, cycle, snorkel, make sandcastles, swim. Do whatever you do on the beach, for free.
There is a lifeguard station at the northern end and this is where the stinger net goes out in stinger season.
You'll find free water bubblers, toilets, showers, taps, seating and barbecues to the rear of the beach near The Surf Club as well as further south at beach entrances.
4. Port Douglas Markets Are Free to Enter
Leave your credit card at home and just enjoy the Sunday vibe at Port Douglas markets.
There's plenty to look at and you can enjoy views of The Sugar Wharf and Dickson's Inlet as you browse the stalls.
The market shut down during lockdown but has re-opened. Sometimes you'll be able to enjoy musical entertainment here too. Sunday mornings to early afternoon.
The Saturday morning markets in Mossman are also free to enter. Mossman Gorge is only free for local residents, with proof of address.
5. Free Kids' Play Facilities in Port Douglas
There are loads of kids playgrounds around Port Douglas, all free.
There was a nice little play facility at Rex Smeal Park with views of the Inlet, but it's under repair right now. You'll also find a playground and basket ball hoop at the Four Mile beach access point along with several more along the back of the beach.
There was also play equipment at The Surf Club (repair underway currently) and in Port Gardens.
6. Hike The Bump Track (Mowbray National Park)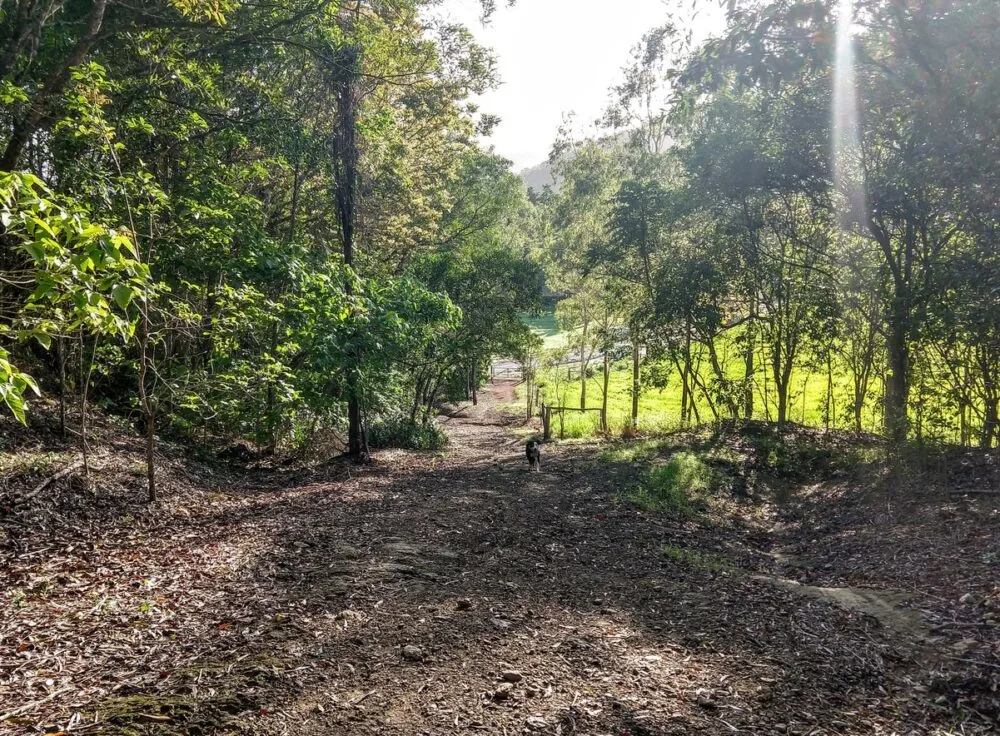 The Bump Track is steeped in history and also a great place to get a workout or connect with nature.
Head off around dawn to dodge the heat and hike to the top of the hill where you will find a bench with views out over The Coral Sea and Mowbray River.
If you have time (and water) keep going all the way to The Falls. To walk from the bottom of the Bump Track to the road at the top (near Julatten) and back again should take about 3 hours. Be sure to take plenty of water. You will not have a phone signal for most of this walk so be sure to tell somebody where you're going and when you should get back.
The waterfall towards the top of the path can be difficult to find, the side path was very overgrown the last time we went by. There are usually sticks or logs forming arrows to mark the entrance.
Mountain biking is another popular activity. As the Bump Track is National Park, dogs are regulated.
If you make it out to Mowbray you can also swim in Spring Creek and enjoy a walk along its path up to yet more waterfalls. We can't guarantee Spring Creek is crocodile-free, one was spotted here recently.
7. Flagstaff Hill Walking Trail is Free
The Flagstaff Hill Walking Trail was completed as a sea-facing link around Flagstaff Hill, the high ground at the top of the Port Douglas peninsula, a few years back.
Shortly afterwards it was washed out by rain, but today, in 2022, it's open. Obviously, it could close if we have another epic storm.
The path connects Four Mile Beach and Rex Smeal Park and is quite a strenuous up and down 1.5 Km trail popular with runners and walkers.
It has spectacular views and the various lookouts are popular Instagram spots.
As you approach Rex Smeal Park on your right you'll see a small cove often used as a backdrop for weddings.
An outdoor art display recently added interest to this walk.
8. The Port Douglas Lookout is Free
More correctly Flagstaff Hill Lookout, this view spot is at the top of Island Point Road, a steep hill. you can run up it if you're brave, I used to be able to.
Alternatively take the steps up from the top end of Four Mile Beach.
From this spot you can see Four Mile Beach sweeping away below you. This is the ultimate Port Douglas view spot, don't miss it.
9. St Mary's By The Sea Chapel is Free to Enter
St Mary's in a non-denominational chapel and another popular wedding spot. It was originally built in the 1880s in a different location and was moved to its current home after being all but flattened by a cyclone.
St Mary's On the Hill was in a bad way when it was moved to its sea-side location in the early 1900s.
Today it's beautifully restored inside and out. A really stunning little place.
10. Hang Out At The Marina (Crystalbrook Superyacht Marina)
You can just watch the ships coming in, and going out again. Take a look at the super yachts, you can stroll along the jetties.
This is actually one of my favourite things to do and there are great sunset photo opportunities here.
11. Free Barbecue Facilities in Port Douglas
This is something you find a lot in Australia, free gas barbecues at popular picnic spots.
They usually have sun and rain protection. My husband tells me that when he was a kid they cost 20c a go, but people kept breaking them open to steal the money so now they're free.
I don't know if that's an accurate historical account. The rule is, keep them clean.
They usually are spotless.
In Port Douglas there are free gas barbecues at Rex Smeal Park, behind Four Mile Beach and at most children's playgrounds.
12. Free Exercise Equipment
To the rear of Four Mile Beach, along the Esplanade you'll find a selection of free exercise equiment for sit-ups, pull-ups and more.
When you're done with them, run up the steps to The Lookout or cook yourself some breakfast on the free gas barbecues.
13. Free Cycle Trails
There is a lot of work going on in Far North Queensland to make this part of the world a stand-out cycle hub.
As I said earlier, we go everywhere by bike. If you bring your bike with you explore by pedal power. If you have to hire a bike locally it won't count as free.
We particularly enjoy cycling out to The Mowbray Valley and Spring Creek. This is where you need to go for The Bump Track too.
It's roughly a 20 km loop from Port Douglas, depending on where you go exactly. The cycle paths are much loved by electric scooter users lately. These are not free but there are a lot of them available in Port Douglas.
14. See Local Wildlife for Free
Around Port Douglas, you are very likely to see some amazing wildlife.
Noisy rainbow lorikeets and cockatoos flock in huge numbers at the right time of year and at sunset every night the fruit bats take to the skies.
The cemetery is often a good place to see the cockatoos and that in itself is quite an interesting place to visit.
If you walk the Flagstaff Hill Walking Track and the sea is calm, look out for sea turtles coming up to breathe just off the rocks below you.
There are crocodiles around but you'll be very lucky to see one. I've only seen them swimming up the inlet and only once off Four Mile Beach. It's a rare sighting.
Look out for tree frogs. Giant green tree frogs get huge.
You may be able to see wallabies, wild pigs, even cassowaries just outside Port Douglas, but the bigger Australian wildlife doesn't usually come into town.
We often see them at night climbing our windows. These small green guys like the one above, we spot during the day hanging out in our garden.
Other critters to spot include tarantulas and scorpions. You'll need a torch.
15. Historic Buildings in Port Douglas That You Can See For Free
There are a number of historic buildings around town and most have signs explaining their age and significance. Some of the pubs or hotels are very old, then there's the Sugar Wharf and the Old Courthouse next to the police station. At the Anzac memorial park you can enjoy a selection of historic photos of old Port Douglas.
16. Stay in Port Douglas For Free
House-sitting and Couchsurfing are two options for staying in Port Douglas for free. However, since Couchsurfing introduced a charge for membership, is it really free?
I used to host Couch Surfers in Port Douglas but once Couchsurfing introduced this charge I quit the platform, which is a shame. There is also a fairly hefty charge for joining an agency like Trusted Housesitters.
There is a real shortage of affordable accommodation in Port Douglas, it's a problem. If you have camping gear there are some free places to camp nearby (Mt Molloy is the nearest free campsite that I know of) but in Port Douglas itself camping outside of designated campsites is banned and police do check.
17. Get A Shower For Free in Port Douglas
There are public showers that a free to use near Four Mile Beach outside the surf club. They are open, you will need to wear swimwear.
Free Stuff To Do in Port Douglas
So there you go, a bunch of free stuff to do in Port Douglas. Come visit, but try and spend some money while you're here, we've been hard hit by the global tourism shut down and we need you to spend to keep businesses open. Enjoy Port Douglas.
If you'd like to hire a car during your stay, use this car rental comparison tool to find the best deal!

We also suggest you take a look at this company to get a quote for all kinds of the more tricky adventure or extended travel insurance.

Try Stayz / VRBO for an alternative way to find rentals on homes/apartments/condos in any country!