This post may contain affiliate links.
Welcome to Queensland! This is a land full of pristine white sand beaches, perfect rainforest vistas, island resorts and outback splendour. We have cosmopolitan cities, and quaint coastal towns all begging to be explored. But all of this beauty can come at quite a cost if you want to holiday here. However, we have found you 10 easy ways to save money on Queensland holidays, so you can visit and enjoy our beautiful state without breaking the bank.
We aim to help you save money on your Queensland holiday but, we're not infallible. The prices we found were correct at the time of posting, just double-check for yourself as they may have changed recently. This post may contain affiliate links that earn us commission if you choose to use them. This costs you no extra.
10 Ways to Save Money on Queensland Holidays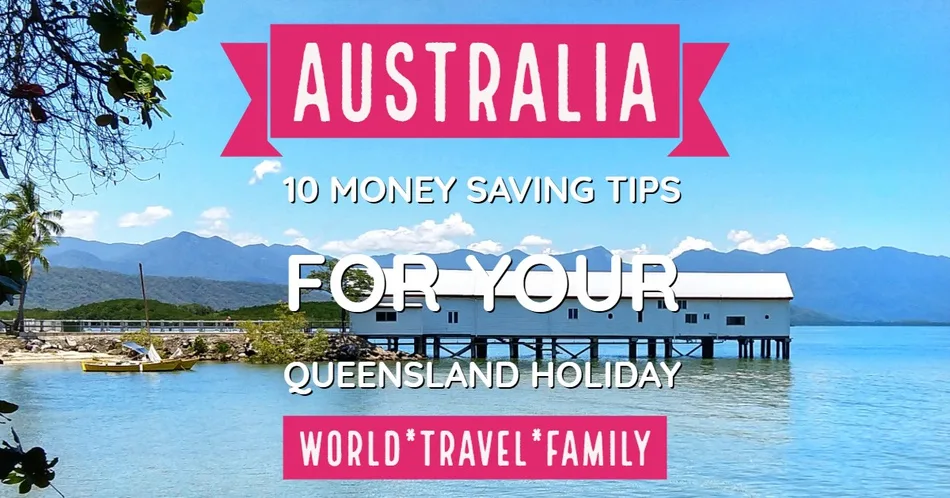 Travel Off Peak
Travelling outside of peak times is the easiest way to keep your costs down on a holiday to QLD. Avoid the school holidays and peak holiday periods as accommodation prices can soar with low availability.
The approximate QLD school holiday dates for 2019/20:
28 June to 15 July

20 September to 8 October

13 December to 28 January 2020 (Private schools finish 6 December)

3 April to 20 April

26 June to 13 July

18 September to 6 October

11 December to 27 January 2021
The Best Time to Visit QLD
The best time to travel to North QLD are the cooler months between May to September. North Queensland enjoys a warm and humid climate over Summer, so visiting over autumn and winter is much more pleasant for enjoying the great outdoors. Also prevalent in the north between September and April are our venomous jellyfish which makes watersports less of a breeze.
And for a visit to Southern QLD, October to April is the best time of year to visit to enjoy the beautiful southern beaches, (no venomous jellyfish down here in theory). If you'd like to know more about stinger season, we have a full post addressing that. If you plan to travel when the stingers are about, check out some of our fresh water swimming spots, just be sure they are crocodile free!
Look for Alternatives to Popular Places
Gold Coast Alternative
No doubt you will have heard of the Gold Coast? It is one of QLD's most popular tourist destinations. There are beautiful beaches, high rise apartments overlooking great surf, theme parks and prices to match. But did you know that if you travel only an hour north of Brisbane you arrive at Queensland's Sunshine Coast? The Sunshine Coast has fewer people, and even better beaches and you can find much cheaper accommodation here than on the Gold Coast. Try Caloundra, Bribie Island, Kawana, Maroochydore and Mudjimba for stunning beaches and solid budget accommodation options.
Whitsunday Islands Alternative
For a cheaper alternative to the world famous Whitsunday Islands, try Magnetic Island which is just off Townsville, or Great Keppel Island near Yeppoon. You will still get to experience perfect QLD island life, without the hefty price tag of places such as Hayman and Hamilton Islands.
Or, you could stay in Airlie Beach on the mainland and do day trips to the Whitsunday Islands and Great Barrier Reef Marine Park, including the incomparable Whitehaven Beach. If you must stay on an island, check out the Airbnb listings and private rentals on Hamilton Island to find the cheapest rate. There are heaps of older style apartments on Hamilton, and you can often rent one of these for a steal.
Lady Musgrave Island near Bundaberg only costs around $5 per night to camp in absolutely stunning beauty surrounded by turtles sanctuaries and coral coves. The transfer over is over $400 each, but you would more than make up for that with the cheap stay here. You can camp on Lady Musgrave for up to 21 days.
Fraser Island Alternative
Do you want to drive on a white sand beach without the hefty price tag of the Fraser Island Ferry? Check out nearby Double Island Point instead. Access is from either Noosa North Shore or Rainbow Beach and camping in the dunes with epic surf and endless ocean views will set you back roughly $6.50 per night per person. (Vehicle permits also apply, see the National Parks website for all the info on Teewah Beach camping – (https://findapark.npsr.qld.gov.au/parks/cooloola/teewah-beach-camping-area-camping)
You can hire an entire private island off the coast of central Queensland for $2870 per night. Pumpkin Island sleeps up to 34 guests and is situated in the Southern Great Barrier Reef!
Booking a big beach house for a holiday with a group is another great way to share the costs. Sites such as Airbnb, Stayz, and Homeaway have hundreds of listings in fantastic locations that are perfect for a large group.
Hiring a houseboat or a yacht and sharing the price with a group of friends can be a great holiday option. Boats can sleep as many as 10 – 12 people so imagine sharing the cost between 6 couples! You bring all your own food and drinks, and sailing around stunning QLD islands for a few days is an incredible day to escape the rat-race.
Companies such as Whitsunday Rent A Yacht operate out of Abel Point near Airlie Beach and have boats with 10 beds for $970 per night during their low season. That's under $100 per person per night to holiday in paradise. Their low season dates are listed as Jan 11th – April 8th | May 1st – June 1st | Nov 1st – Dec 21st. Either book well in advance, or look for last minute stand-by deals and specials.
Houseboats can also be a fun and cheap alternative. You can rent one of these on QLD's beautiful Noosa River for only $3000 for a whole week! That will sleep 12 people!
Consider a House Swap, Couchsurfing or House Sitting
Many people are now turning to this alternative form of accommodation as a way to save money on a Queensland holiday. Check sites such as Aussie House Swap or Love Home Swap or even Gumtree for House Swap opportunities. You will need to sign up to be matched to the right properties.
Some such as Trusted Housesitters may include pets to look after, and may incur a membership fee, but otherwise, the accommodation itself is generally free. Housesitting isn't our favourite was to travel ( Our thoughts on housesitting are here ) but others get a lot of value out of it.
Couchsurfing runs on trust and generosity. We host house sitters in our home, mostly because we like to help out young backpackers and waifs and strays. They're always cool people and sometimes they may help us around the garden or buy us a bottle of wine. We've never used Couchsurfing ourselves as customers but I have friends who have couchsurfed, even as a family, all over the world.
Couch surfing and Pet Sitting is really more for long term travellers, but if you're smart, you could easily emplay these methods to make your Queensland holiday cheaper.
Self Catering
When booking accommodation in QLD it is definitely a money saver to find a place with your own kitchen. This way you can buy your own groceries and cook your favourite dinners on your rooftop barbecue. In Queensland, the main supermarkets are Coles and Woolworths, and you can find Aldi, a cheaper alternative, in major centres.
Farmer's markets are also a great place to find the freshest and best food, and what better way to celebrate a region than supporting a local farmer. These will most often be held on a weekend, check local guides for details.
In Cairns you must try Rusty's Market, be sure to go at the end of the market when prices are slashed significantly.
Road Tripping Queensland
Public transport in Queensland is not cheap. A self-drive holiday is a brilliant way to see the countryside while keeping the costs down. Consider hiring a camper van so your car rental and accommodation costs are combined. Obviously the bigger and fancier the campervan, the more expensive it gets.
Booking well in advance saves you money – at least 5 to 6 months in advance can result in cheaper 'early-bird' fares. Off-peak is important, and longer periods also incur a cheaper daily rate. Don't check all the boxes for all the extra equipment that you probably won't need. Instead, look at buying some cheap second-hand camping chairs etc from Gumtree.
For budget camper van rentals, check out Juicy, Wicked Campers, Traveller's Autobarn and Britz.MotorHome Republic allows you compare prices of popular rental companies and often has awesome deals.
Camplify is another newish site where regular people rent out their private campervans, motorhomes and caravans when they are not using them.
We do have some free camping spots in Queensland and they may even come with basic facilities like gas barbecues and toilets. To find these you need to get the WikiCamps app. Paid camp sites, sadly, can be very expensive in Australia particularly in school holidays.
Save Money on Your QLD Holiday by Camping
QLD National Parks
Camping in one of our wonderful National Parks is another effective way to save money on your QLD holiday. You need a vehicle access pass to drive on beaches in the coastal parks such as Cooloola and Fraser (buy your permit online here https://www.qld.gov.au/recreation/activities/areas-facilities/permits/vehicle) but otherwise camping costs as little as $6.50 per person. Create an account online with National Parks QLD to find a park and book campsites.
YouCamp
YouCamp lists a variety of low-key campsites on Queensland properties. Think couch surfing, but the camping version. You can find some very interesting and appealing spots to camp. Try a creek bank at the bottom of someone's garden, or a patch of forest way off the beaten track. YouCamp rates start at as little as $8 per person, and prices and amenities vary greatly between offerings. Search and book online.
As Couchsurfing hosts, we often allow backpackers and budget travellers to camp in our garden for free, so check Couchsurfing listings before resorting to YouCamp.
WikiCamps
WikiCamps lists all of the free and very cheap campgrounds around all of Australia. It is a great resource which will save you plenty of money on a QLD road trip. Download the app for $7.99 before you go, and it works offline as well. For iOS and for Android.
Stay with Friends or Family
Do you have a long-lost relative or acquaintance that happens to live in QLD? It might be time to pay them a visit. Queenslanders are renowned for their easy-going nature and great hospitality. Give them a call, and stay for a while. In school holidays we see many caravans parked up in neighbours' front gardens
Book Well in Advance and Look for Special Deals
Start planning your Queensland holiday at least 6 months in advance to save money on accommodation prices with early bird savings. Hotels, resorts, and caravan parks will often have special deals during quiet periods so keep an eye out for these. Offers such as 'stay 3, pay 2' or 'kids stay and eat free' are commonly found.
Sign up for email alerts for airlines and put a 'price-watch' in place so you are notified as soon as flights to QLD go on sale.
Volunteering
National Park Volunteers
If you have plenty of time to spend in Queensland, volunteering is a fantastic way to save money. It means you can holiday here, do a bit of work and basically have it all for free. You can volunteer at a diverse range of National Parks which will often include your accommodation in return for some work. The work can include campground hosting, cleaning up rubbish, or removing weeds from turtle nesting areas. Check out the National Parks website for details on their volunteer programs.
WWOOFing
WWOOFing – Willing Workers On Organic Farms is another volunteer organisation in which you trade labour on farms for food and lodging. This will give you a chance to get to experience the real QLD by giving hands-on help. There is a $40 fee to register per country.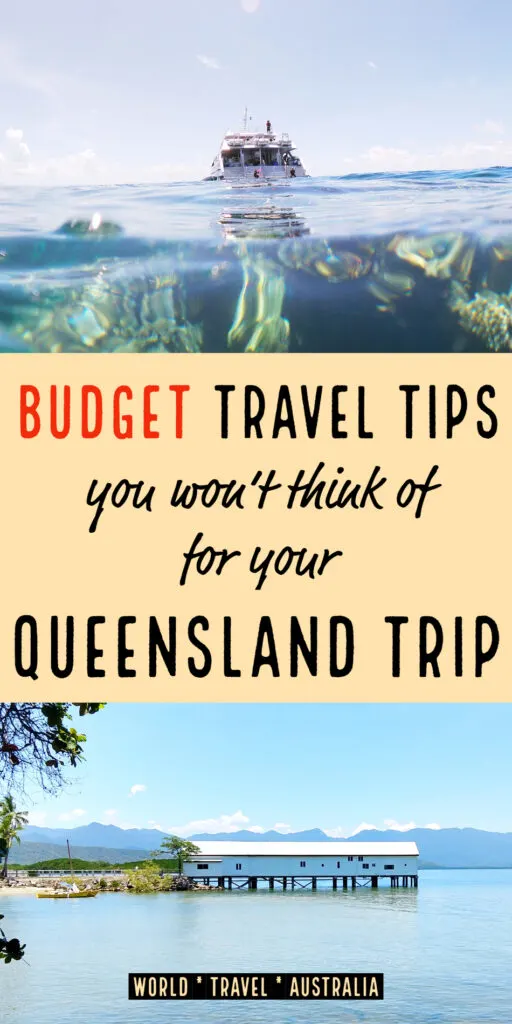 There are a myriad of ways to save money on your Queensland holiday. So start looking, and start saving today. Visiting Queensland will amaze you. The wonderful diversity of natural scenery, the different climates and habitats, the wildlife, and snorkelling on the Great Barrier Reef will make you want to stay for as long as you possibly can. See you in Queensland, we call her home.
If you'd like to hire a car during your stay, use this car rental comparison tool to find the best deal!

We also suggest you take a look at this company to get a quote for all kinds of the more tricky adventure or extended travel insurance.

Try Stayz / VRBO for an alternative way to find rentals on homes/apartments/condos in any country!