This post may contain affiliate links.
In this post we cover the best places to stay in Port Douglas and near Port Douglas. While the best hotel in Port Douglas is probably the Sheraton Grand Mirage, it may not be the best place to stay, for you. We cover the best places to stay in Port Douglas, for every kind of traveller!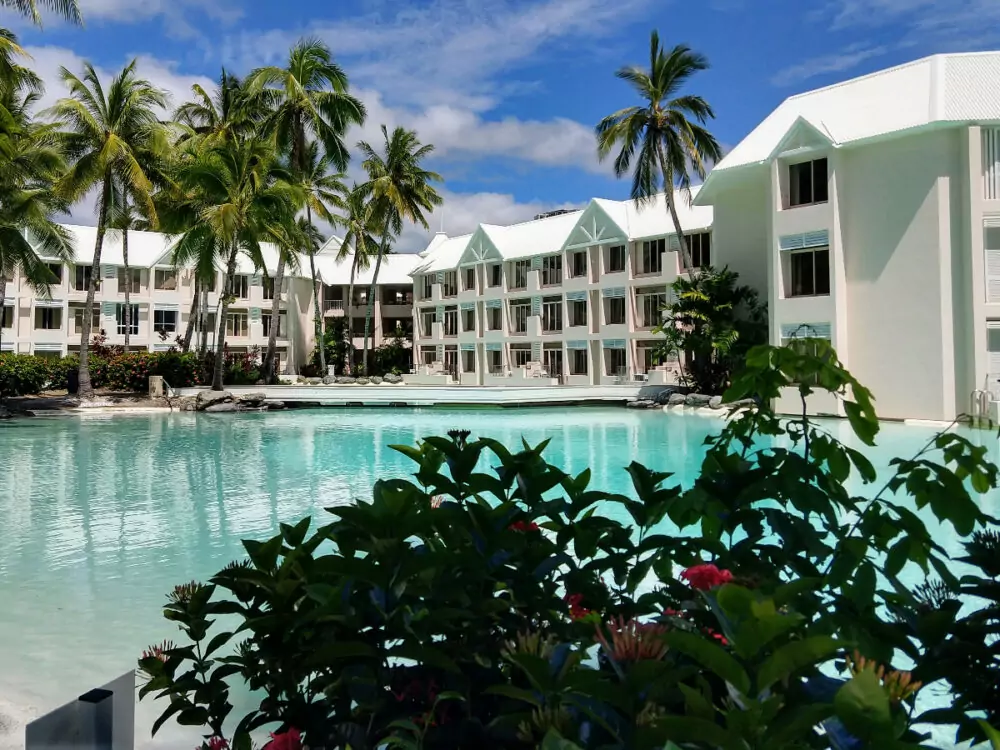 As long-term Port Douglas residents turned professional travellers, we know the local accommodation, from luxury hotels to private rentals, to resorts, and hostels, very well indeed.
Readers often ask where to stay, which is the best hotel in Port Douglas, what hostel is most affordable, and what accommodation is best for families? They need recommendations for backpackers, family holidays, budget trips, and for luxury romantic breaks, the complete cross-section of travel styles.
We've put together a few suggestions at multiple price points to get you started. You can even use our tool to compare rentals, apartments, villas, and hotels side by side to help you decide where to stay in Port Douglas. Want to jump straight to our interactive, bargain-finding Port Douglas map?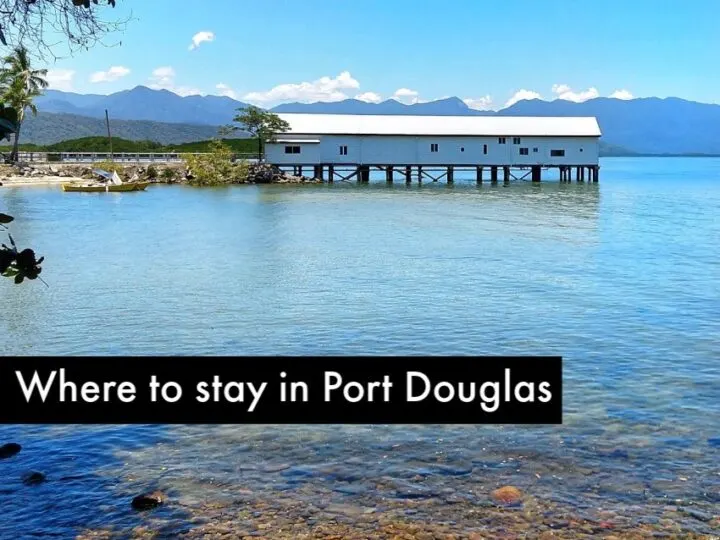 Port Douglas is a small, beautifully located, resort town around 1 hour north of Cairns by car. It is an incredibly popular destination for all kinds of travellers and tourists, and for good reason.
People visit Port Douglas for our tropical climate, unspoilt, natural beach and to take trips to the Great Barrier Reef and the Daintree Rainforest. Most of these tours will pick you up from your Port Douglas accommodation.
Those are the big draws but there are loads of other attractions and things to do in the Port Douglas area, paid and natural. Don't forget to take a trip up to the Tablelands, the Port Douglas hinterland is very beautiful.
Port Douglas also offers visitors some great dining opportunities, plenty of places for children to play, and a changing scene of local festivals and events. If you sign up for our Port Douglas only mailing list, we'll send you our restaurant guide. Do that below.
I should particularly mention Port Douglas Carnivale which is held in May every year (not 2020, but it's back for 2023). Our family has been very fond of Carnivale's Seafood Festival and the retro family street parade, this year the Spiegel Tent and longest lunch is back and we'll be checking that out!
Best Places to Stay in Port Douglas
Do you need to be within walking distance of the shops and restaurants on Macrossan Street? The beach (Four Mile Beach) and marina, is also easily accessible from Macrossan St.
If you have a car you will be able to stay further out of town. There are shuttle buses around Port Douglas but having your own vehicle will make your stay easier. Get a price for car hire here, it's a comparison tool to find good deals.
We have some deliciously luxurious top-end hotels and resorts in Port Douglas, a fair cover of mid-range places, and a few budget options for young backpackers or families.
There are many private rentals in Port and the villa rental market is currently flourishing, our map, below, will help you with those.
Golf courses and spas are thick on the ground and many hotels offer gyms. There is also a gym in Port Douglas itself. Terri Irwin was a recent visitor!
Some of the rental properties are units and self-contained apartments and villas, within these large hotels or on their golf courses.
I'd like to share some of our favourite places with you.
As you're visiting a post called "best places to stay in Port Douglas" the area or location within Port Douglas must be important too.
---
Port Douglas Rentals and Hotel Locations and Prices Map
We made this interactive map for you to use. It's a neat tool! Zoom in and out, more properties appear the more you zoom in. You can set your dates and number of travellers. You'll be able to see rentals and hotels side by side.
It may take a second to load, it's worth the wait.
Note that some of the luxury villas are stand-alone properties, others are within the grounds of the big resorts, such as The Sheraton and Sea Temple. You'll see that they are mostly clustered at the north and south ends of Four Mile Beach. The stinger net, marina, and Macrossan Street, with its shops and restaurants, are at the northern end.
---
Best Area to Stay in Port Douglas
The heart of Port Douglas, the town, shops, restaurants, and market, are at the tip of a long narrow peninsula. Macrossan Street is the main road from 4 Mile Beach and it passes directly through town to Dickinson's Inlet.
This side of town is where the Sunday Market is held and where you'll find the Marina and Sugar Wharf.
Not so many larger hotels are in this area. Most of the big luxury resort hotels are spread along the peninsula and some are quite a way out of town.
This means that central Port Douglas isn't necessarily the best place to stay in Port Douglas for big resort hotels, motels, or super-easy beach access. The best places for this are further out of town.
From Sea Temple, for instance, expect a walk of around 45 minutes to Macrossan Street. Sea Temple is a dream of a hotel, don't let this put you off.
You can, of course, drive or take a shuttle bus. Cycle hire is popular too and we're starting to see electric scooters appear.
Some hotels are on the beachside (Sea Temple and The Sheraton included) but few are truly beachfront.
Because Four Mile Beach is a protected area, a strip of trees and, in places, jungle, backs the beach and prevents most sea views.
Sea Temple has boardwalks through to the beach through the natural forest. It's only a few meters and we think this is rather a nice feature.
The Sheraton is as close as Port Douglas gets to beachside. You can see the beach through the palm trees and from the little wedding chapel there.
This gives the beach a natural appearance but, unfortunately, there is nowhere to get a meal or drink on the beach.
For dining with a view try the Combined Club or Tin Shed on Dickinson's Inlet or one of the Marina bars and restaurants. The Surf Club is as close as you'll get to beachside dining.
The best area to stay in Port Douglas depends on your needs. Are you willing to walk or take a car into town? Do you want to be footsteps from the beach? Would you prefer to be on Macrossan St.? Importantly do you have a hire car during your visit to Port Douglas?
Most of the outer hotels will operate shuttles but Australia is a country built around car ownership. We've indicated below where these hotels are located.
The Best Hotels in Port Douglas
It's very difficult to say if a hotel is 5 star, 4 star, 3 star, etc. Many hotels are self-assessed and without "official" ranking.
We've tried to give you some indication on this page but star rankings are only to give you a rough guide.
Each hotel booking or review site will also have its own star system. Please look at the properties below and form your own view of their star rankings.
Because of the recent global crisis, there may be changes. We do our best to stay current but please double-check all information to satisfy yourself. Buffets were not permitted for instance, but they are returning in places now.
Some of the best hotels in Port Douglas, all enjoying excellent ratings are:
See which hotels are available for your dates using the links above.
Hotels Opposite The Beach and in Port Douglas Town
There is a small strip of hotels opposite the beach near the stinger net where Macrossan St joins the beach road.
They're not strictly beachfront, there is a quiet road, a strip of grass, some exercise equipment and a few palm trees between these hotels and the beach, but it's a great little area known as The Esplanade.
These hotels aren't big budget like our premium resorts. I'd say this would certainly be one of the best places to stay in Port Douglas for families, where kids can access the beach and stinger net easily.
Beaches Port Douglas
Beach Front Terraces Port Douglas
Staying in Port Douglas as a Holiday Destination
Once you've booked your Port Douglas holiday accommodation, you'll be wondering what there is to do in Port Douglas and nearby.
Most visitors will take a trip to the outer reef and/or low isles plus visit Mossman Gorge and The Daintree Rainforest, but there is more to see and do in and near Port Douglas. Read up on things to do in Port Douglas here.
Personal Reviews of Some of the Best Hotels in Port Douglas
Sea Temple Resort and Spa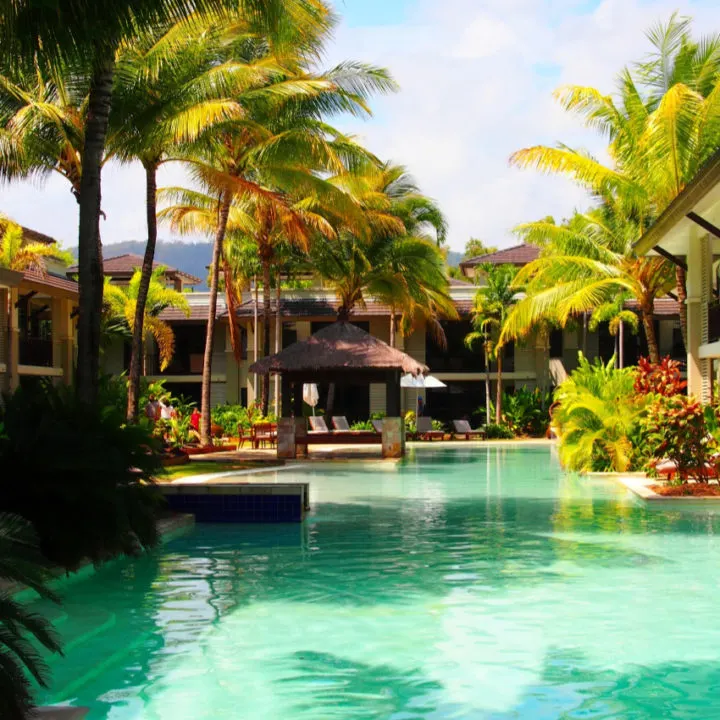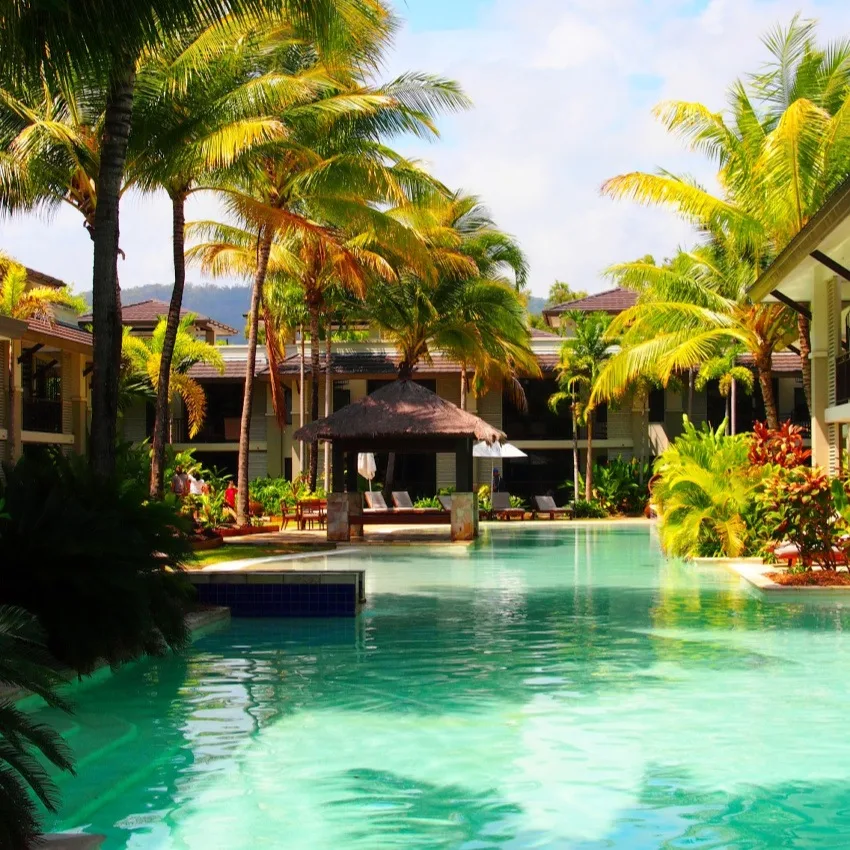 We have stayed at Sea Temple, now known as Pullman Port Douglas Sea Temple Resort and Spa, many times. It's very luxurious, the food is great and the centerpiece of the resort, this incredible 3,000 m² pool, is absolutely divine.
We have used the spa here several times for waxing and various massages and found all services to be excellent.
We can also highly recommend the swim-out apartments, the ultimate in luxury vacationing. If no swim-out rooms are available, the apartments with plunge pools are also very good. All apartments and rooms were spacious, beautiful, and luxurious.
Sea Temple is at the south end of Four Mile Beach, tucked away behind a natural, untouched strip of tropical growth. There really isn't such a thing as a beach-front hotel in Port, all that you can see from the shore is a backdrop of trees.
To walk from Sea Temple to the centre of Port takes me 45 minutes along the beach, I'm a brisk walker. There is a shuttle bus that will run you into town if you don't want to use your own car. You can always hire your own car in Port Douglas. Take a look at Pullman Sea Temple Resort and Spa here.
Sheraton Grand Mirage Resort, Port Douglas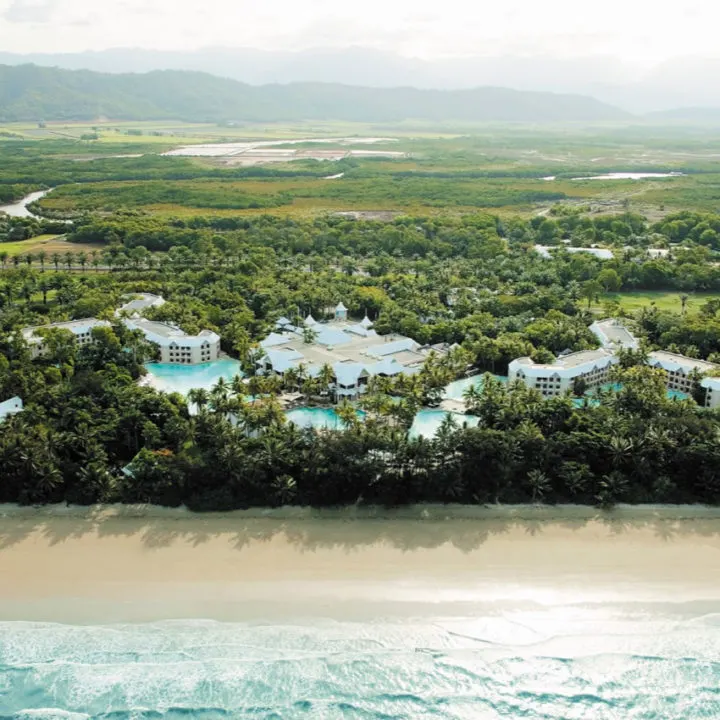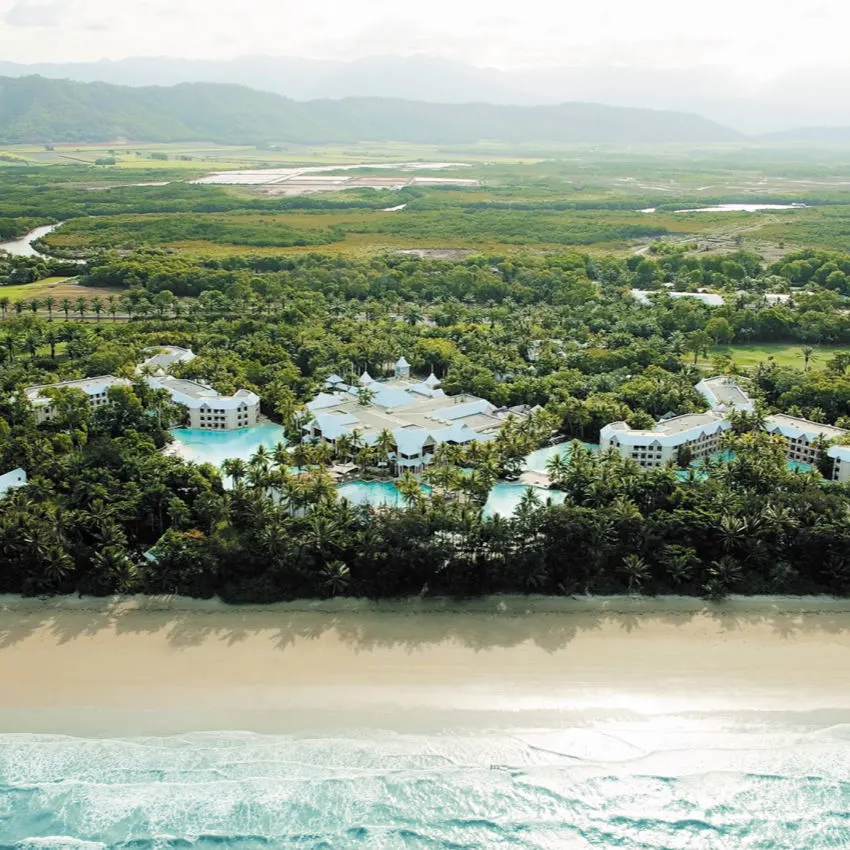 The Sheraton Grand Mirage Resort was the first big hotel in Port Douglas and is the closest thing to beach front that you will find. In places you will have a view of the beach where palm trees are thinly spaced.
The Sheraton has huge lagoon pools, over 2 hectares, some with their own sandy "beach". It also has its own wedding chapel, should you feel the urge to tie the knot. Vast buffet breakfasts and various evening buffet feasts are a trademark of the Sheraton's dining scene.
The Sheraton is much closer to town than Sea Temple, but still not in the centre. Check out The Sheraton Grand here.
QT, now Oaks Resort Port Douglas
QT was the new kid on the block. Now it is Oaks Resort. It's new, modern and funky. We love the retro design and candy-bright seaside colours that feature throughout.
Oaks Resort Port Douglas is another place with a stunning pool featuring bridges, islands and spa pools.
My kids' favourite thing here, after the food, is the huge fish pond, they always squealed with delight as they fed the resident barramundi, turtles and eels.
QT offered interesting evening buffet dining in Bazaar restaurant, it's popular with locals and residents.
Check out rooms and rates at Oaks Resort here.
Best Hostels and Campsites in Port Douglas
Dougies Backpacker Resort
The first time I came to Port Douglas as a backpacker in 2001, I stayed at Dougies in our little 2 man tent.
It's not just a camp site, Dougies has dorms, private rooms and caravan tents for hire. There is a huge self catering kitchen, bar and TV area along with a nice little pool and plenty of hammocks.
Dougies is a short walk from the centre of town and is perfect for backpackers.
It's still going strong over a decade later, has a good reputation and is a great lower-cost choice. Take a look at Dougies here.
Update : Dougies Port Douglas has now been sold. If you want to stay here, you need to visit soon. As of November 2023 it is still open
Mid Range Accommodation in Port Douglas
Martinique on Macrossan
If you need to be right in town, maybe you don't have a car or want to dine and drink in our local establishments, Martinique on Macrossan, as the name suggests, is on Macrossan St.
Macrossan is the main road that crosses Port Douglas, from Four Mile Beach to the Inlet.
They hold the Trip Advisor certificate of excellence and have a small tropical pool for a stinger season dip (or any other time!). Rates for a 1 bedroom apartment at around $200 AUD/ night, See Martinique here.
Best Hotels Near Port Douglas
There are some amazing hotels just outside Port Douglas which you really should take a look at. These are perfect for a more exclusive and private stay near Port Douglas, the Daintree Rainforest, and the Great Barrier Reef.
Silky Oaks is set in the beautiful rainforest near Mossman Gorge and has a great food reputation, as does Thala Beach Nature Reserve.
Silky Oaks was recently closed for renovation. Booking at Silky are available now (nov 2023). Silky Oaks is actually near Mossman in an area called Finlayvale. You have to book Silky Oaks on Expedia, here, we can't find it on Booking.com.
Thala Beach has its own spectacular semi-private beach and is a great place to spot local wildlife, including dugongs (sea cows).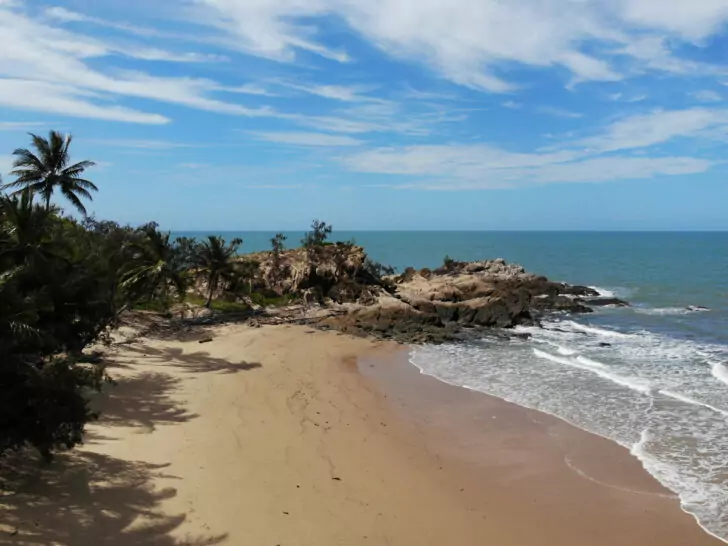 Thala is a short drive (about 30 mins) south of Port Douglas.
Thala beach is a popular Instagram drone location for the coconut tree plantation just outside.
Another luxurious stay near Port Douglas is Daintree Ecolodge.
It's on the Port Douglas side of the Daintree River, so you won't have any ferry hassles, the drive from Port Douglas to Daintree Ecolodge is about 45 minutes.
There are multiple other, less expensive, places to stay in and around Daintree Village and in the Daintree Rainforest, but the Daintree Ecolodge is a well-known destination hotel.
You can self-drive or book a tour to Daintree Rainforest easily from Port Douglas, Palm Cove, or Cairns.
Search For Your Port Douglas Hotel Here
We use Booking.com to book in Australia 99.9% of the time. It gives us peace of mind and cuts time and hassle in searching and booking. Try our search box below.
Airbnb and Short to Medium Term Rentals in Port Douglas
There certainly are Airbnb properties in Port Douglas, some private homes with rooms to rent, some whole houses or apartments . We actually rent out our home in Port through Airbnb. If you're looking for a whole house to rent in Port for 1 to 6 months, ideally 3 months, get in touch with us.
Best Time of Year, Peak Season and Hotel Prices in Port Douglas
Yes, hotel and resort prices do fluctuate and you'll save money on your Queensland holiday if you take advantage of out-of-season accommodation deals.
To check out the weather in Port Douglas and what's happening throughout the year, visit our post on best times to visit Port Douglas.
The most expensive times to book hotels in Port Douglas are, of course, Christmas and the school holidays. June and July are winter here, Christmas is hot and is part of the summer wet season.
Hotels are very full currently due to reduced capacity in the post-Covid world. You generally do need to book ahead, as early as possible.
Make sure you know about stinger season and the possibility of cyclones if they will affect your enjoyment of your stay in Port Douglas.
There is a lot of Port Douglas content on this travel blog already and we also cover the surrounding area. along with all of the best places to visit in Queensland. If you're looking for ideas on what to do in the area, try these:
This is just the start of what I hope will be an extensive look at, and unbiased review of, the accommodation options in Port Douglas. We're loving being back in Port Douglas this year, enjoying tropical life, and sampling the best hotels, food, and accommodation, and activities in Port Douglas, to share with you here.
If you'd like to hire a car during your stay, use this car rental comparison tool to find the best deal!

We also suggest you take a look at this company to get a quote for all kinds of the more tricky adventure or extended travel insurance.

Try Stayz / VRBO for an alternative way to find rentals on homes/apartments/condos in any country!