Last Updated 07/01/2022.
Dining in Port Douglas is made all the better if you can find a restaurant with a good view. A delicious dinner of local seafood is always enhanced by a wonderful sea view, don't you think? We have a few Port Douglas restaurants to share with you, where you can look at the water, either the inlet or the Coral Sea, see the beach, or just enjoy watching life go by.
Unfortunately a lot of restaurants in Port Douglas are on the main street, Macrossan Street, so unless you like looking at the road, we can't list those in this post. Macrossan does have charm though, complete with fairy-light strung trees.
Local regulations prevent all beach-front development, there are no restaurants directly overlooking the beach, but some are close and you'll be able to hear the waves and see the palmtrees from a short distance away.
We think the Port Douglas Marina restaurants, or Dickson's Inlet view is probably your best option.
Port Douglas Restaurants With a View
Your budget, the time of day and your food preferences will determine which is the best Port Douglas restaurant with a view for you. We live in Port Douglas, we've eaten at them all.
We can present you with your options and, of course, we do try to keep this post up-to-date, but restaurants come and go, and since Covid opening times and days are shorter. You will probably need to book a table.
As tourists return to Port Douglas in December 2021 we're expecting our staffing situation to be quite troublesome. Please be kind, we're all doing our best in a tricky situation.
Views From Port Douglas
Looking along the beach from The Lookout, or sunset gazing from Rex Smeal park, we do have some pretty views in Port Douglas. Some of the best views you'll find in Port Douglas actually don't have restaurants nearby, the famous view of Four Mile Beach from the lookout, for instance.
Likewise the sunset view from Rex Smeal, that area is a public park and playground, but it's a lovely spot for a picnic or BBQ.
The back of Four Mile Beach also has public BBQ facilities for you to use, as do most playgrounds.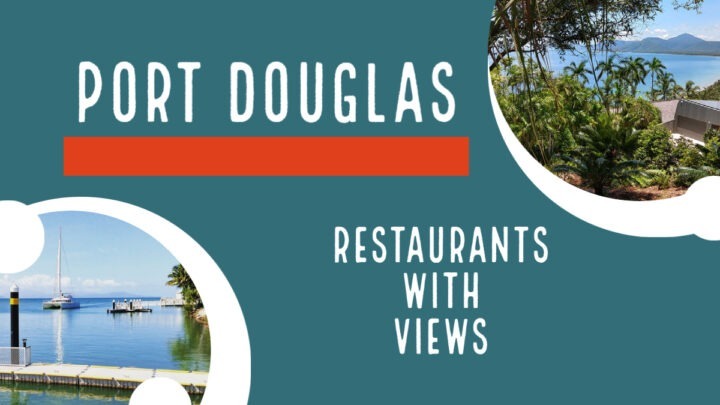 Outdoor Restaurants in Port Douglas
Most restaurants in Port Douglas are outdoors or partially outdoors. This is lovely, but it does mean it's warm. If you're visiting in summer or the wet season, finding an enclosed restaurant that is fully air-conditioned could be tricky.
Some of the hotels can provide this. You may want to take precautions to avoid mosquitos and sandflies at certain times of day.
We know that N17 and Epicurean have indoor, air-conditioned dining areas, but no views to speak of.
Restaurants May be Closed During Wet Season in Port Douglas
The 'wet' season kicks in around December but by the end of January, tourist numbers dwindle. February and March are the quiet months in Port Douglas and in February some restaurants may be closed for annual holidays.
It's best to check if you have a particular restaurant you'd like to visit. Since borders shut in 2020 opening times seem to have become shorter and shorter. This is mostly due to lack of staff along with lack of customers.
As the tourists return to Port Douglas in December 2021, we're not expecting staff shortages to improve straight away. There will still be a lack of chefs and front-of-house staff. Businesses will be doing their best under difficult circumstances.
Hi-Tide Cafe Opposite Four Mile Beach
Hi Tide restaurant is on the Port Douglas Esplanade, overlooking Four Mile beach. You can see the sand and water from your table, but there is a quiet road, grass, and palm trees between you and the beach. Their breakfasts are delicious.
Lure Restaurant On the Marina
Lure has a prime position overlooking the Port Douglas Superyacht Marina. This, and the other handful of Port Douglas Marina restaurants even have a few tables on the water's edge.
If you'd like one of those we'd recommend you book.
Super Yacht Marina, Port Douglas, 07 40995201
Hemingway's Brewery on The Marina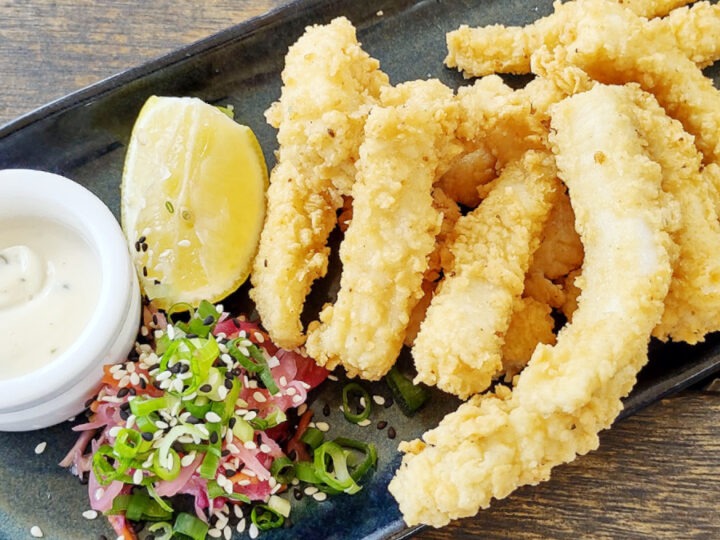 Port Douglas's own mini brewery is again, located on the marina's waterfront. Hemmingway's is primarily a pub with an interesting selection of tropical beers but they do have a kitchen although it has been closing in the afternoons lately.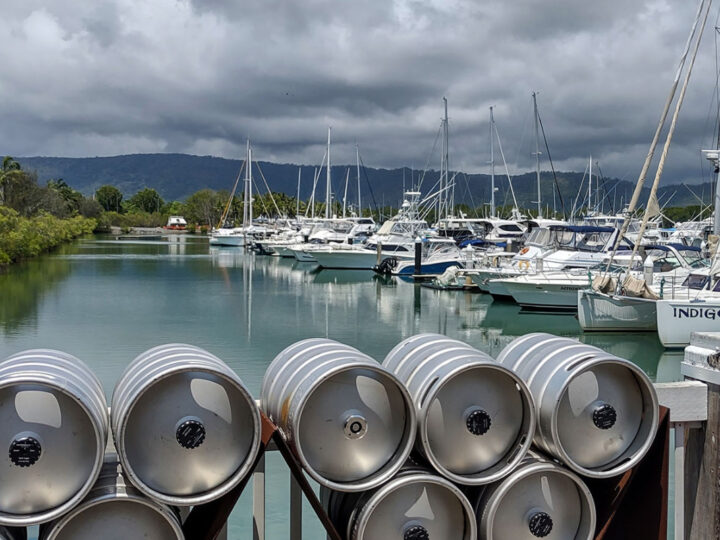 Hemmingways probably has the best-unobstructed views out over the marina and the lush green hills. We like their salt and pepper squid.
Super Yacht Marina, Port Douglas, 07 40996663
Choo Choo's on The Marina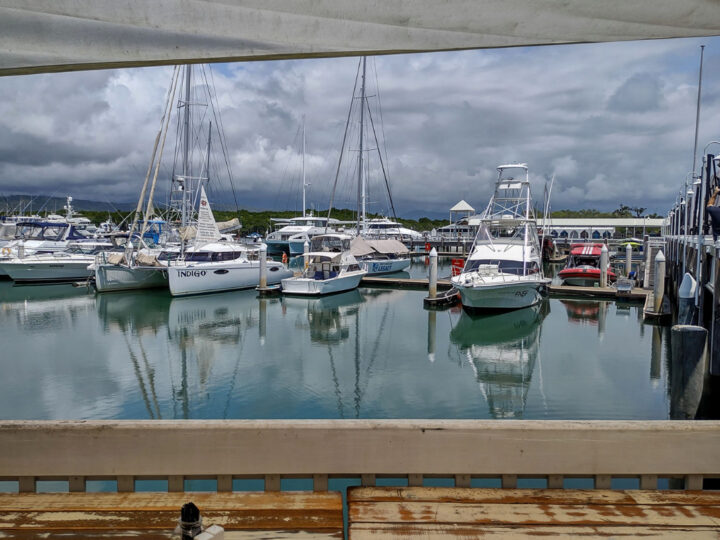 Not only does Choo Choo's Port Douglas have some tables directly adjacent to the water of the marina, it also has the old Ballyhooley steam train carriages converted into lovely dining cars.
They've done a great job on the conversion.
Choo Choos are open for breakfast, lunch, and dinner normally. Last time we visited they were offering tapas and cocktails at sunset too.
There is now an ice cream shop adjacent to Choo Choos on the marina, and using the old train platform and station buildings, as does Choo Choos.
The ice cream parlour is away from the water's edge so has no views to speak of.
Barbados on The Marina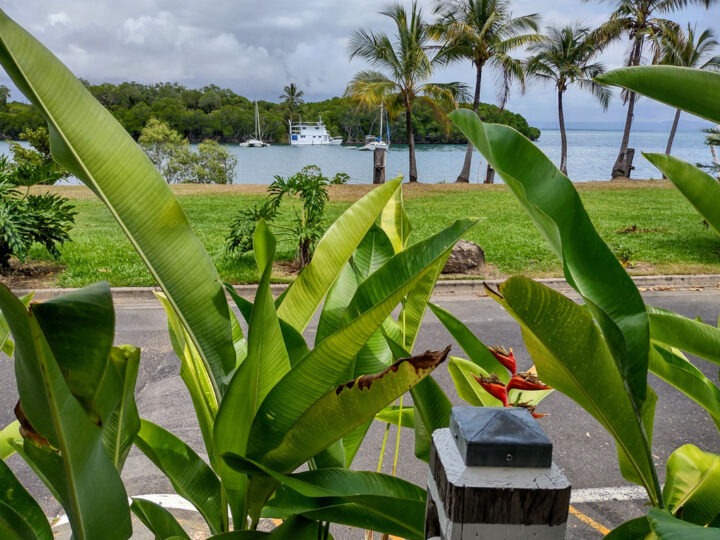 Barbados is really a bar that serves food although we visit to dine sometimes. It's a beautiful spot to relax and has views of the inlet and marina.
The views aren't direct, there is a very quiet road and a strip of grass between the seating area and the inlet, but you certainly can see water, mangroves, mountains and sunsets from Barbados.
You usually need to book, please check opening hours. Customers can reserve different seating options including luxurious, yet informal, lounge-style booths.
At the time of writing Barbados is only open Thursday to Sunday, opening at 3pm but this does change often due to the current crisis. Things should be back to normal very soon!
On the Barbados menu, you are likely to find such things as seafood sharing plates, oysters, coconut prawns, brisket sliders, truffle fries and most excellent cocktails.
We know this menu very well indeed!
The Tin Shed Perfect Inlet Views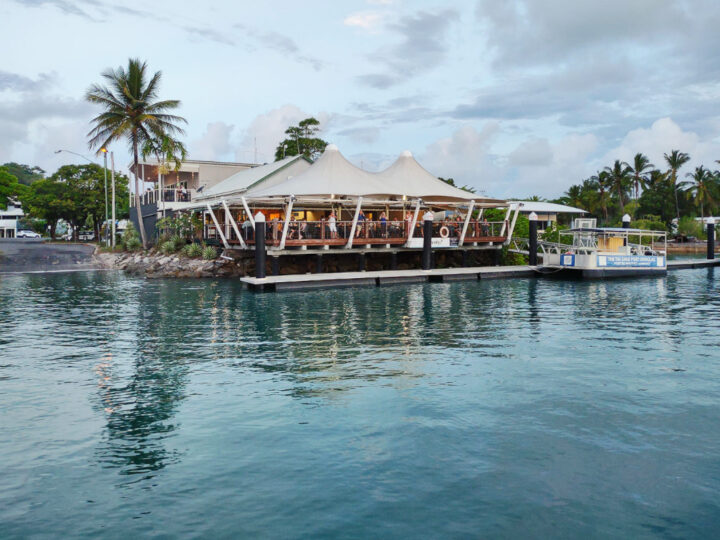 The Tin Shed, or Combined Club has the best views, we think, of any restaurant in Port Douglas since On The Inlet (featuring George the groper) was forced to relocate.
Unfortunately, The Combined Club is exactly that, an Australian club, it's not fine dining, so expect typical club food. The menu normally features prawns, fish and chips, burgers, and the usual club favourites.
Visitors can usually dine here, you don't need to be a local member. This is a really good spot to watch the boats coming in from the reef at the end of the day and the Club's deck directly overhangs the water for stunning sunset views.
Sometimes you'll see bands and live music here in the early evening.
My kids always loved eating here, throwing our prawn shells to the fish waiting below.
7 Ashford Ave, 07 4099 5553
St. Crispins Cafe & Events, Golf Course and Water Views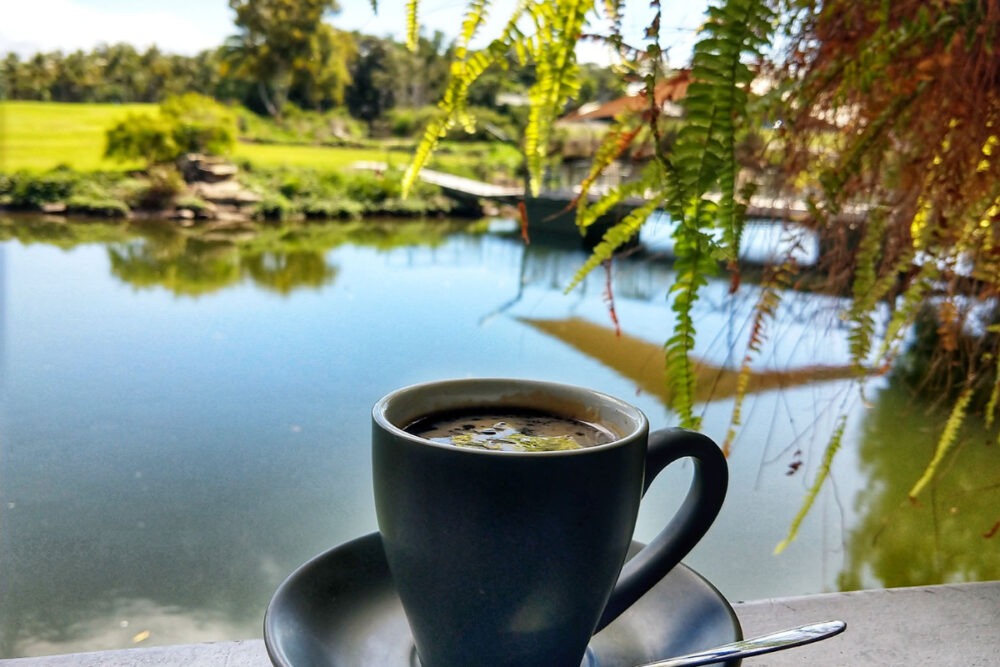 This is our favourite spot for breakfast, brunch and coffee and the views are superb, some of the best. Unfortunately, St Crispin's isn't really a dinner venue and it's about 30 mins walk from the heart of Port Douglas, Macrossan Street.
9 St Crispins Ave, Port Douglas 0400652906
Sassi La Cucina and Bar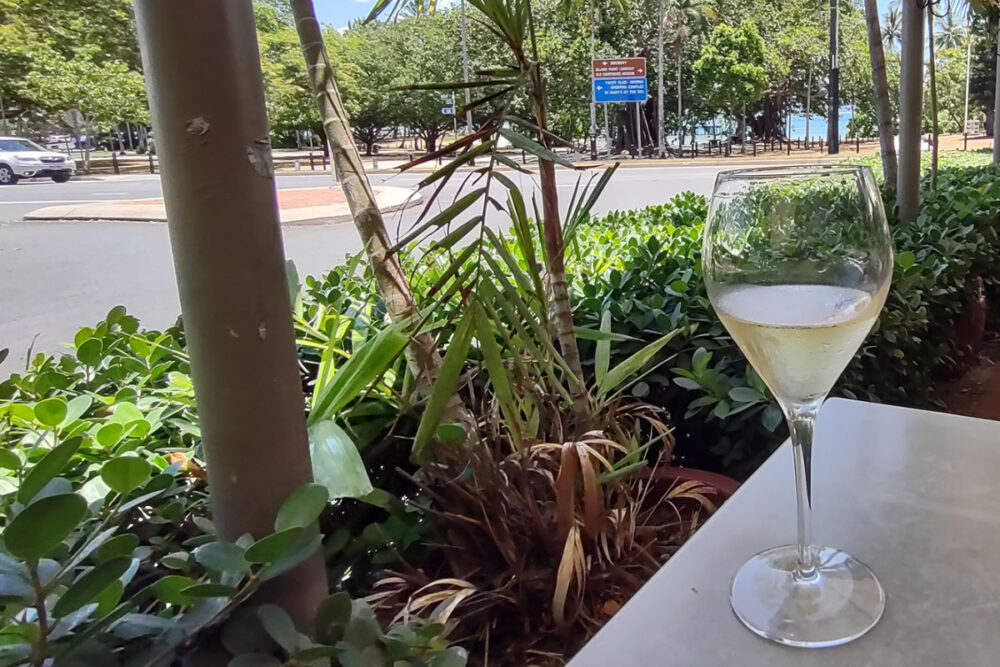 Sassi and The Court House Pub, below, are on opposite street corners, part on Macrossan street, part facing the inlet. You do have a view across the Port Douglas market grounds to the sugar wharf and inlet, but neither are really places you'd go for the view.
Both have outdoor pavement dining with good shade. Sassi also has indoor dining.
Likewise, Salsa also has, a sort-of inlet view. All three are flanked by a fairly busy road and the inlet is some distance away as you can see above. That said, we love the pavement dining at this end of Port Douglas
If you'd like a parmie (parmy)or fish tacos, go to The Courthouse, for good restaurant dining, pick Sassi. Ideally, try both and don't miss Salsa either!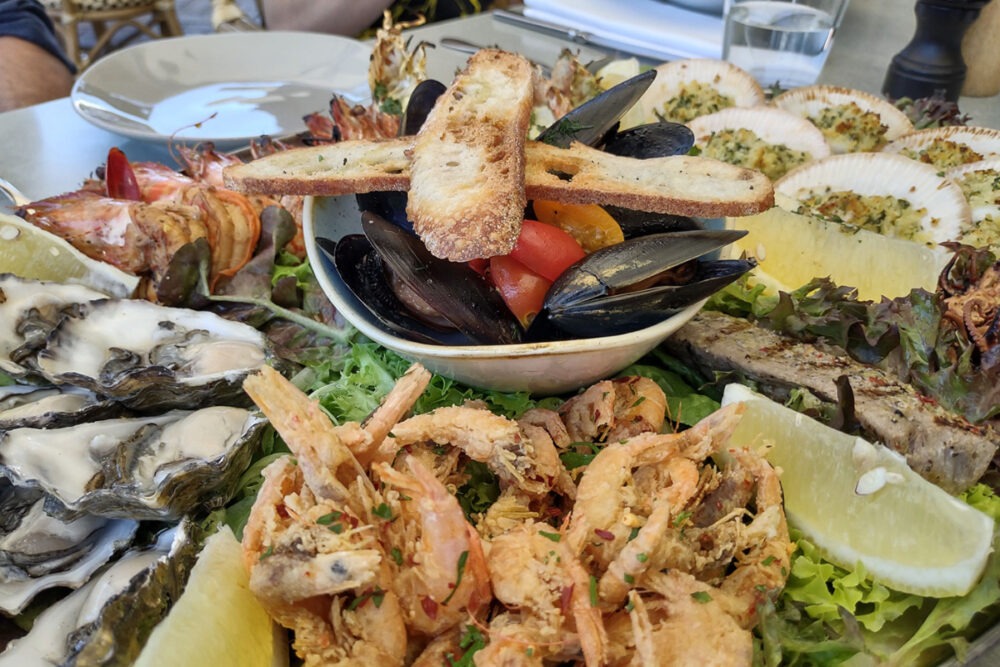 Sassi is possibly our favourite restaurant in Port Douglas featuring good Italian food, done well. Their seafood sharing plate is our top recommendation for seafood restaurants in Port Douglas.
Very sadly the owner passed away recently but Sassi has re-opened and we've had a superb seafood lunch here since then.
Cnr. Wharf & Macrossan Street, 07 40996744
The Court House
The Court House is a pub, occupying a rather lovely corner position, on the end of Macrossan Street This building has real charm and we often go here for their nachos or fish tacos.
The dining side of the pub faces Wharf Street. You can see across the road and market grounds towards the inlet, St Mary's by the Sea and the Sugar Wharf.
The Surf Club
The surf club is the closest thing to right-on-the-beach as you'll find in Port Douglas. Again, it's set back from the beach a little and there are some trees and grass between you and the beach, but it's a good spot.
There is a kids' playground here too to make it even more appealing for families. It's right on the Port Douglas esplanade and there is no road between the dining area and the beach.
Port Douglas Dining With a View
We hope you enjoy Port Douglas and get a chance to try some of our restaurants while you're here. Shall I tell you a secret? My husband is a chef at one of these restaurants. Can you guess which one? If you need more information on things to do in Port Douglas, what to do in Cairns, or more content on where to eat in Port Douglas with some delicious photos, we've got you covered.