This post may contain affiliate links.
Mossman Australia is a small town in Far North Queensland. It is north of both Cairns and Port Douglas, south of Daintree Village and the Daintree Rainforest. It's not really a tourist town other than for visitors going to the Mossman Gorge, an incredibly beautiful rainforest spot, for walking, learning, enjoying, and sometimes swimming.
You can book the shuttle to Mossman Gorge here, online, on Viator.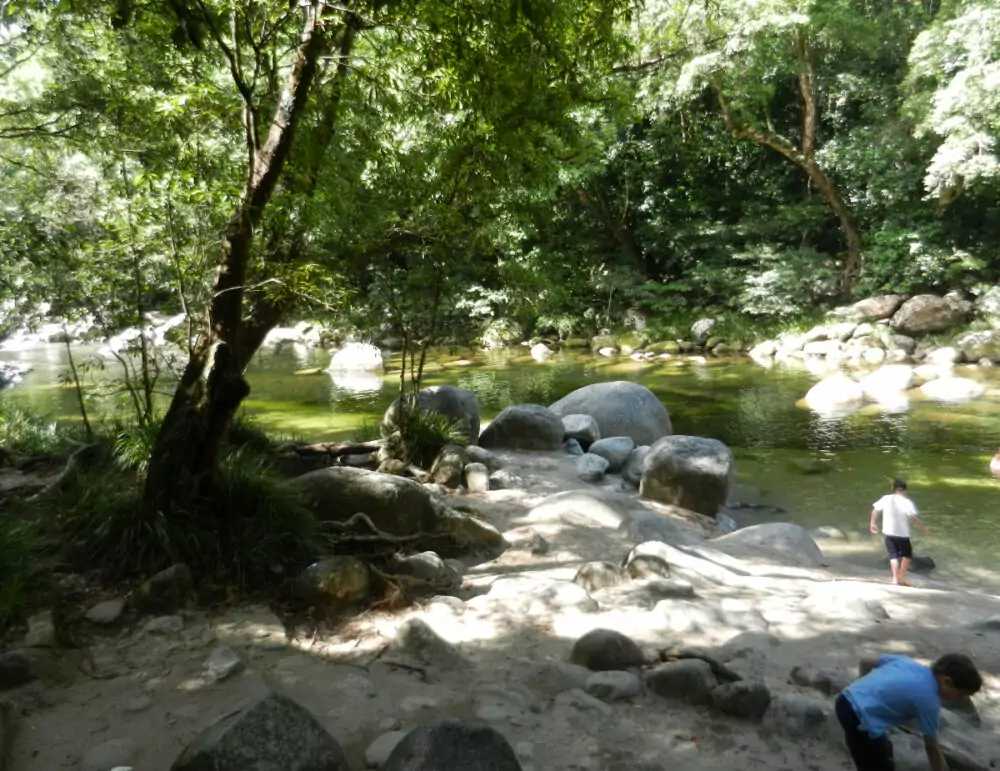 A lot has changed at the Mossman Gorge over the 20 years we've lived nearby. This post covers Mossman town itself, the Mossman Gorge, and Getting there from Port Douglas.
Port Douglas to Mossman Gorge – Best Way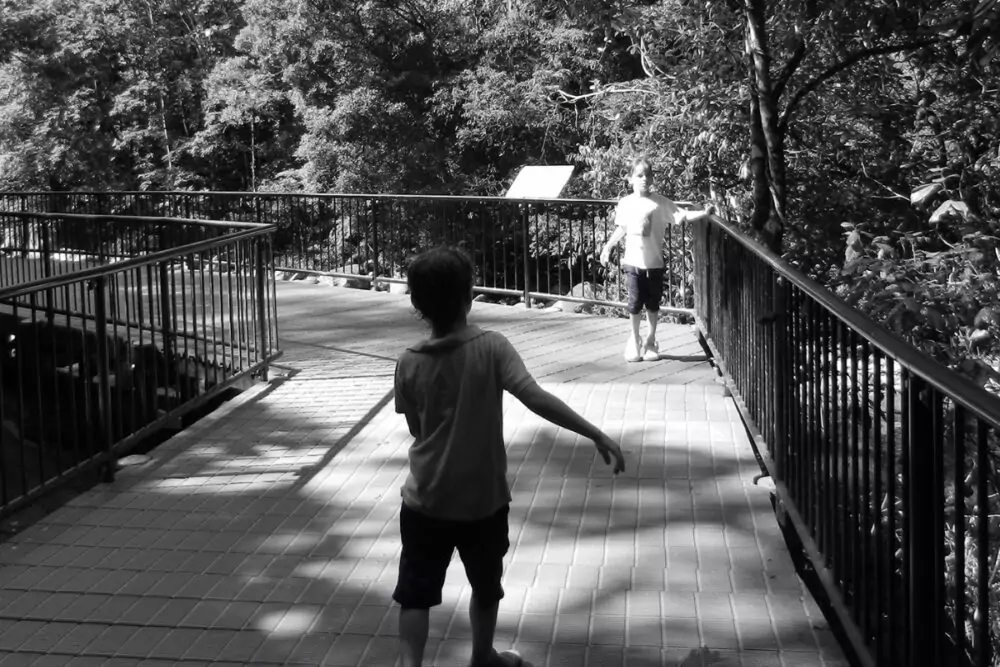 Unless you have your own vehicle, by far the easiest way to visit Mossman Gorge from Port Douglas, is to book a tour as there is no convenient public transport in the region. A half day tour is a cheaper option than combining Mossman Gorge with a Daintree and Cape Tribulation tour, which is a full-day trip. Check out these two options, with the best price guarantee, at our 2 text links above.
For more on Mossman itself, keep reading!
Mossman Town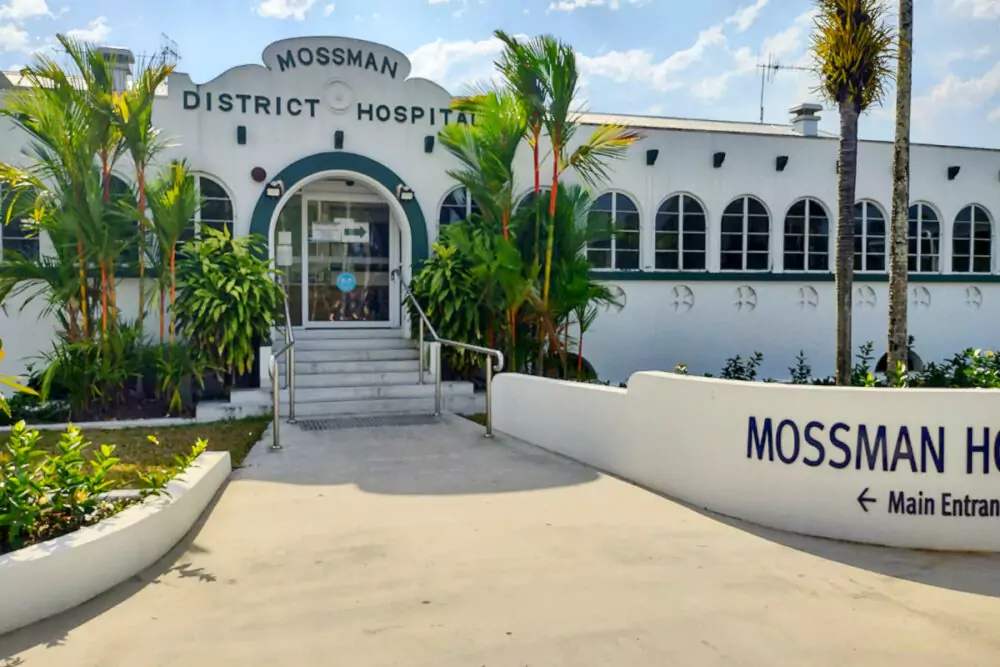 Where is Mossman Australia? You can see the town of Mossman on the map below, the route from Port Douglas to Mossman Gorge is marked, in driving to Mossman Gorge you will pass through Mossman town.
Mossman Markets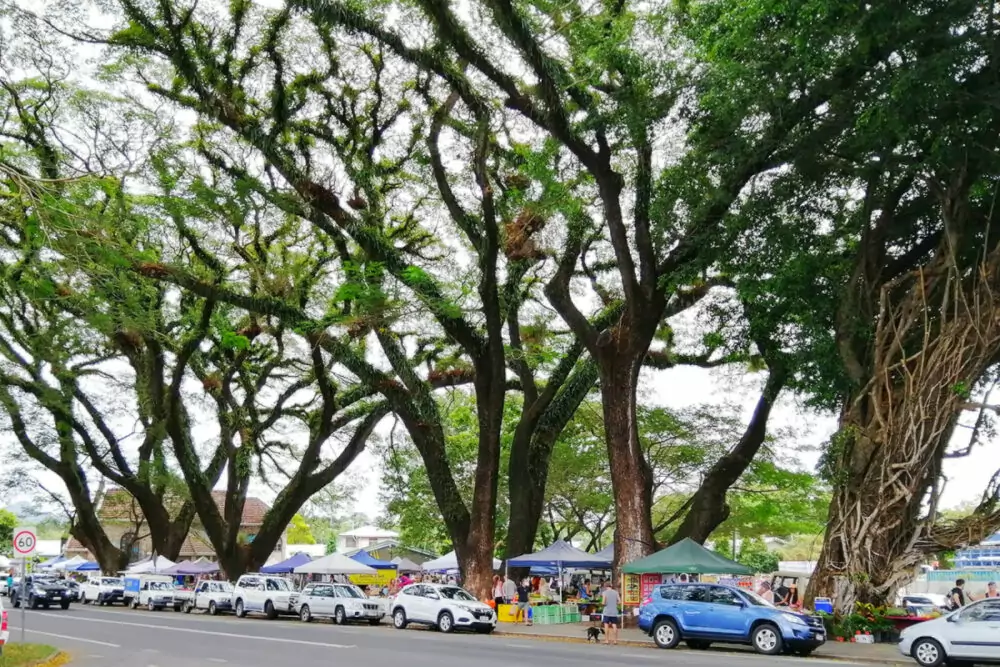 Mossman markets are normally help every Saturday morning in Mossman, beneath the raintrees, right next to the Hardware store.
There is parking nearby and Mossman markets are a good place to buy local produce, gifts, tropical plants, and locally made foods, including vanilla, smoked and baked goods, and cakes. You can see the exact location here on the map. (opens in a new tab)
Mossman Sugar Cane Mill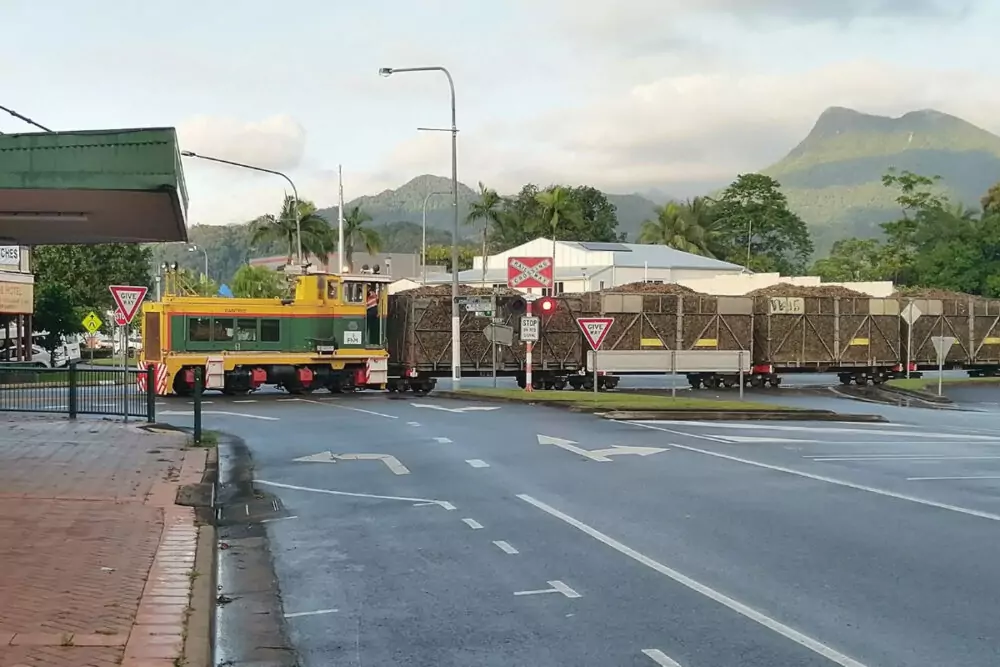 Mossman has a sugar mill which is operational through spring and early summer to about Christmas or the start of the wet season.
You will see various types of sugar cane growing abundantly all around Cairns and Port Douglas. Incidentally, sugarcane is one word according to the Merriam Webster dictionary (US English) and two words according to the Oxford English dictionary (UK English). Before somebody accuses me of spelling sugar cane wrongly.
Tours of the Mossman sugar mill used to be available to the public. Sweet Farm Tours was another working sugarcane and cocoa farm tour nearby. Neither seem to be open currently, but we're trying to get more information for you!
We found an Instagram account for Sweet Farm Tours, but their website is gone. I'd love to know more so that we can feature any of these local tours on our site, we are based near Port Douglas.
If you want to try raw sugar cane or fresh pressed sugar cane juice while you're in Far North Queensland you should be able to do that at either Mossman Saturday markets or Port Douglas weekend markets.
If you're looking for food based tours in the region, there are loads on the Atherton Tablelands and several local tropical wineries and distilleries to visit.
Where is Mossman?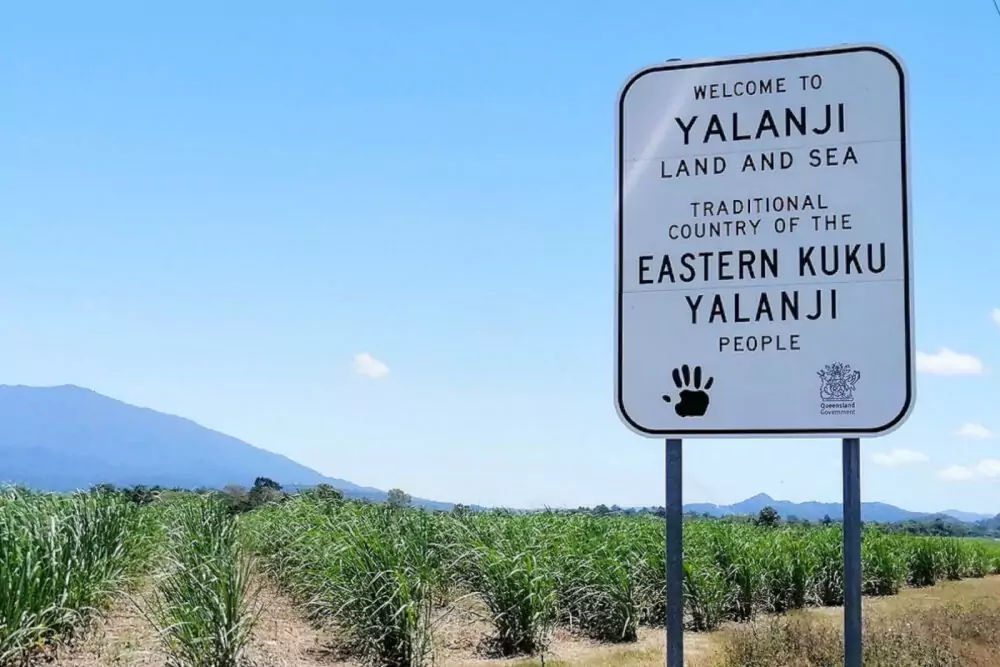 Mossman Qld is in Far North Queensland Australia. It is in the tropics, at just 16 degrees south of the equator (approx).
Mossman is approximately 20Km northwest of Port Douglas and the drive should take you 20 minutes or so. There is very little public transport in this region but buses do exist.
A cycle path is under construction, currently cycling on this road isn't very comfortable.
Taxis and minibus shuttles are a possibility.
Mossman is 76 km (approx) northeast of Cairns, the drive should take you just over an hour. Again, public transport is limited. Taxis and shuttles are mostly very expensive.
There is no train to Mossman from Cairns and the closest international airport is in Cairns.
Driving north from Mossman, you'll arrive at the Daintree Ferry after 28mins, 30km. You'll then be in the Daintree Rainforest proper, although Daintree National Park does extend south of the river at Mossman Gorge.
Mossman Gorge Visitor Centre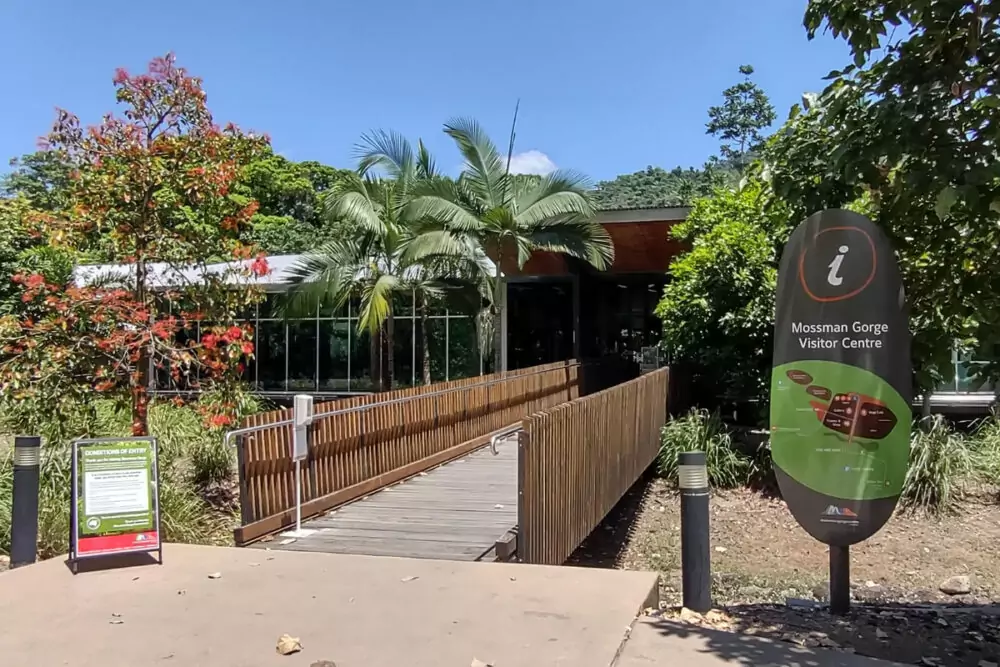 Driving towards the Mossman Gorge, from Mossman itself, you'll arrive at a large modern building and car park. This is the Mossman Gorge Visitor Centre.
It is preferred that visitors to the gorge itself park here and take the regular shuttle buses up to the rainforest, swimming holes, and walkways. The bus costs about $12 for a return adult ticket.
If you are local the bus is free. There is no actual admission fee for the Mossman Gorge, you just pay for the bus. You will need to show proof of your address, such as your driving license.
Visitors can, in theory, walk to the Mossman Gorge swimming holes, this would be free. However this is Aboriginal land and the elders would prefer visitors not to do this.
The road from the Visitors Centre to the gorge entrance passes through their settlement.
At the Visitors Centre you'll find a really good souvenir shop. This is a great place to pick up Aboriginal art inspired items, and a small restaurant.
The car park has a charging place for electric vehicles.
Bus tickets are available inside the Visitors Centre and you can book and pay for a Dreamtime Tour here too.
The whole operation is very slick and modern these days to old-timers like us who remember the gorge before there were even walkways.
Can You Swim at Mossman Gorge?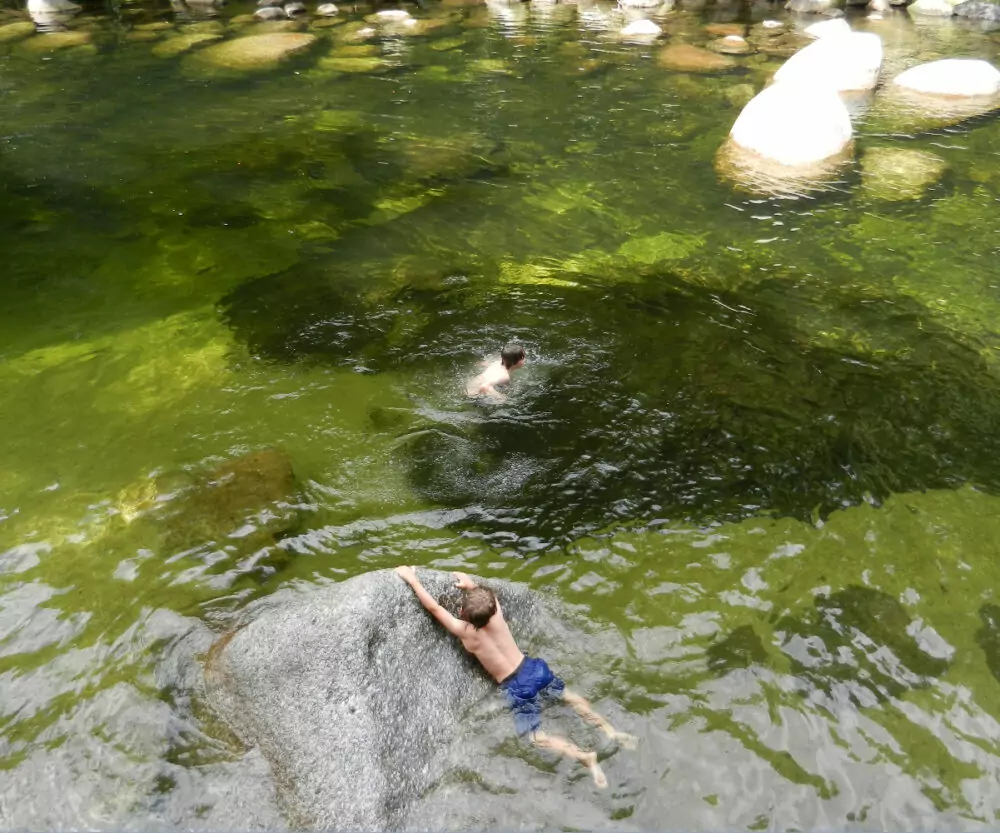 Every time we've visited Mossman Gorge, people have been swimming. We went yesterday, dozens of people were swimming.
That said, there is a sign that seems to be permanently set to "Danger, No Swimming".
These waters can be dangerous in the wet season and if the water is really flowing there is a strong current. There are warning signs about this and about slipping on boulders.
There were no warning signs about crocodiles that we saw. As far as I know a crocodile has never been seen in the water at the Mossman Gorge.
Most popular local swimming holes are popular because they're croc-free. We hope.
The water at the Mossman Gorge is usually crystal-clear and full of fish. Bring your snorkel and mask if you have one.
We've swum here dozens of times, even with babies and small children without any mishaps. But we have seen snakes on the path and there could be stinging tree about if you go off the paths. So don't.
The no-swimming signs at Mossman Gorge are a new feature and I don't know if this is enforced or not.
Further Information on Mossman and Things To Do Near Mossman
Things to do near Mossman, places to see, activities, tours, and accommodation.
Everything we could think of for holidaymakers or people planning to live in Mossman Australia. Other posts of ours that could be useful to you include:
Living in Mossman Qld?
If you're thinking of moving to Mossman or buying a house in Mossman, the following information may be useful for you. A few facts about Mossman and Mossman Gorge, Queensland.
Mossman has its own small hospital. The nearest big hospital is in Cairns.
Mossman has a large Woolworths supermarket, the biggest supermarket in the area. They do usually offer home delivery.
There is a small hardware store in Mossman.
There is a selection of small cafes and restaurants in Mossman, along with a bakery and at least one pub or hotel.
There are churches for various faiths
There is a Bowls Club in Mossman
Mossman hosts The Mossman Show in July and the locals get a public holiday.
The showground occasionally hosts bull riding. The rodeo, which used to be nearby, has closed.
Mossman has a large high school that also serves Port Douglas.
There are doctors, dentists, and a vet in Mossman (at time of writing)
Property prices are lower in Mossman than in Port Douglas.
There is a small library in Port Douglas, a larger one in Mossman.
There are (or have been) play groups and pre-school groups in Mossman. There is day care.
Mossman markets are a great place to buy local produce, but many local farmers and homesteaders sell at their gates too.
Mossman Botanic Gardens may happen in the future!
There is a fantastic kids' playground under the rain trees in Mossman.
That's all we have for you on Mossman right now. Whether you're thinking of buying or renting and living in Mossman, or if you're in Far North Queensland while travelling around Australia or holiday making nearby, we hope our post about Mossman is useful to you. Most people visiting Port Douglas, Palm Cove and Cairns with kids and without, will take a trip to Mossman Gorge, Daintree Village and the Daintree Rainforest. The gorge itself is a real highlight of the area. If you have a local business in Mossman and would like to be featured in this post, get in touch, we're local.
If you'd like to hire a car during your stay, use this car rental comparison tool to find the best deal!

We also suggest you take a look at this company to get a quote for all kinds of the more tricky adventure or extended travel insurance.

Try Stayz / VRBO for an alternative way to find rentals on homes/apartments/condos in any country!