This post may contain affiliate links.
There are many things to do in Port Douglas Australia and others near this pretty Australian resort town. Most visitors take trips to the Great Barrier Reef and Low Isles for snorkelling and scuba diving. Then there are natural attractions like the Daintree rainforest and Mossman Gorge to explore. This post lists the best activities, day trips, and things to do in Port Douglas Australia.
We are Port Douglas locals, we live nearby and work on the reef. You found the best guide!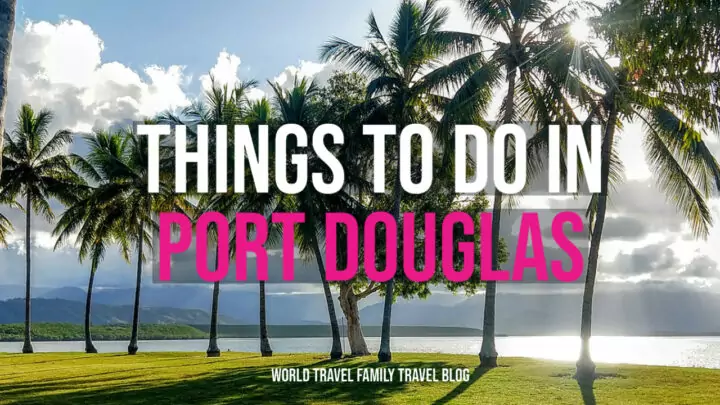 Port Douglas has some great dining and a family-pleasing beach with miles of sand. Enjoy our tropical environment, exotic flowers, fruit, and wildlife and explore the history of this remote part of the world.
Let's get straight to the list of exciting things to do in Port Douglas. We go into more detail about these experiences and activities further down the page.
Visit the outer reef for snorkelling or scuba diving, boat based (Silversonic) or pontoon-based (Quicksilver).
Snorkel at Low Isles half day with sunset return sail on a beautiful catamaran. Glass Bottom Boat available and snorkel guides.
Book the shuttle to Mossman Gorge (return) to explore the rainforest boardwalks and crystal clear waters.
See the croc feeding and shows at Hartley's Crocodile Adventures (with pick up from Port Douglas).
Fishing trips and charters including game fishing from The Superyacht Marina.
Take a sunset sail on a Chinese junk or a sailing boat.
Take a crocodile spotting river cruise from Port Douglas Marina on Lady Douglas, or from Daintree Village on the Daintree River aboard Solar Whisper
Swim with a crocodile! The rest of the family can pet the kangaroos or enjoy Breakfast With The Birds while you take a dip with a saltie.
Golf!
Learn to scuba dive in the huge tank at Quicksilver Dive Port Douglas and take your first PADI dive on the Great Barrier Reef!
Barramundi fishing locally. Hook-a-Barra also offers gourmet barra tasting on-site. Reserve this experience now!
Visit the Wildlife Habitat for "Breakfast With The Birds", swimming with crocodiles, or just to hand feed kangaroos and pet a koala.
Book a family or couple photoshoot with Port Douglas as your beautiful backdrop. Special deals are available here currently!
SUP, kayaking and kitesurfing on Four Mile Beach
River Drift Snorkelling.
Hot Air Ballooning Nearby
Dining at restaurants and hotels, or book a half-day food trail.
Take a day trip to the Daintree Rainforest (Special deals available on this tour here)
Visit Mossman Gorge and try Dream Time Tours with the Kuku Yalanji
Swim at the beach year-round, give or take.
Swim in numerous freshwater swimming holes
Swim under a waterfall at Milaa Milaa or Hartley's Creek Falls
Visit Port Douglas Sunday Markets and shop for gifts and souvenirs.
Take a trip to the Tablelands for wineries, a chocolate tour, dairies, and various places of interest
Walk The Bump Track or Flagstaff Hill Walking Trail
Take a day trip to Cairns, The Northern Beaches, DaintreeVillage or Kuranda (includes cable car ride and scenic train plus pickup from Port Douglas)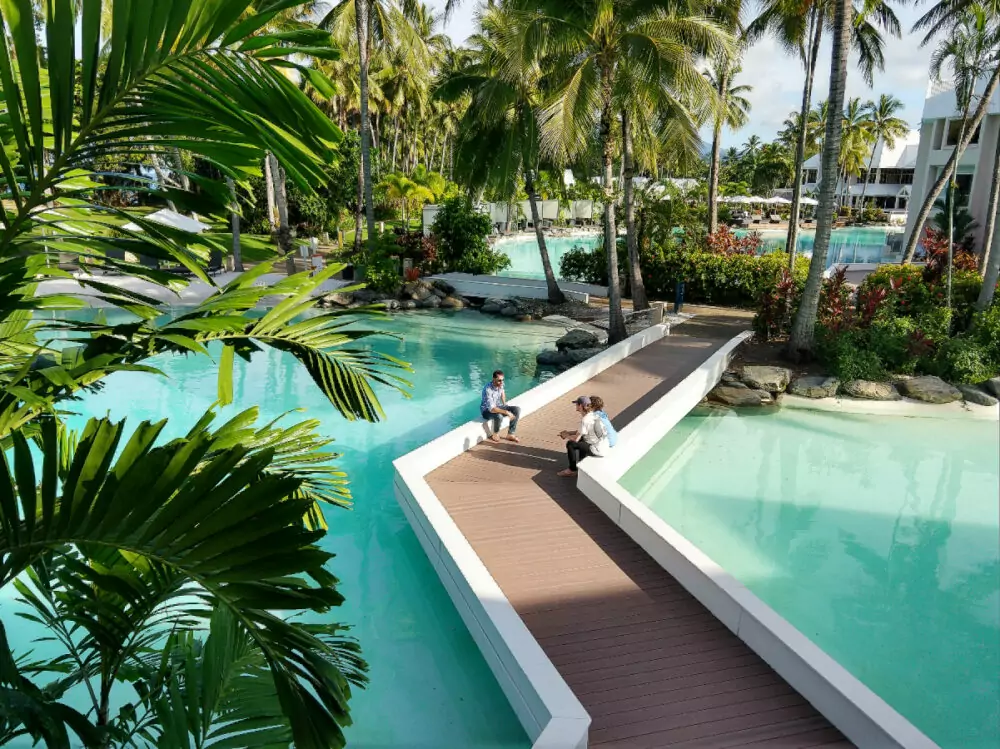 Use our links above to see all tours and trips available in Port Douglas and to book your entrance ticket well in advance, things do sell out!
There are adventure activities like kite surfing and stand-up paddleboarding (SUP), river-drift snorkelling, plus special sporting and community events.
Port Douglas is our home, we know this town inside-out, there are many things to do in Port Douglas in winter or summer, the wet or the dry.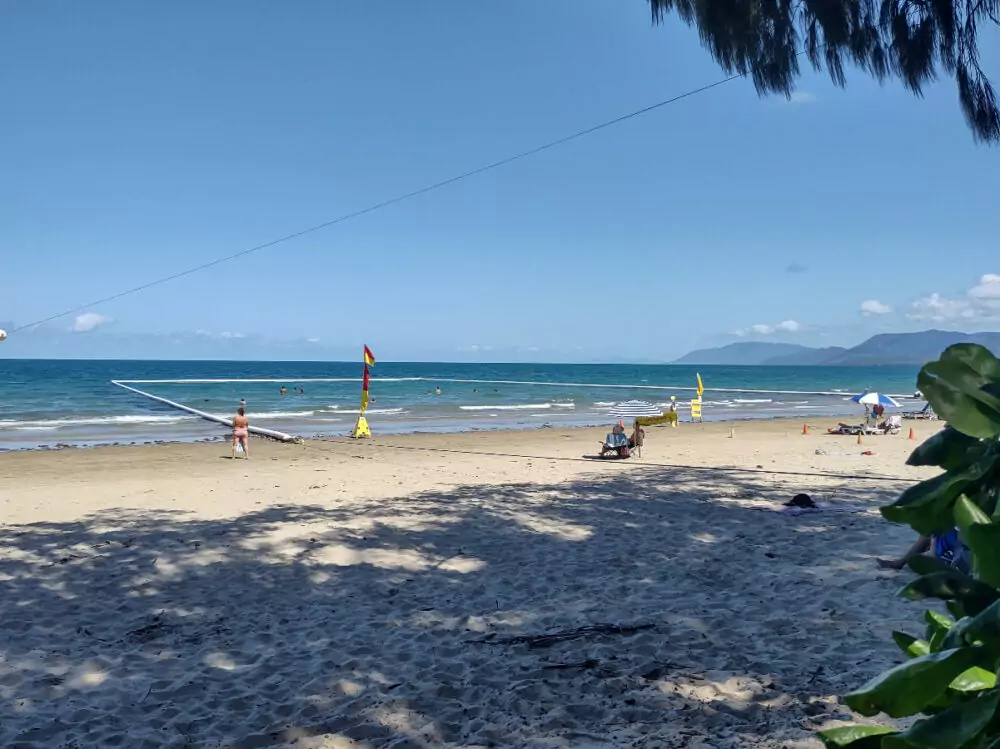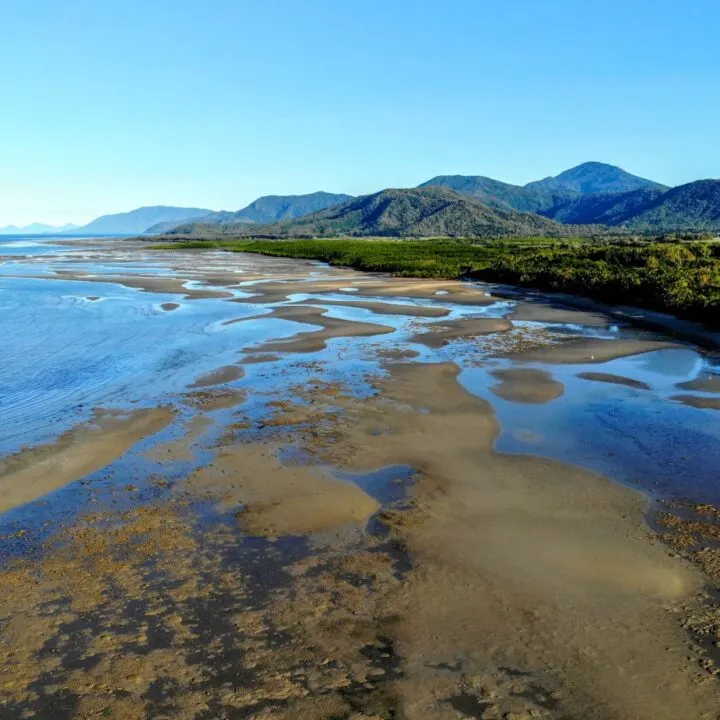 Things To Do In Port Douglas
There are many things to do in Port Douglas. From fine dining to relaxing on the beach to getting active with one of the dozens of outdoor activities. Let's list the things to do in Port Douglas first.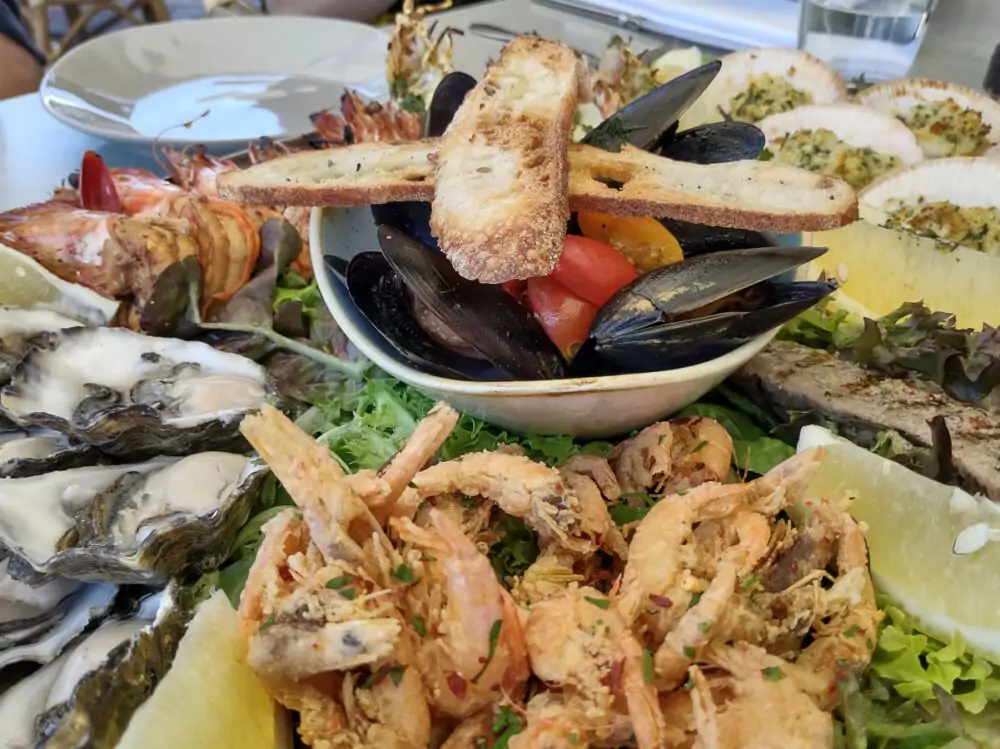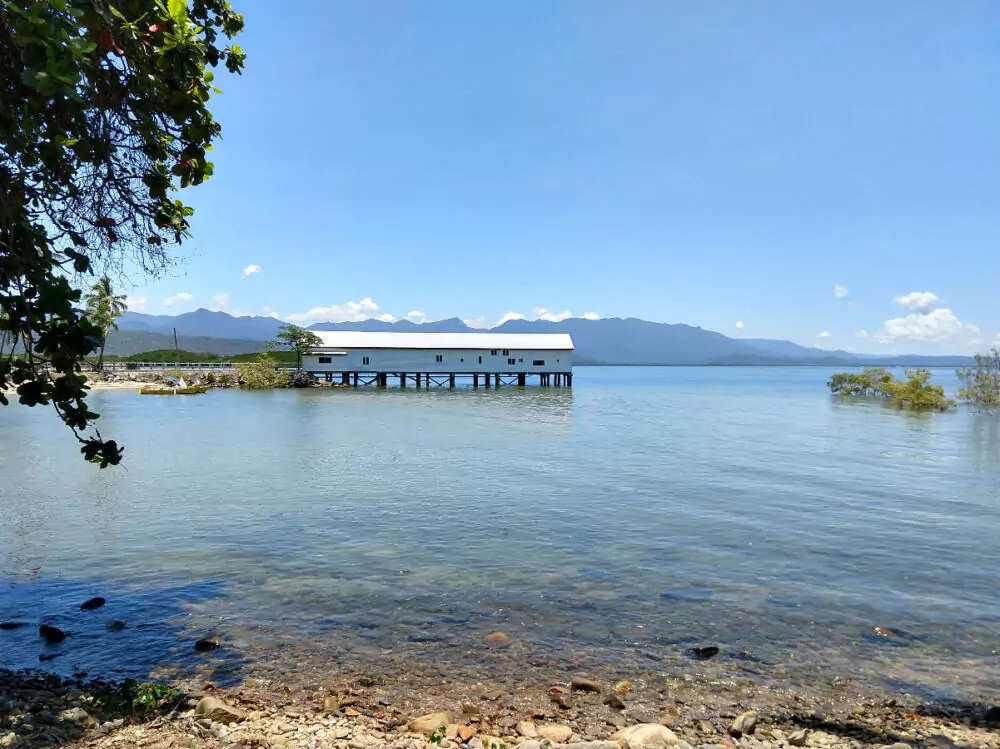 There are local animals, plants, the rainforest, history, and beauty to enjoy in this little town.
We've done them and recommend and review them below. Stories and real-life experiences of Port Douglas attractions and experiences. We try to keep this post up to date but please double-check all details for yourself.
It is very much worth visiting Port Douglas, this little town is a gateway to the reef and rainforest and has a relaxed tropical, yet upmarket, vibe you won't find anywhere else in Queensland.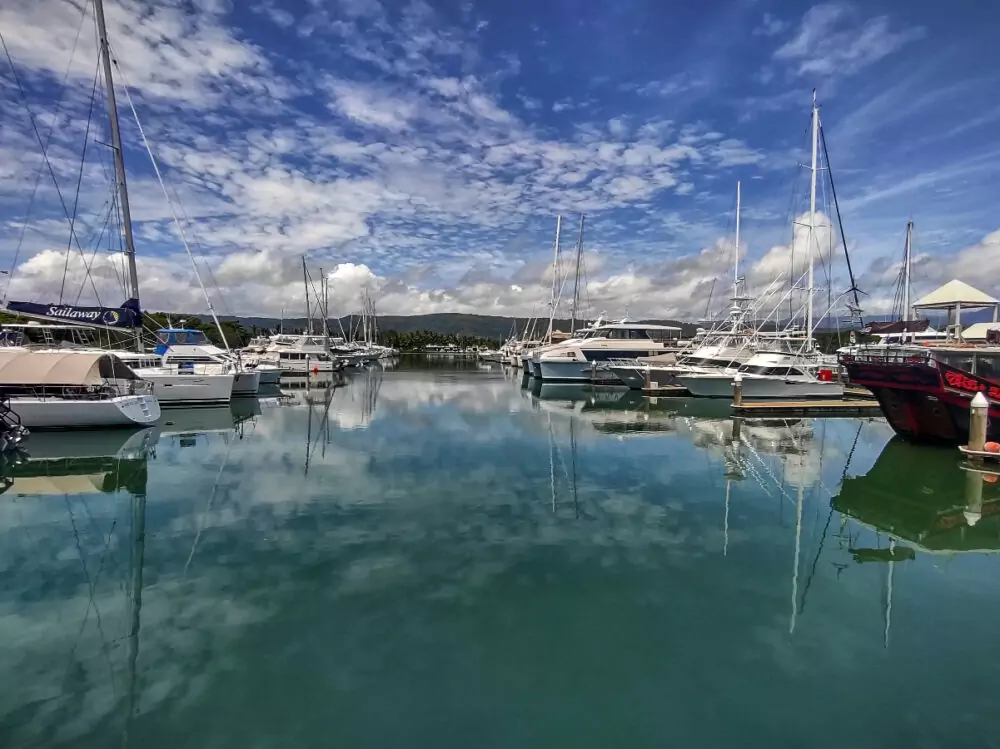 You will need to stay at least two nights, three days, if you plan to visit the reef and have a trip booked in advance, longer if you want to explore more of this part of Queensland and plan to find a reef boat on-arrival.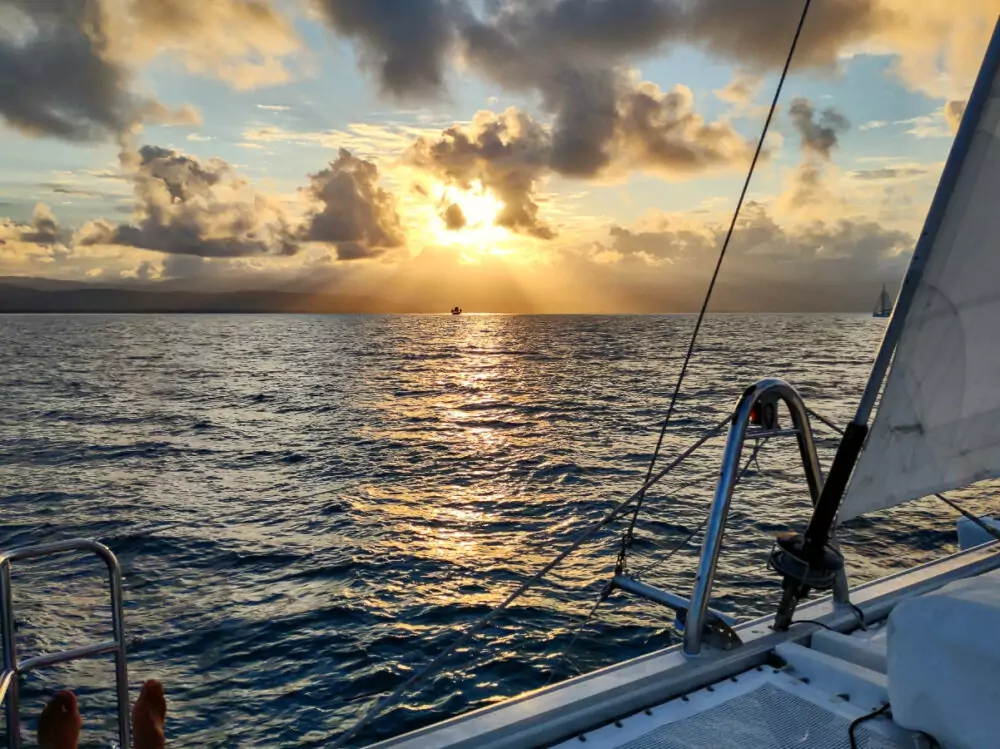 This post began years ago and we've tracked changes in Port Douglas over the years. Some places and attractions have closed, some new attractions and activities have opened.
You can see what has changed in Port and we think it's as valuable to tell you what is no longer available in Port Douglas, as well as current availability.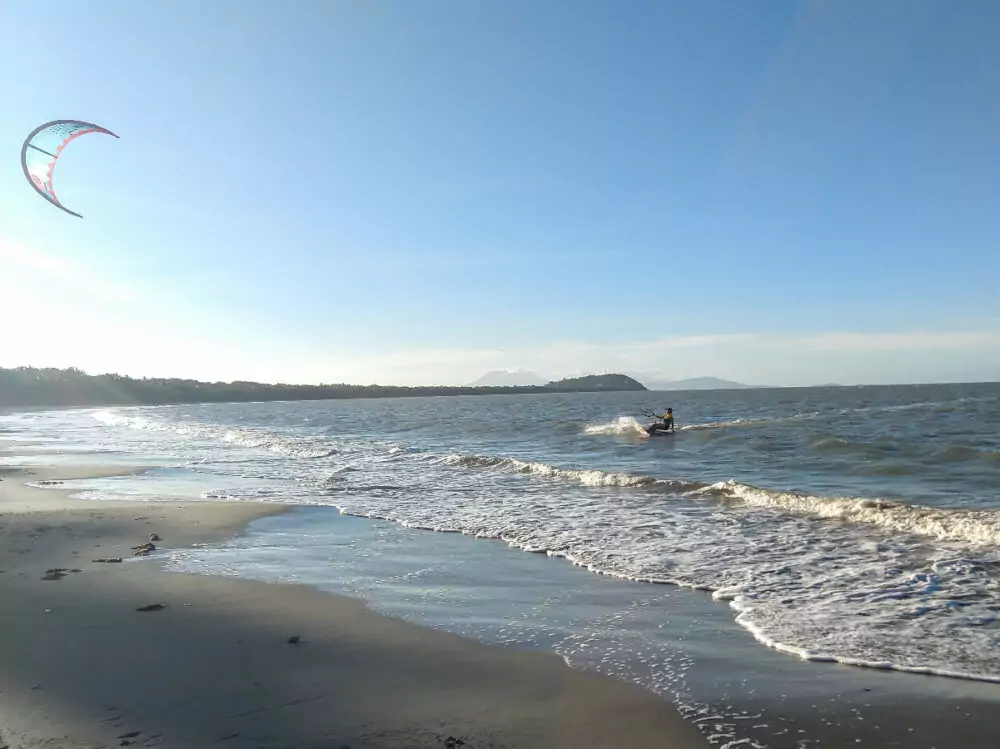 We are travel bloggers in Port Douglas right now, we're monitoring changes closely.
Four Mile Beach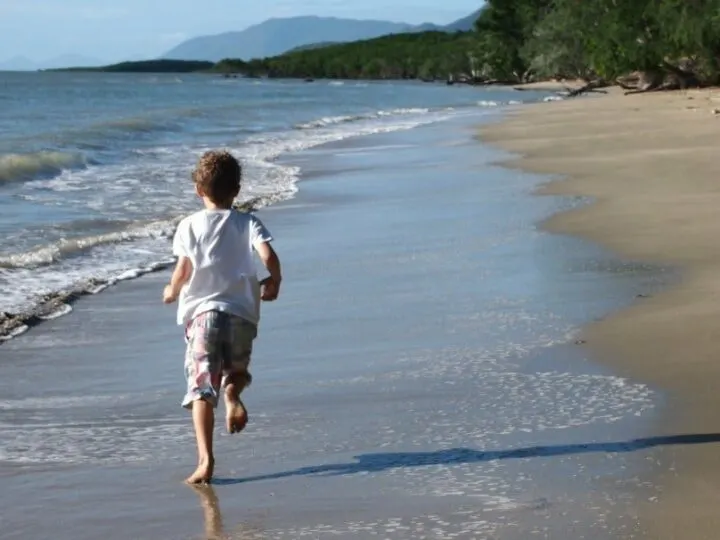 You can enjoy beautiful Four Mile Beach in many ways. The beach is the perfect place in Port Douglas to run or walk at dawn. At low tide the beach is firm and smooth for running, even cycling, but if the tide is high and the creeks full with wet season rain, you may struggle.
You'll usually find yoga classes on Port Douglas's beach, fitness classes, kayak hire, SUP, kite surfing, yoga, and more. You can rent deck chairs, sun umbrellas and inflatables at popular holiday times.
At very low tides the water drops so far you can see the coral. Fishing is pretty good here too.
We would take kayaks out to sea on calm days when the water is clear and occasionally spot turtles.
More people use the town end of the beach, near the lifeguard station and stinger net, the southern end (above) near Sea Temple, is usually pretty deserted. Can you swim in Port Douglas? Yes, you can, just pay attention to the lifeguards and any warning signs.
You need to be aware of stinger season in Port Douglas, it's the hottest months of the year. Yes, we do have crocodiles here, but, well, I'll leave that up to you to think about.
Port Douglas Markets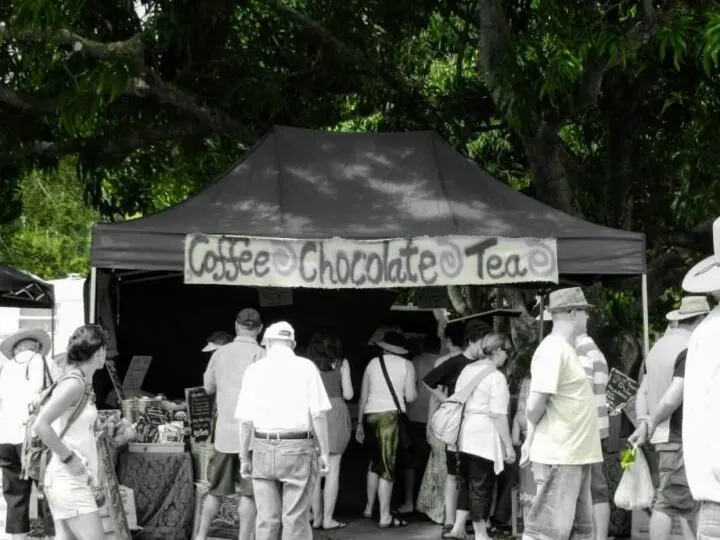 On Sunday get yourselves along to Port Douglas Market, browse, shop, and enjoy our beautiful tropical environment. The market starts early, I used to set up my stall before dawn and spend my Sundays face painting.
The markets are the perfect place to buy gifts and souvenirs from Australia, or from our local area. Most stalls feature locally made crafts and products.
You can buy jewellery, produce, local crafts, and more. This is a good place to grab a bite to eat and a coffee too, there are a few food stalls. We recommend the fish tacos. In the summer it can be ultra-hot, so visit early.
There is some shade and a beautiful weeping fig tree for the kids to climb. There are a couple of small playgrounds down here too.
Enjoy Fantastic Food in Port Douglas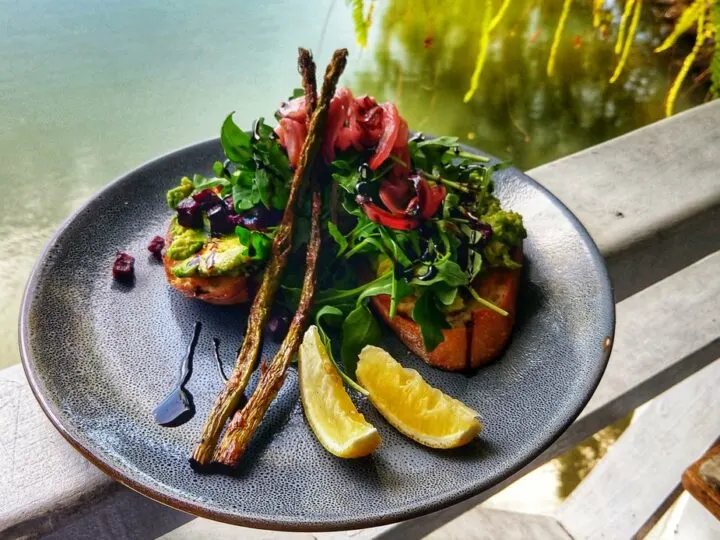 Port Douglas dining is pretty good! For formal dining we recommend Sassi, Salsa, and Zinc. Casual meals with a great view overlooking The Inlet try The Combined Club, also known as The Tin Shed.
Sassi was closed but has now opened and we think bookings are required as they are for most restaurants currently.
Book a Food and Wine Tour of The Tablelands Here
If you're looking for casual family meals with a playground on hand, try The Surf Club. Fish and chips is available at Dave's on Macrossan Street and for pizza, bar snacks, or tapas try The Beach Shack. (Beach Shack was closed and has been sold, we believe it's open again but haven't had a chance to try the food under new ownership just yet)
Our new favourite for breakfast is St Crispin's Cafe. It's at the turn-around station of the Bally Hooley steam train and has a waterside setting with golf course and mountain views. It's featured in the photo above.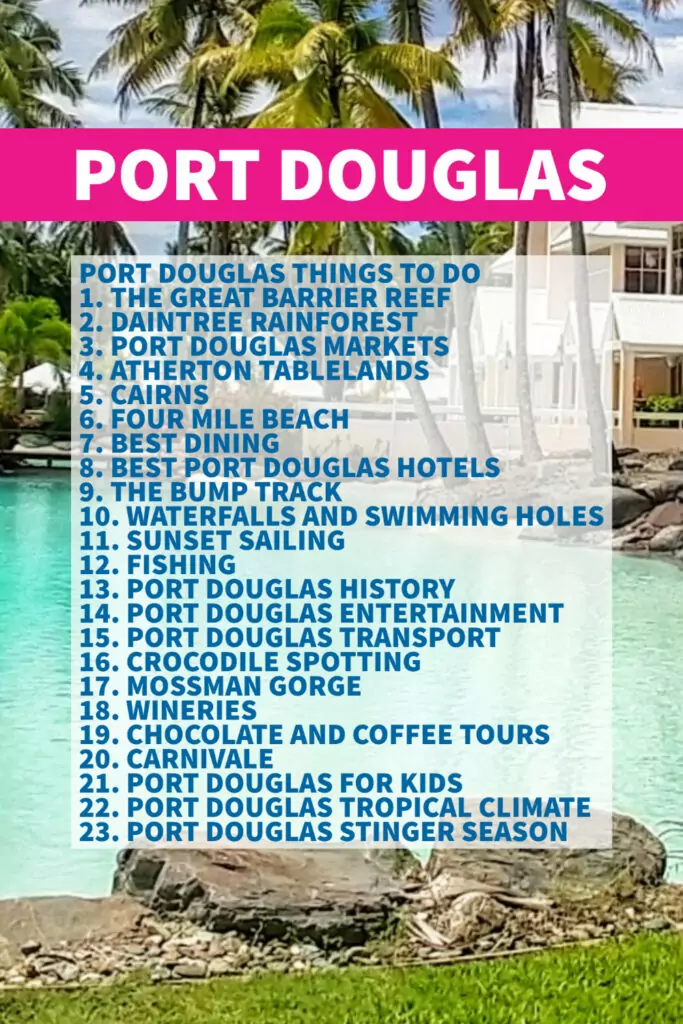 Most restaurants have outdoor seating and social distancing measures are in place. This means you may need to book a table and some restaurants are not open every day.
My husband has put this guide together on the best restaurants in Port Douglas. He used to be an executive Chef in one of the best hotels in town.
Visit The Great Barrier Reef From Port Douglas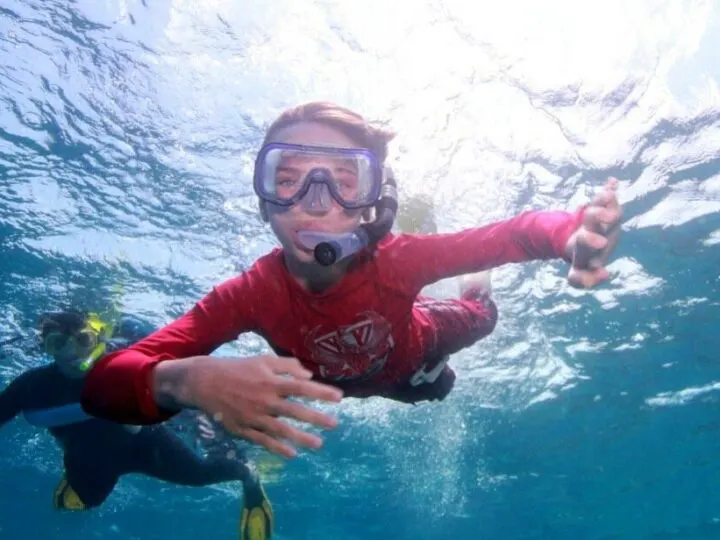 The great Barrier Reef is closer to shore from Cairns to Port Douglas and up to the Cape, this means it's easier to access. We think the snorkelling on the Great Barrier Reef from Port Douglas is the best in Australia.
If you want to see the best reef possible from Port Douglas and enjoy an eco-friendly and conservation focussed day, go with Wavelength Reef Cruises. Take a look at Wavelength and book here. Friends of ours own this company, they're absolutely genuine and this is the boat we, as locals, use for a day snorkelling on the reef.
Put at least one day aside to take a magical trip out to the Great Barrier Reef, it's an experience you'll never forget and suitable for most ages and yes, you can take your kids snorkelling on the Great Barrier Reef.
If you'd like to know more about booking your reef trip, you need this post on reef tours from Port Douglas.
You have options as to how you view the reef. The huge Quicksilver pontoon is permanently moored at Agincourt Reef, or you can visit the outer reefs, Opal, Tongue, on a smaller boat.
A small group on a dedicated snorkel boat (like Wavelength) is a great way to see the reef.
You can book your full-day cruise with Quicksilver here. The pontoon offers advantages and varied ways for non-swimmers to see the reef.
We have always visited the reef fairly often as a family. The kids would snorkel from the age of about 4 from the pontoon or from boats. Once they were in the water and could see the fish any fear of deep water evaporated. My kids joined us scuba diving around their 14th birthdays. Today, as teenagers, they still enjoy a trip to the reef, it's a great family activity.
Lunch is usually delicious on the reef boats and you're quite likely to see whales at the right time of year (winter), along with dolphins, turtles and sharks.
Restrictions did change the way food is served, hopefully, we'll be back to buffets soon, some boats have switched to providing a good packed lunch.
Obviously, you could also see the reef from Cairns, but if you're staying in Port Douglas, that seems pointless.
We think the Port Douglas reef boats are a better experience and the Cairns fleet doesn't come this far north.
Visit Low Isles from Port Douglas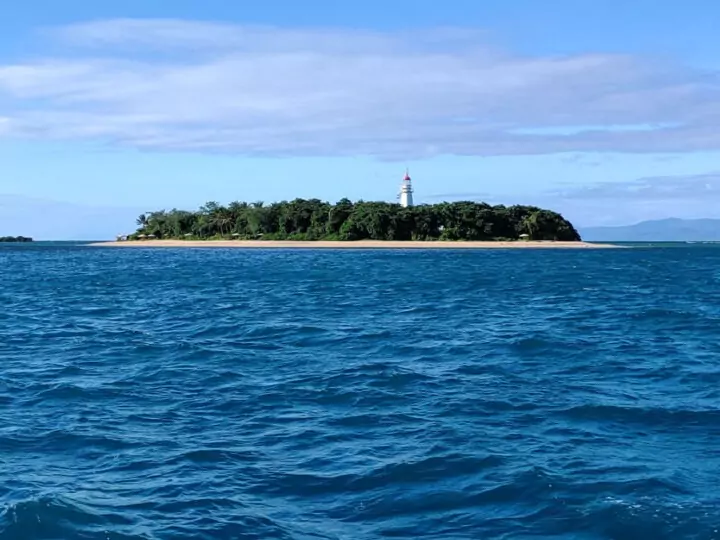 If you don't want to head to the reef the Low Isles are a shorter trip. You can enjoy the beach as well as snorkelling by taking a trip out with Calypso, on Wavedancer, or Reef Sprinter. Operators vary, check who's running trips.
The reef at Low Isles isn't the same as the outer reef and comparing the two is pretty interesting.
Around Low Isles you'll see a lot of young reef fish, tiny baby reef sharks circling the island are a cute thing to see.
Some tours allow access to the island itself where you can take a stroll and see the Low Isles lighthouse, others just allow snorkelling from your boat.
If you visit the island you can snorkel from the beach. Snorkelling off Four Mile Beach, you'll mostly just see sand, come out here instead.
If you have time and finances, take both trips, Low Isles and the Outer Reef, it is worth doing.
Book a half-day trip to Low Isles here.
Sunset Sailing in Port Douglas
Various vessels offer sunset sailing out of Port Douglas. This is a great way to enjoy the end of the day, further enhanced by a few bubbles.
These trips are more budget-friendly than a trip to the reef. Boats on offer for trips like these include luxury catamarans and sometimes, a traditional Chinese junk.
Book a luxury sunset cruise here.
The White Church in Port Douglas, St Mary's By The Sea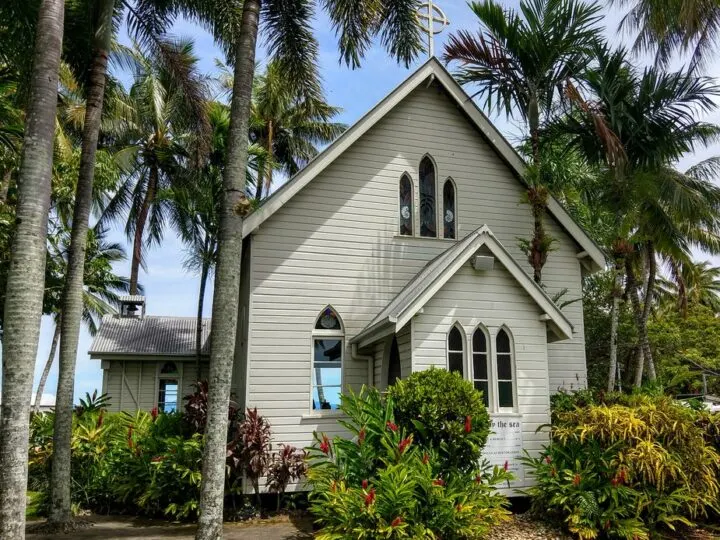 This popular wedding venue is an absolute picture. A non-denominational church or chapel, St Mary's has an interesting history. It originally stood elsewhere but after near-destruction in a cyclone it was moved to its current almost waterside position.
It's at the southern end of the market ground, near the sugar wharf. If you go inside, check out the stunning reef-themed stained glass windows.
For history-lovers, the Old Courthouse is another place of interest, along with the cemetery.
Port Douglas Wildlife and The Wildlife Habitat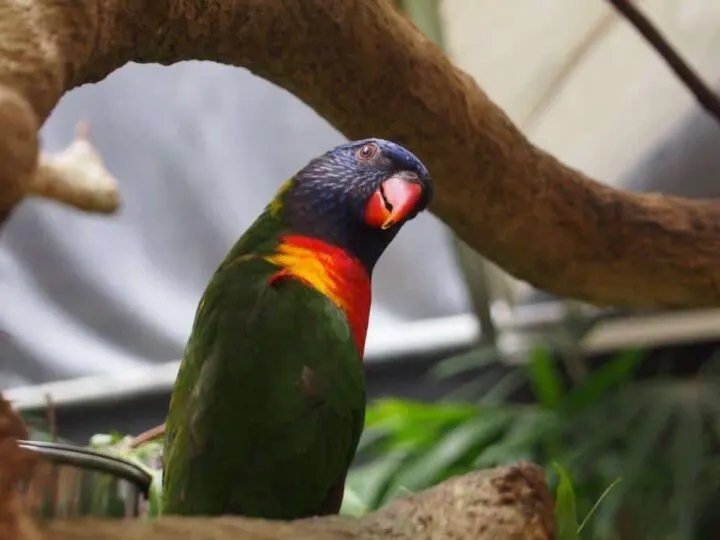 Wildlife you will see around Port Douglas includes giant green tree frogs, rainbow lorikeets, fruitbats (spectacled flying fox), snakes, sulfur-crested cockatoos, Eclectus parrots, various big spiders, and crocodiles.
You can spot them in the wild of head to Port Douglas Wildlife Habitat. You can even enjoy "Breakfast With The Birds" or even swim with a crocodile.
Reservations For Breakfast With The Birds
If you want to guarantee sightings of Australian wildlife you need to visit the Port Douglas Wildlife Habitat. You can visit independently or join a guided tour. There are opportunities to hand feed kangaroos and get your photo taken with a koala.
Reserve Your Spot For The Wildlife Habitat Here
Birds of Port Douglas include abundant white (sulphur-crested) cockatoos and rare black cockatoos. I've seen these in my garden along with a spoonbill, and the white-bellied sea eagle that ate my guinea pig.
Swim With Crocodiles Reservation Here
Yellow fig birds are common and we see bee-eaters in Port Douglas occasionally. Tiny yellow and blue sunbirds make their woven nests very close to human activity and are common.
You're unlikely to see wild kangaroos or wallabies around Port Douglas but I've seen them near Mossman and just outside Cairns.
Cassowaries are nearby, as are tree kangaroos and wild pigs can be seen very close to Port Douglas. We recently saw a cassowary while walking to Hartley's Creek Falls.
Look out for giant green tree frogs at night, they often climb up our windows.
We did once have a python get into the door frame of our patio doors. In winter you may see them on the roads at night, roads stay warm after sunset.
We've never seen a venomous snake in Port Douglas, only pythons and tree snakes rarely. There are tarantulas in Port Douglas. Several species. But I only ever saw 2.
You've very likely to see golden orb spiders in this part of Queensland, where there are plenty of trees, it's quite rare to see them around Port Douglas.
In the sea off Port Douglas, we have turtles, whales, dolphins, dugongs and well, everything except great white sharks (hopefully!).
You will also find ants, mosquitoes and cockroaches. Green ants are pretty interesting but they pack a mean little punch. Tiny sugar ants invade our home in huge convoys daily. No amount of chemical sprays has ever kept them out.
Cockroaches live in the soil and come indoors from time to time. They're all just a part of life. There are termites too, termites wreck my garden. So don't assume any hotel or dwelling has low standards if you see these creatures, they're simply a fact of tropical life.
If you want to feed the 'roos and get up close and personal with most of our Australian and local species, head to the Wildlife Habitat. It's on the main road into Port Douglas near the IGA and has seen a lot of improvements and new features lately. The new nocturnal house is really good and their new crocodile pool opened recently. This is your chance to get in the water with a saltwater croc, without flying to Darwin! and to dine in with our wildlife.
Reservations For Breakfast With The Birds
Daintree Rainforest and Cape Tribulation From Port Douglas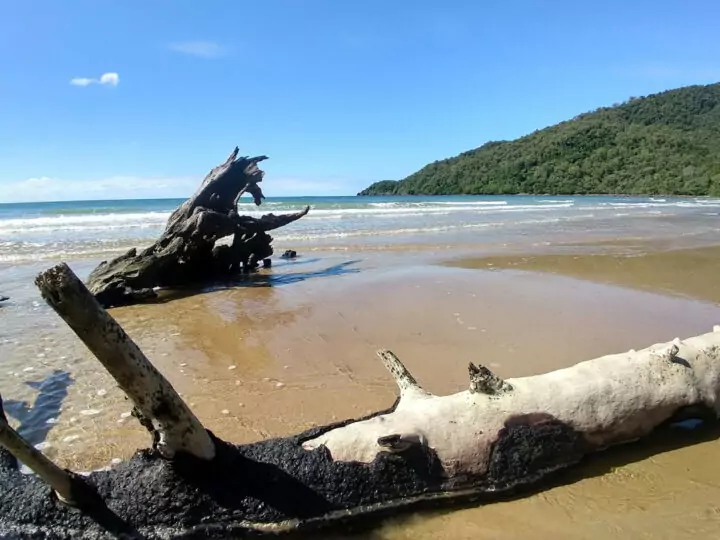 Just up the road, we have Daintree Rainforest and beautiful Cape Tribulation. You need to take a drive up there, in your own vehicle or with a tour, maybe you'll spot one of our famous wild cassowaries.
Book a Day Trip From Port Douglas, Palm Cove or Cairns, To Mossman Gorge, Daintree and Cape Tribulation, Here
There are a few attractions up here, including ice cream and tropical fruit orchards. There was a small insect museum.
If you'd like to keep driving, you could head all the way up to historic Cooktown.
We've driven from Port Douglas, up the Cape to Cooktown, and back in a day. It's possible, but it's a long day.
The coast road through the Daintree Rainforest is beautiful, but you'll need a 4 wheel drive for dirt tracks and creek crossings in places. The inland road is more passable, but not very interesting.
On the way to The Daintree, a slight detour to the left, is Daintree Village. This is a cute little town and home to the "big barra". This is another popular place to take a crocodile-spotting boat trip.
Stay at an Amazing Hotel in Port Douglas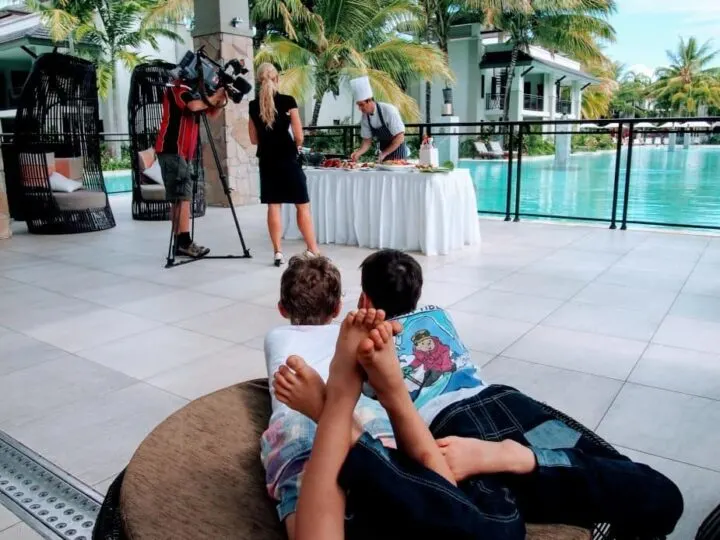 We have incredible hotels in Port. The one above is Sea Temple (Now Pullman Sea Temple Port Douglas. We spent every Christmas here when we lived in Port.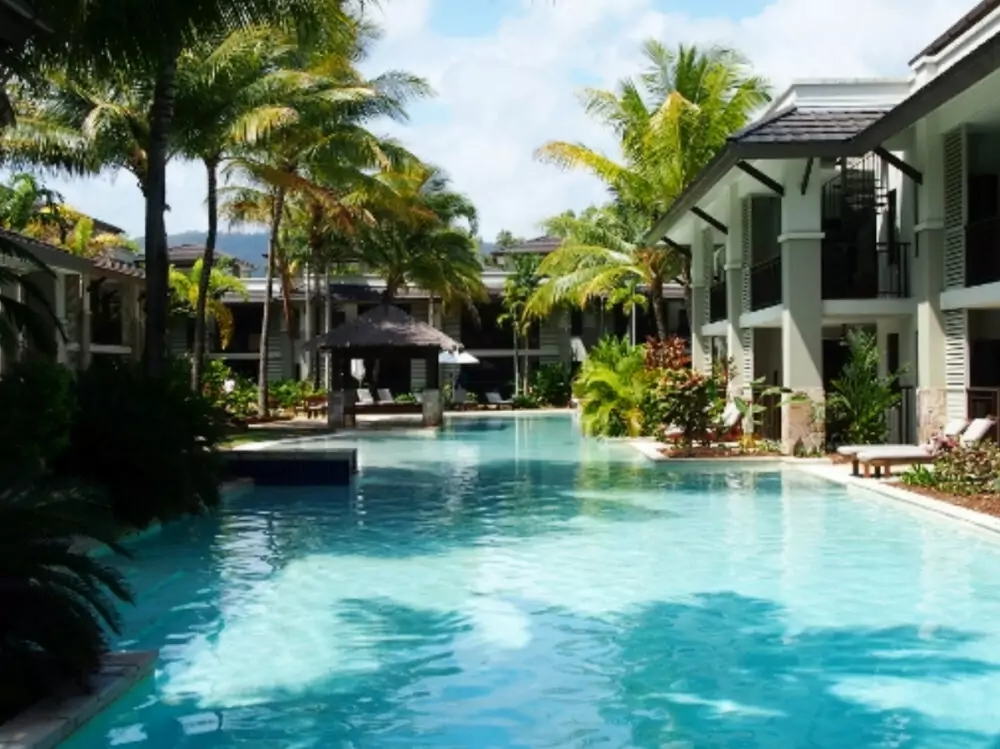 Why? My husband, Chef, was executive chef here and we enjoyed lavish Christmas meals in superb comfort while enjoying a pool to-die-for.
This is part of the reason we left to travel the world for 5+ years. Having to work every Christmas (with small kids) is no fun. Even with incredible perks like this.
It's a stunning world-class hotel, you'll enjoy your own private villa, pay the extra for a swim-out to one of the biggest pools in the southern hemisphere and if you're heading to Port Douglas take a look at it here.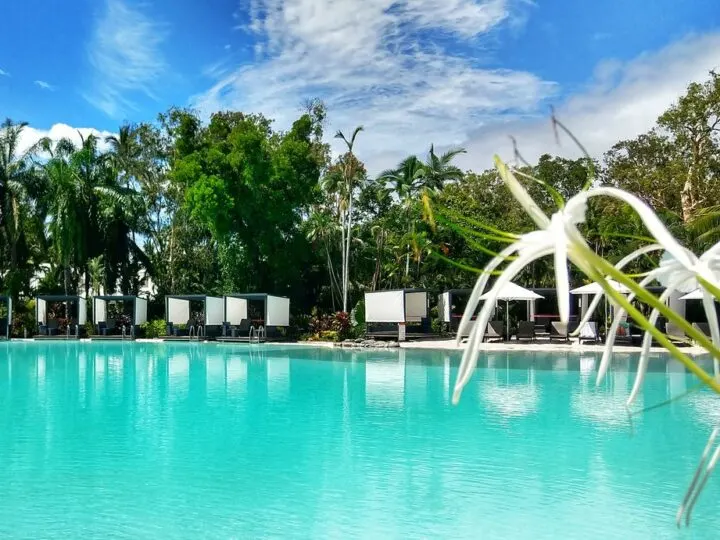 Our other 3 favourite resort hotels in Port are The Sheraton Grand, Pullman's Sea Temple, and Oaks Resort (formerly QT). The Sheraton is featured above, and in the photo at the top of the page.
If you're on a budget look at Dougies backpackers resort, which was the first place we stayed when we came to Port as young backpackers over 20 years ago. It's still good, if not better.With camping, dorms and private rooms. Just click on the links above to take a look.
There are a few Airbnbs in Port Douglas but we no longer recommend this platform, the cleaning fees can be steep, and the booking process takes too long for us. If you're after a holiday home, villa, or apartment rental in Port Douglas, check these out.
Port Douglas Tours to Book Online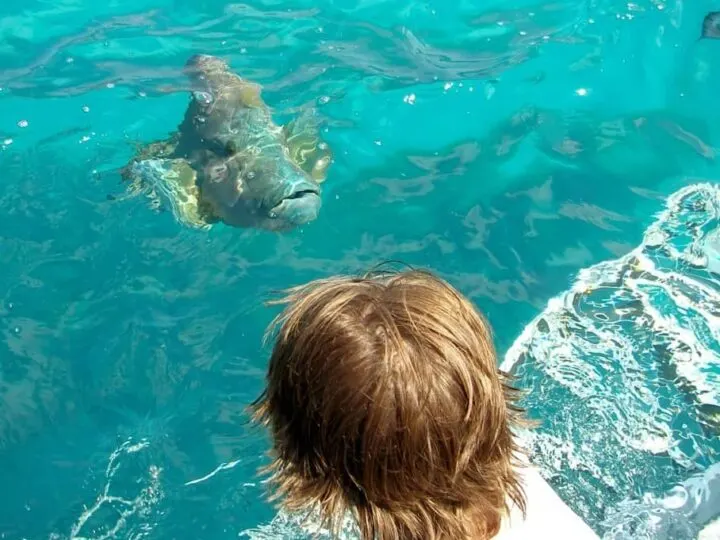 We use the company below when booking tours anywhere in the world, they have a lowest price or money-back guarantee and the reassurance of a big company supporting your booking. If your tour is available to book on this site, presumably they're running. The last time we drove past in 2021, the Skyrail Cable Car was open. We're checking and updating constantly, things change fast.
30 Minute Scenic Helicopter Flight from Port Douglas.
Daintree Wilderness and Cape Tribulation Full Day Tour (Pick up from Cairns) See it here.
Kuranda Scenic Railway, Kuranda Visit, and Palm Cove, from Port Douglas. A full day out and loads of fun, here.
Tjapukai Aboriginal Culture and Heritage by Day with Transfers (Great for Kids!) Tjapukai has now closed.
Book a Day Trip From Port Douglas, Palm Cove or Cairns, To Mossman Gorge, Daintree and Cape Tribulation, Here
Take a Trip to Cairns From Port Douglas & Scenic Drive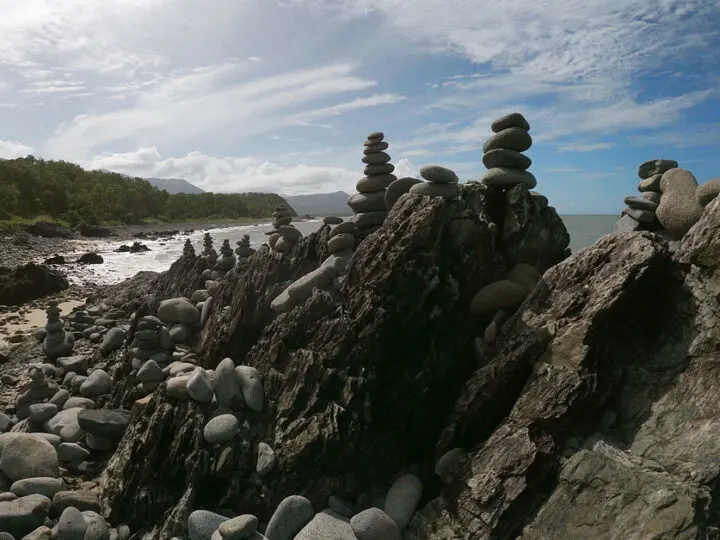 The drive between Port Douglas and Cairns is stunningly picturesque but of course, Cairns, being a huge tourist hub, has plenty to do.
We now have a full post on things to do in Cairns. Including the famous Cairns Lagoon, Aquarium, Cairns Skyrail Rainforest Cableway, and other tourist attractions.
On the drive down to Cairns, check out some of the beaches along the way. Palm Cove is one not to miss. You'll also pass the new crocodile-spotting lookout and car park, just south of Port Douglas on the Mowbray River.
Take a Hike Up The Bump Track & Other Walks in and Around Port Douglas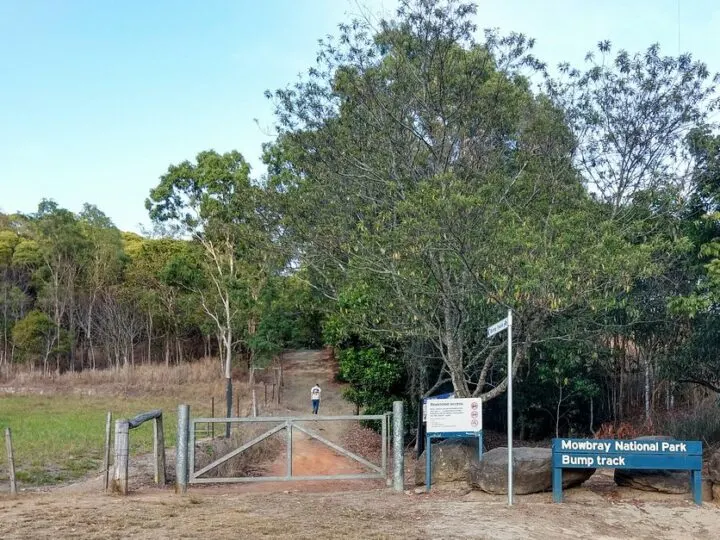 The Bump Track is a bit of a locals' secret. It's a historic track up the mountain at the back of the Mowbray Valley.
It's great exercise and the view from the top on a clear day is spectacular.
Real enthusiasts run or cycle up and down it or you can let a horse take the strain. I used to piggyback the kids up here when they were too small to walk and too small to stay home alone.
You can take a mountain bike tour up here, which you can book locally. You can even take an e-bike.
There are bike rentals available in Port Douglas. We're starting to see electric scooter in Port too.
If you're looking for an easier walk in Port Douglas, take the walking track around Flagstaff Hill.
It's newly repaired and has some great lookouts. Alternatively, walk along Spring Creek or hike to Hartley's Falls.
Port Douglas Fishing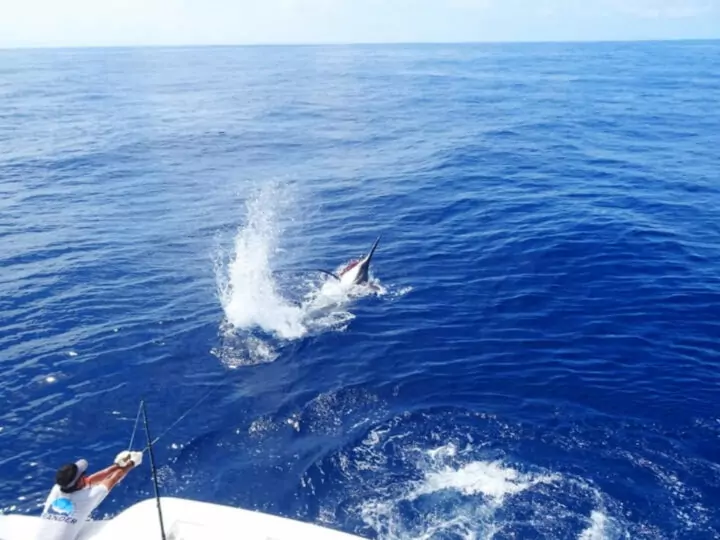 There are many boats operating out of Port Douglas offering fishing trips. Some are single day, some are multi-day, particularly if you're looking for game fishing.
Marlin fishing is possible from Port Douglas. If you're packing mega-bucks, you can even arrange a private charter of a luxury yacht.
There are barra fishing opportunities nearby too. Try Hook-a Barra at Wonga Beach, book here.
See Cane Toad Racing in Port Douglas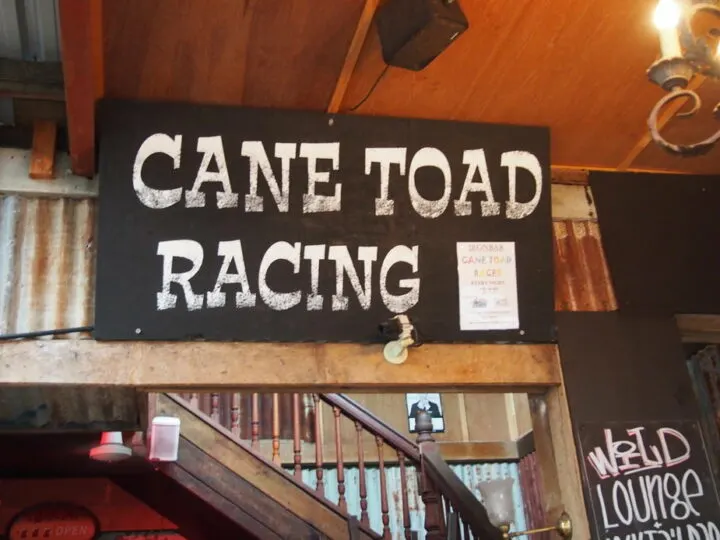 The Iron Bar in Port Douglas was always the venue for Cane Toad Racing. Can you come to the Far North without seeing this local tradition? In 2022 the toads have hopped on over to Chilly's pizza bar, a nice outdoor venue.
The Iron Bar itself seems to be focusing more on being a steak bar specialising in aged steak. It's on Macrossan St. It's also a kind of nightclub. There isn't a huge amount of nightlife in Port Douglas and people tend to eat early.
Chilly's is an outdoor dining venue, 2 streets behind Macrossan. Walk down Grant Street, past the Grant St Bakery and Quicksilver Dive Centre (where you can learn to dive in their custom-built pool) and you should see it on your left.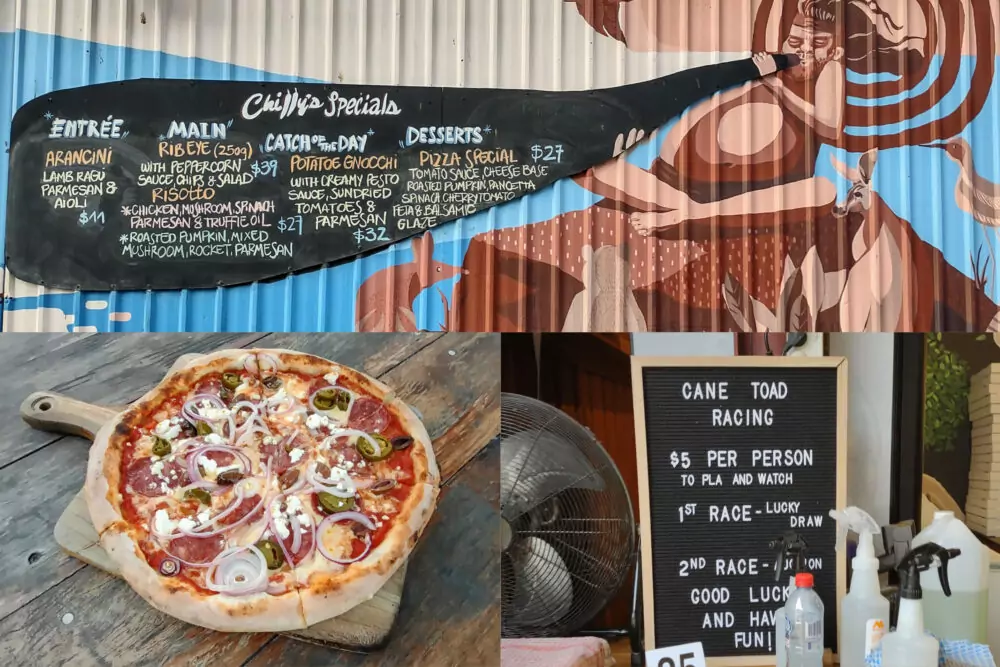 Chilly's wood-fired pizzas are good. They market them as the best pizza in Port Douglas. That would be down to individual taste, but it's good pizza with plenty of different toppings including chilli prawn and seafood, my favourites. We don't recommend their curries, sorry.
Chilly's Port Douglas is a really nice, casual outdoor venue, great with kids as it opens quite early and has high chairs and lots of space. It's pretty after the sun goes down with sparkling lights in the palm trees and a campfire. It was busy and had a good atmosphere last time we visited. That was August 2021.
Admission was $5 Au last time we visited the Cane Toad racing (At The Iron Bar), and kids of all ages were welcome. It usually starts around 8pm.
Watch George The Groper Being Fed- No Longer Happens Sadly
This is (was) my favorite thing to do in Port Douglas, I loved George, I loved the venue and I loved the food and wine.
Sadly this part of Port Douglas has been semi-demolished to make way for new marina development and I guess George and his mates are now starving. You can see what the experience of watching George the Groper being fed was like here.
George was fed at a restaurant called On The Inlet, which relocated after this forced move but has now, sadly, closed down.
The Rodeo and Bull Riding (Australian Muster Experience) Has Closed
Update – The Australian Muster Experience has shut but there is occasional bull riding at Mossman Showgrounds and the Mareeba Rodeo (usually July) happens annually, it's a fair drive from Port Douglas, close to 3 hours, but you can camp at the showgrounds.
Take a Walking Tour of Port Douglas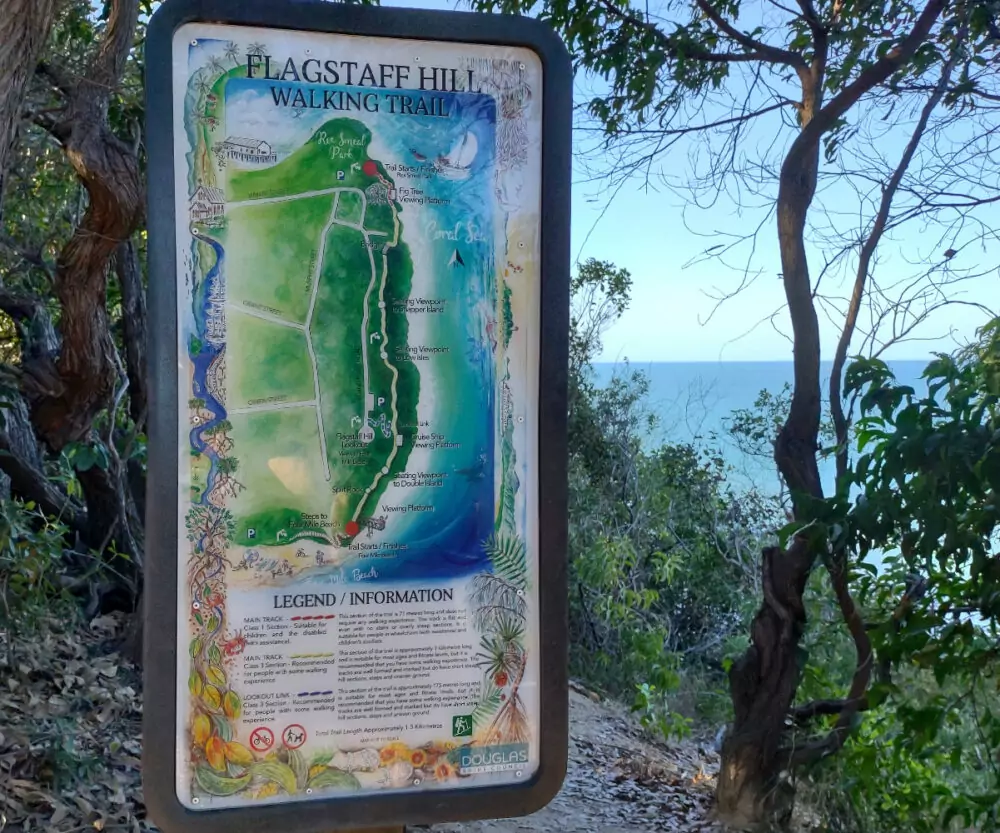 Walking tours of Port Douglas with K Star tours have become popular, give it a go. Kevin "KStar" should be able to answer all of your questions about our area including our historic buildings, and share some valuable local knowledge.
If you don't want a guide, find Port Douglas's places of historic interest. At Anzac Park you'll find a wall of old photos, also visit the Old Courthouse, along with the hotel of the same name.
The Central hotel is also historic and there is a sign outside with historical information.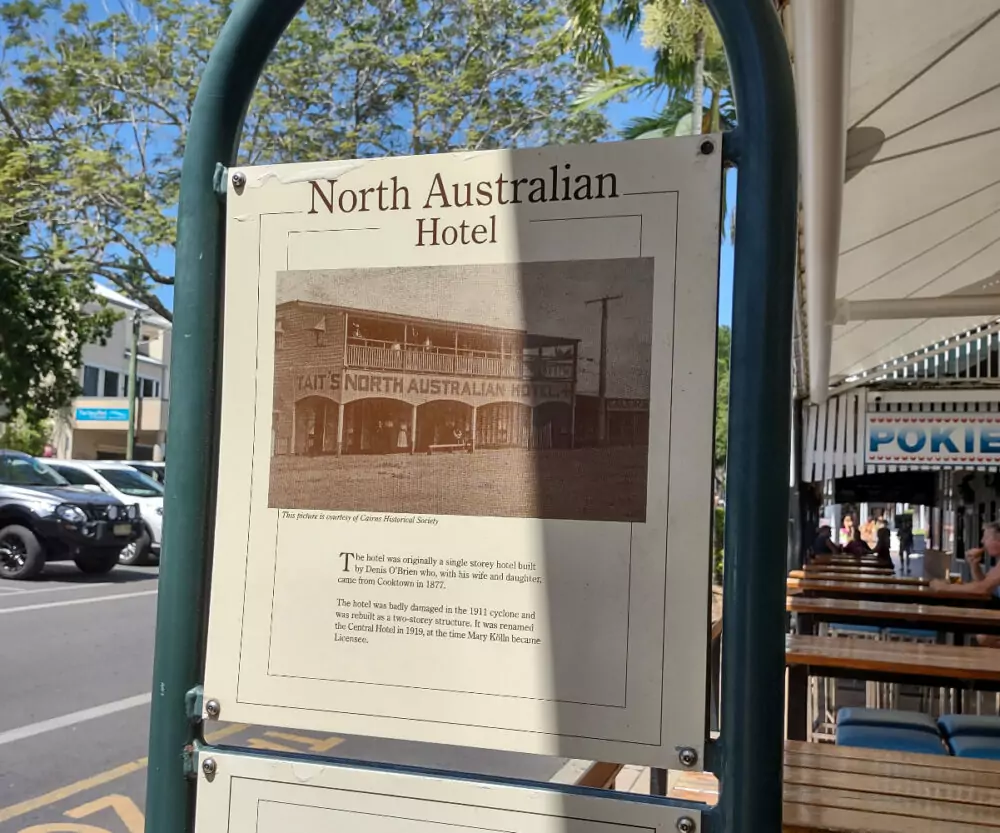 You should also complete the Flagstaff Hill walking trail with great views out to sea from lookout platforms. You can reach The Port Douglas Lookout from this trail too.
Explore Dickinson Inlet by Self-Drive Boat and Check Out our Crocodiles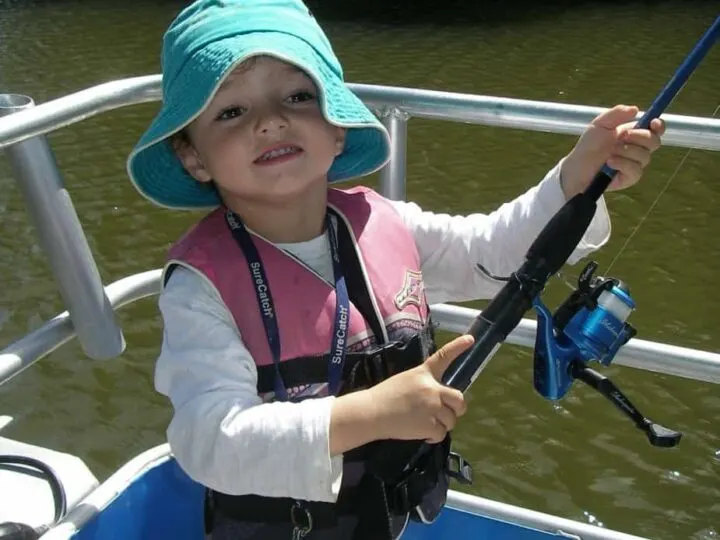 We love cruising up The Inlet. You can hire your own little boat from the marina or take a tour on the Lady Douglas, the view and the wildlife are spectacular.
You can hire fishing gear too, just don't lean too far over the edge or the crocodiles might get you.
We survived, many times.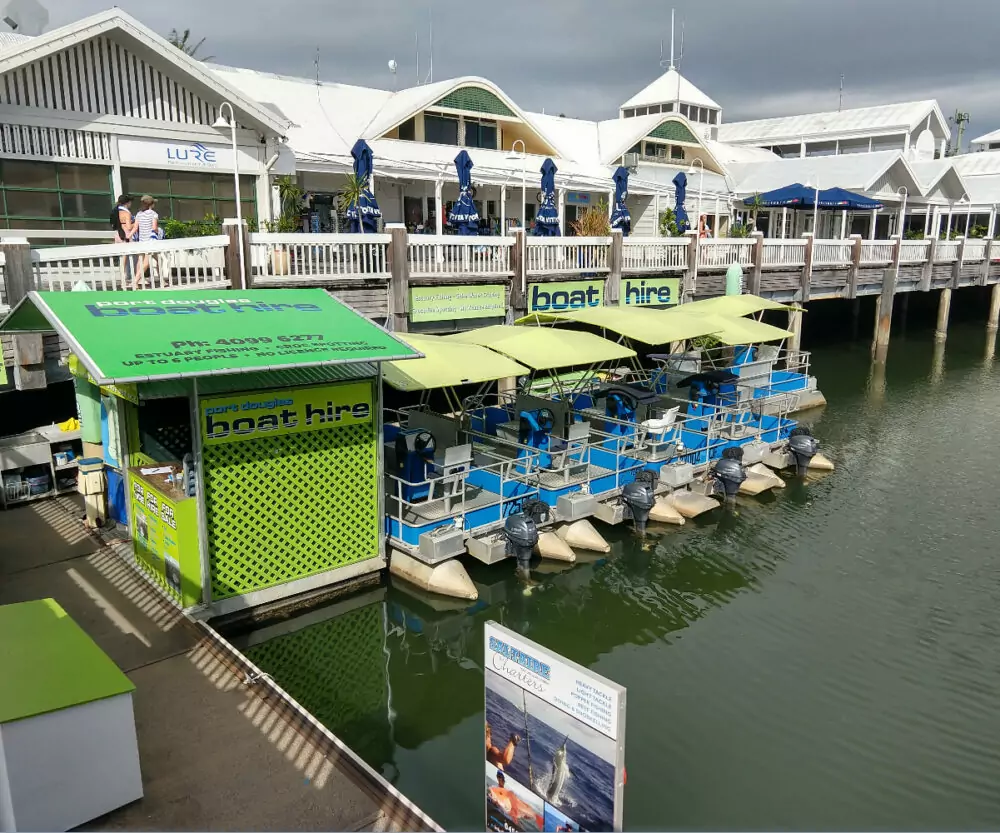 We're currently checking the status of boat and fishing hire or rental in Port Douglas, we'll be back to you soon.
Markets Near Port Douglas
Far North Queensland is abundantly served with local markets, each small town seems to have one.
If you're looking for a farmer's market near Port Douglas, Mossman Market, held most Saturday mornings beneath the rain trees has fresh local products and crafts.
Port Douglas's own Sunday market also has some fresh fruit, veg, plants, and produce. However, this market is more about gifts, crafts, and products.
There are monthly and weekly markets in many towns near Port Douglas, including Palm Cove, Mount Malloy, Atherton, Yungaburra and Cairns itself.
Park Run Near Port Douglas
If you enjoy a weekly 5 km run, as many of us do in Port Douglas, you may be disappointed. There is no Park Run in Port Douglas currently.
Local runners are pondering setting one up. Great news for me, as I'm a local runner.
There is a Park Run in Atherton, not so near to Port Douglas at 119 Km away. Almost a 2-hour drive.
There is also a Park Run in Cairns at 7am on most Saturdays on the Cairns Esplanade. Cairns is some 66 km from Port Douglas.
That said, there are a lot of runners in Port Douglas and plenty of group training session opportunities.
Take A Cruise on The Lady Douglas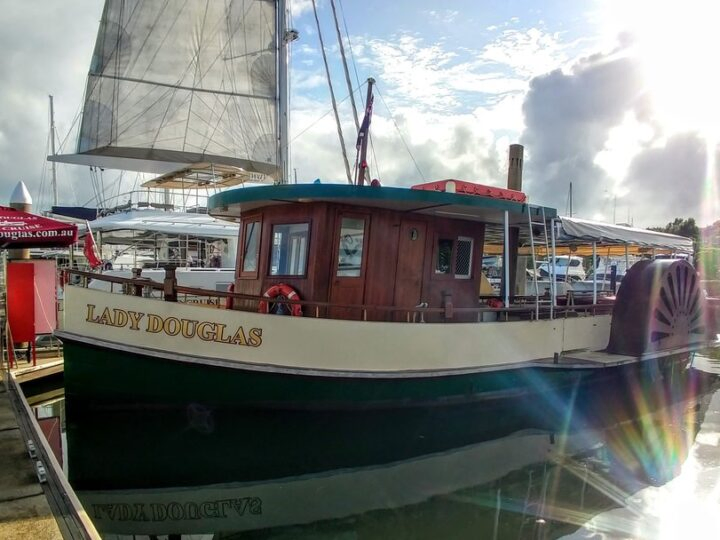 The Lady Douglas is a Port Douglas institution.
An evening cruise on The Inlet is a wonderful opportunity to see saltwater crocodiles along with various birds, including white-breasted sea eagles.
I used to take my kids, often, they would always get a chance to steer the boat on the way back.
Our good friends, John and Jenny, don't own this business anymore, they now run Wavelength Reef Cruises, but I hear good things about the new owners.
The Lady Douglas crocodile spotting and cruise departs from the Crystalbrook Superyacht Marina, normally daily, we're checking the current situation for you.
Sports and Outdoor Activities, SUP, Kite Surfing, Segway Tours, River Snorkelling, and Wind Surfing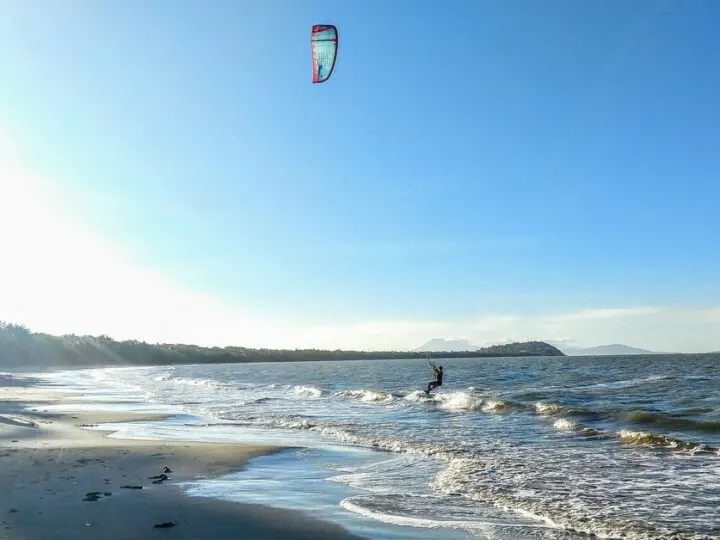 Stand Up Paddle Boarding, Kite Surfing and Wind Surfing are big news on Four Mile Beach. There are plenty of locals around happy to get you started in their sports.
You can book various outdoor activities online and in advance to guarantee availability, for instance how do you fancy rainforest river drift snorkelling?
Book Your River Drift Snorkel Tour From Port Douglas Here
For something more gentle, yoga on the beach is a lovely way to start the day. Availability varies with season and demand.
Atherton Tablelands From Port Douglas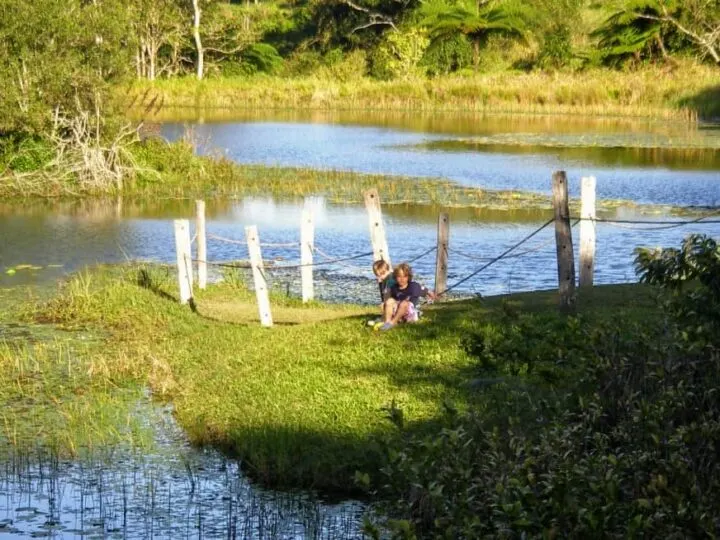 In the relative cool of the Atherton Tablelands you'll find man-made and natural tourist attractions and things to do.
Wineries, coffee and chocolate attractions, dairies, and of course, Lake Tinaroo are just the tip of the iceberg. If you're here towards the end of the month, check out Yungaburra Markets.
The picture above is from a camping trip to spot wild platypus, pretty incredible! A full post on Atherton Tablelands, Herberton Historic Village, and more, coming soon!
Allow about 40 minutes of drive time to get to the Atherton Tablelands from Port Douglas by road.
Head towards Mossman, then take a left through the cane fields and up the steep, winding hill to Julatten, Mareeba, Atherton, Mt Molloy, and more.
You can also take this route to drive to Kuranda.
Take a Lesson in Aboriginal Heritage Near Port Douglas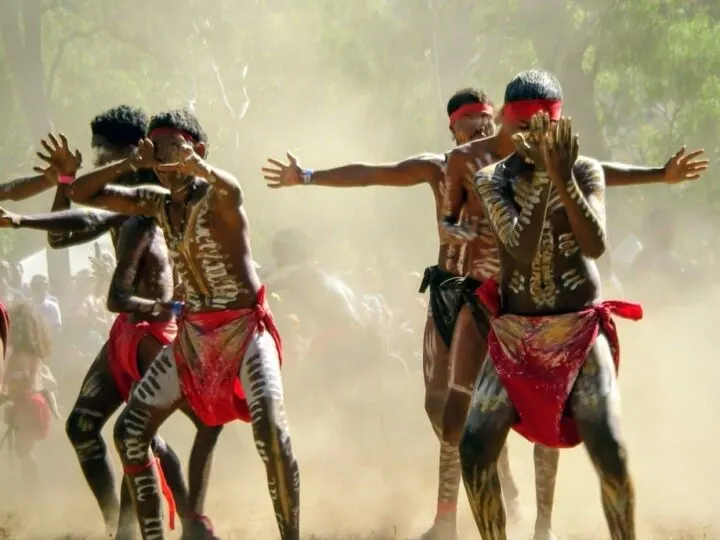 Mossman Gorge has recently been handed back to its traditional Aboriginal owners and custodians.
Dreamtime tours, guided by our local Aboriginal people are, I feel, very helpful in understanding Australia's history.
In the tour booking box, above, you'll also see trips to Tjapuki (closed) and Aboriginal guided experiences just north of Port Douglas.
This photo was taken elsewhere. I use this one because faces are covered, it's important.
Visit Kuranda, Drive, or By Scenic Train and Cable Car From Port Douglas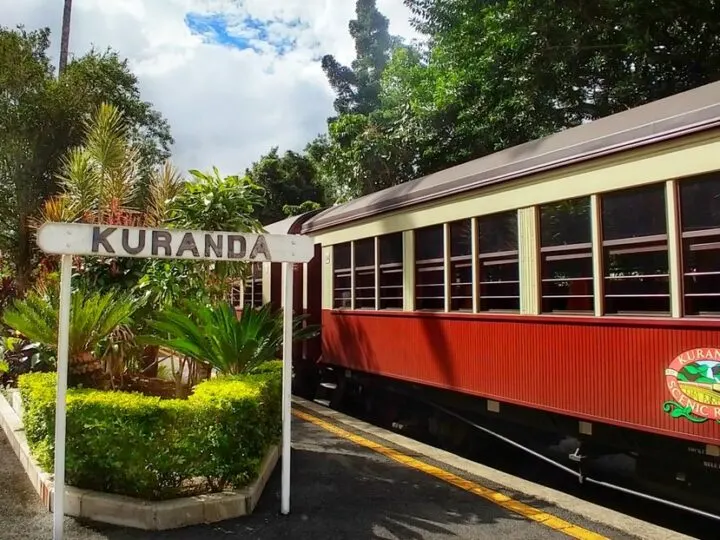 The drive up to Kuranda is spectacular, whether you choose the range road near Mossman or the Smithfield option.
Kuranda is a pretty, sleepy, rain-forest town full of markets, galleries, shops, and cafes. There are also wildlife, bird, and butterfly parks here.
This is your chance to see the huge Cairns Birdwing butterfly or the iridescent blue Ulysses.
If you'd rather not drive, you can book a tour or head up there on the Cairns Skyrail Cablecar or Kuranda Scenic Railway.
They depart near Cairns, but tours are available from Port Douglas.
There is The Venom Museum, Butterfly Sanctuary, Birdworld, and Koala Gardens to keep the children happy in Kuranda. You could also take the cable car/train combo up to Kuranda and back. See the tours above for these options.
Swimming at Mossman Gorge in an Icy Rainforest Stream (Maybe)
There are a few options for safe, crocodile-free (I'm not going to guarantee that!), stinger-free swimming in the hot season.
For tourists, Mossman Gorge was probably the best bet and certainly the most beautiful site. Park at the visitor's center and take the shuttle bus up to the rainforest boardwalk.
The last time we went there were new signs up saying no swimming. We were able to swim, but there have been accidents here in the past and a fatality recently.
There are other swimming holes in freshwater streams and waterfalls close to Port Douglas.
Millaa Milla is a particularly famous one, but it's a fair drive. There is a public swimming pool in Mossman and in Cairns.
In Port Douglas book a hotel with a pool, there are some really impressive ones.
Hot Air Balloon Rides From Port Douglas
Want to make your trip to Port Douglas even more unforgettable? Maybe you want to surprise a partner, or even propose?
Now you can take a dawn hot air balloon ride.
The balloons aren't in Port Douglas but they're nearby and the operators can pick you up from your Port Douglas accommodation.
This one is an early start, and a great way to see the wildlife of the Atherton Tablelands. Find out more here.
Port Douglas Carnivale and Shows
Port Douglas has its own annual Carnivale in May each year. It was cancelled during lockdown but it was back for May 2021.
Port Douglas hosts various food and dining events and rounds off the festivities with a good old-fashioned street parade.
The kids will love it, I hope. My favourite part was the Seafood Festival usually held on the Marina. Food, music, drinks, and fun in an amazing open-air setting.
May is possibly one of the best times to visit Port Douglas, things should be cooling down nicely, Stinger Season will be in its final throws and the big crowds are yet to arrive.
The Mossman Show is held in July and has its own local public holiday, as does the Cairns show. Both a worth a look if you happen to be visiting Port Douglas in winter.
The Open-Air Cinema Has Now Left Port
Port Douglas had its own open-air cinema during the dry season. You could catch a movie under the stars. Unfortunately, this is not currently happening. I'll let you know if Moonlight Cinema returns.
Port Douglas Helicopter Rides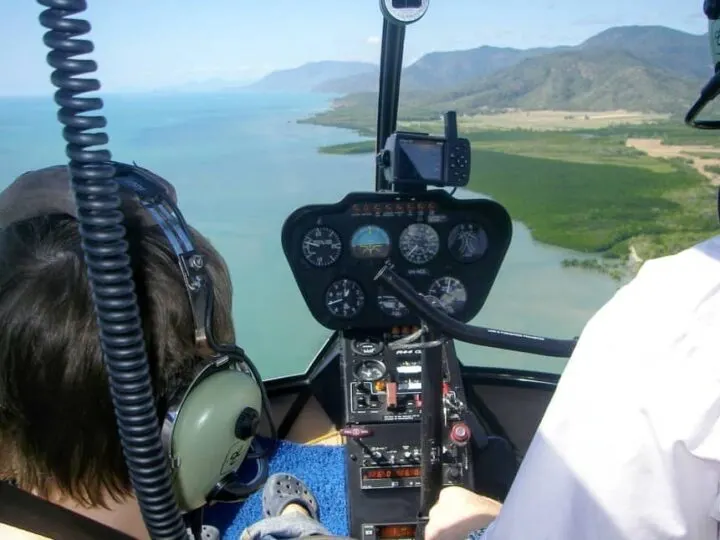 I'll give you a hint. The annual father's day picnic was for us the cheapest time to take a brief, but spectacular, helicopter ride over Port. That's my son sitting up-front there.
All year round, weather allowing, helicopters are available for rides over the reef and Coral Sea islands, the views are to die for.
There are a couple of options in the tours section above, prices start around $300 US but can vary. This is a once in a lifetime thing to do and it's well worth it. If you have the cash, just do it! Book a scenic helicopter flight here.
Running, Triathlon, Sporting Events in Port Douglas
We've just heard, yesterday, that the Port Douglas ultramarathon event has been cancelled. We're trying to get official confirmation on this as my husband was a competitor.
We're greatly disappointed and at the very least, hope we can get a refund.
Port Douglas and Cairns hosts loads of trail running, marathon, and other sporting events. We'll add details when we know more.
Port Douglas has its own football team and football pitch. You may be able to catch The Crocs.
We've also attended cricket matches here in the past with some celebrity cricket names. My dad loved that.
Help Our Environment with a Beach Clean Up
We always enjoyed volunteering with Tangaroa Blue beach clean ups.
It's a fun family day or half day, you'll meet some interesting local people and discover beaches, or even islands, off the normal tourist track while doing your bit to help our marine environment.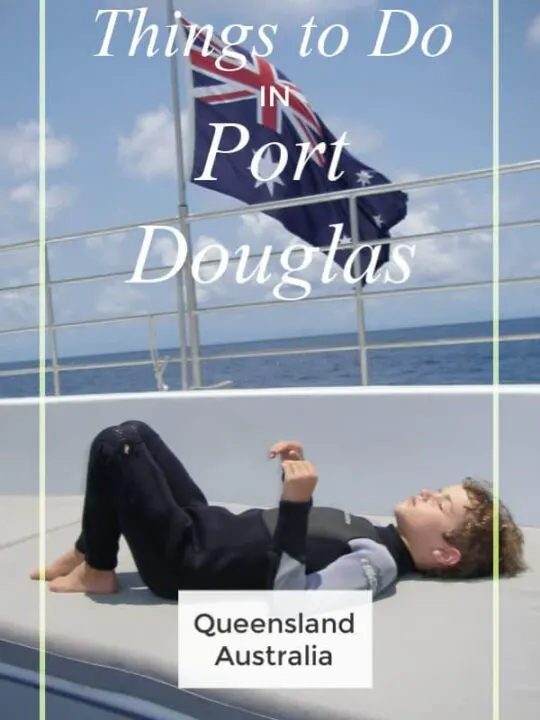 So there's plenty to keep you busy in and around Port Douglas, for singles, couples, kids, families, there's plenty for everyone.
How long are you staying in our old home town? What are you most looking forward to doing? Tell us in the comments below.
Want more destinations and tips in and around Australia? You need our Australia Travel Blog.
Port Douglas Hidden Gems
If you're spending more than a few days in Port Douglas, and you've already covered the main Port Douglas things to do. Or at least, those that you want to do, check out some of the following hidden gems around town.
Check out the history of Port Douglas. From the Old Courthouse, to the Central Hotel, to the Port Douglas Cemetary, there are a lot of interesting snippets to discover. See the photos of old Port Douglas scattered around town, find out about this town's interesting origins.
Walk the Bump Track. This is great for views, exercise, and for history buffs. Again, there are informational signs along this route.
Check out some of our less-visited swimming holes and waterfalls, especially Spring Creek, Hartley's Creek Falls, and the Mowbray Valley.
Walk the Flagstaff Hill walking track, if you didn't already.
How To Organise Your Port Douglas Trip
You can easily check out which Port Douglas tours and activities are available for your dates here.
This site has always been very reliable for us and we've used them all over the world. Food tours, boat trips, helicopters, fishing, all sorts of day trips from Port Douglas can be booked easily, in advance.
You can also easily compare prices and deals on all hotels and accommodation in Port Douglas here. Our special links should make your trip easier to organise!
What To Pack For Port Douglas
I'm not going to give you a full packing list, just a few reminders.
You'll want hot weather clothing and, in winter, maybe a light jacket for the evenings. But you probably won't need it.
For visiting Port Douglas and most of the activities and things to do above, don't forget the following:
More Holiday Information for Port Douglas and Nearby!
The Port Douglas and Cairns region of Far North Queensland is incredibly popular as a holiday destination.
This beautiful part of the world is good for families with older and young kids, seniors, romantic breaks, and, of course, for weddings.
Our video selection below covers more of the attractions in Port Douglas, out on the Great Barrier Reef (including shark diving) and in nearby Cairns. If you have time, get up to the Tablelands too!
Head to our Port Douglas and Cairns archives for all this information.
Port Douglas Closures and Openings
There were closures in Port Douglas in recent years, but today most businesses are back to normal other than a few permanent closures.
Thanks for visiting World Travel Family travel blog, you'll find more posts about Port Douglas, things to do in Cairns, and places to visit in Queensland, in our related posts, below, or use our search function, top of the page. If you need any further information, just leave a comment.
If you'd like to hire a car during your stay, use this car rental comparison tool to find the best deal!

We also suggest you take a look at this company to get a quote for all kinds of the more tricky adventure or extended travel insurance.

Try Stayz / VRBO for an alternative way to find rentals on homes/apartments/condos in any country!