This post may contain affiliate links.
Sungod sunglasses have 4 styles of sunglasses for all occasions and we've tried them all for sports and travel. This post is a review of SunGod Classics or New Classics as the design has been recently updated. We compare the SunGod New Classics to other SunGod styles and tell you how they perform in use. Good eye protection is absolutely one of our top Travel Essentials and always will be.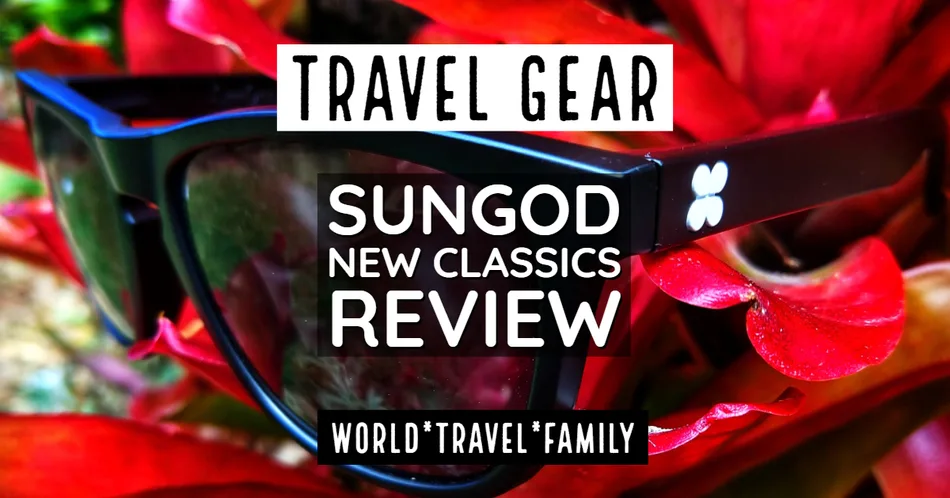 SunGod also have 2 types of winter sports goggles which we haven't tested as yet. Between the SunGod Renegades, Sierras, Pacebreakers, and Classics you'll find a pair for running, trekking, travel, or just going out for a sunny Sunday lunch you'll find a pair that suit the occasion.
Our review of the New SunGod Classics is very favourable indeed. We've tried and tested both the Old and New SunGod Classics so it was easy to draw fair comparison.
This post contains affiliate links, they cost you nothing but they allow us to earn commission on sales. We are not paid to place links or favour particular brands.
SunGod Classics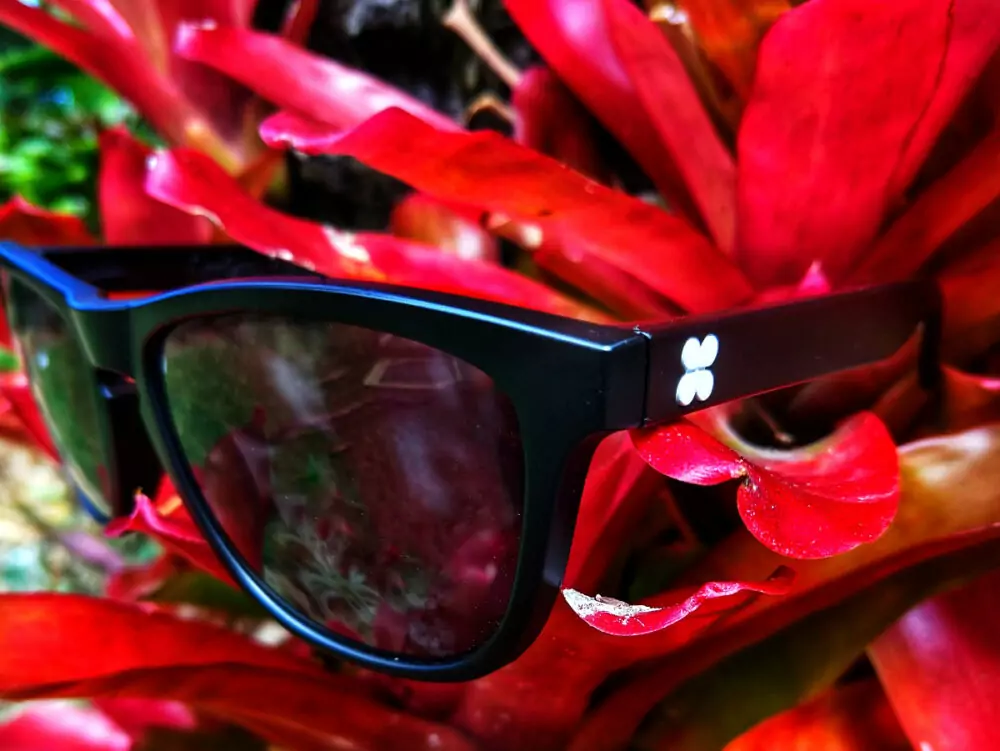 Classics are perfect for everyday wear. They're lightweight yet sit firmly on your face without any pressure points.
Whether you're attending a formal occasion, running, cycling or just heading out with friends SunGod Classics can be designed and customised to match your mood and even your outfit.
SunGod Classics For Running and Sports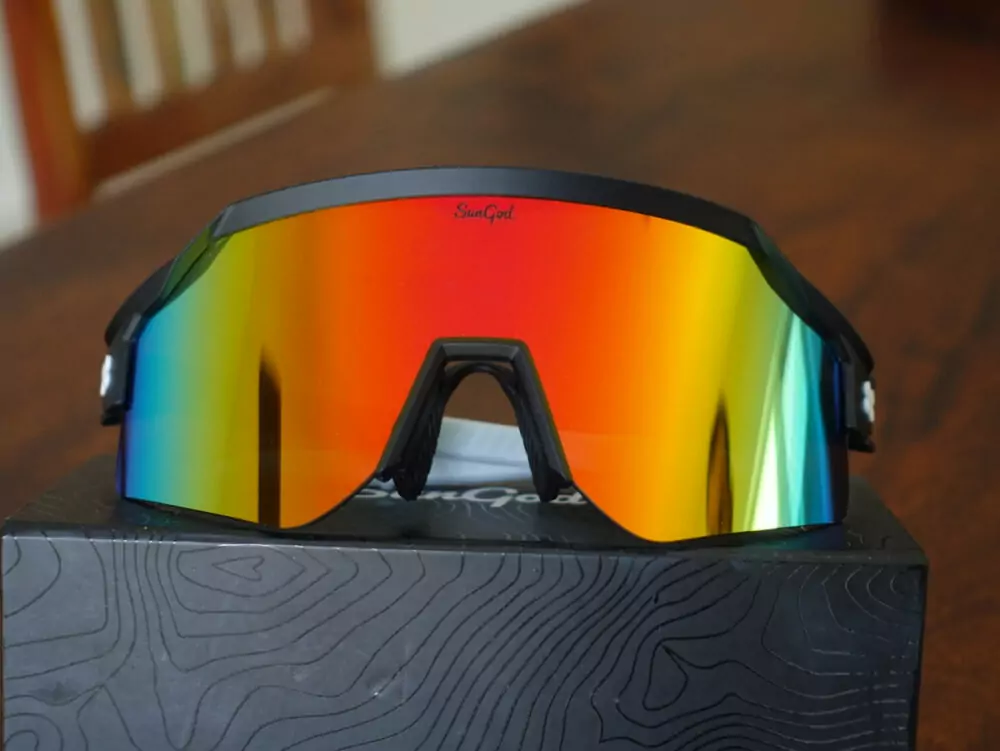 While the Pacebreakers are the SunGods of choice if you're highly sports orientated, the Classics will do the job on that 5 km or 10 km park runs without any trouble at all.
I wore mine this morning on my 12 km run and didn't even notice them, my wife wore the same pair on a 10 km run, again, no issues.
My son (tween / young teens) has had a pair of Old SunGod Classics for a while and we've used these for trekking in Borneo and the Himalayas and on scuba and snorkel trips on the Great Barrier Reef. The Classics have been good for purpose each time.
New Classics Improved Design Review
Classics like all SunGod glasses come with a lifetime warranty. That hasn't stopped them from improving their glasses and the Classics now have a much stronger hinge design.
Screwless pop lock hinges make these glasses even tougher and I'd say better fitting than before.
By removing the screw there is even less that can break and or go wrong. We find the New Classics a firmer fit with less give at the hinge, but they're not tight and are light to wear.
Sunglasses With a Lifetime Guarantee
All Sungod glasses come with a lifetime replacement warranty. We've been using them for 2 or 3 years now and did once have an accident when my wife trod on her Pacebreakers. Replacement parts were on their way to us in Vietnam even.
This guarantee brings real peace of mind if things go wrong, anywhere. No fuss and courier delivered within the week.
Customise Your Own Sunglasses
Unlike a lot of top brand sunglasses you can customise Classics to suit any fashion requirements. Frames, lenses, arms and trims can be ordered in a huge choice of colours.
The ability to custom change the logo colour on the arm is part of the New Classics features. There is currently a choice of 8 colours for frames, 8 colours for the lens in both plain and polarised and 8 colours for the decals on the frame. Lenses also have a variety of VLT (visible light transmission) which will further allow you to design a pair that suits your needs.
Not many other glasses offer that level of customisation, that I know of.
These glasses are perfect if you want something a little off mainstream or have an outfit that they just have to match. It is worth noting that all of SunGod sunglasses are customised so if, like me you're a triathlete, you can build the perfect pair of Pacebreakers to complement your race day outfit and bike.
Go here, check out the colours and style a pair to suit your outfit.
Great Price and Worldwide Express Delivery as Standard
Sungod sunglasses won't cost you the Earth. In fact, they can be up to half the price of some of the big-name brands that don't even come with a lifetime warranty. The top of the range Classics with full polarised lenses are set at a great price point.
Sungods deliver to practically anywhere in the world via the DHL courier company. Meaning that delivery is fast, efficient and traceable. All glasses are constructed and shipped from the UK so if you live in the UK and order early enough you can often get next day delivery.
Canada and Australia for example are 2 and 3 days respectively. We've tested delivery at both of these destinations and they are accurate.
Hard Wearing Sunglasses
We've used all 4 versions of Sungods now for a number of years and the one thing that really sticks out is how hard-wearing they are. I've used them for Ironman races, marathons and all the associated training that entails.
My kids have worn SunGods to Everest Base Camp, my wife wears them every day, our glasses are still going strong.
Years later my first pair of Pacebreakers still fit snuggly on my head even when I'm running my fastest off-road.
The Lenses are triple-layered and scratch-resistant which definitely works well, our glasses take quite a hammering.
Interchangeable Lenses
This is something I've not seen before but is extremely beneficial depending on where you live. If you're using your glasses for everyday use, racing and commuting on your bike you'll often find that the weather won't be consistent across the board.
This is where another set of lenses is ideal. Classics while being a full lens covered frame still allow you to change the lenses.
You can have a dark polarised one for sunny days and a non-polarised lighter pair for your daily commute. This saves buying multiple pairs of glasses and carrying them everywhere. Or you could just buy 4 pairs in seasonal colours.
SunGod New Classics For Kids
My kids have been wearing adult sized SunGod Sunglasses since about 11 years old. The kids have used SunGod New Classics at 12-15 years of age and the fit is fine. These sunglasses suit every member of our family.
VISIT THE SUNGOD WEBSITE HERE AND START DESIGNING YOUR CUSTOM SHADES
So to conclude, we love our SunGods. If we didn't, we wouldn't use them. We're very serious about sport and travel and spend more time than most in the harsh UV on the Great Barrier Reef, boating and taking part in water sports.
The SunGod New Classics have done the job admirably, as have all our other pairs of SunGod glasses. We are not paid to review favourably, we only post our genuine opinions. We review SunGod PaceBreakers, Renegades and Sierras here.
If you'd like to hire a car during your stay, use this car rental comparison tool to find the best deal!

We also suggest you take a look at this company to get a quote for all kinds of the more tricky adventure or extended travel insurance.

Try Stayz / VRBO for an alternative way to find rentals on homes/apartments/condos in any country!