This post may contain affiliate links.
4 years on the road and 50+ countries under our belts, we know how important it is to simplify your packing. If you have an easy packing system in place and know what you're going to pack along with where and how you're going to pack it, all of that packing anxiety just floats away and you never forget to pack the travel essentials you need. We travel with backpacks and travel packs, my husband prefers the former, I go with the latter, but everything here applies equally to suitcase packing, even to simple carry-on only packing.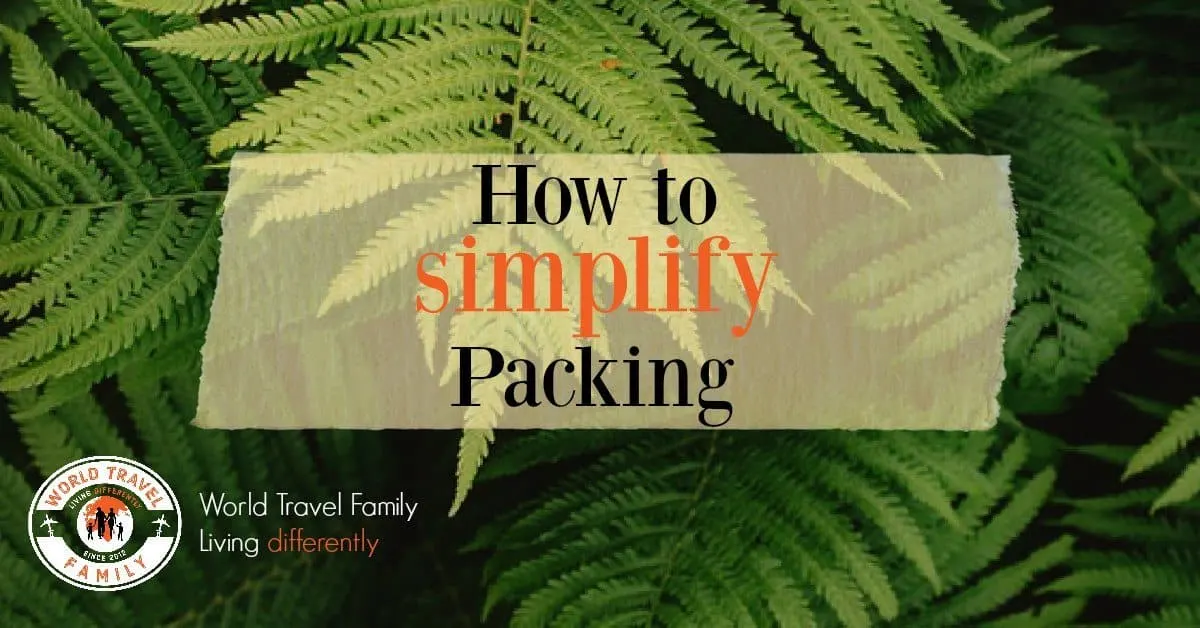 How to Make Packing Simple
Simple packing all comes down to organisation. You won't get flustered if you have an easy packing plan and a few great travel products to get your belongings to your destination simply and easily.
Roll Don't Fold
Rolling your clothes packs them tighter and smaller and decreases wrinkles. You can roll most T shirts and jersey tops, these garments being the best for travel as they don't require ironing or hanging.
TIP: If a lot of your clothes are the same colour, say black, roll them with a distinguishing feature facing outwards, a label or T shirt design maybe.
Toothbrushes
It's a nice idea to keep toothbrushes separate from your main wash bag. That way you can slip them into your carry on for long flights or train journeys or pull them out easily if you arrive late and just want to brush your teeth and collapse into bed. We find a small water-resistant pouch is best for this.
The pouch we use came with a set. We have great uses for all of these types of pouches and organisers in our family and use them in conjunction with our E Bags packing cubes
The E Bags brand packing cubes that we use are tough, durable, multi-use, and washable. They also come in a variety of colours for different members of the family.
TIP: Airlines class toothpaste as a liquid. Even if your paste is under 100ml, it often needs to be in a clear, plastic bag for inspection. Buy airline friendly toothpaste here. Shop for travel organisers, pouches, and cubes here.
Underwear
Underwear is best kept together in a medium-size packing cube or pouch. (use the link above to shop) No rummaging about to find your socks, you'll always be able to find, for instance, the turquoise packing cube in your bag.
TIP: Men's underwear is far more bulky than women's and is more difficult to hand wash and dry. If you can convince your men and boys to switch to briefs, it saves a lot of packing space. A lightweight alternative is travel underwear.
Light Tops and T Shirts
Roll them and store them all in one medium-sized packing cube. Super easy to find and to pack.
TIP: It's all about layers with tops and t-shirts. From vests to singlets to long sleeved jersey, combining them will see you through every climate.
Medical Kit
You will want to carry at least some of your medical kit with you every day while you are exploring. Pack all of your larger medicines, pills and potions in one larger bag, while keeping a smaller pack of medical essentials in your day pack or handbag. Include such items as your prescription medication, paracetamol, antiseptic or iodine, travel sickness or antihistamine pills and plasters/band-aids. You can see which essentials we carry in our medical bag, here.
TIP: A travel sized electronic ear thermometer is a great investment with kids as are the new contactless thermometers
Other Toiletries
We are in a fortunate position in that our travel wash bags stay permanently packed, we never unpack them so it's easy to zip them up and go. Maybe you could get ultra organised like this if you're a frequent traveller, keep a travel wash kit on standby.
A wash bag that is fairly water-resistant to contain spills and is as flat and lightweight as possible is best. Many of the hanging "travel" washbags on the market are too bulky, we've tried them and binned them. This new bag from E Bags is GENIUS! For extra peace of mind pack liquids in zip lock bags inside your wash bag. There is a video demo of this product on Amazon if you click through to take a closer look.
Buy the eBags Pack-it-Flat Toiletry Kit/ Washbag
TIP: Solid shampoo bars are superb, spill-proof and easy to get onto planes! I personally use Lush hampoo bars all the time for its amazing smell and the great things it does for my hair.
Shoes
We normally just take trekking or hiking shoes along with waterproof sandals or simple rubber flip flops. The packing pouches sets at the top of the page sometimes have a shoe bag included. I make shoe bags out of old T shirts, that a simple, thrifty, eco-friendly sewing project!
If your shoes needs are greater or your footwear more precious, one of these double-layer shoe bags would be perfect. These would be great for cruise packing.
TIP: If you need to pack formal shoes, stuff them with socks or other small items to hold their shape.
Pants/ Trousers
There is no need to keep your pants or trousers in packing cubes, just roll them and use them to fill out ends and corners of your case or pack.
I pack one pair of jeans for versatility, one pair of running tights or leggings, then at least one other pair of pants, preferably 2. I often end up packing 2 pairs of jeans, 2 pairs of tights or leggings.This allows me to travel in Every climate. I've even trekked in Nepal with jeans and leggings in my EBC packing list! Jeans are hard to wash and dry, sure, but we've found that they will dry overnight in a room with good aircon so long as you hang them up. Tights are much easier to hand wash and dry. Jeans are tough, so we don't worry about submitting them to public laundry services.
TIP: Don't pack trousers that need ironing! I swear by jeans and leggings for every climate. I like Sweaty Betty or Lorna Jane for sports leggings.
Travel Gear / Equipment
Soft items like your travel towel, just roll and use to fill out spaces. Items like mosquito nets and sheet sleeping bags are also soft and easy to pack, usually coming with their own stuff sack. If you need things like trekking poles, you have a whole new bunch of problems!
If you're concerned about weight allowances for your carry-on bag, it's easy to slip heavy items like drones and chargers into a pocket. Nobody has ever weighed a jacket that we've been wearing or carrying.
The light, packable rain jacket we carry for this purpose, is by Berghaus. It's red and you'll see my son wearing it up a volcano in Bali. The pockets have zips, perfect for carrying heavy items onto planes. It's also a great travel jacket by a top-quality brand. Berghaus are actually one of our favourite brands for outdoor gear, fleeces, and backpacks. Visit the Berghaus website here. You can also find Berghaus on Amazon.
Resource: Gear for Trekking and Nepal
TIP: You generally don't need what the marketers try to sell you. Check out our travel gear post here.
Documents/ Passports / Money
Really there are two ways to go here, you could go with a travel wallet for documents, credit cards, passports and cash or with a more general organiser like the one below. If you go for a travel wallet, find one to suit the size of your family and that allows multiple passports like the one below. RFID security is built in for extra peace of mind.
Travel Document Organizer, Passport Holder, Clutch Wallet with RFID Blocking (Blue)
TIP: Built in RFID security gives extra peace of mind. Look at a family passport wallet, with pen, here.
Electrical Items, Leads and Chargers
These are another of my favourite things. I own a Bubm travel organiser and I rarely leave the house without it. It houses my Kindle, phone, an assortment of leads and charges, precious USB sticks, nail files, pens, tissues and all the other things your average busy mum carries. You can pop it in your carry on luggage, store it in your seat back in flight and transfer it to a regular sizer purse or handbag. Everything stays safe, organised and free from sand and chocolate crumbs.
You can (hopefully!) see my Bubm electronics organiser at the link below.
If you have even more electronic gear to carry (as my kids do) a roomier electronics organiser fits the bill and will fit your i-pad.
TIP: Just buy one! Look at travel organisers for electronics here.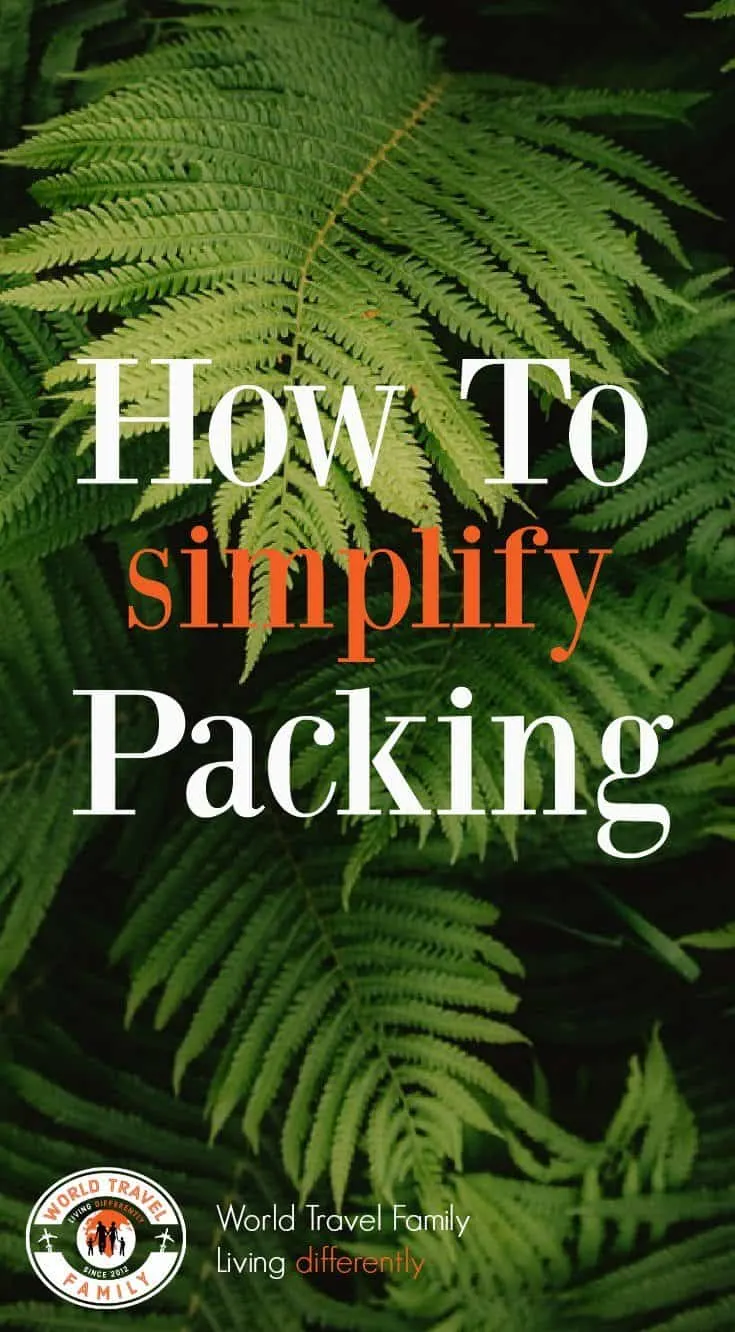 I hope the tips and travel products above help keep your packing and travel simple, I know I love being organised, it's key to travelling smarter, safer and swifter.
Over to you, any amazing easy packing tips to share?
If you'd like to hire a car during your stay, use this car rental comparison tool to find the best deal!

We also suggest you take a look at this company to get a quote for all kinds of the more tricky adventure or extended travel insurance.

Try Stayz / VRBO for an alternative way to find rentals on homes/apartments/condos in any country!