We have a whole section on this website dedicated to travel products, travel gear, and accessories, listing the best individual items for general product types. Here we present a simple list of the best travel products for easier travels. These travel products will ease you through airports, make packing easier, and allow you to travel like a pro. Take a look, many of these items are my personal travel essentials, without which I never leave home.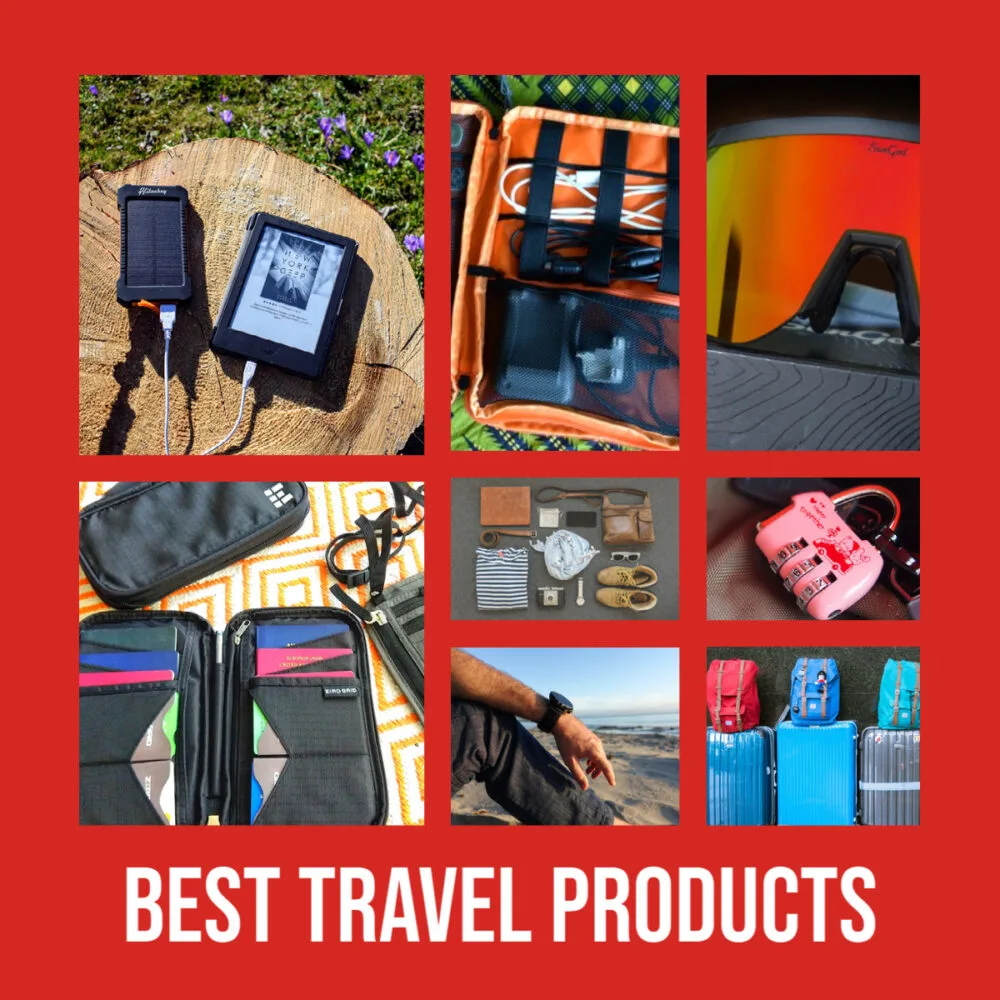 Travel Products
Our list of best travel products isn't in order, and obviously, some items will apply more to you than others because we all travel differently. We've tried to list general travel products here, to make typical travels easier, better, smoother, and lighter. These are ideal core travel products and would make great gifts this Christmas (2021) for your travel-lover friend.
1. A Power Bank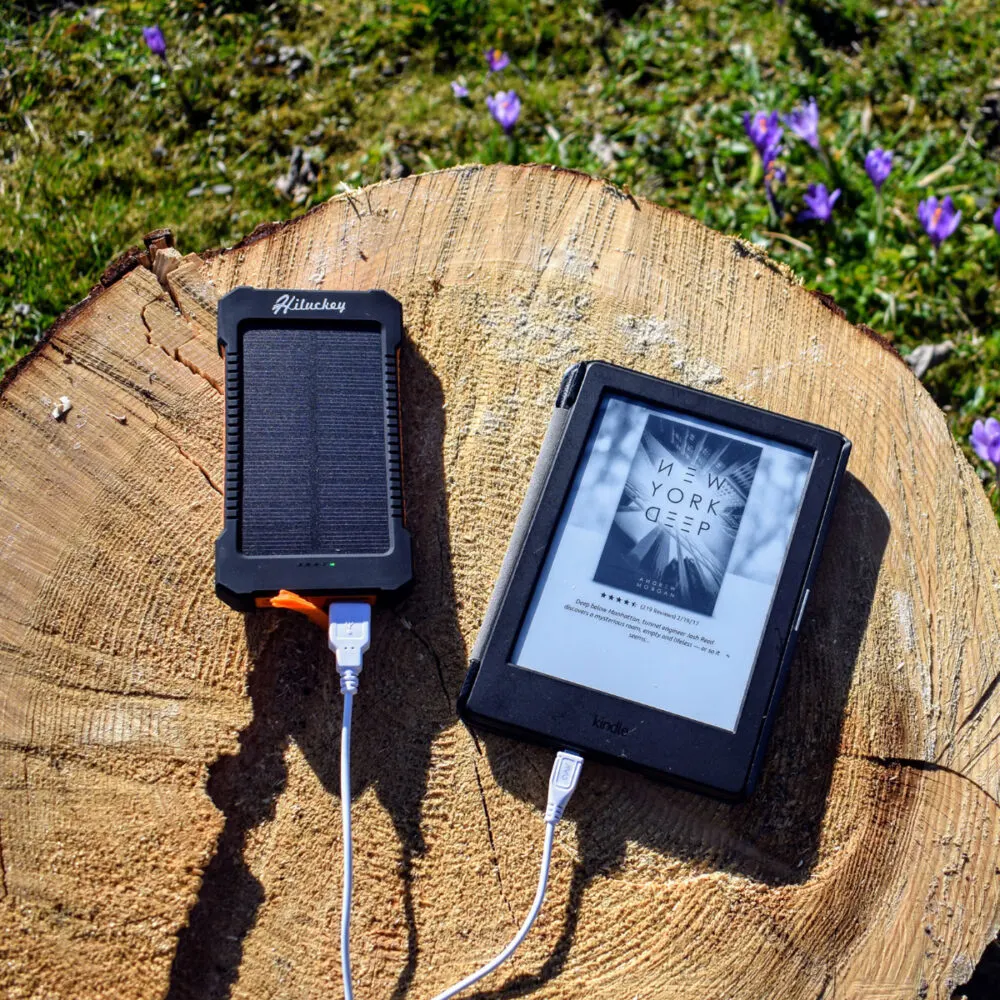 I barely leave the house without a backup power supply and there's no way I'd get on a bus, plane, or start a road trip without at least one power bank.
These aren't just travel products, they're lifestyle products and you need at least one.
For a family consider a minimum of two. We have a full post on the best power banks for travel and over the years we've tried several, including solar versions which are great for trekking, camping, and any location where power supply may be interrupted.
The model we like best is the Anker Power Core 10000 because it's slim, compact, and high-powered.
A new development in the world of portable chargers, these are genius. You can plug these little power packs directly into your phone so that taking photos or following your map as you walk becomes so much easier.
No trailing wire or juggling the charger with a spare hand while taking photos. I've been unable to order one, they're not in stock for my country, but you may be more lucky. I really see the need for this, from experience.
2. A Water Bottle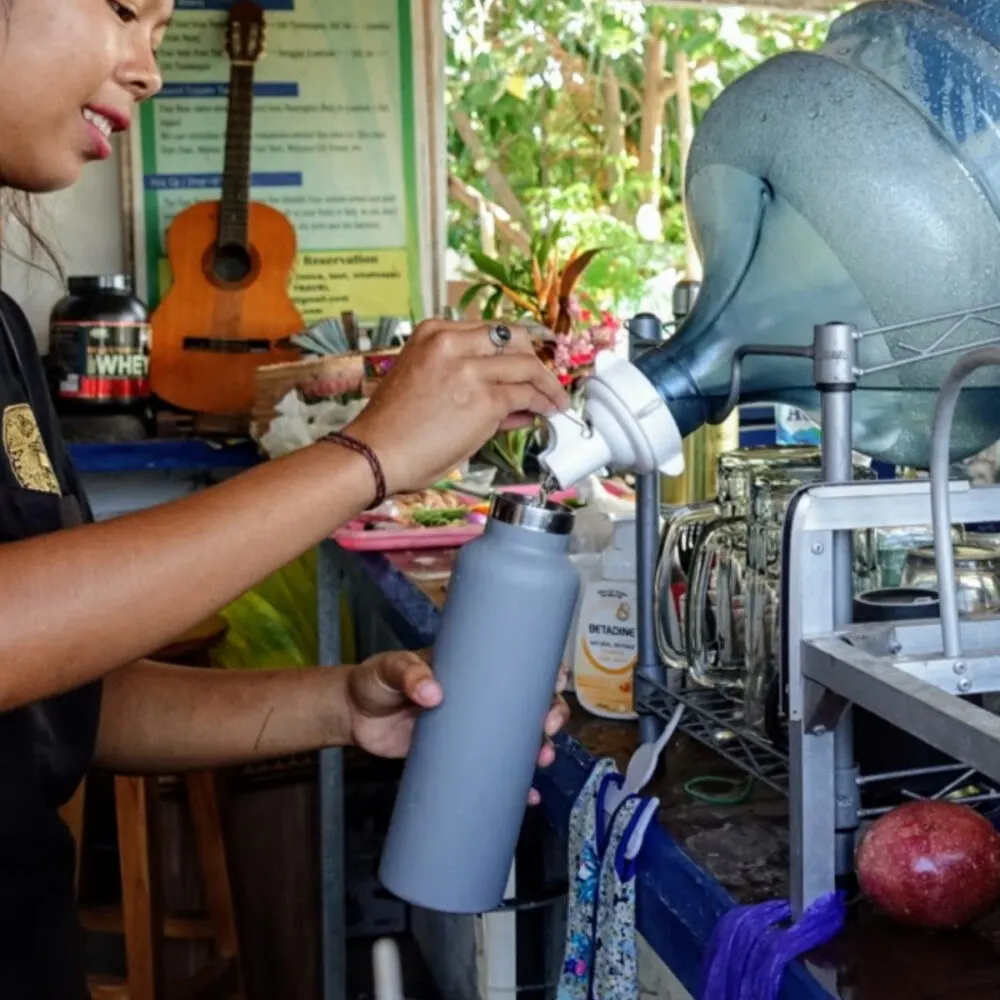 Everyone is doing their best to help the planet these days and carrying your own water bottle cuts plastic usage remarkably.
Having a travel water bottle in your carry-on is also the best way to get water onto the plane, most departure lounges seem to have water fountains these days.
We prefer stainless steel. We've found that hard plastic tends to break. We don't buy a bottle if its not marked BPA free.
However, we've read there are other toxins even in BPA free plastic. We stick to stainless-steel or coated and insulated stainless steel.
Keep your bottle fairly compact and double-walled insulation is great. Fancy mouthpieces make cleaning more difficult on the road. Try these triple insulated bottles for hot or cold drinks.
3. A Mask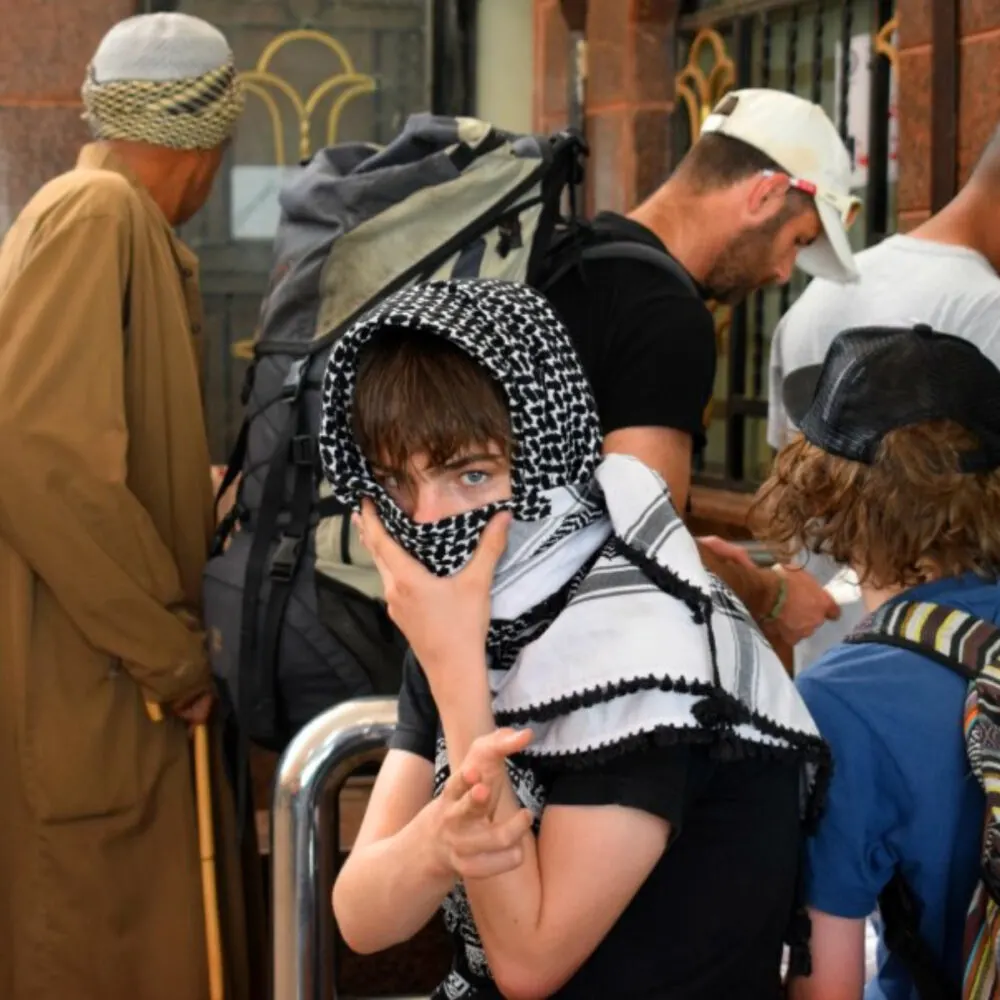 Even before mask-wearing became compulsory in many parts of the world we'd often wear masks for travel and in certain destinations.
Take your cue from the locals, do as they do.
Masks cut dust and pollution, keep off the sun, and help stop the spread of disease.
Invest in a good one for travel. Try this version, make sure your mask is comfortable as well as safe.
4. Solid Shampoo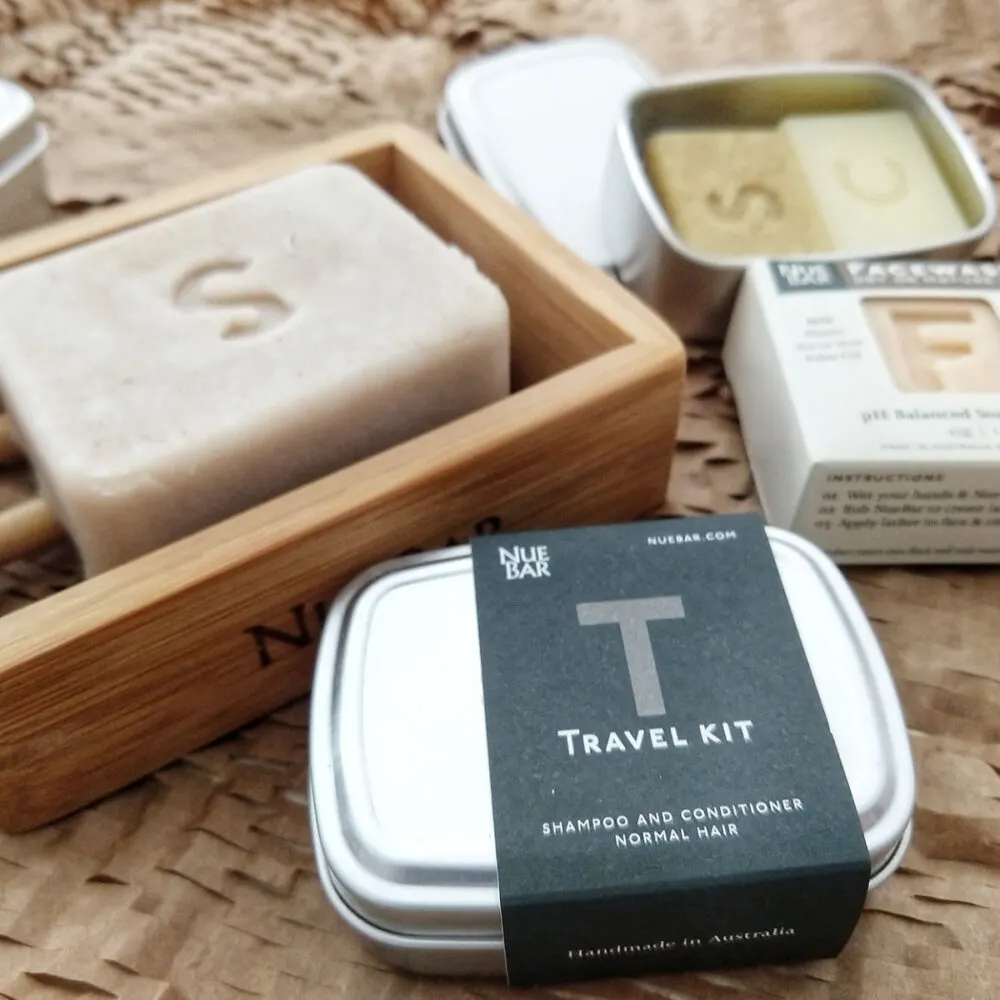 Solid shampoo is a game changer! Some flights don't allow liquids in your carry on and we fly carry-on only often.
Solid shampoo, particularly a shampoo bar in its own case, as this one is, is the perfect travel product. We also use ours as a body wash or for handwashing clothes if we need to.
Be sure to let it dry out completely before packing it to make your solid shampoo bar last longer.
You can find many other solid toiletries, including conditioners, deodorant, moisturisers, facial wash bars, and tooth tabs.
All of them make amazing travel toiletry products for men or women.
5. A Flashlight or Torch
Your phone could be all the flashlight you need for travel.
However, if you're doing any kind of activity where you'll need your hands free or there is any risk of dropping your phone or tripping, take a head torch. I have seen phones go down the WC more than once.
Head torches are also great for reading in bed, and essential for most outdoor activities.
They're not expensive and you'll be able to find uses for them at home too.
Try this one. The third strap, over the crown of your head, makes life much easier, they can't slip if they have this feature.
6. A Passport Wallet
These aren't 100% essential if you're a solo traveller but for families or couples they're great.
If you are a solo traveller do consider protecting your passport. Spillages in your bag can destroy your passport and your travel dreams.
For families, a wallet means that at check-in you'll have all your passports ready to present.
They stay protected, secure and RFID-proof.
Ours has a pen inside which is absolute gold for those in-flight arrival forms.
For solo travellers a nice passport wallet is a good idea to protect your vital document, particularly from any liquids in your bag.
This is our family passport organiser/wallet, nice single passport protectors wallets and cases here. These passport cases would make a great affordable gift, maybe for a young traveller.
7. An Anti-Theft Day Bag
As travel products go, this is where I'd probably spend most money.
Your day bag when you travel is an important piece of kit. It needs to be comfortable to carry, above all else, and keep your cash, passport, phone, maybe your laptop, and camera, safe from pickpockets and thieves.
We generally travel with a day pack, a small, every-day backpack.
Others prefer an anti-theft travel bag or purse. A cross-body bag is better if you choose a bag with a single long strap. Your daypack will generally be your carry-on luggage too. We have a few choices below.
Anti-theft features to look out for include slash-proof bodies, straps with concealed metal cables, integrated locks and devices to secure your bag to a chair if you're dining or enjoying coffee somewhere.
These really are great for peace of mind and foil attempted thievs. Thievs usually go for the easy option, make sure it's not you.
If you have kids or teens taking off to travel or embarking on a gap year, something like this could make a great departure gift.
8. A Card Game
Get off your phone every now and then and interact with your family or other humans.
A card game is a great ice-breaker if you're looking to make friends.
We like UNO or Monopoly Deal. Card games are way, way, better than travel games. The tiny pieces in things like travel chess or travel Monopoly are just annoying.
9. Your Kindle or Other E Book
Everybody likes to read don't they?
Travel days, those days spent on buses, trains, and planes, are better passed with a good book. E-books enable you to carry a whole library in one slim device and the battery lives on these gadgets is phenomenal.
You need one each, and they're great for your kids as an alternative to beeping away on gaming devices.
The Kindle Paperwhite is always our choice, the Kindle Fire allows gaming too, that's not what we want our kids doing so we remove that option.
We're fans of gaming, it has its place. So long as there is reading too.
10. International Power Adapter
These are absolutely essential if you're travelling abroad or overseas to anywhere with a different electrical socket to your home country.
Sometimes you'll be able to buy one at your destination, but it's not always easy or quick. This one is great and covers you for most worldwide destinations.
11. Multi-Port USB Charger
This is another little device that we've learned to always carry. In our family, we have four phones, two specialised watches, three Kindles, torches, GoPro, drone, cameras, gimbal, many, many individual pieces of equipment that all need charging, usually simultaneously, in the short window of time we have in our hotel or at a coffee shop.
12. Hand Gel
A few years ago I would have said you don't need alcoholic hand gel, soap and water is better and usually available. Unfortunately, now, we're back to packing the hand gel or hand wipes.
It's just a current reality.
13. A Travel Organiser
I love these! But, these are only a good plan if you're taking hold baggage.
Any extras like this in carry-on only travel add weight and take up your precious space.
Likewise packing cubes. I actually carry mine every day, it keeps all sorts of essentials clean, safe, tangle-free, and easy to find in the bag or purse I carry daily.
If you're using one for travel it can take your passport, documents, pen, chargers, nail file, jewellery, phone, even i-Pad or Kindle if you choose a larger one.
This one is really nice. They are useful, they're not just a gimmick.
They're great on planes to just pull out of the overhead locker and just have everything for your flight handy.
14. A Travel Towel, Large Scarf, Sarong, or Wrap
You'll need some sort of large scarf, towel, sarong, or wrap for travel.
These multi-purpose items come in handy in so many ways, on the beach, for sports, for trekking or for day trips.
You can see my son using one in a photo further up the page. There were a lot of flies in that station.
Scarves or towels are good for emergency wipe-downs and keeping the sun off.
They can keep you warm, or cool you down, There are a lot of travel products in this category so I'm just going to suggest a large microfibre travel towel, along with a large Turkish cotton beach towel/wrap.
The two pretty much do the same job, the microfibre towels are usually smaller and lighter, both dry well.
A great scarf for travel must be cotton, large, and absorbent, try this classic Shemagh to look like a serious traveller.
15. The Ultimate Travel Washbag
The E-Bags Pack-It-Flat travel washbag is quite simply the best travel product, at a moderate price, that I've ever bought.
It's the best size and shape for packing, has the most useful compartments and opens out easily to hang in your destination bathroom.
I simply can't fault this travel item and I recommend them to everyone, for men and women.
Travel Products You Don't Need
You'll notice that our list doesn't include travel pillows, special travel clothes (particularly not zip-off trousers), sunscreen and mosquito repellents.
Either we don't find these things useful, in the case of clothes and pillows, or we prefer to buy these things at our destination (sunscreen/repellents).
We keep it honest here at World Travel Family, we only tell you the things that are genuinely useful, not the things the marketers want you to buy.
We're in favour of make, re-use, re-cycle, so, for instance, yes you need a shoe bag, make one from an old T-shirt.
There are many travel products that others will tell you to buy simply because they want to earn a commission. That's not us. We just want you to have a good travel experience and not waste your money on those travel products you don't need. Also notice we don't list travel washing lines. We travelled with one for months before jettisoning it. Likewise, rubber sink plugs for travel, we've never needed one ever. Have a safe and enjoyable trip and tell me in the comments if you've found any great products to try.
If you'd like to hire a car during your stay, use this car rental comparison tool to find the best deal!

We also suggest you take a look at this company to get a quote for all kinds of travel insurance.

Try Stayz / VRBO for an alternative way to find rentals on homes/apartments/condos in any country!