This post may contain affiliate links.
What to pack for a round the world trip is largely personal choice. However, there are certain things to take into consideration that we talk about below. Some items of clothing are absolutely essential along with certain items of travel gear for an around the world trip.
We've spent at least 7 years of our lives on round the world trips and packing for them is a fine art. It's an art that we can help you with.
I wrote this post before our second RTW (Round the World Trip), I was in the planning stage of packing. Today, I'm happy to say that I got it right, eventually. See what you need, what you don't need, to pack for your RTW below.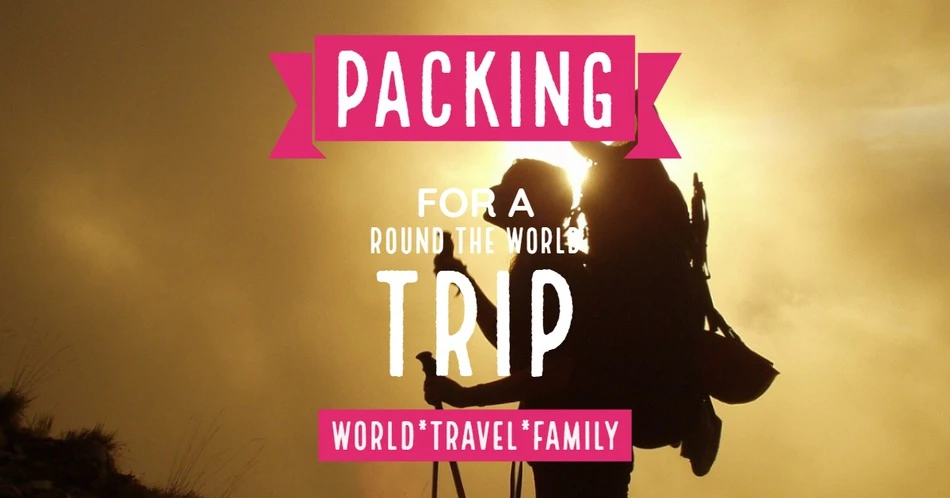 Back then I wrote :
When I say " What to pack for a round the world trip", I don't necessarily mean what you should pack for a round the world trip, this is what I pack for a round the world trip. I warn you, I'm not you! This is my second RTW, so I know it works for me."
We have a basic packing list or packing checklist for around the world travel to share with you here.
Round The World Travel Packing List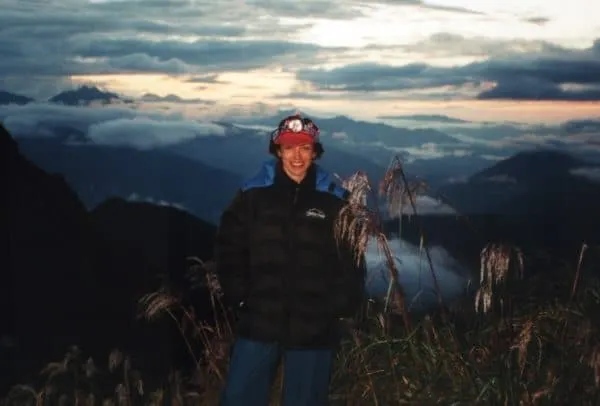 This is what I would pack for 1 person for an around the world trip in multiple climates. That trip could be a gap year or several weeks long, a round the world trip can be of any duration and basically, you need the same amount of gear for a year as you do for 2 weeks, more or less.
The rule in lightweight packing is one to wash, one to wear, one spare. This is possible but can be hard work. If you can carry it, take extra.
t shirts – vest or short sleeve, depending on preference at least 3
long sleeve top, jersey or heavy jersey
button-up shirt in cotton or linen
pants or shorts, at least 4 pairs, one can be jeans
shorts, can be swim shorts
linen or lightweight pants
leggings or running tights
trekking or yoga pants if needed
a large scarf for winter or summer
socks, at least 3 pairs. You won't wear socks very often in hot climates.
underwear at least 5 pairs, ideally a few more
bras and crop tops/ sports bras, at least 4 as these can be hard to wash and dry.
PJs or use one of your T shirts/leggings/shorts
a dress, if you enjoy wearing dresses, substitute for one of the pairs of trousers/pants/shorts.
light sweater or fleece
waterproof jacket if you will be outdoors in rainy climates, or trekking
a heavy fleece or down jacket for very cold climates (eg. Everest Base Camp, Macchu Picchu etc.)
belt, possibly an anti-theft belt.
swimwear
rash guard for sun protection
goggles or snorkel and mask if you own your own and would rather not hire these items
sunglasses
sarong or cover-up
comfortable shoes for walking or travel days, could be hiking boots or shoes, or running shoes
rubber thongs, essential for showers and tropical downpours
dress shoes if required
toothbrush
toothpaste
floss
solid shampoo bar
conditioner if needed
contact lenses or reading glasses if needed
secure strap for glasses
sunglasses / prescription / polarised
secure strap for sunglasses
contact lense solution
reef safe sunscreen
lip balm with UV protection
face wash
solid body lotion bar or butter.
zip lock bags
makeup if needed
sanitary protection
shaving soap of some sort
hand soap
razors
tweezers
nail clippers or scissors
perfume/fragrance/cologne if required
water bottle
tissues or wipes
travel adapter plug
camera
gopro
tripod or mini tripod
gimbal
tiny microphone
cables and chargers
phone
drone
underwater camera
kindle
sleep mask/ear plugs if needed
kindle
large travel towel
packing cubes
a small torch or head torch
security items such as a door wedge or anti-theft bag
wash bag/make-up bag (this one is superb)
dirty laundry bag or plastic bag
wet bag or plastic bag
shoe bags (these are quick and easy to sew from old T shirts)
backup battery packs/power banks
passport
visas
driver's license
other essential documents
hat for sun and for cold, must have a brim of some sort
bank cards
reusable shopping bag or beach bag or daypack
masks
a pen. This passport wallet holds a pen, very handy!
All of the above should fit into your travel bag. This could be a large backpack, travel pack, or suitcase and will be airline hold baggage. You will also have a carry-on bag, we strongly suggest that this is your day pack. Your day pack should safely contain your laptop inside a laptop pocket.
If you plan to travel carry-on only, it's possible. You can fit most of the above in a carry-on bag so long as you wear a lot of your larger wardrobe items on the plane, cut back on toiletries and cosmetics, don't take any sharp items, and stash electronics in your jacket pockets.
Be sure to weigh your bag and look into carry on size and weight requirements. These do vary between airlines. In particular, check Air Asia's requirements as we've found this to be one of the smallest lightest out there.
If you're taking an around the world trip with kids or babies, think about the following items:
nappies/diapers
nappy creams
swim diapers
wipes
formula
baby food
stroller
travel cot
kids medications
sun/stinger protective suit
hats
child-safe sunscreen
special comforters
travel pillow or kneck support
car seat or booster
familiar snacks or foods
plastic cup or bottle
own cuttlery if needed
PJs
beach toys/ shade/towels
travel toys and games
school books/workbooks
pens and paper
I'm not going into much detail with specialised travel gear for particular activitieshere, head torches, first aid kits, travel drones, laptops, scuba gear or trekking equipment. There is more on those in our travel gear section. This blog post is mostly about what clothes and fabric items to pack for around the world travel.
What to Pack for a RTW
If you're planning what to pack for a RTW you may want to bookmark this to Pinterest? You can use the image below and the red button.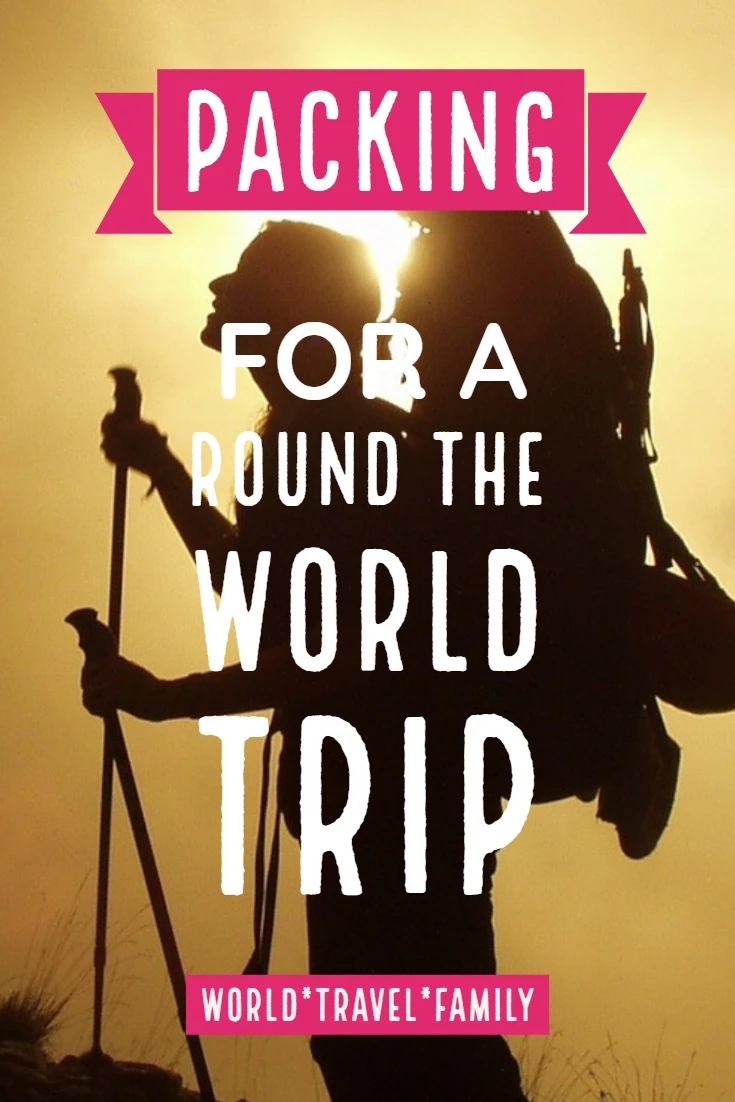 The following represents my personal thinking and experiences of packing for around the world travel.
Pack Skirts, Pants, Dresses or Shorts
I pack jeans and leggings/running tights for travel, always.
I used to live in the tropics, just 16 degrees south of the equator in Port Douglas, Australia. It's very hot, and humid. I wear jeans, near enough every day. I don't subscribe to the idea that we all need to wear shorts as soon as the sun pokes its head out and I like to keep the sun off as much of my skin as possible.
My extensive research has found it to be cooler and less sweaty. Look at people who live in hot countries, how about the Middle East? Covered from top to toe to keep the sun off.
My skin is already monumentally damaged from childhood, I'm covered in solar keratoses from having a suntan and I don't want to make it even worse. It's not just that, I can't bear wearing skirts and dresses in the heat, sweaty legs, are uncomfortable.
Plenty of people do wear skirts and shorts, in fact, most people do, feel free to tell me about it, but I can never wear skirts or dresses in tropical heat. Please think about cultural appropriateness. These garments also aren't very practical or modest for travel.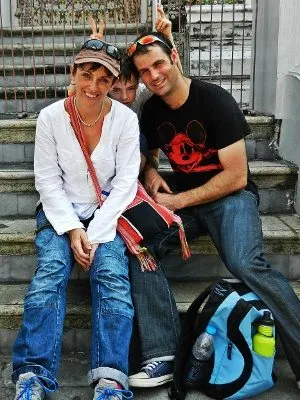 I Don't Pack Expensive Travel Clothes
I don't like commercial travel clothes, either. I think they are over-priced and unnecessary, the equivalent of buying a super big 3D TV when you could make do with a normal one. I'm trying to make my life as minimalist as possible. Aren't you?
I've owned zip-off trousers, the zips dug in, I've owned a purpose-built, expensive, "fishing shirt" full of flaps to allow air to circulate and SPF 1 million. It was the sweatiest garment ever, synthetic fabrics just aren't comfortable in the heat.
I prefer to stick to natural fibres, they breathe, wick sweat and can be boil washed to kill skin infections. Maybe they work in temperate summers, but I find them unbearable in the tropics and they aren't warm in the cold.
The only synthetic items I use often are fleeces and running tights. Running tights and most sports wear are good for travel activity like trekking.
UPDATE: A few months in, we were very glad we only packed natural fabrics for another reason…Mozzies! DEET containing mosquito repellents destroy synthetic fabrics but we can spray them all over our cotton and linen gear with no problems. Mosquitos DO bite through clothes, the DEET helps but we still get bitten. See our tips for avoiding mozzies here.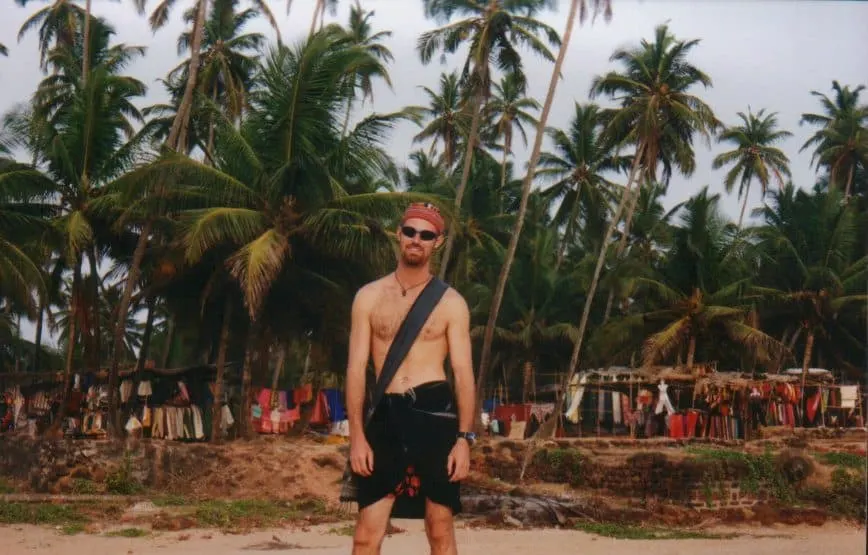 I Try Not to Pack Whites
I love to wear white. When I moved to Australia I stocked up on white shirts to throw on over a vest T shirt to keep the sun off. They were wrecked within weeks, the sunblock on your neck and wrists combines with tropical grime to make an orangey stain that never washes out, ever, even with bleach.
White has had to go. White jeans, are still possible, I love white jeans, or trousers. They actually don't get as dirty as you think and most dirt washes out.
But packing white for an RTW – no. Making up a full white wash to go to the laundry is too hard and there's no guarantees the laundry will keep your whites separate.
I Don't Do Buying New Stuff for a Trip
Who am I trying to impress? A bunch of people I've never met before? They won't know that I've worn that shirt every other day for a month.
Sure, If you live in the Arctic Circle and you're going to the tropics you may need a few things, but generally, we've all got clothes in our wardrobes to cover just about any eventuality.
I take the stuff I've got already and if it wears out, I'll buy new on the road.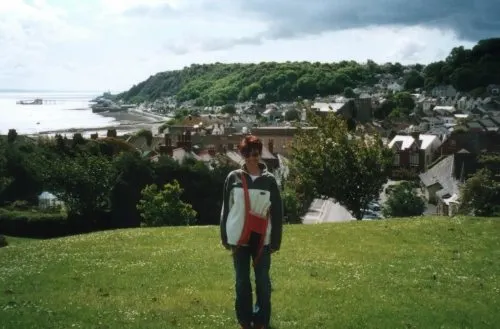 What Do I Mean by a Round the World Trip?
A round the world trip is extended travel, usually longer than a month, in multiple climates. The length of the trip really doesn't affect how much you need to take, but climactic variations do, a little.
Multiclimate packing isn't so hard, you need socks and jocks everywhere, as they say. Same goes for jeans!
We probably won't go RTW this time, air fares to the Americas will be too expensive (update: we did! see USA, Canada, Guatemala and El Salvador categories), but we'll be doing lots of tropical and a bit of cold and snow, we hope to take on some high Himalayan trekking (we did, click through to our Everest Base Camp Difficulties post), as much as the kids will allow. Specialist trekking gear is of dubious necessity. See our post on trekking gear for Nepal – what we needed, what we didn't.
We won't be doing much of Europe, maybe just the UK. If we do, we may need to be a little better turned out, we'll buy stuff there. I'll need new jeans by then, clothes in Britain are cheaper than in Australia and there is far more choice. And shoes, how I miss shoes! But it's not worth putting them in my backpack. I borrowed shoes from a friend in the UK last time, that saved me $100 plus.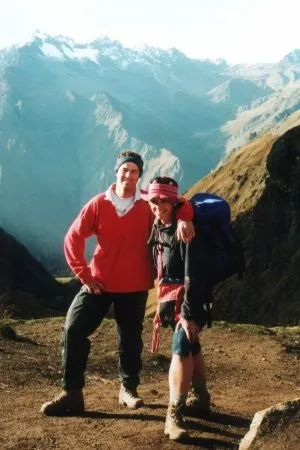 This is What I Planned to Pack For Our RTW Trip
This was my original plan for packing for around the world travel, with updates as I learned what was necessary, and what wasn't.
1 Pair trail shoes.
They will do for light trekking, cold climates, occasions where covered shoes are required and walking carrying a pack for any distance. They'll do for running too ( not likely to happen). I am not taking my hiking boots this time, they're too bulky and if we're trekking with the kids, even for a few days in the Himalayas, we won't need them. We won't be trekking in snow. (Update: We did, the trail shoes were fine but for Everest I invested in boots. I now always travel with my hiking boots)
1 Pair flip flops.
Essential for showers. These will be my every day and every evening shoes of choice in warm climates. I can walk in them all day. Easily replaced wherever you are. Maybe I'll pick up a spare pair in case of blow-outs. That's it for shoes. ( Update: Never without them! However, plastic isn't good so I'm on the look out for vegan rubber flip flops)
3 Pairs of jeans.
Yes, really! Two light-weight stretchy pairs, one of which could be worn with heels if absolutely necessary. I could also trek in these easily, I usually trek in stretch denim. One heavy weight baggy pair, because I think I look better in them and they're fashionable, in my head. I always wear these to travel because they have lots of pockets and are the heaviest thing in my pack. ( Update: I took 1, but now I carry 2 pairs , always, each pair of jeans lasts 1 year)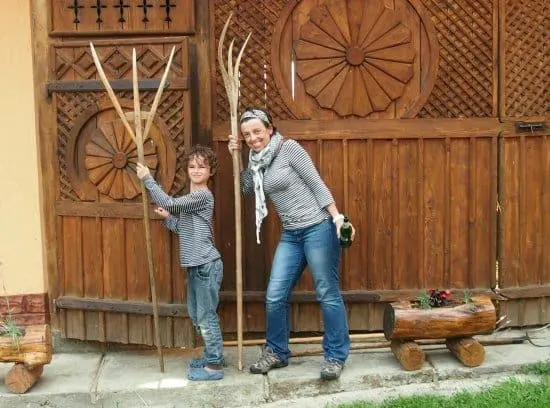 Thai fisherman's trousers.
To look the part. Easy to replace anywhere in the world, my current pair are strong cotton came from India. They also do well as pyjamas when it's cold. (Update: They wore out after about 20 years, I've got a new pair from India, less bulky than the voluminous Thai ones, they also wore out, instead, these days, I pack running tights or leggings only – do not buy Thai elephant pants, they last 5 minutes)
1 Pair of running leggings/yoga pants.
Comfortable to pull on if you're doing nothing much at your lodgings and maybe I'll make it out for a run. (Update: I did a lot of the Everest trek in yoga pants and they double as warm bed wear.) Not shorts. I hate shorts! Unlesss…
1 Pair of swim shorts and a rashie.
Most people in Australia swim in shorts and a long-sleeved rashie to keep the sun off. I own a pair of swim shorts although I rarely use them for swimming, they're unflattering and clingy. They're very light to pack, I'll wear them to sleep in or for short-requiring emergencies. (Update: Still in my pack, rarely worn)
Swim suit and bikini top.
The bottoms don't fit me, the top will make a handy extra bra and be useful if I end up getting the tattoo on my back that I'm planning, the straps won't rest on the tattoo. (Update: Down to swimsuit only now, I got the tattoo, see the post about getting a Sak Yant in Bangkok here. )
1 Sarong.
Sarongs have so many uses! I'll drop a bit of weight once we hit the road, once I'm thin enough to wrap a sarong around twice it will make a respectable skirt. Men can wear them too. (Update: I don't use the sarong so much now, I use the scarf, see bottom, instead)
Vest tops, maybe 6 .
They call them tank tops in Australia. Sleeveless T shirts, you know. For sleeping in, for wearing every day, for layering. I find them indispensable, I'll take plenty so that I've always got a clean one, I won't be doing laundry more than once a week, I hope. (Update: Down to 2 or 3 now)
2+ Long Sleeved Shirts/Tops.
Thin cotton ones with buttons, like the orange one up there, to keep the sun off and to be respectably dressed in counties that require it. I bought a great one in Cochin, India, last time, there are loads of light cotton clothes in little specialist shops there. ( Update: I now mostly have long-sleeved Primark jersey tops, black, the shirts all wore out.)
1 T shirt.
Because I've only got one I like. (Update: Still only 1)
1 Hat.
Again, to keep the sun off, I'll take my cap for now, not ideal, but I'm not buying another 'till I can replace the favourite-hat-ever that I bought in Thailand. It was with me for years and was good for hot and cold. (Update: I wear a cap almost every day, everywhere)
Underwear.
Do I really need to tell the world about my underwear? Yes I do. I will take 1 or 2 supportive running tops ( Lorna Jane), they're respectable enough to wear on their own in a beach situation and good for layering. But they take ages to dry. So I'm also taking normal bras, maybe 3. Or 4. Strapless ones are good. Bras have to fit, so I'm not taking a risk on finding stuff I like on the road when I've got great ones here I can take (Marks and Spencer, in strong colours, not white, white becomes grey, fast). I apply the same reasoning to knickers, about 10 pairs, again, nice ones, Marks and Spencer, lightweight and quick drying. I don't like cotton underwear, I like fancy, lacy, synthetic things, never had any bother with you-know-what. Socks, maybe 3 pairs, thin ones from Top Shop. I use them for running and trekking ( unless we're in snow), I don't like thick socks. Underwear doesn't weigh much so I take plenty. (Update: I still carry loads of underwear, but it's wearing out and I lose some. I trekked in the Himalayas in thin socks or my 1 pair of hiking socks, we bought hiking socks for the kids in Kathmandu)
1 Fleece.
I love my fleece. But great ones can be bought cheaply just about anywhere chilly. (Update: I bought an extra one for $14 in Kathmandu)
1 Micro Fleece.
I bought it in Kathmandu 12 years ago, it's still going strong. (Update: ditched, the zip finally broke)
1 Down Jacket.
This is purely because I already own one, I wouldn't go out and buy one new. It packs down very small. If I didn't have one I'd buy one in Kathmandu, or Beijing, or wherever I found myself in need. You'll find cheap replica down jackets easily and they're pretty good. You can even hire them for a trek. (Update: I never took the down jacket, I've never needed it, in the Himalayas I bought an extra thick fleece, I didn't take a down jacket even for Everest Base Camp)
Waterproof Overtrousers.
Again, because I already have them. They're ot very glamorous but they work just fine over stretchy jeans for skiing or as an extra warm layer on treks. (Update: I didn't pack these in the end either, I haven't missed not having them. I bought salopettes for skiing in Romania)
Jewellery and other accessories.
Just the jewellery I wear every day, all silver, nothing too valuable. I know I'll end up buying more. Two bandanas for tying my hair out of the way when it's a mess, which is most days. Handbag of some sort, fabric. My last one came from Thailand, I use it every day worn under my backpack at the front of my body if we're travelling and a good cotton scarf. Scarves have a million uses, from dressing up an outfit, to drying wet kids in emergencies.

The One Most Important, Useful Garment I Carry and Pack?
A large cotton scarf. This scarf is, a scarf to keep me warm, to keep the sun off head, shoulders, arms, to use as a curtain on buses, a towel for emergency mop-ups, a clean cloth for dirty kids, an emergency handkerchief, a clean cover for grotty bedding or seats, an emergency sarong and a good hat. It's worth it's weight in gold!
And that, is it. I think that will see me through just about any eventuality, cities to country, mountains to beach.
Famous last words, I know a few more travel essentials will find their way into my 60L backpack. Really, whatever you need, or want, you can buy, so I'm going to start with a light pack and progressively make it heavier. It always happens.
I love all my hippy, ethnic, gear and pick something up in just about every country, I'll be on the lookout for some lighter trousers, I just can't find anything here. Things will wear out as we go. I give the jeans 6 months.
I'm expecting a few comments on this one, a lot of people will think I'm certifiably insane for living in flip flops and jeans, but I've lived it for the last 5 years, it works for me. This post came about because I read Annie's packing post this morning. If you want to see how to pack like a lady, click through to her site. It's not me, it's never gonna happen, I'm sticking with jeans!
UPDATE: In the end I took less. The medical kit, wash kit, kids books, pencils and so on took up so much room I couldn't fit all of this in. I ended up with one pair of jeans, which I've worn to death. Read about what we actually took and how well it did the job in this post, our 4 month update on how good our packing was.
If you'd like to hire a car during your stay, use this car rental comparison tool to find the best deal!

We also suggest you take a look at this company to get a quote for all kinds of the more tricky adventure or extended travel insurance.

Try Stayz / VRBO for an alternative way to find rentals on homes/apartments/condos in any country!