This post may contain affiliate links.
This post is about Bali with kids, the practicalities of visiting Bali and family-friendly things to do in Bali with kids in tow. If you're planning to visit Bali with your family in 2022, we can help you plan where to stay, what to do, and how to keep your kids safe and happy in Bali on your holiday or vacation. Bali opened to some tourists in October 2021. So, back to the usual business of enjoying Bali with children!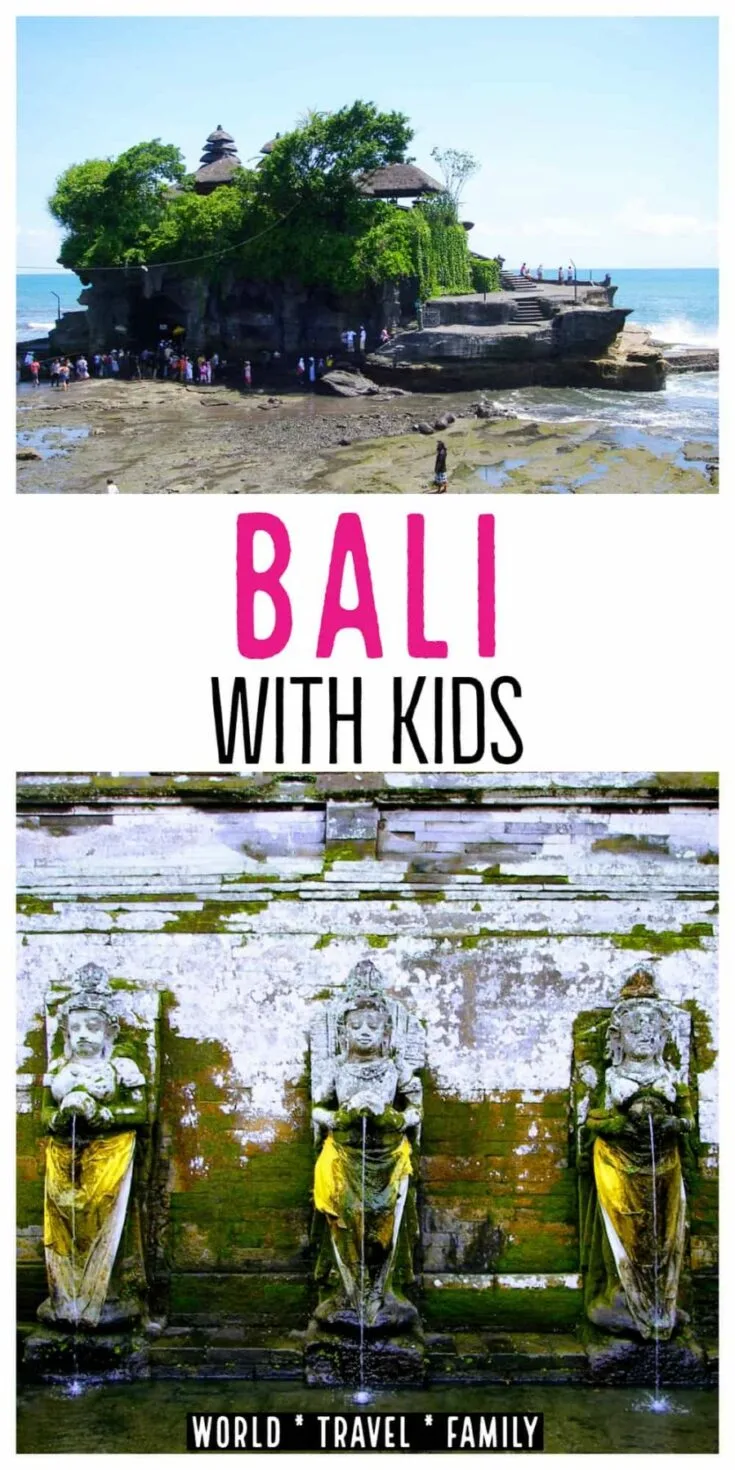 Visiting Bali with kids is relatively easy and there is plenty for children to enjoy on this amazing little island, including hikes, snorkelling, and fun tourist attractions.
In this post we look at where to stay, things to do, temples, culture, art, attractions, activities and food in Bali for kids and more.
Check out the video my son made of the Bali snorkel tour recently, it's further down the page. If you have any questions on any aspect of visiting Bali with kids please put them in the comments.
We were in Bali in 2020, this post is recently updated and as soon as we are able to return to Bali, it will be updated again.
With Bali being such a popular destination with Australian travellers, due to easy affordable flights, the tourists should be pouring back in soon. If you're travelling from Asia, Bali is also easy to get to. From Europe and the US, it's a long trip with some interesting travel connections. The flights may eat up your vacation time, budget, and patience.
Bali with Kids
Is Bali a good place to take kids? Yes, we think so. In our experience, Bali and Thailand are the two easiest places we have travelled in South East Asia with children because of their well-established tourist infrastructure and good, affordable, facilities.
We first took our kids to Bali at 2 and 4 years old, So we've had a good time in Bali with toddlers, tweens and teens. Bali can be great place to go with kids of any age.
You'll find good family accommodation in Bali, with family rooms and suites, some resort hotels even have kids' clubs and babysitters for you to use.
If you simply want to book a one or two weeks vacation in a family-friendly resort hotel, that's easy to do and we cover some of the best accommodation for families ( some with kids' clubs) further down the page. You can also travel around Bali, backpacker-style, with kids, fairly easily. Either travel style works for Bali, it just depends what you want to do and what suits your family.
Bali is small and it's easy to get around. You can base yourself in one spot and easily explore most of the island by road, or you can move from place to place, both work. On this page, you'll find tips on exploring the island and getting to those must-visit attractions and cultural highlights.
We, and the children love Bali. You can have fun as a family, learn loads and enjoy diverse activities and cultural experiences other than enjoy beaches, tropical greens, stunning rice paddy views, great food and some beautiful Bali waterfalls. Here is our take on Bali for kids.
We cover the best things to do in Bali with kids as well as travel information and the practicalities of taking your family to Bali Indonesia.
Bali has many tourist attractions, modern, fun water parks, animal attractions, and places of incredible natural beauty. Hotels in Bali are affordable and often very good. The food in Bali is delicious and you'll find plenty of great food for your kids.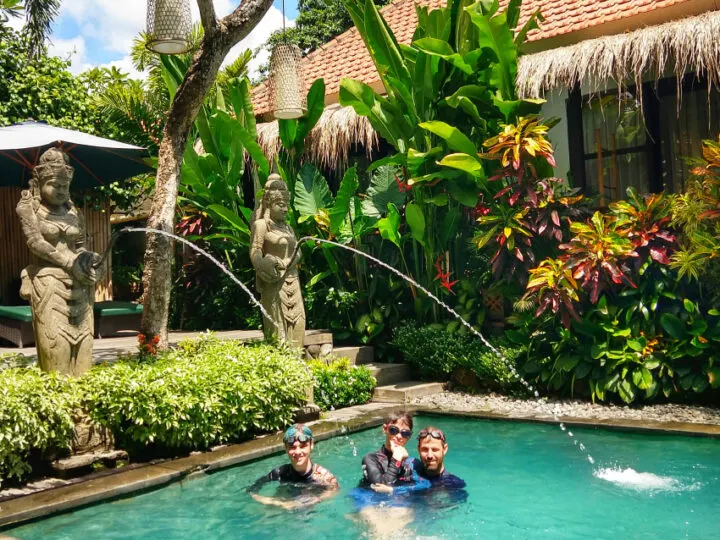 The hotel in the photo above is this one, in Ubud. It was an absolute winner at a very affordable price but did not have family rooms, we took a double and a twin. We list hotels and resorts that are truly family-friendly further down the post. After staying here we moved to another hotel on the same road at the same price. The second hotel was terrible. We recommend the former!
What's your style of accommodation? Pick the accommodation to suit your family because you'll find it all on Bali.
Family-Friendly Resorts and Hotels
Family hotels and resorts are popular. A great pick for families is Novotel for their family-pleasing rooms, facilities and activities. You'll find Novotel properties in Nusa Dua (here) and Benoa (here).
If you're on a tighter budget, or resorts just aren't your scene, you'll also find villas, guest houses, homestays, hostels and lower cost ( but no less beautiful) hotels that will cater to families in Bali.
Family accommodation is always harder to find than rooms for couples or singles but generally, we found a good choice of accommodation in Bali, at reasonable prices.
The cheapest place we stayed was $15/night for a room in a traditional courtyard home in Ubud, the most expensive over $100/night for a luxurious seafront hotel in Sanur. We list some favourite properties below.
Accommodation that includes breakfast can save you a lot of money, particularly when traveling with children. They can fill up on pancakes, eggs, toast, and fruit and be set for the day. If you prefer Balinese breakfast over Western, it's usual to find both in most hotels.
Some Of The Best Family Friendly Hotels and Resorts in Bali
These hotels are selected for good kid-friendly facilities and activities while giving parents a relaxed, more luxurious stay. These are some of the best hotels in Bali.
Independent Travel Accommodation in Bali
If you're planning on travelling independently and touring the island it's best to book a few nights on arrival and then move on when you're ready. It brings peace of mind if you know you have somewhere nice booked online in advance. After that, you can make your own way around the island booking as you go. Agoda (opens in new tab) works well for Southeast Asia for smaller hotels and guest houses.
If you like to wing it, check out hotels and guest houses when you arrive and take your pick, online, on foot or by taxi. We have taken rooms with all sorts of sleeping arrangements, full family rooms with four beds, a big double bed and an extra mattress on the floor and adjoining rooms and twin or double beds. It is often easier to negotiate reduced rates face to face if this is your style.
Airbnb in Bali
We've had some success with Airbnb in Bali. We had a lovely villa for 4, with pool and breakfast for around $50 per night. However, we prefer to use Agoda in Asia as they are local specialists and often have more choices. They also don't add a cleaning fee. It's still worth checking Booking dot com, sometimes they'll find you a better deal on your Bali accommodation. You can use these booking platforms for hotels, homestays, apartments, hostels and villas. They carry all kinds of accommodation.
---
---
Getting Around Bali With Kids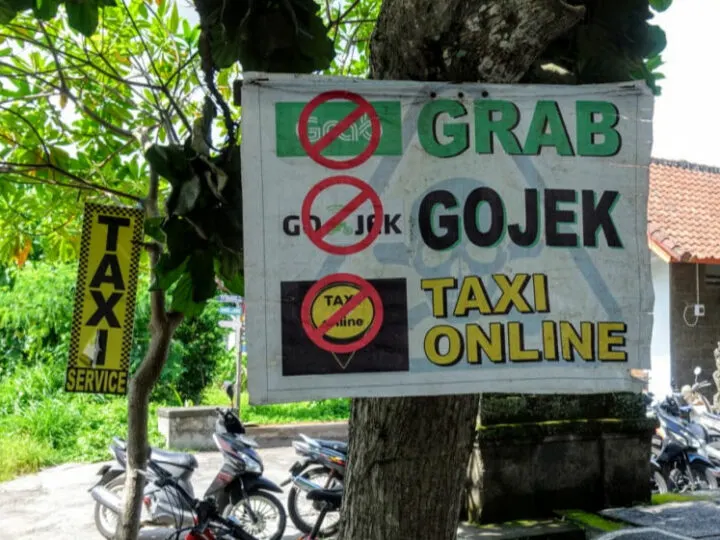 Your first hurdle will be getting from the airport to your accommodation. This isn't too hard. You have options.
Arrange a pick-up with your hotel
Book a private transfer, book one here, now, it's easy!
Take a fixed price taxi from the airport taxi desk, there's usually a queue.
Use Grab – there is a Grab lounge at the airport now, again, you will likely have to wait.
Car seats are going to be an issue. If you have small children and you worry about car seats.
Ubud to the airport is 300- 350 Rs. This trip can take 2 hours if traffic is really bad.
Taxis
There are plenty of taxis available, we found taxis were a good option for touring Bali with kids. Bluebird taxis usually have a meter, but some taxi rides will require you to negotiate and fix a price in advance.
Taxis in Ubud are expensive. Stay within walking distance of the town or pay $4-$5 each time. Car plus driver or Uber car may be cheaper.
The airport taxi we took on arrival was more expensive than any other we took, despite the fixed fare system. You may do better to arrange your own airport pick up or transfers directly with a driver.
Uber and Grab
In some parts of Bali services like Uber are " banned". They actually aren't but local taxi drivers don't want them taking their trade. Don't get involved.
Private Car Plus Driver
We found it best to hire a driver with a decent sized car for the day, often a 4 wheel drive. Check out the car, see if you like the guy. Check they have rear seat belts. You may be able to fit your own car seat.
You will be constantly approached by drivers wanting your trade on the street. As a family of four, this worked out cheaper than buying 4 bus tickets and gave us total flexibility to tailor our day as we chose.
Our drivers were very helpful and suggested a few places to visit that we hadn't thought of. We didn't run into many scams.
With Mum Goggles on, I worry about my children's safety and I thought driving around Bali with kids would freak me out. Despite a general lack of seat belts, I felt pretty good about using the roads in Bali. People drive slowly and carefully to avoid bicycles, dogs, scooters, children and chickens. It was OK, I didn't worry too much. In towns, heavy traffic congestion slows up the roads.
Places To Visit In Bali with Kids
Bali is a small island and it's pretty easy to take tours and visit attractions from any of the main hubs. Most people will base themselves, for the majority of their holiday, in one of the main tourist destination towns below.
Ubud
Ubud is pretty much in the middle of Bali, surrounded by rice fields and forests. It's not on the coast but makes a great base from which to explore the whole of the island. If it was my first time visiting Bali with a family I'd be tempted to spend a week in Bali plus a week at one of the popular beach destinations.
Ubud is where Bali first stole our hearts, we usually spend the bulk of our time here enjoying this busy little town and its neighbouring rice paddies and villages. Yoga and cultural activities are the order of the day in this hill town.
The extra elevation can make Ubud a little cooler than coastal towns. Ubud is land-locked,don't expect beaches
Ubud is where you'll find the famous monkey forest, take kids here with caution, these animals are the thugs of the animal kingdom and can be aggressive. You'll also find beautiful architecture, art, culture and dance. But don't think Ubud is off-the-beaten-track, Ubud is busy and growing by the day. There is very good shopping in Ubud too.
We have a separate post about things to do in Ubud, day trips and just hanging out in Ubud. You'll find some excellent restaurants here along with a strong vegan scene.
Hotels, guest houses and villas are plentiful and can be particularly good value in Ubud.
Sanur
We didn't find very much to do in Sanur itself, other than hang out on the beach, check out the market stalls and get a massage and pedicure. That said, you could take many day trips from Sanur when you're not relaxing or enjoying your hotel, it's close to the boat departure points for Nusa Lembongan, if you plan to explore other islands or take the awesome manta ray snorkelling trip.
The beach has the protection of reef and breakwaters so it doesn't have the big surf of Kuta making it safer for children. It's nice to eat on the beach in the evening, there are plenty of restaurants and bars.
Kuta and Legian
We spent a day in Kuta, just to see what it was like. Kuta is busy! Kuta and Legian seem to blend into each other as you progress along the coast from the airport. Legian is more up-market. There are a lot of big shops, a lot of sports bars, plenty of fast food, busy roads and traffic and a wide sandy beach with surf.
Kuta is where tourism is huge in Bali, there are some lovely hotels in this area and it's close to the airport.
Our driver showed us the spot where the bombings took place, it was pretty sobering.
Kid-Friendly Things To Do in Bali, Activities and Attractions
The child pleasing attractions and activities you can enjoy on Bali include:
Beaches and water sports.
Animal attractions such as Bali Bird Park and The Reptile Park.
Arts and crafts classes and courses.
The beautiful dawn volcano hike (we took tweens and teens but you can do it with younger kids) Book that one here.
Adventure activities, trekking, downhill bike touring, white water rafting, ATV riding, snorkelling and scuba diving.
Gentle rice field walks.
Bali Swing tours.
Tours to enjoy history, dance, art and culture.
Sightseeing, rice terraces, temples, volcanoes and palaces.
Water parks – Waterbom Park Bali and Circus Water Park. The latter is more for younger kids.
Cooking classes and food tours
There are many beautiful temples and monuments to see.
Find more information on many of these activities below. You should have time to fit in quite a few on a typical two week family holiday. Some are half day tours, others will fill a whole day.
Bali Bird Park
The bird park was a must-do with kids, ours loved having parrots perch on their heads. There was also a small 3D cinema on-site, we watched a film about birds. Book Bali Bird Park tickets here
Bali Reptile Park
Next door is Bali Reptile Park, admission for Bali Bird Park covered both areas for us, although tickets can be purchased separately. The kids enjoyed the reptile park but it wasn't huge. Book reptile park admission here.
The Elephant Cave. Goa Gajah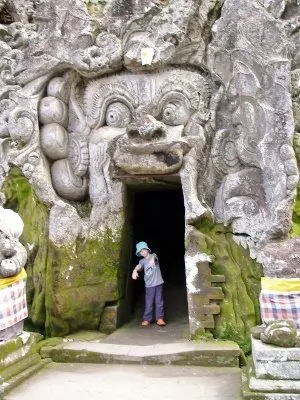 You have to go here to take the photo of the demon mouth cave opening.
Goa Gajah is a lovely site but access is via steep stairs, you may have to watch out for small children. It's lovely and worth the trip, you can have a quick look around the Hindu and Buddhist parts, check out the linga in the cave and the sacred pool in half an hour.
If you want to stay longer you can find a guide to talk you through it. Men must wear sarongs, for hire at the entrance. You must be respectfully dressed.
Spice Farms and Kopi Luwak
Our driver took us to a spice farm on the way back from the volcano, Gunung Agung. This is normally listed as a " scam to avoid" but if you want to go, go. We usually avoid these places as we've seen plenty before and there is usually some hard sell. As this was a first for the kids we agreed to go.
It was a great experience for all of us, spices, chocolate, tropical plants, coffee and Kopi Luwak. Bali coffee, Kopi Luwak is something special but it might gross you out slightly. There are also animal exploitation issues. I won't be getting involved again.
Visit a volcano (or not) Gunung Agung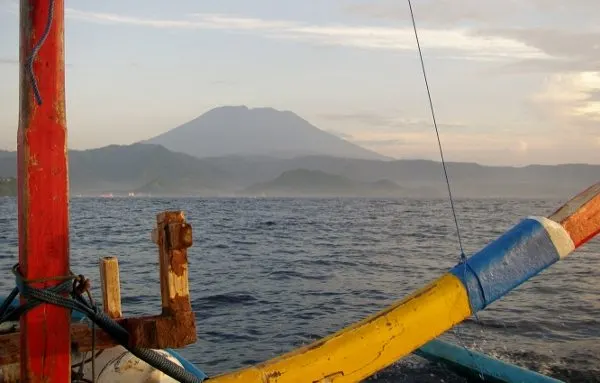 Your driver will take you up to a viewing spot and temple near the top of Bali's active volcano. The view was pretty spectacular, but as we left the car women swarmed around us and my children, dressing them in sarongs, demanding money and separating them from me.
My younger son was in tears. We left straight away, never to return.
This is the only time we saw this sort of pushiness in Bali, or anywhere else, our driver was full of apologies. This is a popular Instagram spot.
Bali Volcano Hike With Kids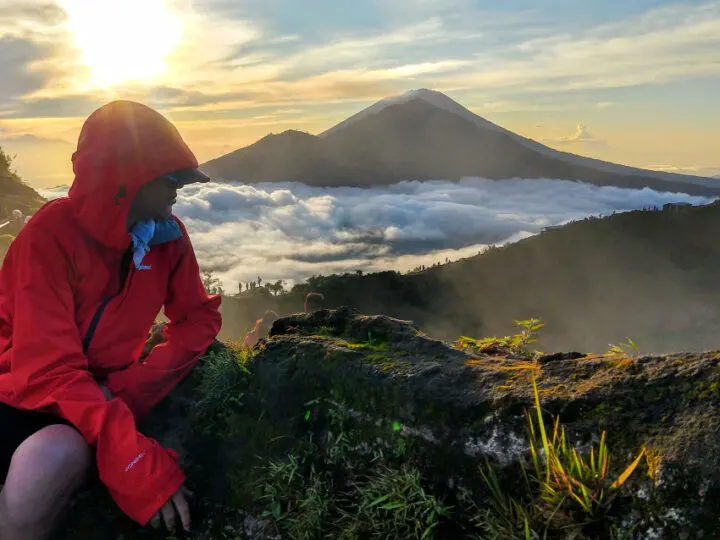 Climbing one of Bali's volcanoes for spectacular sunrise views is a popular activity in Bali. But can you do it with kids? We took older children and they managed just fine.
I quizzed our guide during the climb. She said the youngest children she'd taken up were around 5 years old. Sometimes she'd had to carry them some of the way, sometimes she'd had to put them on a motorbike.
Motorbikes are there, ready, for anyone unable to complete the climb. For us, the volcano trek took around 2 hours up, 1 hour down. We started our journey to the volcano at 2am and started climbing around 4am.
We loved it. You can book a volcano trek here.
Snorkel With Manta Rays From Bali With Kids
We did this with older kids but it was just amazing! Yes, you can do this from Bali, even from Ubud. See our full post on the Bali manta rays here. We have video of this activity on this page. Or just go to this link and book it right now! This is one of those once-in-a-lifetime things to do and if you can, do it.
I wouldn't do this tour with young children unless they were exceptionally confident in the water. The water is very deep and rough.
Family-Friendly Cooking Classes in Bali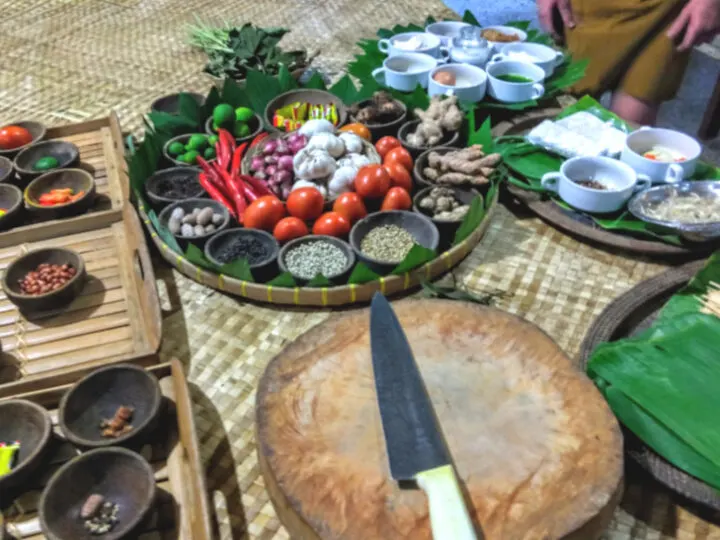 We love taking cooking classes with kids and a cooking class could be just the thing to enhance your family vacation in Bali, while bonding and learning some new skills. Be sure to check that your cooking class will accept kids.
Beware sharp knives and roaring gas burners.
My son loved making his favourite satay and pandanus pancakes as well as meeting a lovely Balinese family in their home.
You can book a cooking class from Ubud, or most beach towns in Bali. Some hotels will offer their own mini cooking sessions, sometimes as part of a kids club.
Meet the Elephants (or not) Elephant Safari Park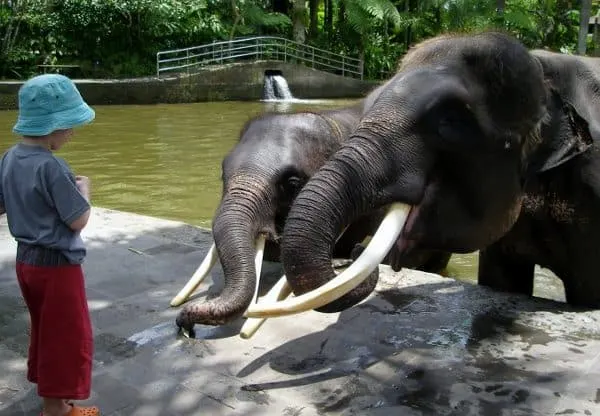 I have major issues with animals doing tricks, but this was the children's first up-close elephant encounter, so we went, many years ago. It's expensive, but rather good, the kids loved it.
They fed the elephants and took an elephant back ride through the forest. This was before the negative press started being circulated about elephant riding. Back then it was fine, nobody batted an eyelid.
Make your own call on the ethics of elephant riding.
I've ridden elephants many times over the last 30 years, I've read up on the subject and I make a call based on individual circumstance and location. I have a degree in zoology if that counts for anything and a deep fascination with animals. I really have no knowledge of particular conditions in Bali, but I think today, I wouldn't visit this one even though it comes with many endorsements.
Pura Tanah Lot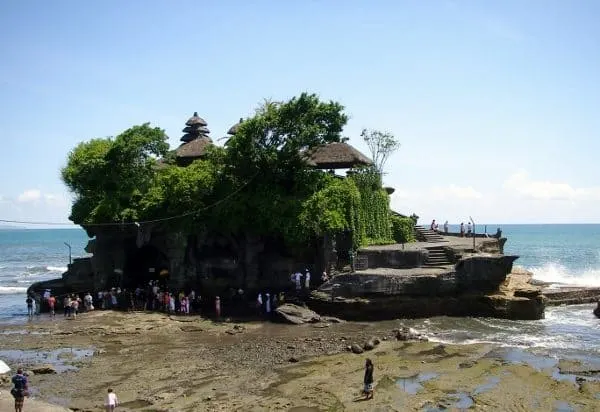 One of seven sea temples around Bali, Pura Tanah Lot is incredibly beautiful and great for photos if you can visit at sunset. You can't visit the temple itself, it's closed to foreigners, but it's lovely to look at.
The temple is perched on a tiny island and at low tide, you can walk out to the rock.
The kids received a blessing from a priest at the sacred spring, they were quite pleased with that.
This temple is guarded by a legendary giant sea snake. There is a cave with a resident snake on the mainland but we didn't visit. There are little shops and food stalls nearby.
Padang Bai, Fishing and the Blue Lagoon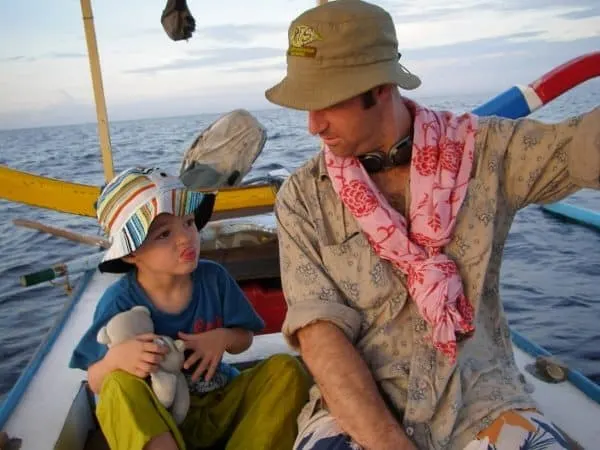 We spent two nights in Padang Bai in a glorious and cheap hotel just behind the beach. The town is very small, not much to keep you occupied, but there are trips in traditional fishing boats for the adventurous.
The Blue Lagoon is just around the headland, it's sold as a snorkeling spot. My husband snorkeled, he said it was OK. The boys jumped in briefly but the deepwater freaked them out.
At 8 and 6 they had absolutely no fear snorkelling on the Great Barrier Reef, they were just too young in Bali on this visit.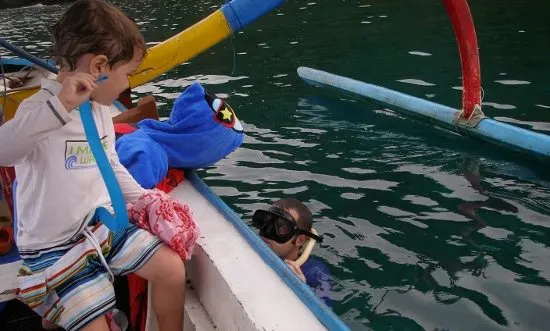 We took an early morning fishing trip too, very early, well before dawn. We expected rods and lines, instead, we went miles out to sea in a tiny boat to watch the owner net fishing. He didn't catch anything.
It was an interesting experience and the views of the volcano at dawn were spectacular but I wasn't entirely comfortable being out at sea with two small children. In Amed local fishermen will also take you out to sea at dawn.
Best Time of Year to Visit Bali
What's the best time of year to go to Bali? Bali enjoys a tropical or equatorial climate as it sits just 8 degrees south of the equator. May-July are normally considered the best months to visit. The dry season runs from May to October, but even in the wet season conditions can be pleasant and dry days and sunshine are not unusual. Find out more about Bali weather here.
Balinese Food For Kids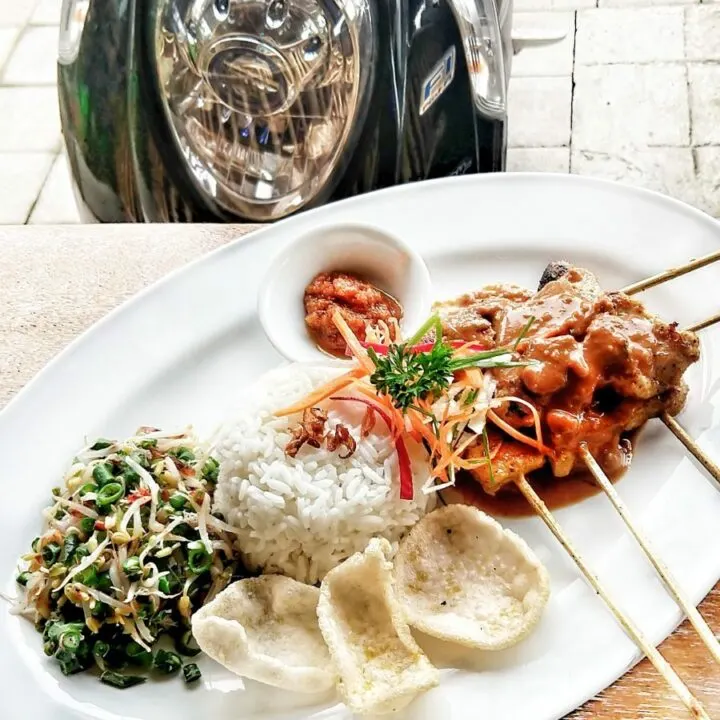 Balinese food isn't as amazing as Thai or Vietnamese but we liked it a lot. We had some great food and some not so great, mostly down to us picking the wrong establishments.
If you want to eat in good restaurants you have plenty of options and the standards of food and service can be very high, while prices remain reasonable.
Generally, we found the small, family-run cafes and restaurants (warung) better than the big backpacker places, and cheaper.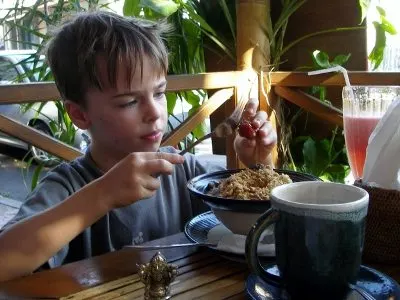 We picked up a few munchies at markets and at roadside stalls, sticky rice, barbecued corn. It was all good.
We didn't get a chance to try the marinated spit-roasted pork, Babi Guling, that Bali is famous for, there were huge queues every time we passed the recommended place in Ubud, Ibu Oka. We'll try harder next time.
Gado Gado, is a cooked and raw salad with slightly spicy peanut sauce and hard boiled egg. It's great for kids and vegetarians. If you are exclusively vegan Bali caters to vegan travellers well and you'll find plenty of dedicated vegan cafés and restaurants.
I don't think the Balinese use chilies with the same abandon as the Thais, or maybe they were just toning it down for the tourists, but none of the food we were ever served in Bali was very hot.
The children loved mild, peanut based satay dishes when they were younger. Now they eat anything Bali offers.
Bali Essentials, Things to Take to Bali With You For Kids
Visit our travel gear page to see which products we love, but don't go crazy, you probably won't need to buy anything special for a normal holiday. Do pack sunscreen and mosquito repellent. Solid sunscreen works well in your carry-on luggage and this is the best sunscreen we've ever tried.
Take anything that you may need importantly and urgently, like contact lens solutions, paracetamol ( adults and kids) and any other medications or products you use often. There are excellent shops in Bali and you can buy just about anything, but if you're likely to need something in a hurry, take a stash.
We like to carry a small bottle of iodine, cuts and bites can get infected rapidly in the tropics. Hand sanitiser gel or antibacterial wipes are a good idea with kids – not least on the plane.
What gear you need depends on your style of travel and duration of stay, as long term travellers we carry everything from mosquito nets to travel towels, but if you're staying in a resort or hotel, of course, you won't need much.
Day Trips From Bali
We recently took a day trip to snorkel with manta rays off a nearby island. You can read about this amazing tour from Bali here. This would not be suitable for babies, toddlers or younger children. Our kids were teens and tweens and strong swimmers for this family activity.
Bali Belly and Kids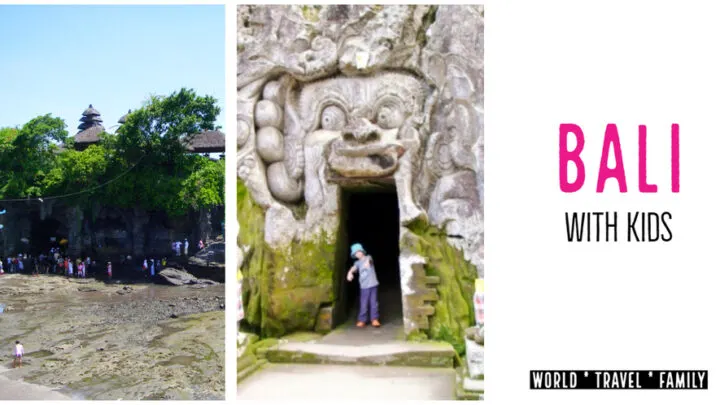 Because everyone has heard the Bali horror stories and worries about that, right? Two of us had diarrhea by the end of our first trip to Bali. Second time around we had no problems at all. Third time in Bali, two of us got flu on the plane.
That round of traveller's tummy wasn't serious and didn't stop us doing anything, but there were a few urgent trips to the bathroom. When we got home I flew by the doctors where stool cultures revealed that we actually had a strain of salmonella. That was surprising, we weren't too bad at all. There is no treatment for salmonella, so my Doctor told me, you just wait for it to pass and take probiotics ( live yogurt or pharmacy probiotic preparations)
It is interesting that only 2 of us went down with it, one adult, one child, we were all eating the same things and shared and tasted each other's food constantly. It could have come via direct hand-to-mouth transmission, maybe a virus, not food.
People seem to worry about food hygiene in Bali quite a lot, particularly if they are visiting Bali with kids, I really don't think that Bali is outstandingly dodgy in the food department based on our experience and over the 15 years we've been visiting, things have continued to get better.
That said, in 2020 we did see 3 rats feasting on pizza toppings in a busy wood-fired pizza restaurant in Ubud.
My best tip to avoiding all this stuff is to keep your hands clean, wash with soap often and if needed use antibacterial gels and baby wipes ( but think about your plastic consumption and limit use ).
Mosquitoes in Bali
People get Dengue fever in Bali. It can be a worry, particularly for parents. I have to say that each year we see fewer and fewer mosquitoes. Fogging is fairly common. Hotels use chemical sprays to kill all insects lurking in nearby greenery.
Nonetheless, you should probably pack the mosquito repellent and follow all the usual tips for avoiding mosquitoes.
More Bali Dangers – Dogs and Monkeys
Bites happen. You will find dogs and monkeys hard to avoid and yes, they can potentially carry rabies. Teach your children to stay away and never carry food or drink in or near Ubud's Monkey Forest.
If you are scratched, bitten or even licked, head to the doctor's surgery. We have had rabies vaccinations, but not for Bali. We had them for remote travel in Pakistan but the shots do give us extra peace of mind.
Enjoy Your Bali Trip!
So what do you think? Have you been? Are you going? Did we miss out on lots of good things in Kuta? Please share any cool things to do in Bali with kids that you find, we love to hear from you!
If you'd like to hire a car during your stay, use this car rental comparison tool to find the best deal!

We also suggest you take a look at this company to get a quote for all kinds of the more tricky adventure or extended travel insurance.

Try Stayz / VRBO for an alternative way to find rentals on homes/apartments/condos in any country!