Last Updated 01/07/2021.
There are plenty of things to do in Ubud. You could spend weeks or months here and stay busy. Some places in Bali have been ruined by their own tourist trade, we tested several locations during our time in Bali, but Ubud was lovely, a charming town in the relative cool of the mountains. Bali is an easy family travel destination with everything to offer the family on vacation, from resorts and water parks to great food and cultural experiences. Of all the places in Bali we visited, Ubud was our favourite.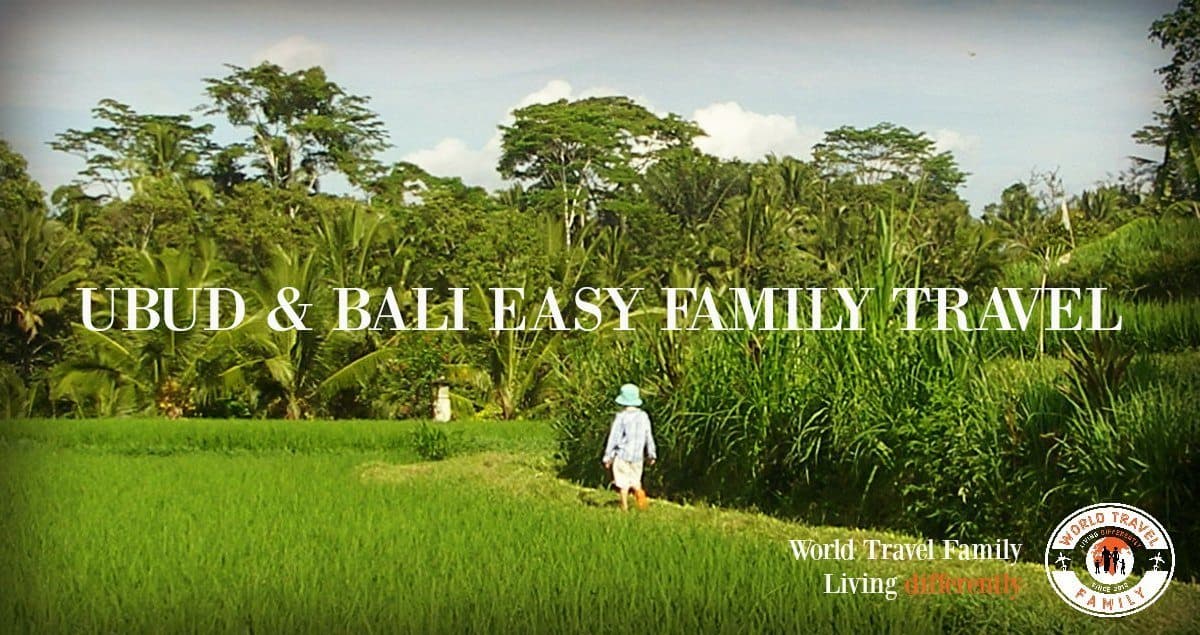 Things to do in Ubud
There are loads of possibilities to keep you busy, cookery and craft classes, all things spiritual, find the sites and the people mentioned in THAT book ( Eat Pray Love), visit art galleries and artists' homes, take a cycling tour, treat yourself at a spa or watch a shadow puppet performance. You could spend months here, one day, maybe, we will.
At the main junction in town is Ubud tourist information, there are plenty of leaflets there and a noticeboard, there is also a notice board at the book shop a couple of doors up with accommodation, courses and general information.
See our separate post on Bali for more general information on getting around and ideas on finding family accommodation.
You can easily search for family rooms using the Agoda interface and, at the same time, find the latest special offers.


Bali is pretty small and Ubud is almost in the centre so it's easy to see most of the island in day trips from here. You'll find more about things to do elsewhere in Bali in this post.
Monkey Magic
I recently asked the boys what their best travel memory was. It wasn't Disney, it was here, at the Sacred Monkey Forest Sanctuary. It's a walled forest area at the bottom of Monkey Forest Rd, Ubud, it houses some ancient temples and an awful lot of macaques. The monkeys have no fear and brazenly stole Boo's map from his hand. So was it the cute, but light-fingered, monkeys that they loved? No, of course not, it was Mum swinging her handbag and screaming " Get away from my baby!" like a demented banshee until some Balinese guy came along and chucked rocks at the grotty looking primates to scare them away.
These monkeys are huge to small children, they have no fear and they're nasty. Be careful. Avoiding monkeys is something we make a point of, particularly as at this point in our travels we hadn't had rabies shots.
It says something about the nature of kids, they are more interested in interaction with the people they love than external big money stuff. Anyway, if you like monkeys you'll love it, don't take food, you'll be mobbed. Do take a hefty handbag or some rocks just in case. The temples are beautiful and have sarongs available to borrow, you need them for admission.
You will also see the monkeys outside the sanctuary at the bottom end of the road as you walk around the bend, they are on the road and climbing the buildings. Watch out, they can and do bite!
Bargain at the markets
The market complex at the center of Ubud is huge, much of it is under cover and it is quite a labyrinth to explore. You can find just about anything here, clothes, fresh fish, fruit and veg and home wares, along with the usual souvenirs. Bargain hard!
We bought loads of clothes for the boys, T shirts and Thai fishermen's trousers, these look cute but they are a right royal pain for kids to put on and take off.
There are plenty of shops in Ubud too, some are fixed price, others bargain. There is some fantastic silver jewelry on offer.
TIP: If you shop early in the morning you often get a good price for being the lucky first customer of the day.
Hang out, eat and drink.
One of the best things in Bali was people watching. Early in the mornings, I would watch ladies gathering flowers to make offerings. Everything is pretty here, they have endless time to attend to the things that we, in the West, don't place much importance on. It's lovely to see.
The gardens were beautiful too, everything done by hand and every plant was as perfect as it could be. I came home and set about my garden with renewed enthusiasm, stuck a few more frangipanis in, but it still looks sorry compared to Balinese lushness.
Offerings are everywhere, petals, incense, food, they are replaced early every morning.
Walking around, looking at the shops is great fun for the kids, and me, but watch your footing, the pavements are narrow and uneven, you may struggle with strollers or prams. In recent years there have been a lot of repairs and widening, central Ubud is almost unrecognisable compared to how it was on this, our first visit.
There are some lovely places to just chillax in Ubud. When you are traveling with children you can't dash from one attraction to the next, you need some quieter times.
Sometimes we hung out in the center of town, at the crossroads and watched the children having their dance lessons, girls in the palace, boys over the road. My kids can do a fair impersonation of Bali dance, or they think they can. I'm pretty sure it was Sunday morning that we saw this.
There is a lovely restaurant at the Pura Taman Saraswati, just up from the main crossroads. Cafe Lotus overlooks the lotus ponds of the temple, we enjoyed tea and cakes and watching the fish whilst seated on the floor at low tables. Kids love that combination of cake, unusual table etiquette and fish. They are simple creatures.
There is a central area of rice fields behind the shops along Monkey Forest Rd, some of the cafes and bars open out onto this beautiful green area, see if you can find one, we had our best food in some of these long, narrow eateries. We also managed to have a few drinks while the kids played on the walls, safely away from the traffic.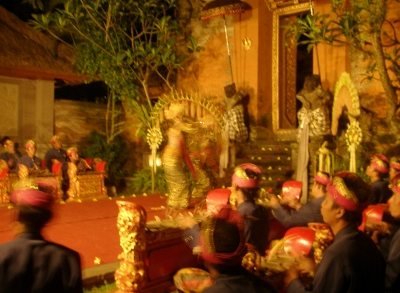 Watch some traditional dance
There are a number of options for watching traditional dance, the best one for us was the Barong dance performance held in the palace in the center of Ubud. The Barong probably appeals to children more as the Barong creature makes an appearance along with some monkey dancers, he is a protector spirit, leader of the hosts of good.
Our boys were mesmerized, right through to 10pm. We tried a butterfly dance performance too, further down the road at an indoor venu, the boys fell asleep.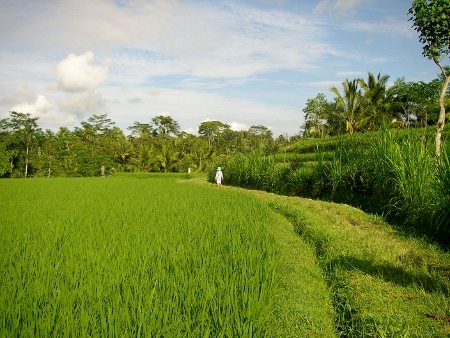 Go snorkelling with manta rays
Yes, Ubud is landlocked. But it is possible to book trips from here to snorkel off Nusa Lembongan. You can go there and back in one day. See how we organised this snorkel trip from Ubud here.
Take a walking tour of the rice paddies and villages
Our first hotel organised this for us and we really enjoyed it, strolling through the fields, checking out the irrigation systems before wandering through a village and taking lemon grass tea in a traditional courtyard home. The owners were artists and sold us a lovely picture, unfortunately, we later saw the same picture for less than half the price in the supermarket in Sanur. If you want to buy pictures, that is the place to go.
We came across a huge Golden Orb Spider hanging in its web, while we were oohing and ahing an old man came past, grabbed the spider in his hand and told us he was taking it home to cook for the baby to stop him wetting the bed. If you have bed wetters at home maybe this will work for you,
for Pinterest…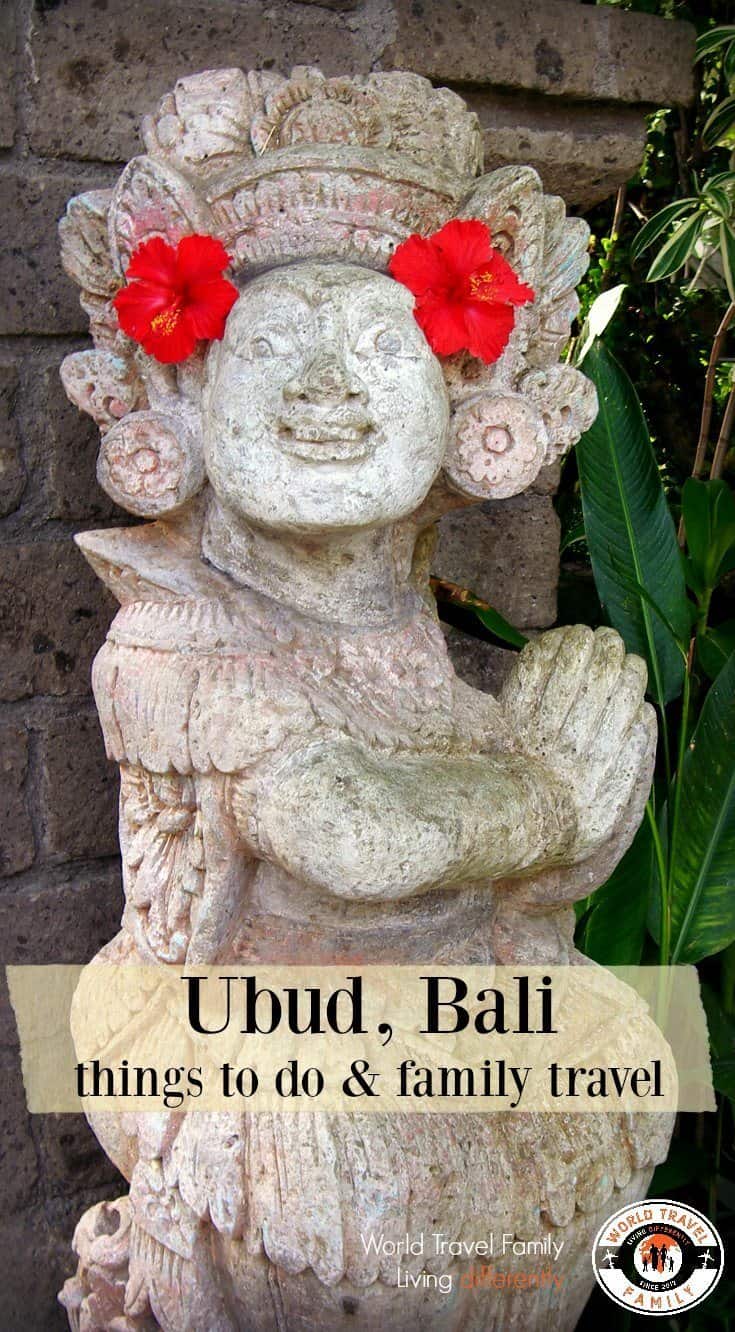 So what do you think? Do you like the look of Ubud, or have you been? Can you give us any more suggestions on things to see and things to do in Ubud?