This post may contain affiliate links.
There are plenty of things to do in Ubud for families or with kids, there are family-friendly activities, dining and accommodation.
You could spend weeks or months in Ubud Bali and stay busy.
Some places in Bali have been ruined by their own tourist trade, we know because we tested several locations during our many trips to Bali, and Ubud was always lovely for us, a charming town in the relative cool of the mountains.
Bali is an easy family travel destination with everything to offer the family on vacation, from resorts and water parks to great food and cultural experiences.
Of all the places in Bali we visited, including Kuta, Sanur, the east coast and the south, Ubud has always been our favourite.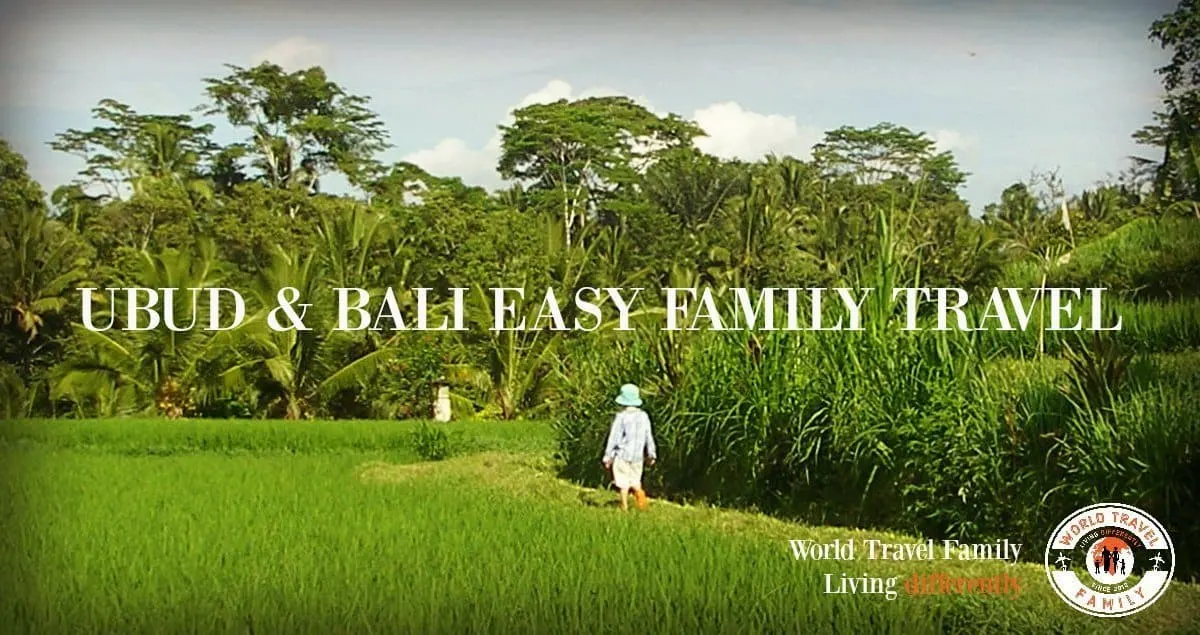 If you choose to base yourself in Ubud for your family trip or vacation, it's easy to visit most of Bali's attractions from here.
Don't do this if you're a beach lover, but if you prefer Bali's cultural appeal, this is a better place to be, let us explain!
If you'd prefer to just visit the Ubud area for the day from Bali's southern beaches, you can do that too, book a trip here, or below.
This tour includes highlights such as the spectacular Goah Gaja, Elephant Cave and Tegalalang Rice Terraces. The terraces are a UNESCO world heritage site.
Things to do in Ubud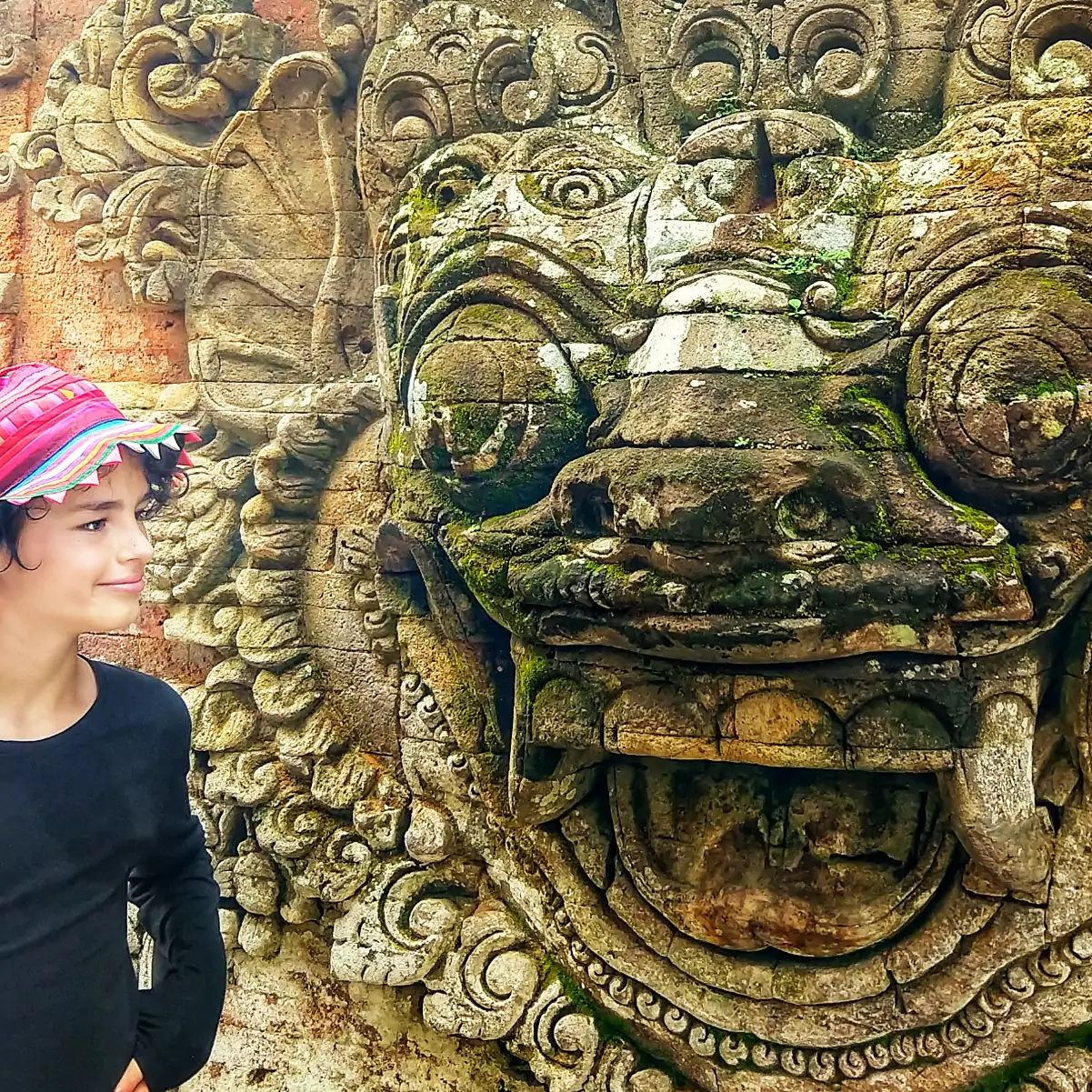 There are loads of things to do in Ubud that suit families, with many possibilities to keep you busy.
There are cookery and craft classes, all things spiritual, find the sites and the people mentioned in THAT book (New York Times bestseller, Eat Pray Love), visit art galleries and artists' homes, take a cycling tour, treat yourself at a spa or watch a shadow puppet performance.
Yoga is very popular in Ubud and you can even book a yoga teacher training course here if you're staying a while (find out how here.)
You could spend months here, one day, maybe, we will.
At the main junction in town is Ubud tourist information, there are plenty of leaflets there and a noticeboard, there is also a noticeboard at the bookshop a couple of doors up with accommodation, courses and general information.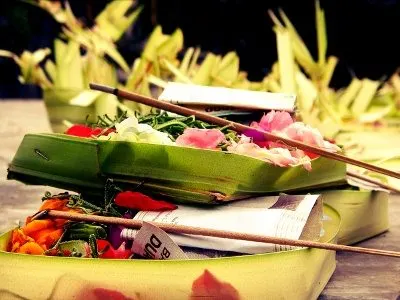 See our separate post on Bali for more general information on getting around and ideas on finding family accommodation.
Bali is pretty small and Ubud is almost in the centre so it's easy to see most of the island on day trips from Ubud. You'll find more about things to do elsewhere in Bali in this post.
---
Ubud Sacred Monkey Forest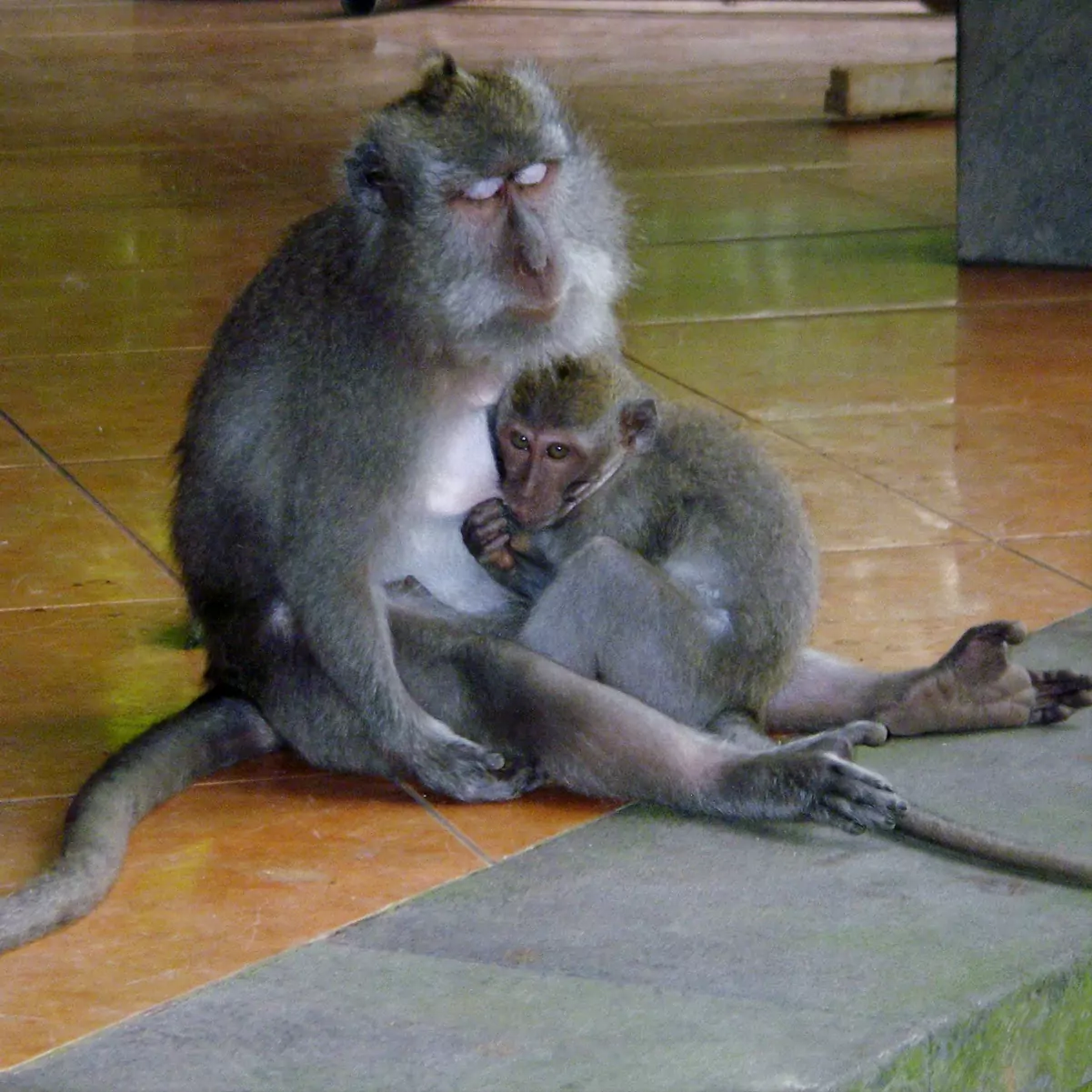 I recently asked the boys what their best travel memory was. It wasn't Disney, it was here in Ubud, at the Sacred Monkey Forest Sanctuary.
It's a walled forest area at the bottom of Monkey Forest Rd, Ubud, it houses some ancient temples and an awful lot of macaques. The monkeys have no fear and brazenly stole Boo's map from his hand snarling and scowling.
So was it the somewhat cute, but light-fingered, monkeys that they loved?
No, of course not, it was Mum swinging her handbag and screaming "Get away from my baby!" like a demented banshee until a nearby Balinese guy came along and chucked rocks towards the grotty-looking primates to scare them away.
These monkeys are huge to small children, they have no fear and they're nasty.
I know a lot of people who have been bitten by monkeys here, adults. Be careful, this isn't a very safe area with kids.
Avoiding monkeys is something we make a point of, particularly at this point in our travels as we hadn't yet had rabies shots.
It says something about the nature of kids, they are more interested in interaction with the people they love than external big money stuff.
If you like monkeys you will love it. You should not carry food in your hands, pockets or bags. Do take a hefty handbag or some emergency rocks, just in case.
The temples are beautiful and have sarongs available to borrow, you need them for admission.
You will also see the monkeys outside the sanctuary at the bottom end of the road as you walk around the bend, they are on the road and climbing the buildings.
Watch out, they can and do bite!
---
Bargain at Ubud's Markets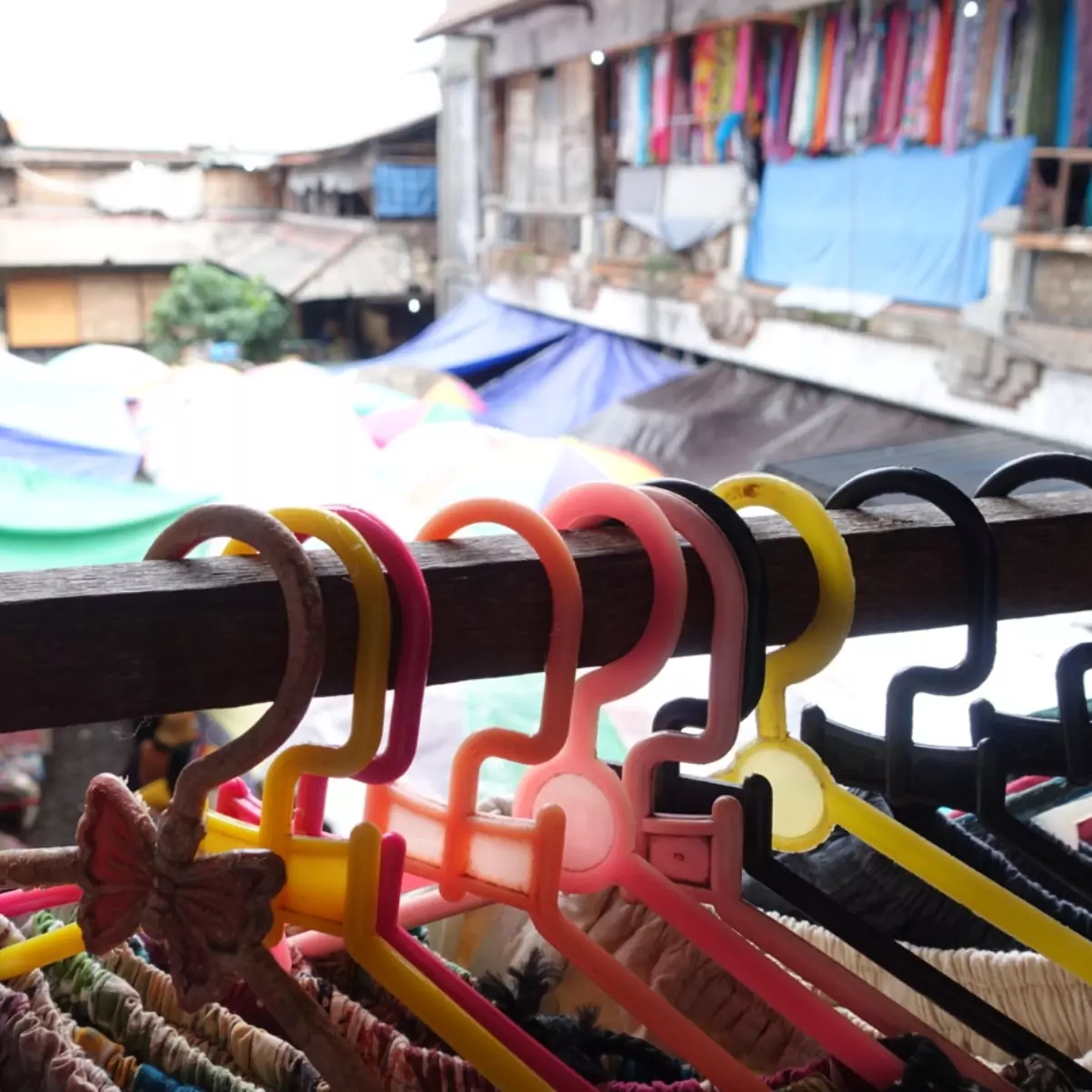 The old market complex at the centre of Ubud is huge, much of it is undercover and it is quite a labyrinth to explore.
You can find just about anything here, clothes, fresh fish, fruit and veg and homewares, along with the usual souvenirs. Bargain hard!
We bought loads of clothes for the boys, T-shirts and Thai fishermen's trousers, these look cute but they are a right royal pain for kids to put on and take off.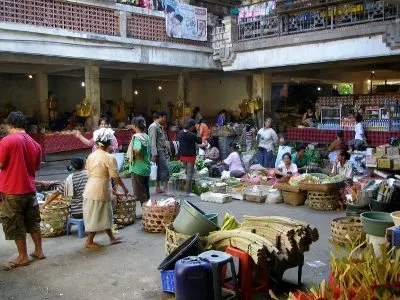 There are plenty of shops in Ubud too, along with the new modern night market. Some shops have fixed prices, in others, you may bargain.
There is some fantastic silver jewellery on offer and some very nice shops indeed. Shopping for clothes, swimwear and rubber (not plastic) flip-flops is great in Ubud!
TIP: If you shop early in the morning you often get a good price for being the lucky first customer of the day.
Ubud – People Watching
One of the best things in Bali is people-watching. Early in the mornings, I would watch ladies gathering flowers to make offerings.
Everything is pretty here, they have endless time to attend to the things that we, in the West, don't place much importance on. It's lovely to see.
The gardens were beautiful too, with everything done by hand and every plant was as perfect as it could be. I came home and set about my garden with renewed enthusiasm, planted a few more frangipanis, but it still looks sorry compared to Balinese lushness.
Offerings are everywhere, petals, incense, food, local people replace them early every morning.
Walking around, looking at the shops is great fun for the kids, and me, but watch your footing, the pavements are narrow and uneven, you may struggle with strollers or prams.
In recent years the sidewalks in Ubud have seen extensive widening and repairs. Central Ubud is almost unrecognisable compared to how it looked on our first visit.
There are some lovely places to just chillax in Ubud. When you are travelling with children you can't dash from one attraction to the next, you need some quieter times.
Sometimes we hung out in the centre of town, at the crossroads and watched the children having their dance lessons, girls in the palace, boys over the road.
My kids can do a fair impersonation of Bali dance, or they think they can. I'm pretty sure it was Sunday morning that we saw this.
Where to Eat and Drink in Ubud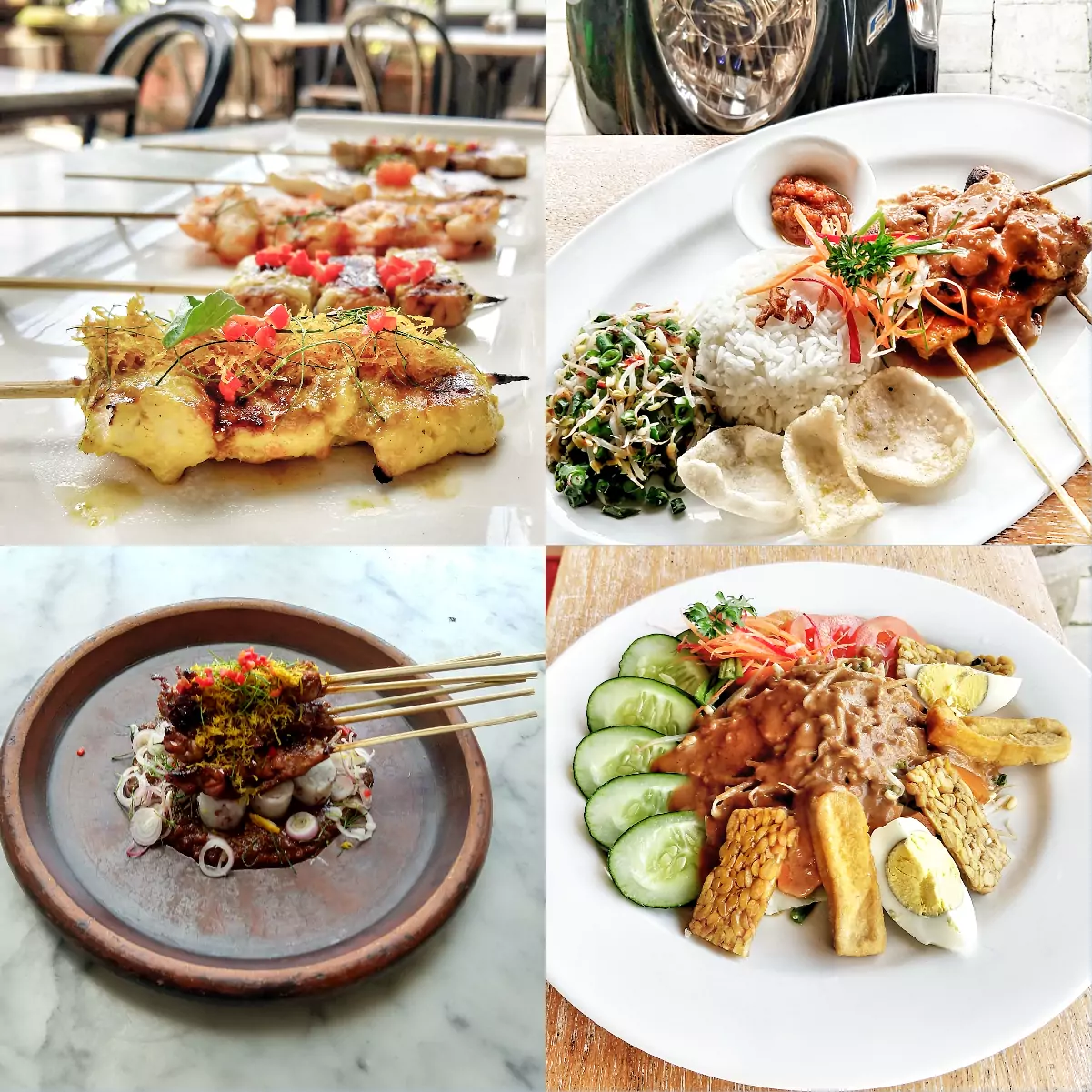 There is a lovely restaurant at the Pura Taman Saraswati, just up from the main crossroads. Cafe Lotus overlooks the lotus ponds of the temple, we enjoyed tea and cakes and watched the fish whilst seated on the floor at low tables. Kids love that combination of cake, unusual table etiquette and fish. They are simple creatures.
For a fancy family meal out, try Bridges. Good dining is very affordable for a family in Ubud, treat yourself!
The vegan and vegetarian scene is also very well catered for in Bali and the ice cream is delicious. Search out simple warungs too, and try the local speciality roast pork dish, babi guling.
There is a central area of rice fields behind the shops along Monkey Forest Rd, some of the cafes and bars open out onto this beautiful green area (photo below), see if you can find one, we had our best food in some of these long, narrow eateries.
We also managed to have a few drinks while the kids played on the walls, safely away from the traffic.
Family Friendly Cooking Classes in Ubud Bali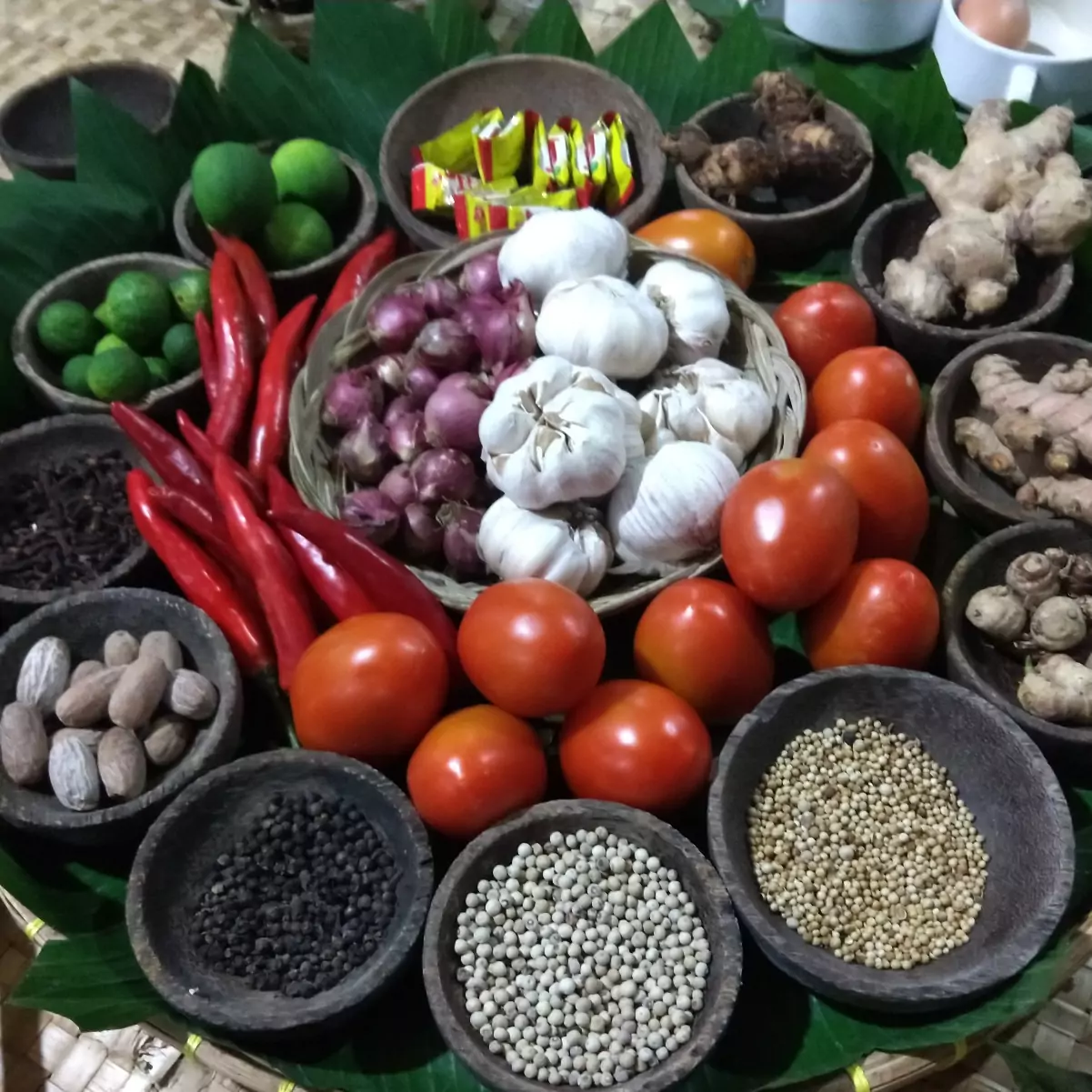 Some, not all, cookery classes will take kids. We've been taking our kids to cookery classes around the world since they were about 6 years old.
There will be knives and flames, so they'll need to be well supervised.
I took my tween to a cookery class from Ubud Bali and he loved it as we made his favourite green pandanus pancakes.
The link below takes you to a family cooking class which looks like it will take kids from 5 years old, but double check this for yourselves.
Cooking with kids is really a great thing to do, they learn so much and have loads of fun, in our experience.
The Ubud Capuhan Ridge Walk
If you like to stretch your legs and enjoy seeing rural landscapes, the Capuhan Ridge Walk from Ubud is for you. This is a free thing to do in Ubud with kids and should take around half a day depending on how long you want to walk. Very young children may struggle, be ready to carry them.
Most of the walk is very exposed to the sun so be sure to wear sunscreen and take water. There are craft shops and coffee shops along the way and you'll see padi fields with rice at whatever stage it's at, ducks, and rural activities.
The start of the walk is off the main road through Ubud, it's not far to walk to the starting point and there are some lovely buildings right at the beginning of the hike. It's really not long enough to call it a trek, it's more of a pleasant stroll and you can turn back at any point.
---
Family Friendly Ubud Cycle Tour
Not all bike tours from Ubud will take kids, but this one takes kids from 6 years old, it seems to take infants too, so hopefully they have baby seats and helmets.
Look at the fine print closely, just check they have everything your family needs. Check it out here.
---
Watch Traditional Balinese Dance in Ubud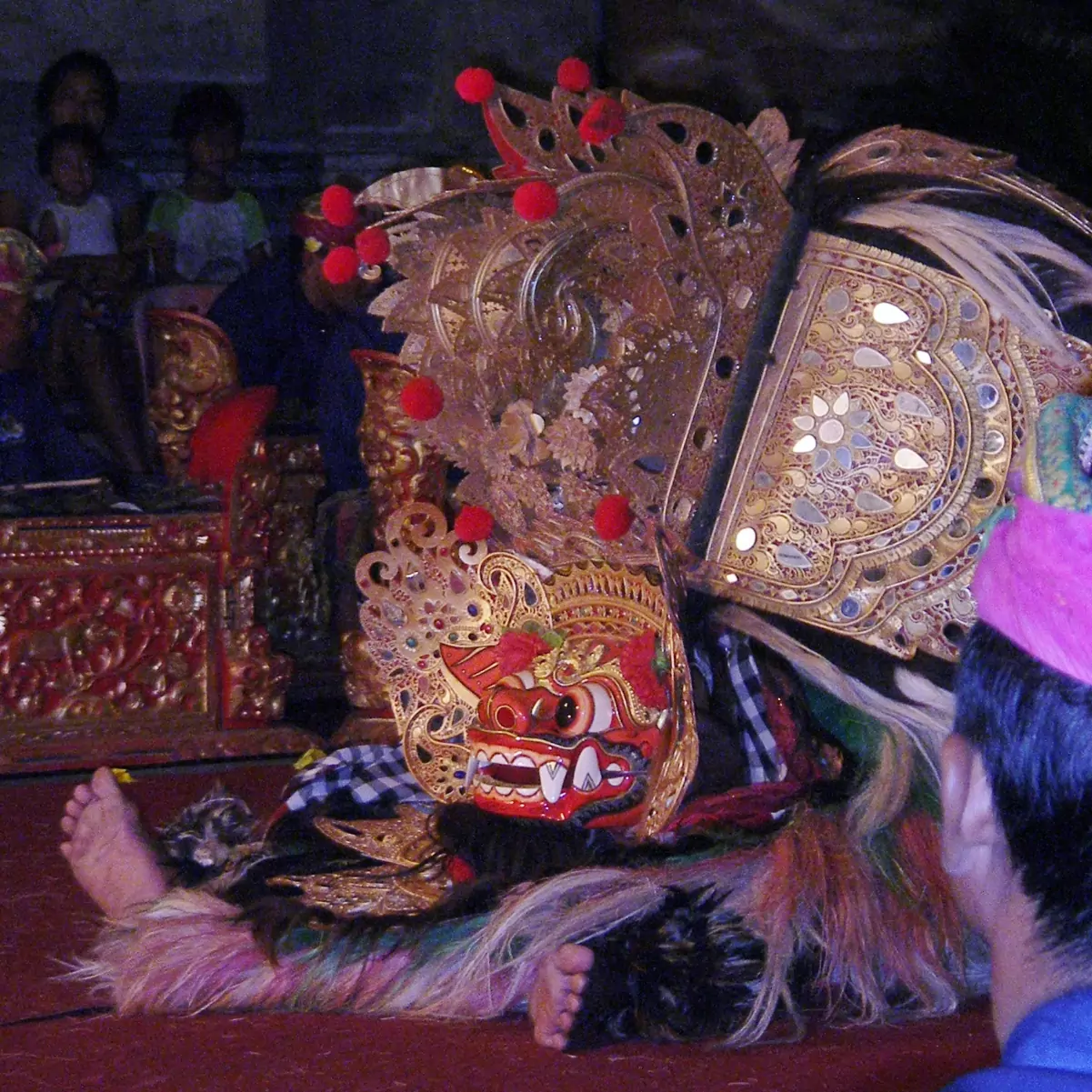 There are a number of options for watching traditional dance, the best one for us was the Barong dance performance held in the palace in the center of Ubud.
The Barong dance probably appeals to children more as the Barong creature makes an appearance along with some monkey dancers.
The Barong is a fearsom looking protector spirit and leader of the hosts of good.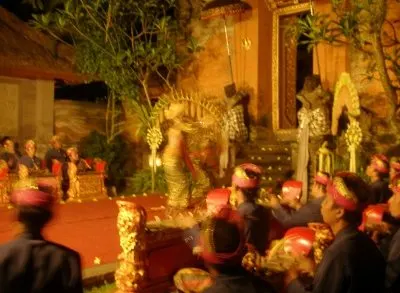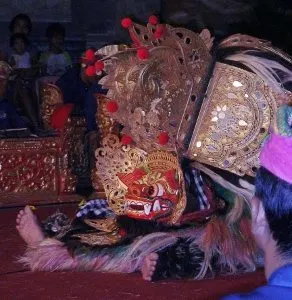 The dancing mesmerized our small boys, right through to 10 pm. We tried a butterfly dance performance too, further down the road at an indoor venue, the boys fell asleep.
---
Go Snorkelling with Manta Rays from Ubud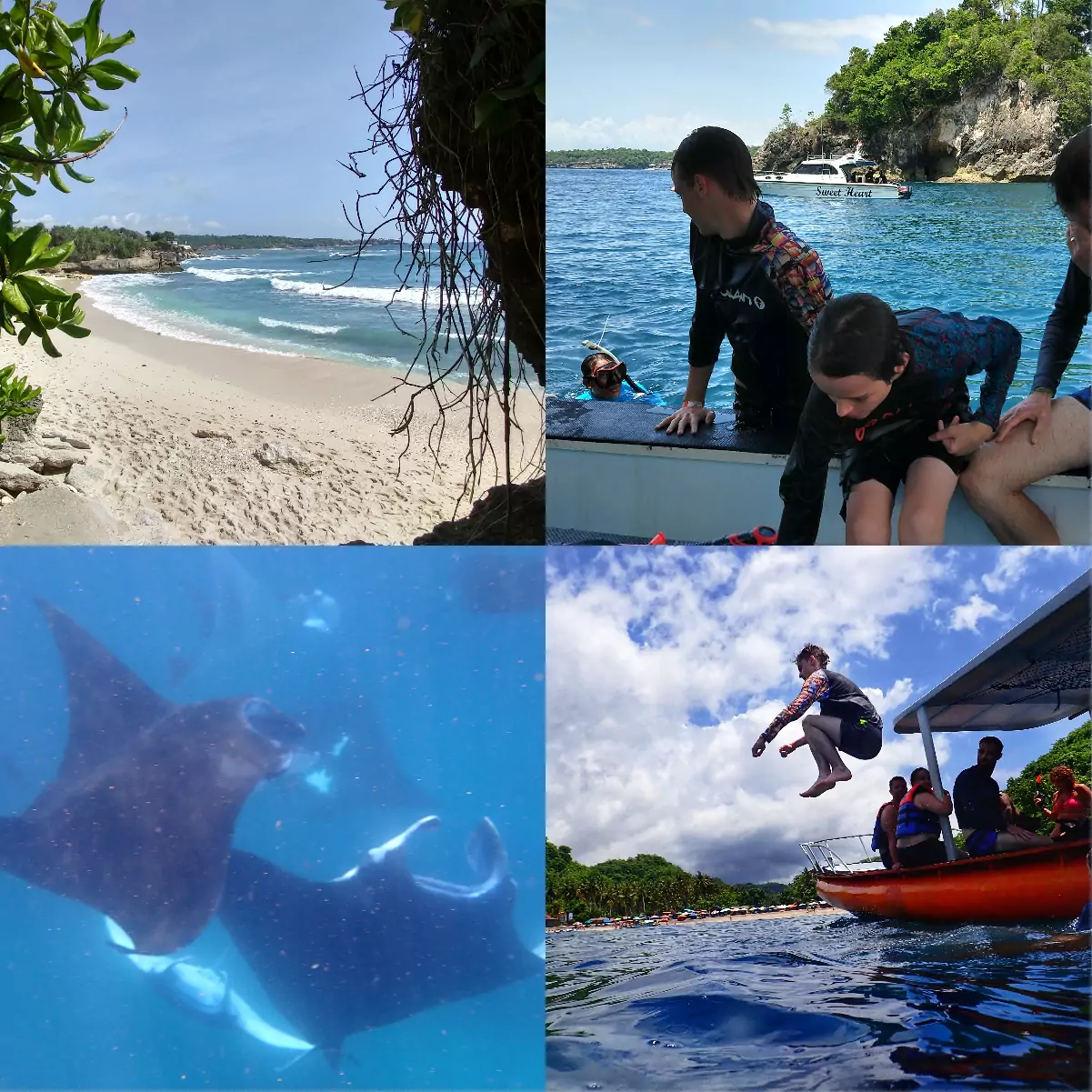 Ubud is landlocked. But it is possible to book trips from here to snorkel off Nusa Lembongan. You can go there and back in one day.
See our review of this snorkel trip from Ubud here, or just go ahead and book it, it was fabulous. I wouldn't recommend this one for small children, weak swimmers, or anyone with a fear of water.
On these tours you cross to Nusa Lembongan by ferry from Sanur and get a chance to see some of the stunning attractions nearby, as well as swim with giant manta rays.
Book that manta ray swim from Ubud Bali here!
Climb a Volcano, From Ubud
A popular activity in Bali is the dawn volcano hike, we took this tour from Ubud and it was easy to arrange by booking online. The tour included an early pick-up from our Ubud hotel.
We completed the volcano hike with kids are 12-15 but I did ask our guide if young children could climb the mountain. She said yes, and that off-road motorbikes were available if anyone wasn't up to walking.
It's a bit of a scramble in places but it's a fairly short hike and the views are breath taking as the sun rises.
My kids particularly loved bathing in the hot steam rising from the active crater area.
Wrap up warm, take a thick fleece at least. We completed this hike in December, so you could do this in the Christmas holidays (we took the manta snorkel tour in December too).
There may be some monkeys hanging about to feed at the summit, too.
Take a Walking Tour of the Rice Paddies and Villages
Our first hotel organised this for us and we really enjoyed it, strolling through the fields, checking out the irrigation systems before wandering through a village and taking lemon grass tea in a traditional courtyard home. The owners were artists and sold us a lovely picture, unfortunately, we later saw the same picture for less than half the price in the supermarket in Sanur. If you want to buy pictures, that is the place to go.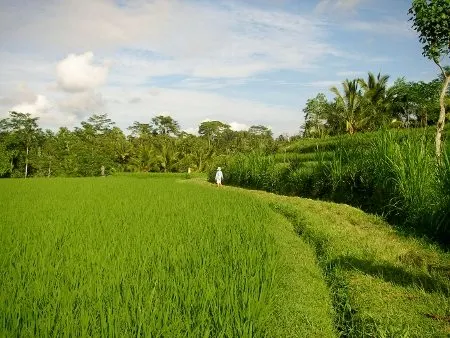 We came across a huge Golden Orb Spider hanging in its web, while we were oohing and ahing an old man came past, grabbed the spider in his hand and told us he was taking it home to cook for the baby to stop him wetting the bed. If you have bed wetters at home maybe this will work for you
for Pinterest…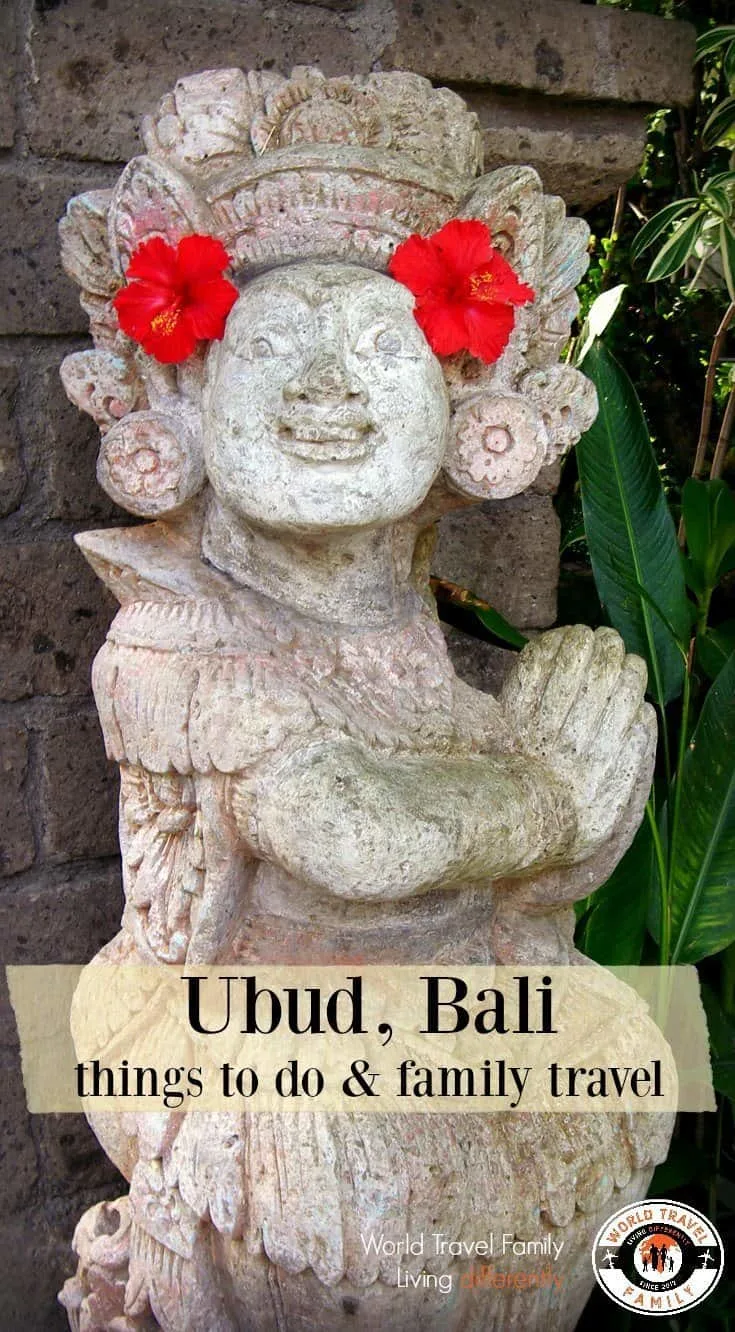 ---
Where To Stay in Ubud For Families
Family accommodation in Ubud is fairly easy to find and comes at every price point.
A few places we can recommend for a kid-friendly family stay in Ubud include:
The best, most luxurious hotel we could find in Ubud, with family accommodation, is The Four Seasons Resort Bali at Sayan. This 5-star is a little outside bustling Ubud, set in a stunning natural landscape. Service and amenities are superb at this hotel chain, so if your expectations are high and pockets deep, take a look at the two-bedroom private family villas at this hotel. Family suites with bunk beds are at a more affordable, but still luxury, price point. There is a surprising range of room configurations at this property to suit the large or small family. This hotel advertises a kids' club to allow mum and dad some relaxation, romance, or spa time. Check out this Four Seasons property here.
You can find a much more affordable family villa, but still towards the "best hotels" end, at the K Club Ubud. This hotel near Ubud has family villas with pool and garden views to suit small and larger families. The hotel advertises a kids' club and barbecues for guests to use. Take a look at K Club Ubud here.
For a bargain stay, in central Ubud, or a short walk away, try Rumah Roda, this hotel or guest house has family rooms and a pool, at an incredibly low price. See Rumah Roda homestay here. on Booking dot com, or you may find a better deal on Agoda, here.
---
Tour Bali From Ubud
To see the sights of Bali from Ubud, a very good way is to book a car with driver for a full-day tour. This tour allows you to set your own itinerary, or take your driver's suggestions, there are many beautiful places to see in Bali and having your own driver is the way to go, check it out below. If you're travelling with children this way is so much easier.
So what do you think? Do you like the look of Ubud, or have you been? Can you give us any more suggestions on things to see and things to do in Ubud as a family or with your kids?
If you'd like to hire a car during your stay, use this car rental comparison tool to find the best deal!

We also suggest you take a look at this company to get a quote for all kinds of the more tricky adventure or extended travel insurance.

Try Stayz / VRBO for an alternative way to find rentals on homes/apartments/condos in any country!