This post may contain affiliate links.
Bali Indonesia can be a fantastic destination for a family vacation or winter sun break. If you're planning a kid-friendly vacation in beautiful Bali, be sure to check out the best hotels for families and children on the island. We give you our pick of the most kid-friendly hotels in Bali below. We also discuss where to stay in Bali for families.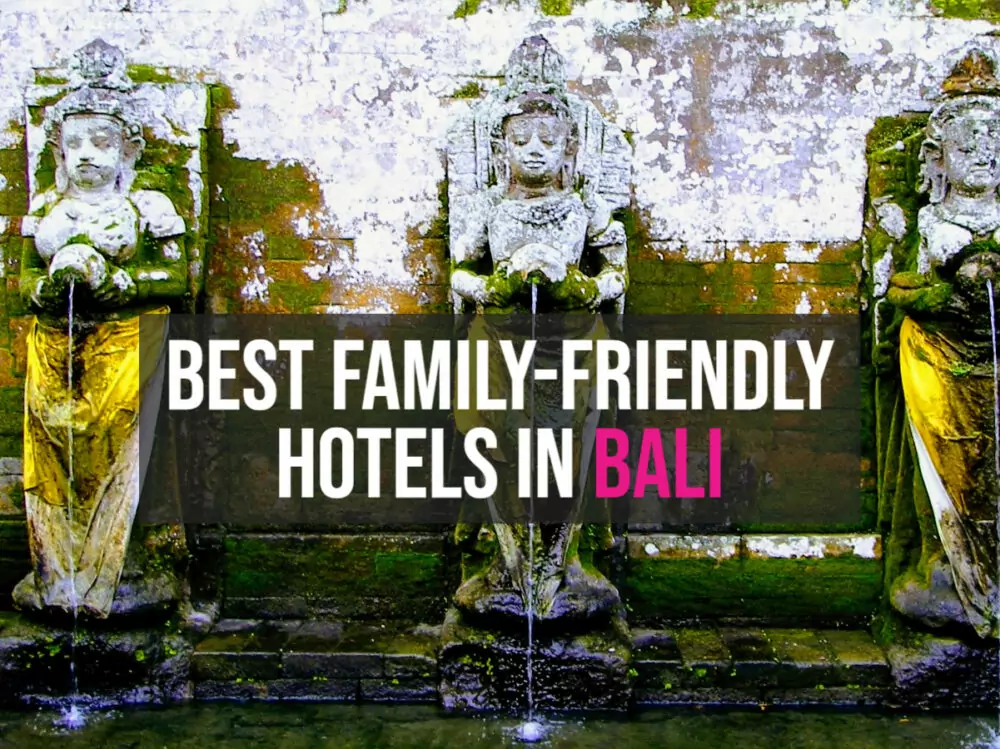 There are many family-friendly resorts, villas, apartments and hotels in Bali, on Bali's beaches, in the holiday hotspots, and in Bali's quieter interior. With Bali being hugely popular as a family holiday destination, new accommodation options appear almost daily.
If cash is no object you surely won't be disappointed by Bali's top-end luxury family resorts.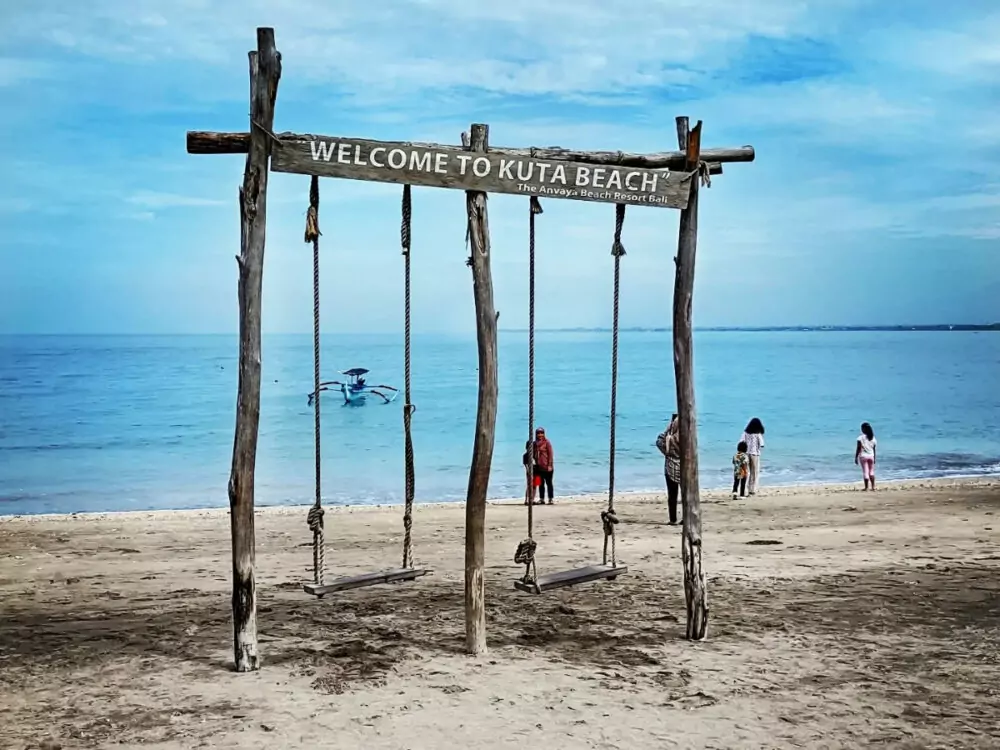 If you're on a tighter budget, or resorts just aren't your scene, you'll also find villas, guest houses, homestays, hostels and lower-cost (but no less beautiful) hotels that will cater to families large and small in Bali.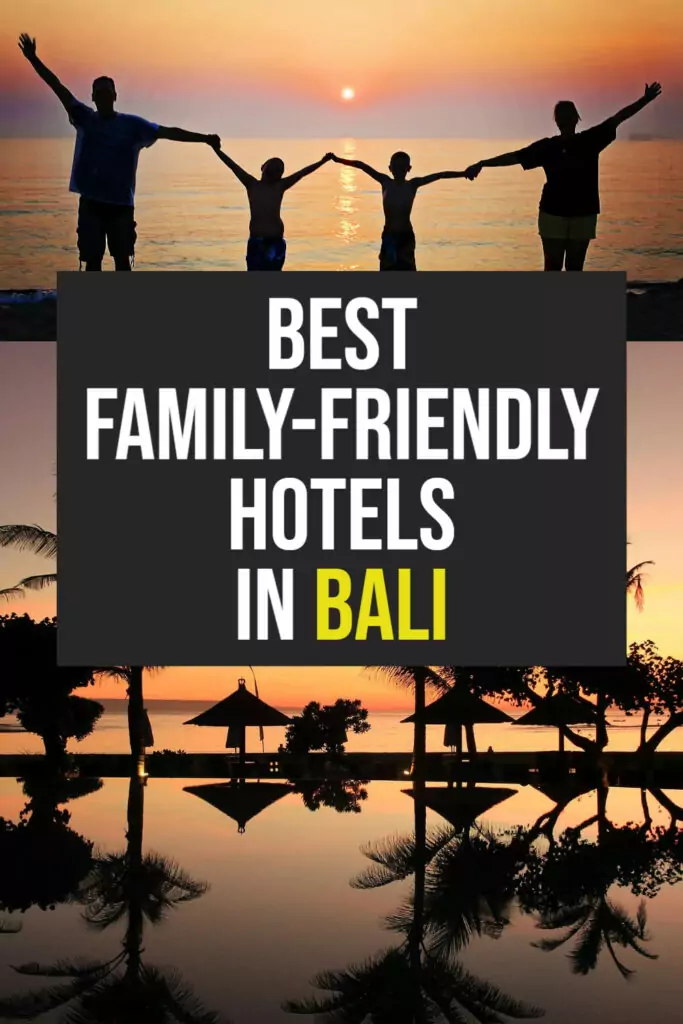 Family Hotels in Bali
Family accommodation is always harder to find than rooms for couples or singles but generally, we found a good choice of accommodation in Bali for a family of four and options for families with babies, families of 3, 5 and 6 are available, often at reasonable prices.
Hotels in Bali are generally not very expensive, making it possible for a family to stay at quite a luxurious hotel without it having to cost a lot. Of course families travelling on a tight budget can find cheap family rooms easily. We list some of the best family resorts and hotels for families in Bali below.
The cheapest place we ever stayed was $15/night for a room in a traditional courtyard home in Ubud, Bali. The most expensive, a luxurious seafront hotel in Sanur. We list some favourite properties below.
Accommodation with included breakfast can save you a lot of money, particularly when travelling with children. They can fill up on pancakes, eggs, toast, and fruit and be set for the day. If you prefer Balinese breakfast over Western, it's usual to find both in most hotels in Bali.
Best Family Hotel Near The Airport in Bali
If you only have a day or two in Bali, maybe you're waiting for a connecting flight or on a long layover, we can give you a very good hotel recommendation just minutes from the airport in Bali. (click through, opens in new tab)
We have tried several airport hotels in Bali because we often fly in and out of Australia via Bali, and this one has been the best in terms of it's location and comfort. We have booked a hotel closer to the airport (it was this one, Grandma's Plus Hotel Airport), but it was on a busy road with a complex one way system and no local shops or restaurants. The hotel below is much better!
This hotel, the Vira Bali, is in a nice location, there's a supermarket just steps away and you can even walk to the beach at Kuta and also walk to Bali's famous Water Bom Water Park.
We can also recommend a little warung (simple restaurant) just up the road with Vietnamese and Balinese food near Kuta beach. It was called Vietnamese Minnie Warung, photo below of their excellent gado gado, a Balinese salad with peanut sauce, my favourite thing to eat in Bali and popular with the kids too.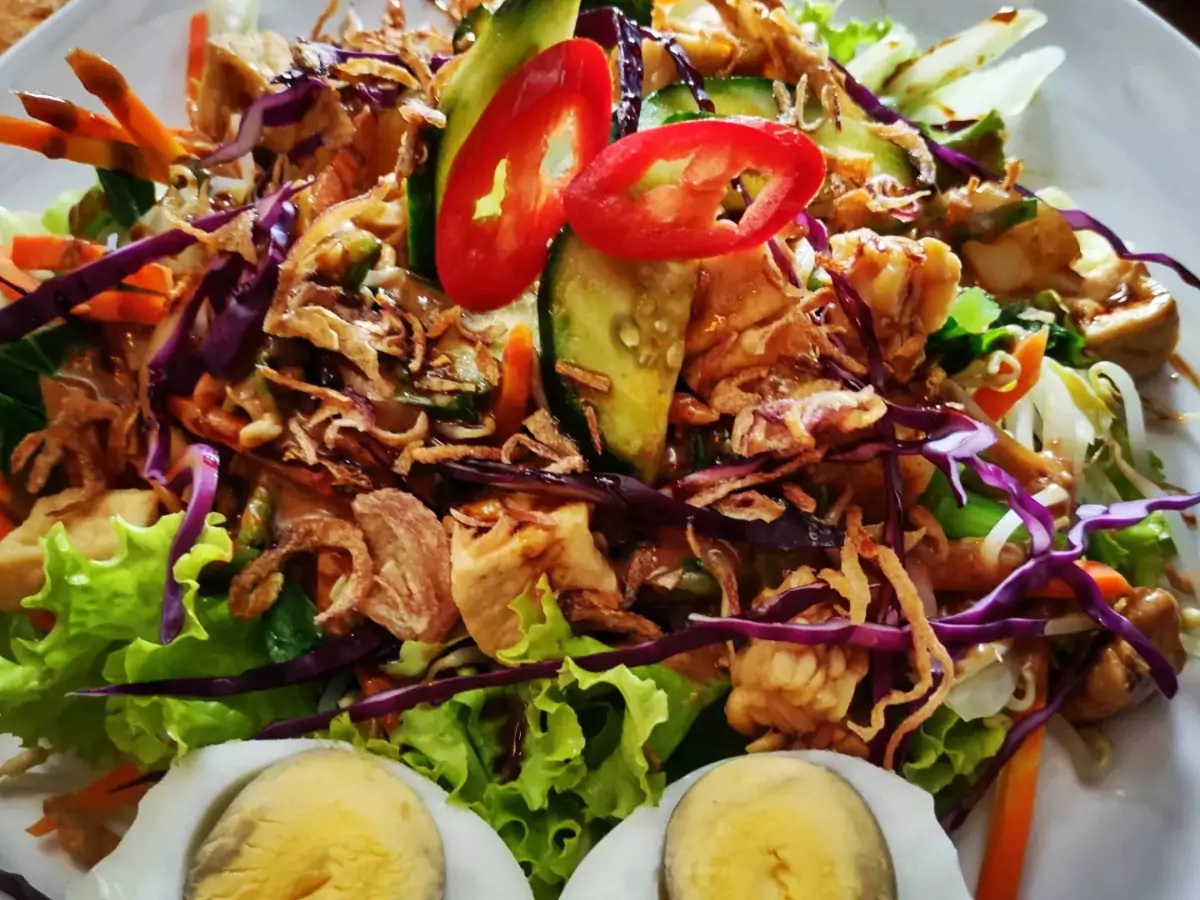 There's even a shopping mall with a Marks and Spencer nearby!
If you plan to visit Waterbom Bali (it's great for kids!) reserve your day passes here in advance. I'd also recommend you book your manta ray snorkelling trip in advance too, the boat departs Sanur so its very convenient if you are staying on the southeast coast, its a long drive from Ubud, but you can still book this trip. Book your swim with the manta rays here, it's an incredible experience but not for very young children, for older kids and teens its great.
I'd even consider this hotel for a longer stay in Bali at a moderate- mid range price point, it really was a pleasant place to stay without having to drive for hours on arrival. They even provided us with free airport transfers in a very nice vehicle.
So check out the Vira Bali Boutique Hotel and Suites. We had a family suite with adjoining twin and double rooms with a fabulous balcony and view of the lovely pool. Don't be put off by this being Kuta, we really enjoyed staying here and it was really close to the airport convenient for our connecting flight to Bangkok on AirAsia.
Best Family Hotels in Bali
These family-friendly hotels and resorts are selected for good kid-friendly facilities, family-friendly rooms and suites, and kids' activities to help give parents a relaxing, more luxurious stay. Kids' clubs are common in the most child-friendly resorts on the island.
These are some of the best hotels in Bali, we'll explain too about the various places to stay in Bali and which are best for families visiting the island, maybe for the first time.
We've spent months in Bali as a family with kids from 3 years old to older teens, and every trip to Bali has been a good one. We thoroughly recommend Bali as a child-friendly family destination and hope you enjoy this Indonesian island as much as we do.
Please check all facilities and room configurations for yourself as hotels can and do change terms and facilities often.
Novotel Benoa
Novotel are a great hotel chain for families and we've used them all over the world. The Novotel Benoa is on the Southeast coast of Bali adjacent to Nusa Dua and overlooking Tanjung Benoa Beach.
It's conveniently close to the airport and the hotel can offer an airport transfer to guests. The property is "Bali Style" with lush gardens, multiple pools and traditional architectural style.
Rooms or villas can be shared with children. There is a kids club listed as just one of the hotel's child-friendly facilities.
There are also many options for adults, including bike rides, cooking, and cultural activities in the hotel or nearby. Baby-sitting services can give adults a relaxing break if desired. This is a really beautiful hotel, and being Bali, it's affordable. (Take a look at this hotel here on Agoda, it's not currently available at time of writing, on Booking.com). We spotted child stays free deals for under 16s and bunk beds. Kids love bunk beds!
Benoa Beach is south of Denpasar (the airport) on Bali's south east coast. It is east of Kuta.
The Grand Hyatt Bali. Nusa Dua.
The Grand Hyatt Hotel at Nusa Dua Bali has 5 incredible pools with a water slide and vast beautifully landscaped grounds. This hotel is right on the beach and conveniently located in Nusa Dua. The hotel has many room types that can accommodate children, using sofa beds or sharing existing beds. There doesn't seem to be a "family room" that actually has 4 or more existing beds, but they do list family rooms as available Babysitting and a kids' club are mentioned among this hotel's vast facilities. In the region of $200 per night.
Nusa Dua in south of Bali's international airport, about 22 Km from Denpasar (Bali's provincial capital) on a peninsula that is home to many of Bali's best resorts and hotels. Nusa Dua means "two islands."
The Four Seasons Hotel Jimbaran Bay Bali
Four Seasons Resort Bali. Jimbaran Bay. Stunning Balinese-style family villas for a high-budget luxury escape right on the Indian Ocean. The villas here can accommodate large and extended families in luxury and style. Jimbaran is south of the airport and Kuta, a very easy location to reach with minimal transit time. A kids club offers activities for children on the property. This villa resort is the stuff of dreams.

Jimbaran Bay is immediately south of Denpasar, on the Nusa Dua Peninsula, but closer to the airport and on the west coast of this outcrop of land. It is conveniently close to Kuta (Waterbom Bali) and Sanur for the boats to Nusa Penida and the manta snorkelling trips (book here.)
W Bali Seminyak
.W Bali. Seminyak offers 5-star modern luxury and a full-service spa in a beachfront location. Villas here are a home away from home with plenty of stylish space to relax. Family rooms and villas can accommodate large families. This hotel is a particularly good choice for fitness fans with a good gym and yoga on-site.
Seminyak is north of Kuta and the airport, but still not too much transit time here. It's on Bali's south coast, next to Legian and Kuta. This area is closer to the beautiful Tanah Lot sea temple.
Rama Residence Padma Legian Bali
Rama Residence Padma Legian Bali. This is a beautiful spot with family studio rooms at a very affordable price, not budget, but not expensive.
Legian is a good place to base yourself in Bali, a little out of the massive development of Kuta. Legian is the beach area adjacent to Kuta, so not too far from the airport. Transfer times should be under 10 minutes.
Novotel Nusa Dua
A great pick for families is Novotel for their family-pleasing rooms, facilities and activities. You'll find Novotel properties in Nusa Dua (here)
Novotel Nusa Dua. Novotel properties tend to have very spacious rooms with many configurations to suit families of all sizes. This hotel has a kids' club and beautiful pools and gardens. These are our favourite chain of hotels for a kid-friendly family vacation.
This is another great resort hotel for families in Bali, south of the airport at Denpasar, on the Nusa Dua peninsula. Transport times from the airport should be about 25 minutes.
Parigata Resorts and Spa Sanur
Parigata Resorts and Spa. Sanur Sanur is a popular choice for families as the beaches are safer and more child friendly. Sanur is like its own self-contained village with plenty of dining beachside. This hotel has family rooms at a very affordable price point. The gardens and pool are Bali beautiful.
Sanur is east of the airport, on Bali's east coast. Transfer time from the airport to Sanur should be about 30 mins in a taxi. Boats to Nusa Penida and Nusa Lembongan usually depart from Sanur, so this is a very convenient location for your manta snorkelling trip.
Hard Rock Hotel Kuta Bali
Hard Rock Hotel Bali. Kuta Hard Rock hotels are lots of fun, we've stayed in a few around the world. the family rooms are made with kids in mind and there is fun, games, and water slides for your little ones to enjoy at a moderate price point.
Kuta is the main focus of beach development in Bali and Kuta Beach is just moments from the airport. Waterbom Bali water park is here for a fun family day out. Kuta is a great place for beginners to learn to surf and you can book a surf school or private surf lessons here.
Bali Dynasty Resort Kuta
Bali Dynasty Resort Kuta interconnecting family rooms are available here, plus a lovely pool with slides and kids activities. There are also kids' suites and family suites, many room types are available.
As mentioned above, Kuta is one of the best places in Bali to learn to surf and has plenty of shopping and dining options, very near the airport.
Four Seasons Resort Sayan, Ubud
.Four Seasons Resorts at Sayan. Ubud I know I couldn't afford this one, but check it out, it's a stunning hotel with family-friendly rooms and activities. This one is all about the beautiful Balinese countryside. luxurious private suites and villas are available.
Ubud is our usual favourite place to stay in Bali, it takes you away from the beaches and into the heart of Bali. Trips and tours from Ubud can take you to any part of the island, so when asked where to stay in Bali we always recommend Ubud.
The drive time from the airport to Ubud should only be about 35 minutes if the traffic is good, but the traffic can get really bad so be prepared for delays. The distance from Denpasar airport to Ubud is only 35-40 Km (25 miles). The bus journey to Ubud will be 2 hours or so if you take that option, which we don't recommend.
Independent Travel Accommodation in Bali for Families
If you're planning on travelling independently and touring the island it's best to book a few nights on arrival and then move on when you're ready. It brings peace of mind if you know you have somewhere nice booked online in advance.
After that, you can make your own way around the island booking as you go. Agoda (opens in new tab) works well for Southeast Asia for smaller hotels and guest houses, as does Booking.com.
If you like to wing it, check out hotels and guest houses when you arrive and take your pick, online, on foot or by taxi. We have taken rooms with all sorts of sleeping arrangements, full family rooms with four beds, a big double bed and an extra mattress on the floor and adjoining rooms and twin or double beds.
It is often easier to negotiate reduced rates face to face if this is your style of travel in Bali.
Airbnb in Bali
We've had some success with Airbnb in Bali. We had a lovely villa for 4, with pool and breakfast for around $50 per night. However, we prefer to use Agoda in Asia as they are local specialists and often have more choices. They also don't add a cleaning fee, nor ask you to request to book.
Booking dot com, can sometimes find you a better deal on your Bali accommodation. We find these booking platforms far superior to booking direct with the hotel, for convenience and price. You can use these booking platforms for hotels, homestays, apartments, hostels and villas. They carry all kinds of accommodation.
Activities and Child-Friendly Activities and Attractions in Bali
Bali has a huge array of family-friendly things to do. You can climb a volcano at dawn, visit a water park, see elephants, birds and reptiles or visit an array of beautiful temples and constructions. You can even snorkel with manta rays. Above all, immerse yourself in the beautiful culture of the island, Bali has so much beauty we're sure you'll be delighted. For more on activities and things to do in Bali, we have a very long list in this post, Bali with kids.
If you have any questions about going to Bali with your family, maybe for the first time, feel free to put them in the comments below. We'd love to hear your hotel recommendations too!
If you'd like to hire a car during your stay, use this car rental comparison tool to find the best deal!

We also suggest you take a look at this company to get a quote for all kinds of the more tricky adventure or extended travel insurance.

Try Stayz / VRBO for an alternative way to find rentals on homes/apartments/condos in any country!