This post may contain affiliate links.
A look at Cardiff at Christmas, Cardiff's Winter Wonderland, things to do in Cardiff at Christmas, where to stay, what to eat, winter weather and what to wear in Cardiff and Welsh Christmas traditions. I'm a Cardiff girl, and a traveller, we don't live in Cardiff these days but we love going home to Cardiff Wales at Christmas time.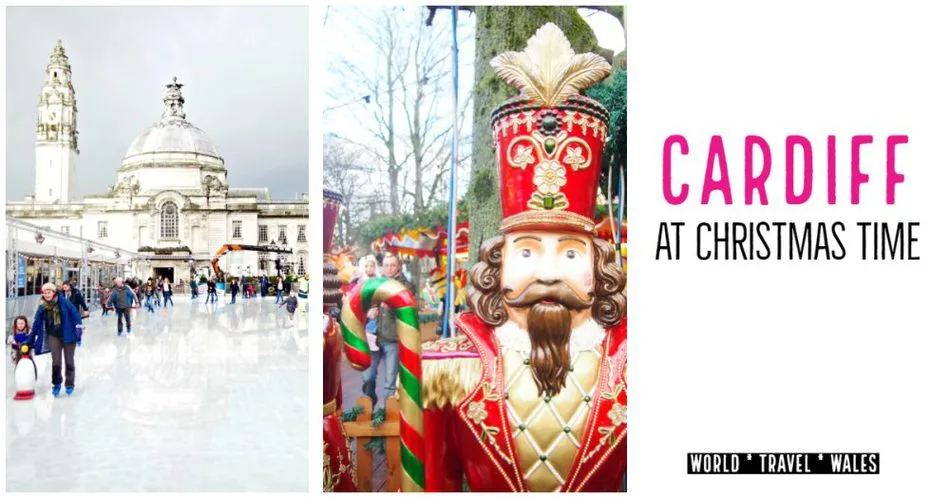 Cardiff at Christmas
Well, it didn't snow. But our recent Christmas in Cardiff, Wales was nothing short of fabulous.
I've mentioned before on our Facebook page that Cardiff does Christmas well, it really does. From the spectacular Christmas lights to the festive market to the official Cardiff Winter Wonderland that normally stands outside Cardiff Museum.
It was all really great, a very special one for us, our first cold Christmas in 7 years and our first when Dad, the Chef, didn't have to work on Christmas day.
Our Cardiff Christmas was one to remember and Wales with kids comes recommended. We can share information on Christmas events in Cardiff below, updated.
Cardiff's Winter Wonderland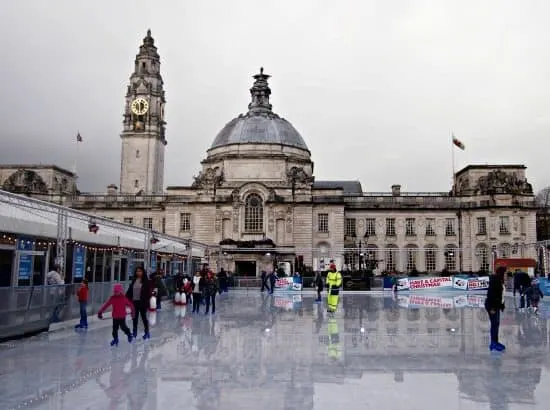 That's what it's actually called, Cardiff Winter Wonderland. There is normally a seasonal ice rink outside Cardiff City Hall, along with funfair rides, sideshows and festive food and drink stalls. We went by day, but it looks so pretty lit up at night.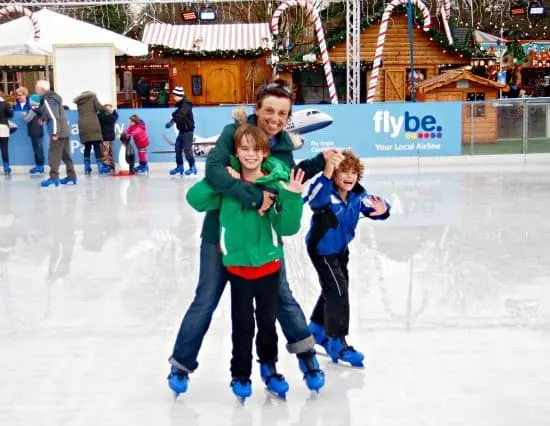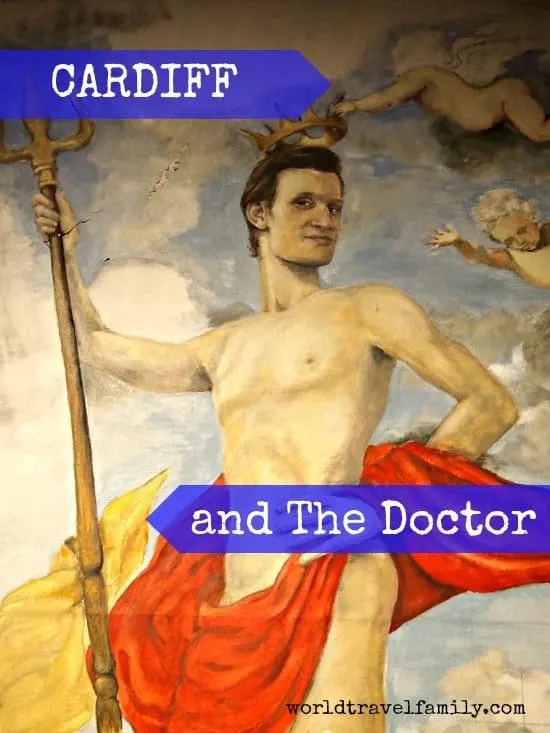 We walked in and got on the ice rink straight away, but they say you should book. It was loads of fun! Boo wore a ski suit given to us by an anonymous family.
He was the only one who didn't come off the ice soaked to his underwear The people of Cowbridge have been incredibly kind to us this Christmas after our problems, it's really been amazing
It's all so different to the tropical Christmases we've been used to in Port Douglas. I'm Welsh, so this is my normality, I've loved being here this year.
There was no way I was going to go on this thing! But they say it gives you an amazing view of Cardiff.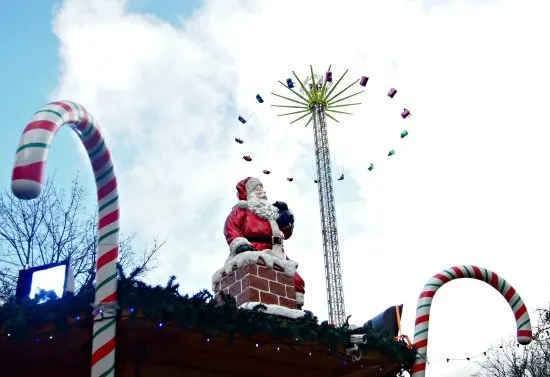 Cardiff Christmas Markets
The Christmas Market in Cardiff has been running for a long time, since before I left for London and then Australia. It's centered around the Hayes and Cardiff Market area of the town center.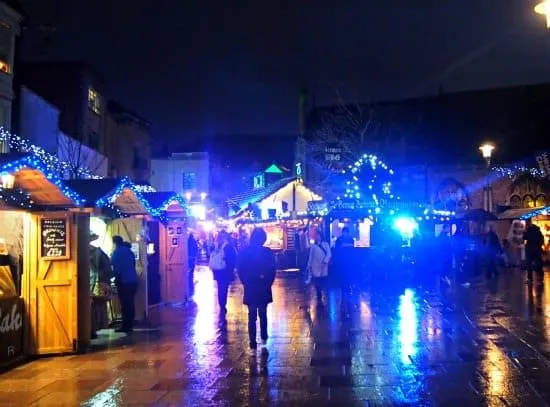 Plenty of shops, plenty of food, plenty of fun! It's open well into the evening, a good place for a mulled wine or three.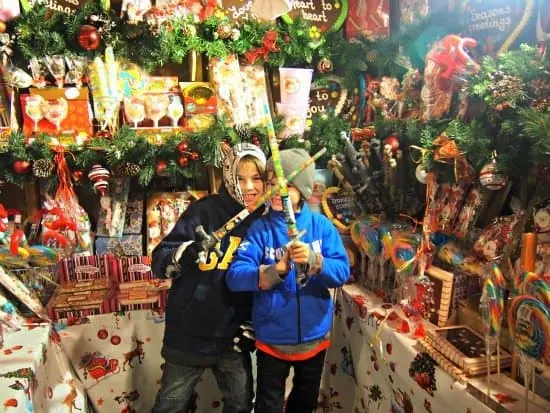 My boys had never seen mistletoe before. There were many firsts on this trip, from hearing sheep go baa to trying chips and curry sauce. All were good!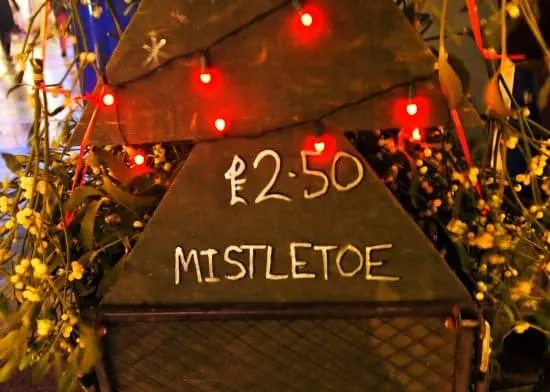 You see these bratwurst stalls everywhere these days in the UK, it seems. Chef and the boys said they were delicious.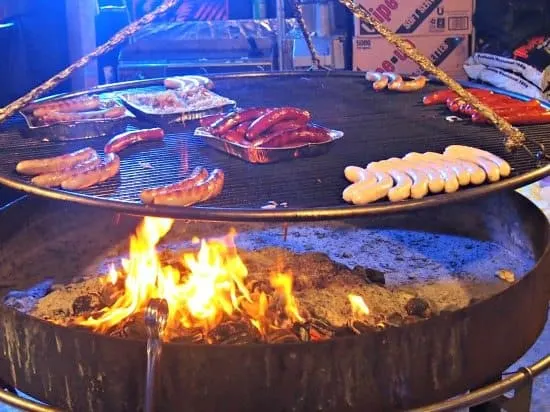 We tried this Welsh Cream Liqueur, it was seriously good. I promised I'd give the company a plug. They are a family business from Anglesey, Wales Condessa Welsh Liqueurs, I love that these small local businesses can give the big names a run for their money.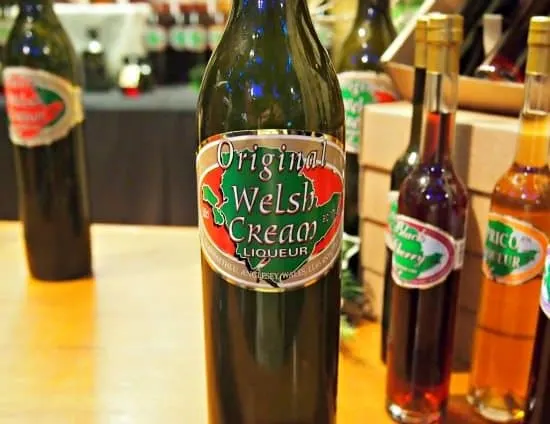 According to the Cardiff Christmas Markets website ( see here) the market and ice skating rink is open this year from 14 November 2019 to 23 December 2019
Things to Do In Cardiff at Christmas
Hayes Island Snack Bar
When you're done with shopping, Cardiff's iconic Hayes Island snack bar is there to serve you a cup of tea. It's been there over 100 years.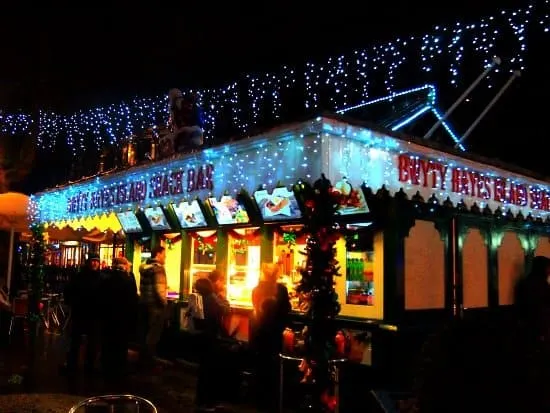 Shopping in Cardiff
Or you could retreat to Cardiff's beautiful covered shopping arcades. We have some of the best shopping I've ever seen in Cardiff.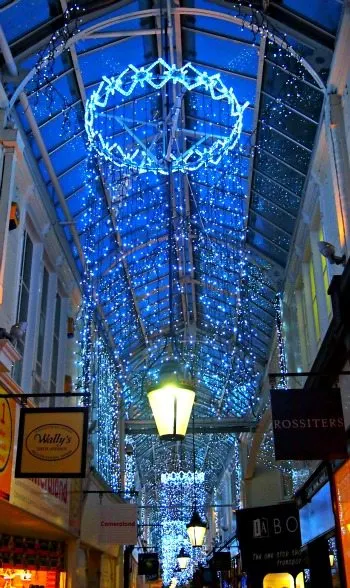 Want to read more about Wales? Back to our main Wales Travel Blog page. Try our posts about The Museum of Welsh Life, Barry Island and Gavin and Stacey or Cardiff's Doctor Who Connection
This post is being updated today with current information on Cardiff at Christmas and in winter. Hopefully, everything will be current in an hour or so.
If you'd like to hire a car during your stay, use this car rental comparison tool to find the best deal!

We also suggest you take a look at this company to get a quote for all kinds of the more tricky adventure or extended travel insurance.

Try Stayz / VRBO for an alternative way to find rentals on homes/apartments/condos in any country!