This post may contain affiliate links.
And the kitchen porters, the housekeeping staff, the gardeners, front of house, maintenance and everyone else working to make your Christmas special.
They are all amazing. They all have to work over Christmas and all have a smile and a "Merry Christmas!" for even the grumpiest customer.
My husband is a chef, Executive Chef at a a luxury resort in Port Douglas Australia, his restaurant is sensational. I've had eleven years of being married into the hospitality industry, 5 years at his current hotel. Every year a dedicated team of professionals works incredibly hard to give the people who choose to spend Christmas at the hotel, or have their Christmas lunch in the restaurant, an extra special experience.
Christmas in Hospitality is Hard Work!
My husband did a 17 hour day yesterday, Christmas Day, as he will most days over the Christmas period. We stay in the hotel for a couple of days, a perk, so that we can at least see him over Christmas. He left us at 6.30am, after watching the children open their presents, he was home some time around midnight. I don't know what time exactly, I was asleep. Some of the other hospitality staff will have been there for the same number of hours. I'm very grateful that my husband was able to take an hour off, mid afternoon, to swim with the boys, the junior staff wouldn't be so lucky, no in-house perks for them.
The boys and I had a lovely Christmas, we swam for most of the day in an amazing pool, they played with their new toys, I watched and enjoyed their happiness. My husband, the Chef, has one day off between Christmas and New Year, we'll have a family meal then.
It's one of the biggest days of the year, the day the hotel chain makes the most money, it's not the staff making money, it's the owners.
We Should be Thankful.
If we are lucky enough, cashed up enough, to spend our Christmas in a hotel, anywhere in the world, lets be grateful. Remember how fortunate we are to have the disposable income to outsource our celebrations. Please remember that all those hotel staff busting a gut on Christmas day have families, many have young children, who are missing out on seeing a parent on this special day. Yes, it's their job, but they're not paid much. My husband earns little more than a kitchen porter, when you factor in the number of unpaid hours he works to make sure everything is as perfect as it can be.
Yes, they chose that career. Nobody forced them and nobody forced me to marry into the hospitality industry.I'm not complaining, I'm just suggesting people be grateful, be kind. A minority of people aren't.
Please let's not complain if a meal takes 5 minutes longer than expected or a medium rare steak isn't exactly as we imagine medium rare should be. It's not such a big deal, really, is it? The staff are busy and under pressure. It's all about the money for the hotel owners, so, to cut costs, there probably aren't enough staff on duty for things to run perfectly smoothly. Staffing isnt's your waitress' fault and it's not the chef's fault. They are doing their best.
As travelers we've spent Christmas in hotels and guest houses, not for a few years now, certainly not at hotels of the caliber of my husband's . I will do my very best to be grateful for every meal, every " Happy Christmas" I get. I once tipped my room cleaner in India $10 on Christmas day. I heard her whoop for joy as she opened the envelope outside our door. I'll never forget that whoop. She was a Christian girl, going home to her parents for lunch. She was so happy, she invited us to spend Christmas with her family. I was touched and humbled.
I realize there are plenty of other industries where families are split up at Christmas, the soldiers, medical workers ( I used to be one), emergency services, I'm grateful for them too, but, right now, I'm thinking about hospitality, it directly impacts on travelers everywhere.
So, Happy Christmas everyone, hope you had a great time, the three of us did, the fourth member of the family is still busting a gut to make other families happy. Doing his best, despite the inevitable complaints. If people ask me why we want to pack it all in, leave this tropical paradise and travel the world, I think maybe this post gives part of the answer.
Want to save this to Pinterest?
We made this just for you.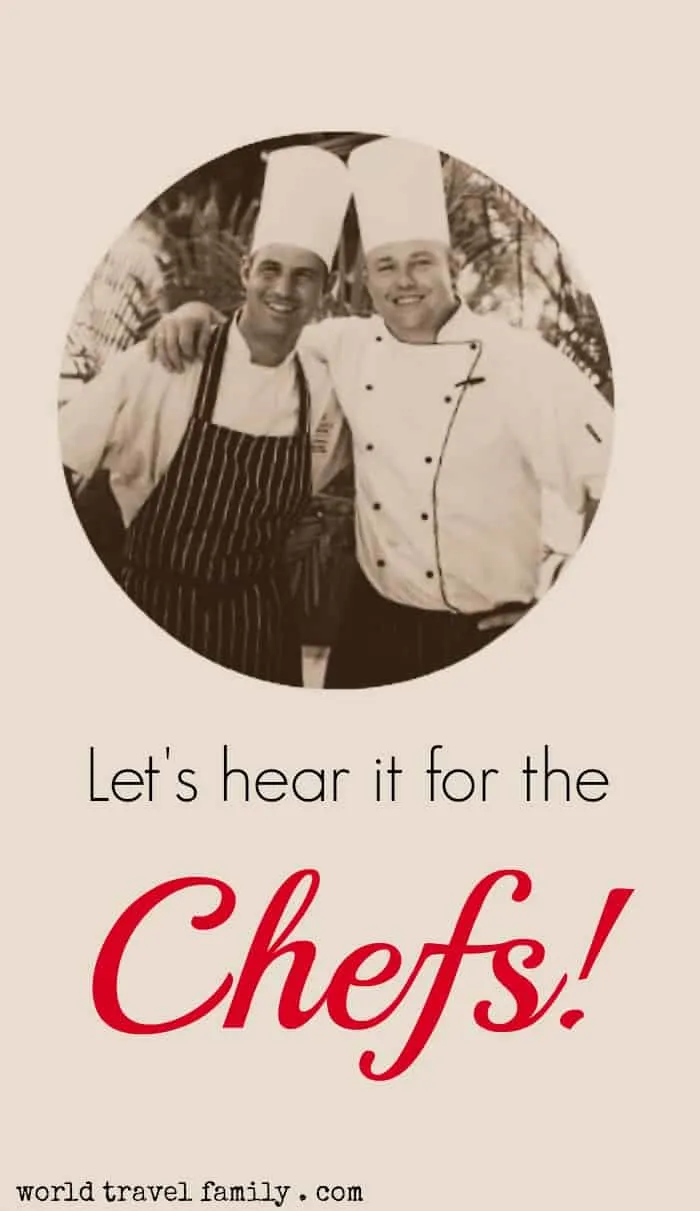 Follow World Travel Family Travel Blog's board Chef on Pinterest.


If you'd like to hire a car during your stay, use this car rental comparison tool to find the best deal!

We also suggest you take a look at this company to get a quote for all kinds of the more tricky adventure or extended travel insurance.

Try Stayz / VRBO for an alternative way to find rentals on homes/apartments/condos in any country!