This post may contain affiliate links.
It was great to get the chance to try Tibetan food, in Tibet. We'd skirted around the edges of Tibetan food and culture in the Sherpa villages of the Everest region and dined in Tibetan restaurants in Kathmandu and Pokhara, often run by Tibetan refugees, but what of food in Tibet? How would that be? We had an amazing chance to find out during our Tibet tour.
Our post covers Tibetan food, as served to us in Tibet.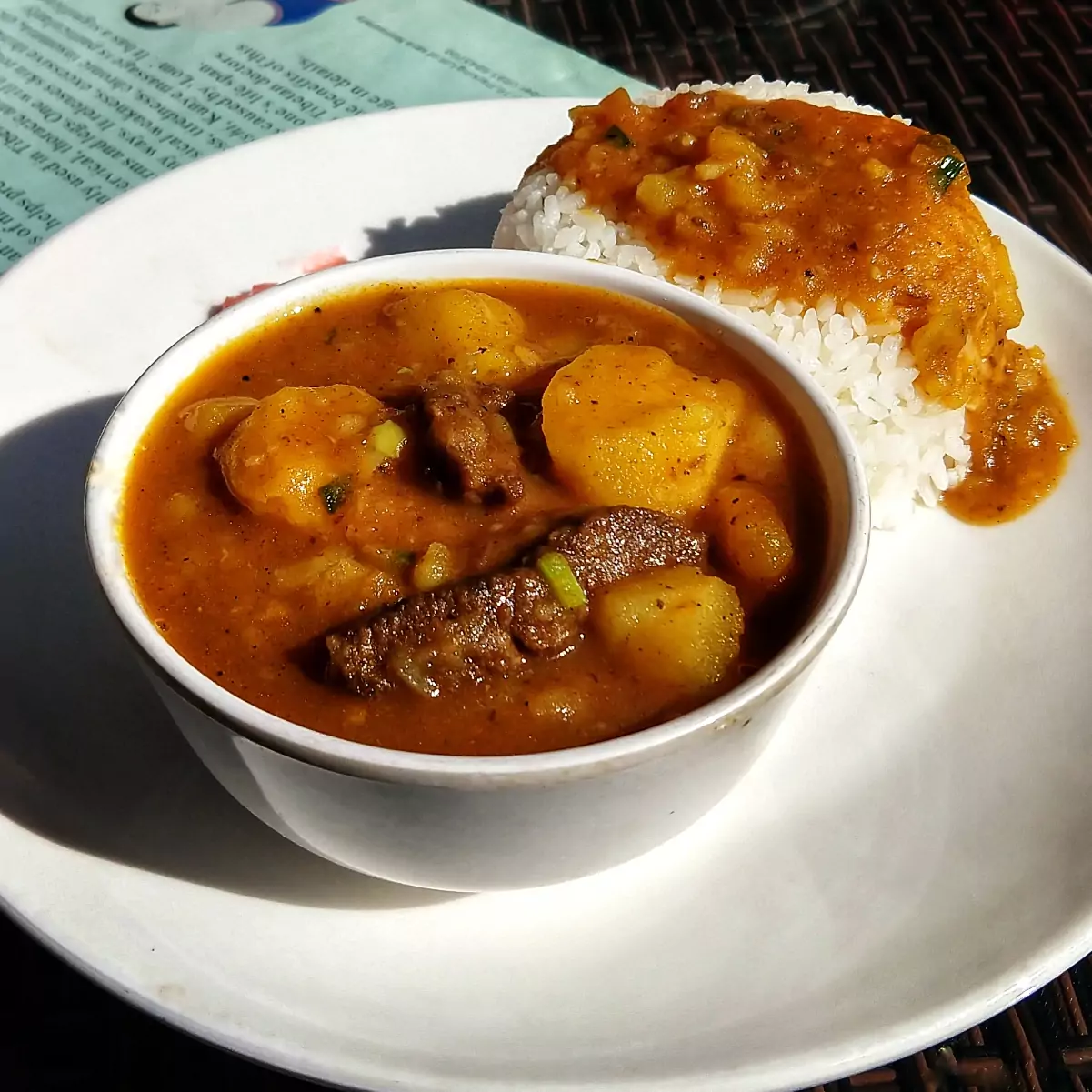 What is Tibetan Food?
Some Tibetan food is amazing, truly delicious, much of it was less so.
Tibetan food is very similar to Bhutanese, Nepali, Indian, or Chinese food, but with a general "Himalayan" style. South Indian food is very different to North Indian for instance and you'll only start seeing the Himalayan dishes as you get into the mountains.
A lot of dishes, like mo mos are found in all of these countries but if you look up their origins they are thought to be Tibetan. Trade routes, migrants, and shifting borders change cuisines, and its really very interesting.
I'm no expert, I just love food and this part of the world.
On a short tour or trip to a new destination, knowing where to eat is always difficult and you will make mistakes as we did.
We tried to find as many Tibetan dishes as we could on this trip but our hands were often tied. We had to eat breakfast in our hotels and often our lunch stops were remote stops along the road.
Some of these lunch stops gave us what we thought was the most authentic Tibetan food and experience, far away from the fast food tourist trail.
A look at traditional Tibetan dishes, Tibetan food, and what we ate in Tibet because not all of it was Tibetan.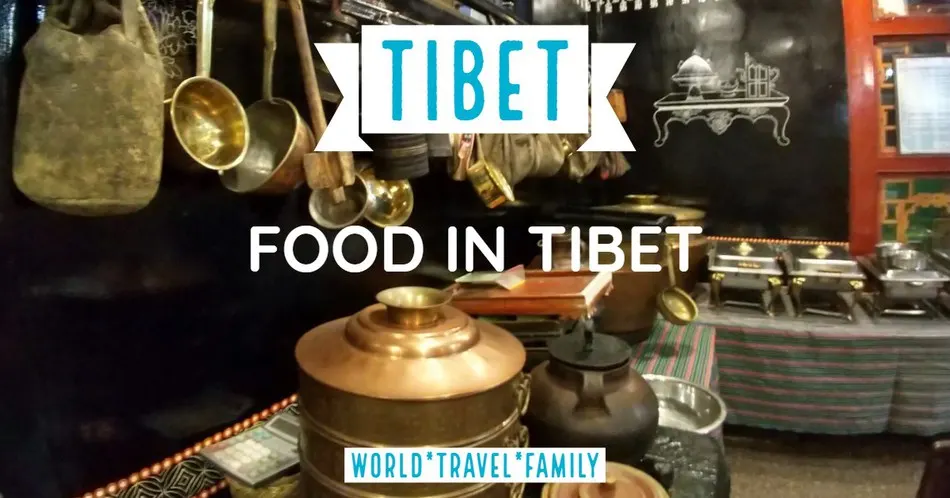 Restaurants in Tibet exist at tourist and local levels. In Lhasa we dined well. On the road in small Tibetan towns, food choices were more limited but probably more authentic.
One stand-out meal of noodle soup and flower tea gave us no clue as to what we'd been served. There was no menu, just photos on the wall that we pointed to.
A friendly Muslim family simply served us, it was good, it contained meat, we have no idea what it was.
Food in Tibet was varied and interesting, some of it very similar to what we'd eaten in Nepal.
The staple crop of Tibet is barley and this can be ground into tsampa or used in making noodles or momo. Tsampa can also be added to tea along with butter.
The menu is pretty meat-heavy and veg-light, as you'd expect in a country with such a challenging climate.
Expect to eat yak, goat, and mutton, I don;t think we ever saw chicken. Tofu was also available sometimes in one of my favourites, spicy tofu.
Spicy tofu is a dish I first tried in Beijing China many years ago. I've also eaten it in Thailand in the far north Hill Tribe villages. This dish generally comes with ground pork, which may come as a surprise extra to vegetarians.
The Tibetans also grow mustard seed although I didn't notice it in any of the dishes we consumed. You see whole mustard seen in South Indian curries, we didn't see anything like this in Tibet.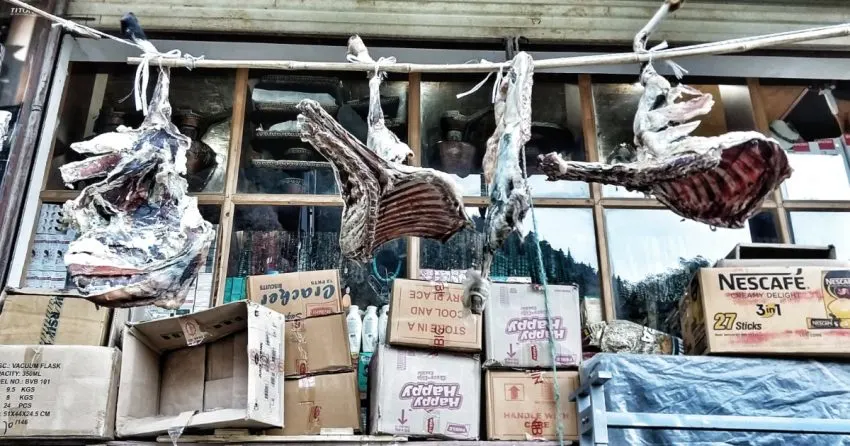 All the photos and experiences we collected of eating in Tibet, including restaurant names where possible, are below.
I'm not going to pretend to be an expert on Tibetan food, but I know more now than I did before we visited.
Classic Tibetan Dishes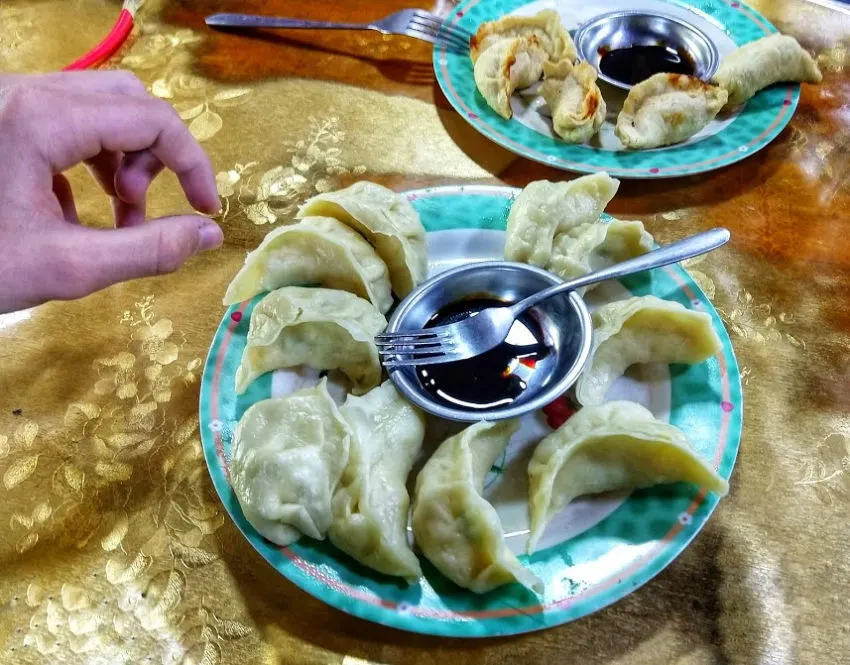 The internet will tell you that the following are some of the classic dishes of Tibet.
Food in Tibet is actually more diverse than this and we were able to order Nepali food, Indian food and Chinese meals alongside Tibetan.
Dishes we've always considered Nepali such as thukpa or momos are generally listed as Tibetan too. So, if you're thinking Tibetan, start thinking about these foods and drinks.
I should mention here that a yak is a male hairy cow only found above a certain altitude throughout the Himalayas.
We've eaten yak meat and buffalo meat in most countries in this region.
Obviously, the yak does not give milk or butter, that's down to the female, the dri or nak so yak butter, yak cheese, and yak milk are considered incorrectly named.
That said, most people know it as yak butter so we'll stick with it for now.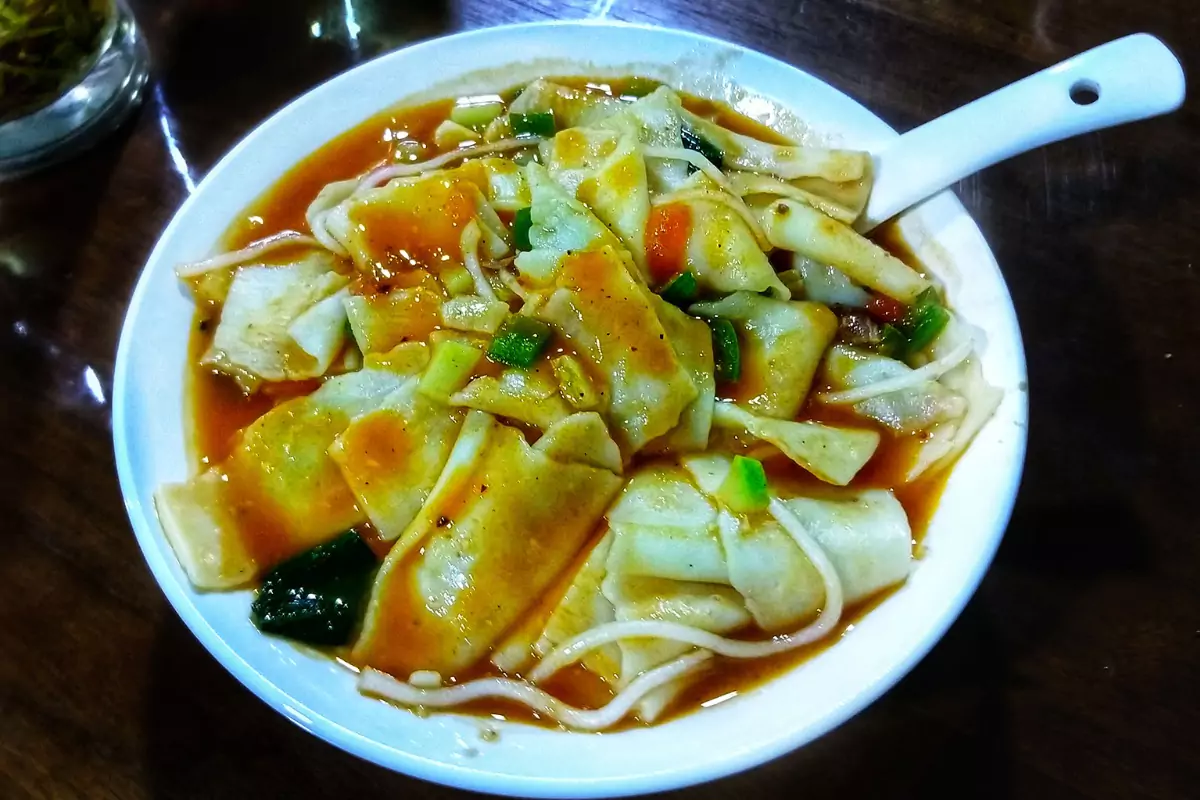 Chebureki. A deep-fried turnover with a filling of ground or minced meat and onions
Butter tea. Found in Tibet, Nepal, Bhutan, Ladakh, Sikkim, Mongolia (where I had it and – it was't good). Made from tea leaves, yak butter, water, and salt, the Tibetan national beverage.
Chhaang . traditional Tibetan and Nepalese beer
Tibetan Breads including Balep, Balep korkun and Tingmo which is steamed
Momos. Dumplings found in Tibet, Nepal, Bhutan and Sikkim India. Gong'a Momo are filled with meat paste. Sha Momo – filled with beef or mutton, Shoogoi Momo – prepared using mashed potato with dough, shaped into balls, with a minced meat filling, served with bread crumbs. Tibetan momo are traditionally a different shape to Nepali momo.
Raksi. A traditional distilled alcoholic beverage in Tibet and Nepal. It is often made at home.
Ara – an alcoholic beverage made from rice, maize, millet, or wheat, and may be either fermented or distilled
Tsampa – roasted barley flour grits are a staple food and can be made into porridge with butter tea. The kids tried this at Everest Base Camp and wern't in a hurry to try it again(D here, this is a lie. I'm wierd and actualy loved the Tsampa. We passed endless barley fields around Lhasa.
Yak meat – everyone loved yak meat. It's much nicer than buff ( buffalo in Nepal) and by the end of the trip all 3 kids in our party were begging for yak sizzlers.
Tibetan Cheese have various permutations. Chhurpi can be soft or hard. Chura kampo,Chura loenpa, Shosha – they can be made from the milk of various animals.
Thukpa is really any noodle soup. We've eaten it all over Nepal but apparently, it is Tibetan. There are various other soups including De-Thuk, Guthuk – a Tibetan New Year dish, Qoiri, Thenthuk, Thukpa bhatuk and Tsam-thuk which contains cheese, meat and tsampa.
Tibetan Vegetarian or Vegan Food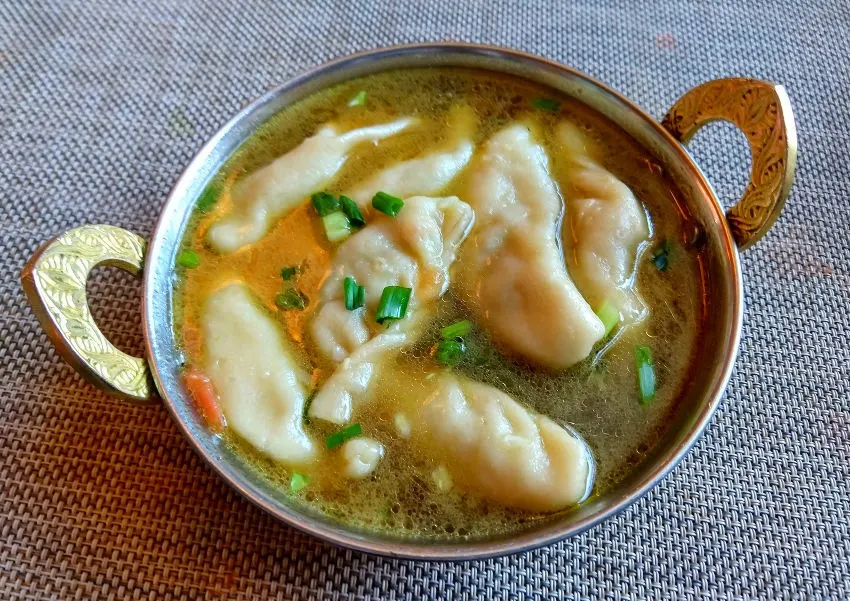 At the time we visited Tibet I was mostly vegan but I knew it wouldn't be possible to stick to a vegan diet so I at least aimed for vegetarian.
Even that was hard to do.
I found plenty of dahl and it was cheap with a chappati, but on menus without as much Indian style food, that was absent.
We even found dal baht, the Nepali national dish, but unexpected animal produce was always popping up where I least expected them and there was a language barrier.
The vegetarian momo soup above came in chicken stock, for instance. I'm pretty easy-going but if you're strictly vegan you may have issues.
Chip Chilli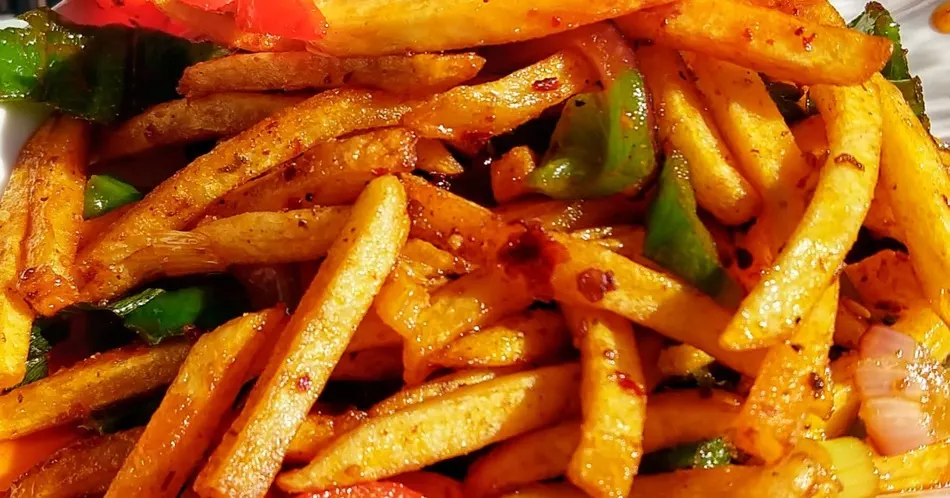 Chilli chips or chip chili is so good! If you can find it, try it.
I've read that chili chips are of Chinese origin so no surprises that we ate it in Tibet. We've also seen it in Kathmandu, Chitwan and Goa.
It's chips, fried with a few bits of veg and chillies. If your chef uses ketchup instead of a home-made tomato or chilli sauce it's very disappointing, but made from scratch it's tasty.
This is one to make at home, great for vegetarians and vegans. We tend to share a plate of chili chips along with some pakodas or pakoras or even have chilli chips alongside dal.
Nobody will tell you it's healthy, of course.
This plate was at a restaurant outside the magnificent Sera monastery.
Yak Soup, Stew or Curry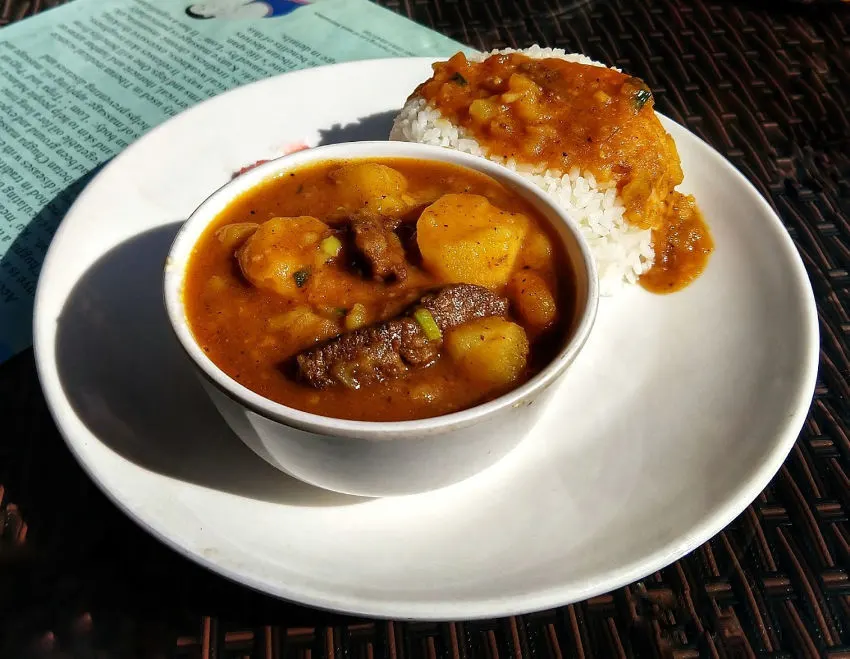 This was, I believe, yak and potato stew. It seemed weird to have these meaty stews served with gravy and rice. But I guess that's a Tibetan traditional way to serve it.
The yak stew was nothing to write home about, but Chef had to give it a try. Yak is good, very good, but this dish was too bland.
Tibetan Bread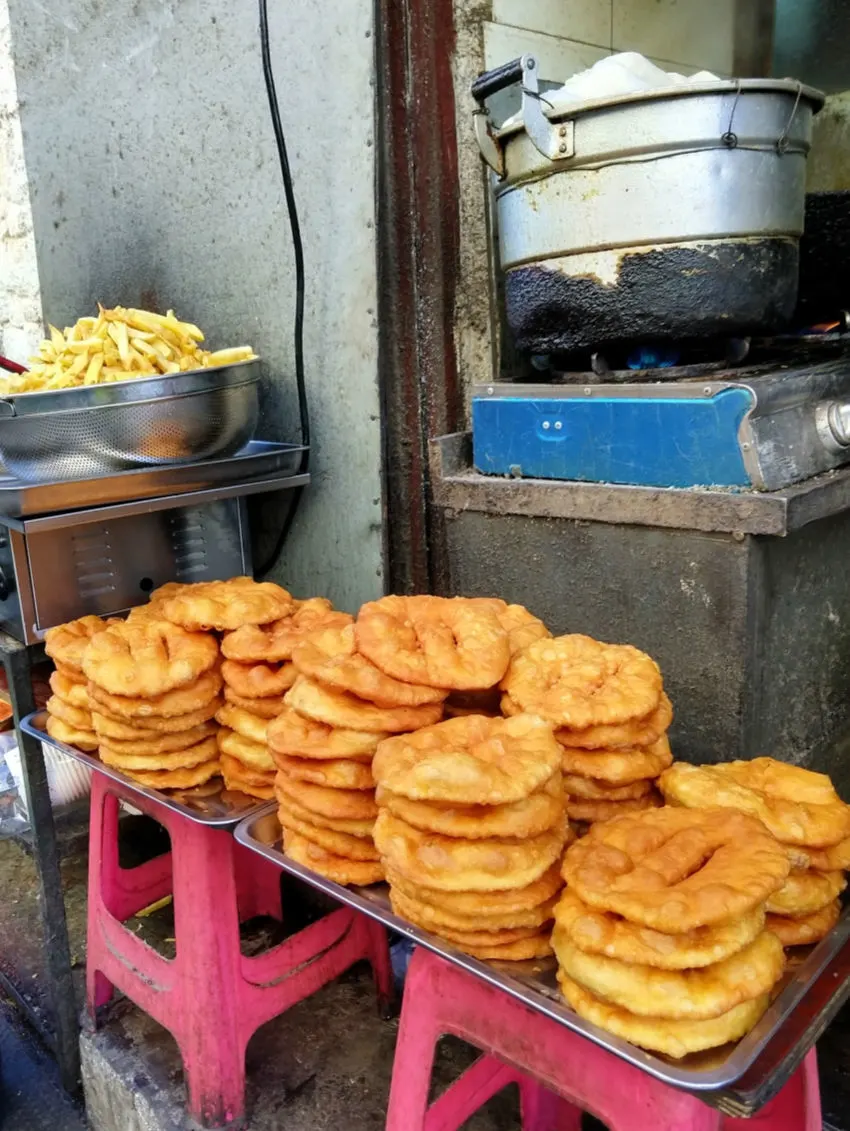 Notice how Tibetan bread has this pattern of holes, this Tibetan bread in Lhasa was strikingly similar to Tibetan bread made for us by the Sherpa people in Nepal.
The Sherpas originally came from Tibet.
Tibetan bread is a deep-fried dough and you can find it as street food in Tibet and also on Tibetan restaurant menus.
Tibetan bread can be served with jam, honey, or with savoury dishes, the kids have eaten this for breakfast often when we've been trekking in the Himalayas.
Tibetan Restaurants in Lhasa We Can Recommend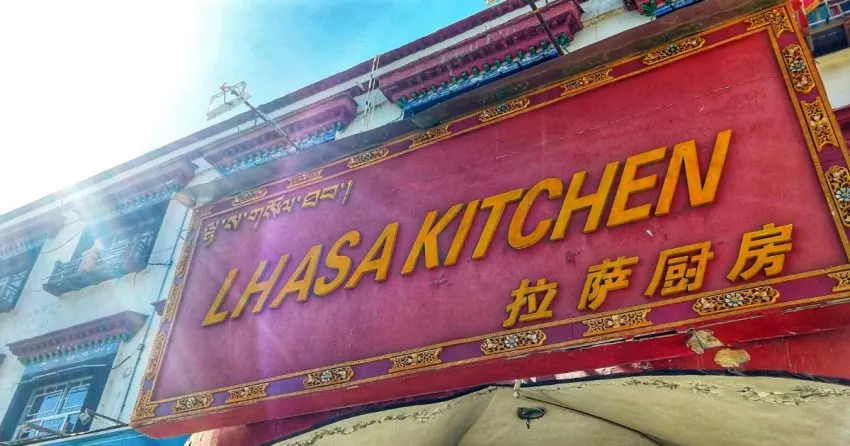 We loved Lhasa, D is writing a post on our Lhasa experiences and it will be published within days. The Lhasa post is now ready.
A lunch and 2 dinners very near to Jokhang and just off the Barkhor were some of the best food we had in Tibet.
Our hotel in Lhasa was, unfortunately, dire.
Nothing to report there other than eggs and bread, as we saw most mornings for breakfast on our Tibet tour.
The two restaurants we can recommend here are The Lhasa Kitchen, and, almost opposite, Snowlands Restaurant.
The latter was more international but had the kids' favourite yak sizzlers and dal for Mum.
Western Food in Tibet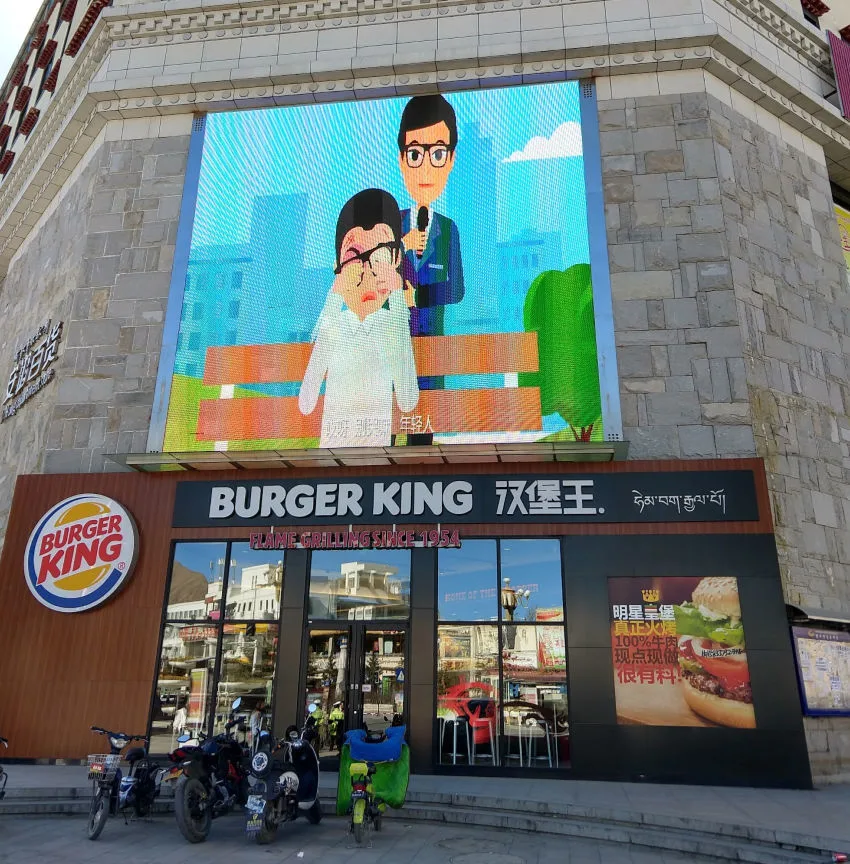 The only Western chain food we saw in Tibet was Burger King. There was one in Lhasa and in the second town we stopped in.
Chef and I sneaked out to this one by cycle rickshaw to get coffee.
Coffee was somewhat lacking throughout Tibet but there was plenty of green tea.
We sometimes had kettles in our rooms and, being experienced travellers and addicts, had some instant coffee with us.
If you can't enjoy instant take a look at our travel coffee makers post.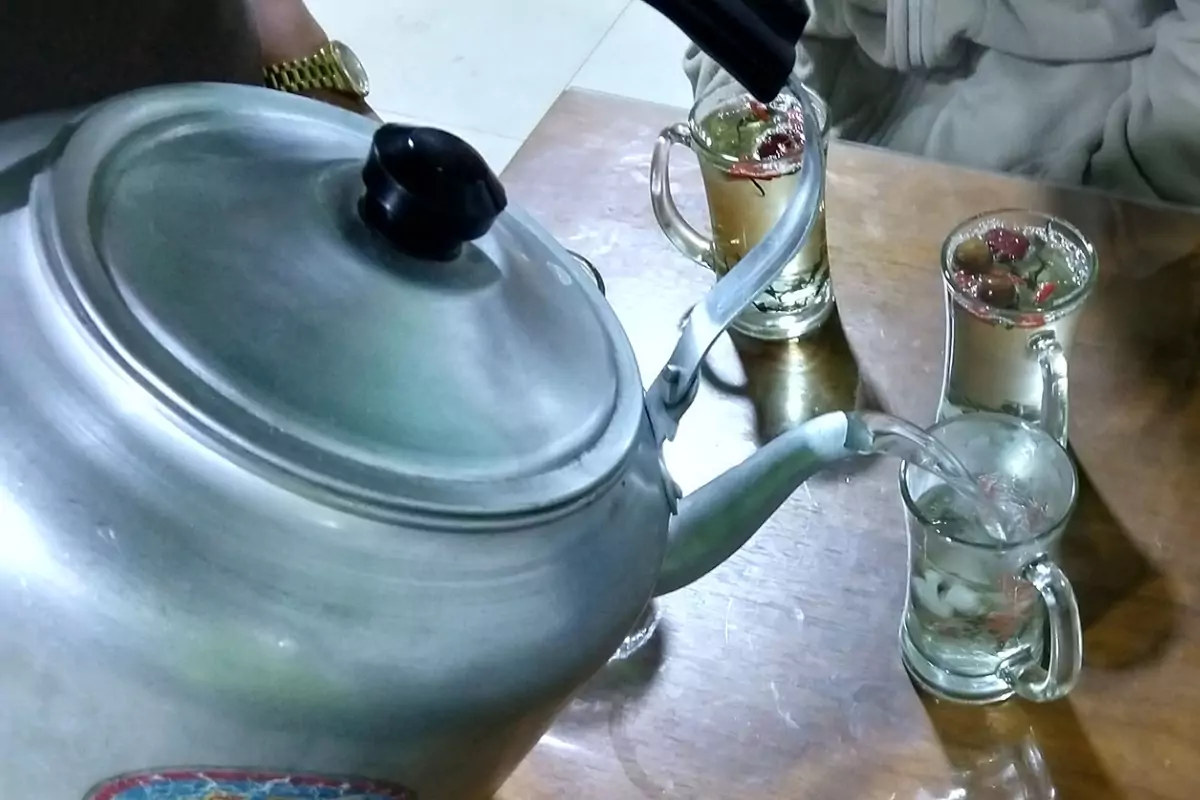 I believe there is KFC in Tibet but we didn't see it, it's not somewhere I'd ever go as last time I checked they don't have coffee.
We have a joke in our family, we go to KFC once every 6 years, for mashed potato and gravy cravings.
There are plenty of pizza places in Lhasa.
If you want a good read and are interested in Tibetan life, try this book, The Hotel On The Roof of The World. I read it years ago and it's hugely entertaining, about the struggles of a Western hotel manager going to work at a hotel chain in Lhasa. It's real, raw and funny.
Back then I never dreamed I'd get to Tibet, nor dreamed I would earn a living as a travel writer.
Tibetan Beer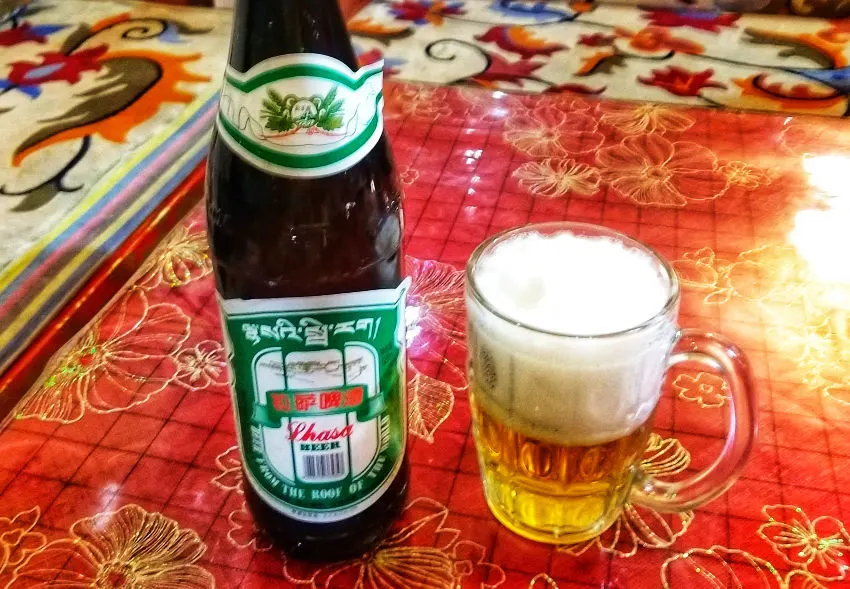 Lhasa beer is rather good. Just don't let your wait staff pour it for you.
Traditional Tibetan alcoholic beverages weren't on offer for us but chaang is the usual home-made Tibetan beer as it is in quite a few other countries.
The Lhasa beer in the photo above was pretty good and alcohol was widely available on restaurant menus in Tibet.
Share to Pinterest, hover and a button should appear in the middle of the photo below.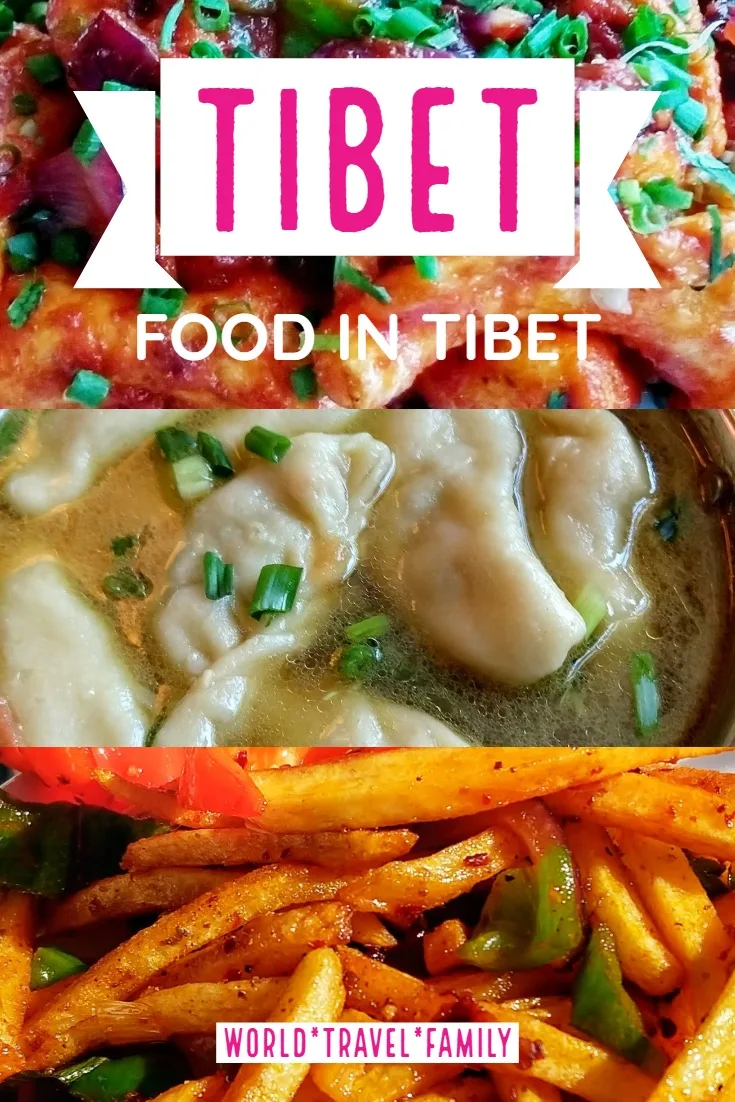 So eating in Tibet was interesting and Tibetan food was exciting to try. I wish we'd had more time and more eating opportunities because I know we missed out on a lot.
As this tour was hotel-based every breakfast was basically eggs and bread, which was rather disappointing and tough on my wheat-free son.
As somebody aspiring to be vegan but flexible in the face of remote locales and a realist, I'll take the eggs.
Unfortunately, our eggs came mixed with bacon one morning, which I actually didn't notice until the kids spotted the tiny flecks. So vegans and vegetarians beware.
I did manage to procure some homemade chili sauce to go with my eggs at the nicest of our hotels but otherwise, it was all very dull processed sauces.
One hotel gave us French fries, broccoli, and Chinese pork buns for a breakfast of shockingly bad quality.
Surprisingly, that hotel was Nepali-run.
As with any country, it takes time to find the best food and dishes and time wasn't something we had. We had similar problems with food in Bhutan, again, we were on a short tour and didn't have much choice with what and where we could eat. Bhutanese food and Tibetan food were very similar, maybe with Tibetan being more Chinese-influenced, Bhutanese being more Indian style. Would I like to go back and try more Tibetan food – you bet!
If you'd like to hire a car during your stay, use this car rental comparison tool to find the best deal!

We also suggest you take a look at this company to get a quote for all kinds of the more tricky adventure or extended travel insurance.

Try Stayz / VRBO for an alternative way to find rentals on homes/apartments/condos in any country!