This post may contain affiliate links.
One, just one, of the massive bucket list highlights of our tour of Tibet was visiting the Sera Monastery. This Monastery just outside Lhasa city is the place to come if you want to see Tibetan Buddhist monks debate. Video and photos from Sera Monastery.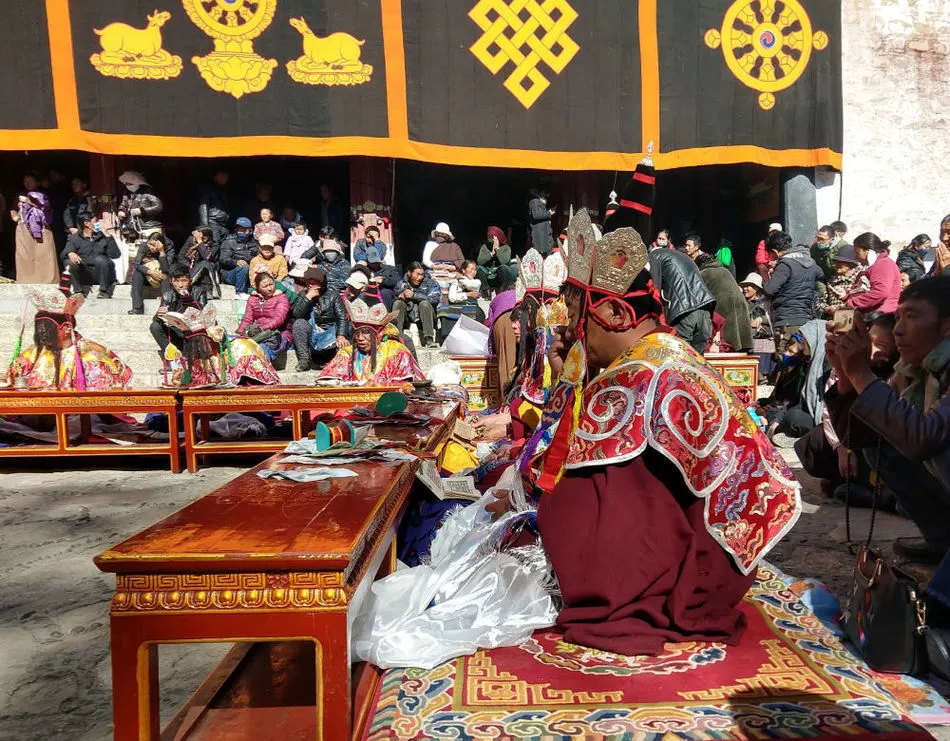 This is something I never dreamed I'd see for myself. But I did, along with our small group of travellers, my husband and kids. It was a highlight of a lifetime.
Debating is a part of the monks' training or education. The afternoon debates are highly stylised and the public are welcome to spectate so long as they show respect. Photography is even allowed, so long as you leave your big cameras at home. I've added video clips of our few hours at Sera Monastery.
We got doubly lucky at Sera, perfect timing meant we got to see a second ceremony. Another group of monks were praying to help send ghosts to the sky. It was an awe-inspiring thing to see. I still can't quite believe we were there in this incredible place. If you plan to go, go soon. History is being re-written.
Tibet is a political hot potato. We were lucky to have a Tibetan guide who really knew his stuff. Guides and guests are watched closely by the Chinese authorities both at the monasteries and inside tour vehicles. Our guide had to be careful what he said and I need to be careful here too. I'm sure you can do your own research.
Sera Monastery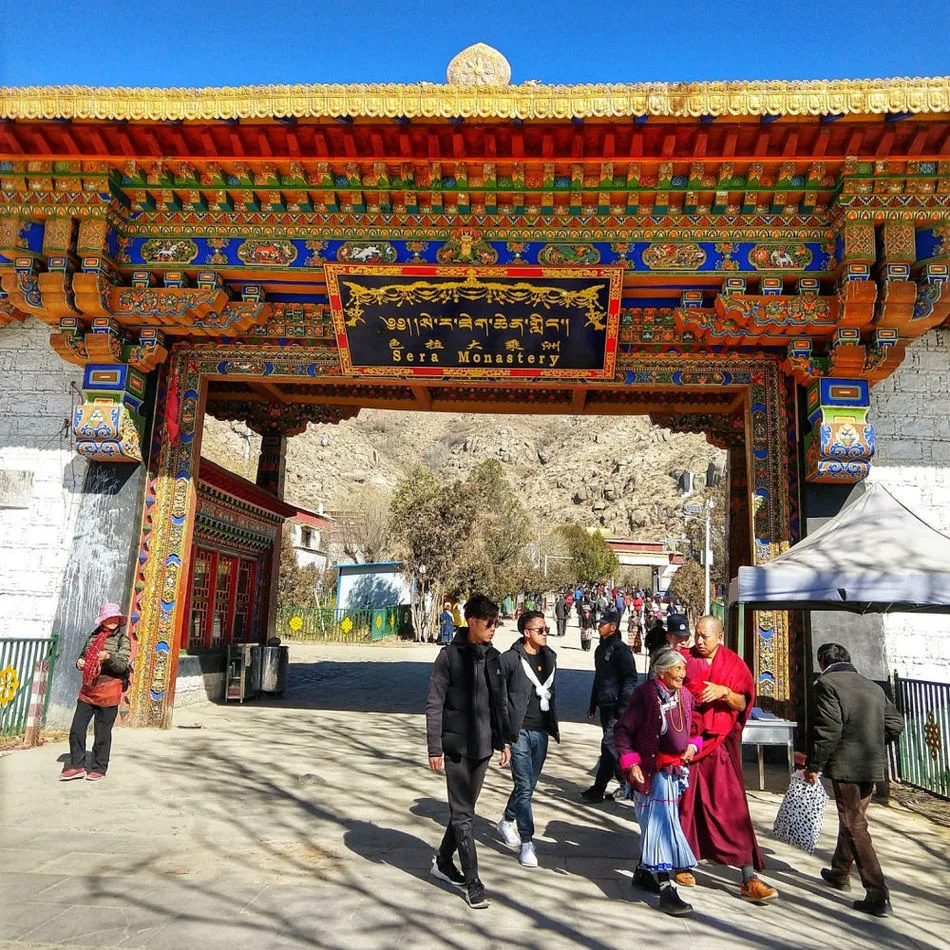 This post could get very long because I really want to fill you in on the history and cultural significance of the Sera Monastery and these particular monks, as well as share our photos, videos and experiences. If you get bored you have my permission to skip bits. I'm a bit annoyingly geeky about this stuff and have a massive fascination for this part of the world.
Video of Monks Debating
Our video below, shows the monks debating and another ceremony we were lucky to catch at Sera. Please watch and switch the sound on to hear the chanting.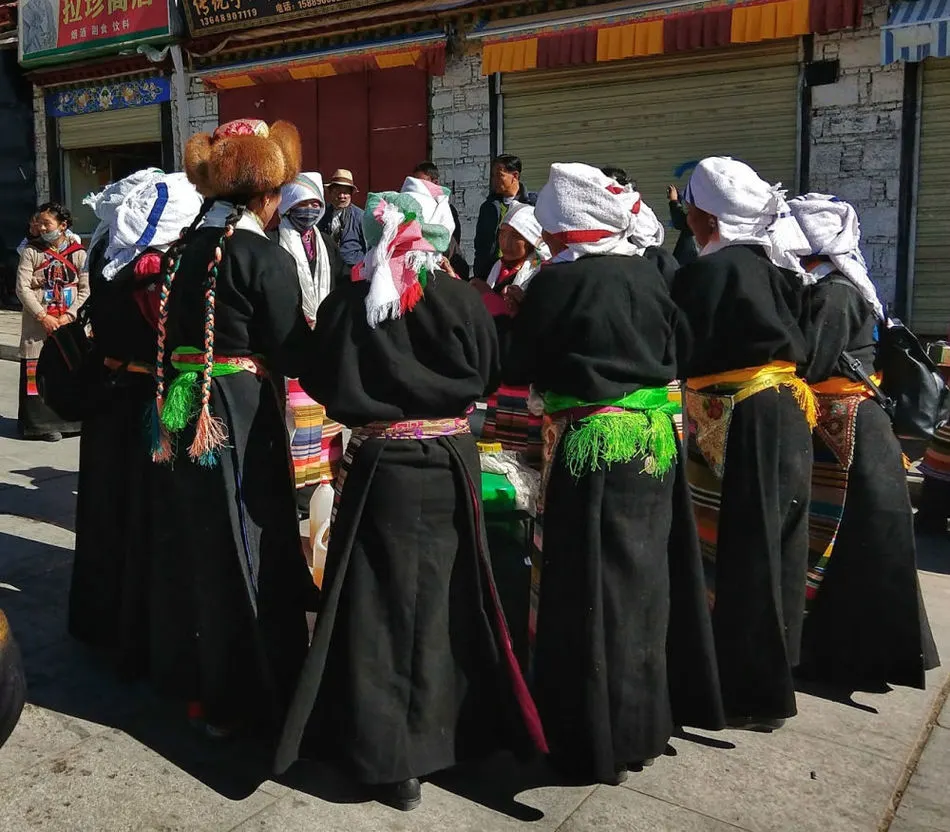 Sera Monastery History & Origins
The Sera Monastery takes its name from the wild roses which grew on the rocky slopes to its rear. Sera, in Tibetan, means wild roses.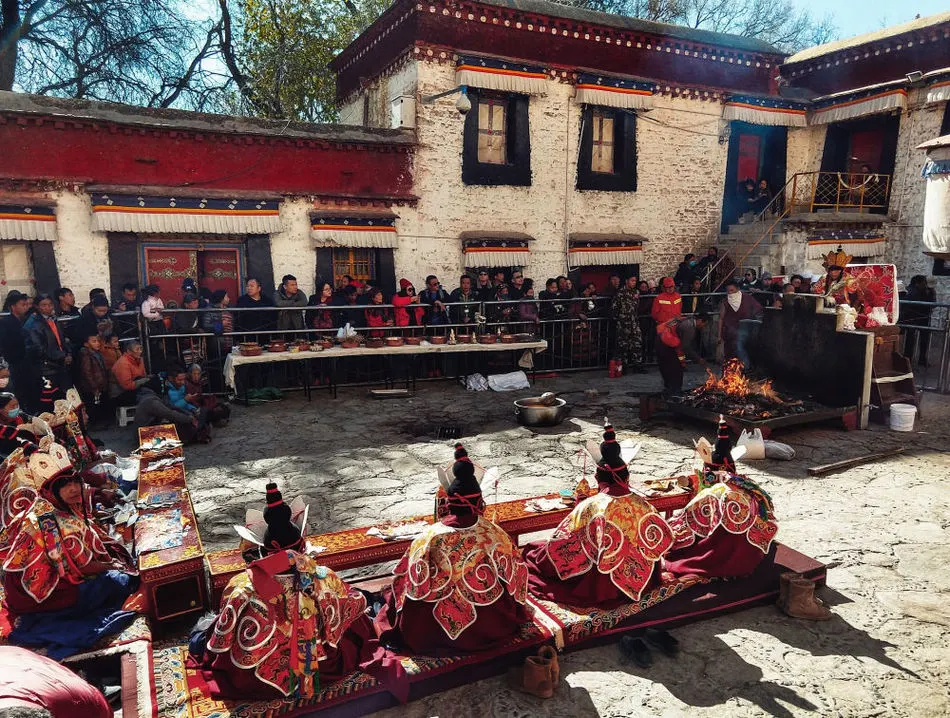 It is one of the 3 most important university monasteries in Tibet (the others being Gangden and Drepung Monasteries). The Jokhang Monastery (or Temple), in the heart of Lhasa, is not a university monastery although it is widely considered the most important and sacred.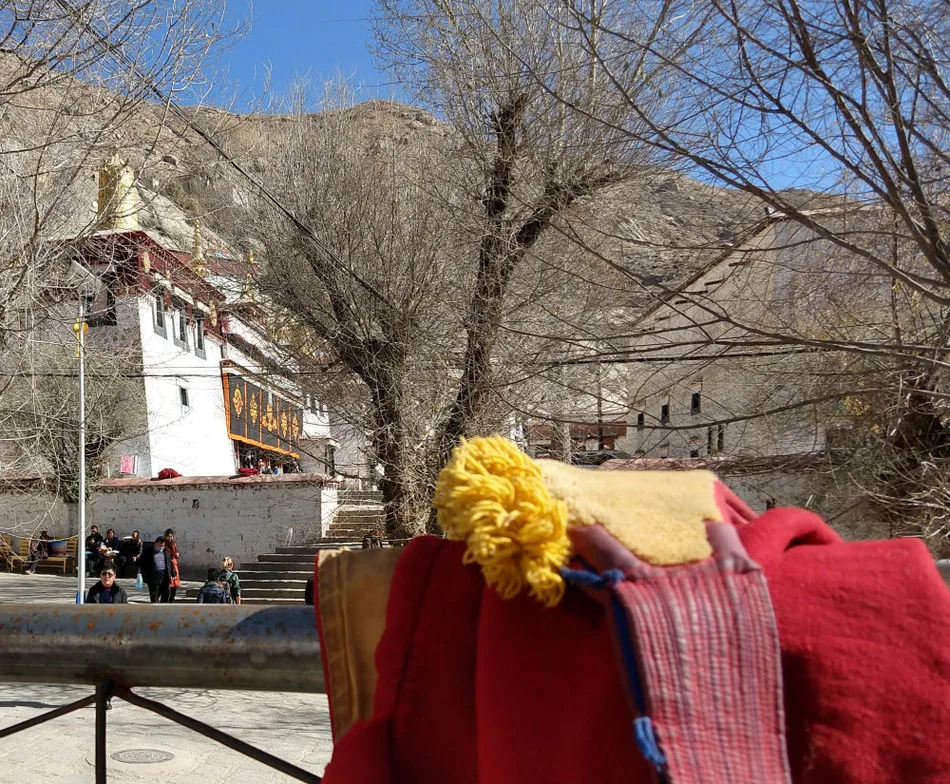 I'll post about the Jokhang separately and the incredible festival we got caught up in there.
The Sera Monastery, and I feel we only scratched the surface during our afternoon visit, is a complex of structures including the Great Assembly Hall and three colleges.
The Great Assembly Hall and the monks' residences are to the left ( east) of the main path, and the western part has the the Sera Je Dratsang, the Sera Me Dratsang; and the Ngakpa Dratsang, the three colleges.
It was founded in 1419 by Jamchen Chojey, a disciple of Je Tsongkhapa. Tsongkhapa and his disciples, had previously set up hermitages on the rocky mountains above Sera.
There are still hermitages and monasteries outside Sera but we weren't shown them. Tourists are only allowed to see what we are allowed to see in Tibet.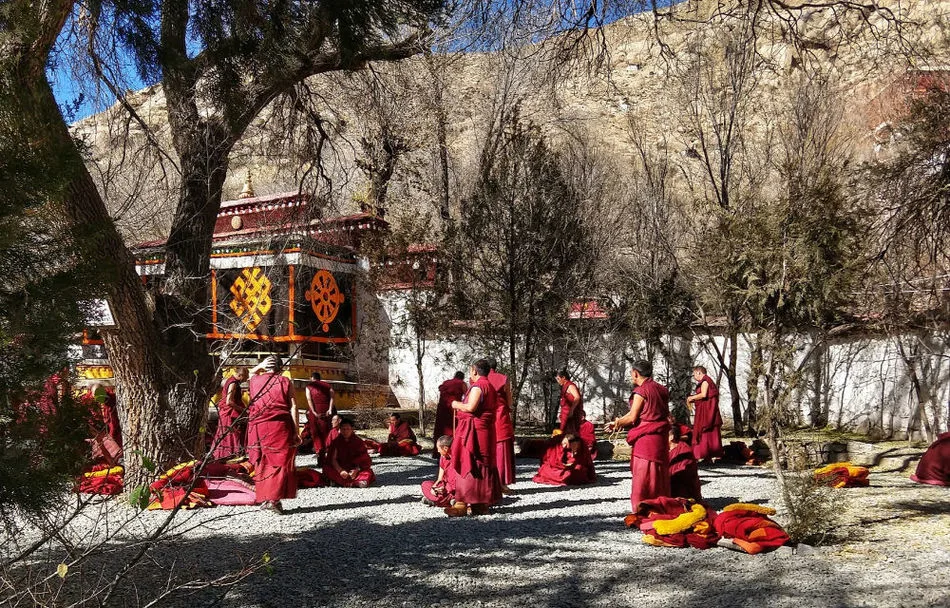 The monks here are pursuing education, degrees, if you like and the debate process has to be mastered befoe the monk can progress through his examinations.
Monks can start training from around 8 years old but all the junior monks we saw debating were young men. Older men were honing their higher level debating skills in a separate part of the arena.
Sera Monastery and India- The Sera Me and Sera Je Colleges
There is also a monastery in India, at Mysore where these monks debate sessions take place.
This is because in 1959 Sera monastery was severely damage, colleges were destroyed and many monks killed. The Dalai Lama successfully reached India and found asylum and likewise surviving monks from Sera fled.
They ended up in Bylakuppe, Mysore.
These monks established Sera Me and Sera Je colleges and a Great Assembly Hall similar to that at the original Sera Monastery with aid from the Indian authorities.
Some 3,000 monks are now in Sera Mysore and that's a place I very much want to see, we've travelled nearby but at the time didn't know about Sera Me and Sera Je. We WILL be going back, I don't care what the kids say!
Our Visit to The Sera Monastery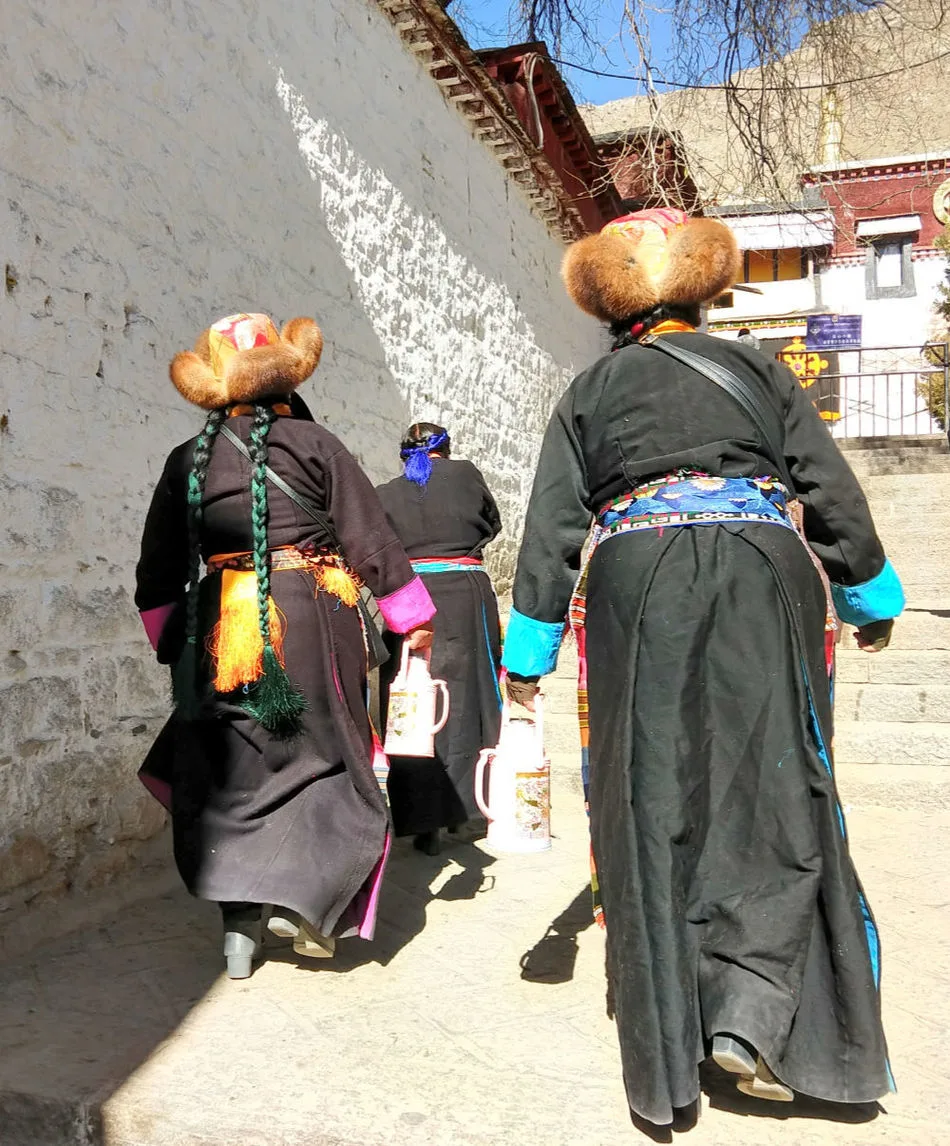 We arrived at the monastery for lunch. There are a few shops and restaurants nearby.
The restaurants were the tourist variety and soon filled up with other small tour groups. Of all the places we went in Tibet this was one of the few where there were other western faces. We barely saw other tourists at all in our whole trip.
After lunch we made our way into the monastery where we mingled with monks and locals, watched the ceremony in the photos above and entered the assembly hall.
As with most monastery interiors, we couldn't take photos inside. There was one exception to that, a post with inside photos is coming soon.
The debating session started at 2pm and we were in position waiting for the monks to arrive, seated on the ground.
The Monks Debate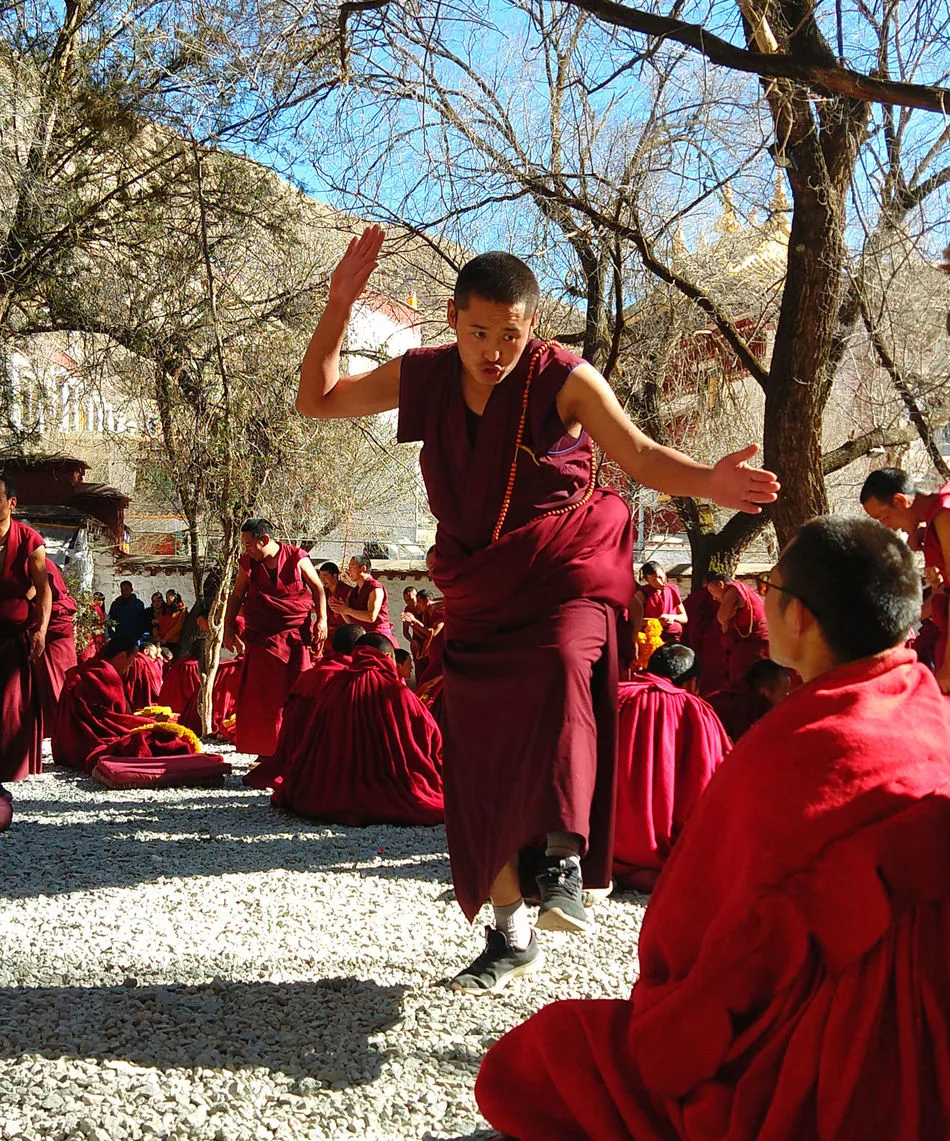 We took our seats on the ground around the outside of the debating arena and waited for the monks to arrive at 2pm.
I had expected one monk to be questioned at a time, but that's not the way this works at all.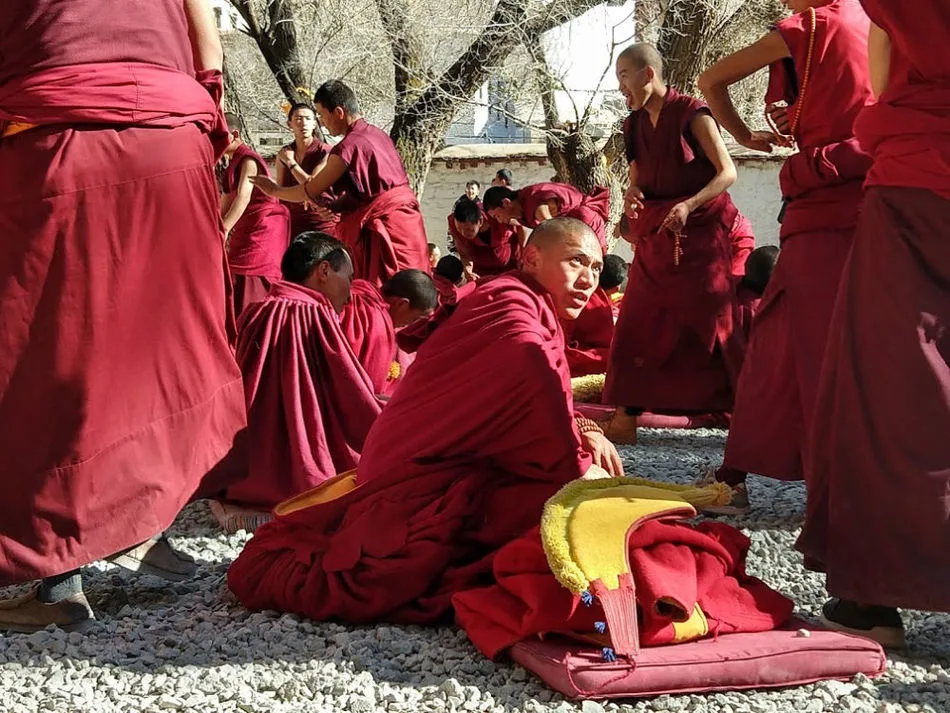 Each monk, and there were hundreds, had a sparring partner and these two worked together exclusively to polish their debating skills.
We watched for an hour maybe two. I could have watched all day but the kids were getting fed up. We regrouped, found our Tibetan guide and headed back to our Lhasa hotel in our trusty tour bus.
I must post about Lhasa itself rather than just the highlights we saw in Lhasa. Just " being in Lhasa" was one of my favourite things to do. The hotel, however, the truly terrible hotel, is another story.
Could you share this on Pinterest? Thanks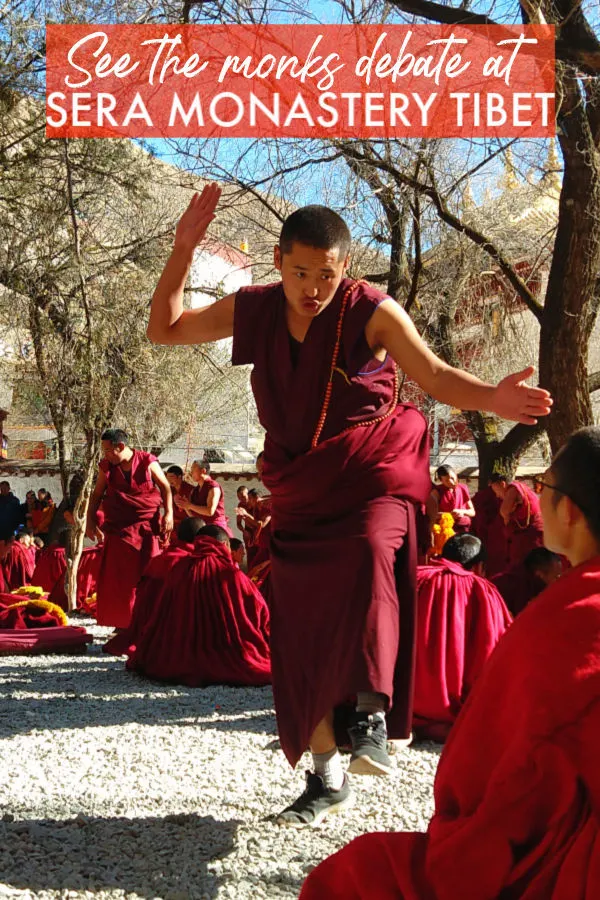 Tibet was a huge highlight of our 6 years on the road. A final destination, advanced level travel and not something I'd take on with small kids. My boys did extremely well with altitude, diamox, sickness, cold, not so great food ( at times) bad toilets and ultra- long travel days. Still, Tibet was my favourite travel experience, maybe joint first with getting to Everest Base camp with my kids. We will be back in the Himalayas as soon as possible.
If you'd like to hire a car during your stay, use this car rental comparison tool to find the best deal!

We also suggest you take a look at this company to get a quote for all kinds of the more tricky adventure or extended travel insurance.

Try Stayz / VRBO for an alternative way to find rentals on homes/apartments/condos in any country!