This post may contain affiliate links.
I've been wondering for days if we could take kids to the Full Moon Party at Haad Rin on Ko Phangan. I asked around and got mixed answers. Blog posts like this one describing it as a "war zone" had me wondering. In the end we went to find out for ourselves.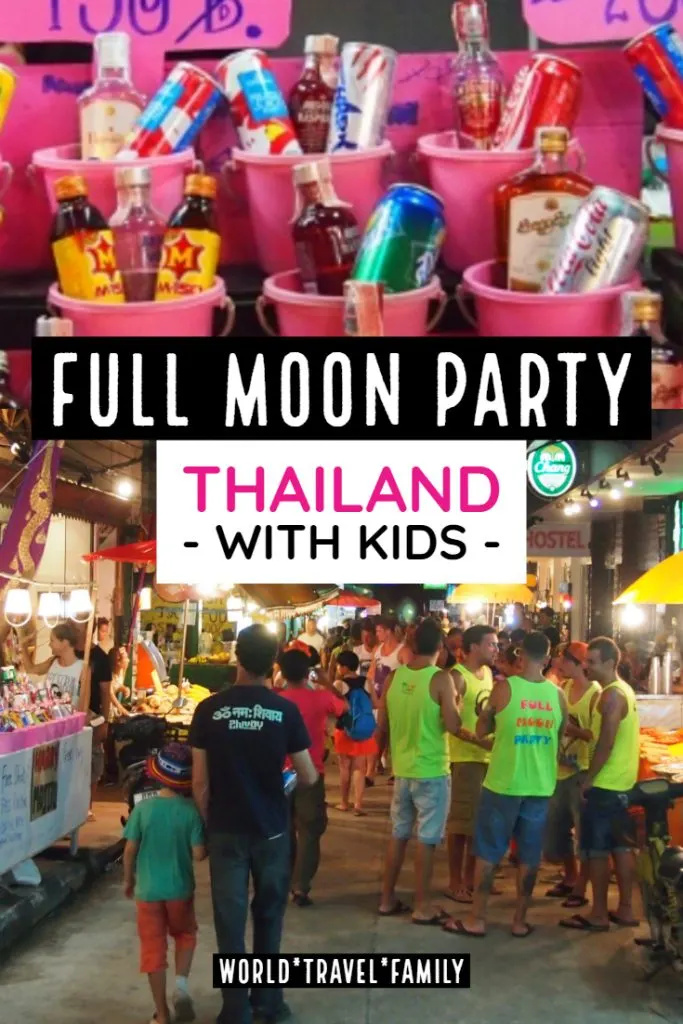 We just happened to be here on the gorgeous island of Ko Phangan at the right time. Chef and I had never been to a Full Moon Party, despite all my time hanging about in Goa when I was young-ish. We both wanted to see what it was like and we had a feeling the kids would enjoy it, plenty of life, fun, music and colour.
My biggest fear was crowds, if we lost them among the 20,000 people expected, it would be a disaster. I was also unsure if there would be nastiness unfit for children's eyes. I'm not into sheltering the kids from the real world, I'm not that Mum, but still, I was worried.
Actually, it was fine, D, at 9 years old said it was "Awesome Mum!".
Boo, at 7 was too tired. So he says, I think he conned us into going home early to play with a new toy, once we were home he miraculously perked up.
They both enjoyed watching the fire shows and seeing the multicoloured glow-in-the-dark craziness going on, it was a new experience for them, I love to give them new experiences.
As D said when he woke up this morning " That was way better than the Port Douglas Carnivale Mum!"
To Take Kids to the Full Moon Party at Haad Rin, Consider These Tips.
1. Get them to have a sleep in the afternoon. My boys are normally out cold by 8pm, so the Full Moon Party was going to be a late-night for them.
2. Wear shoes. Who knows what's in that sand, from broken glass, to cigarette butts to needles. We've been told that you shouldn't go on the sand at Haad Rin in places, ever, because of the paraffin from the fire shows.
3. Put the kids in easily recognisable bright clothes and take a photo of them. If you lose them, it gives the police an idea of what they're looking for ( heaven forbid).
4. Maybe write your mobile number on their arms or slip it in their pockets, just in case.
5. Delegate. We took one child each and hung onto them the whole time. If I stopped to take photos I made sure D had his hand on my waist and never took it off.
6. Go early. A lot of people arrive really late ( midnight), the party goes on through to dawn. It's traditionally held on Haad Rin on Ko Phangan because that part of the island faces the sunrise. We were there between 7pm and 9.30pm, there was plenty to see and it wasn't too crazy or too crowded.
7. Chill out and enjoy, it's not that bad, it's just a party! There is a heavy police presence and they really don't like drugs, there are regular vehicle stops and checks. Taxis are well organised, it's easy to get home.
8. Admission is 100Baht if you go onto the beach from the main entrance opposite the tourist police station. If you walk further along the beach you can stroll onto the sand for free.
9. Stay sober. We did.
………..
Why We Went
Some of you will have been to a Full Moon Party before and know what to expect, to others it will be a totally new concept.
A few will be scratching heads and wondering why on earth we went, it's not our usual style at all.
There may be a few thinking that we are irresponsible for taking the kids to the Full Moon Party. I don't think so. We went to see, if we felt it was unsafe or unsuitable, we would have left straight away.
I've said before that we travel to find the different, to learn and to experience, this was different to our normality.
I'm a big people watcher, this was one of the best people watching opportunities, ever. We sat in a Nepalese restaurant and watched the passing parade of brightly coloured, fluoro people, it was interesting. People ARE interesting and most of them are good.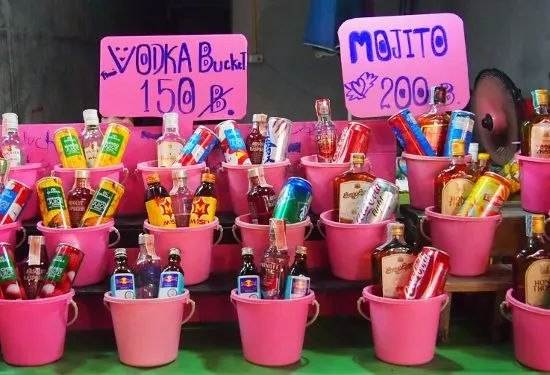 This story needs to be told in pictures. I have video, that will come later. It's all about the buckets.
Stall after stall selling DIY cocktail buckets, heavy on the Red Bull.
The boys found it really amusing to see grown men ( in their eyes) in fluoro outfits with highly decorative glow in the dark body paint, sipping from kids' plastic buckets through straws.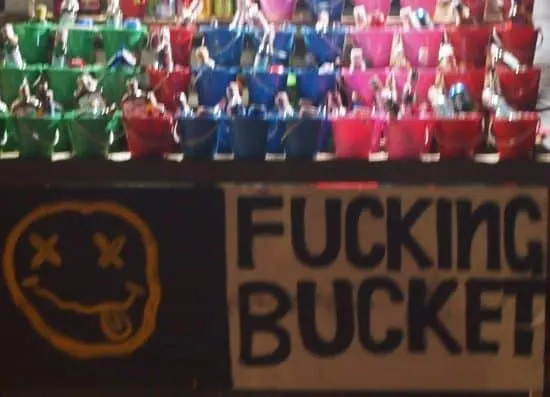 You'll see this sort of thing a lot. The kids didn't even notice.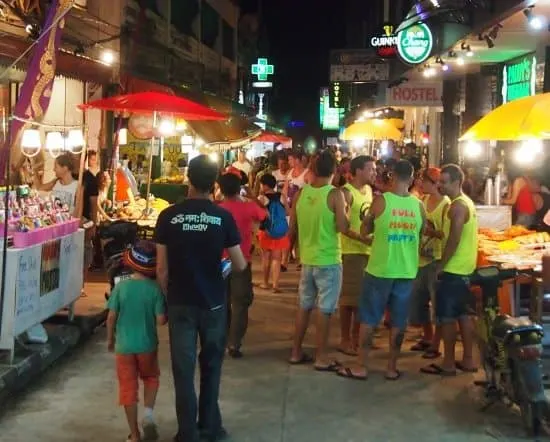 Early evening in Haad Rin on Ko Phangan, the streets are totally dedicated to the party. That's Boo and Chef. There were other children around and pensioners, but the 18-30 crowd, of all nationalities, was in the majority.
If you do take kids to the Full Moon Party there are lots of interesting shops and street stalls for them to look at. They'll want to spend their pocket money.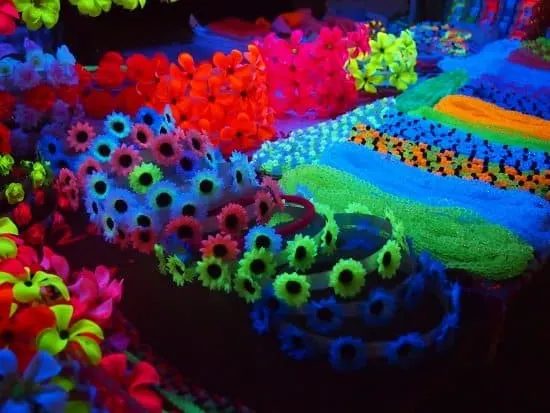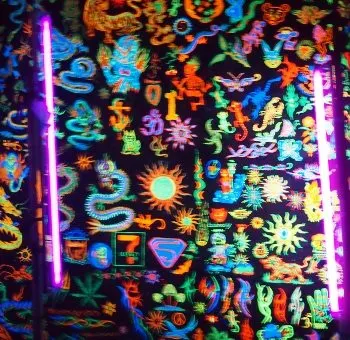 Fluoro, Fluoro and more Fluoro.
The kids wanted a glow in the dark fluoro body paint ( didn't come out too well on camera, but they were great in real life), but settled for flashing jelly rings instead.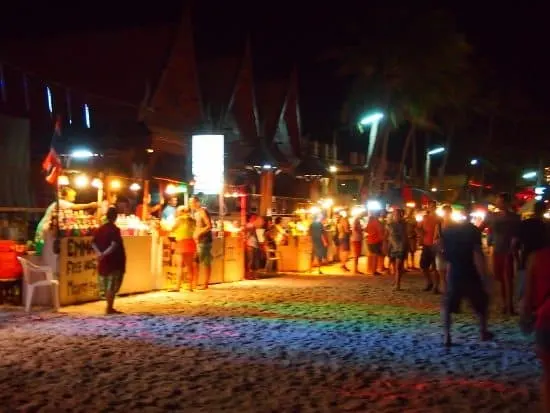 More bucket sellers on the beach.
When we left at 9.30pm the beach wasn't too crowded at all but there were plenty of fire shows to watch and lots more stalls selling fluoro gear.
A few girls were dancing in bikinis, that's about as bad as it got.
If you want to see photos of fire shows, check out the ones I took on Ko Samet, they came out much better.
D wants to be a fire twirler, he's busy practicing, it could be a nice little earner.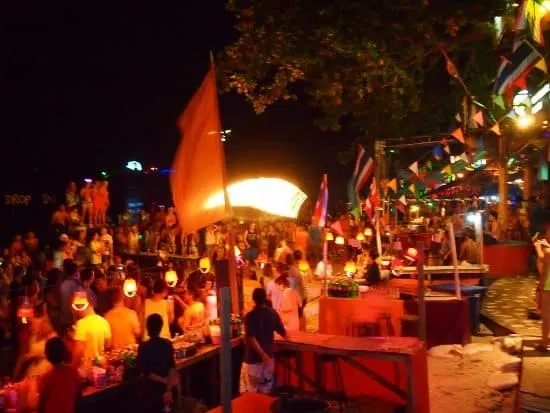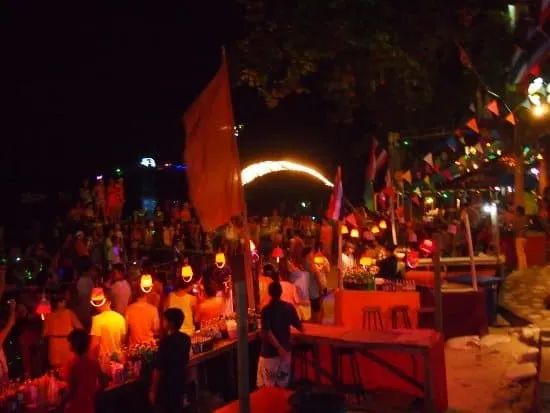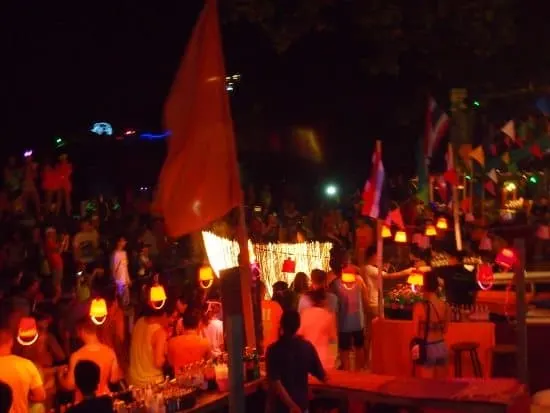 If you can't make out what's going on here, it's a giant fiery skipping rope. Local pros and punters take it in turns. The locals are spectacular, the punters get singed ankles.
This is the thing I particularly wanted to see and I'd have a go at it if I wasn't childminding. There were a lot of people gathered around to watch and participate, this was the only part of the beach that was crowded.
About this time Boo had enough, too much noise and he wanted to go home.
D loved it, he was dancing to Michael Jackson's Thriller and having a great time, it's not all trance music.
So this week I've got over my fear of bikes and my fear of taking the kids to the Full Moon Party. If we're in the right place at the right time again we'll go, for sure. It's just a party, people enjoying themselves. Who knows what happened as the night wore on, nothing new I'm sure, nothing that didn't happen back in my misspent youth.
If you'd like to hire a car during your stay, use this car rental comparison tool to find the best deal!

We also suggest you take a look at this company to get a quote for all kinds of the more tricky adventure or extended travel insurance.

Try Stayz / VRBO for an alternative way to find rentals on homes/apartments/condos in any country!