This post may contain affiliate links.
I've posted before about how much I love India, but Goa was my first love. I went on a cheap package holiday for the first time in 1998 and returned several times before we got into the swing of independent travel. Why visit Goa rather than some other part of India? If you've always dreamed of India but find the idea of tackling this huge and fascinating country with a backpack a bit daunting, (you need our India Travel Blog section to help you there) maybe you should try visiting Goa, it could be the place for you.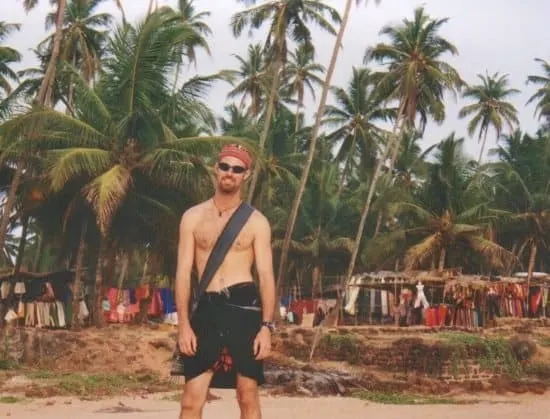 Goa India
There are loads of ready-made Goa holidays and packages that you can book from the UK, flights, hotel and airport transfers included.
A trip like that could be just what you need to wet your India appetite and launch you on to the bigger adventures.
Alternatively, book a bargain flight using Skyscanner to the modern international airport in Goa, and find yourself a hotel below.
Agoda works well for accommodation in Asia, they're the booking site we use, and usually gives you reward points to redeem on future stays.
There is plenty to keep you busy for a 2 or 3 week holiday in Goa and it's really easy to get out and explore the temples, ancient cities and beautiful countryside.
We have plenty of posts about India and Goa here on World Travel Family.
Why Visit Goa?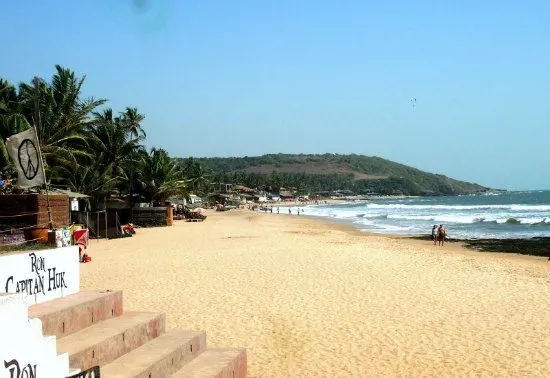 Goa is India – But Easier
My husband's grandmother grew up in Calcutta, she says Goa isn't really India. She's a wonderful lady and I respect her immensely, but I disagree.
It's India, it's just easier. Goa gives you a dose of Indian culture without having to work too hard for it.
It's true that you could be anywhere in the world if you never leave your hotel, but you could say that about anywhere.
There are some fabulous hotels in Goa catering to every western need.
Step outside them, explore a bit and you'll get a taste of what the subcontinent has to offer. Exploring is easy, hire a tuk tuk (motor rickshaw) or a taxi and off you go.
There are cows on the street, there are women in traditional costumes from all over India, there are Hindu temples to visit and wonderful markets with snake charmers, sometimes there are elephants.
Goa feels like India.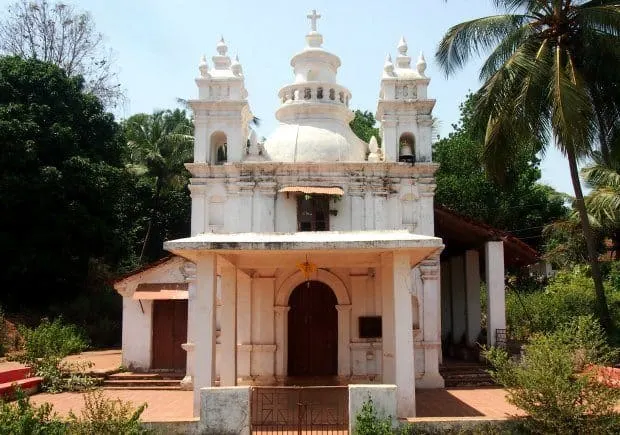 The Portuguese Connection in Goa
Back in 1510 the Portuguese took Goa as their own and set it up as an important control centre for the spice trade. You can still see the Portuguese influence today.
A visit to the remains of the city of Old Goa or Velha Goa, (a Unesco World Heritage Site) is well worth it for the Basilica of Bom Jesus housing the mummified body of St Francis Xavier.
They get the mummified saint out every year, in December, for local Christians to pay their respects.
One lady took her adoration a little too far, biting off the Saint's toe as a souvenir, so the story goes
The Portuguese abandoned the city in the 1700 after problems with disease and the river silting up but plenty of buildings are still standing.
Old Goa is an easy day trip by taxi or rickshaw from the northern beaches of Goa.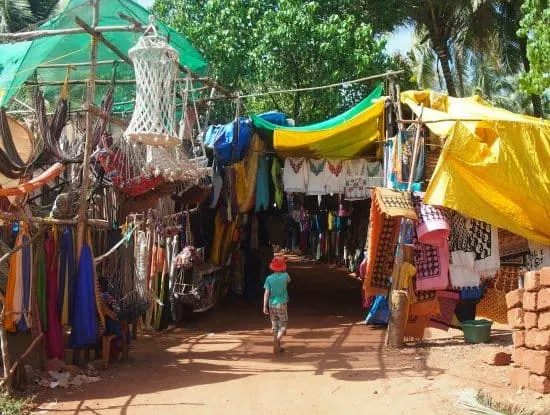 Goan Food
Indian food is sensational, South Indian food in particular for its light vegetarian dishes.
Goan food is unique and is superb!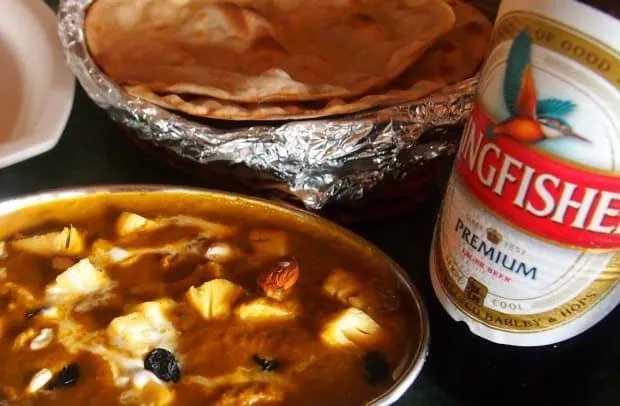 A curry and a cold Kingfisher beer. Pefect!
There are a few Goan specialities that you just have to try. Goan curry dishes include Xacuti, Balchao and Vindaloo, they all have a Portugese influence.
The vin of vindaloo was originally wine, now vinegar, it's not the fiery concoction served in UK Indian restaurants.
Give a real Goan vindaloo a try, it's delicious if you love your food spicy.
There is plenty of fish and seafood which can be simply prepared if you're not a curry lover.
I found this wonderful site if you'd like to try some authentic Goan Recipes at home.
We took a Goan cookery class during our visit in 2015, we'd highly recommend a similar experience.
Markets in Goa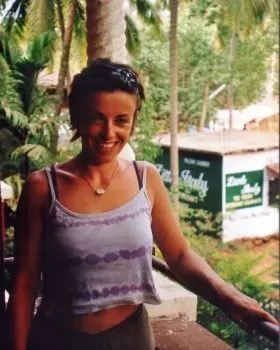 North Goa has my favourite market in the world, Anjuna Market. It is held behind Anjuna beach every Wednesday and it is vast.
It dies off a bit in the offseason ( after Christmas), but even then it is still an exciting place to visit.
There are so many things to buy and to look at, if you're new to this part of the world you won't believe your eyes.
Snake charmers, acrobats, wandering holy men and performers jostle with hippies and hardened Kashmiri salesmen. Anjuna Market, Goa, is fabulous.
We've stayed in Anjuna town three times, as package tourists and as backpackers with and without kids, it's one of our favourite places to stay and the market is a big part of that.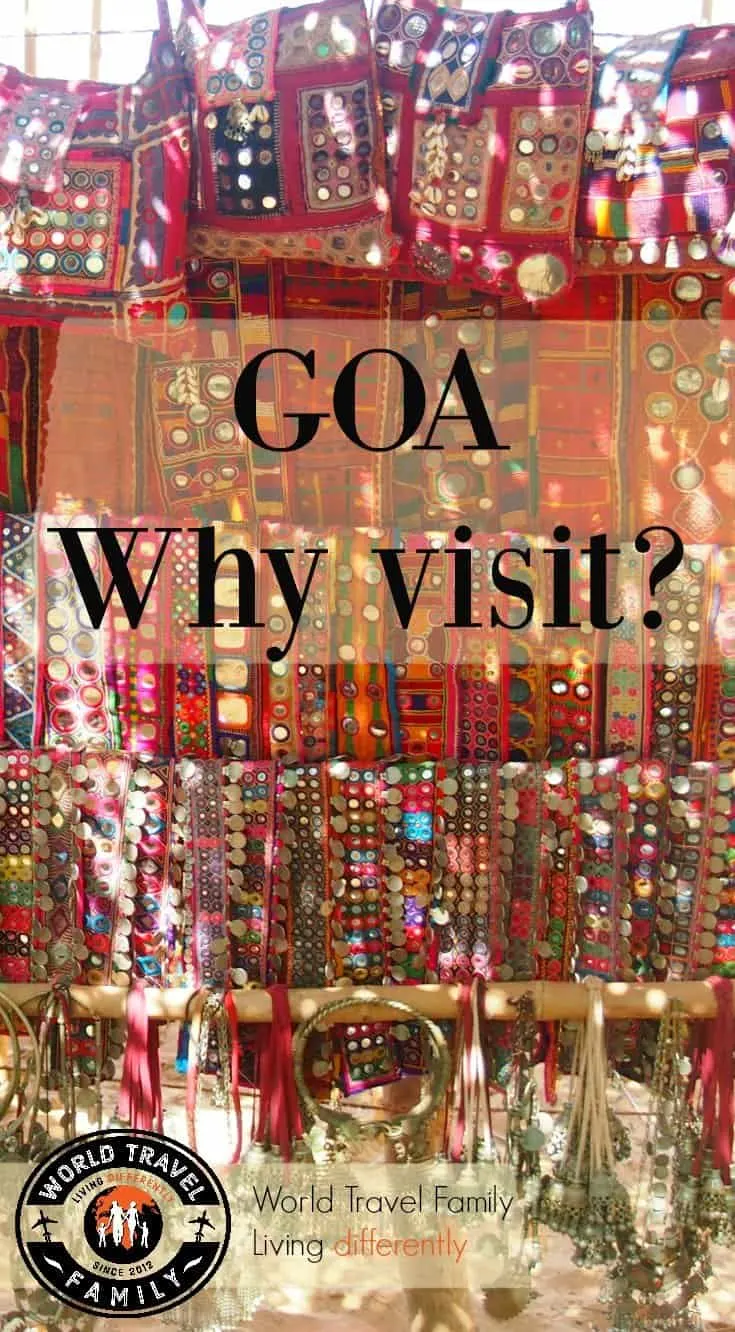 Shopping in the markets of Goa is an absolute joy.
Goan Beaches
I always went to North Goa, but now we have been to South Goa too. With children, priorities are changing.
The beaches of North Goa were fine for us, we loved the old hippie vibe, the busy markets and the trance music of Anjuna North Goa, also Arambol, Baga and Vagator beaches.
I heard that the south had nicer beaches for children, cleaner water and better sand. Agonda and Palolem in the south, have a good reputation.
We tried Colva Beach and weren't too impressed, we'd prefer the north, but we're yet to try Palolem.
Accommodation in Goa is Affordable and Diverse
You can find a simple place to stay for a few dollars a night, or blow the budget and check into some of the best hotels in the world. Goa has it all.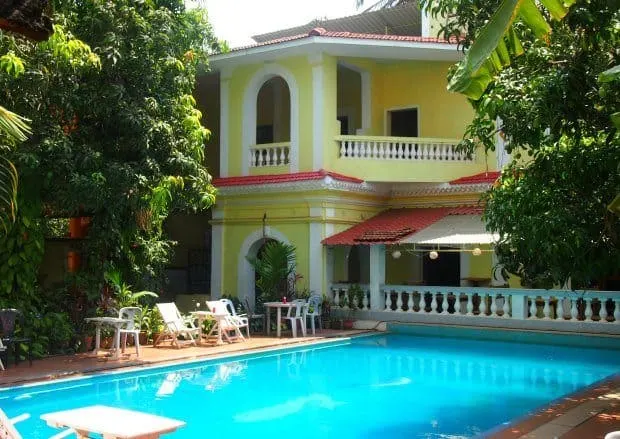 This budget hotel with pool, in Anjuna, was a great base for our family in North Goa
This is where we stayed with our children on a recent backpacking trip, Poonam Hotel Resort in Anjuna,on other trips we have stayed in resorts and up-market hotels and in budget backpacker accommodation.
To search for a hotel in Goa, use Agoda .
Where is Goa?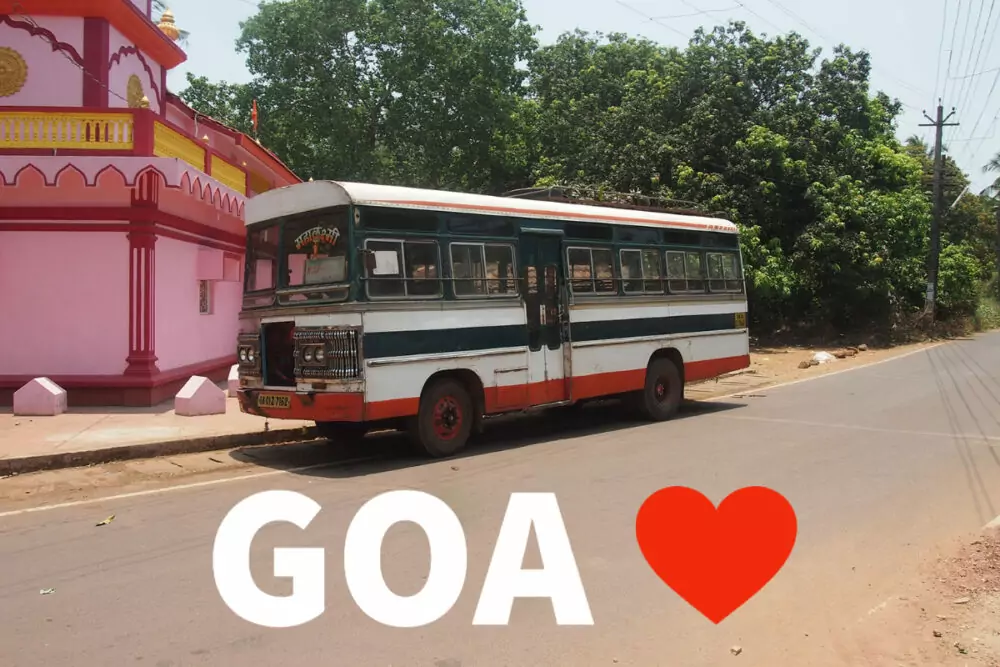 Goa is in India, on the southwest coast. Goa is not an island, as I once read in a national newspaper. There is at least one island that is part of Goa.
Goa is a state in India. Its bordering states are Maharashtra to the north and Karnataka to the east and south. The Arabian Sea forms Goa's western border.
Goa is south of Mumbai (formerly Bombay) approximately 400Km or 200 miles south.
The capital of the state of Goa is Panaji (also known as Panjim). This is where you'll find the international airport.
We returned to Goa in recently as part of a bigger tour of India, staying in North and South Goa. Goa and Kerala are most certainly my picks for the easiest parts of India to visit with children. You can read about our time in South Goa, Kovalam, Fort Kochi and North Goa by clicking through. Goa has loads to offer, we've taken day trips to waterfalls, wildlife reserves and stunning Hindu temples as well as spending time just relaxing, enjoying the Goan sunsets with a Kingfisher beer and fabulous food.
If you'd like to hire a car during your stay, use this car rental comparison tool to find the best deal!

We also suggest you take a look at this company to get a quote for all kinds of the more tricky adventure or extended travel insurance.

Try Stayz / VRBO for an alternative way to find rentals on homes/apartments/condos in any country!