This post may contain affiliate links.
I love India and I love Indian food, South Indian in particular, it's light, fresh and usually vegetarian. Kuala Lumpur, Malaysia can be a food heaven if you enjoy Indian food. It's also pretty easy to find Indian food in most big cities in Malaysia. In this post we'll look at traditional Indian food and places to find it in Kuala Lumpur and Malaysia. We can mention a few other cities too. We've travelled all over Malaysia, often. Everywhere we go we search for good Indian restaurants.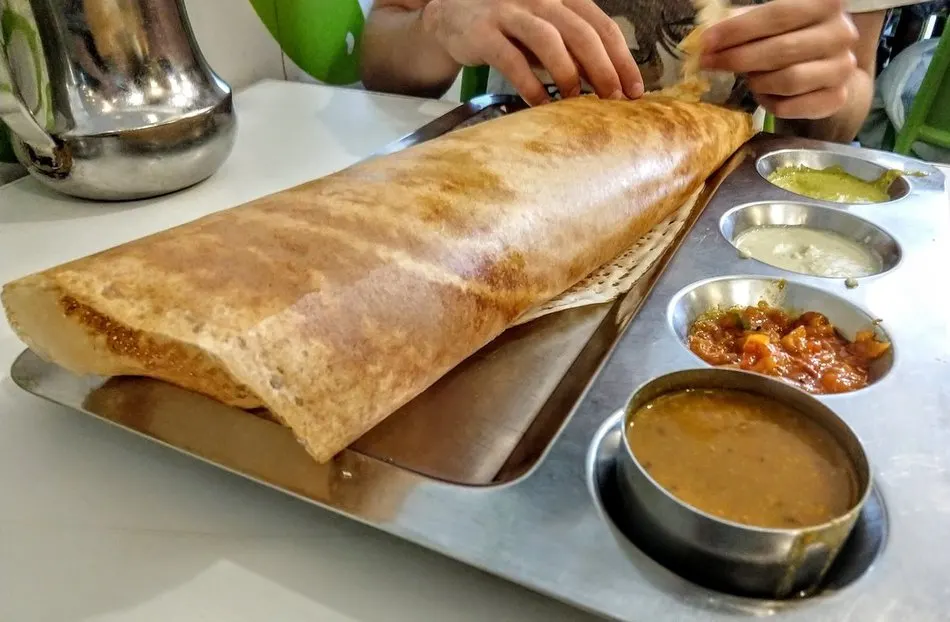 Indian food in Malaysia is often incredibly cheap. You should be able to eat a good vegetarian meal for a dollar or two.
Many won't have tried South Indian food, don't expect chicken tikka masala and butter chicken.
The curries of British and Australian Indian restaurants primarily come from the north, heavy with meat and ghee, the South of India is totally different and very distinctive.
You'll find North Indian dishes in Malaysia too, but this post covers the south more because we prefer not to eat meat.
If you're vegetarian Malaysia can be challenging, Indian vegetarian cuisine will be your best friend.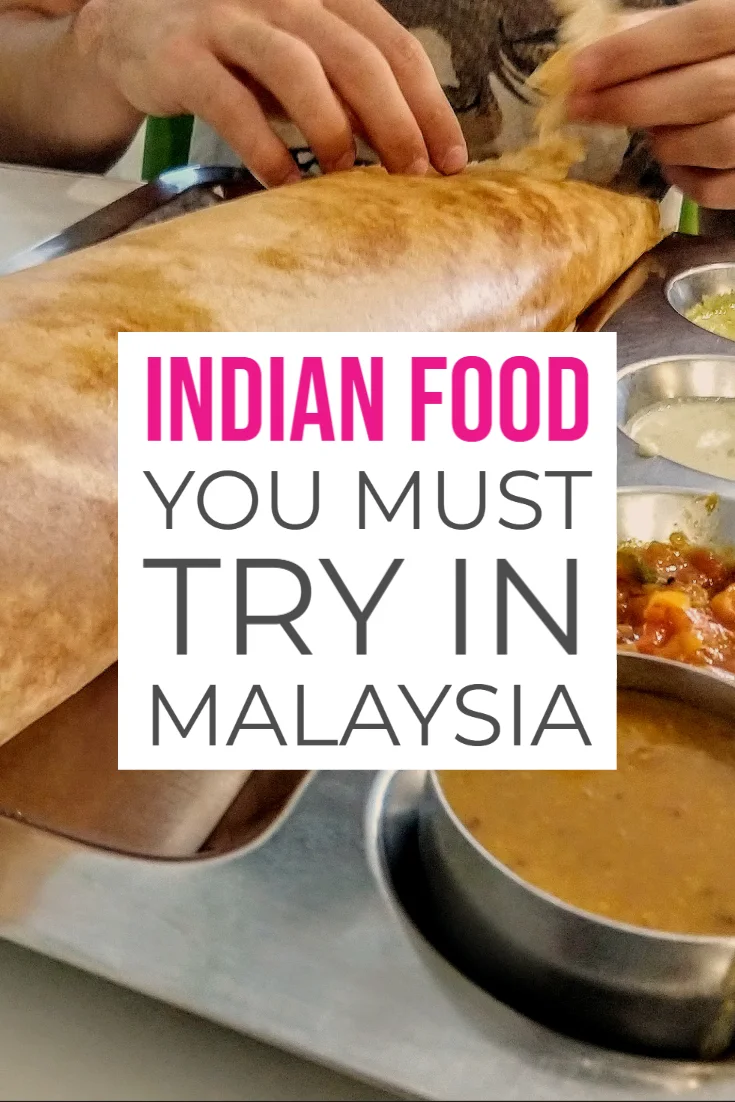 Brickfields in Kuala Lumpur
Brickfields in Kuala Lumpur's well-known " Little India" and many will go here to try a famous banana leaf lunch. It's easy to get to being directly outside Kuala Lumpur Sentral Station.
You can indeed find plenty of Indian food here but you'll find Indian food in other locations too. You can even find it in the food courts of KL's huge malls.
We tend to stay near China Town, it's a good location for easy access to everything Kuala Lumpur offers. The street right next to ours, here at Back Home Hostel, is famous for all things South Indian, food in particular.
You can buy it straight from street vendors in little plastic bags or try one of the South Indian restaurants, the restaurants we have tried have been excellent.
Last time in KL we ate often at the restaurant below and at the Saravanaa Bhavan outlet next door. There is also a Saravanaa Bhavan in Brickfields, it's an international chain with a huge menu.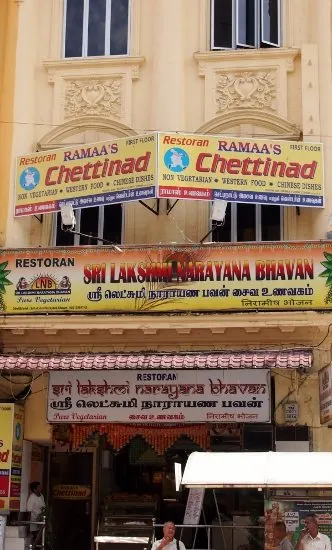 Vada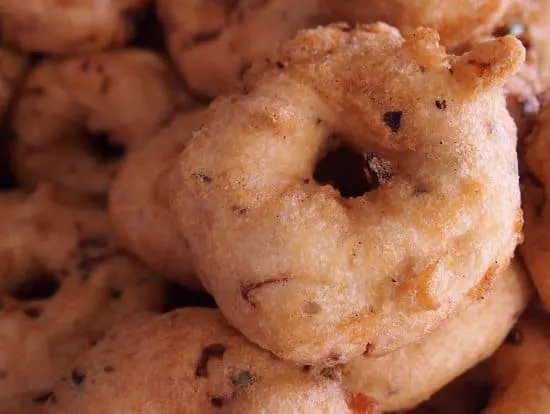 Vada are one of my favourites, little savoury doughnuts of lentil flour, spiked with onion, chilis and curry leaves. I buy a couple at a pavement stall, two for under a dollar, for dinner, fresh and still warm.
We used to eat them for breakfast in India with sambar and a fresh coconut chutney of pounded coconut, mint and green chilli.
Sambar
Sambar comes with just about everything in South India, it's a light vegetable stew, sour with tamarind, with plenty of curry leaves and a few lentils for protein.
It's usually served at your table from a large metal bucket. It's delicious.
Dosa or Thosai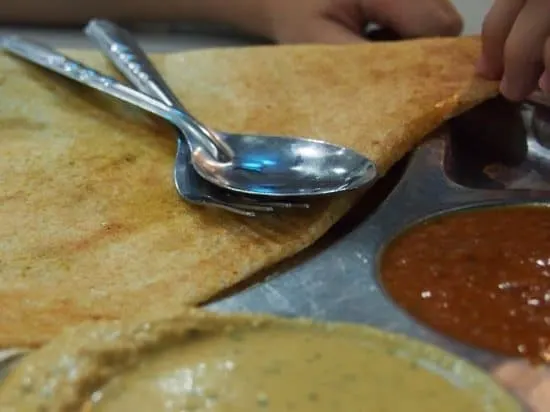 Dosa are fermented rice and lentil flour pancakes, they can be enormous and should always be made fresh, you can watch them making them at the roadside. They usually come with sambar and coconut chutney.
The masala dosa is a more filling animal, stuffed with a mildly spiced potato mixture. You will also find egg dosa, cheese dosa, onion dosa, just about any variation on this filled Indian pancake.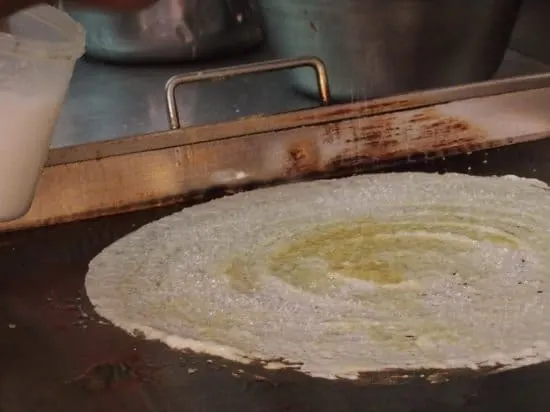 Idli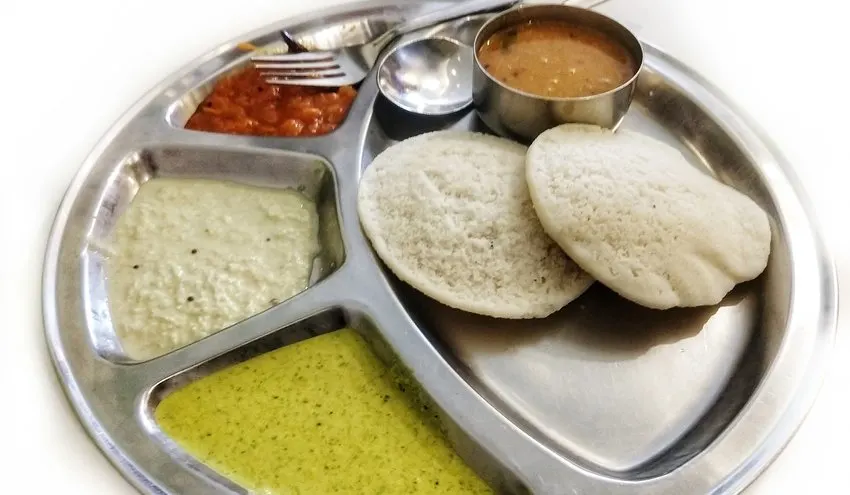 Idli are another favourite, we often eat these for breakfast. Little pillows of fermented rice, again served with sambar and coconut chutney. Great with your morning coffee.
The Thali or Banana Leaf in Malaysia
The star of the show is the thali or banana leaf, as they call it in Kuala Lumpur. A banana leaf plate to mix your food on, a selection of curries, chutneys, curd, poppadom or bread.
We just had one for lunch, 7MYR, under $3 AU and it was sensational. The photos I took were rubbish, sorry. A good excuse to go for another one!
If you are into things South Indian, don't forget to check out the Sri Mahamariamman temple in Chinatown.
Indian Food For Children in Malaysia
Can my children eat Indian food? Sort of. They're used to the curries Mum makes at home, D (9) in particular, is good with a little bit of chilli. Boo ( 6) is less keen.
They both like spices, but chilli is tricky and there is no asking for milder versions with this sort of food. It's all cooked in big batches, not to order.
The children will taste everything, sambar is quite mild and usually one or two of the curries in a thali or banana leaf are kind to children. The thalis always come with a dish of curd (yogurt) to take the spicy out a bit.
The trick is to mix a tiny amount of the curries with a large amount of rice, extra rice is usually free. They love dosa, poppadoms and breads and D likes vada.
South Indian food is something we eat to please me, not them, so I think it's only fair to treat them to a pineapple and coconut pie afterwards.
Not at all Indian, but they are perfect for kids Fresh and warm from a little bakery over the road, the only thing I can compare them to is a Bakewell tart. So I think we can safely say the kids are in food heaven, too.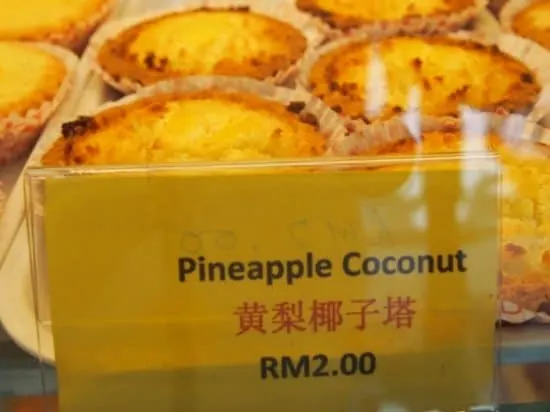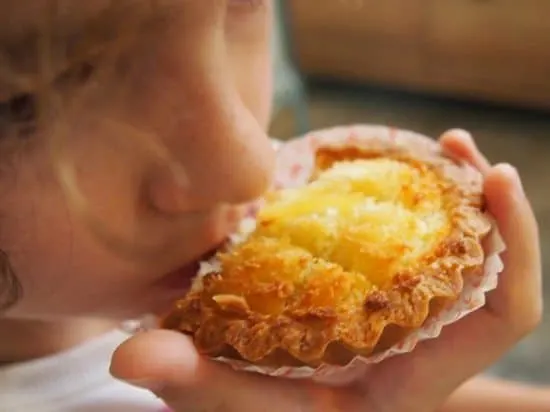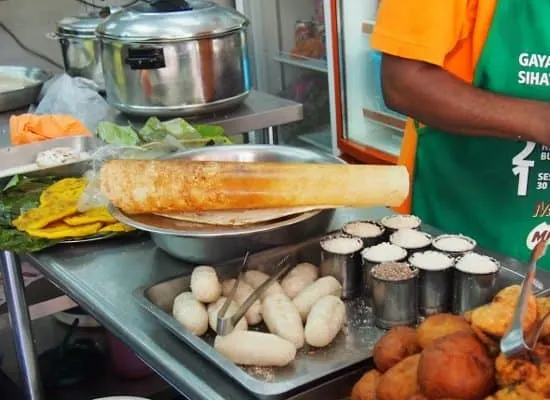 Thanks for visiting our site. We've spent months in Malaysia travelling extensively to research our content. It's our job to bring you tips and information on our travel and food blog. If you'd like more on travel in Malaysia visit our Malaysia Travel Blog page or take a look at the related posts below. You'll see that we cover KL, Penang, Malacca, Borneo, Kuching, Johor Baru, Ipoh and more.
If you'd like to hire a car during your stay, use this car rental comparison tool to find the best deal!

We also suggest you take a look at this company to get a quote for all kinds of the more tricky adventure or extended travel insurance.

Try Stayz / VRBO for an alternative way to find rentals on homes/apartments/condos in any country!