This post may contain affiliate links.
Yesterday we checked out modern Kuala Lumpur, today we stepped back in time. Chinatown is on our doorstep here at the fabulous Back Home Kuala Lumpur just a short walk up the road, which is good. The heat, the traffic, the uneven pavements and the exhaust fumes don't make walking much fun for the kids. This post is about Chinatown Kuala Lumpur and what is there to see and do in this district of KL. We also cover where to stay in Chinatown KL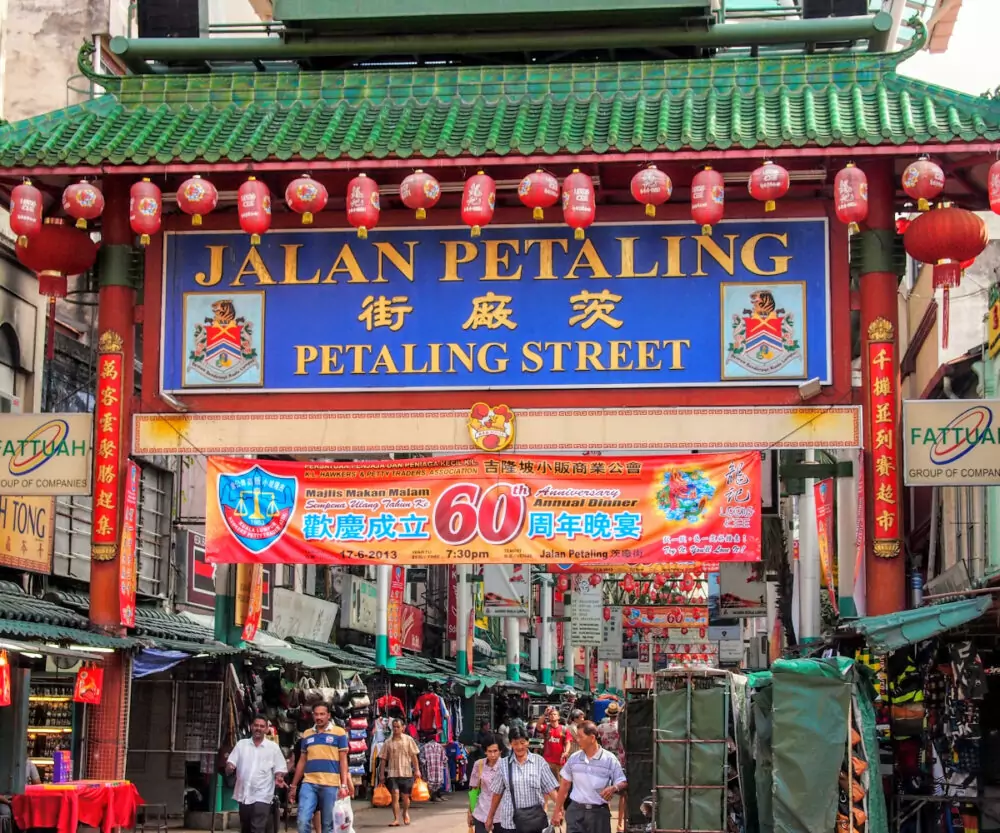 Our walk today was well worth it, we came across some of my favourite things, food, temples and tea.
First up, iconic Petaling St, the hub of Kuala Lumpur's Chinatown. It was OK, lots of shops selling T shirts, bags and all things cheesy, an old school meat market which we didn't venture into. I had a horrible experience in a meat market in China once, I didn't want the kids seeing anything that would upset them, and food.
Chinatown Kuala Lumpur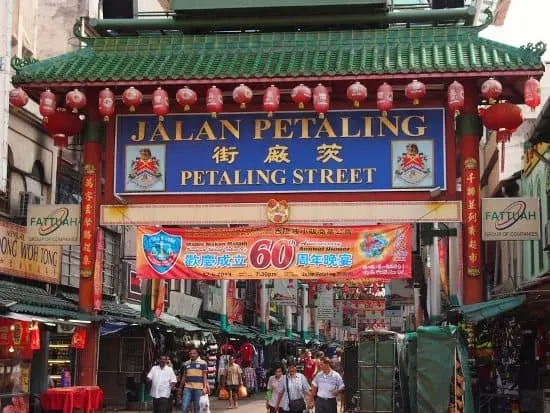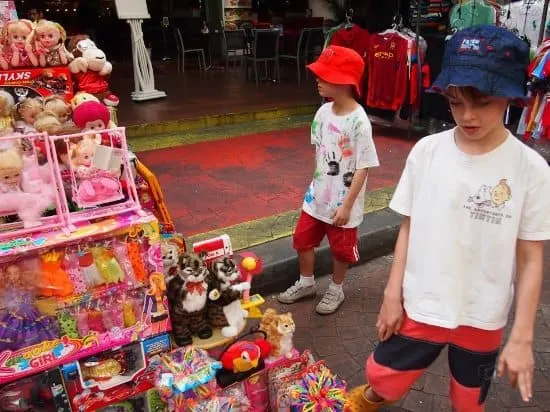 Deep fried sweet potato balls and pineapple pies were a good find. Ten balls for a dollar, yum! The sweet potato lady took a shine to the boys, particularly my curly haired one, we'll be back to see her again.
We're meeting so many lovely ladies in Kuala Lumpur, it's really, really nice.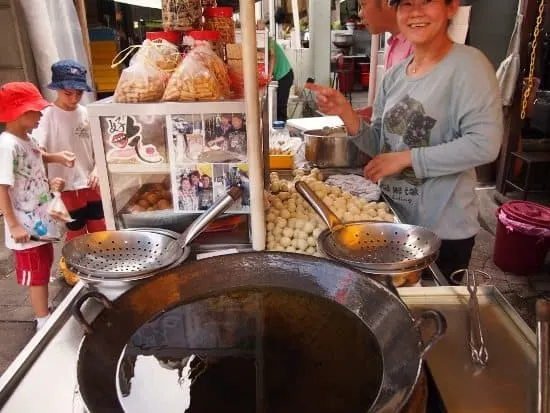 So, lunch in hand, we trotted down to check out the temples, Chinese and Indian, on the same street, on opposite sides of the road. That says a lot about Kuala Lumpur, I think.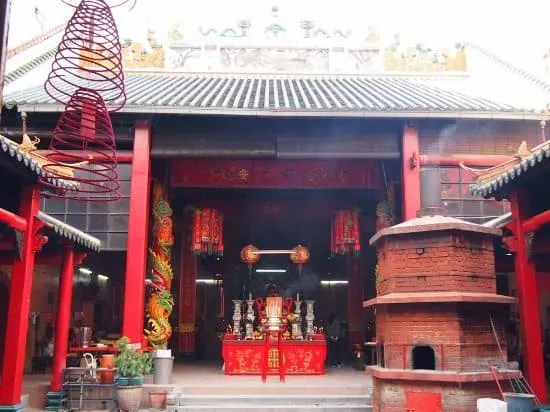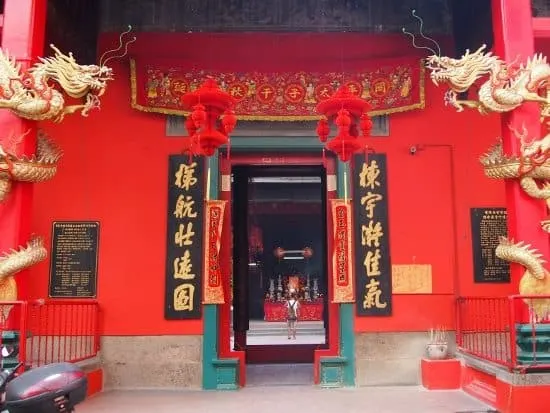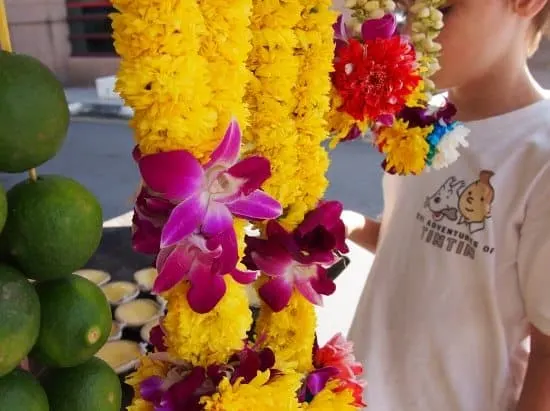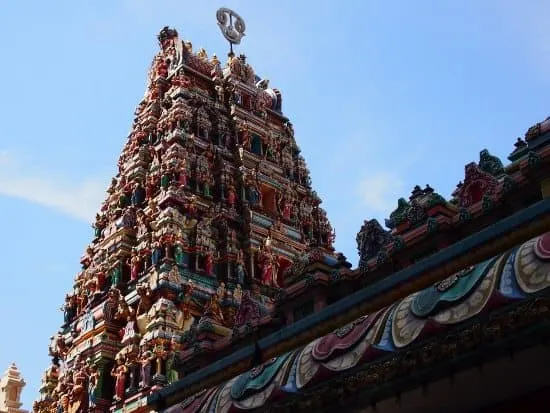 I love a good temple! I haven't seen a gopuram like that since we were in Southern India, years ago, that's the tower thing with the carved figures, they're very characteristic of the south. The kids spotted Ganesh and his parents, Shiva and Parvati, straight away, I've filled their heads with all this stuff since before they could talk.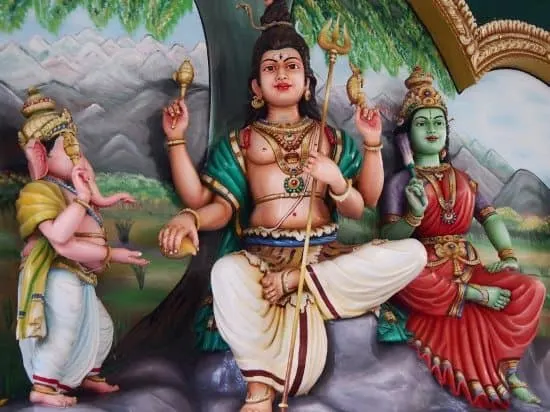 Just as we were feeling the heat and heading towards the free Go-KL pink bus stop, we wandered into a little tea shop and were given the full tea-making works, green tea and oolong with ginseng. The boys enjoyed both, they've never really had tea before, they loved the experience and the make-you-strong ginseng tea.
My newly strong boys perked up enough to walk the ten minutes back to our hostel. Thanks for that Mr Tea!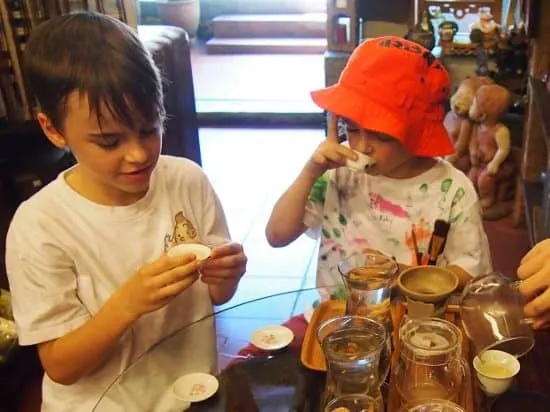 The most amazing thing we saw today I've saved 'till last. I wonder if they make good pets.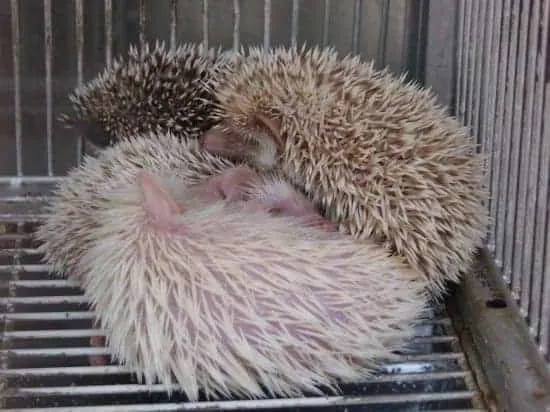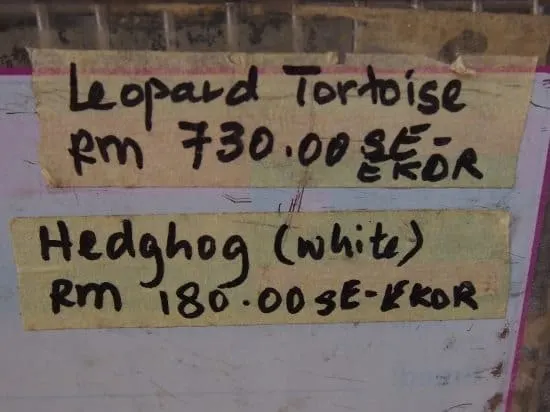 Where To Stay in Chinatown Kuala Lumpur
There are plenty of accommodation options in or near Chinatown KL and yes, this is a good area to stay, within walking distance of many attractions, with good food options and an easy (free) bus connection into the center of KL. It should be much cheaper to stay in Chinatown than near central Kuala Lumpur. You're not far from a monorail station that will connect you to KL's main train network. Hotels in Chinatown include the following.
A space-themed capsule hotel, Space Hotel Chinatown, is a lot of fun and cheap for a short stay. We have stayed here and enjoyed our stay. We took a 4 capsule private room for our family of four, with shared bathroom facilities, the kids thought this place was super-cool, particularly the slide between floors. Book it here on Booking.com
There is a Sheraton in the heart of Chinatown. For a quality hotel, well located, with family rooms, but still very affordable, Book the Four Points Sheraton Kuala Lumpur Chinatown here on Booking.com
For a hotel with old-world character take a look at the Tian Jing Hotel, it's in a beautifully restored shop house very close to Petaling Street, the Indian and Chinese Temples, Masjid Jamek and the Central Market. See it on Booking.com. Not so great for families, they don't have rooms for four or more that I can see.
---
More information about KL and Chinatown
---
We're finding loads to do in Kuala Lumpur, a wonderful mixture of cultures, ancient and modern, side by side. We're going back to the 21st century tomorrow, we have a date with another travelling family, our first time, we're looking forward to it! Kuala Lumpur Chinatown is a good place to base yourself in KL and a must see area. Back to our main Malaysia Travel Blog page
If you'd like to hire a car during your stay, use this car rental comparison tool to find the best deal!

We also suggest you take a look at this company to get a quote for all kinds of the more tricky adventure or extended travel insurance.

Try Stayz / VRBO for an alternative way to find rentals on homes/apartments/condos in any country!