This post may contain affiliate links.
London is an expensive city, but luckily there are a lot of free things to do in London with kids, in this post we'll cover the best free things to do and free places to visit, to give you some great ideas for free things to do during your time in London.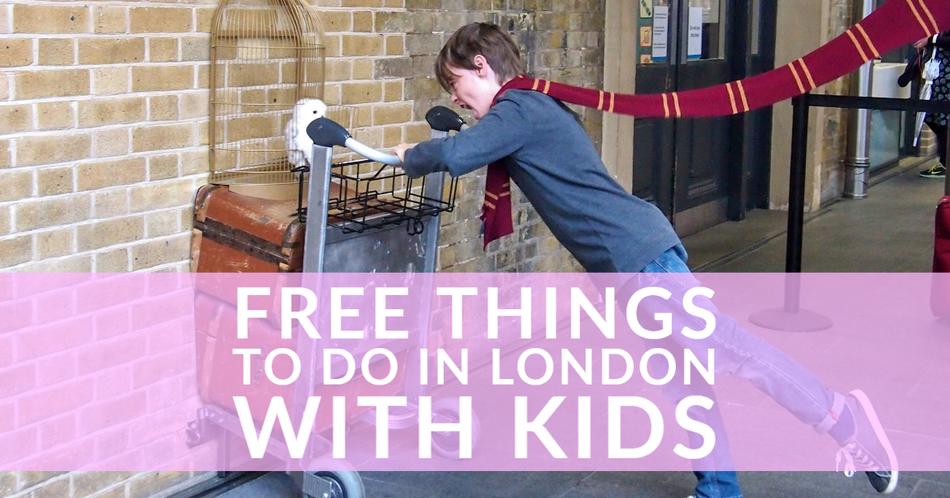 My name is Alyson, I'm a professional travel blogger and London mum, starting my career in travel well over a decade ago after working in central London for many years. My kids were born in London and lived there until they were school age, after that we traveled the world, but most summers we would stay in London and do all the things to review and explain them to you on this travel blog. We hope you find our guide to free things to do in London with and for kids useful. If you scroll down to our index you'll see a list of these free and inexpensive things to do in central and outer London.
Readers have been asking me for London itineraries for kids, some sort of plan to make best use of limited time in my home city. I can't really do that, the amount of time you'll want to spend at each attraction will vary enormously and the ages of your children may limit the amount of pavement pounding you can do.
What I can do is give you a few suggestions for things to do in London from which you can put together your own itinerary. This post only covers free things to do in London with children, ideas for the most mind-blowing and London-y places you can take your young family on a tight budget.
We have a post on the practicalities of visiting London with kids, how to get around, where to stay etc. We also have a review of the best family hotels in London, plus cheaper places to stay. If you need those these links will take you to those.
Many of the free attractions and things to do in London in this post also have their own separate review posts, we'll give you links to those, plus directions and any booking requirements in this post. Some of London's best museums for kids now require you to book at busy times like school holidays and Christmas.
Hopefully, all these amazing free things to do in London will compensate for your hotel expenses. Ouch!
We traveling full-time with our kids since 2012, London really hurts our wallet, but we can give you a few tips on finding bargains on London accommodation and food, in other posts.
Let's go with the free stuff! All of these things were free when we last visited, please check as the government did want to change this.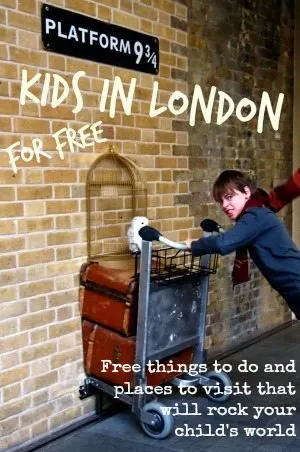 Free Things To Do in London For Kids
There are plenty of free things to do in London for kids that are child-friendly, fun, educational, cultural or family pleasing. Start with London's amazing free outdoor spaces then look for free museums, attractions and historical sites.
Everything in this post was FREE for us. There is also a book on this topic if you'd like to dig even deeper. Click on the link here to investigate. The book isn't free, but this website is free for you to use.
There is a crazy amount of stuff you can get in London for free, from transport to haircuts. So keep reading for the best free places to take kids.
London Museums For Free With Kids
South Kensington tube station is always insanely busy because this is the jumping off point for the big 3 South Ken museums. Some of the best places to visit in London for free.
The Natural History Museum and The Science Museum are next door to each other, the V&A is over the road.
The V&A is probably the least child friendly of these 3 big museums, but its spin-off The Museum of Childhood which is located on the far side of London at Bethnal Green, is a small museum with interesting child-friendly exhibits of toys through the ages.
You could spend days exploring these museums, we go back time after time. But for those of you on a short visit, here are some suggested highlights.
These museums were free last time we visited. Voluntary donations applied, some now require you to book, but booking is free.
The Natural History Museum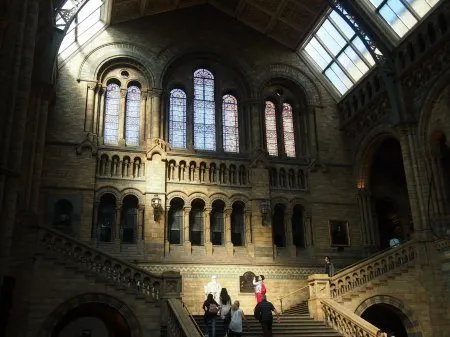 Arrive at The London Natural History Museum before opening time or late in the day. Queues build up for entry, you don't want to waste your day standing in line. Avoid summer and Christmas school holidays if at all possible. The side entrance (next to the Science Museum) is sometimes less busy than the front.
Opening time is normally 10 am, check their website.
The building itself is stunning inside and one, kids won't be interested but the grown-ups can be impressed.
The entrance hall as you go in houses the iconic dinosaur (now a whale) and the statue of Darwin on the steps at the back of the hall. Most children will want to see the free dinosaur exhibit on your left as you go in. It can get incredibly busy. If you have to visit on school holiday weekends, consider booking timed dinosaur exhibit entrance tickets in advance.
When you're done with dinosaurs, head to the back of the museum for the mammal hall and the life-sized blue whale.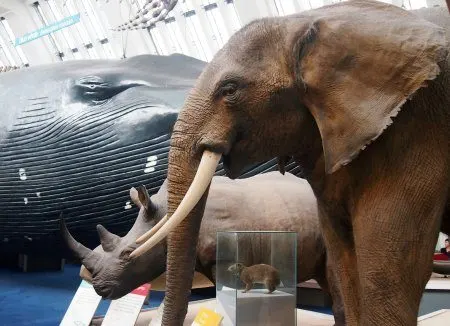 My boys are into arthropods so we head to the right of the main entrance for creepy crawlies. If time is short you can stop there and leave.
Upstairs the earthquake mock-up is popular with kids, as is the giant escalator through planet earth.
The Science Museum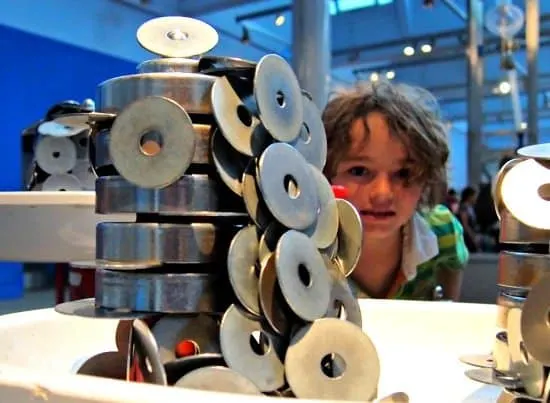 Your problem here will be getting your kids to leave. For that reason, I'd be careful about visiting if you're on a tight schedule. I've dedicated a whole post to the Science Museum and its children's facilities, click-through to have a read.
The Science Museum is next door to the Natural History Museum and is always way less busy. They have an IMAX cinema here ( not free), kids workshops and all manner of special exhibits.
Other Free London Museums and Galleries
London is absolutely stuffed full of museums, most of them free. Some of the smaller museums don't require bookings, but to be on the safe side and guarantee admission, book a time slot online, in advance.
The British Museum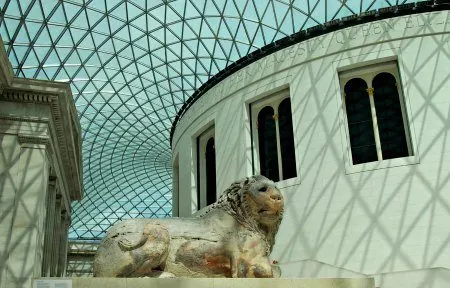 This is where you need to come in London for the Rosetta Stone, Egyptian mummies and artifacts ancient and modern from all over the world.
The kids' audio guides are sensational, but unfortunately not free, my boys (at 8 and 10 years old) lasted 2 hours and covered ancient Egypt, the Americas, Africa, and Asia. We'll be going back for the rest of the tour soon. You can see our post on visiting the British Museum with kids here.
Tottenham Court Road, Holborn or Russel Square are the nearest tube stations, it's a bit of a walk.
Coram's Fields playground is nearby and is a great place for the kids to play outside, it also houses a few small animals, petting zoo style.
The National Gallery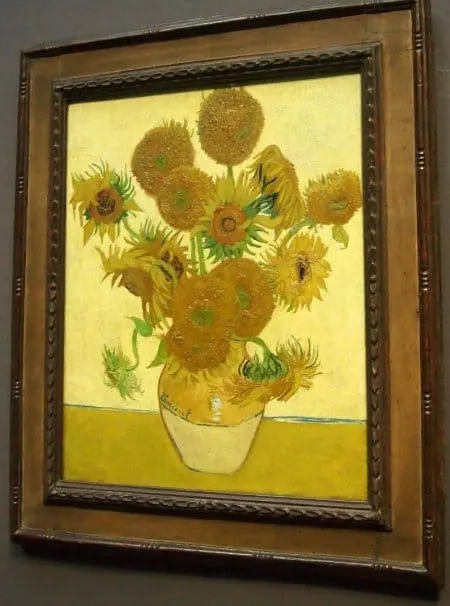 The National Gallery sits at the back of Trafalgar Square and its steps give you the best vantage point for photos of the square. Again, this is free to enter, but a donation is suggested ( no pressure).
You could quickly pop in and out just to see a favourite painting ( we recommend Van Gogh for kids, thanks to his Doctor Who appearance) or you could take a free 1 hour tour starting at 11.30 every day. There are also free drawing groups and family activities on some days.
Kids' audio guides are available for a very moderate cost. The guided tours are free. We have a post on The National Gallery with kids here.
The Tate Modern
The Tate Modern is on the South Bank and is free and fabulous. See our post on the Tate Modern. People may think that art galleries arn't fun for kids but the Tate Modern has plenty of kid-friendly things to do such as their giant electronic wall of art next to the cafe. If you're enjoying the South Bank, taking a stroll and watching the street performers with your kids, it's worth taking a look.
There is a very good kids playground on the South Bank, just behind the London Eye, and also, in summer, The South Bank Centre (near the Tate Modern) has fountains which make a good free water play area for kids.
Other Free Museums in London Worth Visiting with Kids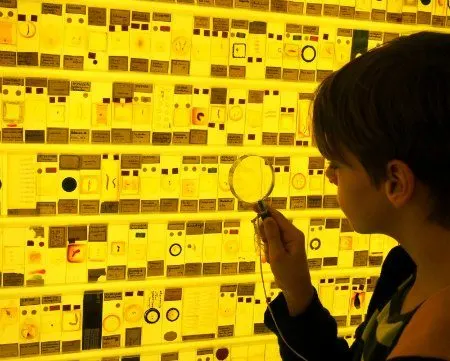 The Grant Zoology Museum and its jar of moles, and the Museum of Childhood, as mentioned above. I'll add more free museums as I discover them.
The Museum of London at Canary Wharf is excellent. Housed in an old warehouse building, it's really atmospheric
The Bank of England Museum is a small free museum near Bank tube station. My kids enjoyed lifting the gold bar and were impressed by its weight.
If you make in to Greenwich there are some great free museums there too.
The Ragged School Museum allows your kids to see what life was life in London's East End in the 1800s.
The Welcome Collection features quirky exhibits such as Napoleon's toothbrush and Darwin's walking stick.
The Horniman Museum and Gardens is out of Central London at Dulwich. It features an impressive collection of stuffed animals. There is also an aquarium on site but this is not free, the grounds are free to explore.
London Passes Save You Money
If you want a hassle-free trip to London, with "free" admission to most top attractions, consider investing in a London pass of some sort. There are many different cards and passes to choose from. Pay in advance for your choice of the capital's prime attractions to help you budget your trip, save time and cut stress. This website details various passes and what they include.
London's Free Parks and Playgrounds For Kids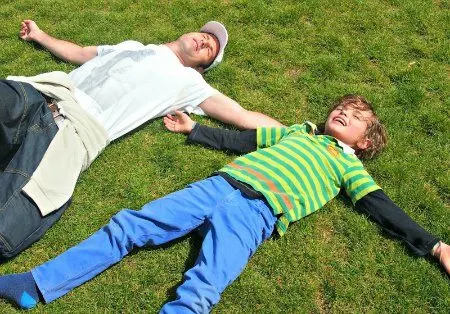 London is an incredibly green city with endless green spaces, gardens, boating lakes, tame squirrels, ducks, swans and playgrounds. Our personal top recommendations would be:
The Princess Diana Memorial Playground in Kensington Gardens. this one is stunning.
Regents Park, for a walk, a play and a glimpse of some of the animals at London zoo.
Hyde Park for Speaker's Corner, The Serpentine and ultra tame squirrels.
I'll have to produce a separate post on London's parks and playgrounds, there are just too many to include here.
Coram's Fields is fairly close to The British Museum and has a kids's water play area plus a few animals and a lovely park are to explore, for free.
St James's Park is also a good one to visit, they feed the pelicans dayly here at 2.30pm, this is free to attend.
Free Petting Zoos and Farm Parks in London for Kids
2 petting zoos, Vauxhall City Farm and Mudchute Farm and Park are free for kids. A donation is suggested only and people generally pay 3 UK pounds, these donations support the farm's work in bringing animals into the lives of local kids. Vauxhall City Farm is a short walk from Vauxhall underground, train or bus stations, a 10 minute walk from Oval underground station and 20 minutes walk from Waterloo. It is near the Vauxhall pleasure gardens, south of the Thames at Westminster. It is about a 25 minute walk south from the London Eye and Houses of Parliament.
You do not have to book Vauxhall City Gardens, Opening Times are 10:30am – 4:00pm, Tuesday to Sunday. Entry is free, no booking required but a donation is suggested. Check their website for further information. Thee kids can meet Santa here at Christmas!
Mudchute Farm and Gardens is free to enter and is in East London, on the Isle of Dogs. It is London's biggest urban farm in London. It is in Cubitt Town on the Isle of Dogs in the London Borough of Tower Hamlets, just south of Canary Wharf. The nearest tube station is The nearest underground station is Canary Wharf. The nearest DLR station is Island Gardens. If you're visiting Canary Warf, the Museum of London is near, and is also free. You could ride horses at Mudchute Farm, but this had to be booked in advance, but according to their website their equestrian centre has now closed. Donkey rides are available here on Sundays in summer. See their website for more information.
Covent Garden Entertainment is Free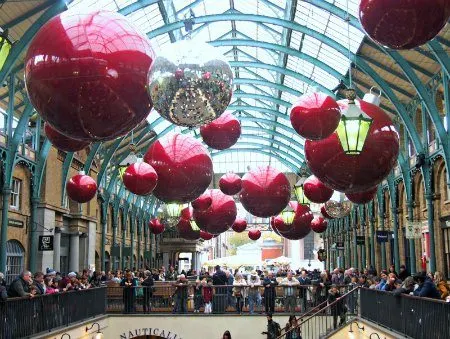 Street performers and buskers are always fun for the kids, particularly if they haven't seen moving statues and levitating Yodas before. The walk from Covent Garden Station down to the actual Covent Garden is always lined by street artists, you'll find full-on performances in and around the market. If you stop to watch a show it's polite to pay, this is how these guys make a living.
You'll also find more highbrow singers and musicians performing here most days and the market and shops can be fun for the kids.
There was a Disney store on Covent Garden that was fun for the kids to visit, but it's now closed down.
Soldiers, Horses and Palaces in London to See for Free
You can walk right past the front of Buckingham Palace. If you're there at the right time on the right day, you'll catch the changing of the guard ceremony here. Check this website for times and dates.
Green Park tube station is your best stop for Buckingham Palace, you can walk down through the park to the main gates. Alternatively use St James's Park, there is a great kids' playground there.
You can walk down The Mall or through St James's Park to Whitehall and Horse Guards Parade to see the soldiers on horseback. You'll catch the changing of the guard here at 10am on weekdays, 11am on Sundays. You're half way between Trafalgar Square and Westminster here.
Free Things to Do For Harry Potter Fans in London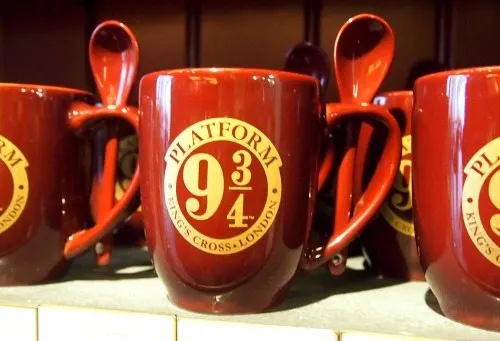 Platform 9 and 3/4 is at Kings Cross Station. There is a photo opportunity and a shop selling 9 3/4 merchandise. Click through to our post for more details. Right next door is a very special Harry Potter shop, it was the first in the world, has unique merchandise and great theming. Of course, it's free to look and enjoy.
Free Sherlock Holmes Things To Do in London
Baker St Station has Sherlock Holmes themed tiles and outside, on the street, you will find a statue of the great detective. If you walk around the corner along Baker St (towards Regent's Park) you'll pass the Sherlock Holmes museum where a police officer in period costume poses for photos. This museum is not free unfortunately.
Get a Photo in a TARDIS for Doctor Who Fan Kids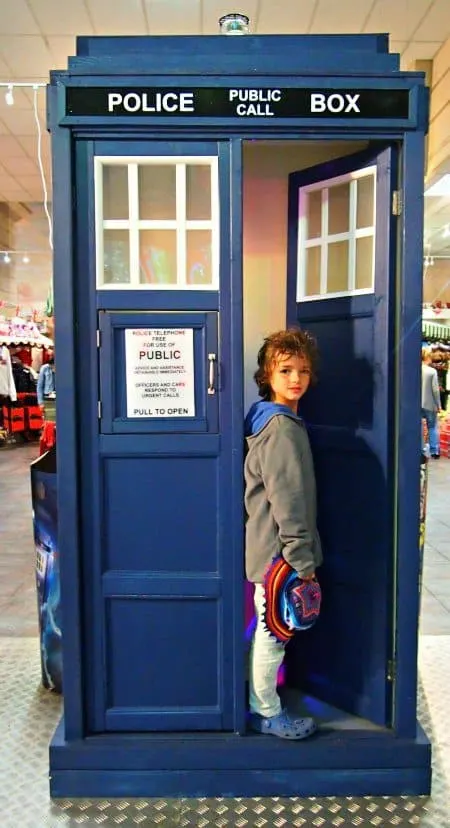 A souvenir shop outside and to the left towards Tussauds) of Baker St Station had a life-sized TARDIS. The real Doctor Who exhibition was based in Cardiff and was well worth a visit. There is another TARDIS looking object directly outside Earl's Court train station.
Paddington Bear for Free in London
Michael Bond's Paddington Bear took his name from London's Paddington Station. It's worth popping along to see the cute statue of the little bear and his suitcase. There is a Paddington Bear shop too.
Hamley's Toy Shop London – It's Free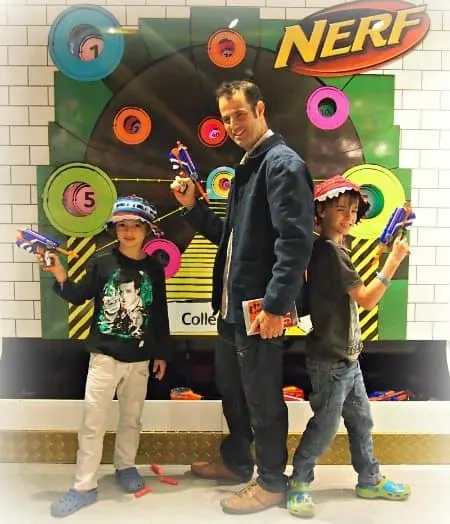 You totally MUST take your children to Hamley's, arguably the finest toy shop in the world. It's on Regent St a short walk from Oxford circus and has 5 floors of the best toys in the world brought to life by lively and fun demonstrators. It's a very hands-on kind of shop and considred one of the best free places to take kids in london.
Hamleys can get very busy towards Christmas when the window displays put on a fantastic show beneath the Regent St. lights. Arriving for opening time is a fun experience, they put on a bit of a show with a Disney-esque "rope drop".
If you carry on walking along Regent St you come to Piccadilly circus and can walk on to Leicester Square and Covent Garden.
To Visit Harrods is Free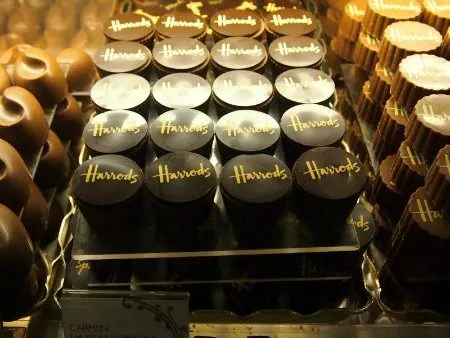 My kids were totally unimpressed with Harrods, other than the confectionary department. Harrods has the most impressive selection of chocolate and sweets you will ever see, the cakes are pretty splendid too. We had a few free tasters but ended up spending a lot on knock-out chocolate.
The M&Ms Store is Free
London's M&Ms store was on Leicester Square. I think it's bigger than the New York one, it's certainly newer. They're not so free and easy with handing out the free chocolates in London but visiting the M&Ms store on Leicester Square is free.
London's South Bank – A Lovely Place to Walk for Free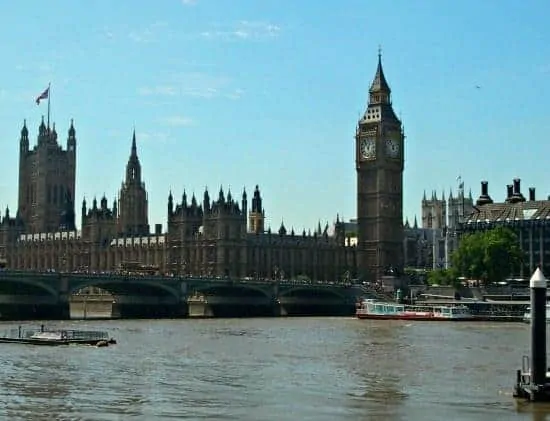 The South Bank of the Thames is a lovely spot for a walk with views of the river, the Houses of Parliament and London's most famous bridges. If you can walk all the way from Tower Bridge to Big Ben's tower with the kids, you're doing well.
London's South Bank is free to visit and as you stroll along the Thames you'll pass some great spots to play. There is a cool adventure playground right behind The London Eye (one of our favourite attractions, but far from free).
Looking up at this awesome construction is pretty cool too. For Doctor Who fans, it was a giant transmitter in Rose Tyler's first episode, they'll be pleased to see it in real life.
The Shard, featured in a Matt Smith episode, is on this side of the river too, but best viewed from the other bank. Sadly, they charge for admission.
There is a sand play area near London's "beach" down towards Shakespeare's Globe theatre. There is usually a guy down there making sand sculptures, low tide only of course!
You'll also walk past The Clink Prison Museum, The Golden Hind (neither are free) and maybe end up at foodie favourite, Borough Market, a great place to grab some lunch. Of course it is free to visit the market and my kids always enjoy a trip here, from tiny tots to teens, they've loved looking at (and tasting) the foods on offer.
Look out for the RSPB stand outside the Tate Modern, they were there all last summer helping us to spot the Peregrine Falcons through super powered telescopes.
Things to Do in Camden London For Free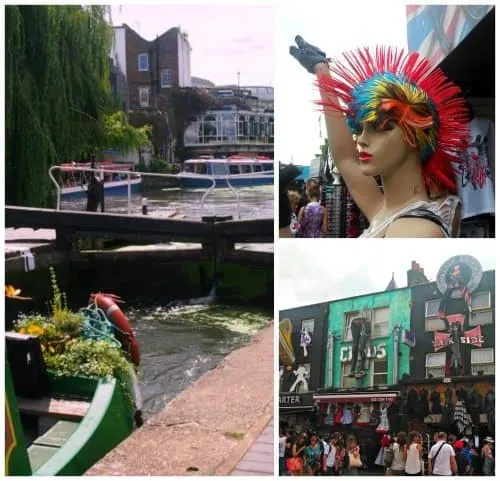 There is a lot of crazyness in Camden, it's great for grown ups but small children may find the crowds and bustle overwhelming. If you can get to Camden on a quiet day it's lovely down by the canal, a great spot to watch the narrowboats navigating the lock. See our post "one day in London" for more on this area.
London's Richmond Park For Free With Kids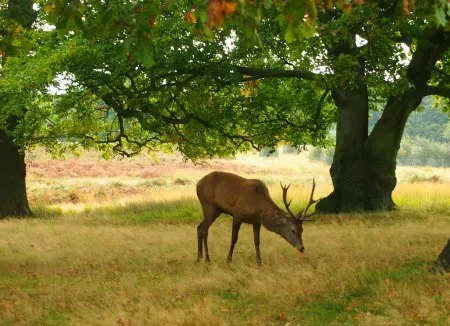 Richmond Park is a fair way out of central London, around 45 mins on the District Line from the middle of town. You'll need to get off at Richmond tube station, South London, the final stop on the District line.
I include it because your kids will probably never get a better chance to get up close and personal with red and fallow deer. We live out here, we go for a walk in the park most weeks.
Richmond itself is a stunning spot on the Thames, it's well worth making the trip and strolling along the Thames. You'll be bumping into celebrities constantly in and around Richmond. Richmond town is in north london, if you cross the bridge to walk along the Thames you'll be in South London. There are free playgrounds along this bank of the Thames, one just the other side of Richmond bridge, another towards Twickenham.
Things to Do in Greenwich London For Free With Kids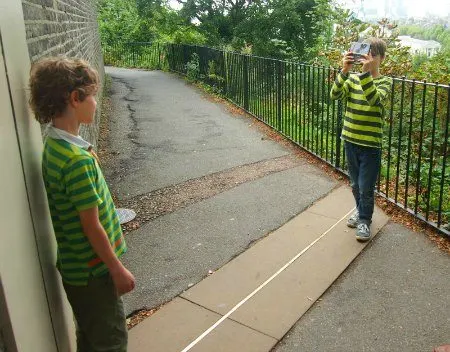 Again, Greenwich is a bit of a trek to get to, but it really deserves a look for its maritime history.
The Maritime Museum is free, as is the walk up to the observatory to see the marker for the prime meridian. You can also walk under the Thames in a pedestrian tunnel here, which is free.
The Cutty Sark is magnificent and an amazing interactive exploration for the kids, but there is a charge. You can see it from outside, for free. It's imposing and magnificent.
I've given Greenwich attractions their own post. Don't miss the craft and food market, it's mouthwatering.
Trafalgar Square is Free!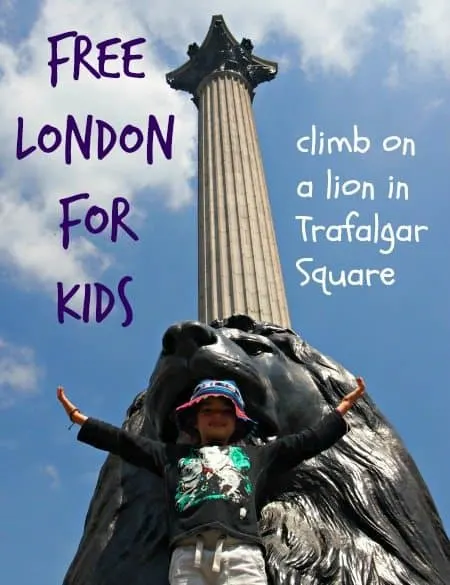 You can't feed the pigeons these days, but you can climb on the lions, my boys love that.
If your children have the book, Katy in London, or the new Katie's London Christmas, they'll know all about the lions' magic powers.
I believe you can still splash in the fountains on hot summer days, but you'd better check that one with the local constabulary.
You can also see this large blue chicken or one of his art installation friends on one of the plinths at the back of Trafalgar Square. The art displays here change fairly regularly.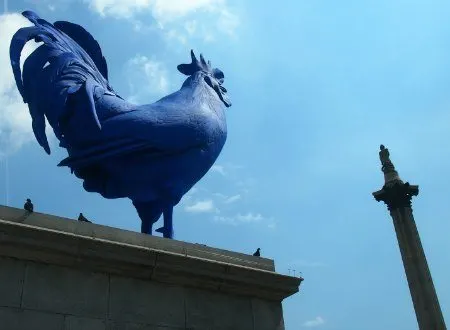 Free Walking Tours of London
There are free walking tours of London, but these are usually tips based. To find free walking tours suitable for kids in London, check out this website.
Other Free Events and Attractions for Kids in London
You'll need to check current events at the time of your visit, there is always something going on in London and events are extremely well done. I'm working on a list of websites for you. Enjoy all of these free things to do in London with kids, these our how we, the London Mums, raise our kids in the city without spending a fortune. London has so much that's free to do, I'm sure you'll have fun!
If you'd like to hire a car during your stay, use this car rental comparison tool to find the best deal!

We also suggest you take a look at this company to get a quote for all kinds of the more tricky adventure or extended travel insurance.

Try Stayz / VRBO for an alternative way to find rentals on homes/apartments/condos in any country!