This post may contain affiliate links.
Today was declared computer free day, we've all been wired up to the internet far too much lately. I've been catching up on work after our Italy trip, the kids have been blissed out on endless Minecraft and You Tube. No screens today, that was the rule. So before the boys woke up I checked my email, made breakfast, had a shower and was ready to be perfect Mum. Several loombands later, we were off for one day in London. Look how much we did!
One Day in London. What's Possible?
The city's incredible transport system makes London a dream to explore. With an Oyster Card transport fares are capped, so you can catch as many buses, tubes and London overground trains as you like for one fixed charge. For us, living in zone 5, it's about $14. Both my kids, being under 11, are free. We think it's an incredible bargain.
We started in Richmond, at the far west end of the District Line, took 2 tubes to Bethnal Green in the east, then back in towards the city and north for Camden Town. I love that when we ride the tube I'm present, with the kids, not occupied by driving. D normally reads, Boo and I chat, or sleep, trying not to dribble or snort in public.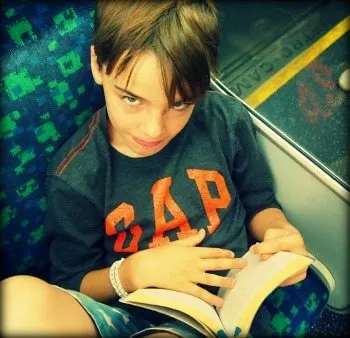 Our day was all about tubes, but remember that London is a small city, walking is a very good option and you'll see more than you will from a tube carriage. Buses are an equally good way to get around the city, but I know what I'm doing with the tubes.
What We Crammed into 1 Day Out in London.
First stop was Bethnal Green for the V&A Museum of Childhood.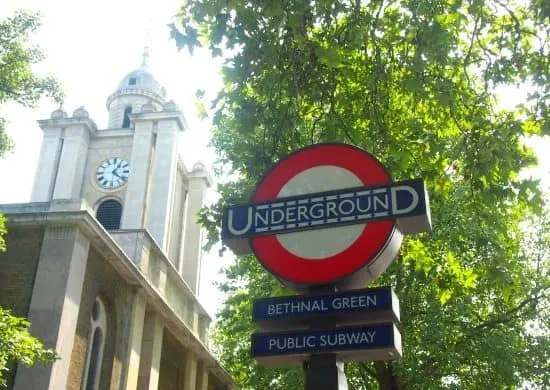 We happened to catch the museum's summer festival, some incredible bubble making was going on.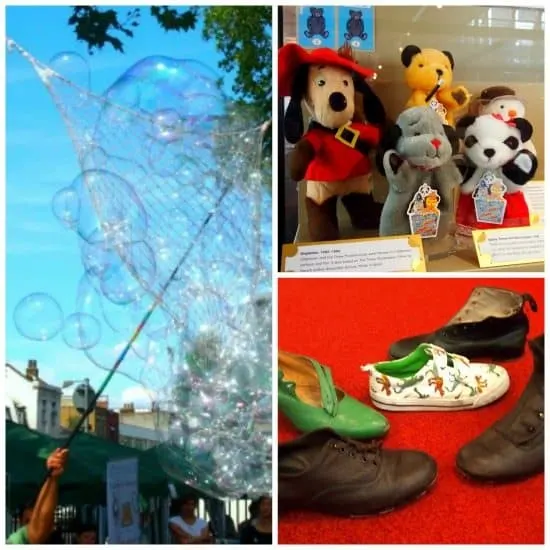 A couple of hours at the museum, a coffee and a snack later, we set off for Camden. Camden is insanely busy on Sundays, we didn't pick a good day to go, but still, we found relative peace by the canal while we watched a narrow boat navigating the lock.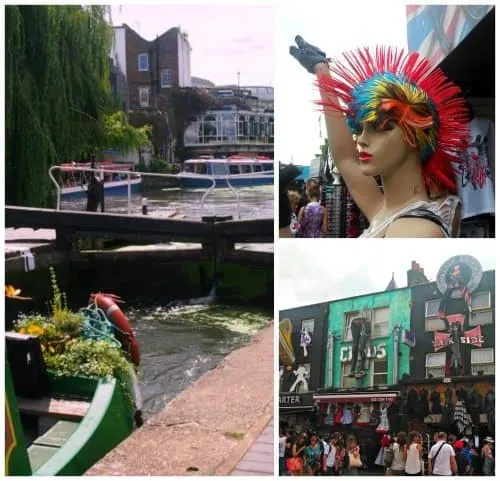 Walking back through Camden, past endless cool shops and market stalls, we found ourselves outside Poppie's, THE best fish and chips in the UK. They had a free table, so we grabbed it and enjoyed the most sensational fish and chips I've ever tasted, anywhere in the world.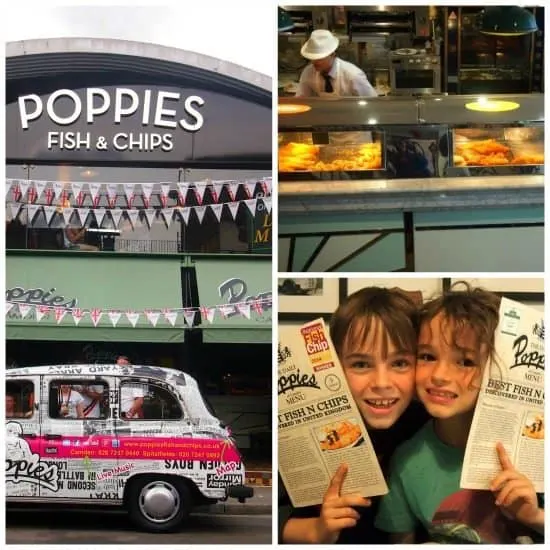 Back to the tube and heading for home, we had a short walk between tube stations because of Sunday maintenance. Possibly the best busker I've ever seen was giving it his all outside Embankment Station, not the first we'd seen that day, but certainly the most unusual.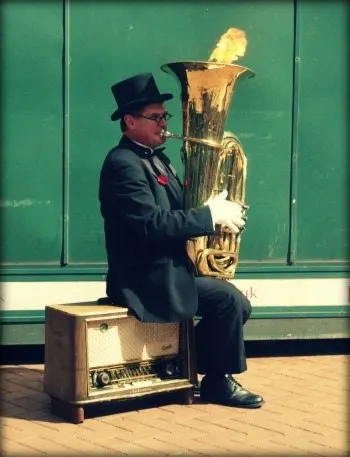 Home to Richmond, and a short bus ride to our flat. We normally walk, but little legs were tired and the daily cap on fares applies to buses too, so it cost us no extra.
Why Am I Publishing This Post?
Several reasons, to show you how much we crammed into a day without computers was my original plan. As always, the post takes over and goes off on its own tangent. What I ended up trying to show is just what a great city London is to wander around, to get lost in. Wherever you go , there is something to see. London doesn't have to be expensive, everything we did yesterday, excluding food and travel costs, was free. There are many, many more free things to do in London, enough for plenty more lovely days like yesterday. We have lots more posts about London, have a dig around in our UK section.
Back to our mail London Family Travel Blog page.
Back to our main UK Travel Blog page.
If you'd like to hire a car during your stay, use this car rental comparison tool to find the best deal!

We also suggest you take a look at this company to get a quote for all kinds of the more tricky adventure or extended travel insurance.

Try Stayz / VRBO for an alternative way to find rentals on homes/apartments/condos in any country!