This post may contain affiliate links.
Should you choose an inside cabin or an outside cabin on a cruise ship? I should say stateroom, they call the cabins that. The decision ultimately comes down to personal priorities and how much you'd like to pay for your cruise. These are our feelings about making the choice between booking an inside or outside cabin on your cruise ship.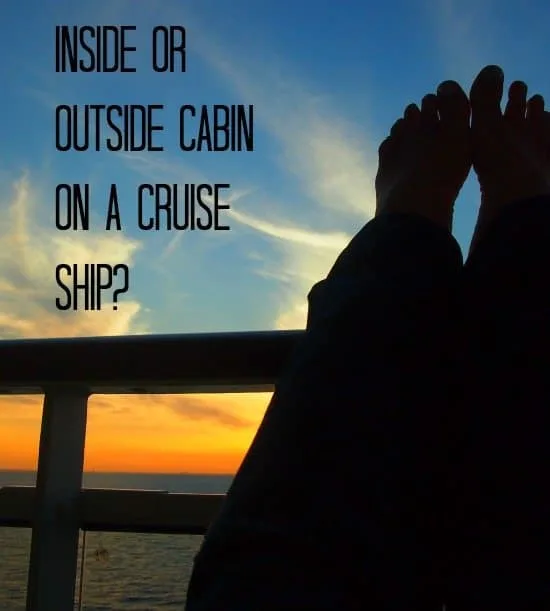 Both of our cruises mentioned here were with Norwegian Cruise lines. Our inside stateroom was on Norwegian Getaway, our outside stateroom was on Norwegian Epic.
Both cruises were Atlantic crossings, 11 and 12 days at sea. Be aware that floor plans vary between ships, the cruise line's own website should have floor plans and maps of stateroom layout.
Inside Cabin or Outside Cabin?
Outside cabins or staterooms are normally a little, or significantly, more expensive that inside cabins on a cruise ship. But do you need to pay the extra?
These are our experiences or cruising in an inside cabin, with return trip in an outside cabin on the same cruise line. The costs of both staterooms were fairly similiar.
Cruising like this as part of a gap year or long term nomadic travel, throws us into the flashpacker league but our first cruise was so much fun that we booked a return cruise from the US to Europe to continue our travels. There are our findings.
What's the difference between an inside and outside cabin on a cruise ship?
An inside cabin will have no windows. An outside cabin on an upper deck will have a balcony, an inside cabin on a lower deck may have a window or porthole. Outside cabins are generally more expensive than inside cabins and are sold as more luxury, whereas inside cabins are budget staterooms or cabins.
These are our findings after cruising in an inside cabin, an outside cabin with balcony, and an outside cabin with a window.
Cruising with an Inside Cabin or Stateroom
I would probably have worried about taking an inside cabin, fearing claustrophobia and stuffiness, had I not had an excellent experience with a windowless room in a hostel in Malaysia.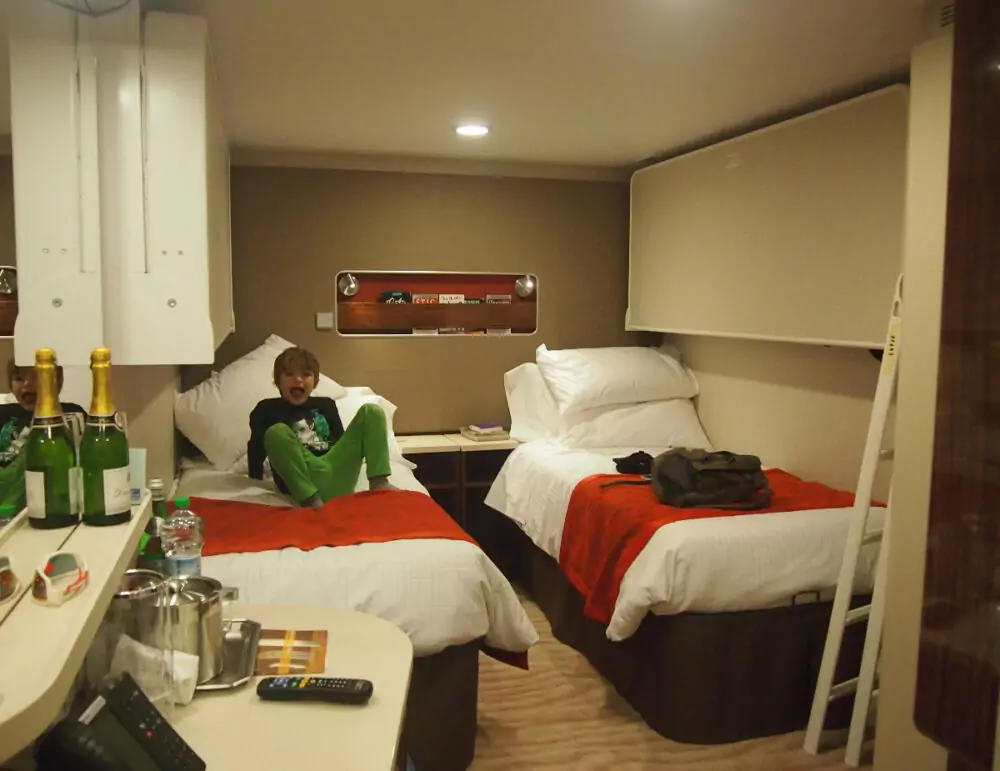 We found we slept particularly well there, so we were happy to take the inside cabin as it was a more affordable choice on our first cruise on Norwegian Getaway.
Cruising With an Outside Cabin with Balcony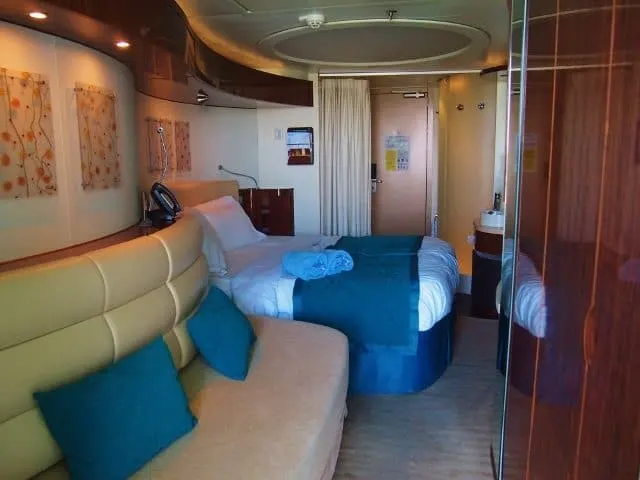 On our 2nd cruise, on Norwegian Epic, an outside cabin cost us hardly any extra, a few dollars/night.
We took the special offer to see what cruising with a balcony room was like.
Outside Cabin with Window on a Cruise Ship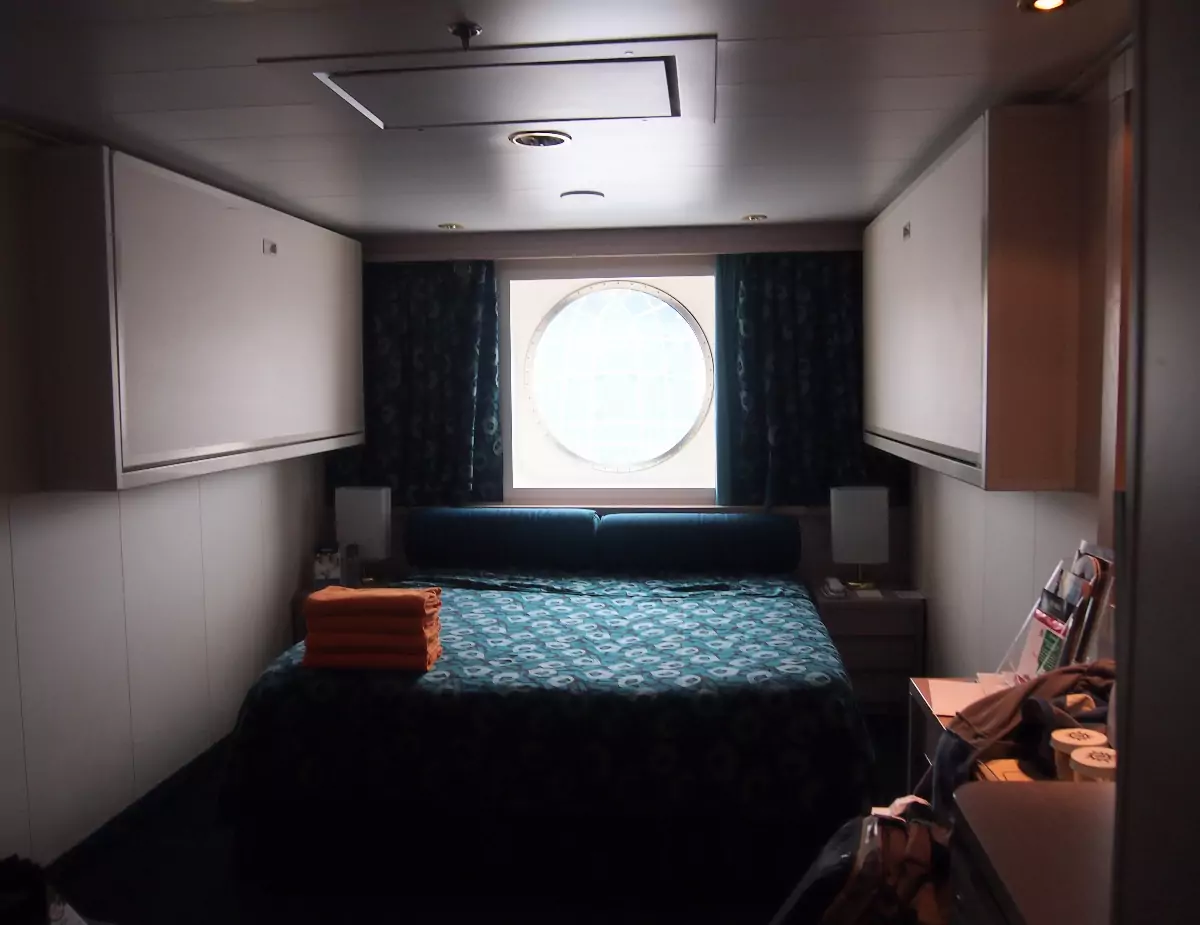 We have also cruised for several weeks in an outside cabin with a window or porthole. This let in some natural light but no fresh air. It gave us a good view of the flying fish, but otherwise there are no real advantages to taking a cabin or stateroom with a window.
Rooms lower in the ship are maybe more stable and maybe a little more noisy.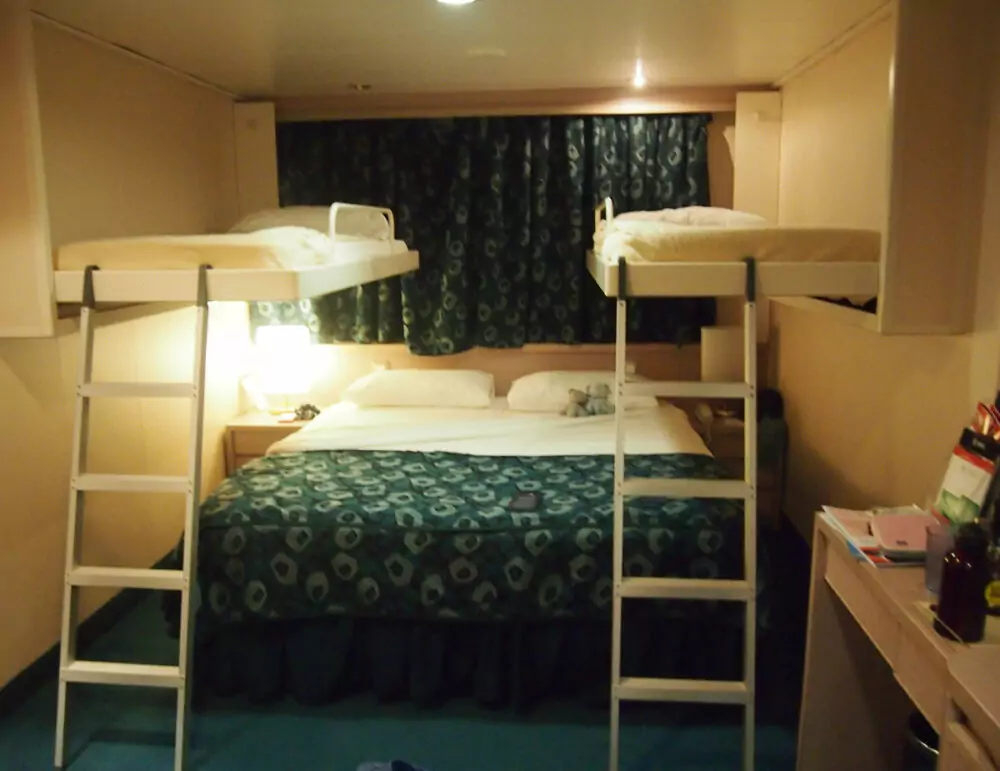 As you can see, none of the cabins we've tried so far are particularly luxurious and all of them are cramped.
Pros and Cons of Inside and Outside Cabins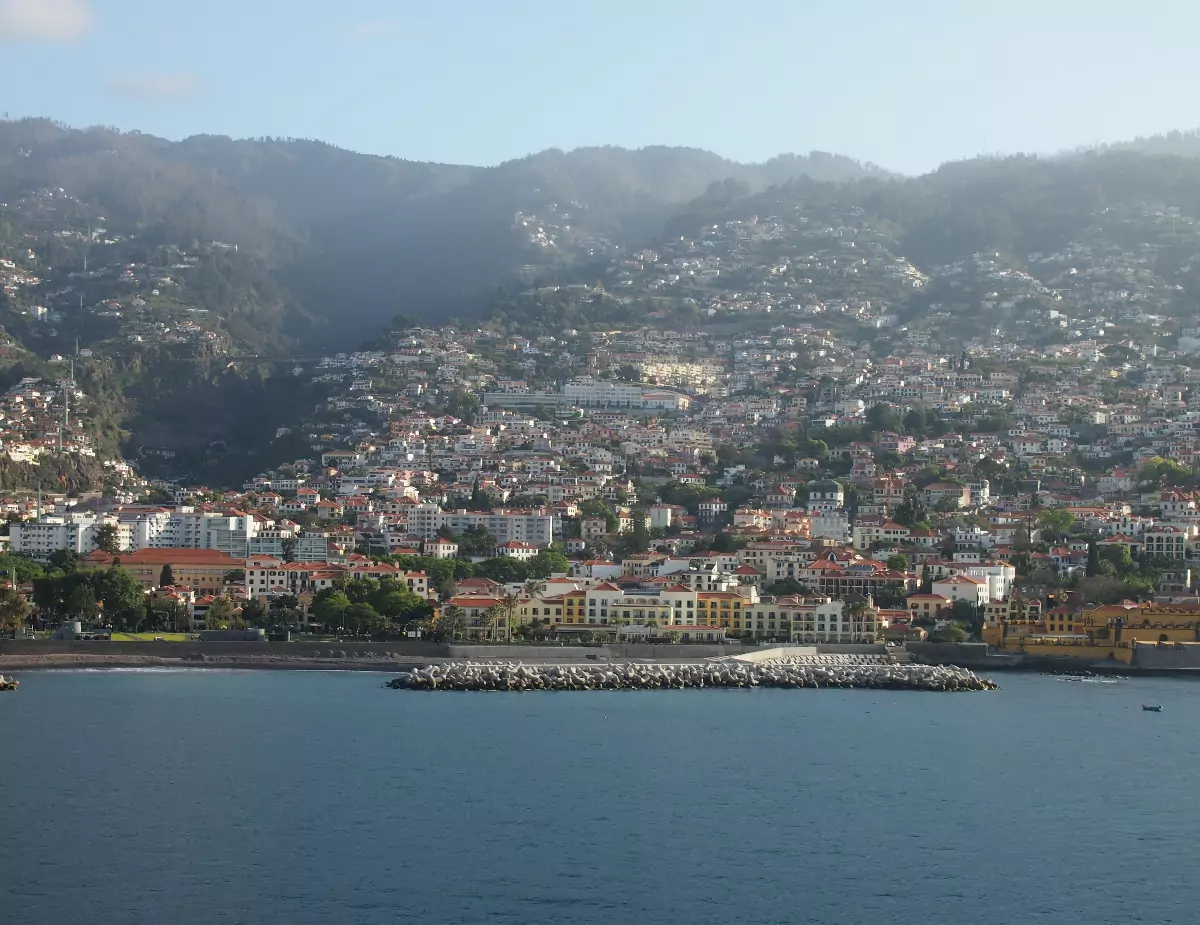 Our feeling is that either inside or outside cabins are absolutely fine. We preferred the layout of the inside cabin, we had a reasonably large bathroom in that one, larger than in our balcony stateroom.
The outside cabin on Norwegian Epic gave us a toilet cubicle and shower cubical on either side of the corridor door. Both cubicles had translucent frosted glass doors. A curtain could be pulled across the corridor end of the cabin for extra privacy. The hand basin was actually in the cabin at the foot of the bed.
The inside cabin's bathroom was much nicer, we thought.
The outside cabin had a more luxurious look and feel but was really no larger than the inside cabin.
Your steward will put up and take down bunks every day. They make up beds, clean and change your towels.
Both cabins had the same service and in both cases the service was great, convenient and smooth.
The bunks never got in the way, they were gone in the early morning and reappeared by magic, at bedtime.
There was no difference to us in terms of ship movement and noise. Our cabins were on deck 11 and deck 12. The hum of the engine and of the air-con were noticeable, but not unpleasant.
Outside Cabin With a Window or Porthole
We've tried cruising this way too, it was nice to be able to let in some natural light and these cabins, being low down in the ship, give you a great view of the dolphins and flying fish.
There are no disadvantages to having your own porthole, I wouldn't pay extra for it though.
This cruise was not with Norwegian and there weren't the same superb facilities to keep us busy, so we did spend more time in our cabin.
Did We Need a Balcony Cabin to Enjoy a Cruise?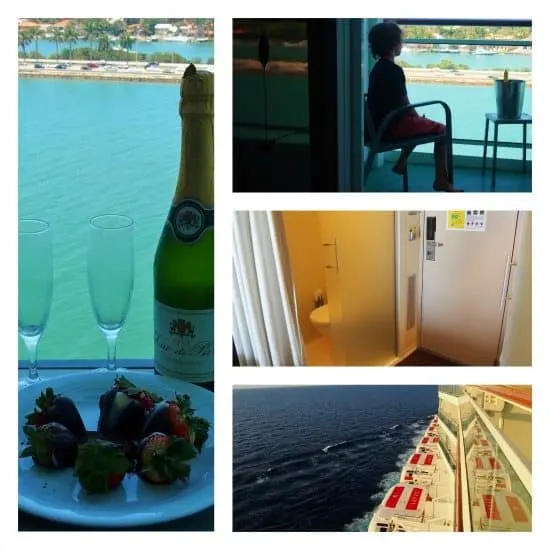 To be honest, no, we didn't feel that having a stateroom with a balcony was significantly better than booking the cheaper inside cabin.
The view was lovely, but we very rarely sat out on the balcony or spent time in our room.
Cruise ships are air-conditioned and each stateroom has temperature control, you really don't want to leave the balcony doors open for fresh air, it gets hot or cold and windy out there.
You have a whole ship to explore, a million chairs to sit in, we never felt any need to sit on our own balcony rather than a public area. To be honest, we much preferred being in public areas.
We like a bit of life around us and all the free food, drinks, activities, facilities and entertainment are up on deck.
We actually spent hardly any time in our cabins on both cruises. There is loads to do on these amazing ships, why would you sit in your room?
Another issue for us was cigarette smoke, we could smell people smoking on nearby balconies and it would seep into our room if the doors were open.
The good news is, Carnival and Norwegian have recently banned smoking on state-room balconies.
So our call is, save your money and take an inside cabin if there is a big price difference. What do you think? Read more of our cruise posts here in our cruise section.
If you'd like to hire a car during your stay, use this car rental comparison tool to find the best deal!

We also suggest you take a look at this company to get a quote for all kinds of the more tricky adventure or extended travel insurance.

Try Stayz / VRBO for an alternative way to find rentals on homes/apartments/condos in any country!