This post may contain affiliate links.
A reader has asked for information on the kayaking and caving trip we took in Vang Vieng Laos, so, happy to oblige, here's the run down. We took this tour twice, we enjoyed it so much the first time we just had to go again. This was, to us, far more fun than tubing ( which we also tried), actively paddling is more exciting than just drifting down the river, we also thought it was safer for the children (then 9 and 7). Kayaking in Vang Vieng can be a little challenging depending on time of year, flooding and water levels. We were there in the wet season and the rapids were flowing fast. Our cave tubing was almost halted by high water, the caves were flooded, but it was a fun day out and we felt safe taking the kids.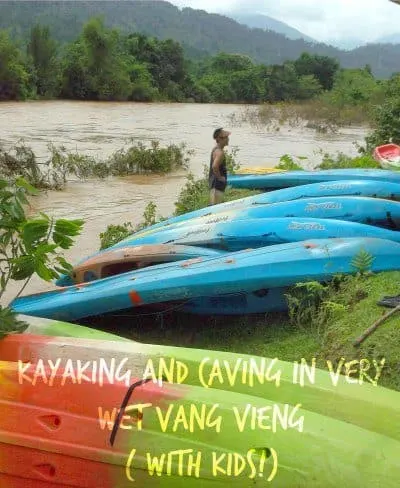 Kayaking Vang Vieng, Cave Visit, Village Tour and Cave Tubing
Both of my boys are pretty good with a kayak and my husband and I are totally proficient but a lot of the other adults on our trip had never even held a paddle before. Everybody had fun, nobody drowned and we all had a good laugh, but people did capsize, get stuck and freak out a bit at times.
We spent 6 weeks in Laos in July 2013, 4 of them in Vang Vieng. It's a wonderful country, one of our favourites, and one we hope to go back to next year. There are more Laos posts in our archives.
We were in Laos in the wet season, the river was very high and some of the rapids were quite… stimulating, we'll talk about the mud later.
The Kayaking Company We Used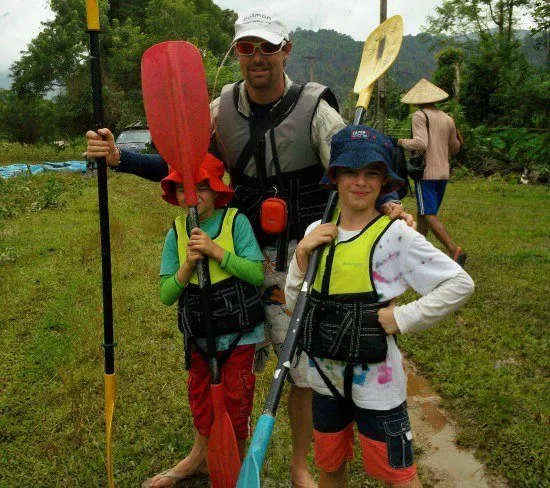 We used a kayaking and tour company on the main road in Vang Vieng, Phone Travel, almost where the mini bus from Vientiane drops you off. They're a big company, we later saw a branch in Vientiane.
We liked this company a lot, the guides were particularly lovely, but I think any company in Vang Vieng would offer you the same tour and the same service. We paid around $50 for a full day tour, we were out for around 8 hours.
The Caves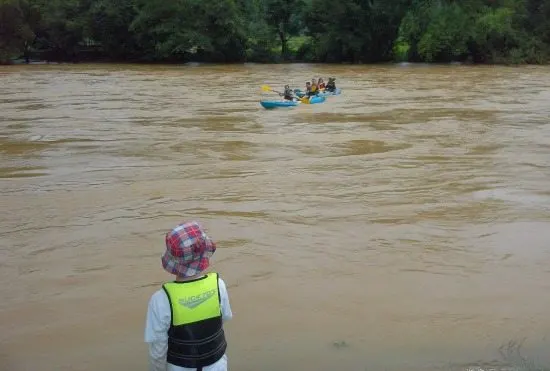 The Tham Xang Elephant Cave, named after its distinctive rock formation, is the first stop. To get to it you have to cross the Nam Song river, in full flood this was quite an undertaking. 2 of our party overshot and had to be rescued, 1 capsized, but we all crossed safely eventually.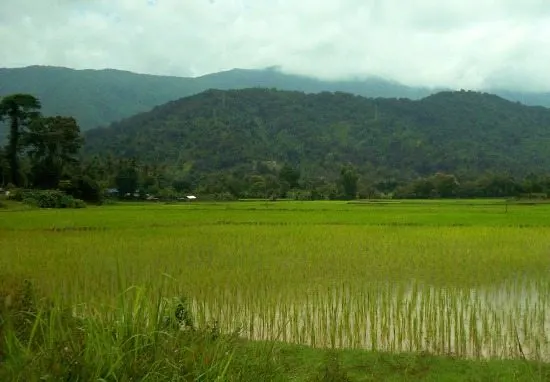 The cave itself isn't particularly spectacular but it's wartime history and cultural significance is fascinating. Listen carefully to your guide's commentary, I don't want to spoil it for you.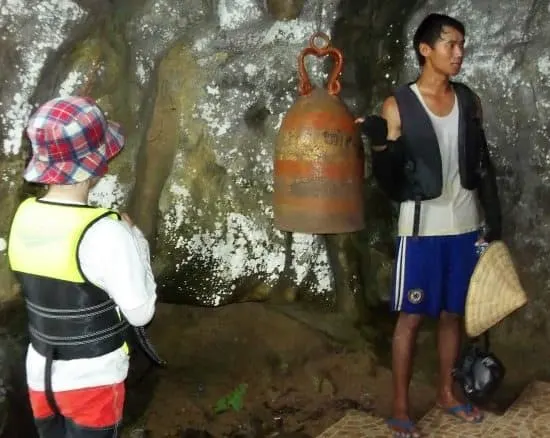 From the first cave you take off on a walk through villages and rice paddies. On a clear day the scenery must be stunning, we hit it in rain, but never fear, mud is lots of fun!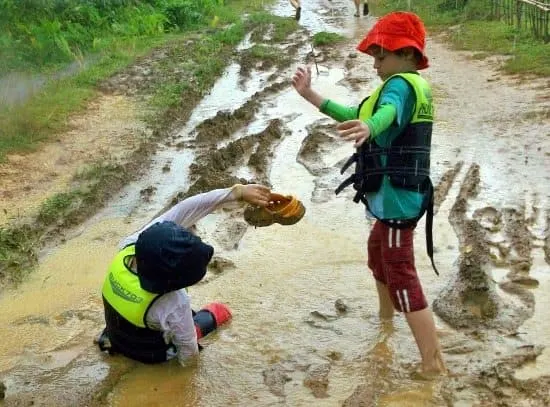 The second set of caves are semi filled with water, the river runs through them. The only way to see them is by tube, pulling yourself along a rope. On our days the water was very high and fast flowing, the guides took an exploratory test run to see if it was safe to enter. Of course they decided to take my boys with them.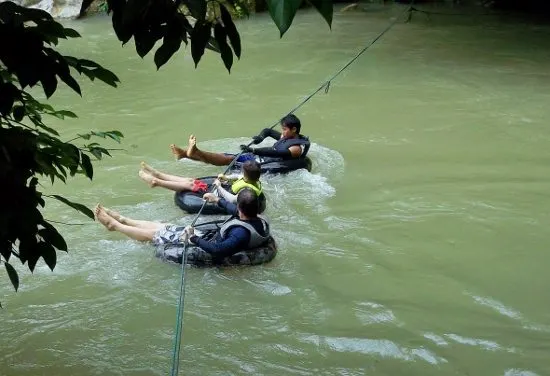 They decided that water levels were too high, nobody else got to enter the water caves that day. No big deal, we had lots of fun playing in the river instead.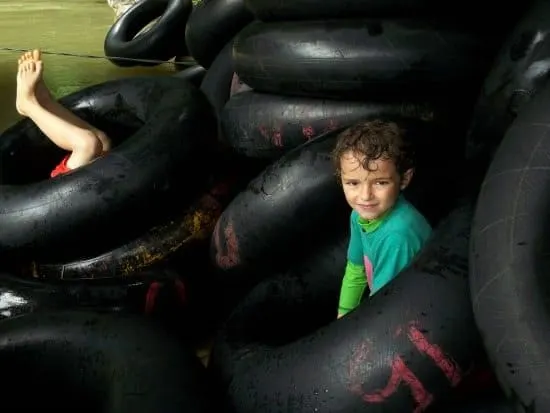 I should warn arachnophobes, there are spiders in the caves, very close to your face.
The guides were incredibly safety conscious, they kept a watchful eye on everyone at all times.
Lunch on the tour
We stopped near the water caves for a group lunch, meat and vegetable kebabs, fried rice and baguettes. There was quite a wait while our guys built little cooking fires and got everything organised. Water was included or there was beer available to buy ( not recommended before an afternoon on the river!)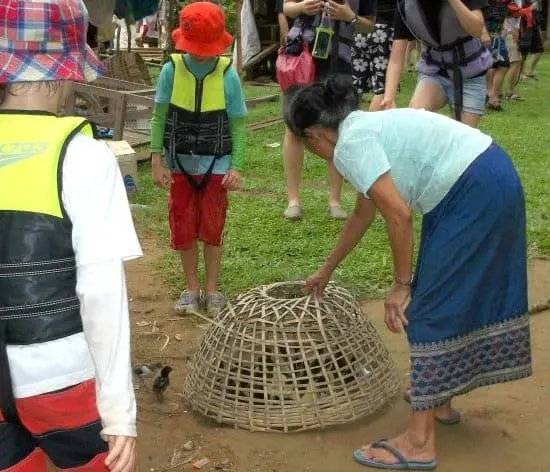 The kids mucked about in the tubes and had fun feeding the chickens and ducks.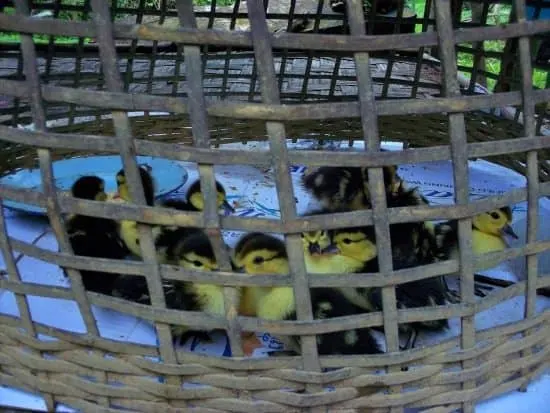 The main kayaking of the day all takes place after lunch. We retraced our steps back through the village and collected our kayaks ready to head downstream.
If you're not up to strenuous paddling, don't worry, the river does a lot of the work for you. Some of us had single kayaks, some doubles and triples, the guys tried to match experience and personal wants to the craft available. I went solo, the boys rode shotgun with their Dad or one of the guides. D was disappointed not to have his own kayak, but he got over it.
There are rapids and obstacles to avoid, there were quite a few mishaps but the guides had their rescue technique finely tuned.
At other times the river is calm and peaceful, you can drift along admiring the mountains towering above you. My boys were standing up on the kayaks dancing to Gangnam Style as sung by our new Korean friends. Gotta love Koreans!
Another warning, there were water spiders that hitched a ride from time to time. Freaking enormous ones.
This is where my photos stop. I packed my camera away in a waterproof bag and gave up for the day, between the river and the rain, it just wasn't worth it.
Another Rest Stop
You get a chance to take a breather at a riverside bar and restaurant. This is where the guides get their lunch, obviously as pay back for bringing a load of customers along. We got the chance to play boules and Laos volleyball or just hang out in hammocks with a beer before carrying on down the river.
Some Hints and Tips For Taking This Kayaking and Caving Trip
If it's wet and muddy your clothes will never be the same again. Don't wear clothes that you don't want ruined.
Don't wear swimwear. You can't walk through a village in a bikini. I wore linen trousers and a long sleeved top, the boys had long swimming shorts and rashies or long sleeves. Protect yourself from the sun.
There are mosquitos at the water cave, be prepared.
Make sure your lifejackets are on correctly, all straps done up, you don't want it floating away without you if you capsize.
We were given small waterproof bags for cameras and other valuables, they worked great.
The guides tied our sunglasses to our life jackets with string. No chance of losing them.
We took flip flops or crocs with us. You do need shoes. I lost a flip flop tubing and probably would have lost them kayaking had I capsized. Plimsoles would have been better.
We hope you found our post useful, we highly recommend this kayaking tour in Vang Vieng and the cave visit, cave tubing attempt and village and padi field walk made it extra fun. We would certainly pick kayaking over tubing agter having done both several times. Enjoy Vang Vieng, it's one of our favourite places.
If you'd like to hire a car during your stay, use this car rental comparison tool to find the best deal!

We also suggest you take a look at this company to get a quote for all kinds of the more tricky adventure or extended travel insurance.

Try Stayz / VRBO for an alternative way to find rentals on homes/apartments/condos in any country!