This post may contain affiliate links.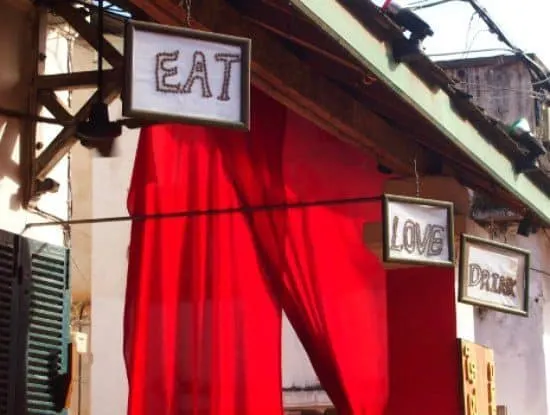 Laos Food, What You Will Find
Food in Laos is incredibly diverse, you will be able to find a dish from just about any culinary tradition in the world being served to backpackers and tourists. If you're looking for authentic Laos food, you may have a harder time because you're more likely to find a fruit smoothie or shakshuka than a Laos dish.
This fantastic little country doesn't have such a famously unique, strong, culinary tradition as its neighbours, Thailand, Vietnam and China. Borders change, people migrate, the edges of national dishes become blurred.
If you look and search out the traditional restaurants, you will find real Laotian dishes.
Because Laos is very much on the backpacker trail and has been for decades, you'll find all the backpacker belly fillers, banana pancakes, roti, pizzas and baguettes.
The French history in this part of the world can still be seen in the abundance of baguette stalls, absent in Thailand, but part of the food scene in Vietnam.
As better-off tourists are now arriving in large numbers too, thanks to the new airport in UNESCO heritage town, Luang Prabang, you will also find fancy cafes trying to cater to this trade.
We also, surprisingly maybe, found excellent Indian and Nepalese food in Laos, in both cases provided by expat families from those nations.
Traditional Laos Dishes
Laos is known for its sticky rice and Lao people consume more of it than any other country. It is normally steamed to woven baskets and is eaten with fingers. It's delicious!
Larb (or larp) is probably the most famous Lao dish. It is a salad of raw or cooked meats with typical Asian herbs and spices. Ground rice gives it extra crunch ( pictured below).
Of course, you will also find larb in Thailand too.
The French influence can still be seen in Laos, baguette stalls are common on the streets and French restaurants can be found in Vientiane.
The Food Scene in Luang Prabang
Luang Prabang is a gorgeous little town, it always has been, but there have been changes since our last visit. Admittedly that last visit was over 15 years ago, so no surprises there!
I wasn't keen for the first few days. That's not like me at all. Mostly it was because we had some bad food experiences, we picked the wrong places and got sick.
That's easy to do in a new town.
There were other things that turned me off Luang Prabang, being offered drugs, even with the children. Then there were the taxis and travel agents trying to charge us crazy money for tours and the touristy feel this town has developed since our last visit.
But change happens, it always does. We all need to let go of the past.
Now I've spent some time here, found my places to eat and drink, I love it, it's wonderful, such a very, very lovely town if you just explore a bit more. See 9 reasons to visit Luang Prabang for more information on the amazing things to do here.
The temples and monasteries are stunning, the historic town itself is beautiful and there are some great trips out to waterfalls, villages, elephant attractions and craft centres, but food is really important part of travel to us.
You may have noticed I'm travelling with a chef.
If we'd left after those first few days I'd have gone away thinking food in Luang Prabang was a complete disaster. It's not at all and I'm glad we stayed on, for over two weeks in the end.
This time we were travelling on a backpackers budget, so we were looking for good Asian food at affordable prices.
If you have more money to spend your experiences will be completely different and there are plenty of up-market eateries in town.
What We Fed the Children in Laos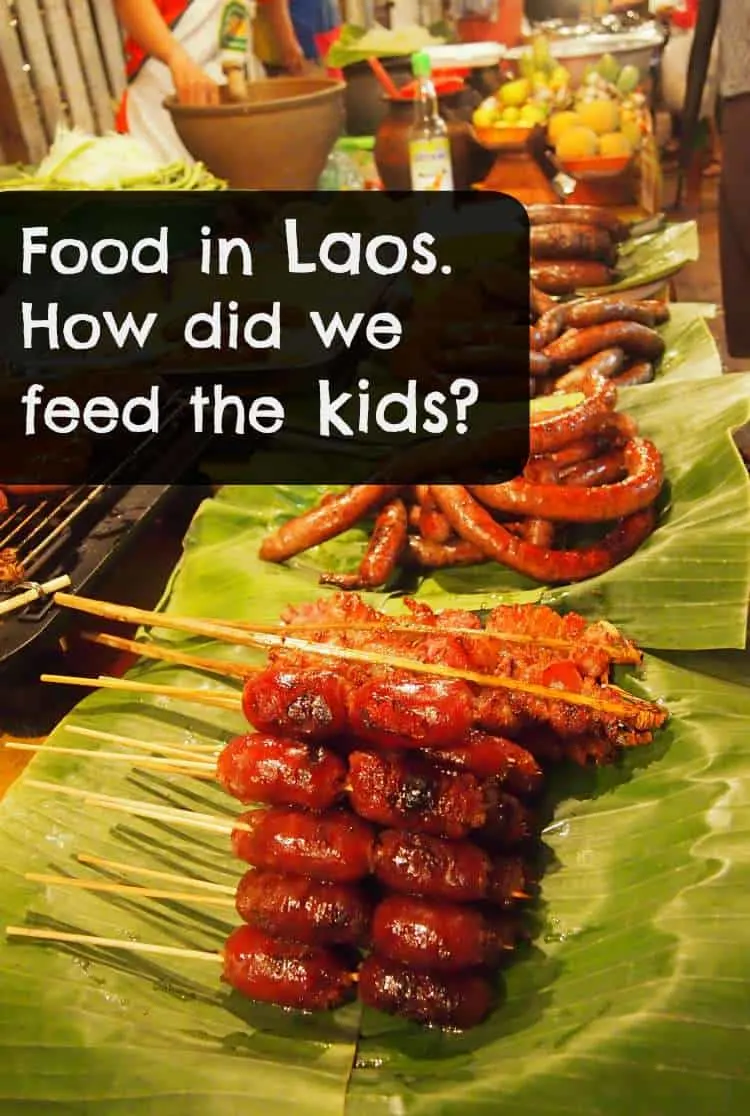 Laos is actually an incredibly easy country in which to find food for kids.
The images below show my boys happily tucking into fruit shakes, noodle soups and baguettes, but everything and anything they wanted was available.
For breakfast they enjoyed egg dishes ( the Israeli dish, shakshuka, was superb) and pancakes.
Quick meals came in the form of roti with cheese and onion fillings, or banana and chocolate if we were feeling decadent.
Because food in Laos is often a version of what's often considered another country's food, local versions of, for instance, Thai green curry, was often very mild and the kids enjoyed them.
I don't know if this absence of heat (not spicy, few chillies) was a local Laos style or, more likely, a tourist version.
They also put away a lot of French bread pizzas, loaded with locally foraged wild mushrooms.
Fruit was abundant and there was the odd small shop selling biscuits and crisps.
We never had to self cater, eating out 3 times a day, every day, was extremely affordable for our family of four.
Laos also has some great bakeries, plenty of cake to be found!
Food in Luang Prabang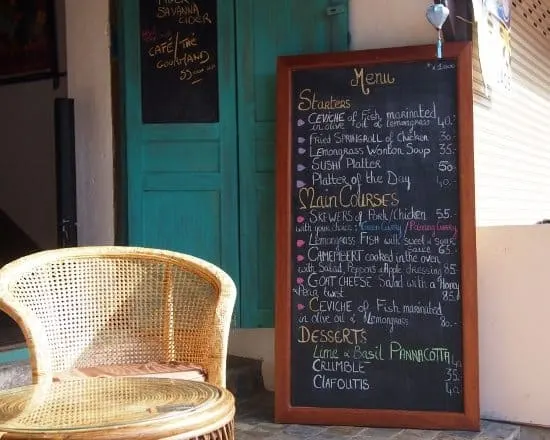 On our backpackers' budget, the fancy little cafes aren't on the menu. They're cute and the menus look great, but it's just not going to happen, particularly not with 4 mouths to feed.
The night market, the lane that comes off the main street, is stuffed with interesting looking food.
Vegetarian buffets, meat on a stick, sausages, spring rolls, papaya salads, it all looks amazing and it's all cheap.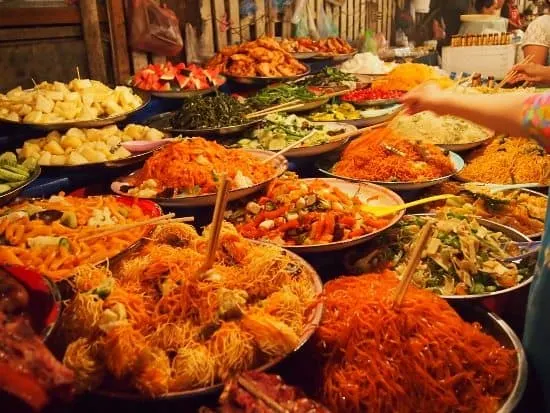 10,000 Kip ( just over a dollar) for a buffet is a great deal, we tried it, the food was OK, mostly noodles.
It's the sort of food they tell you to avoid when you're travelling, not freshly cooked, not hot, not covered. You won't see the locals eating there.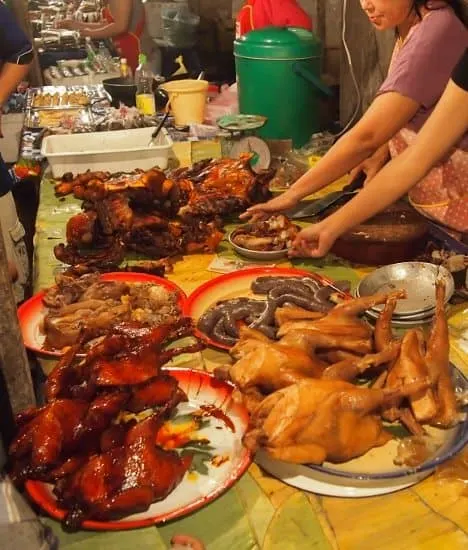 Two of us went down with tummy bother the day after the vegetarian buffet, we didn't try the meat, so can't comment.
Chef was severely sick for several days, his own fault, he should know better! But after we'd recovered from that disaster we started doing better.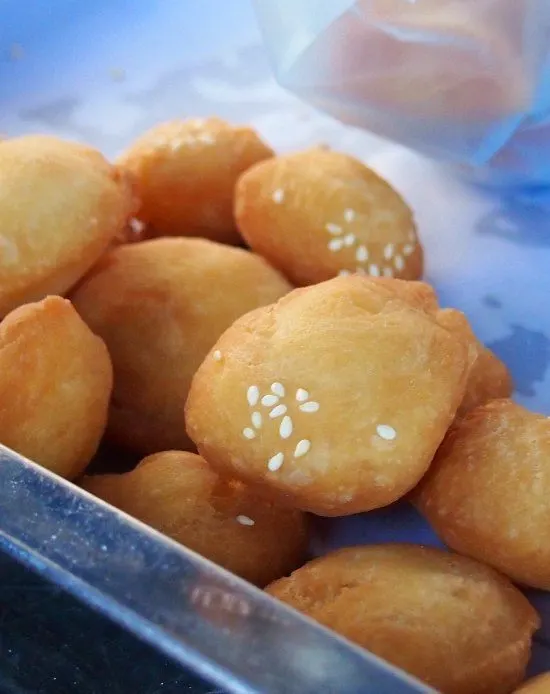 The baguette stalls on the corner are another 10,000 Kip budget option and the baguettes are big enough to share.
We've eaten there often. It's the food you're supposed to avoid again, salad and cold sandwich fillings with extra added flies.
They're pretty good and no tummy bother so far. You can get great coffee from the baguette ladies and the children love the yummy fruit shakes, loaded with condensed milk and Orios.
You can eat in at the cute little tables, or take away.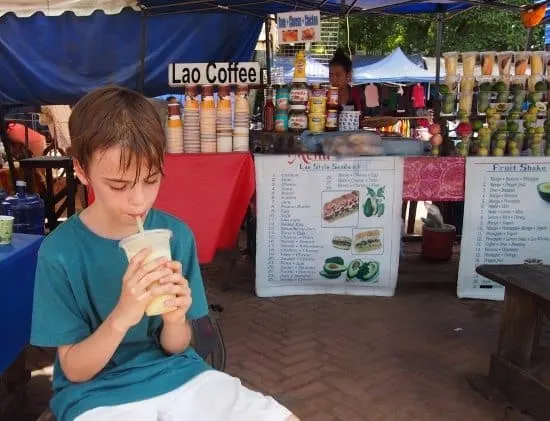 Noodle soup stalls come in at around 10,000 Kip, too. We've found our noodle stall after a bit of trial and error, we like it and we're sticking with it.
It's the one opposite the new monastery on the main street. The locals love this one. We thought the noodle soup was more similar to Vietnamese dishes than Thai.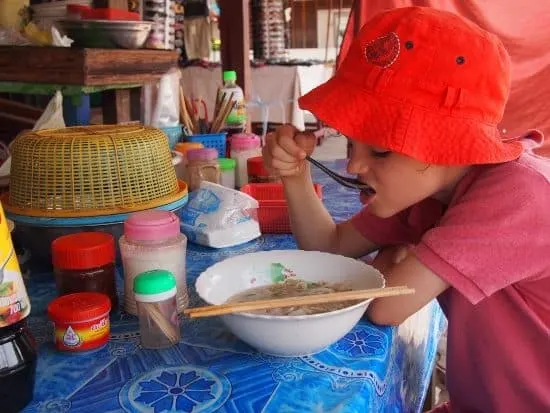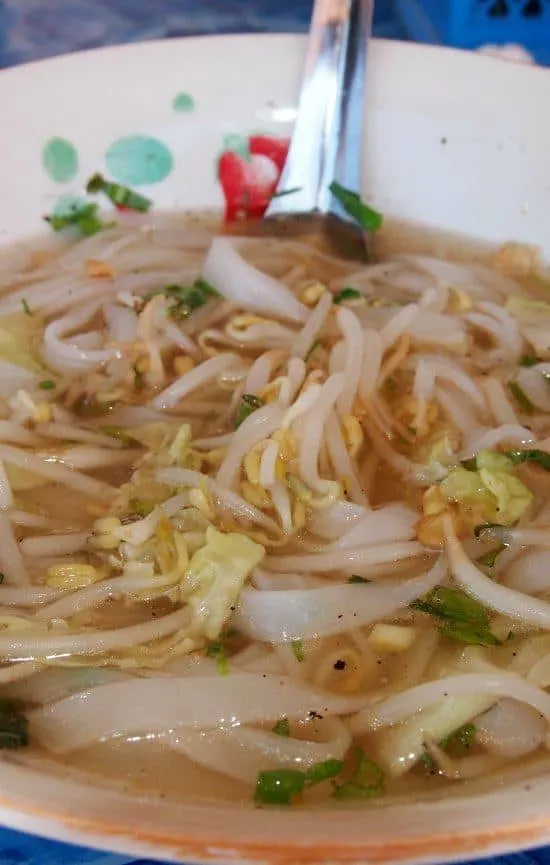 There are some lovely bakeries in Luang Prabang too. If you're craving coffee and a cake, you won't be disappointed.
Unfortunately, we've had some really disappointing meals in cafes here, an omelette that came with tinned European mushrooms and a slice of processed cheese was a slap in the face after the fantastic wild oyster mushrooms we were addicted to in Vang Vieng.
We saw mounds of localy collected wild mushrooms for sale in the streets, ( have a look at The Markets of Luang Prabang, they are incredible!) yet to please European tastes, they went for the tinned variety, which was a shame.
We've ordered Lao style curries and had good and bad, this one was delicious. The traditional Laos sticky rice is heavenly.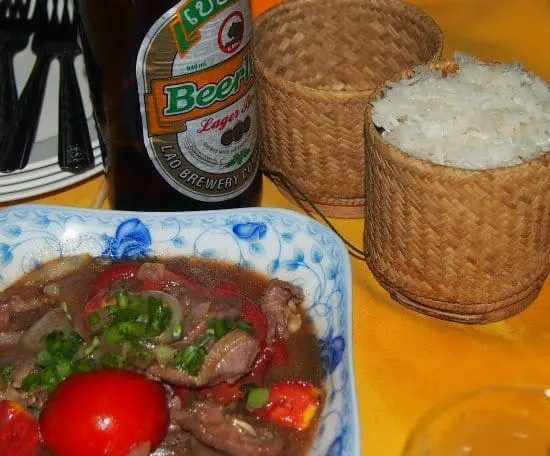 There is a cafe called Khmu on the main street, past the palace, that has some great Laos dishes at around 40,000 Kip. We recommend their larp.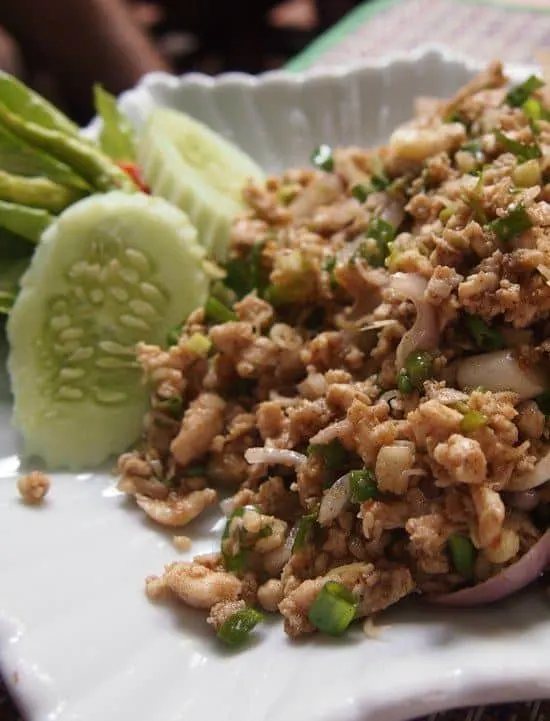 Authentic Indian food was a surprise Nisha Restaurant was run by an Indian family and is just past Dara Market.It is very budget friendly and the food is delicious.
Pilgrim's cafe was a great spot for coffee and smoothies at Rama hotel. They have a children's play room and a collection of Guinness World Record Books to keep the kids happy. Their menu looks promising, we'll go back and try today.
I'm starting to sound like the Lonely Planet food section, I know, sorry.
What I wanted to say was, if you're coming to Luang Prabang, have a good hunt around, find the smaller streets behind Dara market and the look for the places the locals eat, there is great food in Luang Prabang for those of us on a tight budget in this stunning little town.
If you'd like to hire a car during your stay, use this car rental comparison tool to find the best deal!

We also suggest you take a look at this company to get a quote for all kinds of the more tricky adventure or extended travel insurance.

Try Stayz / VRBO for an alternative way to find rentals on homes/apartments/condos in any country!