We've been in Luang Prabang, Laos, for almost a week now. It's been a strange few days and we weren't enjoying Luang Prabang as much as we'd hoped second time around, it's changed a lot. Luang Prabang is all about wealthy fly-in tourists these days, they've built an international airport here since we came last and it's not the cool little town it was, tourism is big business. But I've turned a corner, we had a great morning at Ock Pop Tok that has given me my Laos mojo back. D (9) and I have been sick this week, we've both slept a lot, felt terrible and been pretty fed up, probably a virus, but we're on the mend and raring to go again. Things have been getting to me more than usual, terrible food, pushy taxi sharks, extortionate prices, but the smile is firmly back on my face and I'm Sa-bai-dee-ing people again rather than scowling. Sorry for being grumpy, Luang Prabang was a bit of a shock after laid back Vang Vieng.
Any post on this site may contain affiliate links. We earn commission on these should you make a purchase. All recommendations are genuine and we are not paid to include products, hotels, and so on.
Ock Pop Tok, a Great Place to visit in Luang Prabang
Everything in Luang Prabang is expensive, so a free tuk tuk ride and a free craft centre visit sounded good.
We were suspicious, if it's free there's got to be a catch, right? There had to be some hard sell to buy products or food. But there wasn't, nothing like that at all, we got out of there bank balance intact and faith in humanity restored.
On the day we visited the weavers weren't working, it was a Buddhist holy day, but we still had a look around with our personal guide. Putting my homeschool head on for a moment, it was super educational, silk production, silk worm life cycles natural dyes and the plants they come from, the weaving process itself, all great stuff.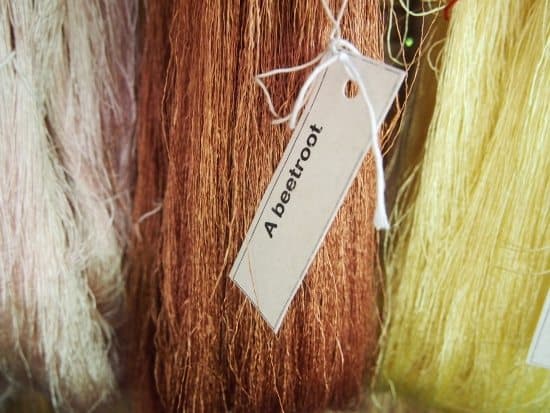 There is a shop, restaurant and four room guest house at the Ock Pop Tok centre, along with the weaving and dying sheds. The location is beautiful, a tropical garden right on the banks of the Mekong. They offer classes is silk and bamboo weaving from around $50 .The drinks we had were very good, but the food and rooms were out of our budget even with the low season discount, shame, it would be a lovely place for a splurge. Just go along to the Ock Pop Tok shops in Luang Prabang and ask for a free ride in the super cool pimped-up tuk tuk.
So Ock Pop Tok Luang Prabang was a great little attraction for us and turned our frowns upside down. Despite getting off to a bad start in Luang Prabang we ended up staying there a few weeks and extending our Laos visas to stay longer. Vang Vieng remained our favourite spot, but undoubtedly Luang Prabang is a must visit and the star of the show for tourists in the region. Read more on things to do in Luang Prabang here.
Alyson is the creator of World Travel Family travel blog and is a full-time traveller, blogger and travel writer. A lifetime of wanderlust and now over 7 years on the road, 50+ countries allowed the creation of this website, for you. She has a BSc and worked in pathology before entering the travel arena and creating this website. World Travel Family Travel Blog has been helping you travel more, better and further since 2012, when Alyson and James first had this life changing idea. On this site you can find endless travel information, tips and guides plus how to travel, how to fund travel and how to start your own travel blog.