This post may contain affiliate links.
Beautiful Vang Vieng, Laos is known for tubing and a crazy backpacker party scene. Not many people would associate it with family travel and it hasn't always had the best reputation. We've spent four weeks in Vang Vieng now with our kids and we all love it here, despite the rain. I can give you at least 10 reasons you should take children to Vang Vieng. The last one is the most special to us, please read that part, it's the Lao people who have touched our hearts. This post is on Laos with kids with particular focus on Vang Vieng with kids. I give links to other travel in Laos posts in the related posts.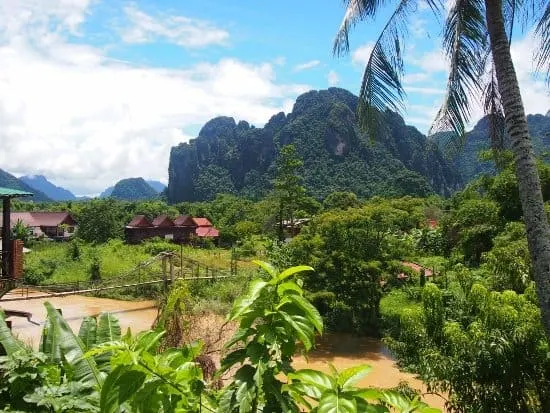 Laos With Kids – Vang Vieng
We loved travel in Laos with kids, particularly Vang Vieng and Luang Prabang. We also spent some time in Vientiane after crossing the Thailand/Laos border by land near Non Khai. Our favourite things to do in Vientiane with the kids was to walk the banks of the Mekong at sunset, the best attractions we saw in Vientiane were the "Monster of Concrete" and the COPE visitor centre.
1. Vang Vieng is incredibly relaxed by day.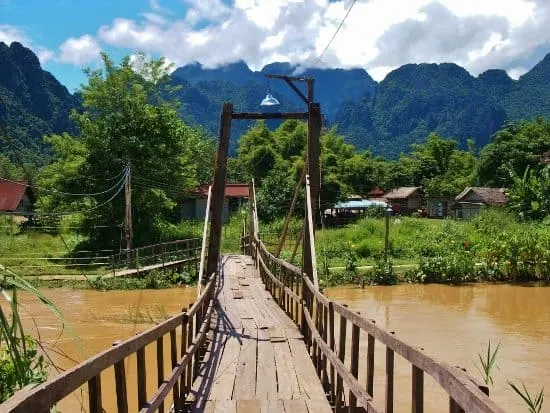 We've spent a lot of time swinging in hammocks, as do many people in Vang Vieng. I posted already about how chilled out we are. You'll notice that all the tuk tuk drivers have hammocks set up in the back of their vehicles. If they are awake when you walk past you'll get a half-hearted offer of transportation. There is no hard sell here.
The restaurants, bars and cafes are quiet during the day, they are a good place to hang out, my boys have learned to play pool (free) and have done a bit of school work ( free wi-fi) in restaurants most days. Nobody hurries you along or expects you to leave once you've finished eating or drinking. The riverside views of the mountains are spectacular. I don't think I could ever get tired of the view.
By night there is some noise and a bit of a party scene, we're fast asleep before all that kicks off.
2. You can take your kids kayaking in Vang Vieng.
You can organise full day or shorter kayaking trips. There are single, double and triple kayaks to suit all abilities, one of my boys rode shotgun with Dad, the other rode with an instructor. Safety is good, the guides are really experienced, quickly and efficiently rescuing anybody who capsizes ( there were many, all adults!). The company we spent the day with had child sized paddles and life jackets. As part of our day we visited a village, two caves and had a lovely barbecue lunch, a great day out for $50! You can read all about that adventure here, it was so good we did it twice.
Booking tours like this ate into our Laos budget but our accommodation was so cheap that we could allow for treats.
3. You can take your kids tubing in Vang Vieng.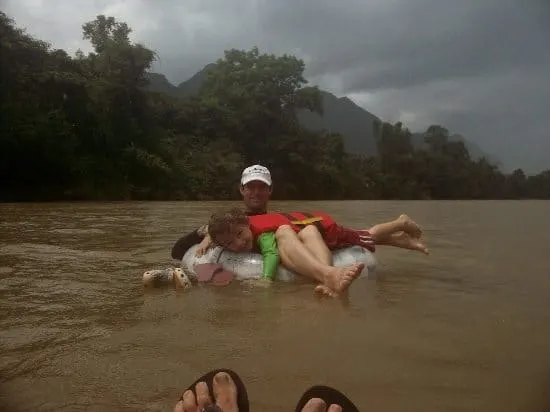 Tubing isn't just for the gap year kids, kids of all ages will enjoy floating down the river in a giant inner tube. My boys ( 7 and 9) shared a tube with us, it was safer that way. The river flows fast at this time of year and a child wouldn't be able to control their own tube. The boys had life-jackets but they were too big, not very safe. We felt it was OK for us as my husband is a swimmer, he's an Ironman, and a qualified surf lifesaver. Tubing would be safer for children in the dry season and for sober adults.
4. Kids can play on the Vang Vieng "beach" and dance in the river.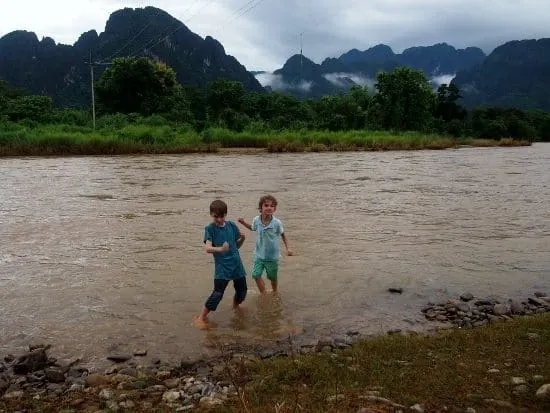 There is an island in the middle of the river in Vang Vieng, Nam Song Island. Walk across the rickety wooden bridge and cross to the far side of the island, there is a pebbly beach there, perfect for paddling and skimming stones. In the afternoon a bar pumps music, waiting to welcome the backpackers at the end of their Vang Vieng tubing adventure with over-priced beers. The boys loved dancing in the river!
5. Vang Vieng has very kid-friendly food and dining.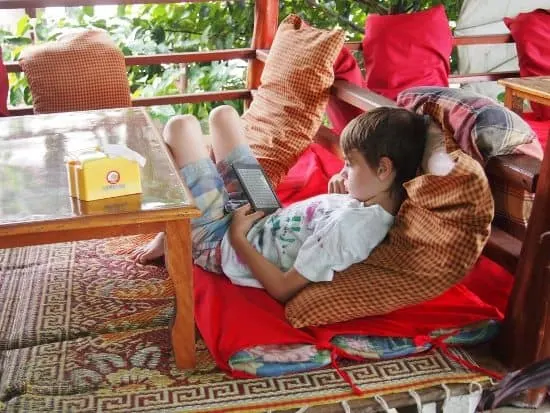 You can get ANY sort of food here, pizzas, pancakes, french fries, omelettes, even the fussiest child eater will find something to suit them. My boys love Vang Vieng style green curry, cheese and tomato roti and wild mushroom pizzas. The baguettes are really good here and they come with everything. The Chef and I are impressed with how well run and hygienic food preparation is in Vang Vieng, they've obviously had some restaurant training.
6. Vang Vieng is cheap and accommodation is good.
Our family friendly room in Vang Vieng is only $12/night and it's perfect, clean, comfortable and right on the river. All the guest houses we looked at were similar. If you go without air-con you'll find even cheaper. Food is cheaper than Luang Prabang and portions are huge, easily enough to split. There is a link above to our posts on budget and cheap family accommodation.
Sansan Resort boasts a family friendly experience with family rooms that overlook the nearby mountains as well as an outside pool for the kids.
For a more budget friendly experience check out the family rooms advertised by Alisona Guesthouse, a more centrally located accommodation.
We were unable to locate any hotels in or near Vang Vieng with kids' clubs.
7. Bike hire is a great way to explore the countryside as a family.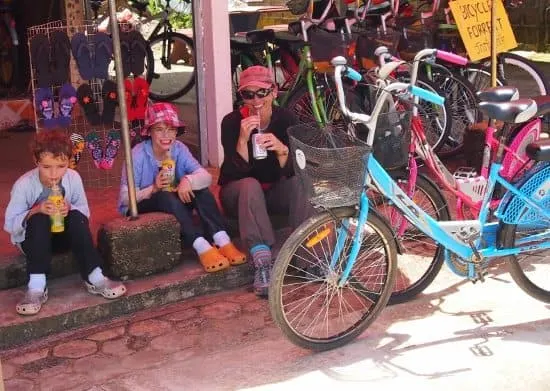 My boys have loved our time riding bikes. You can hire adult bikes with a cushioned seat on the back for little ones. My 9-year-old is big enough to ride his own. The roads are relatively flat and the roads are quiet. Once you get a little way out-of-town you'll be riding through paddy fields and witnessing an incredible rural way of life. You'll see tiny bamboo houses, women washing clothes, and themselves, in streams as laundry and food dries in the sun. The children asked a lot of great questions and had their eyes opened that day.
There are caves to visit and the "blue lagoon", you can get to both by push bike. We haven't got to either yet, sorry.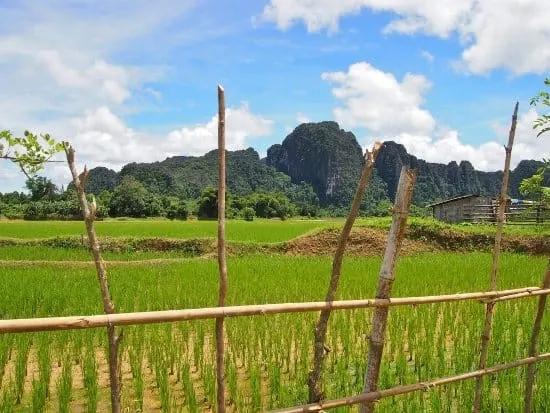 8. You can visit an organic farm with your kids.
The Vang Vieng Organic farm is an educational facility, it trains youngsters in sustainable organic methods It's at the drop off point for tubing, so if you go tubing in the morning, you've got time to visit the farm before jumping in the river. I've heard they do a good farm tour. We visited for lunch yesterday hoping for some real Lao food, it's a beautiful spot but we wouldn't recommend the food, maybe we visited on an off day.
9. Vang Vieng is a beautiful, natural paradise.
I've never seen so many giant moths and butterflies, they're everywhere. I'm used to beautiful tropical butterflies living in Port Douglas, but these take it to another level. The boys are always finding interesting creatures, from millipedes to over-sized geckos.
10. Local families are lovely, your kids can play with their kids and they deserve your support. Our top reason to take your children to Vang Vieng.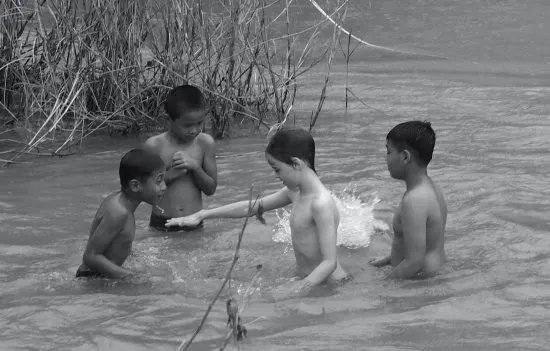 The local children fish for food, play and swim in the river. They hardly speak English. Once my children showed they were up to the daring leap into the water from the bridge, they became friends. Be prepared for lots of muddy, wet clothes!
The restaurant we visit ever morning for breakfast is owned by a family ( it's called Santana), the upstairs, open air restaurant is their home, they sleep below. They are so welcoming to my boys, my kids watch cartoons with their kids and their little boy draws pictures for me. The food is great too!
My children have watched the father make bamboo screens by hand, fix the roof and stop the rain coming in, they're realising what a simple, practical life these people live and are richer for it.
Trade is down in Vang Vieng after the government crackdown on the tubing and party scene, businesses are struggling. I would urge you to support the local family businesses, not the huge bars with the big screen TVs playing endless loops of Friends and Southpark. Find the smaller, family run places, they deserve your support and welcome you with a lovely, reserved Lao smile.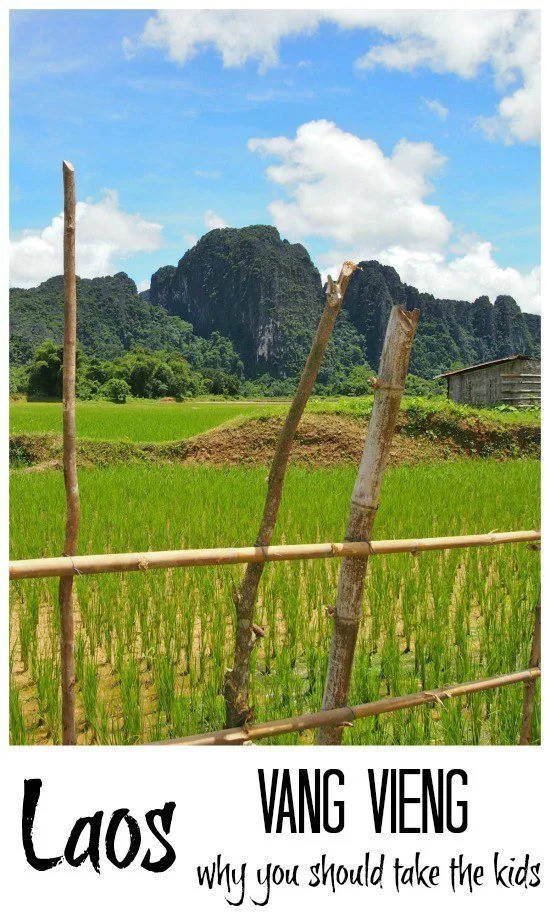 Will You Take Your Kids to Vang Vieng?
You can start looking for a place to stay in Vang Vieng or in Laos here Laos with kids was a dream come true and we'd love to return. See our other posts on Laos. For Booking buses and other transport in, and to Laos, Use this website for maximum convenience.
If you'd like to hire a car during your stay, use this car rental comparison tool to find the best deal!

We also suggest you take a look at this company to get a quote for all kinds of the more tricky adventure or extended travel insurance.

Try Stayz / VRBO for an alternative way to find rentals on homes/apartments/condos in any country!