This post may contain affiliate links.
Getting to Laos from Thailand. This post is about the journey from Kanchanaburi Thailand, to Bangkok, to Nong Khai on to Laos, Vientiane, and on to Vang Vieng.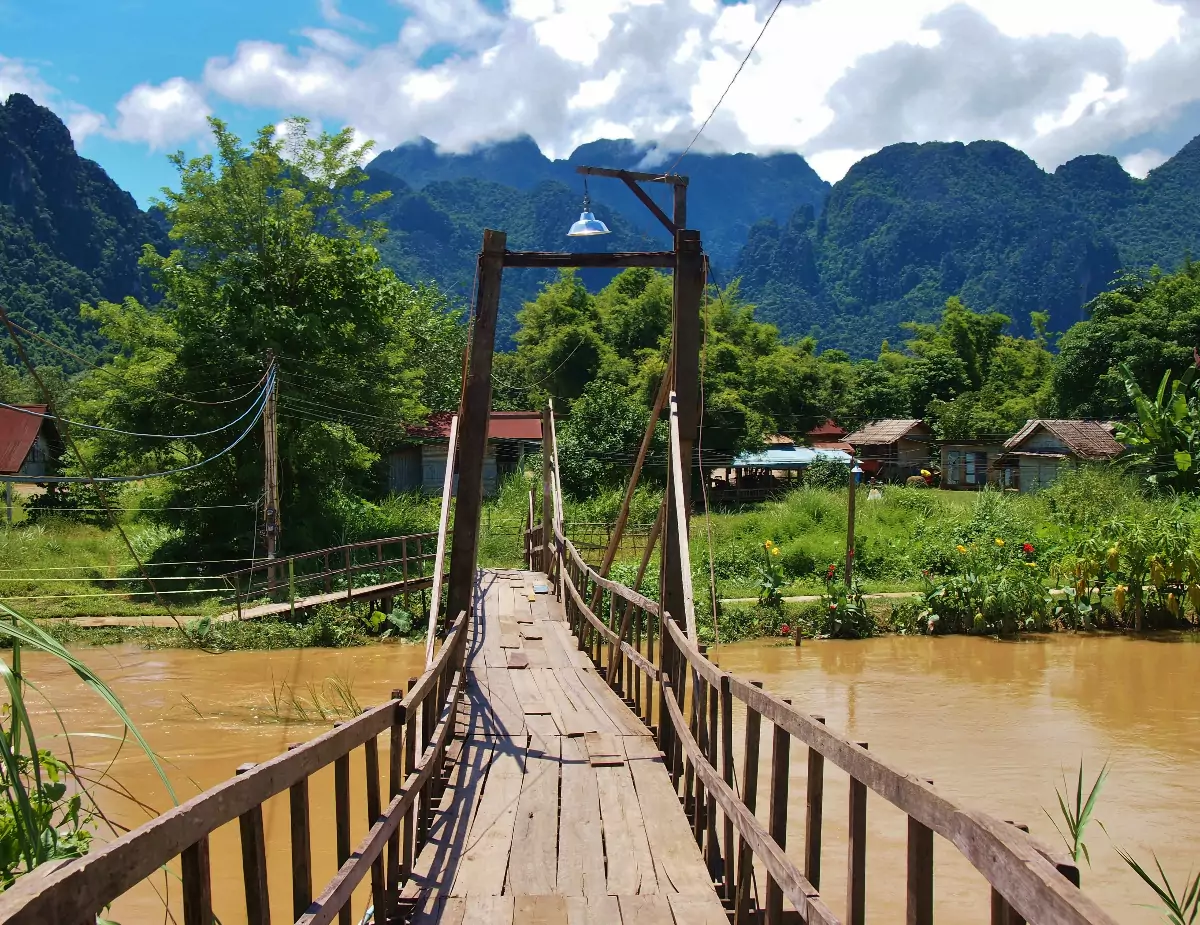 We had to get out of Thailand, we loved Kanchanaburi and were very happy just chilling there, but our visa was running out and we needed to move. We decided on Laos, to the north. If you want more information on Kanchanaburi and things to do there, we have that.
Getting to Laos (Vang Vieng) from Thailand
There are quite a few routes into Laos from Thailand these days. Travel in Thailand is generally pretty easy for backpackers or tourists. From Kanchanaburi we needed to get back to Bangkok and then take a sleeper train, either to Chiang Mai or Nong Khai, we picked Nong Khai. We'll come back into Thailand later, on a longer visa and do the Chiang Mai area (one of our old-favourite parts of Thailand) and take a road trip to see Northern Thailand's highlights. including the long neck villages near the Burmese border.
27 Hours of Travel with 2 Children Went Surprisingly Well!
The best way to book travel in Thailand and Laos is to use this website, but bus, train, taxi, minivan, even flights.
The stages of the journey into Laos are as follows.
1. Minibus from Kanchanaburi to Bangkok, 130 Baht each, 3 hours of hair-raising driving. Overtaking on the inside, on the mud, was a particular highlight!
2. Taxi from Khao San Rd. Bangkok, to Hua Lamphong Train Station, 51 Baht (the taxi driver used his meter)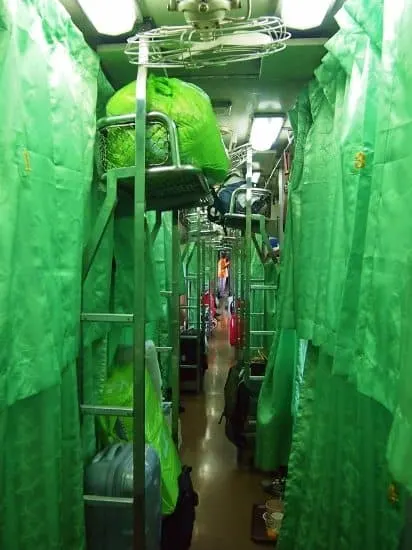 3. Train from Bangkok to Non Khai, The train to Non Khai was an 8pm departure Hua Lamphong station, Bangkok. With a 9.30 am arrival at Non Khai, 2 hours delayed. We went 2nd class A/C. 2nd class non A/C is cheaper, but we didn't like the idea of all the open windows with the current Dengue fever mosquito problem here. Both classes of Thai train are perfectly comfortable and great fun. Washrooms were clean. You can buy food and beer (there is now no alcohol on these trains) on the train, we bought breakfast for the children. I love trains, generally, everything from The Trans Siberian Express to the little train to Kanchanaburi, it's a great way to see a country and relax as you go.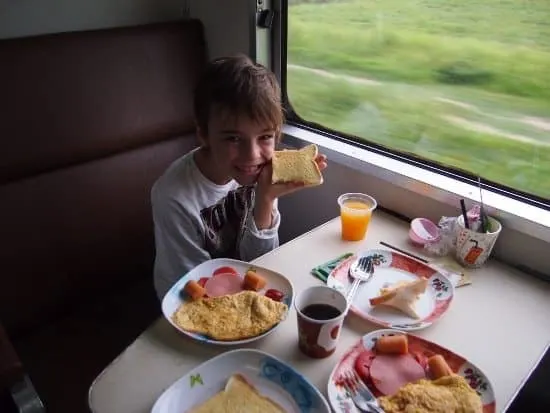 4. Weird motorbike tuk tuk from Non Khai station to Laos Border The tuk tuk to the Laos border cost 200 Baht. Because the train was delayed, which it often is, we'd missed the train to the border, there are plenty of tuk tuks waiting for the train to arrive.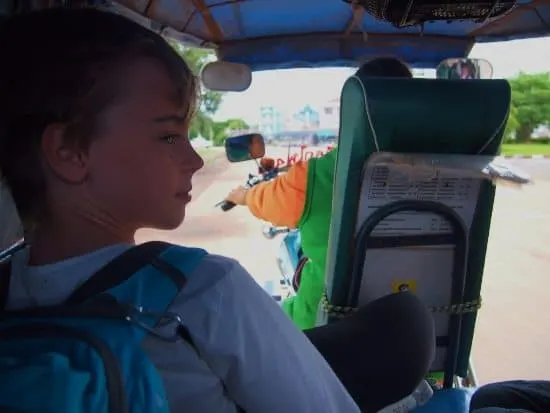 5. Shuttle bus from the Laos / Thailand border over the bridge into Laos The shuttle bus cost us 60 Baht (our younger child was free)
6. Tuk Tuk into Vientiane The tuk tuk to Vientiane cost us 200 Baht. We've been to Vientiane before, we know there's not that much to do there (but the Monster of Concrete and COPE museum are cool) and the traffic fumes were terrible, so we shot through ASAP. We'll have to go there anyway on the way back to get the 60 day Thai visa. The main Dengue fever outbreak seems to be around Vientiane.
7. Mini bus to Vang Vieng The mini bus to Vang Vieng from Vientiane cost us 770 Baht for 3 seats. with our younger child free. The bus took 3.5 hours (about $29 AU). There is a regular bus that would have been cheaper, but it takes 5 hours and wasn't due to leave for over an hour, we wanted to be in Vang Vieng before dark. The mini-bus guys hang around the bus station looking for customers, we had to negotiate a price and they let the 2 boys count as 1 person. The scenery was absolutely stunning, and watching rural life in the villages was fabulous, the children loved seeing the rice fields where people were busy working by hand and dodging all the livestock on the road.
Getting The Laos Visas at The Thailand / Laos Border
The children are great when we're actually moving, they look out of the window, chat, read and sleep, it's waiting and standing around that doesn't go too well. Particularly standing in barely moving queues wearing heavy packs. There is a lot of paperwork involved, I stood in the queue while The Chef filled in the forms. Do the same, you'll save a lot of time.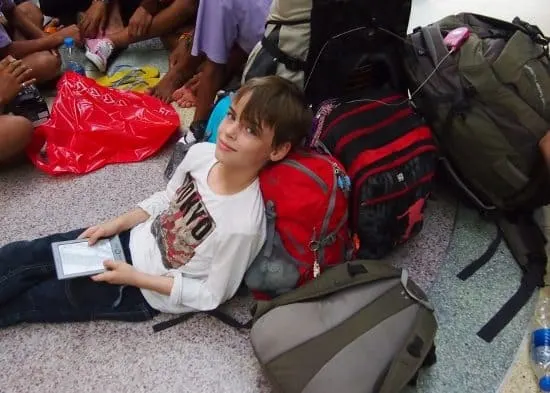 Pay for the Laos visa in US dollars, not Baht, we saved about $100 for the 4 of us, it's much cheaper. There is a place to exchange money on the Laos side of the border. We have a 30 day Laos visa, which we can extend if we want to stay longer.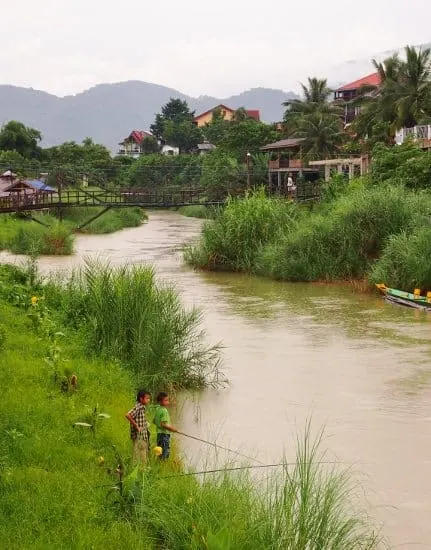 Vang Vieng
Vang Vieng is a lovely riverside town in Laos, once famous for riotous drunken river tubing, now cleaned up by the Laos government after a number of tragic deaths. Vang Vieng is still beautiful A sleepy little town, it's full of guest houses and eateries now.
The chef and I went tubing in Vang Vieng 20+ years ago, the drunken part hadn't really started then, it was just about drifting down the river on an inflatable tube, the riverside bars catering to bikini-clad tubers came later. I'm glad it's stopped, rivers and drinking don't mix, but I wonder if all the businesses that have sprung up on the back of the tubing crowd will survive, everywhere is very quiet here.
The river is really fast flowing at the moment, I don't think we'll take the children tubing, kayaking is probably a safer bet. (We did take them tubing, and caving twice in the end because it was so much fun the first time.)
It's pretty, it's quiet, and the accommodation is cheap and good ($16 for 3 beds, TV, air-con, en suite and WiFi), so I think we'll stay in Vang Vieng a while. Read our post on things to do in Vang Vieng here. Or go to our Laos travel page.
If you'd like to hire a car during your stay, use this car rental comparison tool to find the best deal!

We also suggest you take a look at this company to get a quote for all kinds of the more tricky adventure or extended travel insurance.

Try Stayz / VRBO for an alternative way to find rentals on homes/apartments/condos in any country!