This post may contain affiliate links.
Kanchanaburi is a beautiful spot on the historic River Kwai, under 200Km from Bangkok. This makes Kanchanaburi a popular weekend destination for people escaping the city for a riverside weekend. Kanchanaburi is also a popular destination in Thailand for long-term travellers as a pretty spot to hang out for a few days or weeks. A look at where to stay in Kanchanaburi, budget and luxury, for every type of travel, vacation, or weekend getaway.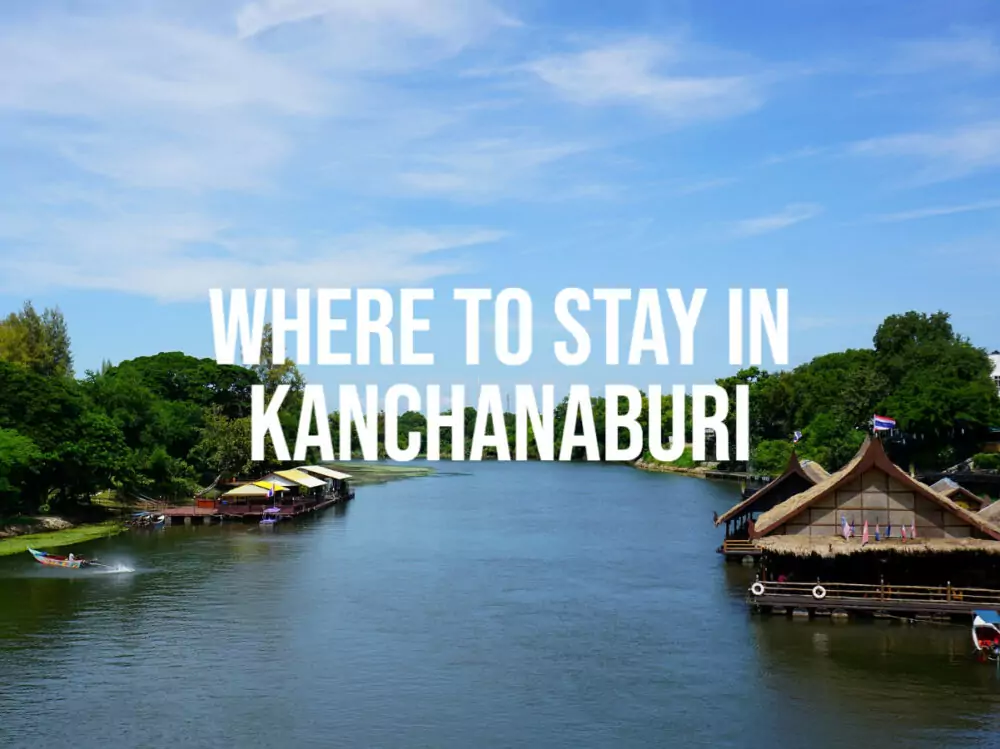 If you'd like to book a day trip or tour to Kanchanaburi from Bangkok, that is also possible. You will get to see the main sights in Kanchanaburi and return to your Bangkok Hotel. Book a 1 day tour to Kanchanaburi from Bangkok here.
Kanchanaburi's most popular attractions, The Death Railway, The Bridge on the River Kwai, Elephant's World, and Erawan Falls, make for a great trip from Bangkok!
Another, interesting activity in Kanchanaburi is a 2 day stay at the Elephant sanctuary in Kanchanaburi, where you can help care for the resident elephants. Book this 2 day, overnight elephant world stay in Kanchanaburi here.
River Raft Accommodation in Kanchanaburi
Kanchanaburi is famous for river reft accommodation and these are becoming increasingly luxurious. The ultra-budget raft accommodation is still there too, but there are some lovely places to stay in Kanchanaburi, on, or very near, the River Kwai.
Best River Raft Hotel
The best river raft hotel in Kanchanaburi must be the Erachon Raft Resort, a modern raft resort, not the bamboo and grass-roof floating rooms of days gone by.
Erachon Raft Resort
The Erachon Raft Resort is one of the most well reputable resorts in the area, located close to several amazing attractions, such as Erawan National Park and ElephantsWorld, it also advertises several on site facilities and activities, such as a pool and hot tub, a bar and restaurant, and canoeing.
Tara River Raft Hotel Kanchanaburi
River Raft Hotel Tara Raft Kanchanaburi Guest House.Click here for prices and availability on Agoda, here for prices or to book on Booking.com. Check reviews for Tara Raft or Find the best deal, compare prices, and read what other travelers have to say at TripAdvisor.
Sugar Cane Guest House Kanchanaburi
Sugar Cane Guest House ( click through here for current rates) offers simple, cheap raft rooms on the river at Kanchanaburi, plus the chalets on land in the photo. They serve good food, we revisited recently to eat and enjoy their views while staying at Warm Well Hostel. Nothing had changed. Sugar Cane are in the top 20 hotels in Kanchanaburi on Trip Advisor. Their rooms are simple but the location is perfect.
For Sugar Cane 2, Find the best deal, compare prices, and read what other travelers have to say at TripAdvisor.
Best Hotels on the Riverside in Kanchanaburi
Along the river is one of the best places to stay in Kanchanaburi and quite a few hotels and guest houses have riverside settings, with or without floating rafts. For raft hotels see our selection of where to stay, above.
Hotel Xanadu Kanchanaburi
Mid-Price Riverside Hotel Xanadu 2008 Resort #2 on Trip Advisor. Click through for prices and availability on Agoda, here.
Best Hotels in Kanchanaburi
First our pic of the best, most luxurious and pleasant hotels in or near Kanchanaburi. Overall, our top pick is the U Inchantree.
The Dheva Mantra Resort
The Dheva Mantra Resort is a beautiful 5 star hotel a little way out of town in a quieter location. This one is ranked #4 on Trip Advisor. On Hotels Combined
U Inchantree Kanchanaburi
Boasting some of the best review scores in Kanchanaburi, The U Inchantree is also SHA Plus Certified at the four star service level. Guests score this hotel particularly highly for location, unsurprisingly, as it sits on the water's edge with stunning sunset views from the north bank of the River Kwai (Kwai Yay River). It is footsteps from the heart of Kanchanaburi, the museums and bridge, or guests can take advantage of the hotel's bikes.
The U Inchantree Kanchanaburi Hotel is at a similar price point to The Dheva Mantra Hotel and is more conveniently located. Food reviews are good and breakfast is included. See the U Inchantree on Agoda, and on Hotels Combined
---
Best Rivercamp Glamping in Kanchanaburi
The hands-down winner for a glamping adventure near Kanchanaburi is the Hintok River Camp, below.
Hintok River Camp at Hellfire Pass
The spacious safari tents at Hintok River Camp let you fall asleep at one with the sounds of nature, yet do it in style.
Best Hostels in Kanchanaburi
Warm Well hostel is a nice, clean modern hostel in Kanchanaburi. We've used this hotel ourselves and can recommend their spacious family rooms. See them on Agoda here. This is a cheap place to stay in Kanchanaburi for a family, couples or singles, but is still nice.
How to Get to Kanchanaburi From Bangkok
You have a few choices, this was the information we had, a few days ago. Things change, you need to check. There is the train, a regular minibus service, tours and transfers, scheduled buses as well as the options of driving or taking a metered taxi.
Booking Train Tickets to Kanchanaburi from Bangkok
There are only 3 usual ways of booking train tickets in Thailand:
Pay an agent or tout a fee.
Go to the train station yourself
Use 12Go Asia to book online here , tiny fee, tickets can even be delivered internationally.
We highly recommend booking your tickets through 12 Go, it's easy, minimal expense and reliable in our experience. They also handle bus ticket bookings and better rates than many agents will give you. We use them, we recommend them.
The train journey from Bangkok to Kanchanaburi should take 2.5 to 3 hours, the road journey should be quicker.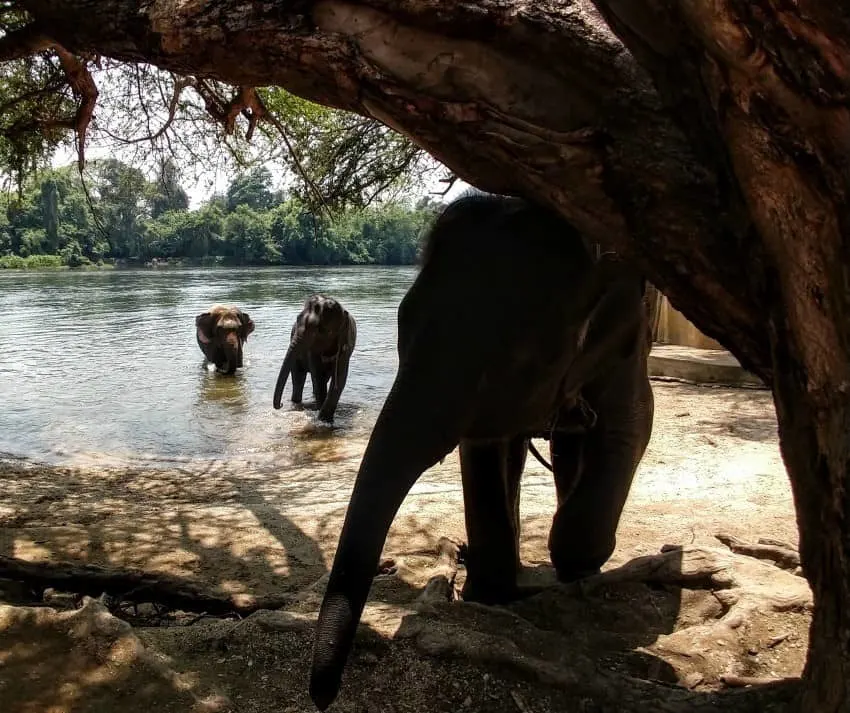 ---
How to Find the Best Deals on Hotels, Guest Houses, Hostels, Rafts or Resorts in Kanchanaburi
We recommend checking the two booking platforms below to find the best price on your dates.
Agoda are Asia specialists and they often have a bigger selection. To get a refundable deal, a long time in advance (some people reserve 3 or 4 hotels and confirm closer to the date) Booking.com usually works best.
Accommodation in Kanchanaburi includes guest houses, river rafts, hostels, resorts and hotels from cheap to luxury. We found prices to be good. Kanchanaburi is cheaper than Bangkok. Scroll further down for a few recommendations.
Accommodation in Kanchanaburi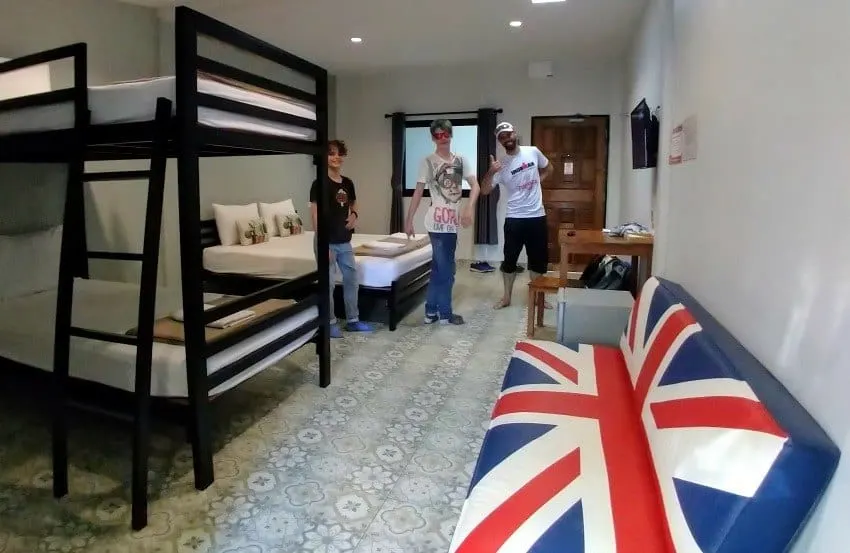 For Warm Well Hostel see here on Agoda. We used this hostel recently, the family room pictured above, and were very impressed by it. It's new, clean, smart and spacious. It's an easy walk from here to the Kanchanaburi riverside or the famous bridge.
Alternatively, a local Kanchanaburi motorbike taxi can take you anywhere along the riverfront. These days we always book our accommodation in advance.
On arrival in Kanchanaburi by train on our first ever trip, we hadn't booked a hotel in advance, we went with the first cheap place we found, the Jolly Frog, an old Lonely Planet favourite that was really not good. We think it's now closed down.
Kanchanaburi was much cheaper than Bangkok when we last visited.
Not everyone wants to travel as budget as we did on this occasion, luckily there are plenty of options to suit every pocket.
Things To Do In and Around Kanchanaburi.
We have a full post on things to do in Kanchanaburi during your stay, but here's a quick list for you.
Kanchanaburi is rich in war history and well supplied with museums. You will find many natural attractions and national parks in the area, including waterfalls.
Kanchanaburi is also of note for its Neolithic history, artefacts have been found here and you can find a display at the Jeath War Museum.
The following things to do and see are in or near Kanchanaburi Thailand.
The famous Bridge on the River Kwai,
The Hellfire Pass and Memorial Museum,
The Jeath War Museum,
Don-Rak War Cemetary,
Chonk-Kai Cemetary,
The Bridge War Museum,
Three Pagodas Pass,
Erawan National Park,
Ban Khao National Museum,
Sri Nakarin National Park,
Pong Teuk
Elephants World,
Sai Yok Yai,
Prasat Muang Singh National Park.
Wat Dong Sak
Alternatively, why not take a cruise on the river or enjoy a local cookery course.
The infamous Tiger Temple and Safari Parks are also near Kanchanaburi and now there is an ethical elephant rescue park, Elephants World.
Our favourite thing to do in Kanchanaburi, just relax!
Kanchanaburi – Conclusion
Read more posts on Kanchanaburi here, how to get to Kanchanaburi from Bangkok, about being Busy Doing Nothing on the River Kwai or on onward travel from Kanchanaburi to Bangkok and on to Laos.
We love Thailand's capital and there are endless things to see and do in Bangkok, but Kanchanaburi is something entirely different. Kanchanaburi is peaceful. This makes it a desirable destination for digital nomads and slow travellers along with the daytrippers, backpackers and holidaymakers.
It's well worth the short train ride from Bangkok to spend a weekend or a few days checking out the attractions or chilling on the River Kwai. And getting to Kanchanaburi from Bangkok is half of the fun. If you'd like more information on travel in and around Thailand, don't miss our main Thailand Travel Blog page, plenty of information there for singles, couples or families taking any sort of trip in Thailand.
If you'd like to hire a car during your stay, use this car rental comparison tool to find the best deal!

We also suggest you take a look at this company to get a quote for all kinds of the more tricky adventure or extended travel insurance.

Try Stayz / VRBO for an alternative way to find rentals on homes/apartments/condos in any country!