This post may contain affiliate links.
When most people think of Thailand, sandy beaches with crystal clear waters, snorkelling, temples, and tropical fish come to mind. Kanchanaburi offers something different. It is steeped in contemporary history, whilst also offering a place to just relax on the River Kwai and explore the surrounding countryside. This post is about things to do in Kanchanaburi.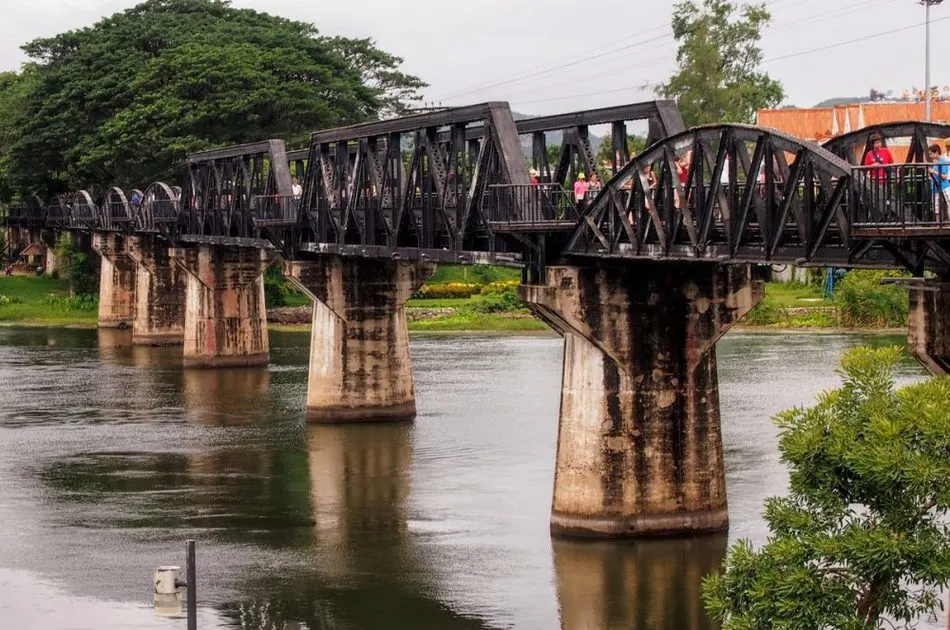 Watch the video above to see more of Kanchanaburi, the train and station.
Things To Do in Kanchanaburi Thailand.
There are plenty of things to enjoy in Kanchanaburi. We managed to spend weeks there just hanging out, enjoying good food, and finding out about Kanchanaburi's WW2 History. There are also some major tourist attractions in town and nearby. We give you some fun, educational, and relaxing things to do in Kanchanaburi below.
The Bridge Over The River Kwai
This is probably why most people come to Kanchanaburi, right? The Bridge on the River Kwai is a famous war film released in the 1950s, and was based on a novel of the same name.
The Death Railway runs over the bridge and in real life, the railway earned its morbid name due to the sheer number of lives lost building it. It was built by indentured workers from other parts of Asia and prisoners of war kept captive by the Japanese during the Second World War.
Interestingly the river running under the bridge was originally called the Mae Klong River, but the film got the name wrong. Although, this river does join the Khwae Noi River in the end. So it became famous as the River Kwai to us Westerners, which is still a mispronunciation of the Khwae Noi River.
Whatever it's really called, it's amazing to see the Bridge over the River Kwai in real life. The bridge is smack bang in the middle of town, so very easy to get to and is definitely one of the top things to do in Kanchanaburi.

The JEATH War Museum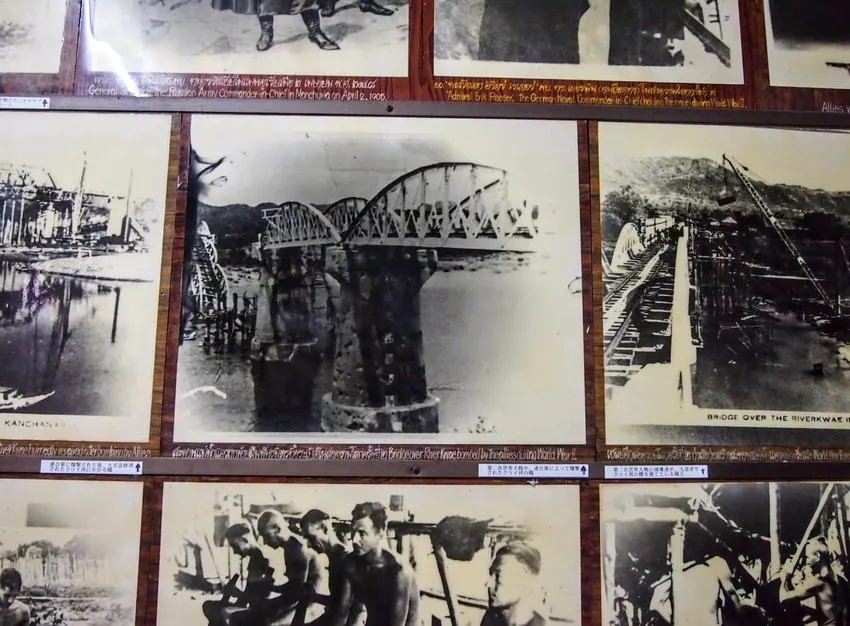 The JEATH War Museum was built around the subject of the Death Railway. The acronym JEATH stands for the countries with the most impact on the construction of the railway, Japan, England, America/Australia, Thailand and Holland. It was founded in 1977 by the Abbot of the Buddhist temple Wat Chaichumpol and situated on its grounds. The museum is managed by the monks.
The museum houses a collection of small reconstructed bamboo huts as used by POWs when they were being forced to make the bridge. It also has a collection of relics from wartime including a 500-pound bomb, train carriages and railway equipment.
We really enjoyed the JEATH War Museum. It's quirky, a little bizarre and at times very emotional. People like to put it down in comparison to Thailand–Burma Railway Research Center. We thought it was especially engaging for kids and a reasonable introduction to the horrors and realities of the era.
This museum is almost right next to the famous bridge and has great views and photographic opportunities of the bridge and the river. You will also find a section dedicated to Kanchanaburi's neolithic history and finds here.
Kanchanaburi Tree Top Adventure
This exciting ropes, zip line, and tree bike center is for adventure lovers and adrenaline junkies. Find out more here.
Get a Traditional Thai Tattoo – a Sak Yant
The photo is from my sacred ink experience in Bangkok but I know the same company can arrange for you to see a trusted ajarn in Kanchanaburi. The owner of this company is a friend of mine and I trust him fully. You can read about my sak yant in Bangkok here or check his website for Thai tattoo opportunities in Kanchanaburi.
Erawan National Park and Waterfalls
The 550 square kilometer Erawan National Park is a popular destination for tourists due mostly to its 7 level waterfalls and their respective ponds for swimming. The park is 80% deciduous forest and got its name from the three-headed white elephant of Hindu mythology. The highest waterfall is said to resemble an elephant head.
Erawan waterfall has seven beautiful tiers, and you can climb all the way up to the top tier. Bring your swimming costume as you can take a dip in all of the tiers.
Watch out for the very large fish, they love nibbling the feet of unexpecting bathers. They won't hurt you, they are like large versions of the fish you get in fish pedicure places.
Erawan falls gets pretty busy. Climb up past tiers 1 and 2, and make sure you avoid visiting on weekends to dodge the worst of the crowds, as the waterfalls are understandably popular with locals. You can take the public bus from Erawan falls to Kanchanaburi.
The Chinese Temple
Walk over the River Kwae Bridge and take a left. You'll find yourself in a very interesting Chinese Temple, its grounds dotted with strange WW2 history installations. This is a very typical Chinese temple but if you've never seen one before it's certainly worth a look. It's grounds open onto the riverfront.
Don-Rak War Cemetary
The Don-Rak War Cemetary or Kanchanaburi War Cemetary is a major mass graveyard that houses just under 7,000 residents. The Cemetary was made postwar for all the POWs who died in the construction of the Burma Railway and were left in makeshift graves along the train line.
Hire A Bike Or Moped, Take a Cycle Tour
Kanchanaburi is surrounded by beautiful countryside and a great way to get out to it is by bicycle. You can easily find bike tours in town or often guesthouses have bicycles for you to hire if you want to cycle to different attractions nearby.
It's possible to venture out of Kanchanaburi on your bike, but many of the attractions out of town visited by the bike tours such as Wat Kra Sae Cave and Prasat Muang Singh National Historical Park are far away and usually visited on multi-day cycling tours.
You might want to go on one of those or if you are comfortable and qualified, hire a moped instead. For getting around town you'll find plenty of the motorbike and sidecar contraptions pictured above.
Sleep in a Floating Hotel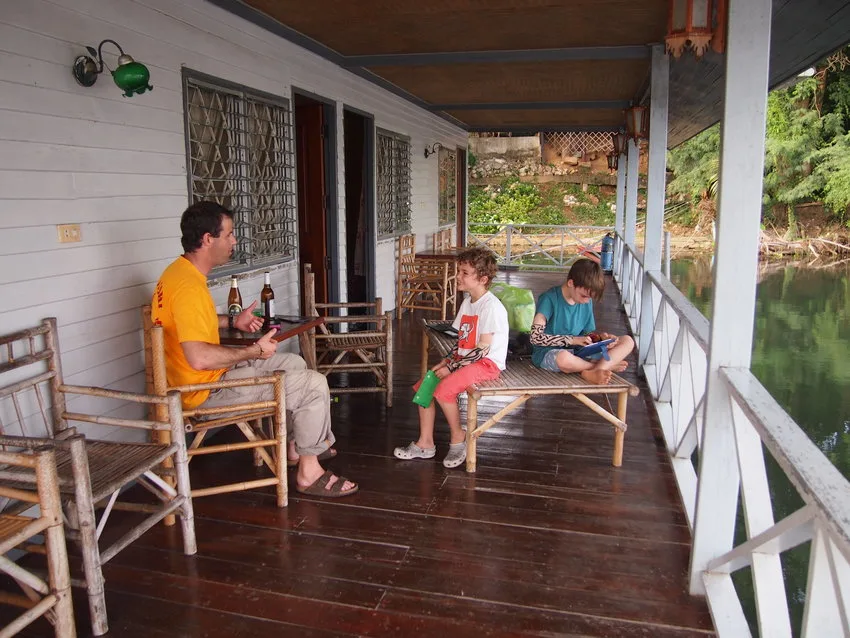 Kanchanaburi gives you the rare opportunity to actually sleep on the water in a water front, floating barge or hotel. Take a look at the examples below, budget and more luxury.
Elephant Attractions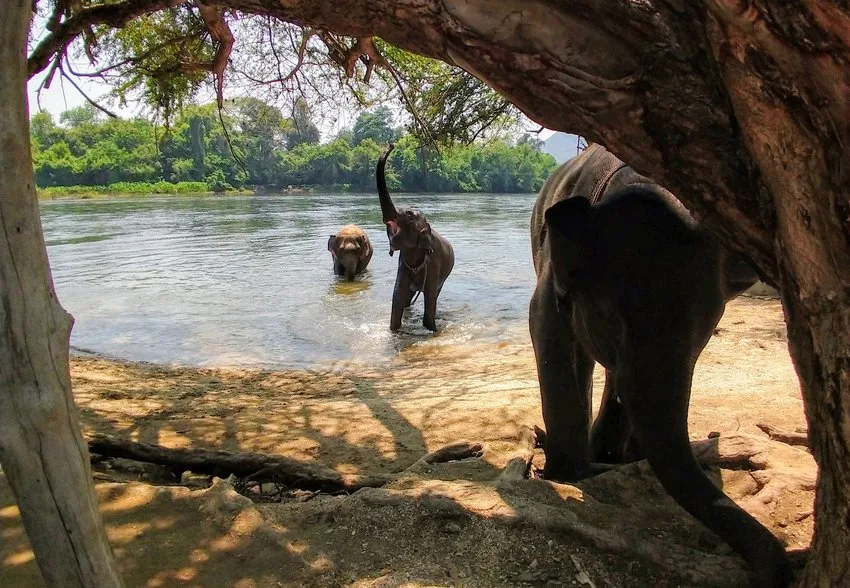 Kanchanaburi has a few elephant attractions and sanctuaries. One we know well is Elephants World Kanchanaburi. This ethical elephant sanctuary houses elephants made homeless and jobless by recent clampdowns in Thailand's elephant tourist trade.
Most of these elephants have come from tourism, a few from logging. Some are very elderly, all would die without rehoming in sanctuaries such as these.
At Elephants World you can get involved with preparing the elephants' food, feeding them and observing them at play. You can even get in the River Kwai for a swim with them and help give them a scrub. Tourist cannot ride elephants here.
Lunch is included. We visited for a full day while staying in Kanchanaburi but you can visit Elephant's World as a day trip from Bangkok.
Take the Train
The historic Thailand-Burma Railway offers some beautiful views. The trains are rickety and old style but riding on a Thai train is not an experience to be missed.
There is a particularly stunning part of the journey between Kanchanaburi and Nam Tok, where you travel along the cliff beside the Kwae Noi River. This train ride will only set you back about 100 baht.
The train can be picked up from Bangkok (Thonburi station) and runs through to Nam Tok, where you can visit the Sai Yok Noi waterfall. This train stops at both Kanchanaburi and River Kwai Bridge stations too.
Hellfire Pass
Hellfire Pass Interpretive Centre and Memorial Walking Trail is outside of Kanchanaburi. It is part museum and part memorial.
The Hellfire Pass is a deep railway cutting on the Death Railway and is one of the top WW2 history based things to do in Kanchanaburi.
Visitors wander along the walking trail for a couple of hours and listen to the harrowing stories of the prisoners of war who worked on the railway line. Free walking guides are provided when you enter the centre.
The accounts given are almost entirely from Australians, as the memorial and museum is funded by the Australian government. It is free of charge, although donations are encouraged.
Whilst a visit to Hellfire Pass is certainly sobering. Please remember to be respectful and don't be one of the many tourists that visit and take a load of overposed selfies, it's a memorial. Here's how to get from Kanchanaburi to Hellfire Pass.
Thailand–Burma Railway Research Center
Thailand-Burma Railway Research Center is often confused with the JEATH War Museum mentioned above.
A visit to the Thailand–Burma Railway Research Center is like stepping back in time. The museum is very 90s. Your ticket price even includes a free tea or coffee in the retro cafe.
The museum is extremely well set out and you will learn a lot about the conditions in the Japanese workcamps, particularly the prevalence of illness, hunger and death. This museum also talks a bit more about the South East Asian/South Asian workers who were coerced into working on the railway and the subsequent war crimes trials. They are often otherwise forgotten in the historical accounts of the time.
The well kept Kanchanaburi War Cemetery is right next door to the Thailand–Burma Railway Research Center, and is worth popping into for a quick look around.
I'd say if you are interested in contemporary history, both the Thailand–Burma Railway Research Center and Hellfire Pass are totally worth visiting. However, if you have kids then perhaps Hellfire Pass is enough.
Kanchanaburi Night Market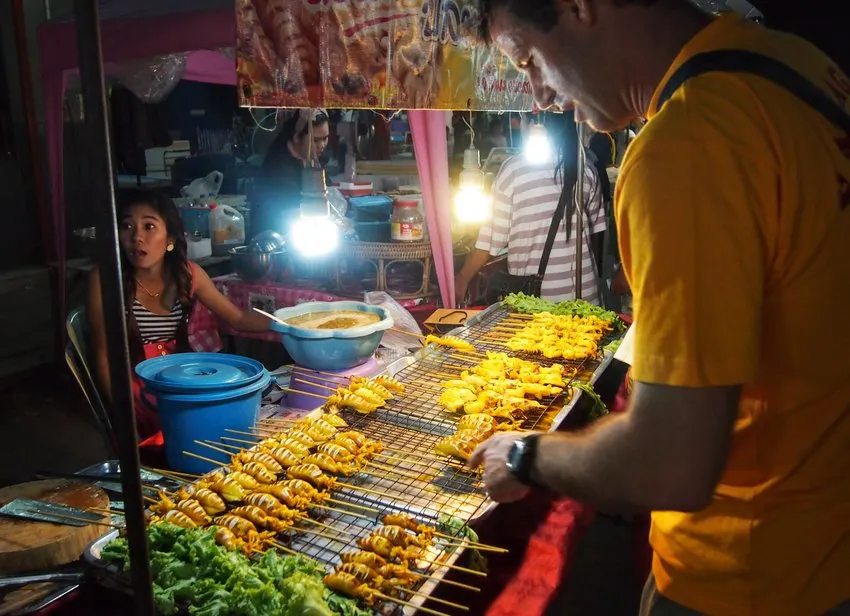 Whilst not the greatest night market in Thailand, Kanchanaburi Night Market is certainly worth a look. There is an abundance of typical Thai street food along with clothes stalls. We've occasionally seen a children's bouncy castle or other amusements.
Veggie options are very limited, but for the meat-eaters out there you won't have any issues.
Chonk-Kai Cemetery
Chonk Kai War Cemetery is a cemetery located a few Km outside of Kanchanaburi and houses well over a thousand graves. The cemetery was built by POWs who were based at the camp here. They built a church and a hospital on the camp also.
Most of the graves in the cemetery were filled by patients who had died in the hospital but after the war had ceased graves from up and down the railway line were emptied and the bodies moved up to Chonk Kai along with some other mass graves.
Three Pagodas Pass
Three Pagodas Pass is on the border between Thailand and Myanmar, the pass got its name from 3 old stupas. The Death Railway ran through the pass.
Ban Kao National Museum
Ban Kao National Museum was founded in 1965. According to several sources, the museum was founded because of dutch POW Dr. Van Hickderen finding neolithic relics while working on the construction of the infamous Death Railway
Sri Nakarin National Park
The Sri Nakarin National Park is located to the north of Erawan National Park and due to how remote the park is it is not often crowded.
The park is 1,532 square kilometers and named after the nearby Nakarin Dam. the park boasts the Huai Mae Khamin Falls as its most popular attraction, there are also several other falls as well as campsites.
Take a Cookery Course
Kanchanaburi, like most places in Thailand, is a good place to take a Thai cooking class. Vegetarian cookery classes are also available.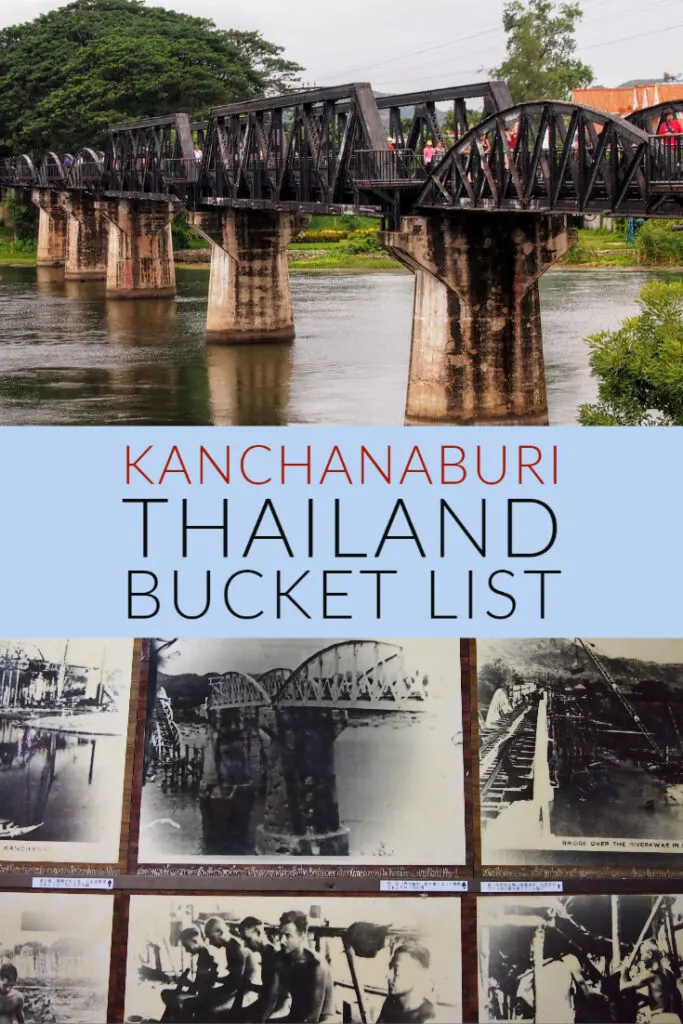 We hope you find our guide to things to do in Kanchanaburi useful. We've spent weeks here so we managed to see and do a lot of the attractions mentioned. If you only have a day or two, maybe a weekend, certainly see the bridge and enjoy the beautiful River Kwai. Do you need our post on things to do in Bangkok also? Or maybe our post on the train to Kanchanaburi ( plus other ways to get there)
If you'd like to hire a car during your stay, use this car rental comparison tool to find the best deal!

We also suggest you take a look at this company to get a quote for all kinds of the more tricky adventure or extended travel insurance.

Try Stayz / VRBO for an alternative way to find rentals on homes/apartments/condos in any country!