This post may contain affiliate links.
Need to know some cool and interesting facts about Thailand? This post is stuffed with Thailand facts and trivia, history, geography, and more. Thailand is one of our favourite countries to visit, with the best food in the world, so here are some facts about Thailand, for kids.
Thailand is a Southeast Asian country. It's the 51st largest country in the world by landmass and the 20th most populous. Bangkok is its capital city. Thailand's shape looks like an axe, as seen on the map.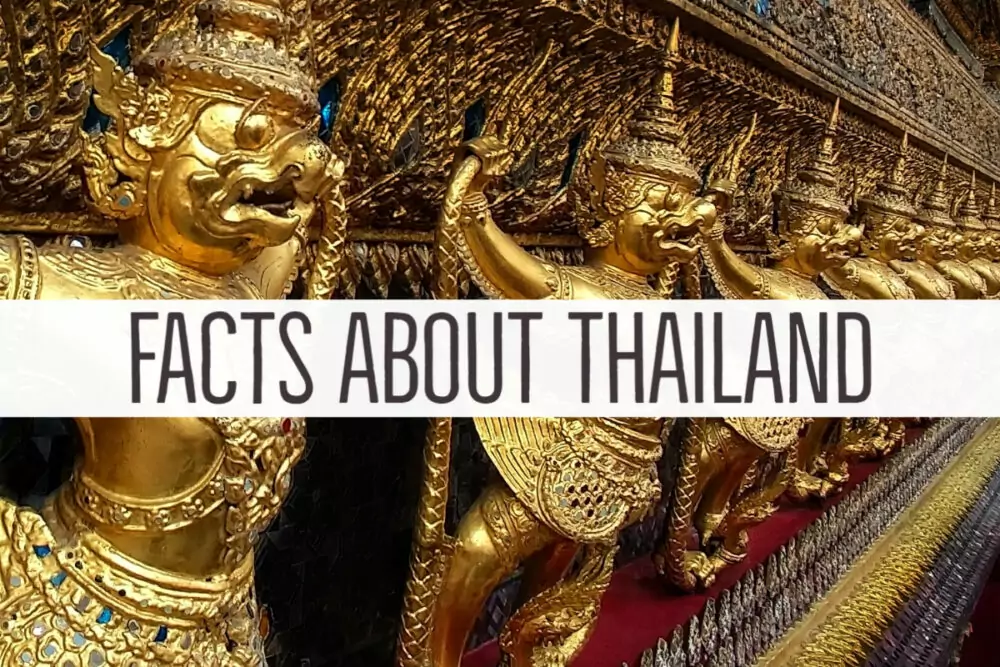 The country's official name is the Kingdom of Thailand and Thailand shares borders with Laos, Myanmar (Burma), and Cambodia.
The Gulf of Thailand partly defines the border with Malaysia. Thailand also has a coastline along the Andaman Sea.
Please check the facts and stats on this page for yourself, we use sources such as this one, but data like this does vary somewhat.
Thailand Facts
Let's start with some basic information about Thailand and then go on to the more interesting facts. Hopefully you'll learn a little about the country of Thailand from these fun facts and trivia. Maybe you need to write an essay about Thailand, we can help!
Is Thailand a Country?
Yes, Thailand is a country. It's located in Southeast Asia and is bordered by Laos, Cambodia, Myanmar (Burma), and Malaysia. Officially the country's name is the Kingdom of Thailand, and historically, it was known as Siam.
What Is the Capital of Thailand?
The capital of Thailand is Bangkok. Bangkok city is located in central Thailand on the Chao Phraya River delta.
Bangkok is Thailand's capital and largest city, with a population of over 10 million.
Bangkok has not always been Thailand's capital city. Previously both Ayutthaya and Sukhothai were capitals. You can still visit these magnificent ancient cities today.
Thailand Facts, Size
Thailand covers an area of 513,120 square kilometres (198,120 square miles). That makes it the 50th largest country in the world by landmass. (source below)
For comparison, it's smaller than France, slightly smaller than Yemen, larger than Spain. (compare sizes of countries here)
What Is the Population of Thailand?
The population of Thailand was 70 million as of 2022. That makes it the 20th most populous country in the world. (source)
The ethnic groups that make up the Thai people are Tai, Mon-Khmer, Malay, Chinese, and others. The official language of Thailand is Thai.
Thailand Facts – Money
The Thai Baht is the official currency in Thailand. One US dollar was worth approximately 35 Thai Baht in 2022.
What language do they speak in Thailand?
Thai is the official language of Thailand, but many people also speak English. You'll have no trouble getting by as an English speaker in tourist areas, but it's always good to know a few key phrases in the local language.
Thailand is home to over 70 living languages, and over 50 indigenous languages. (source)
Many of the Hill Tribes of Thailand have their own dialects and languages. The link above gives you in-depth information on the many languages of Thailand, it's not as simple as just Thai (AKA Siamese).
Thailand Facts – Religion
The main religion in Thailand is Buddhism, which is practiced by around 93.5% of the population. There are also small minorities of Muslims (5%), Christians (1%), and Others (0.5%). (source)
What Are The National Symbols of Thailand?
Some of the national symbols of Thailand are Garuda, the elephant and the ratchaphruek flower. the official botanical name of the tree bearing Thailand's national flower is Cassia Fistula Linn.
Garuda is a mythical creature from Hinduism, the mount of Lord Vishnu. Garuda is part eagle and part human, It is the national symbol of Thailand and is not on the Thai flag.
Garuda is also used as a symbol of royalty. In times gone by, a king was believed to be chosen by God, (in many cultures, not just in Thailand), and royalty was considered divine, hence the association with Vishnu.
The elephant is a sacred animal in Thailand and has been used in warfare, transportation, and agriculture for centuries. About half of the elephants in Thailand today live wild in Thailand's National Parks.
The botanical name of the tree bearing Thailand's national flower is Cassia Fistula Linn. This golden-yellow cascading flower is the colour of royalty, and one of the colours of Buddhism. This flower was named as Thailand's national flower in 2001.
The orchid is not the national flower of Thailand but these can be found all over the country. While you're in Thailand, try to visit a flower market. There was a beautiful flower market with thousands of orchids in Chiang Mai on the banks of the Ping River.
Thailand Facts -Cats
This is a vital piece of Thailand trivia for cat lovers. Thailand was known as Siam until 1939 and yes, Siamese cats did originate in Thailand or Siam.
What is the Most Important River in Thailand?
The Mekong River is the longest river in Thailand (2,703 miles/4,350 km). It flows partially between Laos and Thailand in the north, and empties into the Gulf of Thailand. The Mekong is the 7th longest river in Asia, 12th longest in the world.
The Chao Phraya River flows through Bangkok and most people think of this majestic waterway when considering Thailand's major rivers.
The Ping River is also a major waterway and flows through Chiang Mai, a large city in the north of Thailand.
Thailand Facts – Food
The national dish of Thailand is sometimes considered to be Pad Thai. It's a stir-fried rice noodle dish typically containing shrimp, chicken, tofu, and vegetables.
However, pad Thai is a modern invention, it came to be in the 1930s and its origins are interesting.
You will find good and bad pad Thai in Thailand and it is a common fast food or street food. We believe there are other, much better dishes in Thailand and that this country has possibly the best food in Southeast Asia.
Rice (Khao), vegetables, noodles(pad), beansprouts, fish, tofu and most meat types are all common Thai foods.
Chicken rice, barbequed pork (moo), Thai fishcakes and various noodle dishes are among the most popular items available at street food stalls and in restaurants in Thailand.
You will also find regional specialities in Thailand, like khao soi in the north (notably Chiang Mai) and incredible seafood dishes in coastal regions. Amphawa floating market, south of Bangkok, specialises in delicious seafood.
Thai cuisine is rich in fresh herbs, including garlic, lemongrass, galangal, lime juice, peppers, hot chillies, coriander, and palm sugar. In addition, clear fish sauce (nam pla) and shrimp paste are used in several dishes.
Thailand produces a wide range of exotic tropical fruits, including mangoes, jackfruits, papayas, durians, and dragonfruit.
When Is National Day in Thailand?
There are many national holidays in Thailand, including Lunar New Year, The King's Birthday, and Songkran.
An important National Day in Thailand is December 5th. It commemorated the day when King Bhumibol Adulyadej was born in 1927. King Bhumibol Adulyadej was the father of the present King of Thailand, King Vajiralongkorn. He passed away in 2016.
King Vajiralongkorn (Rama 10) was born in July 1952. July 28th, is now a national holiday in Thailand.
What is Thailand's National Anthem?
The national anthem of Thailand is called Phleng Chat. It was composed by Peter Feit in 1932 and has been the national anthem since 1939. Phleng Chat literally means "National Anthem".
The Royal Anthem of Thailand is here, performed as a moving tribute to the late King.
Thailand Facts – Animals?
Thailand has a long history with elephants. They were once used in logging, warfare, tourism, and for transportation. They are found wild in Thailand and in zoos, sanctuaries, and nature reserves nowadays.
White elephants were associated with royalty and with divinity in Thailand.
The national animal of Thailand is the elephant. Other animals that can be found in Thailand include tigers, leopards, bears, monkeys, and snakes.
Two rare animals, the Asian elephant and the Indochinese tiger, can be found in Thailand. The Siamese crocodile is a critically endangered species in this part of the world. Saltwater crocodiles can also be found in Thailand.
Thailand Facts – History
Thailand's original inhabitants were the Mon-Khmer and Malay civilizations, followed by the Tai, who moved from China (southern) to Vietnam and into Laos and Thailand.
The country's name was Siam until 1939 when it became known as Thailand. The first Thai kingdom took shape during the 14th century.
If you're interested in Thailand's history, take a look at our post about the Three Kings statue in Chiang Mai.
Where is Thailand?
Thailand is a Southeast Asian country bordered by Myanmar, Laos, Cambodia, and Malaysia. Bangkok is the capital city. Thailand is known for its beautiful beaches, temples, and delicious food.
What are the Most Popular Landmarks and Attractions for Kids in Thailand?
These are the most famous landmarks and attractions for kids in Thailand:
Bangkok: Visit the temples (Wat Pho and Wat Arun are popular) and the Grand Palace, experience the floating markets, and ride on a long-tail boat.
Chiang Mai: Interact with elephants, explore the caves and temples, and take a cooking class.
Ko Samui: Relax on the beaches, visit the big Buddha statue, go zip-lining through the jungle, and snorkel with turtles.
Krabi: Climb to Tiger Cave temple, kayak through mangroves, take boat trips to snorkelling spots and discover hidden lagoons and waterfalls.
Phuket: Phuket is one of Thailand's most popular tourist destinations packed with resort hotels and boasting some lovely beaches. Phuket is one of the places from which you can visit Ko Phi Phi (from the movie "The Beach" and "James Bond Island". Old Phuket town is pleasant and filled with Chinese shophouses in pastel colours and there is a bustling night market scene.
What are the Thai Festivals?
Many festivals in Thailand are celebrated through the year. Thai festivals are usually connected with Buddhism or Royalty, plus the lunar calendar.
For example, Loi Krathong known as the "Asking Forgiveness" seeks forgiveness from the water Goddess and celebrates the end of the rainy season. A "krathong" is a small floating vessel, usually decorated with flowers, candles or incense. These little rafts are floated away on rivers during this beautiful festival, taking misfortunes away with them.
Loy (or Loi) Krathong usually falls in November and brings huge tourist crowds to Chiang Mai.
There are also the Flower Alms Offering Festival and the Candle or Lantern Festival.
Thailand also celebrates Western festivals, such as Christmas and Easter. You will see Christmas decorations in many cities and towns. However, these festivals are not as widely observed as in Western countries.
What Does Thailand Manufacture and Export?
Thailand is South East Asia's second-largest economy after Indonesia. Thailand is one of the world's largest orchid exporters. Thailand's other exports are rice, rubber, textiles, seafood, automobiles, and electronics. It is also known for its gemstones, such as sapphires, rubies, and emeralds. Thailand has trade agreements with China, Japan, and the United States.
Want To Learn More About Thailand?
Please use the links in this post and your own research to be certain these facts about Thailand are accurate, we provide links and citations where we can.
Thailand is beautiful, it's modern and traditional, rich and poor, developed and unspoiled. The incredible diversity of Thailand and its unique character make Thailand one of our favourite countries to visit and one of the best holiday or vacation destination countries in the world.
If you want to learn more about Thailand, check out some of our most popular articles about Thailand:
If you'd like to hire a car during your stay, use this car rental comparison tool to find the best deal!

We also suggest you take a look at this company to get a quote for all kinds of the more tricky adventure or extended travel insurance.

Try Stayz / VRBO for an alternative way to find rentals on homes/apartments/condos in any country!