The Three Kings Monument Square in Chiang Mai Thailand is a large open square in the heart of the walled Old Town. The statue portrays the three founders of Chiang Mai, King Mengrai, King Ramkhamhaeng and King Ngam Muang. King Mengrai ruled Lanna, King Ngam Muang was ruler of Phayao and King Ramkhamhaeng was King of Sukhothai Kingdom.
I was interested in the statue, the history behind it and its cultural significance so I did some digging and constructed this masterpiece. As we travelled around Thailand we saw more statues of these famous kings, visited their ancient cities and delved deeper into Thai history.
This post was written by D, then age 14 as an essay and history project, plus an exercise in how to write travel blog posts. Today he is sitting History A Level.
Three Kings Monument Square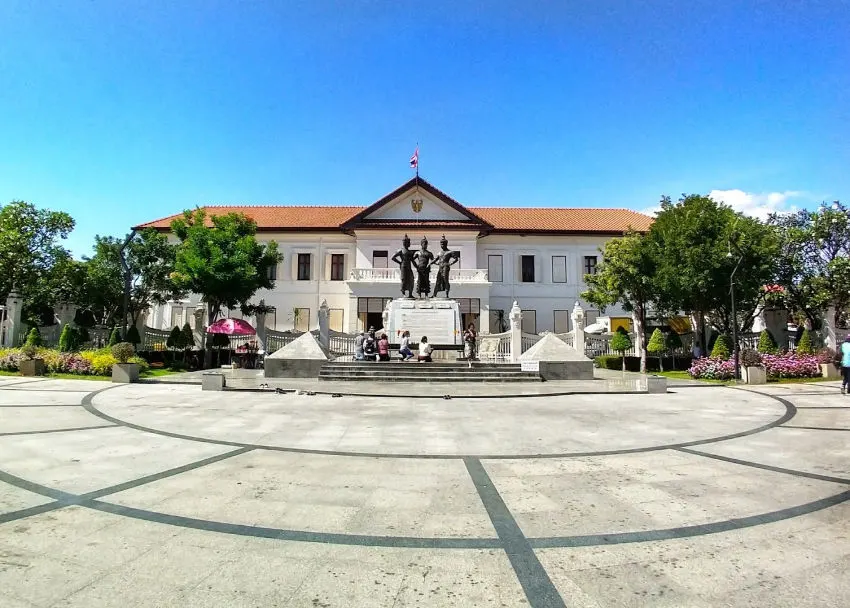 Three Kings Monument Square was made in 1984 as a tribute to the three founders of Chiang Mai. The statue itself is made of bronze and is located in front of Chiang Mai Cultural Center.
History of Chiang Mai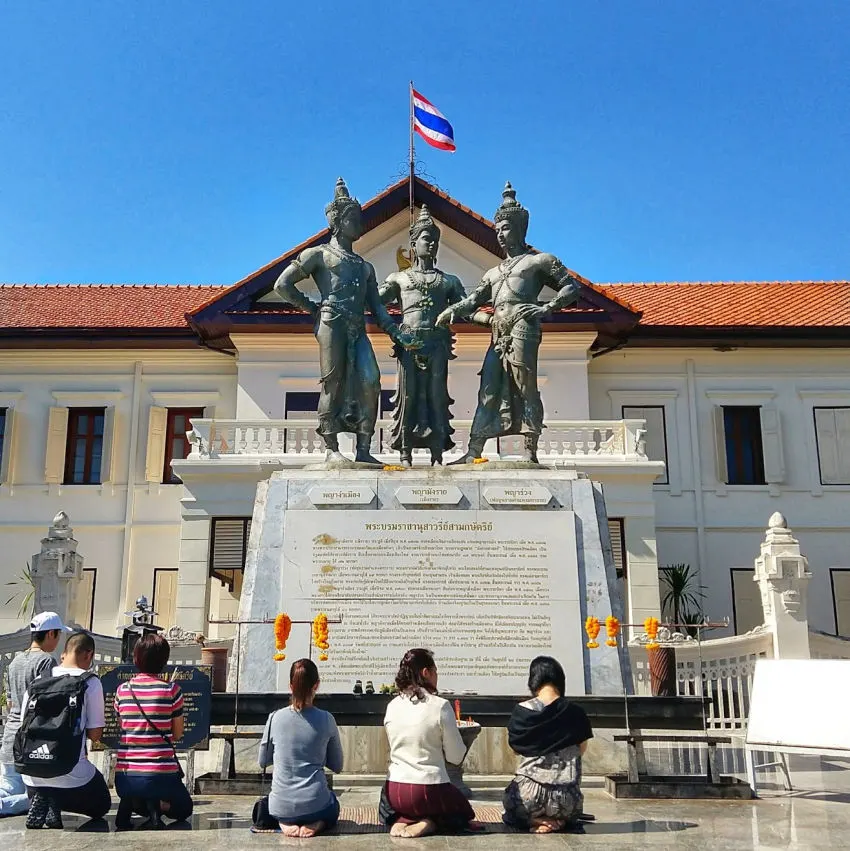 Chiang Mai was Founded by King Mengrai in 1296 and fell to the Burmese in 1558 without them even putting up a fight. Multiple wars were fought back and forth to recapture Chiang Mai but it wasn't until 1774 when Chao Kawila of Lampang and Phraya Chaban of Chiang Mai sided with the Siamese That the Burmese lost control of the city.
Chiang Mai's ancient walls were made the same year as the city itself in 1296 and were designed to appease divine spirits.
Wat Chiang Man – Chiang Mai's Oldest Temple
Wat Chiang Man is Chiang Mai's oldest temple, it was made in 1296 the same time as the founding of the city itself. The elephant chedi below contains a hair of the Buddha.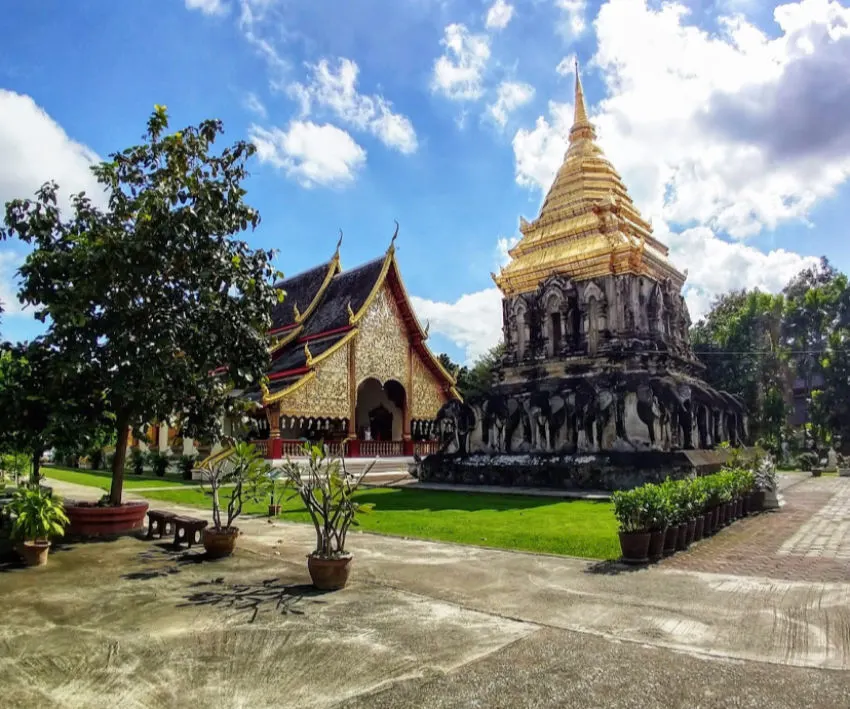 Doi Suthep History
Above Chiang Mai, Doi Suthep is a popular tourist attraction, however the temple on this mountain is not as old as Chiang Mai itself. Doi Suthep is not the name of the temple but rather the name of a mountain with Wat Phra That Doi Suthep located upon it. It is a Theravada Wat located in Chiang Mai Province and was constructed in 1383. Theravada Buddhism is another type of Budhism and was established by King Ramkhamraeng who was one of the three kings.
Doi Suthep and the White Elephant
There is a legend that explains the construction of the temple, called the White Elephant Legend. In the legend a monk from the Sukhothai Kingdom was visited in a dream and told to come to Pang Cha in search of a relic. Upon reaching Pang Cha the monk found a shoulder bone with anomalous properties including glowing and vanishing. The bone was considered to be that of the original Buddha, Siddartha Gautama.
If you are interested in Siddartha Gautama, Lord Buddha. I have been to his birth place and you can read about that here in our Lumbini Nepal post.
When the monk returned to King Dhammaraja the ruler of Sukhothai the King Declared a Ceremony and made offerings but the Bone did not display any of its abilities and the King let the monk keep it. King Nu Naone of Lan Na heard of the bone and instructed the monk to bring it to him, once the monk reached the king the bone snapped in two.
One piece was entombed at Wat Suan Dok (also in Chiang Mai) while the other was placed upon the back of a white elephant that was sent into the forest. the elephant climbed Doi Suthep and once it had reached the mountains peak it trumpeted three times and fell dead. The king took the hint and commanded the erection of a temple at the spot. This is the Doi Suthep Temple.
Lampang
Lampnag today is the third largest town in northern Thailand and is capital of Lampang Province and Lampang District. Lampang was part of Hariphunchai Kingdom.
The Lanna Kingdom.
The Lanna Kingdom, also known as the Kingdom of a Million Rice Fields was located in northern Thailand from the 1200s all the way through to the 1700s (13th century to 18th century). It was an Indianised State, this meaning that it was heavily influenced by Indian culture and religion. The capital was moved around a lot by King Mengrai. Chiang Rai was made capital in 1262 later. Later in 1296 King Mengrai changed the capital to Chiang Mai.
Phayao Kingdom, City and Province.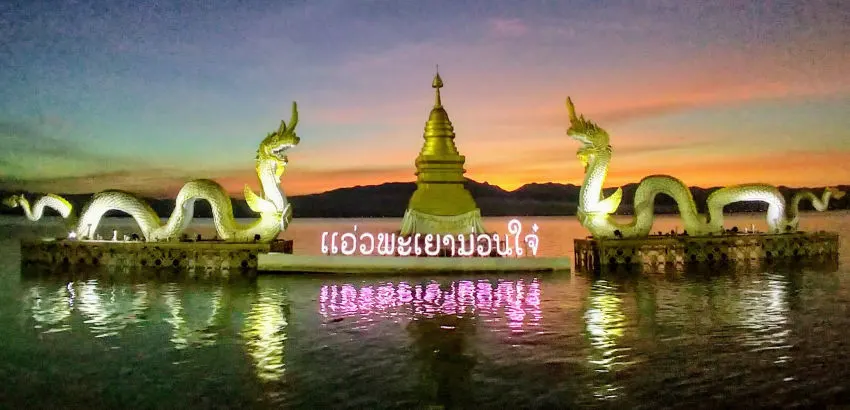 Phayao Province is one of northern Thailand's Provinces today and was founded in 1096 as a small city state kingdom. In the 1200 s Phayao became important enough to gain equality with the Lanna Kingdom as well as Sukhothai Kingdom.
Phayao was conquered in 1338 to become part of Lannathai. While the Burmese held dominion over Lannathai, Phayao City was deserted. Then during 1897 Phayoa was added to Chiang Rai province. After 1977 Phayao became its own province and separated from Chiang Rai.
Today Phayao Lake is famous for its submerged temple. This temple was built in 1476 and submerged with the creation of the artificial lake in 1939, the temple itself is called Wat Tilok Aram. We visited Phayao Lake on our northern Thailand road trip.
Sukhothai Kingdom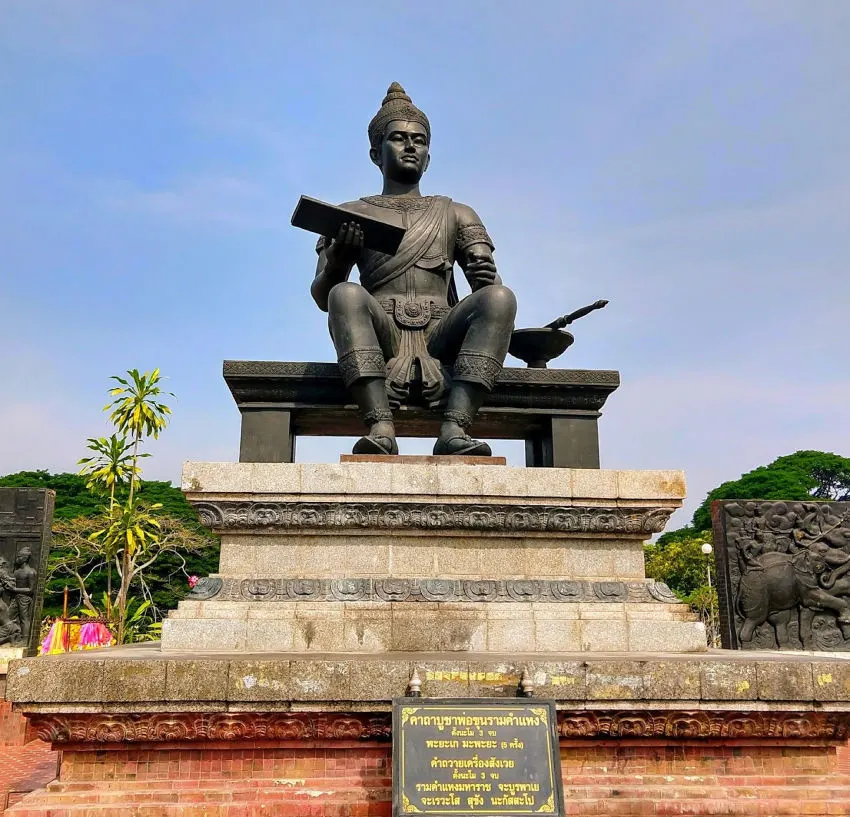 The Sukhothai Kingdom was a kingdom that revolved around the old city of Sukhothai. The current city of Sukhothai Thani is 12 km west of its ancestor.
The old city itself was in north-central Thailand and the kingdom lasted from around 1238 to 1438. After King Ramkhamhaeng died the kingdom gradually lost its power and was assimilated into the Ayutthaya Kingdom. We have a post on visiting Sukhothai ( 2 casual links *COUGH COUGH*)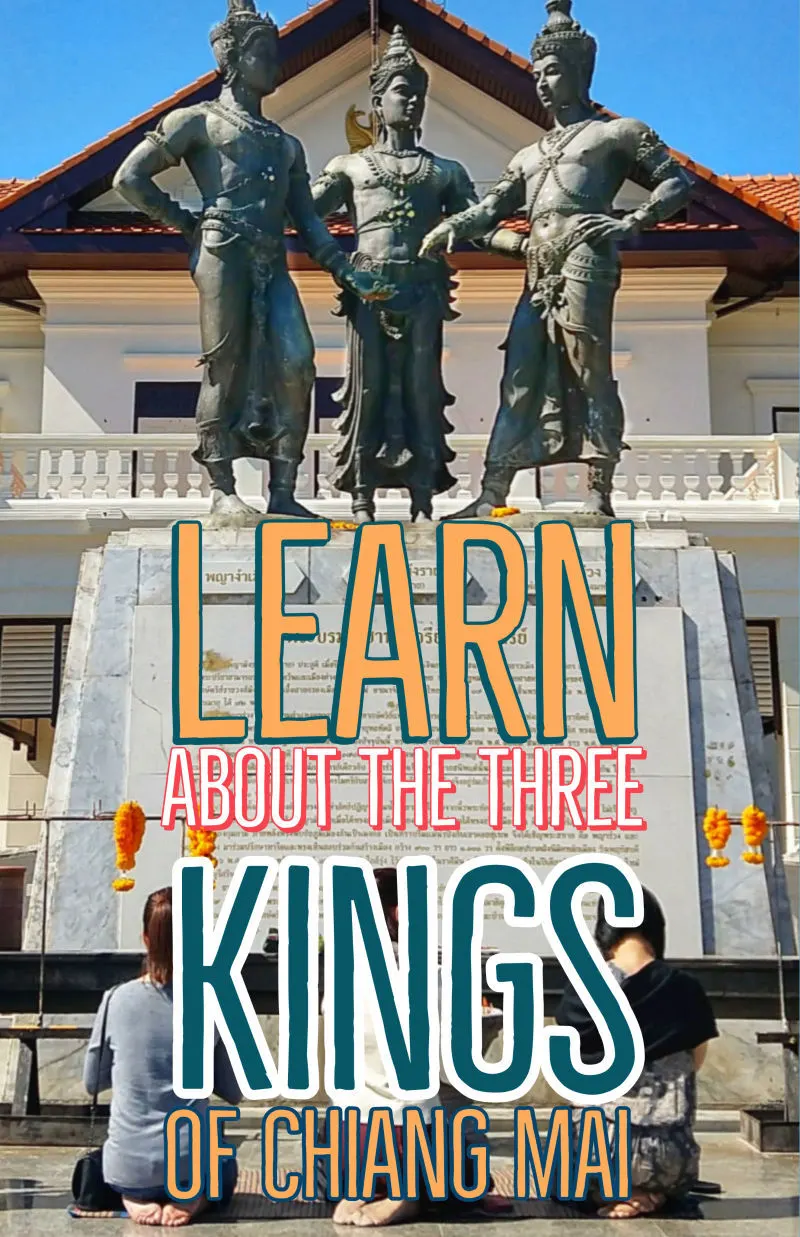 King Mengrai
Ruler of Lanna and founded Chiang Rai as well as Chiang Mai, King Mengrai died in 1311 in Chiang Mai.
King Ramkhamhaeng
The creator of the Thai alphabet, King Ramkhamhaeng was ruler of Sukhothai the person who established Theravada Buddhism as one of Thailand's main religions. His statue in Sukhothai shows him writing.
King Ngam Muang
Ruler of Phayao, King Ngam Muang died in 1296.
Those are the Three Kings of the famous statue in Chiang Mai and a few facts about Chiang Mai and Thailand's history. I hope you found it interesting.
---
About the Author D for World Travel Family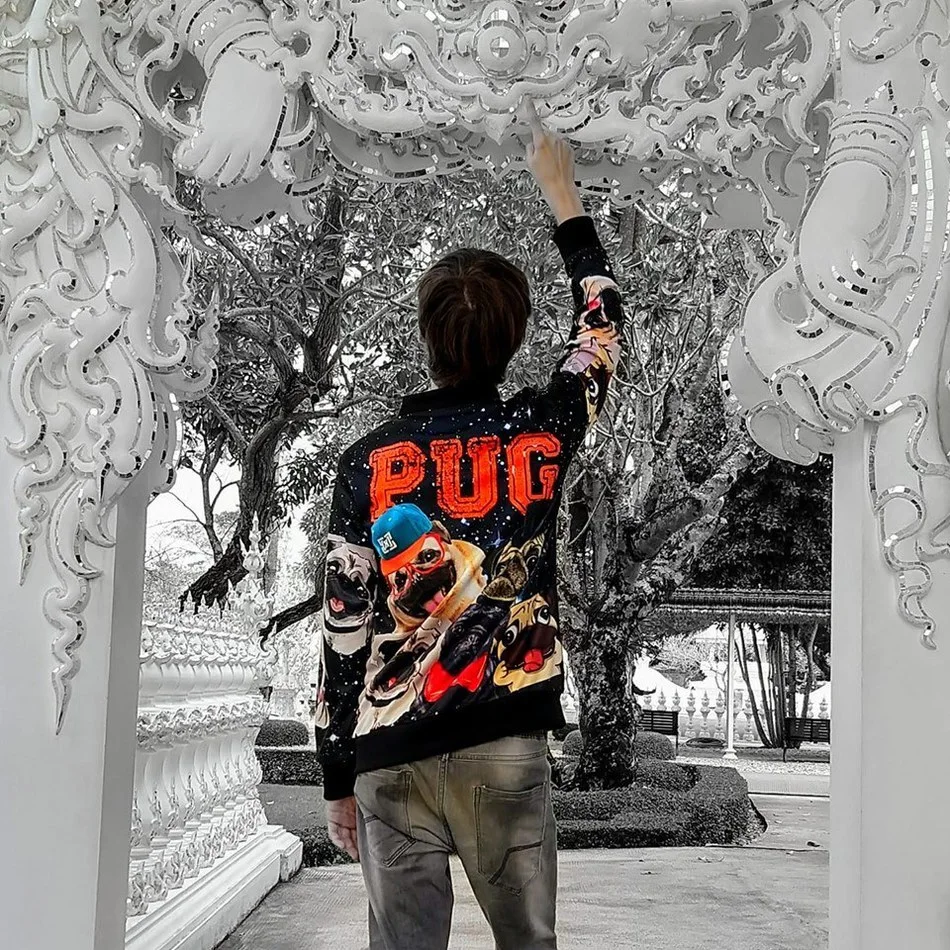 D, is a very young writer and content creator just starting out for the World Travel Family website. He is a blogger, video editor, graphic designer, and aspiring social media and YouTube ninja. He is and was home educated, and is currently sitting his A levels in History and Biology. He is a snake wrangler, a future crocodile hunter, and has been to over 50 countries during over 6 years of full-time travel. Like most teenagers, he loves gaming which made him an instantly awesome drone pilot, and is largely responsible for his huge and imaginative vocabulary. You can find other posts by D here. Most videos on this site are his work.
---
If you'd like to hire a car during your stay, use this car rental comparison tool to find the best deal!

We also suggest you take a look at this company to get a quote for all kinds of travel insurance.

Try Stayz / VRBO for an alternative way to find rentals on homes/apartments/condos in any country!