The distance from downtown Dubai to Abu Dhabi is approximately 150km or just under 100 miles. The road is a sealed multi-lane highway that can make getting from Dubai to Abu Dhabi quick and easy. Avoid peak hours when traffic can add an hour or more to your journey. Travellers and tourists may need to get from Dubai to Abu Dhabi for the airport, to visit Abu Dhabi's attractions (we would recommend a tour for this, see below) there are normally several options, road, rail, shuttle, tour, even air!
---
Dubai to Abu Dhabi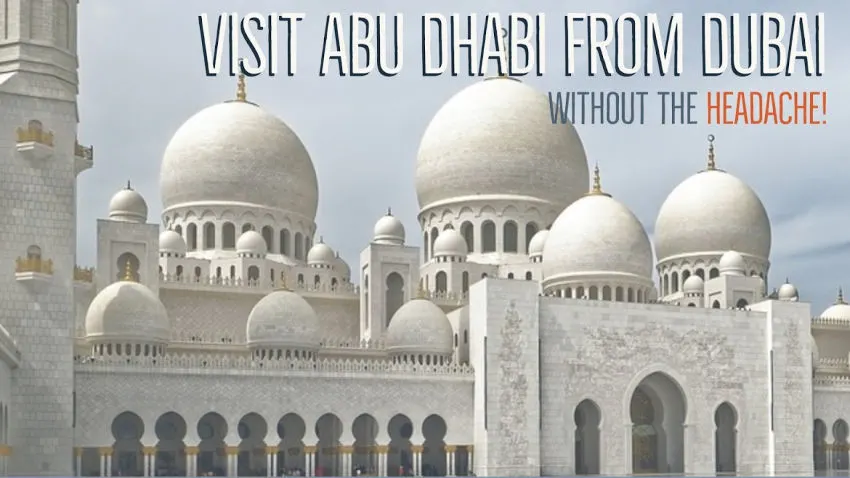 Abu Dhabi to Dubai Distance
The distance from downtown Dubai to Abu Dhabi is approximately 150km or just under 100 miles.
Abu Dhabi Tour From Dubai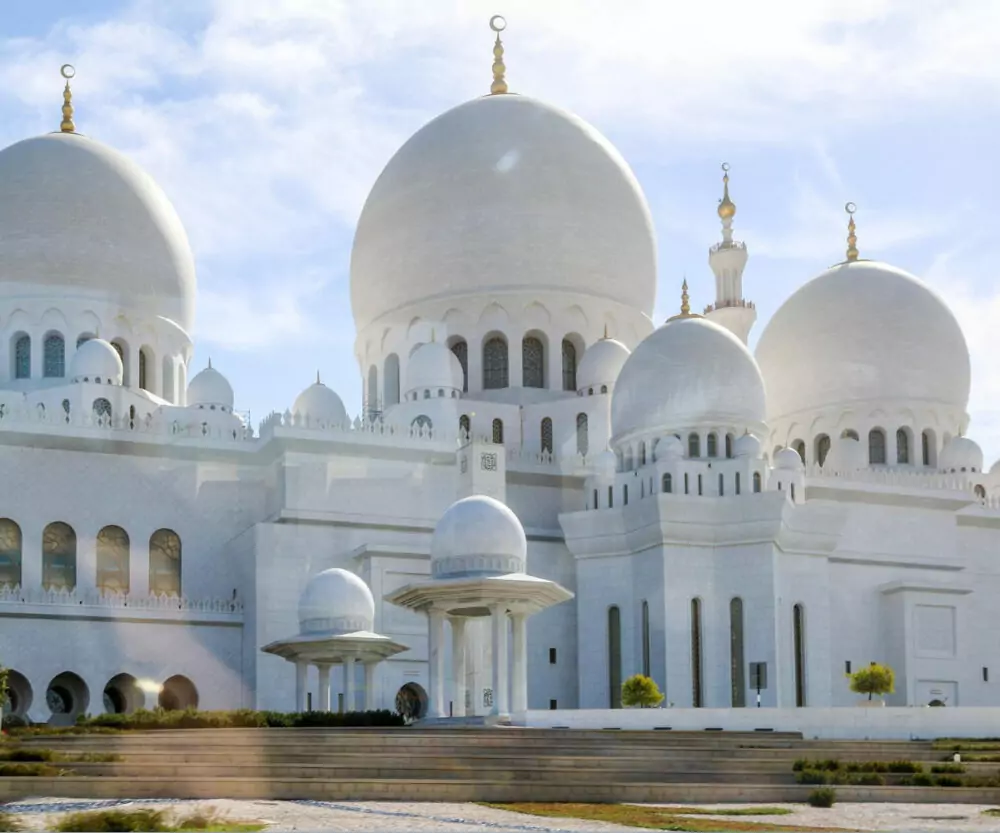 It is very easy to arrange an Abu Dhabi tour from Dubai. You can sightsee in Abu Dhabi city and include the option of Ferrari World if you choose.
Most tours of Abu Dhabi City will include the Sheik Zayed Grand Mosque in Abu Dhabi, The Cornich, Etihad Towers and more. Book a private day trip to Abu Dhabi here. The drive time is approximately 1 hour 45 minutes.
A group tour is about half the price (book here) if you're on a tight budget, but this trip is much less luxurious. If you want to include the rides at Ferrari World on your Abu Dhabi city tour, you need this trip. A ticket for Ferrari World can be booked here.
Map Abu Dhabi and Dubai
Where is Abu Dhabi on the map in relation to Dubai? Use our map below, you can scroll around and zoom in and out.
View Larger Map
Abu Dhabi Airport
Abu Dhabi airport is 10 km east of Abu Dhabi Marina with Sheik Zayed Grand Mosque Centre located halfway between the two.
The public buses don't seem to serve these destinations.
If you're flying to or from Abu Dhabi airport and staying at an Abu Dhabi hotel, it's probably best to pre-book an airport transfer. (to your hotel in Dubai, or direct to Abu Dhabi) Check your options by clicking through.
Dubai Airports
Dubai is in Asia, in the United Arab Emirates, and has two major airports. The Dubai International Airport which is pretty much in Dubai, and Dubai Al Maktoum, which is 40Km or so out of town
The distance from Al Maktoum (DWC) is only 110 km to Abu Dhabi as the airport is 40 km to the south of downtown Dubai.
The distance from Dubai International Airport to Abu Dhabi is approximately 100 miles or 160 km. The traffic getting through Dubai can be horrific during peak hour and can easily add an hour or more to journeys.
Getting from Dubai to Abu Dhabi Airport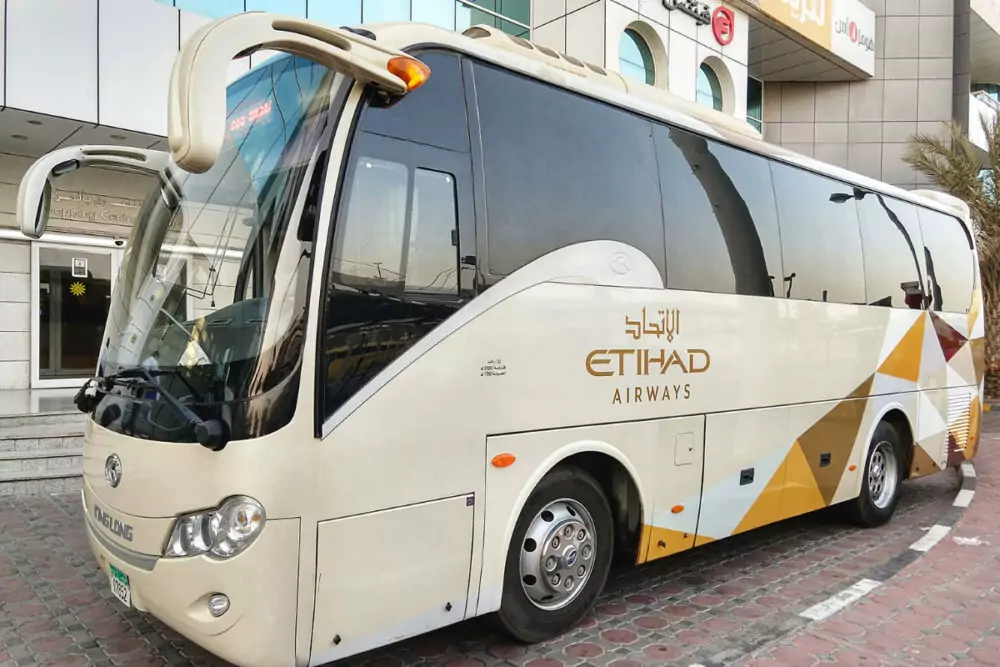 If you have a ticket with either Etihad or Emirates then they offer (at the time of our journey) free shuttles between Abu Dhabi and Dubai and likewise in reverse.
You'll need to book in advance for these free airport buses as spaces can be limited in peak times.
Make sure you have proof of your flight to show the driver. Bookings can be done online via the respective airline websites.
If you're with flying with Emirates there are normally five scheduled trips per day.
Emirates shuttle picks up from outside of Arrivals at Terminal 3 of the Dubai International Airport, while drop-off in Abu Dhabi is in front of the Emirates Downtown Office, Khalidiya Corniche.
Please check this for yourself as locations do change.
Etihad passengers are usually picked up from the Mazaya Shopping Centre, Dubai, the United Arab Emirates in Downtown Dubai and have a choice of 10 scheduled daily trips that will deliver them directly to Abu Dhabi International Airport.
Currently, as neither airline was serving Al Maktoum Airport in Southern Dubai there are no shuttle services from this airport. This could change in the future although that looks unlikely as Emirates main base of operations is Dubai International Airport.
Taxi from Dubai to Abu Dhabi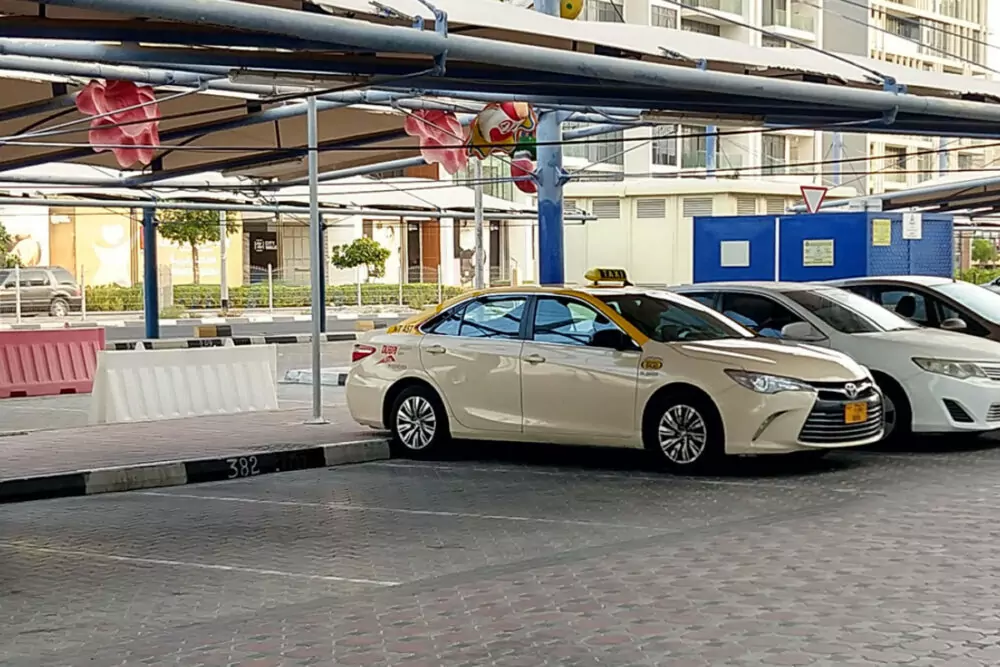 This is quite a convenient way of getting from Dubai to Abu Dhabi but is expensive. You can expect to pay upwards of 250 Dirhams ($70 US) for a one-way fare.
When you consider this is 10 times the cost of the bus and only for 4 people maximum in a no-frills taxi, it isn't an economical way of travelling between Dubai and Abu Dhabi.
You can pre-order a taxi and it will be slightly cheaper but still an expensive option. The closer you are to southern Dubai the cheaper it will get but even then it will still be close to 200 Dirhams ($55 US) at time of writing.
If you fly into Al Maktoum Airport and need to get to Dubai then this can be one of the only options as you're a long way from any public transport or the shuttle buses.
Train from Dubai to Abu Dhabi
Sorry, you're out of luck, the Dubai Metro runs alongside the Abu Dhabi road for quite a distance, but it doesn't go all the way to Abu Dhabi.
At the time of writing it wasn't possible to take a train from Dubai to Abu Dhabi but a train neywork is currently under construction in this region of the Middle East.
Boat From Dubai to Abu Dhabi
We could find no options for travelling to Abu Dhabi from Dubai by boat that were easily available to tourists.
Obviously boat charter is available locally.
Public Buses from Dubai to Abu Dhabi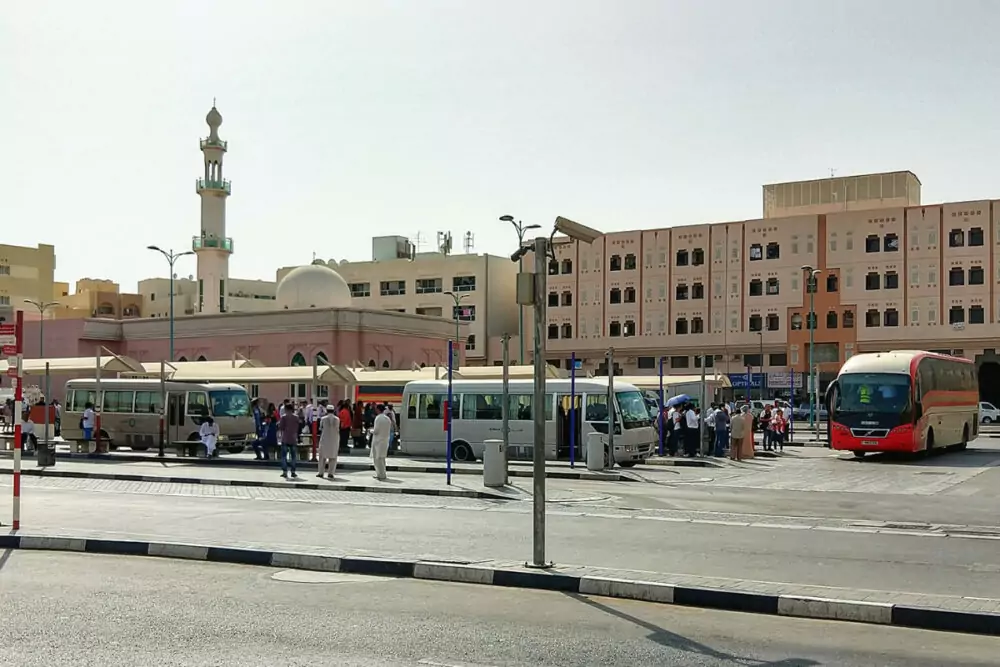 We've tried this bus route and it was a disaster. I did the research and found that buses ran every 15 minutes or more to Abu Dhabi from Dubai.
While the price is good at 25 Dirhams ($7 US) per person the frequency of the buses was nothing less than shocking. We waited for an hour and saw 1 bus arrive and 1 bus leave.
The crowds of people waiting in the hot sun with no shade numbered into the hundreds.
Talking to some people waiting in the family line (shorter and priority boarding) we discovered that they'd already been waiting there over an hour.
In the end, we gave up and didn't catch the bus. The line hadn't moved in the whole time we were there.
I don't know if coming back would be any different but I didn't want to get stuck in Abu Dhabi and then have to catch a taxi back.
We really recommend taking a tour unless you're trying to get to Abu Dhabi as cheaply as possible.
Tours from Dubai to Abu Dhabi
There are numerous tours from both cities that will allow you to both travel and enjoy the sights of either Dubai or Abu Dhabi.
If like us, you were just trying to get down to Abu Dhabi to see the sights for the day, then I'd certainly recommend a tour.
You can relax in the knowledge that you'll be going to see what you want without wasting time at bus stations and transfers across the cities to those bus stations.
If you want to visit Sheikh Zayed Grand Mosque or fancy trying your luck at Ferrari World at Abu Dhabi Marina then you'll find the tour that is right for you.
All good tours will include hotel pick up and drop off making sure you don't need to walk around either Dubai or Abu Dhabi's hot streets looking for transport. Check out tour options for Abu Dhabi here.
---
Ferrari World Abu Dhabi From Dubai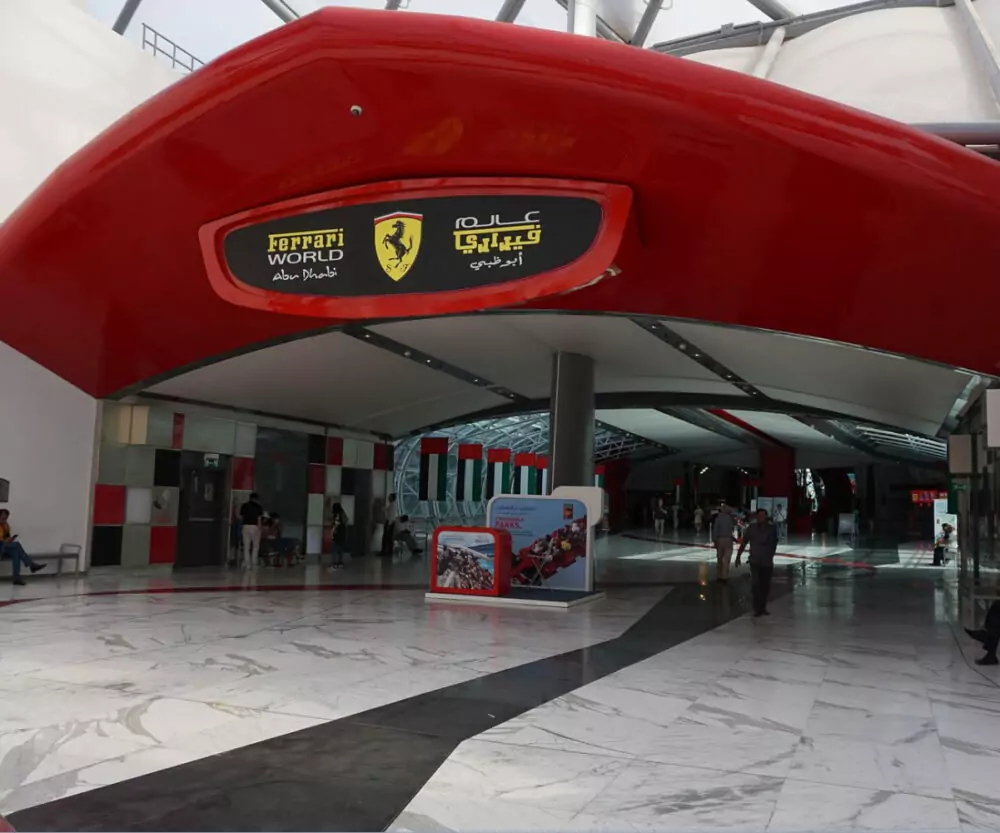 It's very easy to arrange a trip to Ferrari World Abu Dhabi from Dubai. Your best option is to book a combined tour where the price includes transport to and from Abu Dhabi from your Dubai Hotel, plus a visit to Ferrari World in Abu Dhabi. You can do that easily here, saving you time and money.
If you need to buy a Ferrari World ticket, you can purchase one here, this lets you skip the line at the Ferrari Theme Park in UAE, and has a best price guarantee on the site.
Ferrari World is situated on Yas Island which is 35 Km (approx) from central Abu Dhabi. A day trip is really your best option in visiting Ferrari World from Abu Dhabi.
---
Dubai – Abu Dhabi Airport Transfers
If you just want a transfer then this is often the easiest, quickest, and safest way to go about organising one. The transfer time is about 1 hour from Dubai to Abu Dhabi, and you can book one here.
You can have your transfer paid for and confirmed before you get on the plane to either destination so that when you arrive you don't need to stress about finding local currency and then getting public transport or a taxi to your final destination.
Pre-arranged transfers are normally greatly reduced in cost compared to taxis and the cars and or minibuses are of a better standard. Book a transfer here.
---
Uber
At the time of writing Uber was only licensed to operate in Dubai and not Abu Dhabi so you probably won't be able to get an Uber from Emirate to Emirate.
While Uber used to operate in Abu Dhabi its license was suspended and hadn't been re-instated at the time of writing.
Uber have reportedly reapplied so it may change in the near future or may have already.
---
Helicopter Transfer Abu Dhabi to Dubai
This is the United Arab Emirates, of course you can take a helicopter! Sorry, I don't know anyone with a helicopter to rent, but I know you can.
---
Flying Between Abu Dhabi and Dubai
This is currently unavailable in any normal or usual way, but you can even take a seaplane with a private tour. This is expensive, but doesn't it sound fun!
---
You can save this post to Pinterest.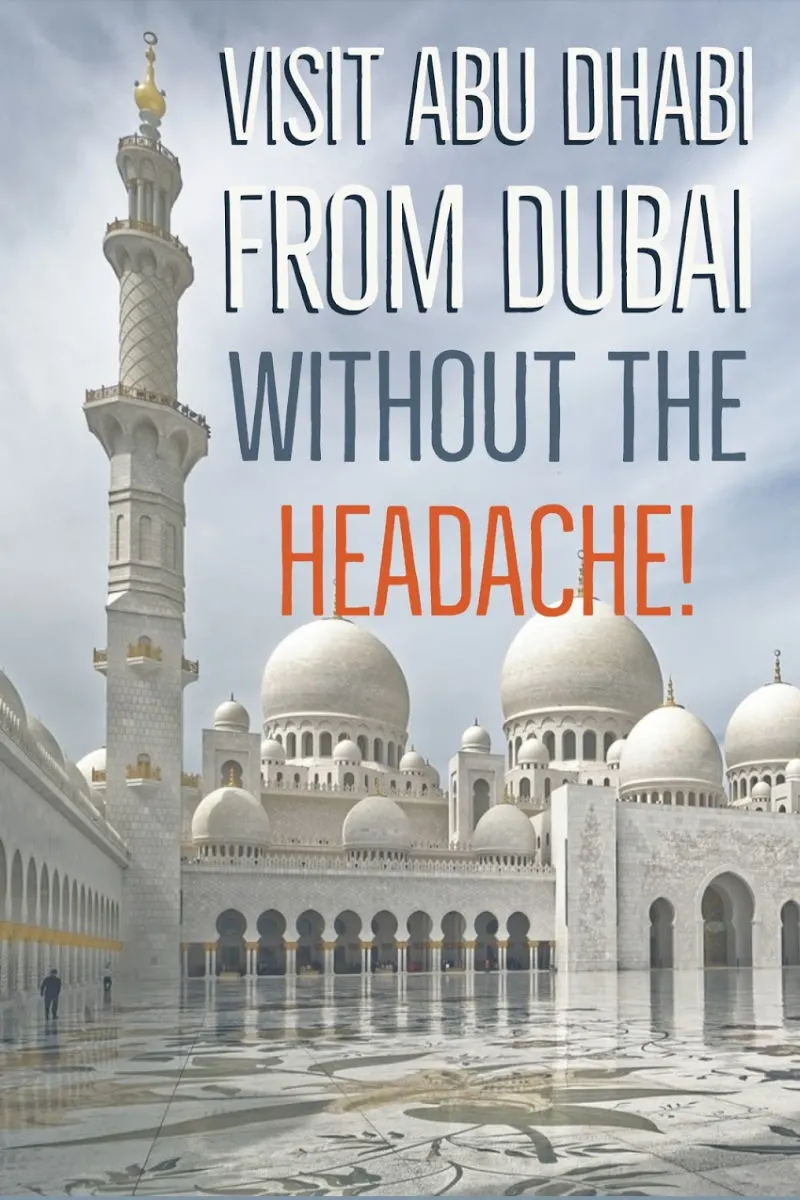 ---
Things to See in Abu Dhabi
Once you get to Abu Dhabi from Dubai, what is there to see and do? A quick guide below.
A good tour of Abu Dhabi can get you to all of these attractions, or just some, with the benefits of a guide and comfortable vehicle. You can browse these tours here and see what is currently available.
---
Hotels At Abu Dhabi International Airport and in Abu Dhabi
If you have an early flight the Aerotel Abu Dhabi and Premier Inn Abu Dhabi International are 2 affordable options close to the airport. If you'd like to compare prices on all hotels in Abu Dhabi to find the best deals, you can do that here.
---
Booking Tours, Activities, and Transfers in UAE
The links below will allow you to book available transfers from Dubai or Abu Dhabi airports, including from Dubai to Abu Dhabi. They will also allow you to learn which activities are available locally.
---
Comparison Tool To Find Best Deals on Hotels in Dubai or Abu Dhabi
Feature currently under maintenance, sorry!
---
Dubai and Abu Dhabi
More information on both Dubai and Abu Dhabi and the UAE, from our site. We're always adding more content!
We hope you enjoy your time in both Abu Dhabi and Dubai. We love visiting the UAE, it's something completely different from our usual travel style and we think Dubai and UAE have a lot to offer. If you want more information on travel to, and things to do in Dubai, you'll need our Dubai Travel Blog page.
If you'd like to hire a car during your stay, use this car rental comparison tool to find the best deal!

We also suggest you take a look at this company to get a quote for all kinds of travel insurance.

Try Stayz / VRBO for an alternative way to find rentals on homes/apartments/condos in any country!