This post may contain affiliate links.
Are you worrying about travelling to Thailand with kids? We can help you with that. If you'd like to dip your toe in the water of Asian family travel, taking kids to Thailand would be my top recommendation. We have been to Thailand with our children 20+ times, each trip has been fabulous and problems have been few. Hopefully we can help you get your family to Thailand. Thailand, we think, is the most child-friendly and family-friendly destination in Southeast Asia, it's also one of the most affordable for families. Thailand is easy to visit and to travel around and offers an abundance of fun things to do for kids and parents to include in your itinerary.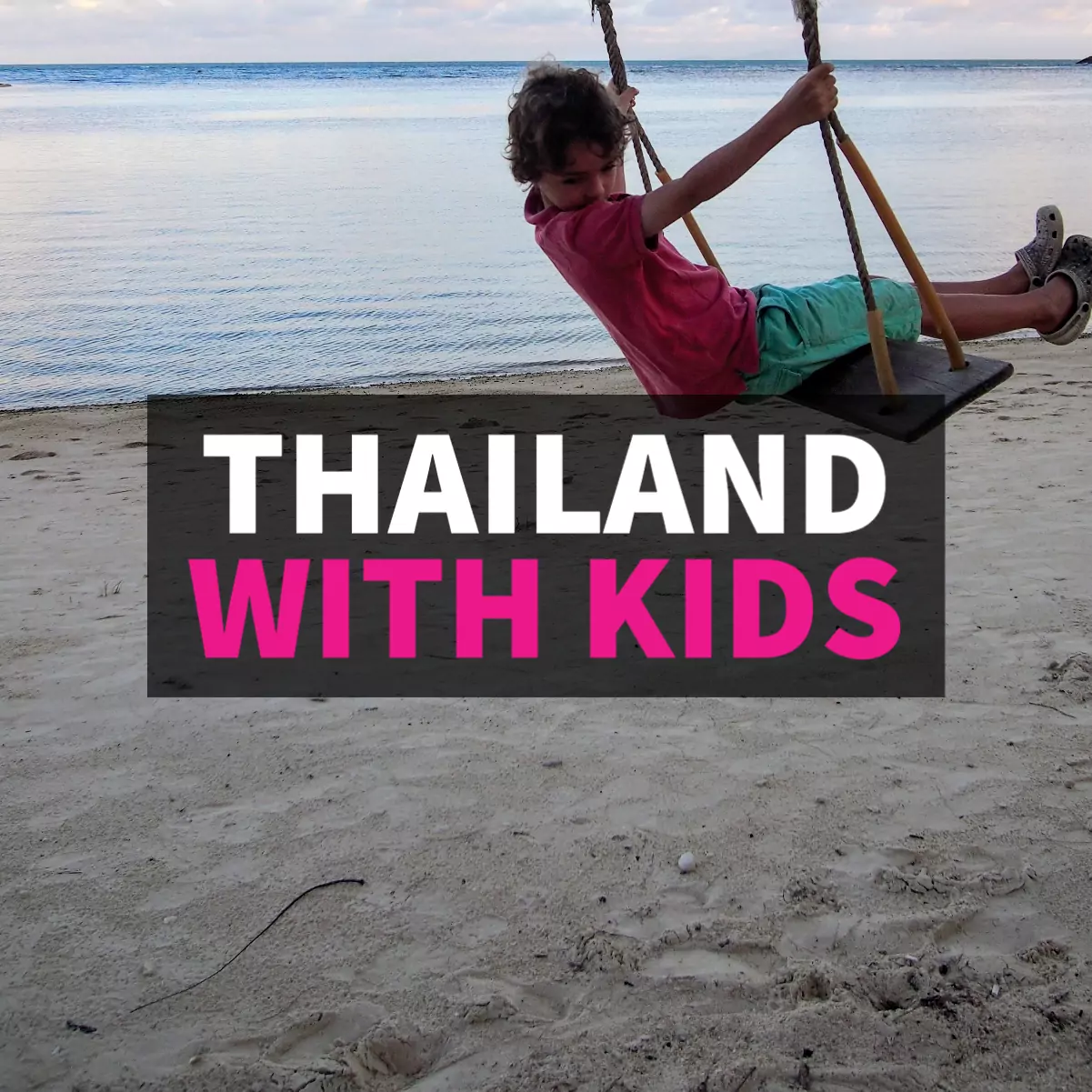 First let me say hi, my name is Alyson, I'm a mum and professional travel blogger. I've taken my kids to amazing destinations on every continent bar Antarctica. Thailand is one of the best destinations in the world with kids. Sometimes I write guides and how-to pieces, sometimes travel stories, sometimes I'm a travel consultant, sometimes just a mum.
Have a look around our site when you're done with this Thailand with kids blog and sign up to follow.
We started taking our kids to Thailand when they were 4 and 6 years old and kept taking them into their late teens. Our pre-kids travel experience meant that we weren't taking a leap into the unknown. We'd spent months in Thailand long before we started a family. Knowing what to expect is always reassuring.
I can see how parents would worry about maybe trying travel in Southeast Asia with kids for the first time. I'm here to try to convince you not to worry. Thailand is a great country, it can be great for you and your kids.
My kids are in the video below, haggling with a vendor on Bangkok's iconic Khao San Rd, washing and feeding elephants, cooking and eating Thai food, kickboxing and generally having fun in Thailand.
Most people who visit Thailand with kids spot that the Thai people really do seem to love kids.
Give it a look. Thailand looks pretty fun, don't you think?
The index further down the page shows you what's in this post, you can click on the items or scroll through as usual. We cover where to go in Thailand, hotels and other accommodation styles, sightseeing, activities, tours, getting around, food. We have everything you need to know before arranging your Thailand vacation.
We think this sort of travel doesn't just make for great vacations, it is an extremely valuable part of a child's education particularly when you hit the cultural and historic highlights. That's just one of the reasons people travel abroad with their kids.
In Thailand, we would recommend towns and cities like Sukhothai (one of the ancient cities), Kanchanaburi (WWII history – The Bridge on the River Kwai), Chiang Mai (walled old city full of temples in the north), Hill Tribe encounters (to learn about the people of this region), Ayutthaya (another ancient city) and Bangkok as starting points in educational travel.
Then there are wildlife and nature encounters, of course there are elephants, tigers, monkeys and more to open kids eyes. You can even visit the hospital in Bangkok to see snakes and learn how they produce antivenom. Try to pick the ethical ways of seeing these animals.
Don't forget the floating markets, the best ones to see aren't the ones that the majority or tourists visit, more on that further down the page.
Then you have beautiful beaches, resorts and islands, from Phuket to Ao Nang Krabi to Ko Samet in the north. We can tell you what a lot of these places are like and which are best for families and kids.
There is so much to enjoy and to learn in Thailand when you start exploring history, culture, climate, ecosystems, agriculture and more. We also have a useful Thailand family travel home page that fills you in on all the nuts and bolts of Thai travel. (click through on the link, it will open in a new tab for you) along with itinerary suggestions to help you simply plan.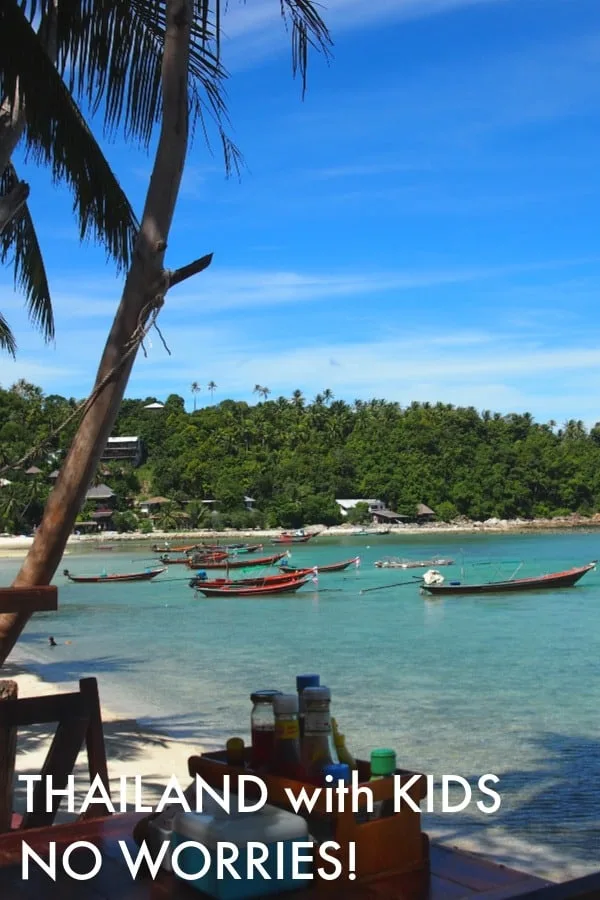 Here are the top reasons not to worry about taking kids to Thailand. We are never paid to recommend particular hotels here, all views are our own.
Thailand with Kids is Easy. Stop Worrying!
Nobody in my family has even had tummy problems in Thailand
That's possibly what parents worry about most I think, the children getting sick. It's true, we've all been fine. We've had rare tummy problems over the years in Laos, Malaysia, Cambodia, India, and Nepal, but never Thailand.
UPDATE: Boo and I had a nasty GI virus in Chiang Mai on a recent trip, our luck ran out. But that's a pretty good track record in dozens of visits.
You have to be careful, obviously. I have seen people get very sick in Thailand. We only drink bottled water, we even clean our teeth with it. It would be better to take a special bottle to purify tap water and skip the heavy plastic consumption while putting your mind at rest. Take a look at these here. (opens in new tab) That link takes you to LifeStraw, but if you want to spend more the Grayl water bottles are all the rage for 2023. See those here. They do pay for themselves.
We do drink fresh fruit shakes with ice, the children have at least one every day. Ice is generally made with clean water but follow your gut feeling on that one.
Occasionally eating salad and garnishes has been fine for us in recent years. Likewise eating at street stalls, they're often where you'll find the best food.
That said, don't scrimp on the travel insurance, my husband once had excellent emergency surgery in Thailand for a sport-related injury, without good insurance cover, it would have been a different story.
Thai food is amazing!
Thai food has to be one of the best cuisines in the world. It's light, fresh, healthy and delicious. If you're new to Thai food check out our Beginners' Guide to Thai Food. It's not all mouth burningly hot, it's cheap and available everywhere.
If you or your children aren't keen on Asian food you will find Starbucks and Mc Donalds, pizza outlets and plenty of mouth-watering fresh fruit to keep even the picky eaters happy.
Is Theft a Problem in Thailand?
We have never been robbed or been victims of pickpockets or card skimming in all the years we have been taking our kids to Thailand.
If you want to be extra safe, purchase an anti-theft bag with a slash-proof body and strap, hidden pockets, plus a strong hook to attach it to furniture while seated. This is our favourite anti-theft large messenger travel bag to keep your family's money safe on your vacation or extended travels in Thailand. For a smaller purse, but safer, look at this one. To keep a small amount of cash in a very secret place, consider a travel safety money belt like this, or a neck wallet for cash in Thailand. Be particularly vigilant in crowded night markets, train stations, buses, and any busy areas.
Thailand with Young Kids, Toddlers and Babies
I would have absolutely no worries about taking a hotel-based holiday or vacation in Thailand with babies or a toddler. For more adventurous travel, backpacking, taking sleeper trains, buses or any style of travel with long distances involved, I'd think twice.
Road safety isn't so great in Thailand. You are going to struggle to find car seats and sharing a sleeper berth on a bus or train with a toddler could be hard.
The problem with toddlers and babies is that they like to crawl around on the floor, touch everything and then put their fingers in their mouths. This would worry me.
You'll probably be able to feed babies and toddlers in Thailand just fine, even if they just eat fruit, fried rice and Starbucks, food shouldn't be an issue.
There are plenty of pharmacies and pharmacists will advise you and sell you many drugs without even needing a prescription. We've used a private Thai hospital on Ko Samui, it was excellent.
Disposable nappies, baby formula and most baby and toddler products are easily available in Thailand. They even have Boots the Chemists in big towns and will stock many products that you are used to.
Just do a mommy risk assessment in your hotel room, check for potential hazards for small children. I'm sure you know which dangers to look for.
Getting Around Thailand With Kids – Child and Infant Car Seats
Regular taxis and minibuses in Thailand do not generally provide infant seats, car seats or booster seats for children.They sometimes don't even have seatbelts.
If you require these extra safety features for your children, consider booking transfers and tours in a private vehicle with driver from a company that can provide child seats if booked in advance. Take a look at KiwiTaxi here, for your airport transfer in Thailand, or private tours in Thailand with an experienced driver and/or guide.
Thailand with Kids – Accommodation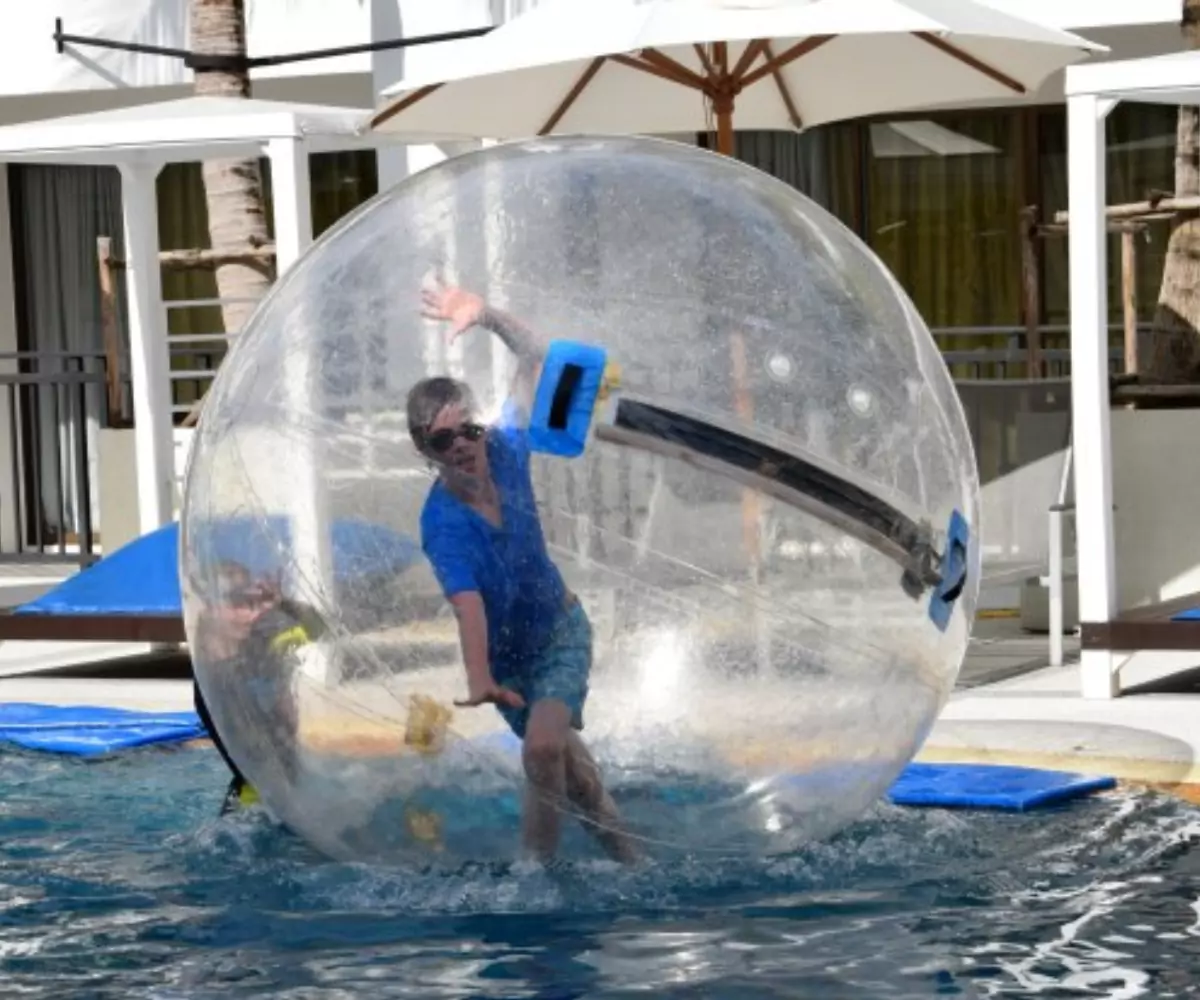 Family accommodation in Thailand is easy to find, often good and are great value. There is no shortage of family rooms and suites, kids' clubs, kids' activities, and fun things to see and do in Thailand.
On a global scale, Thailand has got to be one of the cheapest countries for families to visit. We've paid as little as $12/night in country areas (check out lovely Kanchanaburi for incredibly low prices) or you can pay $500/ night for luxury, it's up to you.
Top-end hotels are pretty affordable and standards are good, they seem to get hotels right in Thailand. Pictured above is the Novotel Phuket Karon Beach Resort and Spa (an Agoda link), you can also see it on Booking.com, it's a dream of a hotel that we used recently, really good for families with loads of facilities, right opposite the beach. Chick through and look at the pools and family suites.
Novotel have plenty of other hotels in various resort towns in Thailand too, try Patong Beach (near Bangkok.)
We recommend checking Hotels Combined if you're serious about finding the absolute best price for your stay. This booking engine compares multiple online booking engines to find you the best deal available. Alternatively, try our interactive Thailand map that shows rentals and hotels side by side.
Hotels.com often has good deals, they tend to be non-refundable but Hotels.com has a cool stay 10 nights, get 1 free feature sometimes.
We also love to use Agoda for Asia as they are the experts for the region and often have a bigger selection, particularly try them for smaller hotels and budget accommodation but they do list luxury hotels, villas and resorts too.
If you're the sort to book a long time in advance, reserving multiple hotels on a fully refundable basis, Booking.com is your friend.
In Bangkok and on the main beaches you will pay more than in Chiang Mai and country areas. For a family of 4 in Bangkok you're looking at around $40 US/night minimum. There are cheaper places, but you'll struggle to find them online.
A favourite of ours in Bangkok for flying visits is Shanti Lodge, a cute, hippy-style guest house near the flower market and river jetty (below)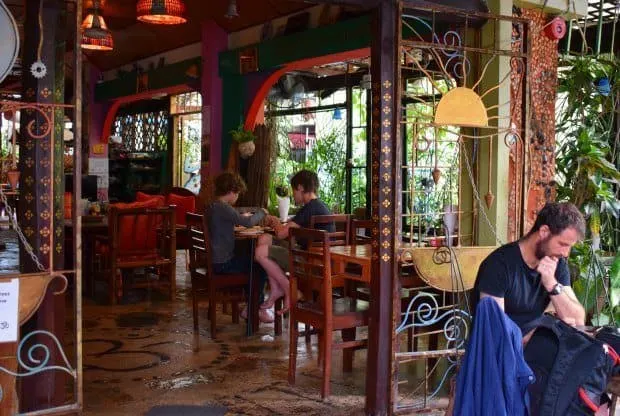 The stunning Anantara Riverside Resort, Bangkok is the ultimate in top-end luxury, yet at $500/night (approx) for a 2-bedroom family suite with breakfast, is still good value.
A more moderate family holiday budget would be around $100/night, for that you can still get a family suite with two bedrooms .Try the Chatrium Riverside Hotel in Silom, one of our favourite areas of Bangkok.
Or have a look at the boutique hotel I picked for my 50th Birthday in Bangkok last year. We took a family room full of old-world Thai charm.
For beaches we enjoy Ko Phangan, where we use Haad Salad Villas, we were there for 6 weeks a couple of years ago and our beach bungalow came in at just $30/night. We're also fond of Ko Samet, the closest island from Bangkok and easy to get to. We've tested out Ko Samui, Phuket and Krabi for you too.
Further Reading:
Some people swear by AirBnB for family travel. We've used them with decent results in London and the Americas, but never in Asia. I think if I were looking for an apartment rental I'd use Booking.com or Agoda for convenience and peace of mind in Thailand. Use the special map we made for you. It can compare different hotel and apartment providers side by side, it make choosing your hotel really easy!
Thailand with Kids, Things To Do
Obviously, there are beautiful beaches and pools to keep your kids amused in Thailand. There are also resort hotels with kids' clubs, babysitting and play facilities.
You can also visit zoos and aquariums, playgrounds and theme parks, Thailand has plenty of kid-friendly fun family attractions depending on where you are.
We enjoy visiting temples, palaces, and ancient cities and there is no reason not to do this with kids so long as the children stay hydrated, well-fed and rested.
Your days may have to be shorter and rest stops more frequent but our kids love running around exploring interesting sites and they've always been made welcome by the Thai people.
We've taken our kids to cookery classes from about 8 years old and they've interacted with elephants and snakes at ethical animal attractions.
You won't be short of things to do in Thailand with kids, it's probably the best set-up country in South East Asia for family visitors.
Thailand with Kids, Food
If your children are picky eaters, they should be fine in Thailand.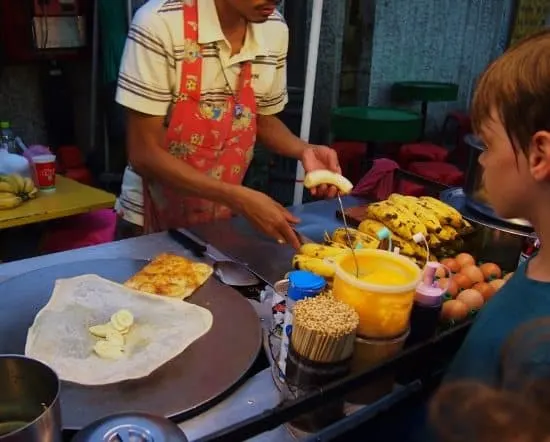 It's not just Thai food. Western food is available too. Kids can stay pretty healthy and eat well on simple foods like eggs, fruit, cheese toasties and chips.
Cheese is patchy, admittedly, dairy is thin on the ground in South East Asia because it's just not a big feature in an Asian diet. Processed cheese appears more regularly than the real stuff.
My boys enjoy banana chocolate roti, fried bananas and sweet potato balls from street vendors as well as the gentler Thai dishes, chicken with vegetables, chicken with cashews along with soups like tom ka gai.
Thai food isn't always spiked with masses of chilies.
It seems there is a 7-11 convenience store every few paces in the tourist hubs of Thailand so you should never be too far from an emergency yoghurt, juice or Milo. There is Mc Donalds, Starbucks, and KFC if your kids need that sort of thing.
Thailand is Not All Sleaze.
Yes, there is a big sex industry in Thailand. Yes, western men visit to pick up Thai girls and yes, you will see a lot of ladyboys. None of the above has ever really bothered us in the slightest in all of Thailand except Patong in Phuket.
If you stay away from the sleazy areas you'll be fine. You will see ladyboys, but most are so good the kids won't even realise, if that bothers you. My husband doesn't even realise most of the time.
I'd warn family travellers to stay away from Patong, it was too sleazy for us but the beach looked nice.
Thailand is Not All Drugs and Full Moon Parties.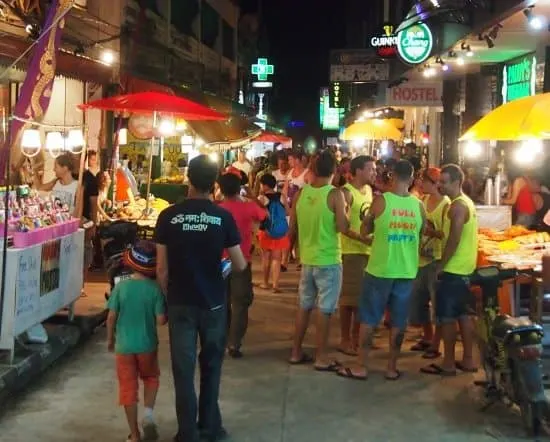 Thailand has long been a big draw for the gap year kids and there is a big party scene to match. As with the sex trade, if you stay away from the party scene, it won't bother you at all. We actually took our kids to the full moon party on Ko Phangan, just for the experience, early in the evening. It was fun!
It was on the other end of the island and didn't disturb our six weeks of heaven on Ko Phangan at all.
Getting Around Thailand with Kids is Easy.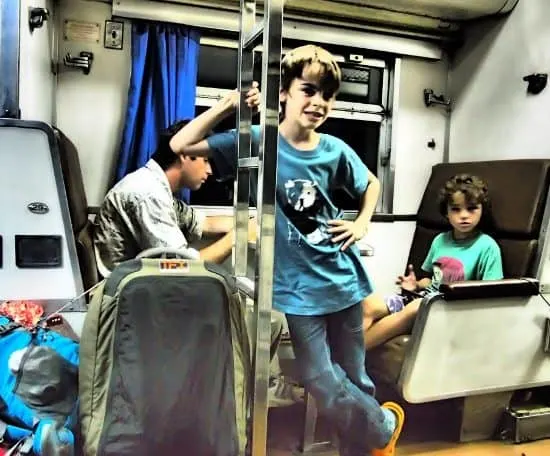 The train from Bangkok to Chiang Mai is a must-do classic if you have the time and sleeper trains in Thailand are fun. I'm very happy to take my children on them. Admittedly, I prefer to share a bottom bunk with them than let them sleep solo up top, although they have done that and all has been well.
The-air con carriages were shut at night and there was an attendant on duty making it pretty difficult for anyone without a ticket to wander through.
There have been issues in the past causing alcohol to be banned on these trains. We feel safe enough on them, but you make your own call.
I have a post about travelling on Thai trains here, plus a few more in the Thailand archives. We've had good experiences with buses, taxis, river boats and tuk-tuks. You won't find car seats unless you go out of your way to find them. We never have. Or simply book a car with car seats or baby seats via KiwiTaxi.
The roads in Thailand are dangerous and that can be concerning.
Always haggle with tuk-tuk drivers, always find a taxi driver with a meter. More tips on getting around Thailand coming soon.
It's a good idea to order an eSIM for Thailand, it will save you time to not have to buy one at the airport and with kids that's always a good thing. Do that here. Google maps will be your best friend for finding your way around in Thailand. If you have an older phone, you can buy a SIM card in 7-11 stores in Thailand.
We've even hired cars and road-tripped around northern Thailand and Phuket. The 3 times we've done this we've loved the experience. Find the best deal on car hire in Thailand using DiscoverCars (here). It's probably not the best idea to put your kids on the back of a scooter though. Road death rates are high in Thailand.
Thailand is beautiful. The Thai people love kids, the history, culture and architecture are amazing and the beaches are often superb.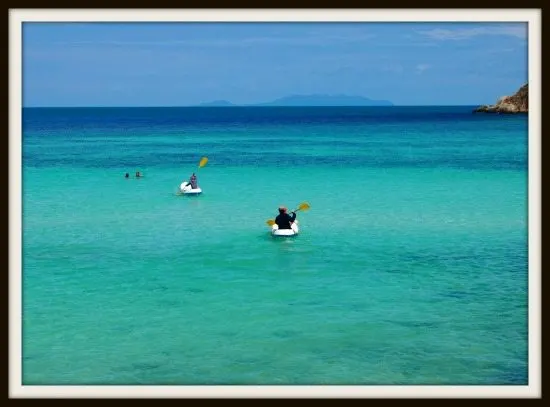 Thailand is an amazing country.
Breathtakingly beautiful temples and palaces, rich culture and lovely beaches. The Thais really do love children and they constantly made a fuss of my curly-haired little one. The kids can get fed up with it sometimes, maybe teach them to say no.
Always remember when you travel, that most people are just like you with families that they love. They're usually there to help you, not harm you.
Further Reading
Guide Book for Thailand With Kids
Don't forget your guidebook, we always use Lonely Planet, they're a good read and allow you to learn about the history, culture, food and customs of a country before you visit.
We tend to book our tours online, find our review of GetYourGuide for tours, activities and transfers here.
We hope you found our look at Thailand with kids and for families useful, we have loads more content on our travel blog including a suggested Thailand itinerary. Thailand can be great with kids, but if you're looking for something different, maybe for a family holiday, also consider Vietnam, it's arguably easier, often cheaper and the Vietnamese people and food can be equally fantastic.
If you'd like to hire a car during your stay, use this car rental comparison tool to find the best deal!

We also suggest you take a look at this company to get a quote for all kinds of the more tricky adventure or extended travel insurance.

Try Stayz / VRBO for an alternative way to find rentals on homes/apartments/condos in any country!