It's hard to know where to stay in Bangkok and finding family accommodation in Thailand's vibrant capital is harder still. We're hunting for the best family hotels in Bangkok at every price point, budget guest house, hostel, mid-range hotel and luxury resort because we travel all ways. Many hotels cater for singles and couples, but we've searched for the best hotels with family rooms or suites, tried many, and can share our reviews and recommendations here with you.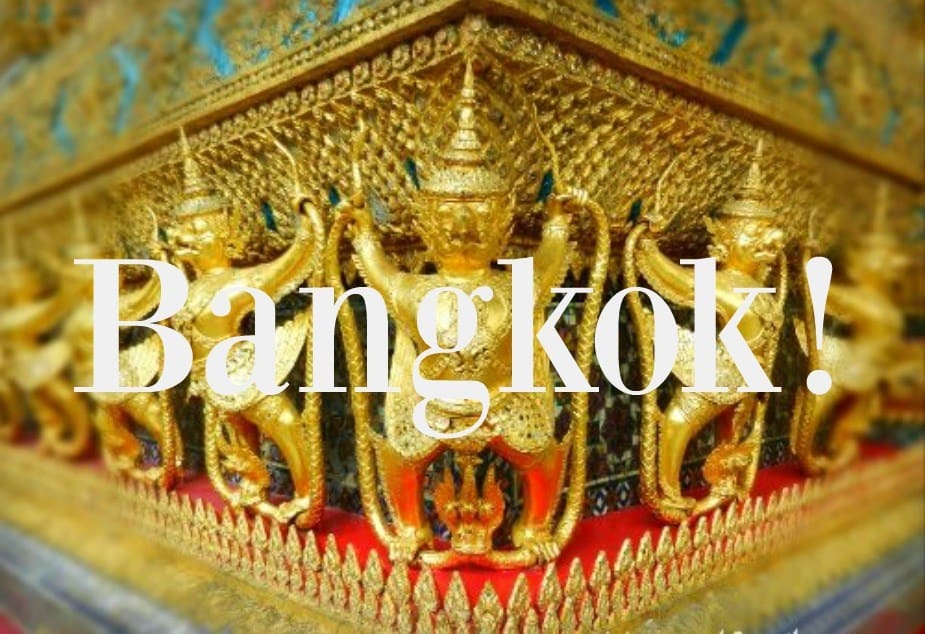 ---
Family Hotels Bangkok
We've found hotels with family facilities and the family-friendly establishments from budget to luxury.
We list family-friendly hostels that have private family rooms here too, they are often a good choice and there are a couple that we use regularly for short stopovers.
Modern hostels can be swanky and up-market, don't rule them out.
We also include some of the best 4 and 5-star hotels and resorts that cater to kids and families.
We travel to Bangkok often, so this page is constantly updated with new finds and new hotels.
The video below features a couple of interesting places to visit near Bangkok.
---
If you'd like to book a trip to floating markets from Bangkok, most visitors go to Damnoen Saduak (book here for an easy, best price tour). You can arrange for a tour to pick you up from your Bangkok hotel. However, there are better floating markets just a little further from Bangkok. We suggest you look at Take Me Tour which are a local company and we loved the tour we took with them, or try this tour to Maeklong and Amphawa, as you can see in the video above. Now back to those child-friendly hotels!
To save you a long read, our favourite hotel in Bangkok for families is this one, see it on Agoda here. It's comfortable, won't break the bank, and is luxurious enough for a family stay. It also has child stays free deals!
---
---
What We Look For in Family Hotels in Bangkok
Room for 3, 4, 5 or more people. When the children were younger this could involve a 1 child stays free deal in a triple room, these days we need 4 beds for our family. 1 child stays free deals can go up to 10-12 years, but around 6-8 is the usual upper limit. (The hotel in the link above has these deals on rooms and family suites)
1 room, suite, or apartment with 1 or 2 bedrooms. Having the children in another room down the corridor just doesn't work and feels unsafe, always go for a family room or suite.
A good location. Either within walking distance of main attractions and dining or near the river and the water taxis. We rarely use the BTS, it doesn't go to the locations we are interested in. Metered taxis are very easy to find and very cheap. Tuk tuks are usually more expensive but do take a family of 4 plus luggage.
Good Wi-Fi. Essential for all of us.
Included breakfast is a nice luxury to have if the breakfast is good, otherwise a street breakfast is easy and cheap to find.
Air-Con. Going without air-con in Bangkok is possible, we've done it, but most would rather pay a little more to be comfortable.
Not too much noise. We once slept next door to a club, never again!
A private bathroom is nice, but many hostels have shared facilities. If these are clean, modern and good, that property makes it to our list.
A good reputation. Yes, we look at scores and reviews, but we know how to spot the fake ones. If we see credible people commenting on dirty rooms or bad wi-fi, (worse still bed bugs, but these are incredibly rare. We've had one experience in 4 years of travel and it wasn't in Thailand) we won't go there. Be aware that a lot of reviews on Trip Advisor, Agoda, Booking, Expedia etc are fake. You have to use some judgement on which to believe.
---
How to Find and Book the Best Deals and Special Offers on Bangkok Hotels
Agoda are the Asia specialist booking site and we use them regularly with great results. Because they are local they tend to have a wider range of properties and can source good deals.
You should also check Hotels Combined , this is a hotels comparison website, they will find you the best deal for a hotel across multiple websites.
Booking.com work fine for Bangkok too, they often have fully refundable deals if that is what you are looking for.
---
---
Best Family Hotels in Bangkok, Including Hostels, Guest Houses and Resorts, by Area
What to expect to pay? You can find a family room, of a decent standard from just under $50/ night.
At this price you probably won't get breakfast and a private bathroom would be a bonus.
On the ground, on foot, you may find it cheaper but for the peace of mind of booking in advance, this is about the minimum.
Obviously, the sky's the limit, prices go up and up to thousands of dollars per night. The properties I'm including here go up to around $500/night for real luxury stays.
You will find lower prices outside Bangkok, for example Kanchanaburi or Chiang Mai.
If you're touring Thailand with kids you absolutely must spend a few days in Bangkok, don't think it's just a big city revolving around shopping, there are a million fascinating, cultural and fun things to do here.
---
Near Kao San Rd. Area, Bangkok, Close to River, Palace and Wats.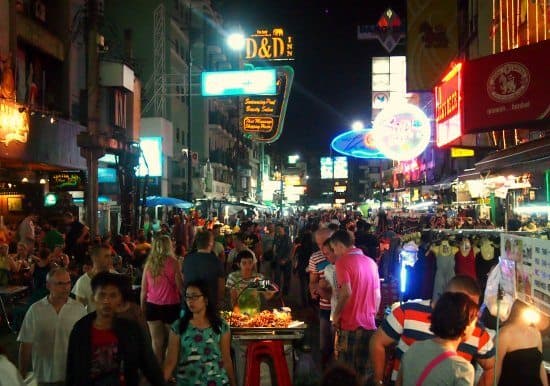 This has been a favourite area of Bangkok for a long time, for singles, couples and families.
To be in the thick of the action just steps from the iconic Khao San Rd and within easy reach of the Chao Phraya river and water taxis, Rambuttri Rd or next along, Thanon Thani are for you.
Both streets run parallel to Khao San. This area is loads of fun for kids and adults in the early evenings, it's just buzzing with fun and you'll never go short of food or shopping.
Later at night, it can get too crazy for kids. It's very much a love it or hate it sort of place.
My family loves it, it's an aspect of Thailand you have to experience.
Even without the vibrant activity on Khao San Rd, this is a good area to be based for exploring Bangkok.
The Rambuttri Village Inn and Plaza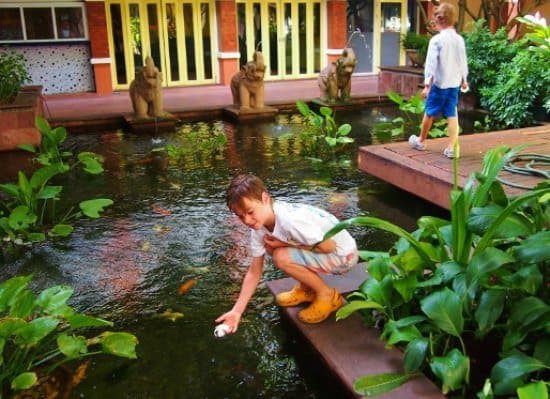 Rambuttri Village Inn has a rooftop pool, a swanky new extension, an inner courtyard with fish pool and is affordable.
We had a room for 2, 1 young child stayed free, but they didn't have rooms for 4 at that time.
Older families can book 2 rooms. Step out of the door and you're immediately in the throng of food stalls, street vendors and restaurants, but because Rambuttri is set back, there is no street noise that I recall.
Check Prices and Availability for Rambuttri Village Inn & Plaza on Agoda here, on Hotels Combined here.
The Secret Service Hotel

Secret Service has a "very good" Agoda 8 and free WiFi. It has 4 bedrooms and good ratings and is on Thanon Thani, the next road over. Around $50
Check Prices and Availability for The Secret Service on Agoda here, on Hotels Combined here.
The Rang Kha Mhin Home Stay
This small hotel, a few doors up from the Secret Service scores 7.9, again free WiFi. Again around $50 but sleeping arrangements my not be ideal for you, bunks and 3 singles, one child under 12 shares and stays free.
Check Prices and Availability for The Rang Kha Min on Agoda here, on Hotels Combined here.
Shanti Lodge, Khao San Area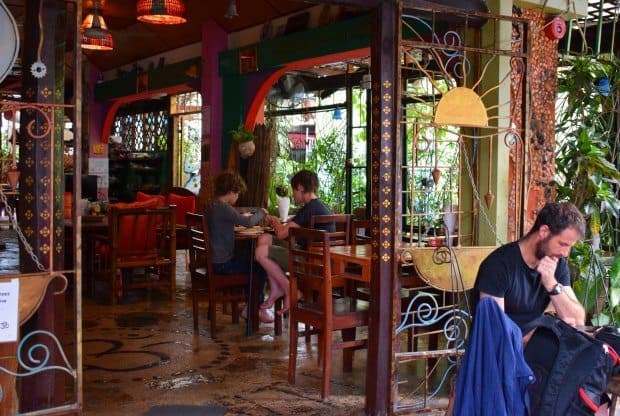 This place, Shanti Lodge, is our new budget favourite on this side of Bangkok (and this is the part of Bangkok we'd recommend).
It's a proper, backpacker's guest house, beautiful, well run, spotlessly clean and with bags of charm.
It's on a quiet street just steps from a river jetty and next to the flower market.
Walking to Khao San Rd. takes about 10-15 minutes depending on you. We love it!
We had a room for 4 people, 1 double, 1 bunk bed and it was the cheapest place we'd stayed for a long time, under $40.
We also took 2 twin rooms on another stay, side by side. These were way more "budget" in feel, shared bathroom, and cost slightly less.
The shared bathroom/showers are the cleanest and most pleasant I have ever seen. This is the one we'll use from now on when we're passing through.
Check Prices and Availability for Shanti Lodge on Booking.com here
Sourire at Rattanakosin Island Hotel

This one is a little further away but still in walking distance of Khao San Rd.
It gives you breakfast and two double beds. It's probably too far to walk to the river from here for kids, but a tuk-tuk would be easy. It's a little more expensive at around $60.
Check Prices and Availability for Sourire at Rattanakosin on Agoda here, on Hotels Combined here.
The Old Capital Bike Inn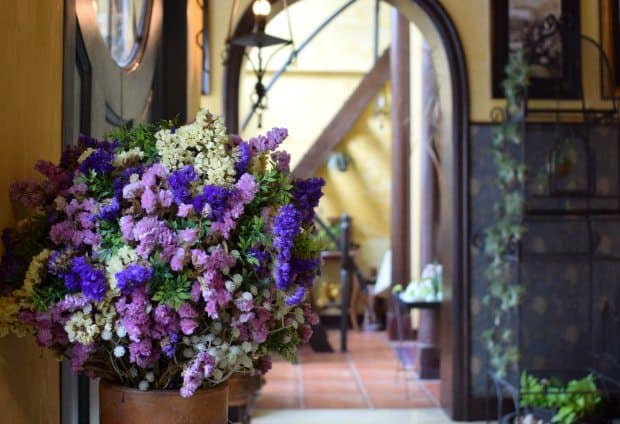 The Old Capital Bike Inn is an absolute gem.
The family suite is divine, the breakfast is superb and the location is perfect.
It is within easy walking distance of Khao San Rd area but in a much more up-market street with good food options.
It's also close enough to walk to the river.
If you're looking for amazing, quirky decor, a touch of luxury and an old Bangkok feel, this is one to try.
They also offered complimentary vintage bike tours of the old town area.
The Old Capital Bike Inn have a selection of rooms and suites for honeymooners and families. Breakfast is included. This one costs around $180 /night for a very special family suite.
We picked this one for a birthday treat, it exceeded our expectations and Jason, who runs this hotel, is incredibly helpful. A full post on this hotel is here.
Check Prices and Availability for The Old Capitol Bike Inn on Agoda here, on Hotels Combined here.
I can't find anything in the Khao San area with 4 beds and a pool.
Round Up:
$-$$

The Rambuttri Village Inn and Plaza on Rambuttri Rd. Bangkok no 4 bed rooms but has a pool

$-$$

The Secret Service Hotel 2 adults 2 kids

$-$$

The Rang Kha Mhin Home Stay 2 adults 2 kids

$-$$

Sourire at Rattanakosin Island Hotel includes breakfast, 2 double beds
$$ The Old Capital Bike Inn

includes breakfast, a luxurious family suite
---
---
Riverside. Bangkok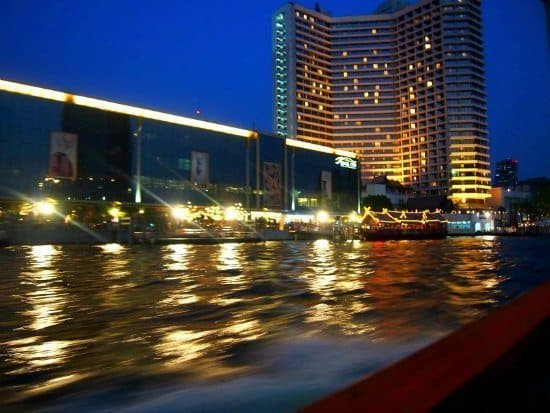 The stunning Chao Phraya River river is abundantly supplied with large 5 star hotels, often with rooftop pools or bars, some of the most prestigeous and best family hotel Bangkok can offer, are here.
Family suites and family apartments are common in these family-friendly hotels.
Chatrium Hotel
Chatrium Hotel will only cost you just over $100/night for a family suite with 2 bedrooms. That's great value! Pay a little more here for stunning river views and breakfast.
Check Prices and Availability for Chatrium Riverside on Agoda here, on Hotels Combined here.
Lebua at State Tower

If you're looking for a luxurious riverside 5 star at a higher price point, the Lebua at State Tower will give you a stunning 2 bedroom executive suite for under $400. This one is in Silom, near the BTS and overlooking the river. A dream of a hotel!
Check Prices and Availability for Lebua at State Tower on Agoda here, on Hotels Combined here, on Booking.com here.
Anantara Riverside Bangkok Resort
If you want to avoid the modern tower blocks, this traditionally Thai, but modern, luxury hotel is for you.
Again, it's right on the river and has any number of pools, restaurants and bars. A 2 bedroom family suite with breakfast comes in at just over $500 at Anantara Riverside .
This one has the full "wow!" factor and is arguably the best family hotel in Bangkok.
Check Prices and Availability for Anantara Riverside on Agoda here, on Hotels Combined here.
---
---
Chinatown. Bangkok
Close to the Palace and Wat Pho ( the reclining gold Buddha, my kids' favourite Wat) is Chinatown.
Feung Nakorn Balcony
The Feung Nakorn Balcony will give you a Grand Suite for 4 people with breakfast, at just over $100. This is another place that we really like the look of, it's design and good food reputation make it one of the properties we will be using during our coming Bangkok trip.
Check Prices and Availability for Feung Nakorn Balcony on Agoda here, on Hotels Combined here.
$$-$$$ Feung Nakorn Balcony a grand suite, includes breakfast
---
---
Silom. Bangkok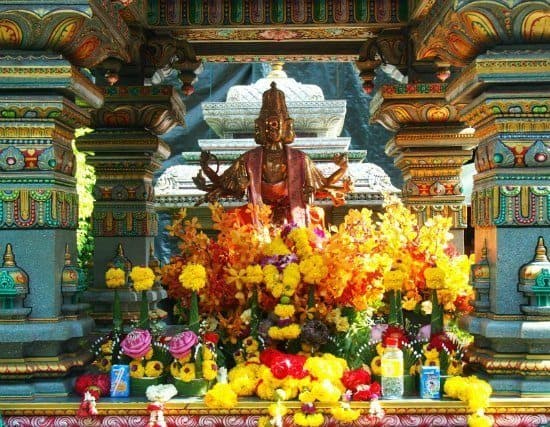 We often stay on this side of Bangkok these days, partly because we like this hostel (Mile Map Hostel ), partly because we like the atmosphere and reduced tourist numbers, making street dining more of an authentic experience.
The BTS and river taxis are nearby. We have a full post on the advantages and disadvantages of staying in Silom in: Where to stay in Bangkok? Try Silom.
Mile Map Hostel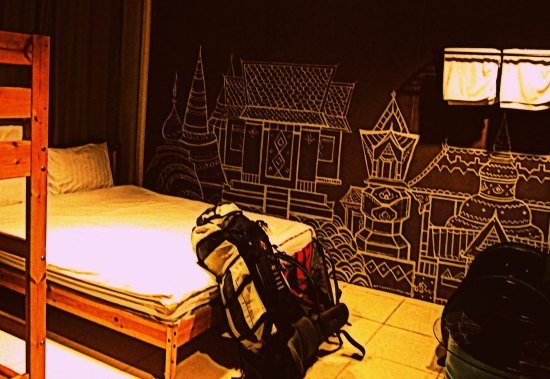 Mile Map Hostel has 4-bed family rooms, with shared, immaculately kept, modern showers.
There is a kitchen and plenty of areas to sit, relax and enjoy. It's a nice neighbourhood, plenty of authentic, cheap street food and a magical Hindu temple on the corner.
Walk to the river to get water taxis to the big tourist sites or Khao San Rd, they're dirt cheap and lots of fun. There are good vegetarian food options nearby and lots of coffee shops.
Check Prices and Availability for Mile Map on Agoda here, on Hotels Combined here.
Round Up:
$-$$ Mile Map Hostel, Silom, Bangkok modern, functional 4 bunk family room, very clean.
---
for you, for Pinterest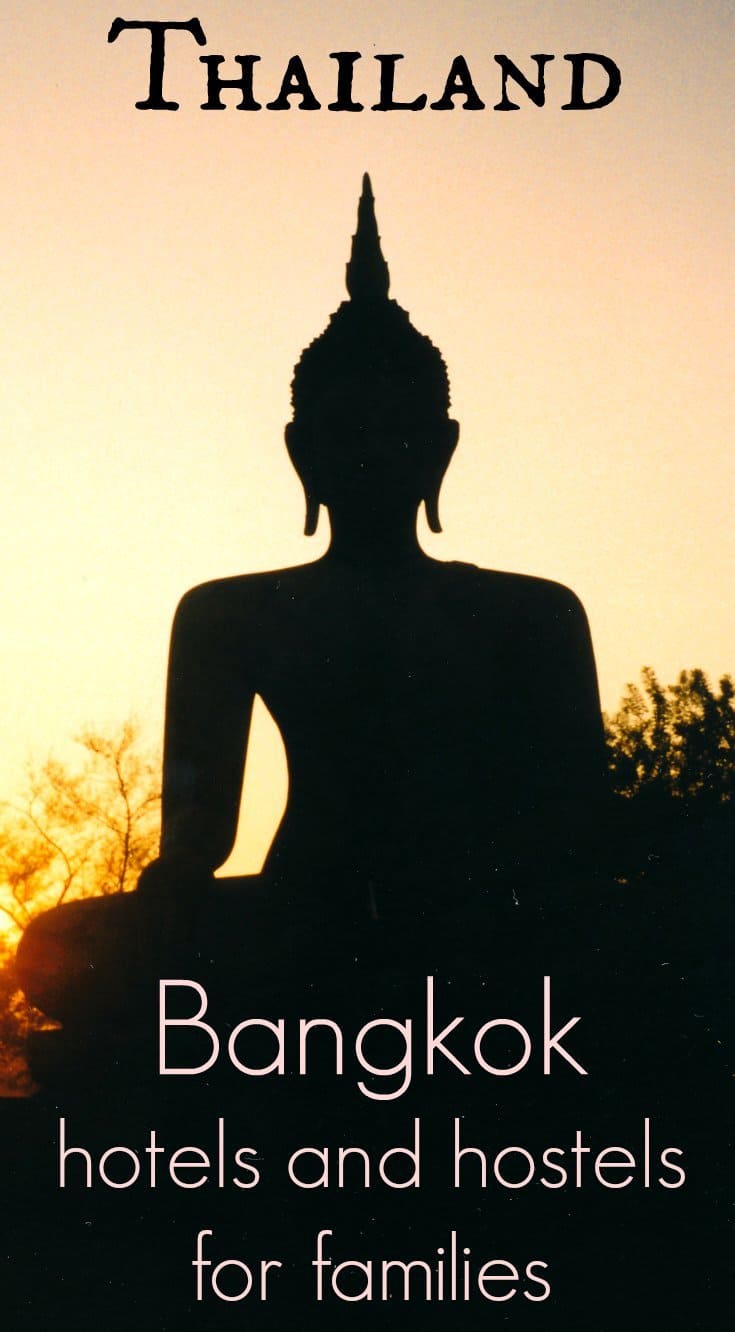 Back to our main travel in Thailand page for more information on Thailand vacations and travel in and to Bangkok. As I said above, we travel to Bangkok often ( over 20 times now) and each time we like to try a new family friendly hotel as well as returning to our tried and tested favourites. We hope you find our information on the best family hotels in Bangkok useful and enjoy your stay in this incredible city.
If you'd like to hire a car during your stay, use this car rental comparison tool to find the best deal!

We also suggest you take a look at this company to get a quote for all kinds of travel insurance.

Try Stayz / VRBO for an alternative way to find rentals on homes/apartments/condos in any country!