We've done our share of driving across Europe in the last 18 months. We've done it 3 times now, from London, to Romania and back again. The first time it went pretty well and I posted about that Europe road trip here. The second time we were caught in the middle of a crazy heatwave causing us to gently poach in our own juices thanks to non-existent air-con. Eventually, we broke down in the Czech Republic and bagged a lift in a police car, still smiling, before limping home to London with the aid of magic starter spray. The third time, this last week, it was horrible as every possible adverse road condition conspired to delay us. I'm never driving across Europe again.
Then again, I always change my mind as time softens the edges of bad experiences, so who knows. Budapest and Prague plus a lovely little town in the Czech Republic gave us some very happy memories despite the long driving days.
It's a big drive, 1500 miles, 2250 Km Passing through the UK, France, Belgium, Germany, Czech Republic, Slovakia, Hungary and finally Romania.
8 countries in 5 days. It sounds exciting I guess, but the reality of mile after mile of boring featureless motorways, crazy driving, accidents, traffic jams and this time, rain cutting visibility to zero, is far from enjoyable.
For a roadtrip accross Europe, passing through multiple countries, you can purchase a 1 week, 1 month or multiple months eSIM for Europe, cheaply and hassle-free, here. These eSIMS are also available for most countries and regions.
It seemed that every day our predicted drive time would be 3 hours less than reality as we ran into problem after problem.
But hey, at least we didn't break down this time!
But, as always there were highlights and good times, I can share those with you now. Budapest was so stunning that I think it's worth driving 1000 miles just to see the Danube by night.
If you scroll down to the bottom I'll also tell you about the tolls and vignettes that you'll run into driving across Europe.
Prices below in GBP will seem high, that's because the pound is at a 31 year low in the post-Brexit mess.
It's shocking how much more expensive life is now for people packing pounds
Europe Road Trip, Highs and Lows
White Cliffs of Dover and the Ferry Crossing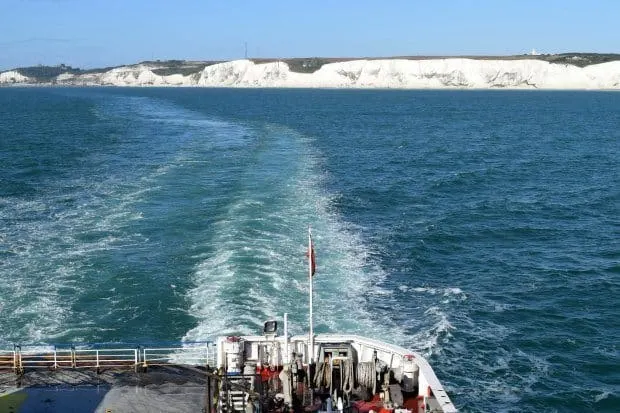 A glorious sunny morning gave us a picture postcard view of the white cliffs of Dover. It was good to be back on the road again
We paid £34 for the ferry and booked online a few days in advance. You can book ferry tickets from the UK to France here.
We've previously bought a ticket at the ferry port but pre-booking saves you money.
The ferries are always good and we take whichever ferry line is available.
The ferry is cheaper than the tunnel, but takes longer.
Pick less popular ferry routes for lower prices but a less frequent service.
A Self Cleaning Toilet Seat in Germany
France and Belgium were nondescript and traffic was bad.
Germany gave us our first highlight during a stop at a motorway petrol station for machine coffee and sausage-based sustenance.
Our 0.70 Euro bathroom visits brought us a new experience, a toilet seat that rotated and self-cleaned during the flush. Genius!
The pay-to-enter facilities took contactless credit card payments, luckily as we weren't carrying any Euros.
We have a bank account with zero banking charges throughout Europe, the UK's Metro bank, it has our recommendation.
Family Budget Hotel in Bonn
Nothing much to tell here but the B&B Hotel chain is a good family choice with dozens of hotels in Europe.
They give us big rooms, a bunk bed and a double bed, good wi-fi, parking, and a decent shower room.
We like the cool decor and this Bonn hotel makes a good place for us to break up the drive across Germany.
We paid £65. Check out this hotel here.
A Night in a Small Town in the Czech Republic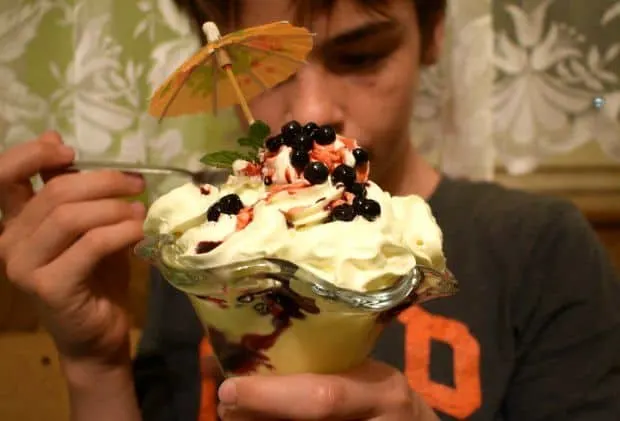 We were travelling on a bank holiday weekend so our plan to stay in Prague on that Saturday night was quickly scrapped when we saw hotel prices.
If you can avoid a trip like this on a weekend or holiday period, do so, our hands were tied by an event we had to attend in the UK.
There was nothing available under $300 around Prague at all, everywhere was full and prices were at the max.
We decided to stop instead in a random town about an hour past the Czech Republic/ Germany border.
Our room was actually a large suite, we had an amazing dinner and a substantial breakfast included.
We paid around £60. It was lovely driving around small towns with ancient crumbling architecture in the Czech countryside.
If we could do the whole journey on back roads, escaping motorways completely, this trip would be a lot more enjoyable.
Prague and a Family Friendly Hostel
Prague is always stunning, even in the rain. We were in a hostel kind of mood so gave Hostel Elf a try.
The room was large and pleasant, toilets were clean and the free breakfast was good involving cheese, cucumber, and processed meats along with the usual hostel toast.
It was an easy walk into the old town and we loved re-visiting Prague, even in the rain.
This hostel has a reputation for being very social but unfortunately, we were asleep too early to find out. The reception staff were very welcoming and helpful, always a relief when you arrive with kids.
There was no noise at night other than from the road. We paid £45 and likes Hostel Elf
Budapest and the Best Family Apartment EVER!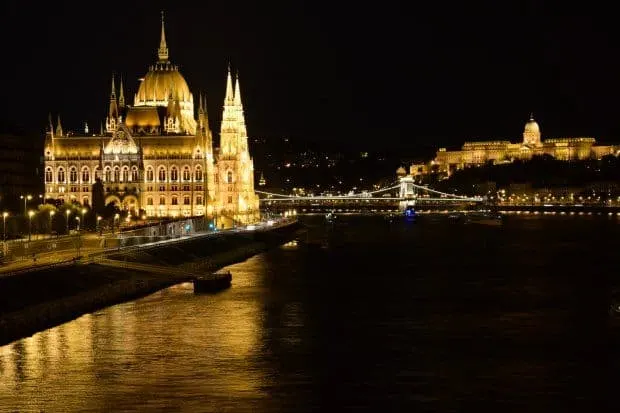 There is a huge motorway loop that skirts Budapest and it seems to go on forever so this time we decided to cut right through the middle of Hungary's capital and break our journey there.
I spotted a cool-looking family apartment allied to a hostel and it was fabulous!
The award-winning main Aventura hostel is a few doors away, this family apartment is separate and self-contained.
Superbly equipped, it even has toys for small children.
The hostel is very close to Budapest's rail station too, so great for train travellers. The best accommodation we could possibly wish for and a short walk from the magnificent Danube and Budapest's stunning night-time skyline.
We loved everything about this experience and will certainly be back to see more of Budapest.
We paid £45
Home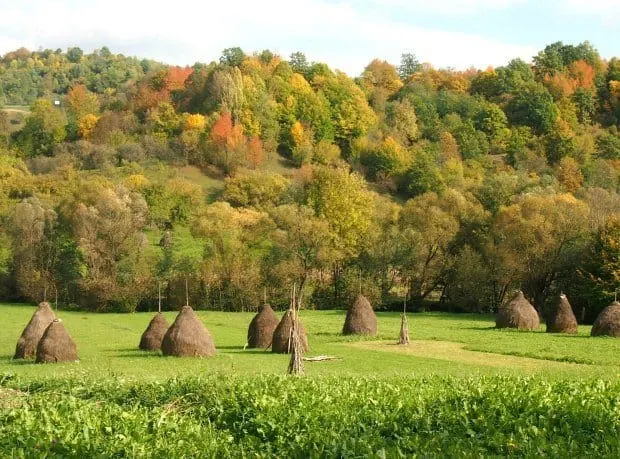 Past Budapest the traffic dies down as the motorway continues to Ukraine. It's a good road and quiet at last.
In the far north of Hungary we take a right turn and drive through villages to the border.
Country Hungary is almost indistinguishable from Romania, but when we finally hit Maramures haystacks and horses start to appear and we all breath a sigh of relief.
We're home.
Quiet horse-cart roads, hills and mountains clad with russet trees, the last of summer's red apples, sheep, goats and Romanian shepherds. Back to the country, back to our quiet place.
For a few weeks at least.
Vignettes and Road Tolls
France, Belgium and Germany gave us no road tolls at all.
For the other countries we had to buy a vignette. These are available just past the border crossings and usually at gas stations.
We buy the Hungary vignette online since being fined the first time I drove through for not buying my vignette soon enough. It hurt to have to pay twice.
You don't need a vignette for all roads in the Czech Republic, first time around I used smaller roads and didn't require one.
Slovakia 10 Euros
Czech Republic 11 Euros
Hungary 10 Euros
We use a free offline GPS service, Offline Maps.
It's not as good as Google maps, but we don't buy local SIM cards as we go, so it does the job.
We also have a huge Europe road map, A recent Road Atlas Europe is essential, that has been travelling with us for a while and takes up the slack if we run into problems.
I'm Never Doing This Road Trip This Way Again
Of course, I may have to, an emergency could force us to dash across Europe by car again. Stuff happens.
This time we were in a rush, we extended our time in the UK for a young friend's birthday which meant having to get back here fast before our coming trip to Thailand.
We never intended to spend the whole summer in the UK, but my health and ongoing car repairs had us firmly grounded.
Through choice, I'd make this journey a far longer one, avoid motorways and seek out small towns as well as the big draws of Prague and Budapest. You really see nothing of a country from an autobahn and there is so much beauty to find in Europe if you are free to wander. A road trip is best enjoyed at a leisurely pace with time to stop where you please, eat where you find good local food and soak up the changing scenery.
If you'd like to hire a car during your stay, use this car rental comparison tool to find the best deal!

We also suggest you take a look at this company to get a quote for all kinds of travel insurance.

Try Stayz / VRBO for an alternative way to find rentals on homes/apartments/condos in any country!