This post may contain affiliate links.
A reader asked me to post about our European road trip costs, so we collected the data, saved every receipt and collected all the information you need on driving around Europe for almost 2 weeks into this post. We have petrol ( diesel) costs for all of the European countries we visited, road toll charges, vignette costs and regulations as well as hotel, some food and attraction prices. You'll see that travelling by road in Europe is an expensive business. Italy, in particular, cost us a lot with high road tolls and high fuel costs but it was fun and we saw some highlights of Europe along the way. We drove through Romania, Hungary, Slovenia, Italy, France and finally the UK, to London, we took 12 days and it is most certainly cheaper to fly than to drive across Europe. We hope you find all our hard work in collecting these costs and prices for a European road trip useful. We were driving a large 4×4 diesel truck, so prices are for diesel and our apologies for not documenting every meal or snack, but we got the big expenses.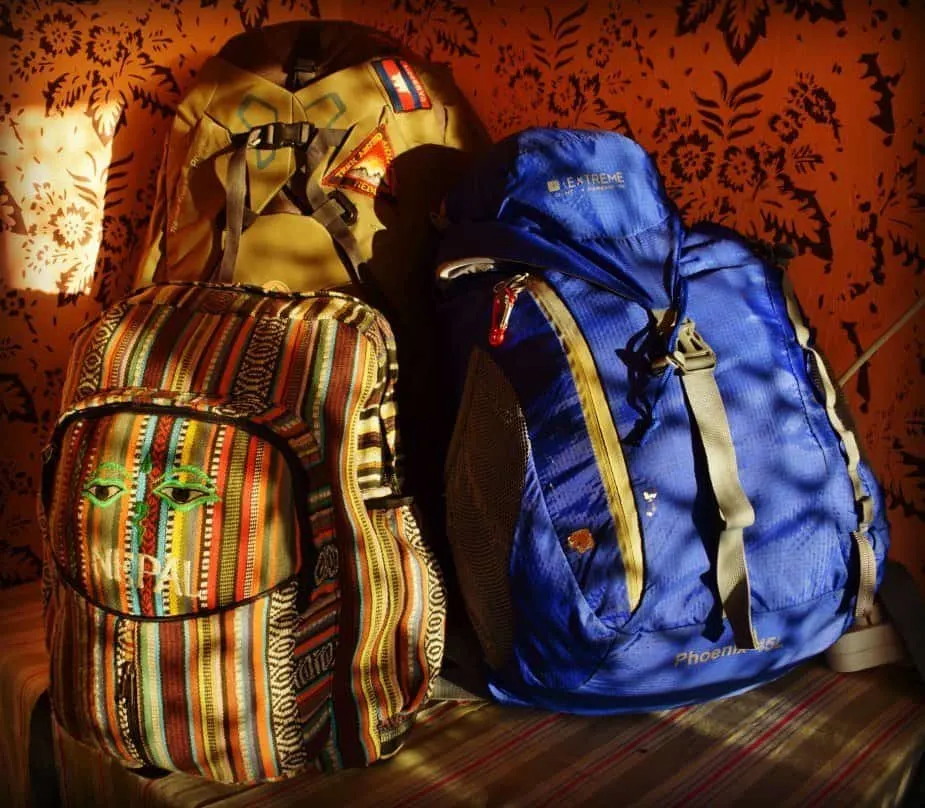 We have converted major costs into US dollars and have given totals in that currency. There are links to posts covering the destinations and attractions we mention in more detail. We have other posts on driving accross Europe ( see our related posts at the bottom of the page) and a Europe travel blog and guide here. This post may contain affiliate links, they cost you nothing extra should you choose to use them. They pay for us to run the World Travel Family website.
We made this for you to bookmark to Pinterest.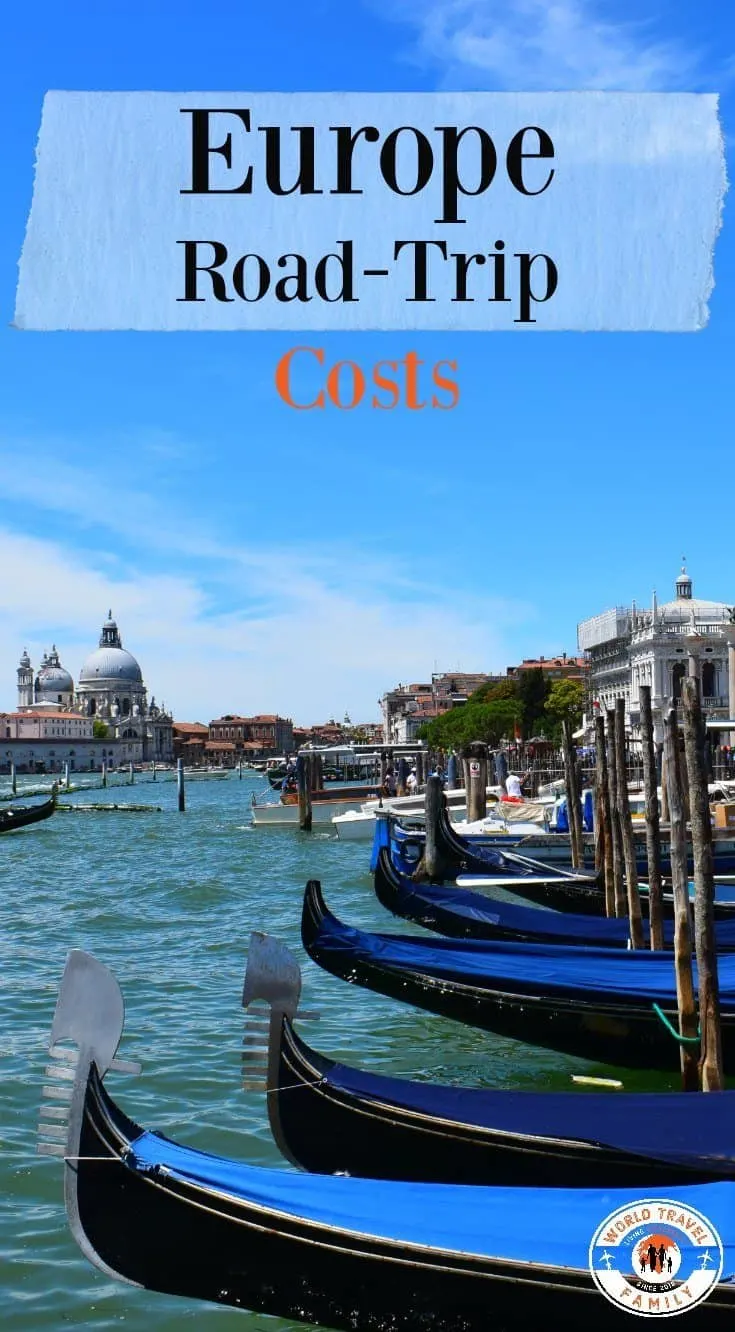 Requirements for Driving in Mainland Europe
Certain items are required by law when driving in Europe. Check local requirements and regulations for each country you visit.
Fluorescent jackets in case of break down.
A reflective warning triangle
Stickers to redirect headlights
Breathalyzer kit
A good GPS or map app
Car seats for children
Daily Costs and Road-Trip Route
Day 1. Driving from Romania to Hungary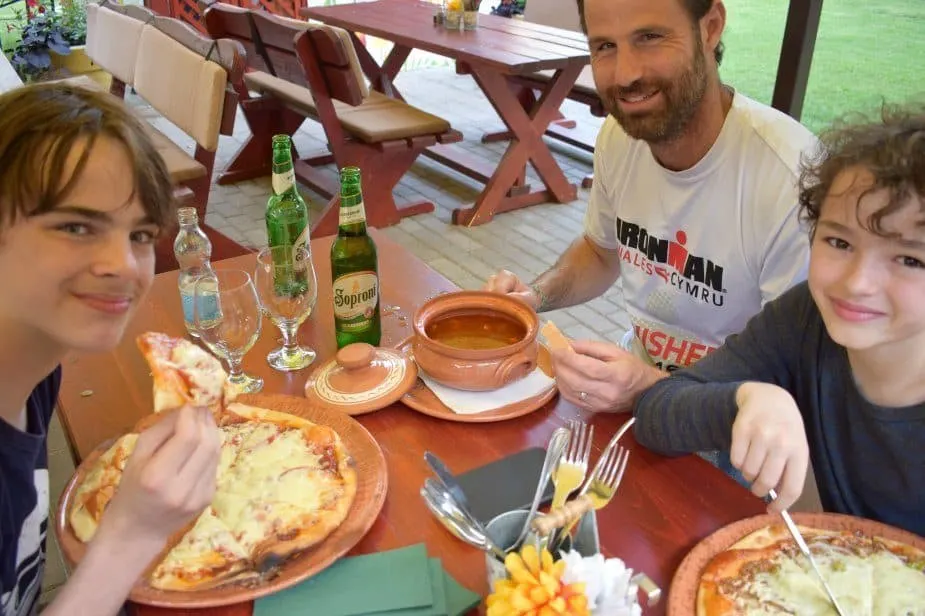 We left home early enough to take a leisurely drive south-west into Hungary. I'd packed sandwiches for an in-car brunch so we could escape earlier and without morning kitchen mess. The border crossing was uneventful other than a compulsory breathalyzer test. We arrived in Hungary's Hortobagy National Park in the mid-afternoon, giving the boys time to visit a luxurious swimming pool and thermal spa just footsteps away from our hotel while mum worked on scheduling for her bloggers' help group. We found dinner, above, at the only restaurant in town and it was good. We used the Trip Advisor app to find a dining recommendation, and we booked our hotel a few days in advance. The hotel below had a good family suite with 4 beds, and breakfast included. It was a great location for setting out to explore the National Park the next morning.
We Drove From: Breb, Maramures Romania to Hortobágy National Park, Hungary
Approx Distance: 240Km
Approx Drive Time: 4 hours
Fuel: Starting on an empty tank, we filled up in Romania, cost approx 75 L of diesel 305 Ron ( 79 US $)
Breakfast: Peanut butter sandwiches prepared the night before and brought from home.
Lunch: MacDonald's drive through! Cost 47 Ron
Dinner: 2 pizzas, 2 soups, 4 very nice Hungarian beers, 2 soft drinks. Cost 6,600 HFL
Admissions: Swimming pool and thermal spa for the boys and Chef. 4,150 HFL
Road Charges: Romania requires a vignetta it's cheap at 5 Euros per week for major roads only. We mostly don't need one. Hungary requires a vignetta also and they're really good at catching people who fail to buy one ( they caught me!) but you can buy online in advance. 11 Euros for 7 days.
Extras: 3 Ice Creams in Hungary. We brought bottled water from home. 600HFL
Hotel: 65 UK Pounds per night breakfast included. (72 Euros, 85 US $ ) See the hotel here.
Day 2. Driving Within Hungary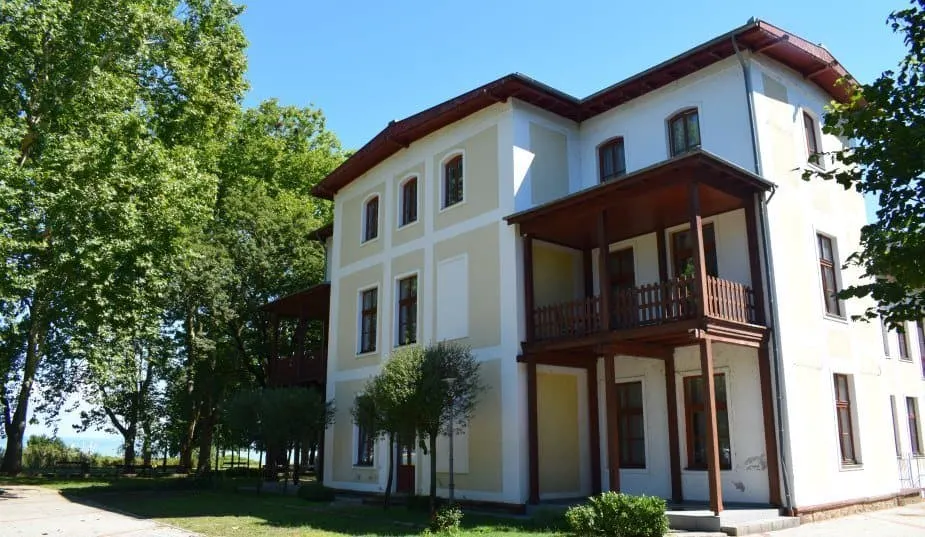 After an OK European breakfast of cold meats, cheese, tomatoes, cucumber and scrambled egg, we packed up early to make the most of our time in Hortobagy National Park. This is a unique grassland and wetland reserve and well worth your time. Our planned highlight was the Mata Stud horsemanship and antique breeds tour which you can see in full by clicking through below. We highly recommend making a visit, you'll see why if you view the images from the post. We drove south, a short drive today, to arrive on the shores of Lake Balaton, Hungary's inland sea and a top local vacation destination, before sunset.
We Drove From: Hortobágy National Park, Hungary ( click through to discover the heritage breeds and incredible horsemanship we discovered there) to Lake Balaton, Hungary.
Approx Distance: 285km
Approx Drive Time: 4 hours
Fuel: None bought.
Breakfast: Included in last night's hotel, an OK cold buffet, coffee eggs.
Lunch: We skipped lunch in favour of in-car gas station snacks.
Dinner: 23000HGF at the best restaurant on Lake Balaton ( a Trip Advisor recommendation), it wasn't great.
Admissions: 19000 HGF for Hortobagy's Mata Stud attraction with rare breeds and horsemanship displays.
Road Charges: 11 euros for a week of access to Hungary's roads.
Extras: Gas station snacks.
Hotel: 57 Euros/night no breakfast. ( $67 US) Find it using our special search box, top of the page.
Day 3: From Hungary to Slovenia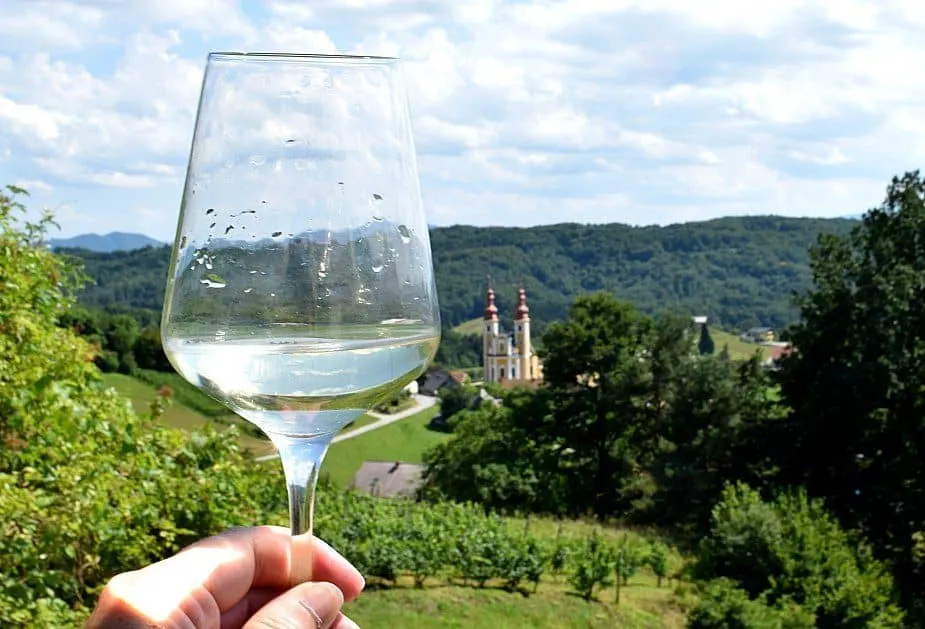 Chef's birthday! So a fancy breakfast in a Lake Balaton waterside café ( it was considerably better than dinner!) before a quick Pokémon hunt around the lake and hopping in the car to head for Slovenia, our only new country of this trip. For a birthday treat we picked a beautiful Airbnb apartment in a stunning location. The free-flowing wine from our hosts' own vines made our afternoon rather enjoyable. Dinner at a local restaurant and a quick supermarket stop for breakfast foods concluded our day. This apartment had a washing machine, so great, all clothes washed and hung out on our balcony in the Slovenian sunshine.
We Drove From: Siofok, Lake Balaton to the northern Slovenian wineries.
Approx Distance: 280km
Approx Drive Time: 4hours
Fuel: Filled up in Hungary 23,000 HFL ($89 US)
Breakfast: Breakfast in a cafe on Lake Balaton, 4 coffees, 2 juice, 2 ham and eggs, 1 ham/cheese toast. ( Mum shares with Boo usually)
Lunch: Drinks and munchies from a fuel station
Dinner: Big dinner out, enchiladas, mussels, tagliatelle, pork steak, wine, smoothies etc.
Admissions: none.
Road Charges: Slovenia vignette bought at border. 15 euros for a 7 day pass.
Extras: 2 loads of laundry at our Airbnb, included in price. Wine, free.
Hotel: AirBnb in vineyard.
Day 4: Driving Within Slovenia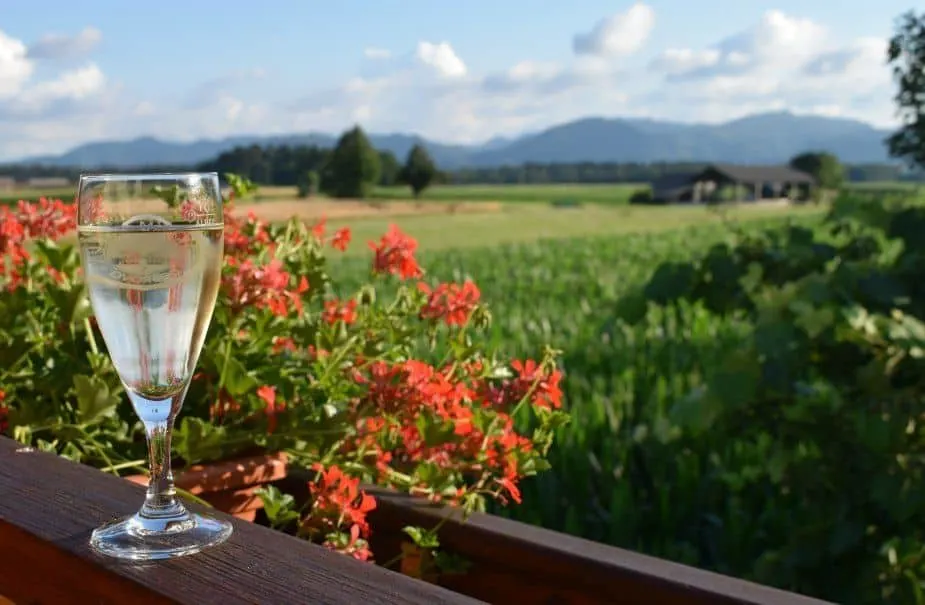 A full day in Slovenia visiting Ljubjiana on the way to our next Airbnb, another fantastic apartment that we can't recommend highly enough and again, sensational for even large families. Ljubiana was pretty, but our new dairy farm home was the biggest treat today. We toured the milking shed and learned a lot about dairy production. Dinner was home cooked from the local supermarket.
We Drove From: Near Ptuj to Ljubljana and towards Lake Bled to stay at a dairy farm AirBnb.
Approx Distance: 120 km
Approx Drive Time: 2.5 hours
Fuel: none bought.
Breakfast: Bread, cheese, tomatoes and yogurt from local supermarket.
Lunch: Coffee and cakes in Ljubljana.
Dinner: Bread, cheeses, salami, fruit, wine at our Airbnb. Bought breakfast foods too, total cost 30Euros
Admissions: none
Road Charges: no extra.
Extras: none
Hotel: Airbnb on a dairy farm 40 Euros
Day 5: In Slovenia, Driving to Lake Bled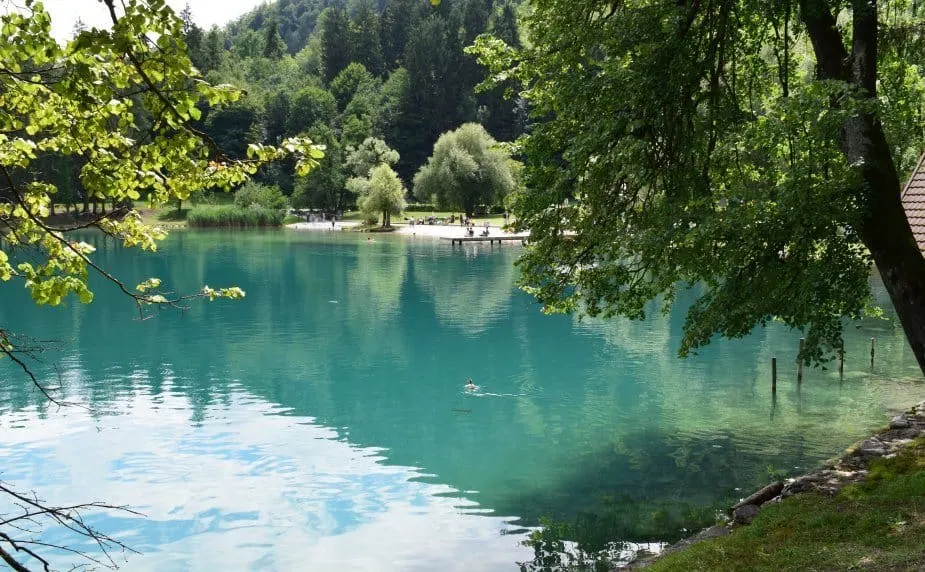 We Drove From: Our AirBnb to Lake Bled and Lake Bohinj and back. We needed a quieter day to plan and catch up with work.
Approx Distance: 160km
Approx Drive Time: 3 hours
Fuel: Filled tank @ 1.14 Euro a litre. 65 Euros ($76 US)
Breakfast: See dinner costs last night.
Lunch: sandwich from shop.
Dinner: 20 Euros at supermarket
Admissions: none
Road Charges: 15 euros for a 7 day pass in Slovenia
Extras: none
Hotel: Same AirBnb as last night. 40 Euros. ($47 US)
Day 6: Driving to Venice from Slovenia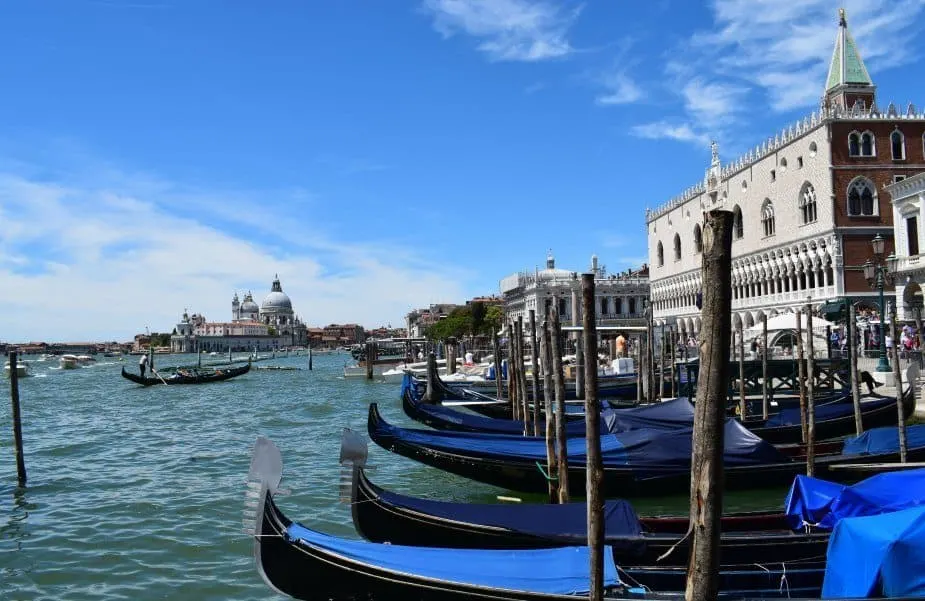 We Drove From: Prase, Slovenia to Venice, to Monsa Italy
Approx Distance: 504 Km
Approx Drive Time: 6 hours
Fuel: None bought today but prices in Italy are 1.34 Euros / litre plus
Breakfast: Supermarket food from yesterday
Lunch: 11 euros in Venice for 3 ice creams and 1 drink.
Dinner: 20 euros from the local supermarket
Admissions: none
Road Charges: 60 Euros in tolls across Italy today alone.
Extras: 60 Euro for ferry tickets to Venice , 14 Euros for car parking
Hotel: 99 Euros $117 USD Breakfast included.
Day 7: Driving From Italy to France via the Mont Blanc Tunnel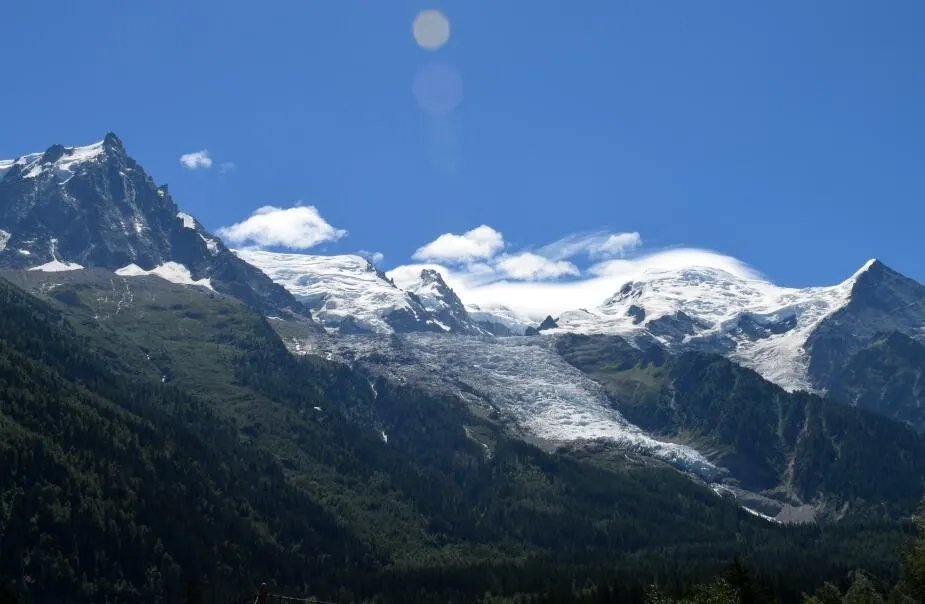 Our hotel in Monsa was nice, modern and sleek with 2 interconnecting rooms and a buffet breakfast. Breakfast was OK but the Italians love cake for breakfast, there was little else other than yet more pastries and some sloppy scrambled egg. At least the coffee was good, a decent Americano not an egg cup of espresso. We drove north west towards the mountains, the snows of the Alps were visible for most of the day but once we started the approach to Mont Blanc the views were breathtaking. Almost as breathtaking as the fees to use Italy's roads and the fuel prices. Italy hurts your wallet and I would't choose this route again. Switzerland is even worse, so that leaves Germany and much as we dislike driving on German autobahns, cost would sway our decision making. The views of Mont Blanc were worth the hundreds of dollars in road tolls, particularly from the French side, there's not much to see from the Italian side. The Mont Blanc Tunnel is hugely expensive. But we were in France , in Chamonix, more beautiful scenery and countryside as we headed north on slightly cheaper roads to our overnight stop, half-way to Paris. We'd picked an older privately owned hotel in a small town on a river. The hotel had lots of quirks but the town was cute and there was a great boulangerie patisserie next door.
We Drove From: Monza, via the Mont Blanc tunnel to France.
Approx Distance: 425 km
Approx Drive Time: 6 hours
Fuel: 10 Euros @ 1.34 Euros / litre, 40 Euros @ 1.65 Euros /litre in Italy. 40 Euros @ 1.32 Euros/ l France. Total 90 Euros ($106 US )
Breakfast: Included in hotel.
Lunch: sandwiches from service station. 11 euros.
Dinner: Pizzas and drinks at local restaurant 56 euros.
Admissions: none
Road Charges: 32 Euros in Italy, 44 Euros for Mont Blanc tunnel and 10 Euros in France.
Extras: none
Hotel: 75 Euros plus 5 Euros parking. $94 USD. No breakfast.
Day 8: Driving in France, to North of Paris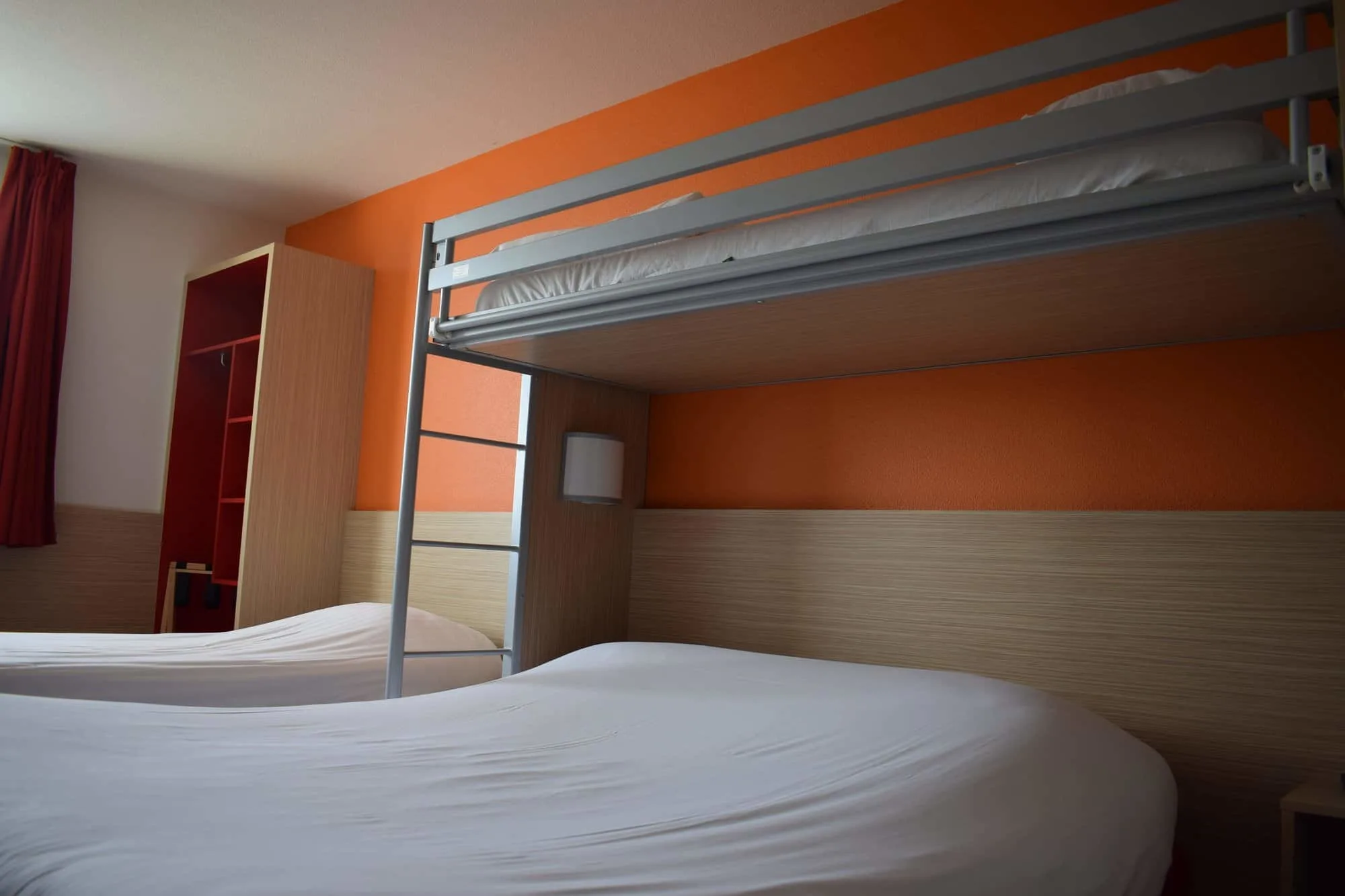 Pain au chocolate for breakfast, yum! I had to use my French for the first time since school and grabbed a fresh baguette to munch in the car as we headed north towards Paris. A big drive but we got there early to enjoy hotel room comfort and good wi-fi. This hotel had a garden full of baby white bunnies, goats and a pot bellied pig. It's a great place for families. We grabbed stinky cheese, wine, fruit and cured meats from the local supermarket. Food prices were incredibly low.
We Drove From: Pont D'Ain France to just north of Paris, near Charles de Gaul Airport.
Approx Distance: 505 km
Approx Drive Time: 6 hours
Fuel: 80 euros @ 1.32 Euros / Litre ($94 US)
Breakfast: 9 euros on coffee and pain au chocolate
Lunch: service station sandwiches 11 Euros. MacDonald's @ 23 Euros
Dinner: 15 euros at the local supermarket
Admissions: none
Road Charges: 32 Euros across the whole of France
Extras: none
Hotel: 85 euros per night no breakfast $98 USD
Day 9: Drive to and from Parc Asterix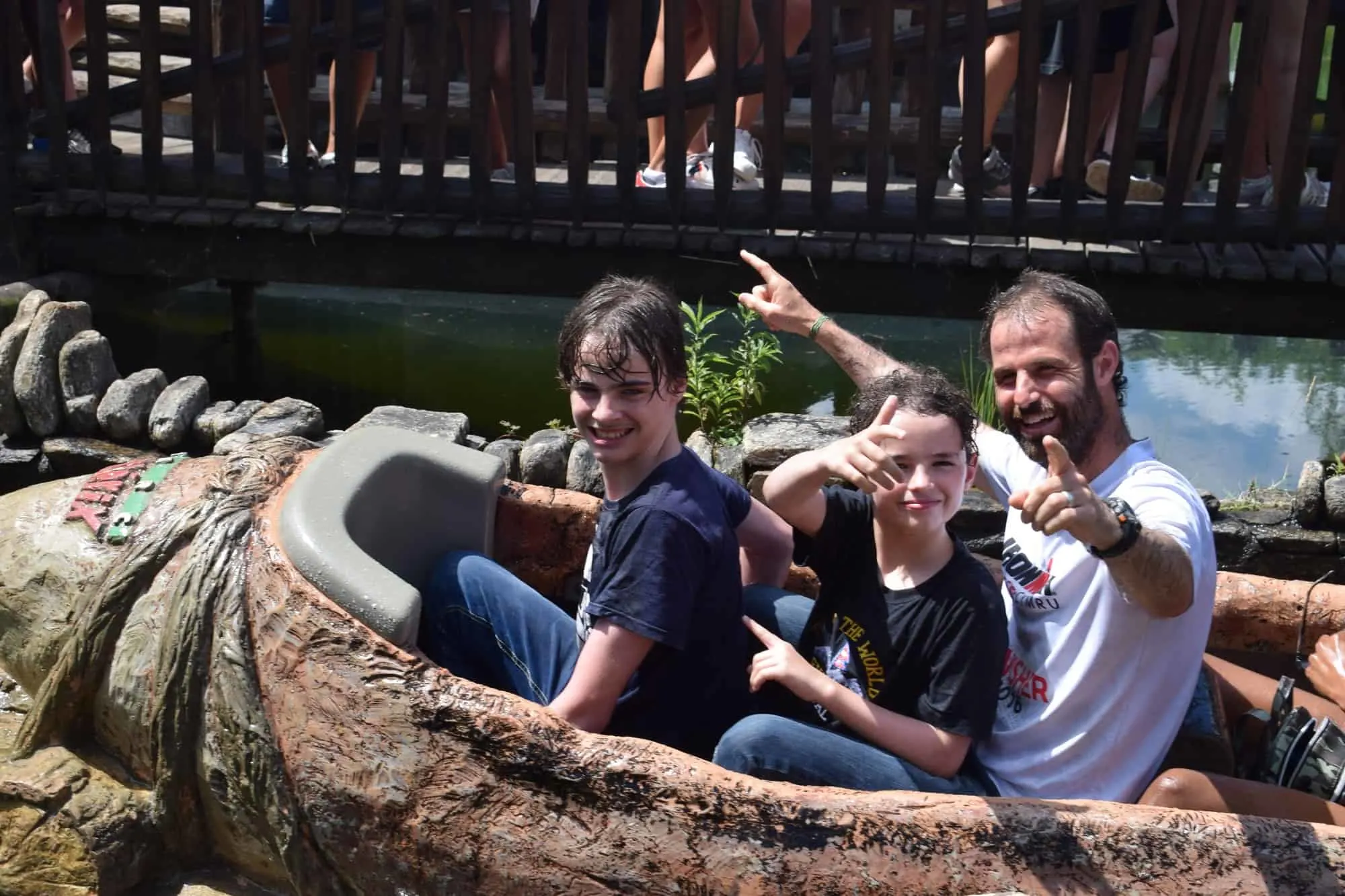 Read about our big day out at Parc Asterix in the post below. Highly recommended and superb rollercoasters for my teen and tween.
We Drove From: Parc Asterix, full day, we were guests of the park.
Approx Distance: 10km
Approx Drive Time: 20 minutes
Fuel: none bought today.
Breakfast: 7 euros for coffee and pain au chocolate
Lunch: In the theme park, various snacks and very expensive bottled water,
Dinner: supermarket 20 euros
Admissions: None, we were guests of the park.
Road Charges:
Extras:
Hotel: 85 Euros per night, no breakfast.
Day 10: Driving into Paris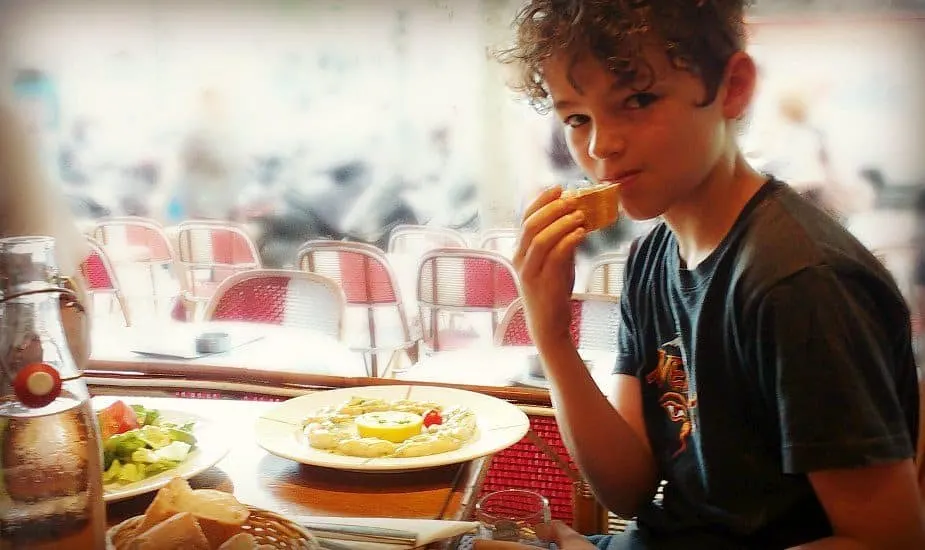 Driving into Paris was easier and quicker than taking the train for us. We didn't need to stay there long, Boo just wanted to see the " big pointy thing" and the car park we found online was near Notre Dame, so we saw the cathedral before walking along the Seine and accross the city to the Eiffel Tower. It was a long walk and we had to get the bus back to the car park. Frogs legs and snails were consumed and today was the day I quit carbs, coffee and wine ready for my return to running back in the UK. Another night in the hotel above.
We Drove From: Our hotel north of Paris to a car park near Notre Dame Cathedral and back
Approx Distance: 70km
Approx Drive Time: 3.5 hours
Fuel: none bought today
Breakfast: 12 euros for two adults
Lunch: 33 euros
Dinner: 22 euros from supermarket
Admissions: None
Road Charges: 1.60 euros
Extras: 9.80 Euros crepes. 16 Euros car park. 8 Euros bus ( we walked too far to the Eiffel Tower so got the bus back to Notre Dame.)
Hotel: 85 Euros per night no breakfast.
Day 11: Driving from Paris to the Somme Valley Battlefields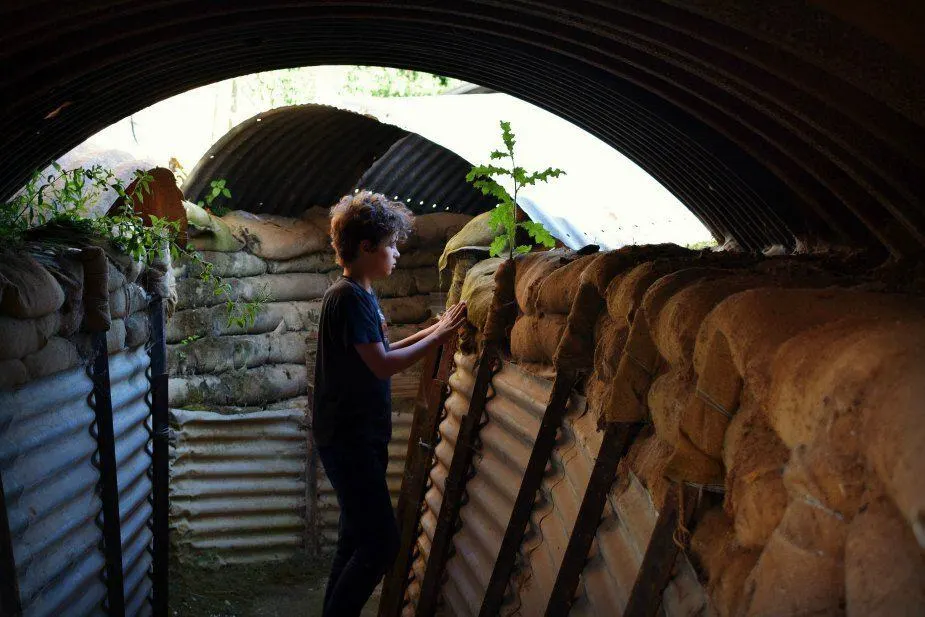 We picked another Premiere Classe hotel in the Somme Valley. We arrived fairly early so took the afternoon and evening to explore this area. A post about this is on it's way. This was another highlight and highly recommended.
We Drove From: North of Paris to the Somme Vally and battlefields.
Approx Distance: 70km
Approx Drive Time: 3.5 hours
Fuel: 77 euros @ 1.12 Euros litre ($90 USD)
Breakfast: fruit
Lunch: 33 Euros, MacDonalds
Dinner: 21 Euros at supermarket
Admissions: None
Road Charges: 1.60 euros
Extras: none
Hotel: 65 Euros per night no breakfast. $77 USD
Day 12 Driving to London from France, via Ferry to Dover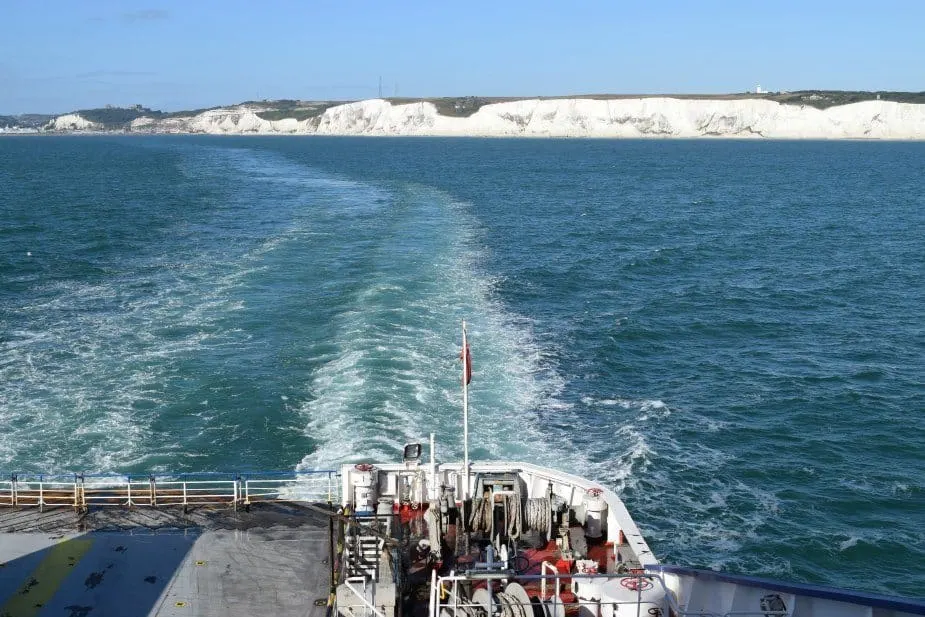 An early start to push through to Calais and our waiting ferry. By now eager to get to London and see our favourite couple of cats. We always enjoy these ferry crossings, they are cheap and expensive fish and chips are served by cheery chaps with strong British regional accents. It's a family tradition to have fish, chips and mushy peas on the ferry and the kids always look forward to it, it's good to be back home.
We Drove From: The Somme Valley, to Calais for the ferry, to Dover and on to London.
Approx Distance: 111km to Port of Calais then Port of Dover to House sit 115km (73 miles) Total 226.
Approx Drive Time: 4 hours driving plus 90 minutes on the ferry.
Fuel: none bought today
Breakfast: fruit from the supermarket yesterday.
Lunch: On the ferry, fish and chips x 2 @21 Euros
Dinner: at home
Admissions: none
Road Charges: 7.90 euros
Extras: ferry 60 Euros
Hotel: None. Arrived at our base in London
Total Europe Road Trip Costs and Daily Averages
Total Fuel Cost: $534
Total Hotel Cost: $893 USD
Total Road Tolls: $244 USD
It's interesting that fuel was a comparatively minor cost compared to hotels. It's very obvious that flying would be very much cheaper, we normally pay around $40 each to fly Romania to London. If we take the direct route through Germany, France and Belgium we make this drive in 3-5 days, fuel costs are less and of course there are fewer nights in hotels, but this trip was at least partially holiday for us. It's obvious from the above that costs are much lower in Romania, Hungary and Slovenia, the lower hotel prices for the two Airbnbs we used don't indicate that Airbnbs are cheaper, they simply reflect lower acommodation costs generally in Slovenia. However, the two Airbnbs we used were superb and we recommend signing up for Airbnb (join via our link here for a special credit). So I hope this gives you an idea of how much to budget for a trip like this, we spent between $100 and $200 per day, which really isn't too bad at all. Hope this helps.
If you'd like to hire a car during your stay, use this car rental comparison tool to find the best deal!

We also suggest you take a look at this company to get a quote for all kinds of the more tricky adventure or extended travel insurance.

Try Stayz / VRBO for an alternative way to find rentals on homes/apartments/condos in any country!