This post may contain affiliate links.
Yes, you can drive from the UK to Romania by car. It's very easy to just drive onto a ferry from the UK and cross to France, or you can take the tunnel. Every year we drove from London to Romania and back. It's a long drive, around 1,500 Km if you take the shortest route.
Sometimes we just get in the car and do it the quickest way possible, other years we turn it into more of a road trip, adding kilometers, days and cost, to make this road trip a more fun experience.
London England To Romania Drive Time
You could make the drive in a 3 or 4-day marathon but we generally take at least a week to 10 days over the trip.
Sometimes we increased that time to 2 weeks to fit in some new countries, sites and experiences.
How long it takes to drive from London to Romania depends on your needs and wants as well as your budget.
Are you in a hurry, or do you have time to enjoy? Do you have cash to spend or do you want to do it in the cheapest way possible?
The biggest cost in driving to Romania from the UK is your hotel stays, usually. So reducing the number of nights you spend in hotels and driving longer each day should make your trip cheaper.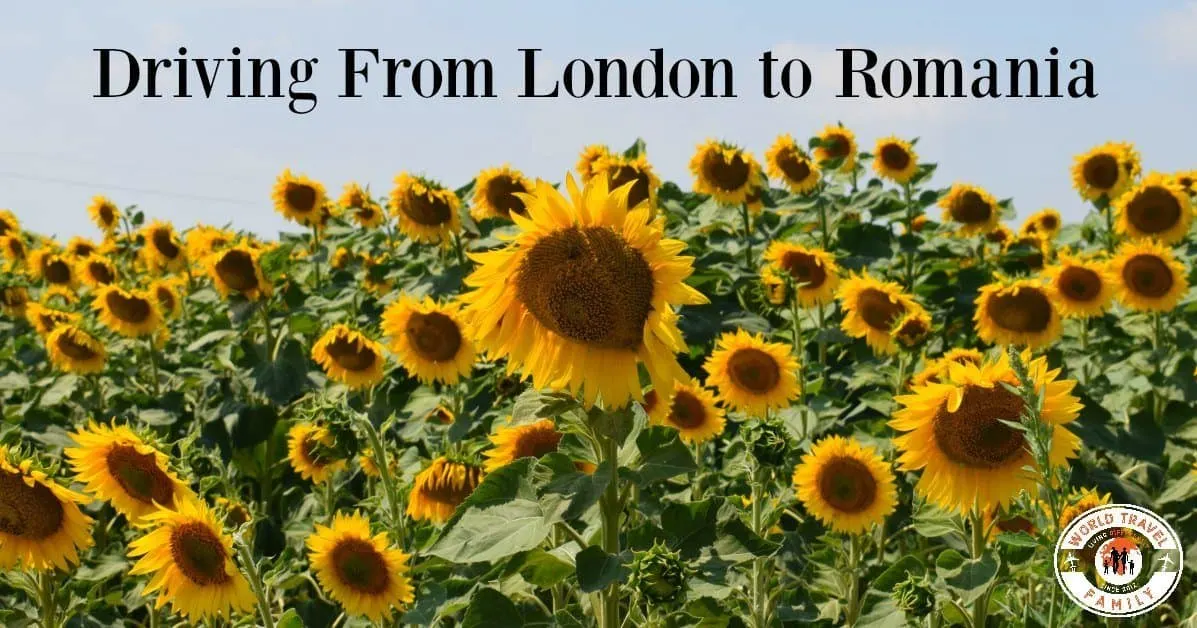 London to Romania Distance
The distance from central London to central Bucharest is 1,478 miles or 2378 Km, by road, if you take the most direct route, according to Google maps.
Bucharest is a long way from the Romanian border, so the distance from London to the Romanian Border is in the region of 583 KM. That's the distance from Bucharest to Oradea, which is close to the border with Hungary.
The distance from London to Romania's western border is therefore about 1800 km or 1118 miles.
There are multiple border crossings from Hungary into Romania and which you choose will depend on your destination in Romanaia.
To drive to northern Romania we would head to north east Hungary and cross near Satu Mare for Baia Mare.
London To Romania Flight
Romania has multiple airports, and so does London. A flight to Romania from London takes about 3 hours and costs maybe 100 UK pounds or $120 US.
You should be able to find cheaper flights if you use Skyscanner and stay flexible.
It is undoubtedly cheaper and quicker to fly London-Romania than to drive.
But we didn't always have that option.
We normally flew from London Luton or Stanstead to Romania on Wizz Air, when we didn't have to drive.
England is great and so is travel in Romania, but there are some cool places to stop in between. We have a full Europe Travel Blog page and directory if you're looking for more information.
Places to Visit on the London to Romania Road Route
We have visited, stayed in and/or posted about the following destinations on this epic trans-Europe drive.
Northern Route
Southern Route
Lake Balaton (Hungary)
Slovenia ( Lake Bled and the vineyards)
Venice
Mont Blanc and Chamonix
Paris
We are in the process of updating this post, I will add maps and more information in the next week, at the moment we are driving from Romania to England taking a relaxed, southern route.
Where to Sleep on The Drive?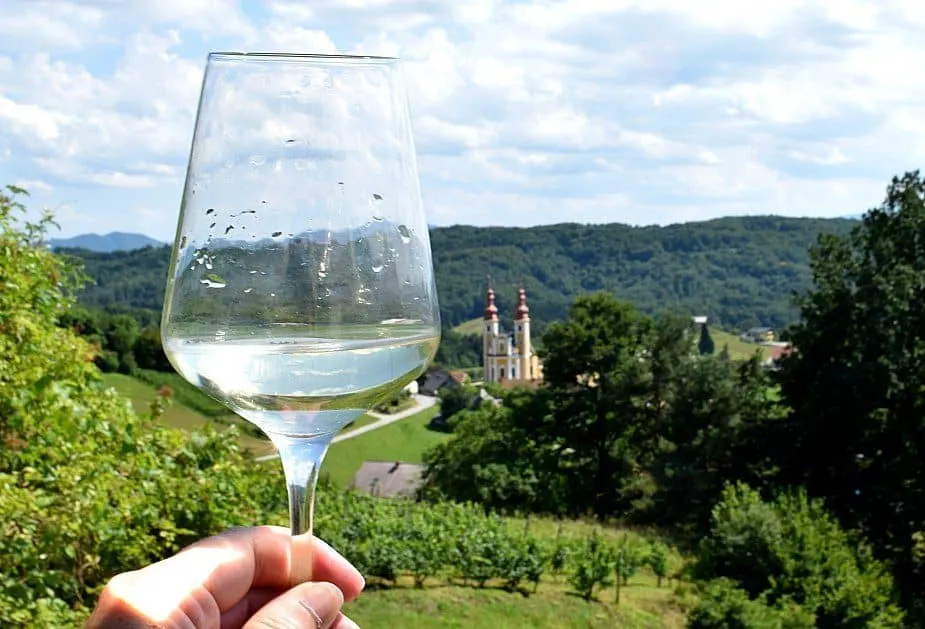 Airbnb in Europe can be a good deal if you can find places to stay without huge extra cleaning charges. Pick quirky, interesting accommodation, luxury or low-cost. You'll find it all.
We also use family budget hotel chains and any lower cost hotels.
Sometimes we use hostels with family rooms, for instance we did this in Prague.
Important Considerations for The UK- Romania Drive
Ferry or Tunnel?
Road Tolls and Vignettes
Fuel Cost Variations
Having Your Car Legal for Driving in Europe and the UK
Car Seats and Safety for Small Children
Finding Accommodation
All of these factors will be addressed in posts over the next few weeks.
England to Romania (and back) with Kids in the Car
The kids loved driving across Europe the first time, but maybe for the wrong reason.
They loved being able to say they'd been to 25 countries, now they can say it's 29, maybe 30, we need to sit down, colour some maps and count.
For me, well, Europe is my "normal". You'll notice that the World Travel Family travel blog is mostly about Asia, that part of the world is closest to our hearts.
I truly feel like myself in Asia, I don't fit right in Europe.
All the same, I've seen some new places, had adventures and I'm pretty pleased with myself for pulling off such a mammoth road trip.
As always, I'll tell it like it is. Travel isn't all wonderful, sometimes it sucks, just as normal life can have sucky moments.
As we've driven this route more and more the novelty has worn off and 8 hour driving days lead to hot, fed-up kids.
We try to break the journey up in places that will interest them and provide plenty of ice cream to keep the peace.
Why London to Romania by Car?
We have to get our car, she's called Sexy after the TARDIS, from London to our current home base in Romania and back.
Flying is cheaper by a very long way, but our car has to get from England to Romania, by road, annually.
We need a 4×4 in Romania, something to cope with dirt tracks and snow, we also need a tray-back to transport heavy goods and building materials, so that's what we use.
She's beautiful and we love her. She mostly drives well crossing Europe on autobahns and motorways but one year she broke down time after time in the summer heat.
Make sure your vehicle is performing well before setting off on a journey like this.
Our London to Romania Route
One year we took the route below, ferry to France, drive through Belgium, Germany, the Czech Republic, Slovakia and Hungary before entering Romania.
We've varied the route, but this is the cheapest and quickest, with fewest road tolls.
The southern route through Europe to Romania, through Hungary, Slovenia, Italy and France before taking the ferry to the UK cost a lot more in road tolls. More details to follow.
Day 1 London to Brussels 1 night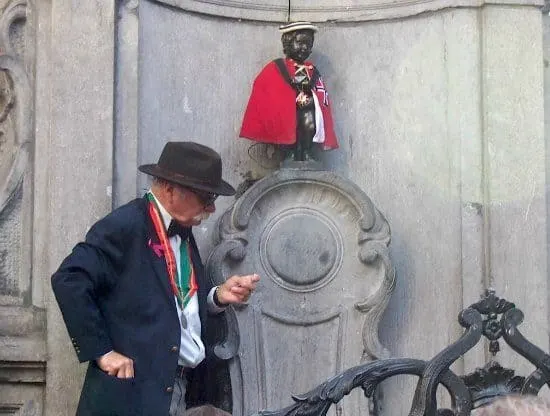 We left late, 5pm. Sexy was in the garage and the mechanics were working on that starting problem. They replaced a gizmo, a thingum and a wotsit belt, but the problem persisted.
Two days of tinkering for no improvement at all. Oh well.
It was a great relief to finally be on the road, all be it at 5pm in rush hour traffic. Chef took the wheel for the drive to Dover.
Crossing the Channel on the ferry was a breeze, we hadn't booked, we just turned up, got in line, bought a ticket and drove straight on. A comfortable hour and a half later and very reasonably priced dinner inside us, we were in Calais.
" Yay we're in France!". Then all but the driver fell asleep.
We arrived at our Brussels hotel at 1 am and went straight to bed.
Day 2 Brussels to Frankfurt. 2 nights.
We had a few hours to check out Brussels, edited highlights to give the kids a taste of this little country.
Chef and I normally head to Bruges for a few days of fruit beer, chocolate, moules and frites, but on this morning we were on a mission to find waffles.
Parking near the Manneken Pis, we explored the streets, checked out the street art and a few touristy shops, had our breakfast treat and piled back into the car.
A lovely-looking park full of autumn colour spoke to the kids as we drove towards the Atomium.
Time for a run around and a game of hide and seek with dad before heading on to Germany.
We had breakfast in Belgium and lunch on the Rhine before arriving at our Frankfurt hotel for 7.10pm.
This was, if not the worst hotel experience of my life (we had a stinker in Penang) certainly the second worst.
It's a long story and one I will tell one day, the owner was a pig of a man, that's all I'll say for now.
We spent the next day exploring Frankfurt, a city that, at first, impressed us not at all.
It was dirty, looked and smelled like a public toilet and seemed populated by drug addicts and derelics.
Nothing was open because of the Berlin Wall anniversary celebrations, so we found breakfast in a revolting station Mc Donalds.
Here we discovered that 200 Euro notes are accepted "Nowhere in Germany". Not very convenient.
In the afternoon we managed to find the nicer part of Frankfurt, away from the red light district.
Berlin Wall celebrations were in full swing, boy bands in lederhosen took to the stages and small crowds gathered.
We found the pretty old town and sampled curry wurst and toffee apples. A stein of beer raised our Frankfurt-weiry spirits.
At 3am, Chef left for his flight back to London, the airport is around 80 Km out of Frankfurt. Also not very convenient, there was a bus.
Day 4 Frankfurt to Prague 3 nights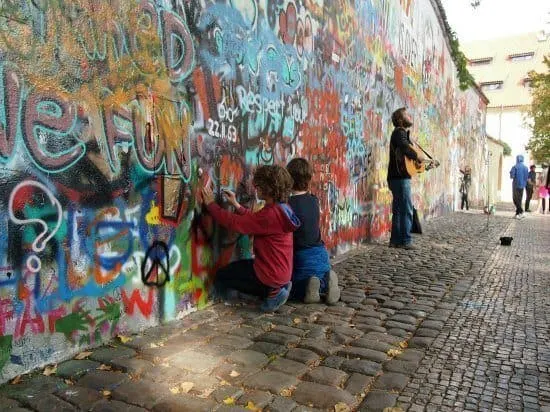 From here on in, it was just me and the boys. I was excited to start driving but nervous about navigating. I suffer from anxiety quite badly, so getting lost is a fear that haunts me.
That's exactly what we did.
For some reason the GPS failed. I needed to resort to the map and the route I'd planned out on paper the night before.
The tiny print was too small for my ageing eyes, switching between driving in sun glasses and map searching in reading glasses was a struggle.
I think we took around 2 hours just to get out of Frankfurt.
D helped as best he could, he'd previously not even seen the road map, but he had a go.
From that point on, I planned routes and showed him maps every night, just in case.
As we approached Prague, some 500 Km later, my anxiety was maxing out again, how on earth was I going to navigate busy city streets to find our hotel?
At that point, incredibly, I heard a voice from under the map, Dave (as the GPS is now known) had come to life just at the right millisecond and he totally saved us.
There is no way I would ever have found our hotel without him.
A nice hotel full of character and with friendly helpful staff. A much better result.
We had 2 full days in Prague, it's a remarkably beautiful city and this was our first visit.
I struggled with the tram tickets, then I struggled with finding the right tram, but once those difficulties were overcome and my mental peace restored, we had a great two days.
You can read about the brilliant Prague for kids tour we took with Travelove by clicking the link.
Day 7 Prague to Brno (Czech Republic)
After our experiences driving in and around Frankfurt and Prague, I didn't want to visit more big cities.
We picked Brno, in the south of the Czech Republic as being a cheaper place to stay than Austria.
It was purely an overnight rest stop, we saw nothing of the town other than its Tesco megastore.
Day 8 Brno to Gyor (Hungary)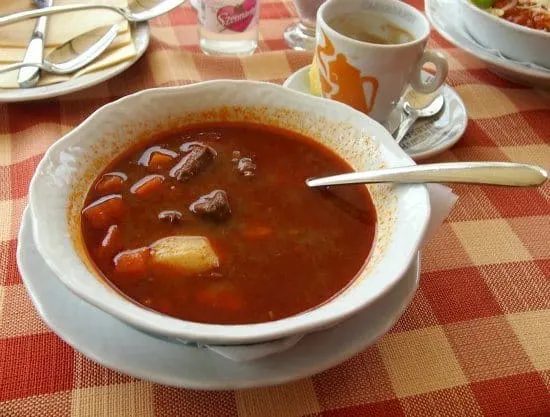 Dave the GPS got us safely through Austria and into Hungary in not much more than 3 hours.
Gyor isn't far from the Austrian border, a reasonably large town, not far from the motorway, with a nice looking hotel. Those three criteria picked this stop for us.
Our hotel here was beautiful, still around 50 Euros, as all our other hotels were, but way superior in just about every way.
I'll post about that hotel and this cute, picturesque town, soon. We enjoyed Györ very much, our first taste of Hungary.
Day 9 Gyor to Maramures County, Romania.
We had planned to visit Budapest, maybe stay overnight there, but on that morning, we all just wanted to be home in our little house in Romania.
We had friends and a bunny calling us, so we decided to go for gold and drive straight through.
We left around 8.30am and arrived at 5.30pm, in time to go to the village pub, with just a half hour stop for fuel and refreshments.
How Was The Romania Road Trip?
We enjoyed most of the journey. The boys were angelic by anybody's standards, they read book after book and each night I loaded up their Kindles with more reading material.
They read and slept in the back snuggled in blankets, they counted buzzards and sometimes we chatted. A big, solid 4×4 removes any worry of car sickness, they were fine.
I asked Boo yesterday if he thought he'd learned anything by driving across Europe.
"Yes," he said, "they're crazy about solar power."
They are, crossing Europe we saw field after field of solar panels and wind generators, it's impressive to see and prompted much discussion about renewable energy.
We saw no evidence of the refugee crisis, I expected to see people, maybe have trouble at borders, there was nothing.
We paid no tolls other than the standard fee for driving in Hungary. Surprising, as I'd read so much about the high cost of driving major European roads.
We crossed from country to country without even stopping, the only border we showed our passports at was that into Romania, it's not one of the Schengen countries. Our vehicle wasn't searched, which took me by surprise, we could easily have had a few extra people hiding in the back.
This was our first time travelling carry-on only.
We flew to London with just my laptop bag and the boys' small backpacks. Clothes weren't a problem, I washed things as we went. Toothbrushes and toothpaste were our only wash-kit, I bought a solid shampoo bar in London for the return trip. We took just one laptop, we normally have 3, we didn't miss the others. We made no attempt to do "school" during this trip, natural learning only.
Home now, to peace, quiet and just living normally. It was great to visit London, as always, and seeing a bit more of Europe was an interesting experience, but now we rest and plot our next adventure, I need to update that post on how many countries we've visited, too. It's good to be home.
We don't post about Europe too often, other than London and Romania, our home bases. If you're looking for more information on travel in Romania we have a full guide to Romania travel and \destinations here on our Romania Travel Blog page. Maybe take a look at our village in Romania, Breb. You'll see why we love it so much. Alternatively there is a great guide to your Eurotrip to help you with planning, click through to a site that will help you with just that.
Note: We did this drive, London to Romania and back, every year using different routes. It is covered in various ways elsewhere on our site.
If you'd like to hire a car during your stay, use this car rental comparison tool to find the best deal!

We also suggest you take a look at this company to get a quote for all kinds of the more tricky adventure or extended travel insurance.

Try Stayz / VRBO for an alternative way to find rentals on homes/apartments/condos in any country!