This post may contain affiliate links.
Legoland Windsor, near London in England is Legoland number 3 for us. We've already visited Legoland Malaysia and Legoland Florida, both were great fun for the whole family so we couldn't wait to check out the UK's version. A review of the UK's Legoland park, where to stay and an overview of the park.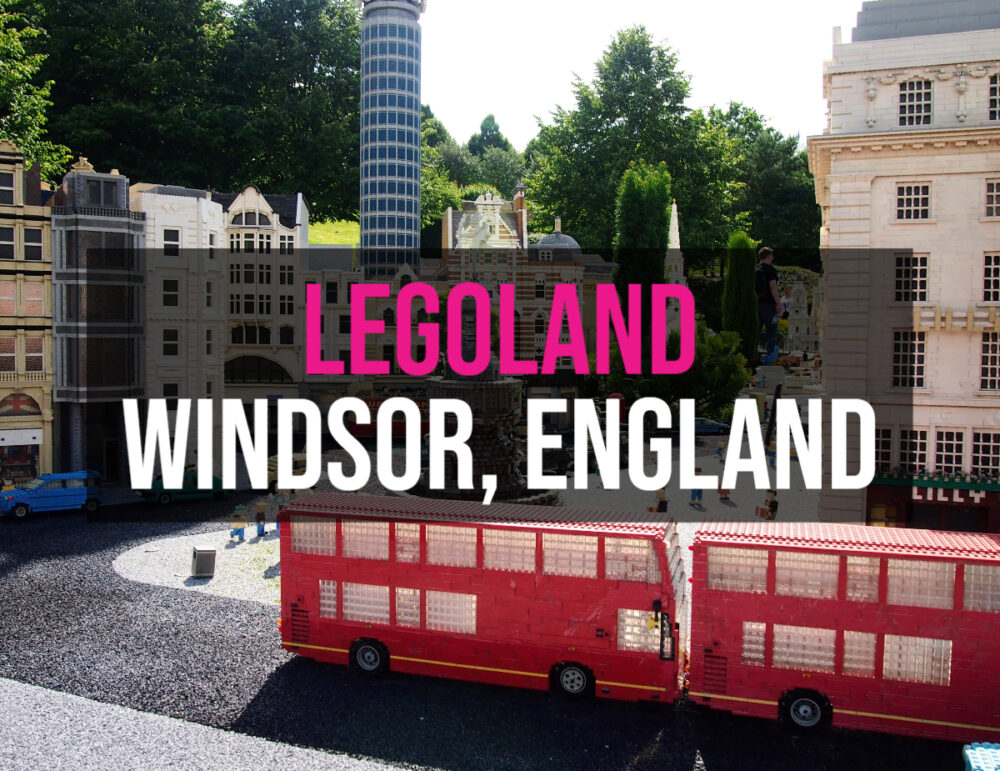 It's really interesting to compare the parks. The differences between Legoland Malayia and Legoland Florida in terms of rides, were slight, but Legoland Windsor is fairly individual . All the parks share basic features, the rides and settings give them their uniqueness.
Legoland England at Windsor is the Biggest Legoland Park in the World.
Like Florida, the setting for Legoland England just outside Windsor is lovely, a hillside spot with views over Windsor Castle. Windsor Safari Park used to be here, I have happy childhood memories of those days.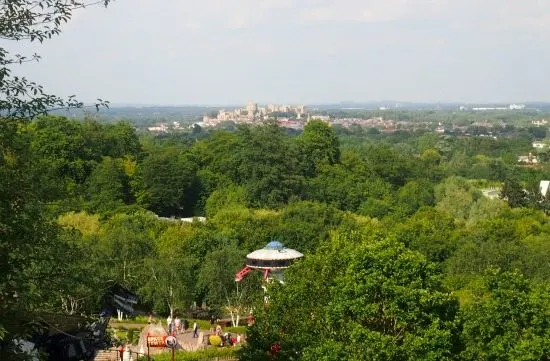 Windsor is the oldest of the 3 parks, it opened way back in 1996 and is the biggest Legoland park in the world, it's 5 times bigger than the original park in Denmark.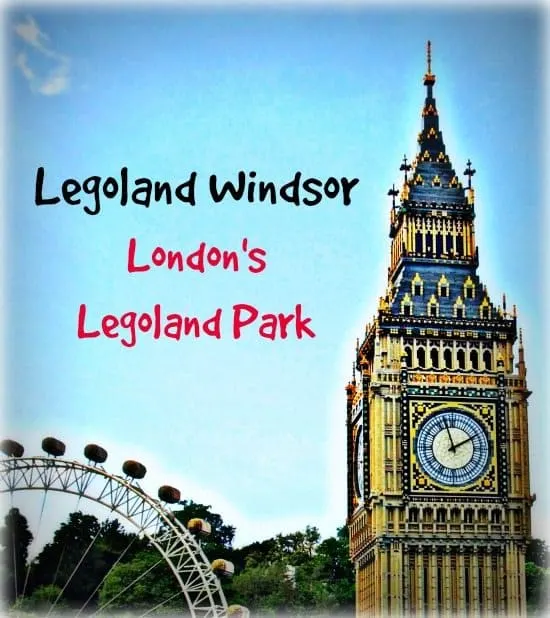 Being the biggest, it took more time to get around. We didn't have time to see and do everything in the 6 hours we were there. Unfortunately, we were delayed by Southwest Trains and by the changing of the guard at Windsor Castle, the road is briefly closed every morning except Sunday as the guard marches up the hill with full military band. It was an added bonus to see it, but it held us up, we would have like a few more hours.
What Age Group is Legoland Windsor Suitable For?
Legoland parks work for young children, 11 and under, none of the parks have massive thrill rides.
My boys were 10 and 8 when we visited this Legoland park and they enjoyed it, as always, but they would prefer bigger rides after their experiences with Disney roller-coasters , the huge coasters at Parc Asterix in France and Singapore's Universal, I think my two are pretty hard to impress these days.
Malaysia has a couple of roller coasters that were plenty scary enough for me, Florida's versions were slightly smaller, although they had a bigger range of coasters. Windsor has one rollercoaster for bigger kids, The Dragon, it's smaller than Malaysia's Dragon but has the same excellent theming. The full-sized Pirate Ship gave the boys a bit of a kick, as did the excellent log flume-type ride.
We felt that Windsor was possibly the "youngest" of the three, there is loads here for smaller children
Some of Our Legoland Windsor Favourites.
Atlantis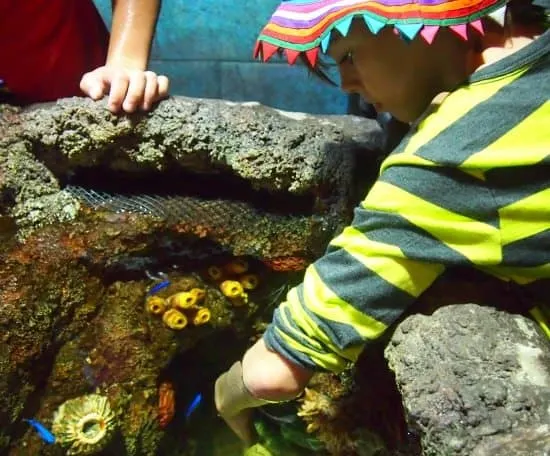 Atlantis was wonderful and a new Legoland experience for us. A Lego yellow submarine took us on an underwater tour, real sharks and rays had excited squeals coming from the kids. Touch pools and aquariums at the end of the ride were a great piece of extra educational fun. Kids can have their fingers nibbled by cleaner shrimps and handle sea urchins.
Fire Academy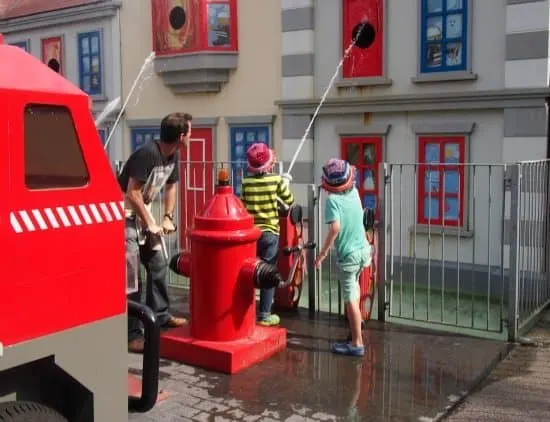 A crazy race to put out a fire using strength, speed and accuracy. Families compete from individual Lego fire trucks. It's brilliant team fun. They have this one in Florida.
Vikings River Splash and Pirate Falls Water Rides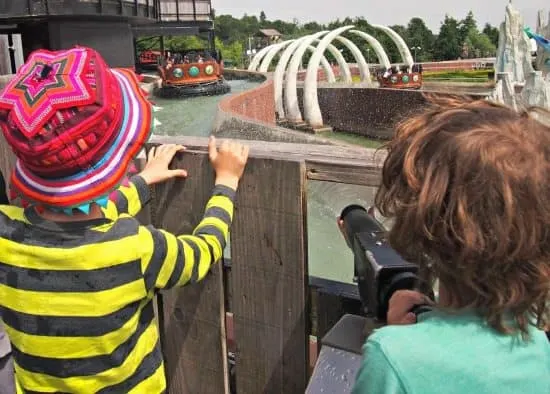 Which is more fun, riding the rapids or getting soaking revenge on the next batch of customers?
You don't get as drenched as I have on rides elsewhere, this was a tolerable amount of wetness for a British climate, people driers are available.
Legoland England Miniland is Multinational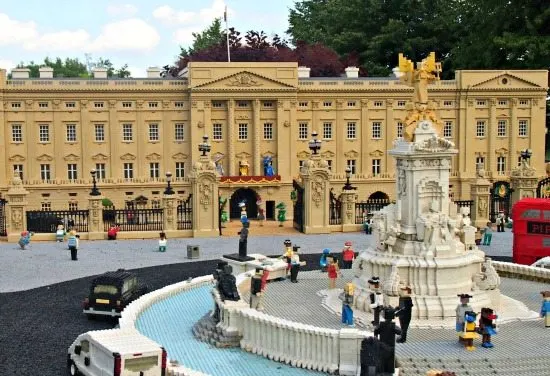 Miniland is the centre piece of all the parks and I love it. Malaysia brought us Asian highlights, Florida covered the USA, Legoland Windsor has installations from all over the world. The major focus of Miniland Windsor is of course London, England and the rest of the UK, but other countries, particularly Europe and the USA are represented too.
Lego Star Wars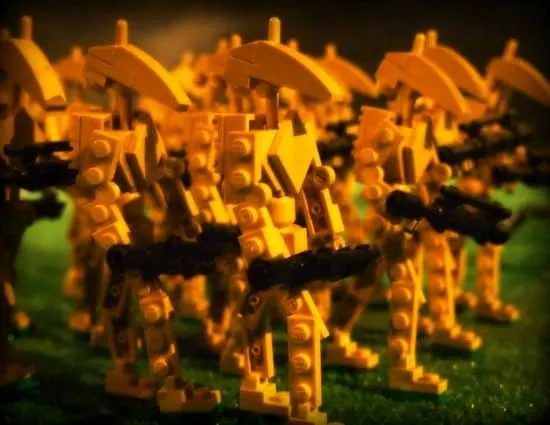 Windsor's display of Star Wars models is the biggest and best I've seen. It's indoors, making dramatic sound effects and lighting really work, perfect for Star Wars fans of all ages. There are 7 incredible scenes from the movies set up along with many individual full-sized characters.
Loki's Labyrinth Maze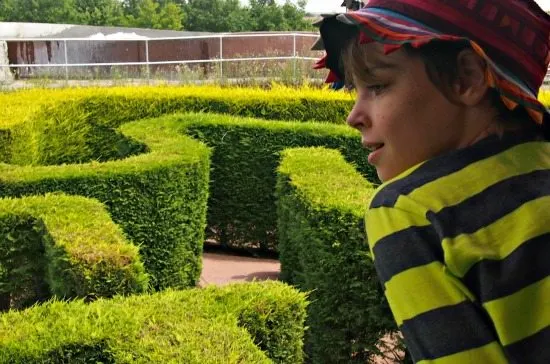 There is something about a traditional hedge maze that captivates kids. My boys loved this one, they ran and ran.
Food Drinks and Facilities.
The park has plenty to offer food wise, a great deal that we took advantage of is the kids eat free after three offer.
Children receive a complimentary meal with every adult meal purchased. You are allowed to bring food into the park and drinking water is available at fountains near every wash room.
Wait Times.
We arrived late and missed the morning theme park "golden hour" when we normally find we can walk onto any ride without waiting. The park was busy when we visited, a sunny Friday during school term time, but wait times weren't too bad at all. The most we waited was 15 minutes for the most popular rides. That's a short wait in theme park world. Smaller rides had no wait time at all. Full marks to Legoland for placing kids' play facilities and entertainments adjacent to some of the waiting areas, they make life so much easier.
What We Missed.
We didn't have time to check out the Duplo Valley water play area or Mindstorms. We took the Lego Robot programming challenge at Mindstorms Malaysia, it was excellent and highly educational but time just didn't allow.
A new adventure play area is nearing completion, small faces peered longingly through the fence, it looks amazing.
We only caught a few minutes of the Pirate Shores show as we rushed past to Atlantis.
Is One Day Enough For Legoland Windsor (UK)?
No, it's difficult to see all of the attractions at Legoland Windsor UK in one day. We recommend you book a 2 day pass if you plan to ride every ride and see all of the park's attractions. You can do that on the Legoland website where they claim that it is cheaper to buy tickets online than on the door.
To make the most of Legoland Windsor and the Legoland Resort, we would recommend buying a two day pass, maybe staying overnight in the Legoland Windsor Resort Hotel, here is a lot to cover.
Legoland Windsor (UK) Ticket Prices
Legoland Windsor (UK) costs 34UK pounds for a 1 day pass for an adult of any nationality if bought in advance They state that the price on the door is 66 UK pounds. You have to also buy a ticket to park and pay extra for a fast pass ticket. Child tickets are the same price as adult tickets if the child is over 90cm tall. Kids under 90cm are free.
Confirm all these details on the Lego Windsor website. Prices may fluctuate.
Alternatively look for other Windsor deals below. You can check Legoland ticket prices here
Thanks for visiting, you can head back to our mail London Family Travel Blog page or wander wider in the UK on our UK Travel Blog page. We think Legoland parks are great and this one just outside London was certainly worth the visit.
If you'd like to hire a car during your stay, use this car rental comparison tool to find the best deal!

We also suggest you take a look at this company to get a quote for all kinds of the more tricky adventure or extended travel insurance.

Try Stayz / VRBO for an alternative way to find rentals on homes/apartments/condos in any country!