This post may contain affiliate links.
Harry Potter Experiences around the world, best Harry Potter experiences, theme parks, locations, in Europe, the US and Asia worldwide.
Are you a Potter head? You've read the books and watched the movies a million times, but you want more. I don't blame you, I'd swap muggle life for the magical world of Hogwarts any day, so would my Harry Potter-crazy kids. But what can we do to get ourselves further inside the incredible world created by JK Rowling? There are a few places around the globe where we can all get more Harry Potter experiences, hop on your broomstick and let's go have some fun! There is no "Harry Potter World" as such, but England and the USA have Harry Potter attractions and theme parks to explore.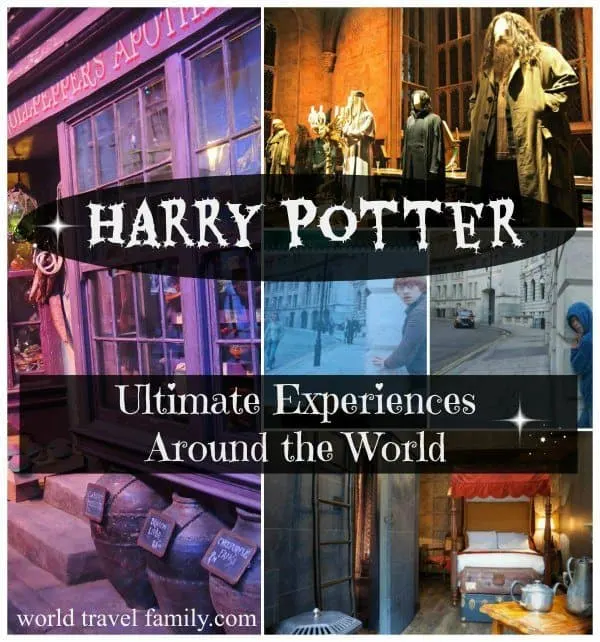 Please be sure to check that your chosen Harry Potter attraction is fully open for the time of your visit. Openings and closures, plus new features, happen all the time.
The Best Harry Potter Attractions Worldwide
The Harry Potter Warner Brothers Studio Tour
Location: Watford, near London, UK.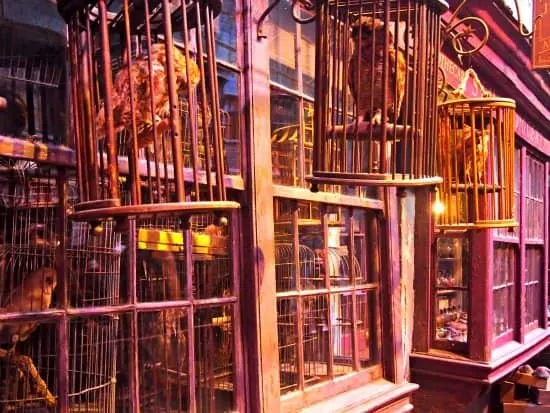 This is "Harry Potter World" in England. Although the whole country is dotted with filming locations and places of interest to Harry Potter fans, this is the big Harry Potter attraction in the UK. It's not really a theme park, more a collection of sets, props and items from the Harry Potter movies.
Do you want to walk down Diagon Alley, climb aboard the Night Bus and take a lesson in wand technique? Then you need to visit Warner Bros Studios for the Harry Potter Experience. We've been, it was off-the-scale-fabulous and is something that will stay with the kids and me, always. The link above will take you to our post about our visit, we have loads of great photos. Alternatively book your own tickets below. We found that a family ticket offered us a much better price than individual tickets
You can get to the studios in your own vehicle or hop on a bus tour from central London. Various tours to this Harry Potter experience will make your day so much easier to organise, with transfers from central London. You also should reserve your ticket in advance for your particular time slot. Buy a ticket to the Harry Potter Experience at Warner Bros Studios, with transport here.
Book a family ticket with transfers from London here. The Warner Bros Harry Potter Experience is not cheap, but it is very much worth it and you should do it when your kids are old enough to have read the books, young enough to still feel the magic. That said, this is a fantastic day out for adults and older teens too. We use this online booking company ourselves and find them very reliable and the pricing to be excellent.
Universal Studios Orlando
Location: Orlando, Florida
The Wizarding World of Harry Potter at Universal Studios Orlando is now at two distinct sites or lands. Universal's Islands of Adventure has Hogsmeade and Hogwart's Castle, while Universal Studios Florida hosts Diagon Alley. Visitors can catch the Hogwart's Express to transport them between the two theme parks in true wizard style. To visit both attractions on the same day you need a Park to Park ticket, seasonal pass, or an annual pass.
The new magical creatures ride, where you can fly in a motorbike and sidecar, joining Hagrid, is a thrill ride like no other! The Three Broomsticks Tavern is a good spot for a Potter-themed meal at Universal's Islands of Adventure, at Universal Studios Florida guests can dine at The Leaky Cauldron.
You can investigate Universal Studios Park to Park tickets for whole family here.
At Universal Orlando you can create a Harry Potter themed vacation based around the theme parks. You could do the same in the UK, but your vacation would most likely involve visiting multiple movie filming sets, visiting the Warner Bros Studios, Platform 9 3/4 in London, and taking the real Hogwarts Express in Scotland.
Universal Studios Japan
Location: Near Osaka, Japan
The Hogsmeade experience can be found in Japan too, ride The Hippogriff, visit Hogwart's Castle and dine at the Three Broomsticks Tavern.
Harry Potter Movie Locations Bus Tour
Location: Central London, pick up Temple Tube Station.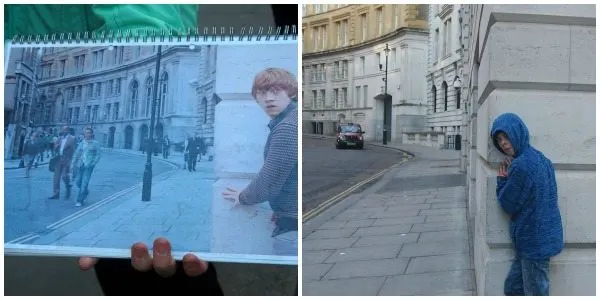 The boys and I have taken this tour and it was great, loaded with trivia and behind-the-scenes information about the movies and the city we love.Locations in London which you can visit include Gringott's Bank, Platform 9 3/4, Death Eaters' Bridge, and The Leaky Cauldron. You can find our post with more information about this comfortable and informative bus tour here. Or book one of these London-based Harry Potter bus tours here.
These bus tours are suitable for most ages and are a great way to see parts of London that many tourist, and locals, may miss. The tours are around 3 hours long and are very affordable. Use the link above.
Harry Potter Walking Tour
Location: Central London
There are plenty of options for visiting London locations from the movies on foot. This website gives you dates, times, prices, and routes.
A walking tour should be about half the price of a bus tour, but some of the sites the bus can take you too are too far to see on foot in a short guided tour.
Alternatively, you can buy a book with information as to where you can find these Harry Potter sites in London, and explore them in your own time. Look here. These books are also available for Oxford and the North of England.
Harry Potter Themed Hotel Rooms
Location: Victoria, Central London.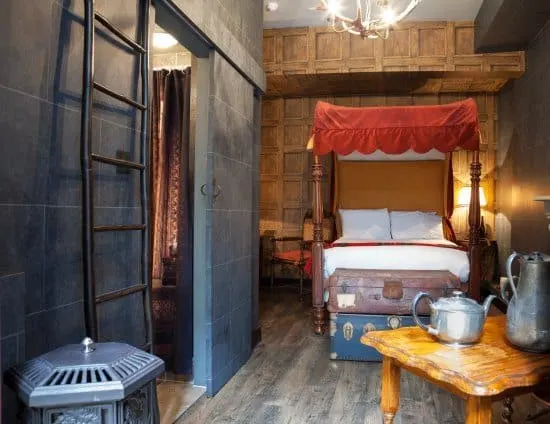 The Georgian House Hotel has recently opened its Wizarding Chambers, themed Harry Potter rooms from which to take a day tour to Warner Bros studios. What could be more magical? You can check rates and book the Georgian House Hotel here. You will need to select a Wizard Chamber or Family Wizard Chamber, for between 4 and 6 guests, Hogwarts dormitory style. This hotel has quite a variety of rooms for couples and families and is well located near Hyde Park and close to Victoria Station.
Photo credit, with thanks Georgian House Hotel, see link above. Georgian House Hotel is not part of the official Warner Bros tour.
Hogwarts Express
Location: Scotland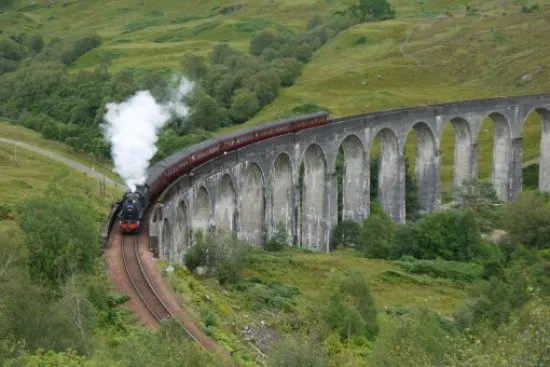 Glenfinnan viaduct is where you'll find the stunning scenery young wizards enjoy from the Hogwarts Express. It's even possible to take a steam train ride over the viaduct on the famous Jacobite. Glencoe also gives you a good vantage point for Potteresque scenery.
We have taken this train ride, we thought it was rather expensive. We took the train in one direction only and had a car waiting to pick us up at the termination point. This was cheaper than booking a return train ride. The scenery is undoubtedly beautiful, with the popularity of Outlander, as well as Harry Potter, Scotland and the highlands should be seeing a tourist boom.
You will need to reserve your seats in advance, they sell out. We booked months in advance for a special birthday treat. You can book a train tour, including the Jacobite, from Edinburgh here.
Photo Credit, Andrew and Amy of Our Big Fat Travel Adventure who rode the Hogwarts Express and share their experience on their blog.
Platform 9 3/4
Location: Kings Cross Station, Central London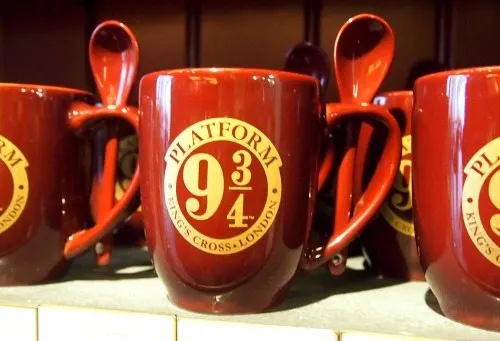 This is the only place in the world where you can buy official 9 3/4 branded merchandise and have your photo taken running through the station wall to catch your Hogwarts-bound train. It's totally free to visit and take your own photo, or you can buy a professionally taken image for under $20. You can find out more by clicking through to our post Platform 9 3/4 Fun or Tourist Trap.
Harry Potter : The Exhibition
Location: Somewhere in the world.
This touring exhibition is doing the rounds of the globe. At the time of writing Harry Potter The Exhibition was in Germany, for more information check the exhibition website.
This exhibition is now (today 2022) in the USA, in Philadelphia Pennsylvania.
If you'd like to hire a car during your stay, use this car rental comparison tool to find the best deal!

We also suggest you take a look at this company to get a quote for all kinds of the more tricky adventure or extended travel insurance.

Try Stayz / VRBO for an alternative way to find rentals on homes/apartments/condos in any country!